Travel to uplift your soul in in the Himalayas…..Magical Land of Spiritual Wisdom
Char Dham Yatra in Uttarakhand is a sacred journey of a lifetime. It is universally acknowledged that a person once in a lifetime long to visit sacred Chardhams for spiritual vibes. The high-altitude Chardham Shrines of Uttarakhand is one of the most popular Hindu pilgrimages of India. Every year thousands of devotees undertake the challenging  Himalayas journey  to feel the essence of eternal peace. According to Mythology it is said that if you visit all the 4 Dhams, you will definitely be free from all the karmic backlogs of life.
However, it should be remembered that the four holy sites in Uttarakhand are known as the Chota Char Dham. The reason behind this is that the 4 Dham in India refers to the four holy sites situated across the country, which were founded by Adi Shankaracharya over 1200 years ago. These are Badrinath in Uttarakhand, Dwarka in Gujarat, Puri in Odisha and Rameswaram in Tamil Nadu.

Chardham Temples of Himalayas
In the land of Devbhoomi (The land of Gods), also known as Uttarakhand, the four sacred shrines of CharDhams are decked with lofty Himalayan mountains. These are one of the most visited spiritual destinations in India. The four sacred shrines of Chardham are Badrinath Dham, Gangotri Dham, Yamunotri Dham and Kedarnath Dham. Despite its spine chilling and challenging setting, devotees face all the challenges that come in their way and visit 4 Dhams to become one with the almighty. These are high-altitude shrines due to which the weather is extremely harsh. Hence, it remains closed for six months every year during winters starting from the month of October and opens in summer season (April – May).
Get upto 30℅ of early discount on our Chardham Yatra Tour Packages. Reach us for more details / bookings – +91-7668130655.
Let's know about these shrines in detail –
| | | |
| --- | --- | --- |
| Temple Name | Deity | Location |
| Gangotri Temple | Goddess Ganga | Uttarkashi |
| Yamunotri Temple | Goddess Yamuna | Uttarkashi |
| Kedarnath Temple | Lord Shiva | Rudraprayag |
| Badrinath Temple | Lord Vishnu | Chamoli |
Yamunotri Dham- Goddess Yamuna, Epitome of Eternal Peace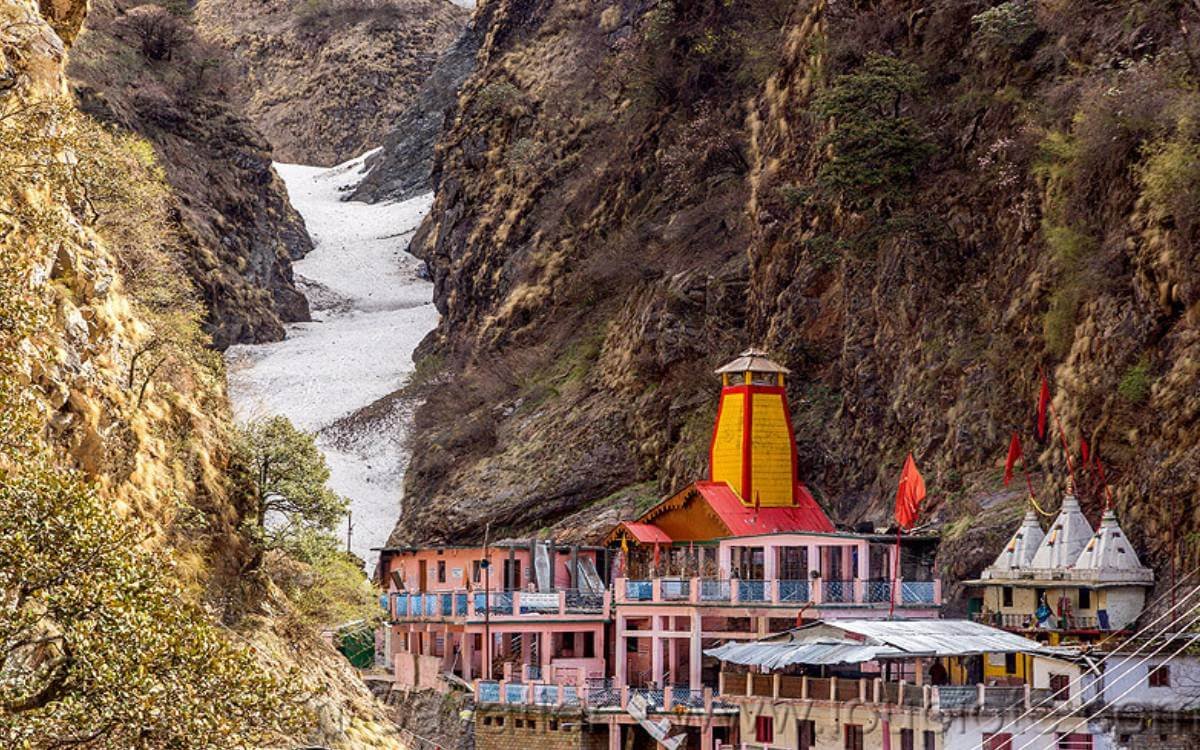 Yamunotri Dham is a commencing point of the holy CharDham Yatra. Every year devotees from all across the globe come here to get the blessings of divine Yamuna goddess and continue their darshan to the other dhams i.e Badrinath, Kedarnath and Gangotri. The temple of Yamunotri is the main highlight of Yamunotri Dham. The temple is dedicated to goddess Yamuna. It is said that if you visit this temple and bathe in the serene waters of Yamuna River you will be free from the misfortune of untimely death. It is situated 3233 metres above sea level. The temple was built by Naresh Sudarshan Shan in 1839, he was the king of Tehri. The temple is surrounded by Bandarpoonch Parvat and Kalind Parvat which make it absolutely stunning.
Apart from the temple being the main attraction, the other attraction is the thermal springs located in Janki Chatti. These are believed to be the kunds of the Hindu Goddess "Shakti."
Gangotri Dham- Serene Drops of Divinity, Goddess Ganga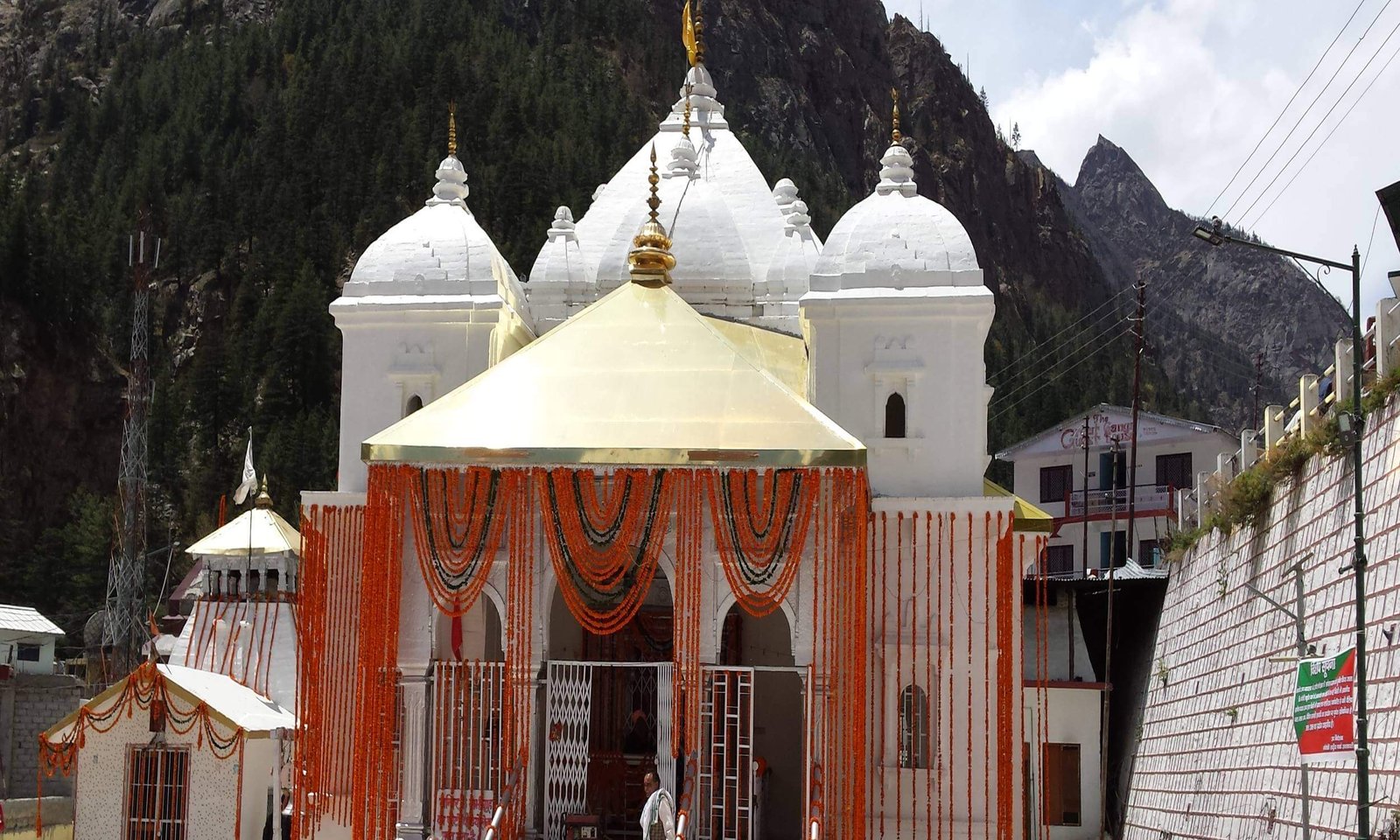 Gangotri Dham is the most revered and the most important temple of goddess river Ganga. It is one the popular CharDham pilgrimage destinations. River Ganga is considered as the holiest river of India and here you will see the origin point of this sacred river at Gaumukh set in Gangotri Glacier. The main highlight of Gangotri Dham is the holy temple of River Ganga.
It is said that River Ganga descended from heaven when Lord Shiva released from his locks. Situated at an altitude of 3415 metres, the scenic surroundings of lofty Himalayas, pristine Bhagirathi River (Ganga) and the divine aura of Gangotri temple will surely blow your heart away.
Devotees visiting the temple always take a dip in the holy river. The surroundings also act as the perfect backdrop to the temple.
Kedarnath Dham- Get the Divine Blessings of the Solace Giver Lord Shiva
Kedarnath Dham is the holy abode of Lord Shiva. It is one of the top visiting pilgrimage destinations in India. It is one of the pilgrimage temples of Char Dham located on the pristine banks of Mandakini River at an altitude of 3584 metres. The Jyotirlinga in the temple of Kedarnath is one of the 12 jyotirlingas of India. Lord Shiva is worshipped as Sadashiv form in Kedarnath Temple. The idol of Lord Shiva is in conical rock formation.
There is an interesting story associated with Kedarnath Dham. It is said that Pandavas after defeating Kauravas in the battle of Mahabharata. They were feeling guilty of killing their own relatives. So, they wanted to atone their sins by praying to Lord Shiva. But Lord Shiva was not easy to please. He kept eluding them by taking the form of a bull. Bhima, one of the five Pandavas recognized him and tried to catch him but Lord Shiva in bull form dived into the ground leaving his hump on the surface of Kedarnath Shrine. Today we worship the hump of a bull in Kedarnath. The rest of his body fell into different places known as Panch Kedar Dhams. The arms of the Lord Shiva worshipped in Tungnath Temple, belly at Madhyamaheshwar, Face at Rudranath and Locks at Kalpeshwar temple.
Badrinath Dham – Sanctum Sanctorum of Lord Vishnu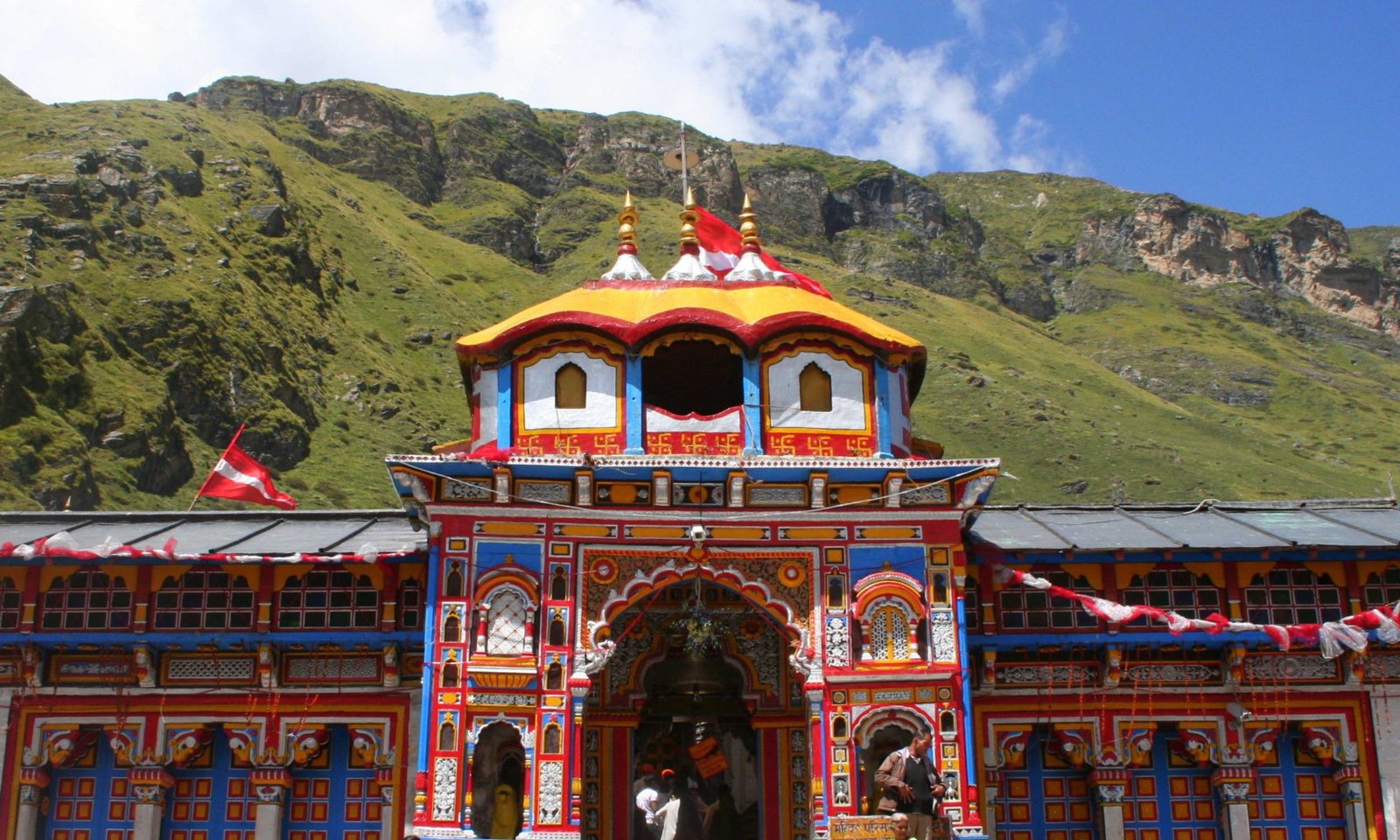 Located at an elevation of around 3100 metres, the sacred Dham of Badrinath is a popular pilgrimage destination in Uttarakhand. It lies at the banks of the scenic Alaknanda River between the lofty Nar and Narayan ranges and Majestic Neelkanth peaks will be your forever companion to delight your soul.
The highlight of Badrinath Dham is the magnificent Badrinath Temple which is dedicated to Lord Vishnu, also known as Badri Vishal. The temple structure was built by kings of Garhwal. But originally the Badrinath Dham was established by Guru Adi Shankaracharya in the 9th century. The idol of Badri Vishal is awe inspiring. Lord Badrinath has 4 arms. The first two arms holding up Shankh and Chakra and the other two arms resting on his lap in Yoga Mudra position. The entire idol is made up of black stone.
It is also one of the 108 Divya Desams which are dedicated to Lord Vishnu and considered to be holy shrines for Vaishanvites. It is believed that Adi Shankaracharya would reside for six months in a year at this temple, and it was here that he acquired moksha, or freedom from the cycle of reincarnation.
Chardham Yatra Temples Altitude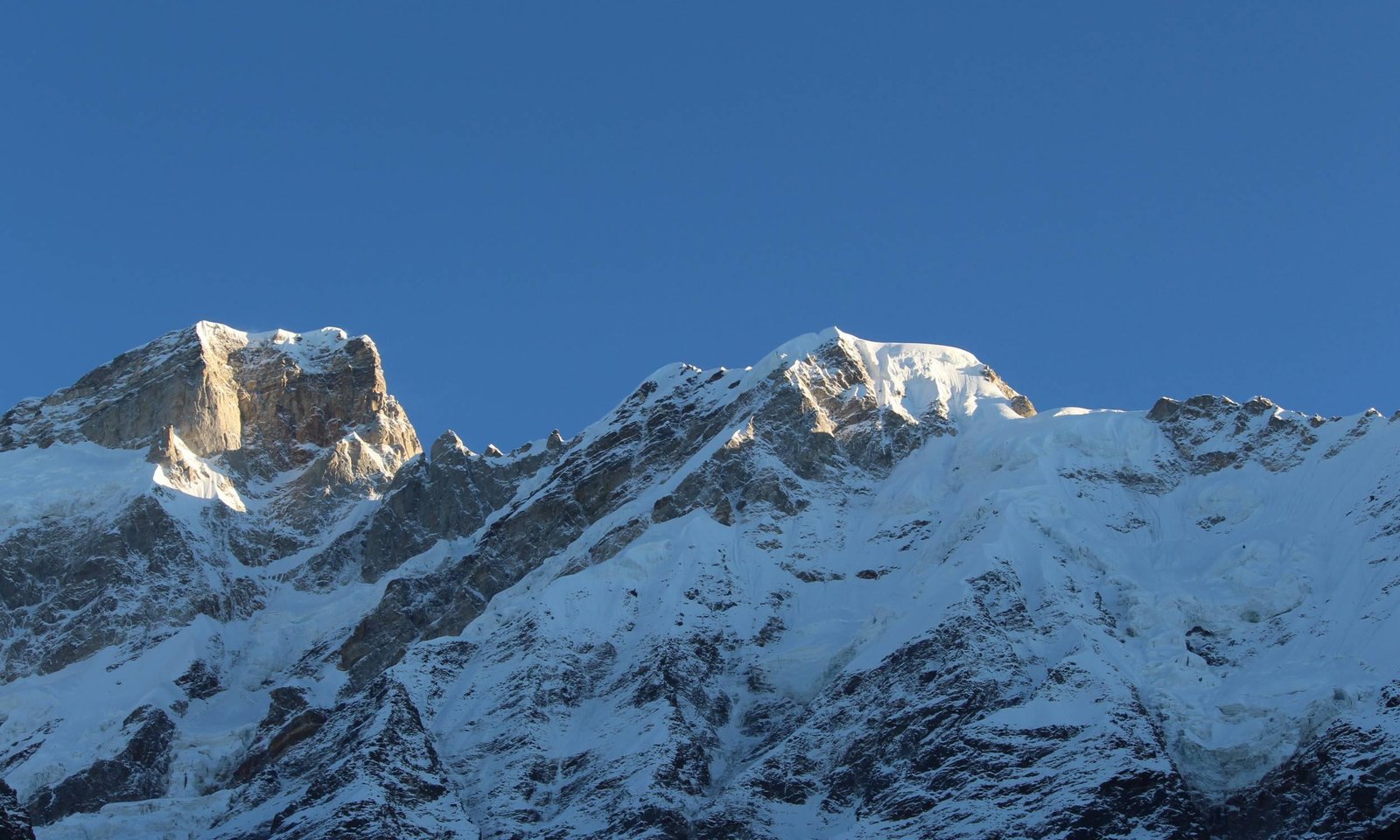 The altitudes at which these four Dhams are situated is as impressive as their religious significance. While Yamunotri Dham is situated at an altitude of 3,293 meters, Gangotri Dham enjoys an altitude of 3,415 meters. The altitude of Badrinath Dham is 3,100 meters while the altitude of Kedarnath Dham is 3,583 meters. Pilgrims taking the Char Dham Tour follow a particular sequence, in which Yamunotri Dham is visited first, followed by Gangotri, Kedarnath and Badrinath.
Pilgrims and devotees who undertake the Char Dham Darshan Yatra of Himalayas are driven by a desire to connect with the almighty and seek his blessings. Immersing oneself completely in God's worship is an experience which is almost indescribable.
All the four holy pilgrimage sites are located in the most picturesque locations in Uttarakhand. The natural backdrop against which these temples or dhams are situated makes the entire experience even more wholesome, as devotees are offered a delightful mix of spirituality and sightseeing. The routes to the Char Dhams in Uttarakhand are dotted with dense forests, lush meadows, lively waterfalls, happily flowing rivers and serene valleys. The natural beauty complements the spiritual journey, and both come together to instill in you a joie de vivre.
| | |
| --- | --- |
| Temple Name | Altitude |
| Yamunotri Temple | 3293 m |
| Gangotri Temple | 3415 m |
| Kedarnath Temple | 3583 m |
| Badrinath Temple | 3100 m |
Significance of Char Dham Yatra
Each shrine of 4 Dham is dedicated to a specific deity. You must know the significance and history of each temple shrine to feel the essence of the place.
Visiting 4 Dham Shrines brings eternal peace and spiritual bliss to the devotees. It is a belief in Hinduism that if you visit Char Dham shrines, your bad karma will be removed and you will be free from all your sins.
But the visit to 4 Dham Yatra is not limited to this thought. In a deeper sense Char Dham Yatra is a Himalayan pilgrimage journey to discover yourself. This yatra is challenging and always brings out moments of self-introspection. In the world full of chaos, we hardly get a chance to know our inner being/spiritual being. So, the calm, remote and serene environment of 4 Dhams brings out the peace in you and you feel closer to your own self. It's like complete detoxification of the body from negative thoughts. Moreover, see how beautifully the visit to Chardhams keeps intact the spiritual unity of India.
Visiting 4 Dhams means you will see the old Hindu traditions and cultures of the mountain which will bring the sense of oneness and purity of soul. Thousands of devotees visit Chardhams for different reasons but see how people get united for this sacred pilgrimage with strong faith. One must visit the sacred 4 Dhams of India.
Best Time to Plan a Pilgrimage to Char Dhams of Uttarakhand
The best time to visit Chardham Yatra is between May and November. During the monsoon season, which starts from July and ends in September, there are frequent landslides and road blockages. However, the Char Dham Yatra can be undertaken during this time too. The four pilgrimage sites are opened to tourists between April and May, and remain open till October to November. Snowfall in the four holy sites begin from the first week of October and continue till the Diwali festival. After this, the 4 Dhams remain closed to devotees and tourists because of snowfall and extreme weather conditions.
Weather and Climate at Chardham Temples
One must consider weather and climate details of Char Dham destinations before starting their pilgrimage tour of 4 Dhams. As the weather of these high-altitude areas is drastic and changes throughout the year.
Winters November to March
The extreme cold weather is at its peak during winters. The entire surroundings are covered under snow making Chardhams inaccessible to the devotees. It is due to this reason 4 Dham portals are closed for 6 months in winter. The temperature goes below sub-zero level with heavy snowfall.
Summer- April to June
The weather during summer remains moderately cold but it is a peak season for Chardham Pilgrimage tour. You will be able to do sightseeing. Nature's bliss and snow-clad peaks will blow your heart away. The temperature ranges up to 17-degree Celsius
Monsoon – July – August
You will see a gradual decrease in temperature due to rainfall. Landslides are very common during this time. The temperature ranges from 12 to 13 degree Celsius. It is not actually very favourable to visit the temples due to this weather but winters totally make these places inaccessible to the devotees. So, it is better to travel in monsoon for darshan. It's not that bad. Precautions needed to be taken for darshan in monsoon.
Autumn – September and October
It is also a very pleasant time to travel to Uttarakhand and start the Himalayan pilgrimage journey of Char Dham. The temperature ranges up to 7 to 10 degrees Celsius. The landscapes after monsoon are a visual treat to see. The greenery looks greener. The weather will be very pleasant for sightseeing and Chardham pilgrimage tour.
For latest & accurate weather information, please check website – https://www.accuweather.com/
Chardham Yatra Opening & Closing Dates 2024
The Char Dham Darshan Yatra of Himalayas begins between the months of April and May every year. The Char Dham temple committee, known as the Kedar Badri Mandir Samiti decides the opening dates of the yatra. While Yamunotri and Gangotri dhams are opened to the pilgrims on the occasion of Akshay Tritiya (also known as Akha Teej) every year, the dates for the opening of the Badrinath Dham to devotees are declared on Basant Panchami. The dates for Kedarnath Dham are declared on the auspicious occasion of Maha Shivaratri.
| | | |
| --- | --- | --- |
| Temple Name | Opening Date | Closing Date |
| Yamunotri Temple | 10 May 2024 | October 31, 2024 |
| Gangotri Temple | 10 May 2024 | November 2, 2024 |
| Kedarnath Temple | 14 May 2024 | November 2, 2024 |
| Badrinath Temple | 16 May 2024 | November 9, 2024 |
Opening Dates of Gangotri and Yamunotri Dham 2024
Yamunotri Dham and Gangotri Dham generally open on the auspicious occasion of Akshay Tritiya. In summer months April to June. The opening of Yamunotri Dham marks the beginning of Char Dham Yatra as its the commencing point to other Dhams such as Gangotri, Kedarnath and Badrinath. The temple portals of Gangotri and Yamunotri generally close in winter after the festival of Dussehra.
 Opening Date for Yamunotri & Gangotri Temple in 2024- 10 May 2024
Opening Date of Kedarnath Dham 2024
The priests of Ukhimath decide the date of the opening of Shri Kedarnath Dham Temple. On the occasion of Maha Shivratri the date will be declared. The portal of Kedarnath generally closes the day after Diwali.
Kedarnath Opening Date – 14 May 2024
Opening Date of Badrinath Dham 2024
The date of the opening of the portal depends on the date of Akshaya Tritiya and the closing date depends on the day of Vijay Dashami. The portals of Badrinath Dham in 2024 will be open in the month of April and the closing will be in the month of October.
Badrinath Opening Date – 16 May 2024
Best Places to Visit in and around Chardham Yatra Route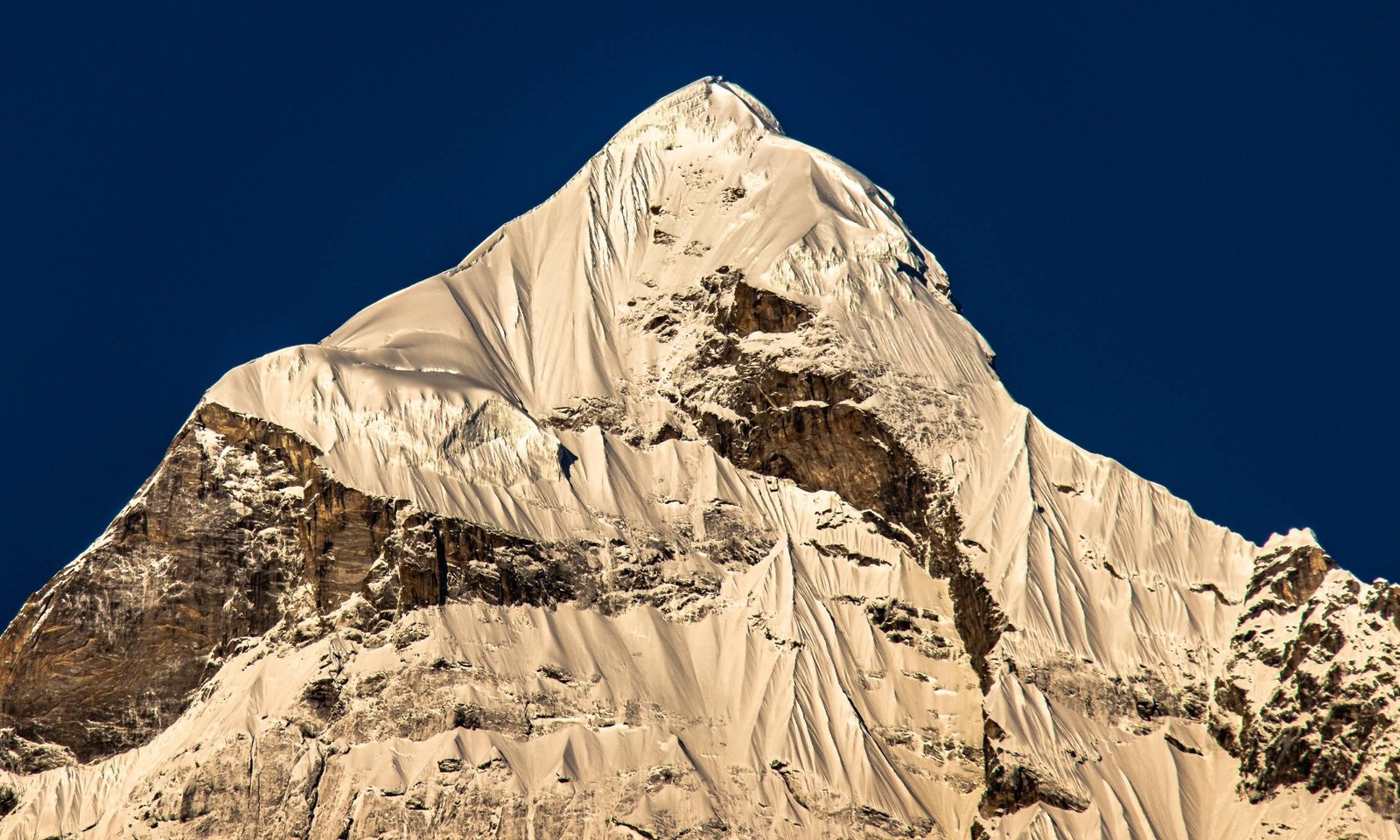 Surely, 4dham has many amazing scenic tourist spots to delight a wanderer's soul. Not only is it a beautiful and peaceful abode of the almighty but also it will captivate you with its stunning mountain views and nature tourist attractions. Some of the most popular places to visit in and around Char Dhams are –
Rishikesh and Haridwar
Don't ever miss the most popular pilgrimage places of India – Rishikesh and Haridwar. It has many spiritual places, yoga centres and ashrams to explore. The major highlight is the mesmerising Sandhya Aarti in the pristine banks of river Ganga in Haridwar. You can also take part in Ganga Aarti at Triveni Ghat in Rishikesh. Rishikesh is also an adventure capital of India. If you are an adventure lover, try river rafting here.
Must Visit Places Enroute Badrinath Dham
Pandukeshwar
In route to the holy abode of Badrinath, it's a place where the father of Pandavas worshipped Lord Shiva. There are two very popular Temples in this place which you must visit – Yogadhyan Temple and Lord Vasudev Temple.
Mana Village
Uttarakhand government declared Mana as a 'Tourism Village'. It is also declared as the last village of India. Located in Chamoli, the village is absolutely stunning. Surrounded by lofty Himalayan mountains, the ambiance will give you delight.
Charan Paduka
The main attraction here is the sacred rock which is said to have the foot impressions of Lord Vishnu. It is one of the most popular destinations of Badrinath.
Brahma Kapal
Brahma Kapal cannot be missed if you are in Badrinath Dham. The place has a great religious significance. People come here to perform prayers and rituals for departed souls of family members and ancestors.
Top Places to Visit in Gangotri Dham
Surya Kund
Located in Uttarkashi near Gangotri Temple, you must visit SurajKund to worship the Sun God. The view of Suraj Kund waterfall will definitely mesmerise your soul.
Gangnani
Scenically rich, Gangnani is one of the best places to look for nature lovers in Uttarkashi. The tranquil and serene surroundings also make it one of the best spots for meditation. Don't miss the thermal water springs of Gangnani. Take a holy dip here before visiting Gangotri Temple.
Bhairon Ghati
Surrounded by the scenic dense forests, Bhairon Ghati is 10km from Gangotri Temple. You will also see the serene banks of Jahanvi River and the confluence of Jat Ganga and Bhagirathi River.
Gangotri Glacier
Don't miss one of the largest glaciers of Garhwal Himalayas. Originating from the Chaukhamba range of Peaks, you will be spellbound to see its beauty. It is also a popular trekking destination for adventure lovers in Uttarakhand. You can also visit Gomukh which is located close to this place.
Best Places to Visit in and around Yamunotri Dham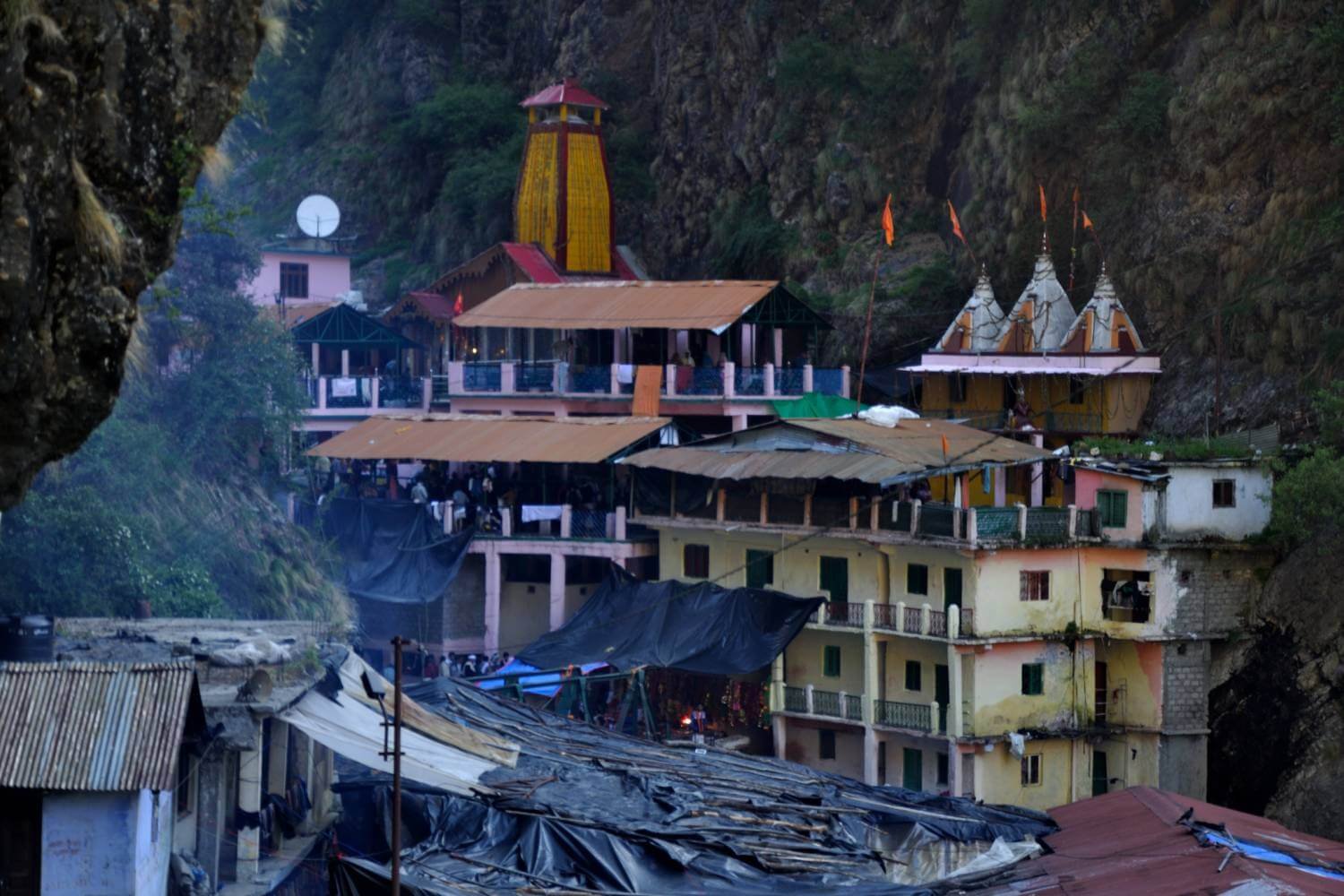 Janki Chatti
Janki Chatti is a very popular tourist attraction known for its serene hot water springs and fascinating trekking trails. It's a resting point for those pilgrims who are travelling to Yamunotri.
Kharsali
Located in the Uttarkashi district of Uttarakhand, Kharsali is a wonderful hill station which you must visit. It is one of the less explored destinations in Uttarakhand. Also known as Khushi math, Kharsali is a winter seat of Goddess Yamuna. It also houses the oldest Shani dev Temple where the idol of Goddess Yamuna is kept.
Divya Shila
Slab of Divine light/ Divya Shila is a fascinating stone pillar located near Yamunotri. Worshipping Divya Shila before entering Yamunotri temple is auspicious. It's a part of the puja ritual of Yamunotri temple.
Places to Visit Enroute Shri Kedarnath Yatra
Sonprayag
Lies at the confluence of two sacred rivers Basuki and Mandakini, Sonprayag is a lush green valley covered with lofty Himalayan mountains. Its beauty will enchant your soul. You can also visit Triyuginarayan temple which is located in Triyugi village. It is very close to Sonprayag.
Gaurikund
Kedarnath shrine is located 16km away from Gaurikund. Named after goddess Parvati, Gaurikund is a very popular pilgrimage destination famous for the temple of Gauri. You will also see the serene Vasuki ganga which flows from here. It is said that Lord Shiva accepted the marriage proposal of Goddess Gauri at this place.
Rudra Cave
Located near Kedarnath Shrine, Rudra Cave is an underground meditation cave constructed by Nehru mountaineering Institute. If you want some peaceful moments then consider this place for some eternal peace.
Why You Should Visit Char Dhams of Uttarakhand?
Whether you are spiritually inclined or not, a visit to the sacred 4Dhams is a must. Once you enter the environs of these sacred Dhams you will feel different mentally. The divine vibes, stunning weather conditions (if you visit at the right time and season), gorgeous Himalayan views and a great experience of knowing different traditions and cultures, village lifestyle brings solace of different kinds.
Char Dham Yatra is not only about seeing the four shrines; you will be able to connect with your inward self. Bathing in the holy Kund waters, trekking to the folds of lofty Himalayan mountains, visiting small local mountain temples and taking prashad will bring out your spiritual self.
Helicopter Services for Chardham Yatra
Uttarakhand Chardham Yatra can be done by helicopter especially if you have elderly parents or relatives with you. For Young people who are physically fit Chardham pilgrimage Yatra will be more scenic if you do it by trekking. But if you are on a tight schedule or have any health issue and looking for the most convenient way to reach Char Dhams then travelling by helicopter will be the best option for you. There are many options. You can ride on a helicopter for 4dham directly from Dehradun or you can take charter planes from Badrinath and Kedarnath. Whether it is Ek Dham, do Dham, teen Dham or all the four dhams you will get good helicopter services. The cost of Helicopter ride will be a little heavy on your pocket but it is worth it if you are looking for a quick way for Chardham Darshan.
Note- Check the opening and closing dates of Char Dham portals before booking helicopter services. You need to do Helicopter booking in advance from the official website. The best place to get helicopter services is from Dehradun (Sahastradhara Helipad) where you will get a helicopter for all the four Dhams.
Official Website – https://heliservices.uk.gov.in/
How to Reach Char Dham Temples
By Air – Jolly Grant Airport is the nearest airport to reach Char Dhams by air. For Kedarnath Dham Yatra, you have to reach Gaurikund which you can easily do by hiring a taxi or car from the airport.
Gaurikund has good connectivity of motorable roads. For Badrinath Dham Yatra, you will get buses and taxis from the Airport.
By Train – Rishikesh is the nearest railway station to reach the sacred destination of 4 Dhams and you will also get taxis and buses from Rishikesh to Gaurikund for Kedarnath Dham yatra. For Badrinath yatra also you will get taxis and buses. There is no dearth of trains from Rishikesh to reach Gangotri Dham. Taxis and buses are frequently available from most of the states of Uttarakhand.
For Yamunotri Dham, Dehradun Railway station is the nearest and then the Rishikesh Railway Station. Taxis and buses are available in abundance for Hanuman Chatti to reach here.
By Road– You need to reach Gaurikund in order to see Kedarnath Shrine. From Delhi you will get buses from Kashmiri gate ISBT to reach Rishikesh. It is the nearest and most accessible place to reach Gaurikund. From Rishikesh you will get a bus for Gaurikund. You will also get buses from the other states of Uttarakhand such as Haridwar, Puri, Uttarkashi Tehri etc. You can also reach Rudraprayag and from there head to Gaurikund via National Highway number 109.
For Badrinath Shrine, Ghaziabad connects Badrinath by NH58. Taxis and Buses are easily available for Badrinath from Rishikesh, Karnprayag, Ukhimath, Pauri etc.
You can directly rent a car or taxi for Gangotri but it can be costly. But Buses are economical and a good way to travel to Gangotri Dham. You will get plenty of buses from Delhi- Kashmiri Gate ISBT. Gangotri is situated at the end of NH 108.
You will get buses for Hanuman Chatti from major destinations of Uttarakhand such as Haridwar, Rishikesh, Tehri, Uttarkashi etc. Yamunotri does not have good road connectivity.
Where to Stay in Chardham?
Devotees undertaking the Char Dham Yatra in Uttarakhand at the four holy sites can select from a variety of accommodation options, depending on their budget and preferences. The accommodation options include hotels (budget, deluxe and luxury) to lodges, tents, camps and both government & private guest houses.
The accommodation options at Yamunotri Dham are quite limited. However, accommodation options are available at Janki Chatti, Sayana Chatti, Hanuman Chatti and Barkot, all of which lie on the way to Yamunotri Dham.
At Gangotri Dham, there are a few budget hotels and lodges. Budget, deluxe and luxury hotels are available in Uttarkashi, which lies en route to Gangotri Dham. Budget accommodations are available at Harsil (about 24 kilometers from Gangotri), while in Gaumukh, tents or camps are the only accommodation options available.
Devotees at Kedarnath Dham will not have any trouble when it comes to accommodation options, as there are lodges as well as budget & deluxe hotels. Rudraprayag and Guptkashi, which lie on the way to Kedarnath, also have some budget and luxury hotels where devotees can book a stay. Accommodation options are available at Phata, Ukhimath, Agastmuni, Sitapur and Chandrapuri.
At Badrinath Dham, pilgrims can select from budget, deluxe and luxury hotels. Places which fall on the way like Joshimath and Govind Ghat also have budget to deluxe accommodation options.
Some Of the best places to stay in Yamunotri, Gangotri, Kedarnath & Badirnath are-
Camp Nirwana Barkot (Yamunotri)
Chauhan annexe (Yamunotri)
Camp Veda (Yamunotri)
Yamunotri Cottages (Yamunotri)
Harsil Chardham Camp (Gangotri Road)
Shiv Parivar Resort (Gangotri)
Himalaya (Gangotri)
Snow Crest (Badrinath)
Badri Ville Resort (Badrinath)
Joshimath Chardham Camp (Badrinath)
Himgiri Hotel (Badrinath)
Jamloki Tourist Lodge (Kedarnath)
Shivalik Valley Resorts (Kedarnath)
Behl ashram Hotel (Kedarnath)
For a Safe and Healthy Char Dham Yatra, Please Consider These Tips –
Always check the weather conditions before undertaking Uttarakhand Char Dham Yatra and pack your bags accordingly. Carry woollen clothes, blankets, umbrellas, raincoats, shoes etc with you.
Carry extra batteries and films as you will see electricity problems in some places.
Book your hotels in advance. Due to the heavy rush of pilgrims during the peak season, it will be difficult to get good hotels.
Drink packaged or boiled water only.
It is good if you hire an expert local tour guide.
Always carry a medical kit which contains painkillers and medicines for cold and fever etc.
You must be physically fit to do Chardham Yatra.
So, now you know what the significance of the Char Dham Pilgrimage Tour is in the spiritual life of the people in India. Why don't you embark on this beautiful and sublime Himalayan Pilgrimage journey and enrich your spiritual experience? Chardham yatra is indeed one of the best pilgrimage destinations of India.
Popular Budget-Friendly Chardham Yatra Tour Packages 2024
Like & follow us on our following official social media channels
Facebook | Twitter | Linkedin | Instagram | Youtube
Also Check Out: Popular India Tours | Tour Packages | International Tour Packages
Other Popular Trending Holiday Destinations in India – Kashmir Tour | Himachal Tour | Uttarakhand Tour | Rajasthan Tour | Gujarat Tour | Sikkim Tour | Kerala Tour | Andaman Tour | Madhya Pradesh Tour
International Trending Holiday Destinations – Nepal Tours | Bhutan Tours | Singapore Tour | Thailand Tours | Sri Lanka Tours | Maldives Tours | Dubai Tours | Indonesia Tours
Tour Packages by Interest – Adventure Packages | Wildlife Packages | Pilgrimage Packages | Heritage Packages | Hill Station Packages | Weekend Packages | Honeymoon Packages | Beach Packages | Chardham Packages | Trekking Packages
Other Informative Uttarakhand Tourism Travel Guide Blogs to Read
Other Informative India Travel Guide Blogs to Read
Other Informative Trekking Guides Blogs
Other Informative Wildlife Travel Guide Blogs to Read
Informative Karnataka Tourism Travel Guide Blogs to Read