Dubai, the vibrant heart of the United Arab Emirates, stands as an unparalleled destination on the global stage. This dynamic city, a melting pot of cultures, offers an exhilarating blend of tradition and modernity. Prepare to be captivated by the Arabian hospitality and immersed in a tapestry of diverse experiences.
Rising majestically from the golden Arabian desert, Dubai's skyline is adorned with awe-inspiring skyscrapers that defy the limits of imagination. As you gaze upon the panoramic views of the Arabian Gulf, you'll find yourself enchanted by the breathtaking beauty that unfolds before your eyes.
Indulge in world-class hospitality at the finest hotels and resorts, where every detail is meticulously curated to offer an unparalleled luxury experience. Feel the rush of adrenaline as you embark on thrilling skydiving adventures, traverse the mesmerizing desert on exhilarating desert safaris, or engage in exhilarating watersports that leave you craving for more.
For quality time with family, Dubai presents a plethora of mesmerizing theme parks and water parks, promising endless fun and laughter. Taste the flavors of the world as you dine at the exquisite restaurants curated by renowned celebrity chefs, savoring rich and authentic cuisines that ignite your taste buds.
Embark on delightful safari cruise rides, where the tranquil waters become a gateway to serenity, transporting you to a world of magic and wonder. From beginning to end, Dubai's array of activities and attractions is limitless, offering an enchanting tapestry of possibilities for a truly magical and unforgettable holiday experience.
In Dubai, dreams come to life, creating cherished memories that will forever hold a special place in your heart.
Here, in this Dubai Travel Guide blog, we will discuss in detail some of the must-visit places on a Dubai sightseeing tour.
Burj Khalifa
Dubai Fountain
Dubai Mall
Dubai Miracle Garden
Dubai Marina
Dubai Museum
Burj- al- Arab
Dubai Aquarium and Underwater Zoo
Jumeirah Mosque
Dubai Frame
Legoland Water Park
Aqua Venture Waterpark
Legoland Resort
The World Islands
Dubai Parks and Resorts
Ski Dubai
Dubai Opera
Palm Jumeirah
Get up to 30% early bird discount on Dubai holidays booking with Bon Travel India. Call or WhatsApp now for more details at +91-8802149265. Don't miss out on this amazing offer!
Burj Khalifa – Explore the Tallest Building in the World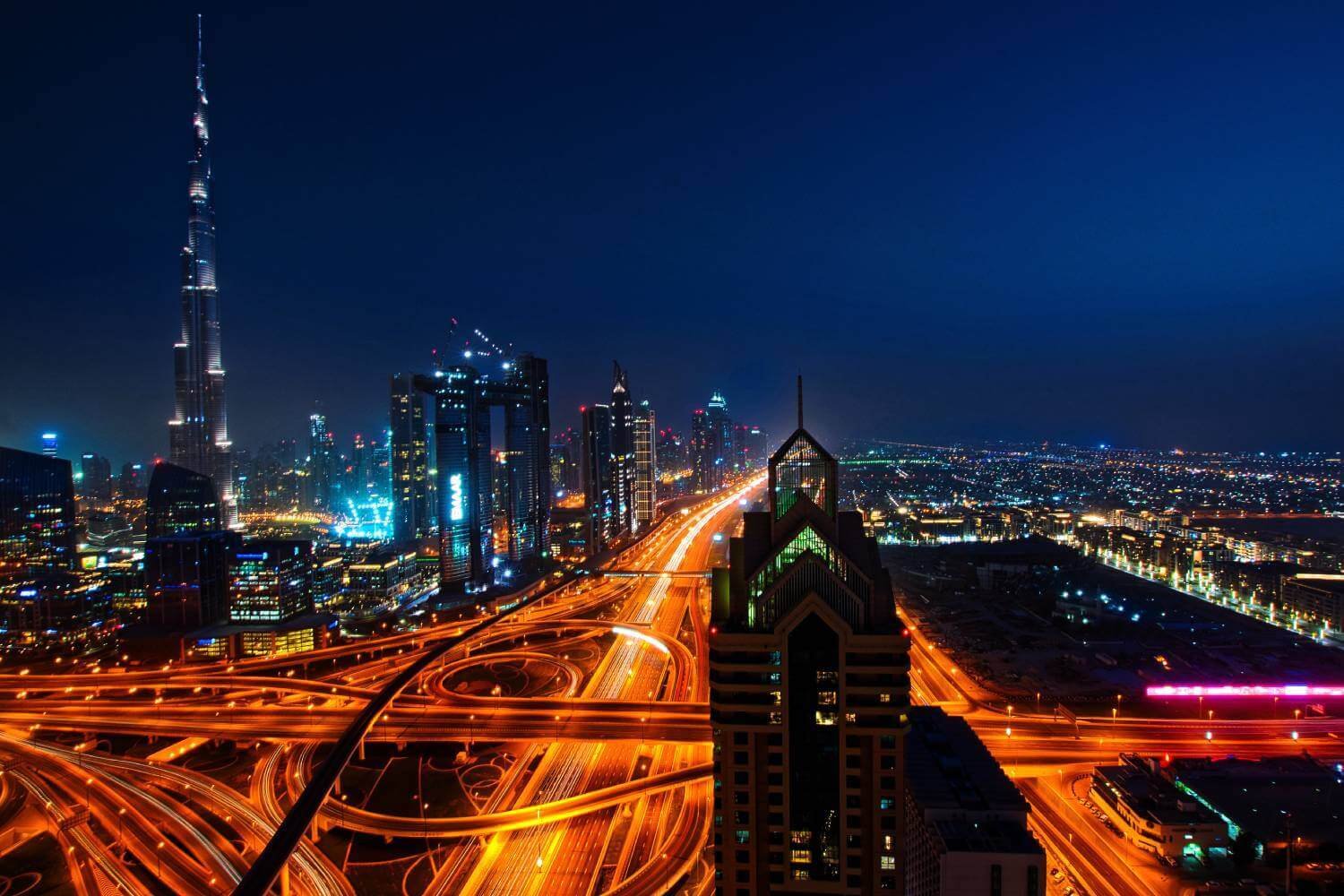 The Tallest and most beautiful building in the world, Burj Khalifa, is one of the iconic tourist attractions in Dubai. It embodies the essence and soul of the city, showcasing its remarkable beauty. Standing at a height of 828 meters, it is located adjacent to Dubai Mall. Visitors from around the globe flock to Dubai to elevate their holidays with breathtaking views offered by this architectural marvel.
With 163 floors towering over 828 meters, Burj Khalifa boasts 8 escalators and 57 elevators. The building is also home to the world's tallest lounge, offering not only stunning views but also a hub of entertainment and fine dining. Adjacent to Burj Khalifa, the choreographed musical Dubai Fountain mesmerizes spectators with its captivating beauty. It holds the world record for the longest elevator travel distance and the highest restaurant.
Covered with 26,000 hand-cut panels, the external facade of Burj Khalifa adds to its grandeur. Inside, you'll find a variety of restaurants, accommodation options, and a vast swimming pool. The sheer height of Burj Khalifa makes it visible even from afar, leaving a lasting impression. Undoubtedly, it is a must-visit destination in Dubai and tops the list of the city's top 10 destinations.
Don't miss the opportunity to experience the magnificence of Burj Khalifa, as it epitomizes the architectural marvels and grandeur that Dubai has to offer.
Also Read: How to Plan a Dubai Trip from India?
Dubai Fountain – Where Water Dances in Spectacular Harmony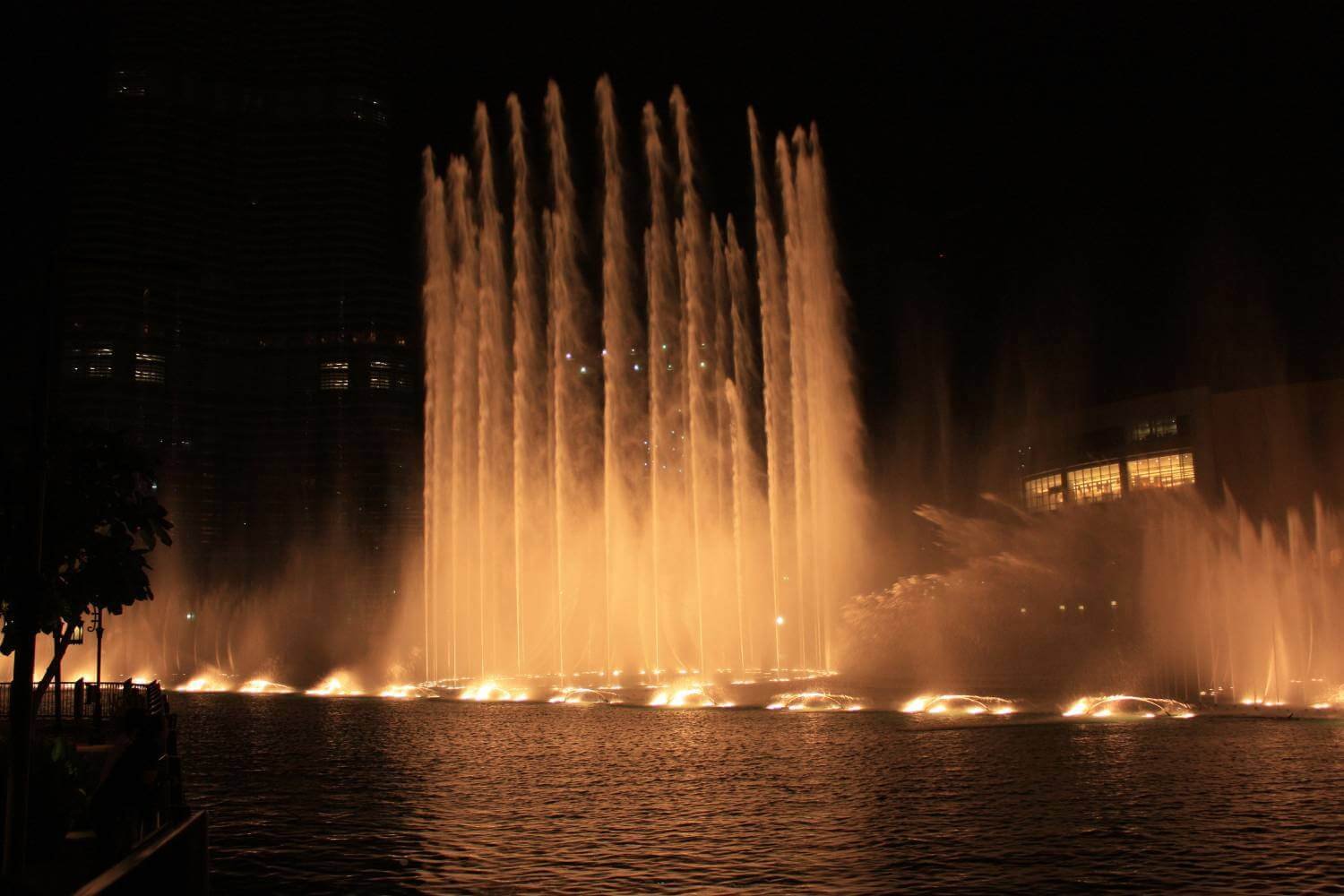 Witnessing the enchanting spectacle of water dancing to the rhythm of music and lights is an experience that epitomizes the beauty of Dubai. The Dubai Fountain, one of the most renowned scenic attractions in the city, captivates visitors with its mesmerizing charm. As the world's largest choreographed water fountain show, it leaves tourists in awe.
This beloved destination is cherished by visitors of all ages, offering a wonderful setting to create lasting memories with family and friends. Nestled within the expansive Burj Khalifa Lake, spanning 30 acres, this awe-inspiring musical fountain is a true marvel to behold in Dubai. Jetting up to 22,000 gallons of water, it showcases a captivating display of choreographed movements, accompanied by iconic melodies like Michael Jackson's "Thriller" and Sarah Brightman's "Time to Say Goodbye."
For an even more immersive experience, embark on the Dubai Fountain Lake Ride, where you can witness this marvelous fountain up close. The ride allows you to fully appreciate the grandeur and magnificence of the fountain as it performs its magical dance.
Dubai Mall – A Shopaholic's Paradise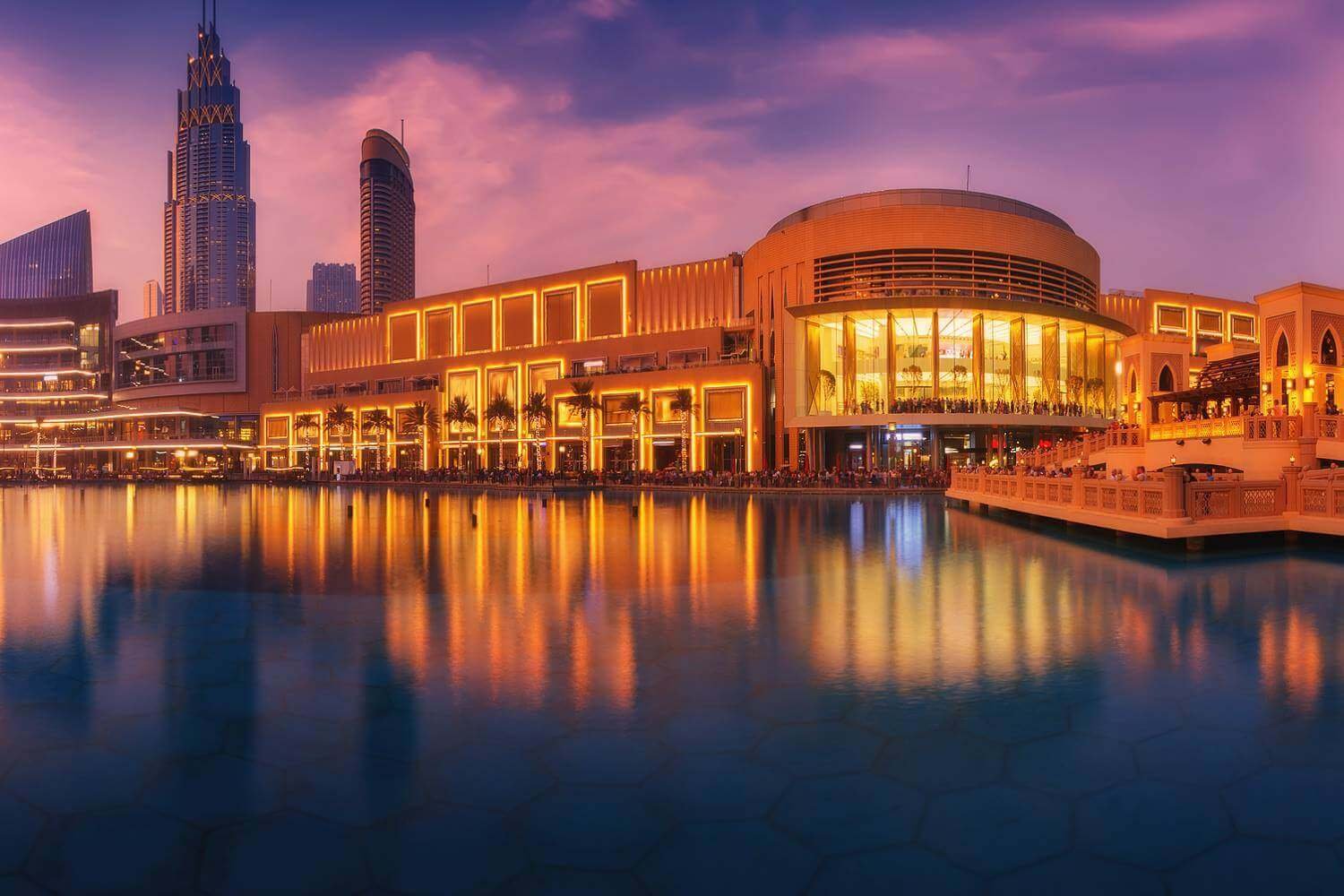 Welcome to Dubai Mall, the world's largest shopping destination! It stands as one of the best places to visit in Dubai with family, offering a haven for luxury travelers and shopaholics alike. Prepare to have your senses captivated as you immerse yourself in this retail paradise.
Dubai Mall is renowned for its extravagant offerings and is home to thousands of showrooms representing various companies. Indulge in a shopping experience like no other as you explore collections from renowned designers and brands. From exquisite gold jewelry to the latest footwear trends, Dubai Mall caters to every style and taste.
Not only is Dubai Mall a shopper's delight, but it also provides endless entertainment for families. Delight in the mesmerizing Dubai Aquarium and underwater zoo, where both kids and adults can learn about and marvel at marine creatures. Additionally, the massive indoor cinema complex offers a perfect setting to create fun-filled moments with your loved ones.
Moreover, Dubai Mall is the epicenter of Dubai's iconic Shopping Festival, an event that attracts visitors from all corners of the globe. Immerse yourself in the festival's vibrant atmosphere as you discover exclusive shopping deals and unforgettable experiences.
With its diverse range of shopping, dining, and entertainment options, Dubai Mall has solidified its position as one of the top tourist attractions in the city. Once you experience its charm, you'll find yourself drawn back time and time again. Prepare for an unforgettable journey through the ultimate shopper's paradise.
Dubai Miracle Garden – Nature's Marvel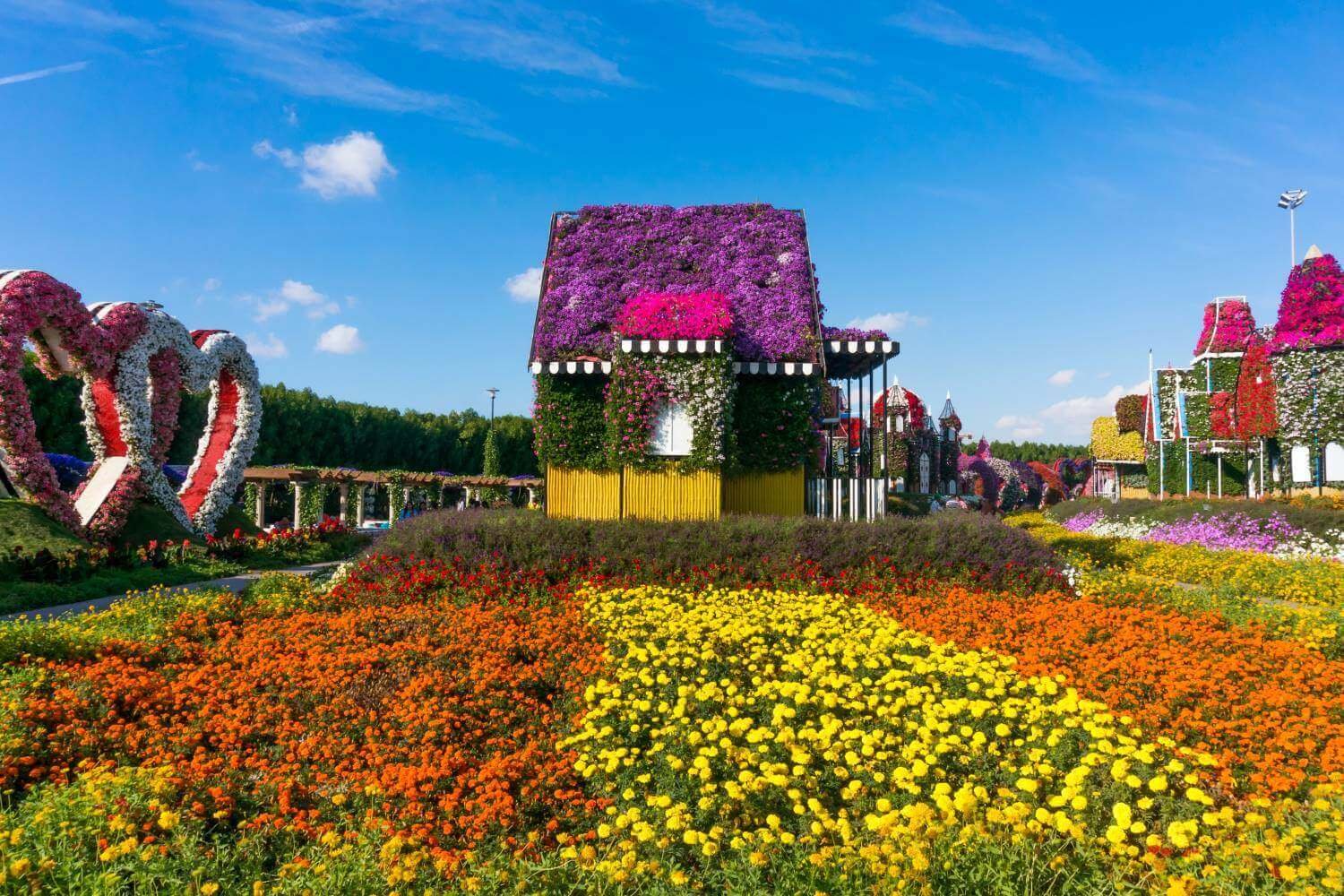 Dubai Miracle Garden, a captivating haven of natural flowers, is a beloved destination for nature enthusiasts visiting Dubai. Welcoming tourists from around the world during the winter season, it stands as a mesmerizing spectacle of beauty. Within this 72,000 sq. km paradise, over 150 million flowers burst into vibrant bloom, creating a breathtaking experience.
Since its launch on Valentine's Day in 2013, Dubai Miracle Garden has become one of the world's most stunning natural gardens. Here, a kaleidoscope of colors adorns the landscape, as flowers exude their radiant beauty. Prepare to witness some of the most captivating attractions found anywhere on Earth.
Among the wonders to behold is the Flower Castle, adorned with delicate daisies and sunflowers, creating a picturesque scene that will leave you in awe. The Cabanas offer breathtaking views of an array of flowers, providing a perfect setting for quality time with your family. These small cabanas feature billowing drapes and floral cushions, transporting you into a world of enchantment. Additionally, fields adorned with thousands of stunning sunflowers will truly take your breath away.
Dubai Miracle Garden opens its doors from 9 am to 9 pm on weekdays and extends the hours to 10 pm on weekends, ensuring ample time to immerse yourself in the beauty of this natural wonderland. Prepare to be captivated by the vibrant colors, delightful fragrances, and sheer magnificence of Dubai Miracle Garden as you embark on a journey through nature's enchanting wisdom.
Dubai Marina – Where Fun Meets Serenity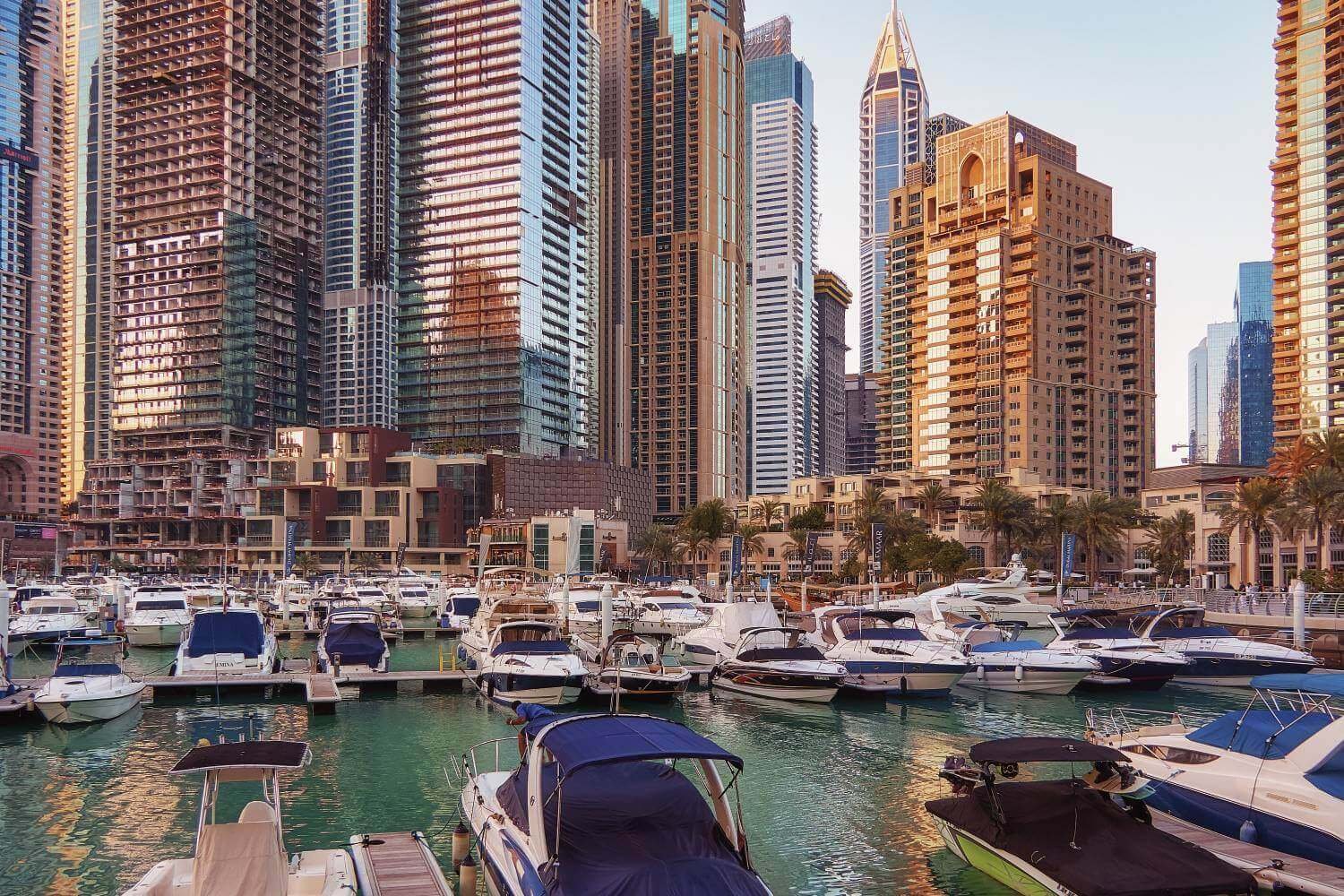 Situated on the picturesque seashore of Dubai, Dubai Marina is the perfect destination for families seeking to immerse themselves in the beauty of Dubai. This vibrant place is adorned with luxurious hotels, enticing restaurants, bustling shopping malls, and captivating high-rise buildings adorned with vibrant lights.
As you stroll along Dubai Marina, the alluring lights of the buildings will captivate your heart, while the boats docked in the harbor create a scene of enchantment. The beachside offers a delightful setting to enjoy quality time with your family in Dubai. Thrilling water sports like jet skiing and parasailing await you, and a boat ride is an absolute must-do. From the water, you'll witness the most captivating views of Dubai Marina, leaving you in awe.
For a truly unforgettable experience, embark on a Yacht tour and be mesmerized by the breathtaking sunrise and sunset views that will inspire your camera lens. Additionally, Dubai Marina offers a plethora of nightclubs, bars, cafes, restaurants, and shops, ensuring endless entertainment and exploration opportunities for you and your loved ones.
Dubai Marina truly epitomizes the fusion of fun and tranquility, inviting families and friends to create unforgettable memories amidst its vibrant ambiance.
Dubai Museum: Where the Past Comes Alive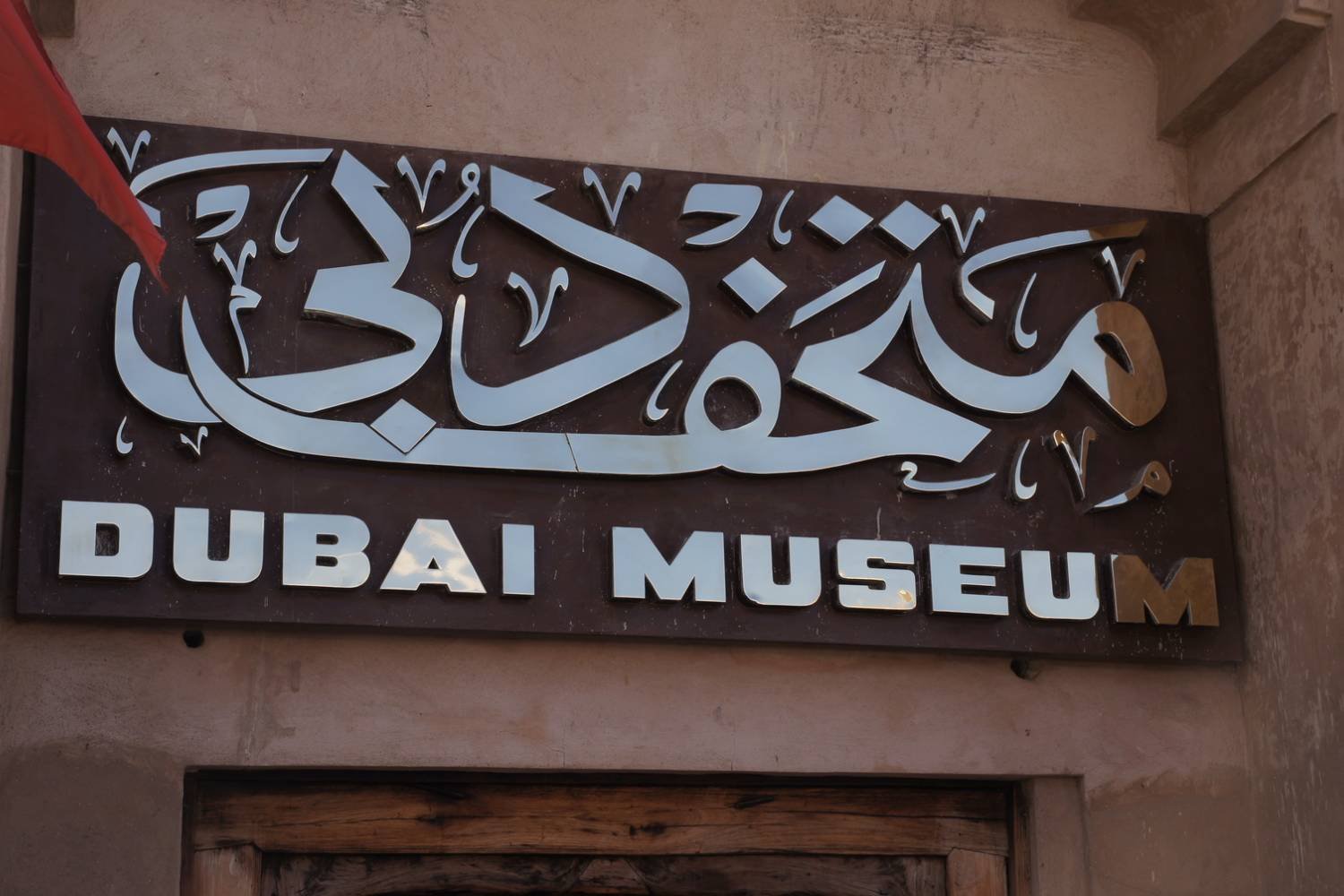 What better place to delve into the history and culture of the city than the Dubai Museum? It stands as one of the best destinations in Dubai for history enthusiasts and tourists with a penchant for cultural exploration. As one of the oldest museums in the city, it serves as a testament to the rich heritage and traditions of the Emirates.
The Dubai Museum offers a captivating journey through the past, illustrating the development of present-day Dubai. Visitors can immerse themselves in the historical narrative through engaging films on the history of Dubai, accompanied by a stunning 3D model showcasing the city's evolution. Exhibitions depict the traditional way of life in Dubai, providing insights into housing, clothing, and weaponry. Additionally, the museum sheds light on the origins and growth of Dubai's oil industry.
A visit to the museum wouldn't be complete without perusing its gift shop, where an array of attractive souvenirs, handicrafts, and traditional attire await. Exploring the Dubai Museum promises to be an enriching experience, as it unveils fascinating facts about the city's remarkable history and culture, leaving visitors with a deep appreciation for Dubai's heritage.
Burj Al Arab: The Epitome of Luxury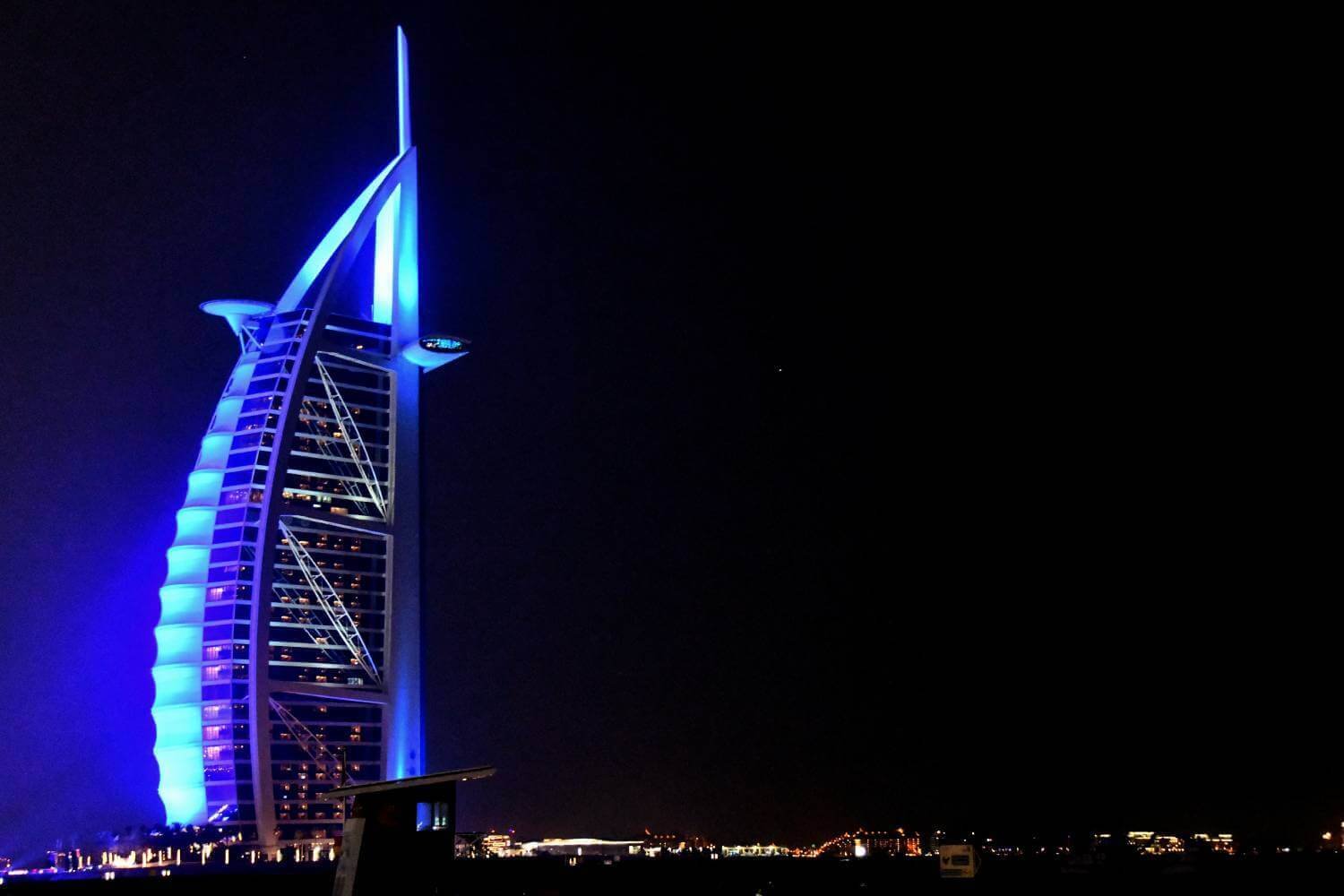 Don't miss out on one of Dubai's iconic destinations – the Burj Al Arab. It stands as a prominent tourist attraction in Dubai, captivating visitors from around the world. Renowned as one of the most luxurious hotels in Dubai, it has earned the esteemed title of "Seven Star."
The Burj Al Arab boasts an exquisite collection of fine-dining restaurants, stunning beaches, and the magnificent Burj Al Arab Terrace. When it comes to indulging in luxury accommodations in Dubai, this remarkable hotel is the preferred choice of celebrities and renowned personalities worldwide. It epitomizes opulence and grandeur.
As your stay comes to an end, a grand farewell awaits guests in the exit lobby, adorned with a bespoke spiral chandelier crafted by Sans Souci, a renowned Czech design company. This magnificent centerpiece features 210 crystal tubes and weighs an impressive 450 kg. Additionally, the expansive terrace offers a sprawling 10,000 sq km of poolside lounging space.
Steeped in history and grandeur, the Burj Al Arab enchants with its interior adorned with 24-carat gold accents. Staying here is an experience of a lifetime, offering unrivaled luxury and sophistication. For those seeking an unforgettable journey through Dubai's sightseeing tour, the Burj Al Arab is an absolute must-visit destination, especially for discerning luxury travelers.
Dubai Aquarium and Underwater Zoo: A Fascinating Encounter with Marine Wonders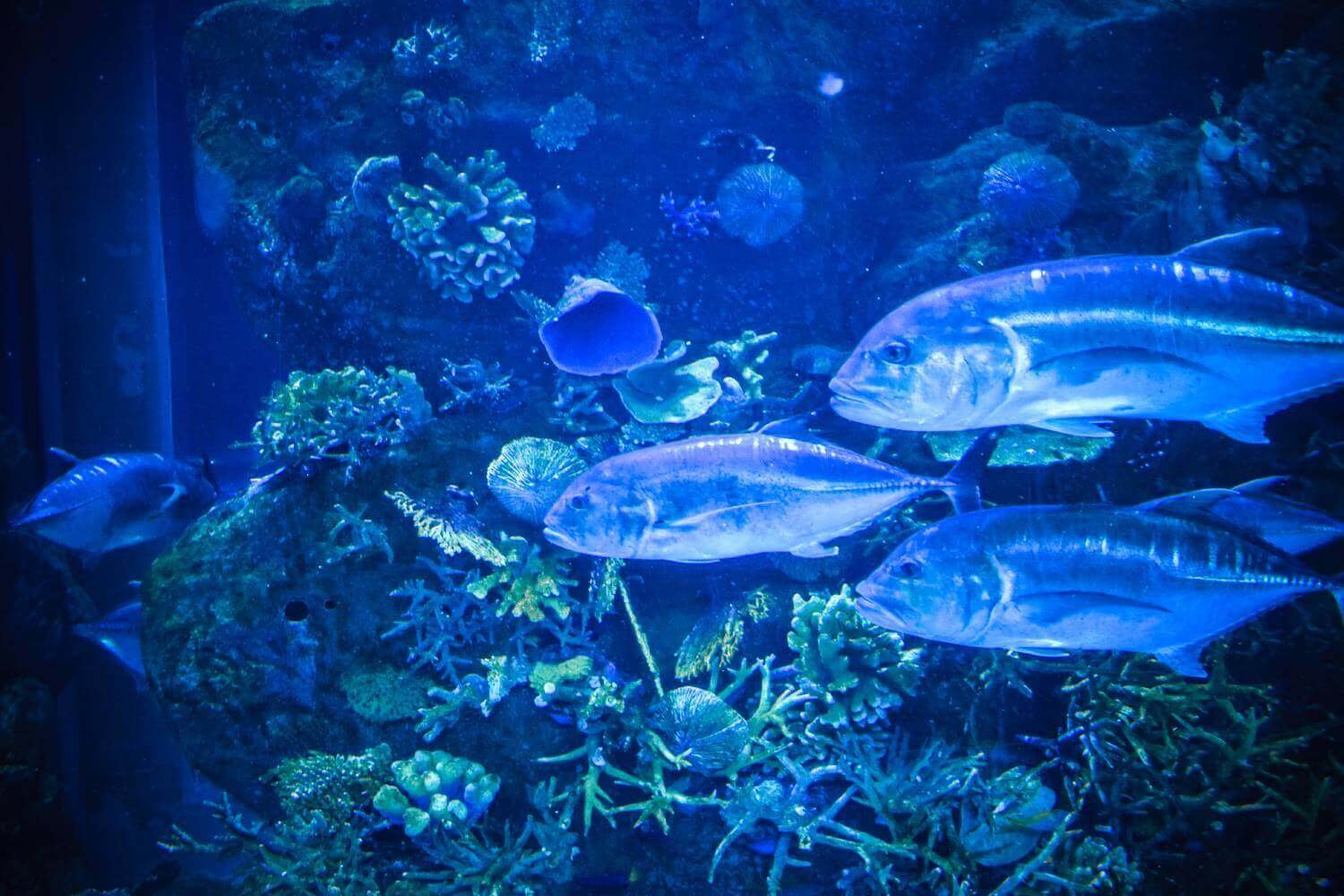 Built inside the Dubai Mall, the Dubai Aquarium and Underwater Zoo are one of the most popular tourist attractions to visit with family and friends. You must bring your kids here; they will be amazed to see the beautiful marine world. It houses many unique marine species. On the second level of the aquarium, you will find an underwater zoo where you can meet sharks, fishes, penguins, crocodiles, and many more marine creatures. A glass-bottom boat ride will let you see the life of marine creatures from a different perspective. You can also indulge in a thrilling dive with sharks in the aquarium park. Additionally, check out the amazing gift shop of the Dubai Aquarium and Underwater Zoo, where you will find marine-themed products and souvenirs. It's a wonderful place to spend a day in the world of fantastic marine creatures and learn a thing or two about them.
Jumeirah Mosque- Seat of Divinity
Jumeirah Mosque is a serene historical mosque in Dubai. It is a top tourist attraction in Dubai for spiritually inclined visitors. Guided tours are available for non-Muslim tourists to learn about the culture and religion. The architecture of the mosque is inspired by Syria and Egypt. It can accommodate approximately 1500 worshippers. As it is a spiritual place, ladies are required to wear decent clothing and bring their own head cover or scarf. There are plenty of things to see and experience at the mosque. Visit the "Once Upon a Time" museum, which preserves captivating stories, artifacts, and pictures from the 70s and 80s. You will also find rare artifacts and vintage items. Special Emirati refreshments such as Arabic coffee, tea, dates, water, and Luqaimat are offered before the program. Don't forget to explore the gift shop of Jumeirah Mosque, where you can find traditional outfits, gifts, and beautiful souvenirs from local businesses. It is one of the most iconic spiritual landmarks in Dubai.
Dubai Frame – For the Most Beautiful Views
Dubai Frame is one of the most beautiful tourist attractions in Dubai, guaranteed to amaze your senses. It offers more than just a typical tourist experience; Dubai Frame provides a captivating glimpse into the harmony between the old and new, showcasing the coexistence of the ancient world and modernity. Furthermore, it allows you to immerse yourself in Dubai's rich historical and cultural legacy.
Standing at an impressive height of 150 meters, Dubai Frame is adorned with over 1500 square kilometers of gold-colored stainless steel. Its distinctive ring, inspired by the expo 2020 Dubai Logo, adds a touch of elegance to the structure. Tourists from all corners of the world flock here to witness the captivating beauty of Dubai.
From the bridge, you can witness the most breathtaking sunset views, be captivated by the charm of old and new Dubai, and gain fascinating insights into Emirates Heritage. The experience is truly unforgettable, offering a unique perspective on the city's evolution and remarkable achievements.
Get Ready for Thrilling Water Adventures in Dubai
Dubai is an amazing tourist destination for family holidays in the United Arab Emirates. This place is a must-visit tourist attraction in Dubai, especially if you are fond of adventures. If you have kids, there are numerous adventure theme parks that will delight their souls. These theme parks serve as excellent sources of recreation and relaxation, offering a perfect place to spend an entire day. With an abundance of water slides and fun-filled activities, they are ideal for travelers of all kinds. A day spent in these theme parks will provide you with the ultimate pleasure of thrilling adventures in Dubai.
Explore Legoland Water Park in Dubai
Legoland Water Park in Dubai is the ultimate destination to enjoy the world's best waterslides and Lego rides. It is also one of the top tourist attractions in Dubai. If you have kids aged 2-12, the rides and fun-filled games at Legoland will create unforgettable memories for them. Here are some of the best adventure activities to try:
Build-A-Boat: Use LEGO bricks to build your own boats and set them afloat in the Build-A-Raft River.
Joker Soaker: Experience the excitement of a water playground with thrilling slides and interactive water features.
Red Rush: Embark on a fascinating and thrilling family-sized raft ride that will leave you exhilarated.
Splash Out: Enjoy an amazing open-body slide with friends, experiencing a thrilling rush of water.
Wave Rider: Dive straight into the water and ride the waves for an exhilarating experience.
At Legoland Water Park, there is no shortage of excitement and adventure. It's a place where imagination and water fun come together for an unforgettable day of enjoyment.
Explore the Fascinating Rides of Aqua Venture Waterpark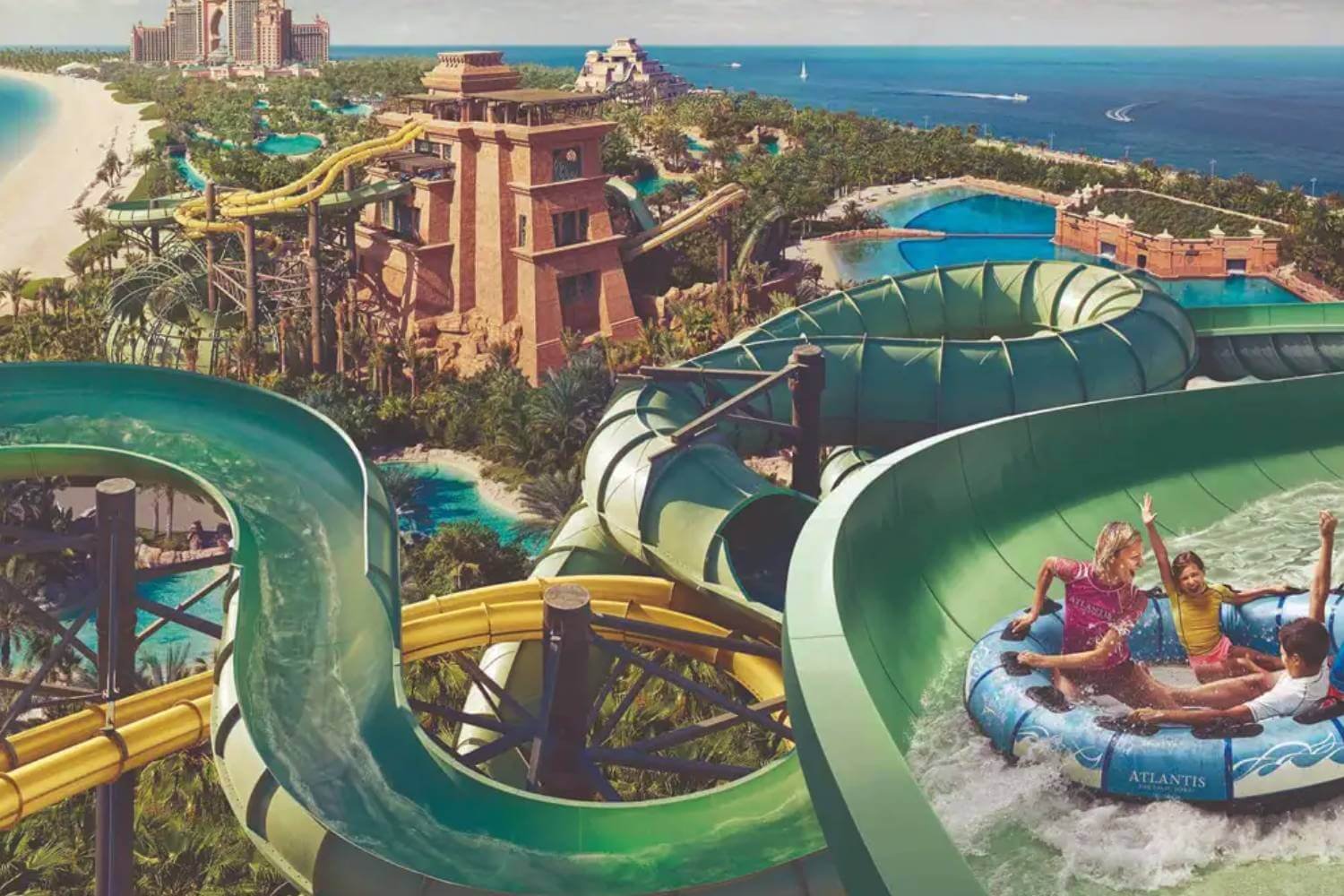 This park boasts over 105 record-breaking water slides and attractions, making it an excellent destination to enjoy thrilling rides with your family and friends in Dubai. Some of the most popular rides at Aqua Adventure Water Park include:
Odyssey of Terror: The world's tallest water ride, featuring a free-fall down a curved wall.
Shockwave: A must-not-miss attraction, as it is the world's longest family water coaster ride.
Blackout: A thrilling vertical drop, known as the scarier sister of the Leap of Faith.
Vortex: A wonderful vortex twister for adventure lovers, with twisting back turns, curves, and 360 loops.
Leap of Faith: Experience a breathtaking fall from a height of 9 storeys into a shark-filled lagoon at lightning speed.
River Rapids: Prepare for the longest river ride through raging torrents.
Raging Rapids: Ride through waves, high-pressure bubbles, and strong currents for a wild adventure.
Immortal Falls: Don't miss the thrilling gravity-defying cliff jumps.
Surfs Up: The best activity for surfers to catch some waves.
Additionally, there is a dedicated kids' play section called Splashers Island, which is one of the top places for kids in Dubai. It offers many adventurous and fun-filled water rides for kids to enjoy, such as tornado slides, rally racer, and Splashers Mountain.
Aqua Adventure Water Park provides an exhilarating experience for visitors of all ages, ensuring a day full of excitement and memorable moments.
Legoland Resort Dubai – Comforts of All Kinds
Adjacent to Legoland Water Park, Legoland Resort in Dubai offers an extravagant accommodation option for families with children. After enjoying all the thrilling rides and adventure activities, a comfortable Lego-themed stay is a wonderful way to experience the rich hospitality of Dubai. Legoland Resort in Dubai provides many recreational and relaxation opportunities for families and friends.
The resort features around 250 rooms, offering luxurious accommodation for families of up to five members. It is also a great place to celebrate special occasions such as your child's birthday party. With numerous rides located within the resort and a variety of indoor adventure activities, there is no shortage of entertainment for guests.
Your family holidays at Legoland in Dubai will undoubtedly be an unforgettable experience, combining excitement, comfort, and the magic of Lego.
The World Islands – Island of Bliss
Just off the coast of Dubai, The World Islands is a beautiful archipelago, making it the best place to visit during a Dubai sightseeing tour. The World Islands consist of numerous islands that resemble the world map when viewed from above. These islands are named after countries, cities, personalities, and regions. Covering approximately 232 km of the shoreline, the archipelago comprises around 300 mini islands. It's an amazing destination to explore with friends and family in Dubai, offering a variety of dine-in hotels and luxurious islands. Additionally, you can enjoy thrilling watersports such as jet skiing, kayaking, and paddleboarding, as well as breathtaking beach views.
One of the most fascinating activities here is taking a seaplane ride, which provides a comprehensive tour of the entire island. A boat ride is also highly recommended, as it allows you to learn about the design and concept behind the creation of these islands. If you prefer a more personalized experience, you can hire a private yacht and explore the islands at your own pace. Some islands have their own hotels and resorts, where you can stay and immerse yourself in the unique ambiance and luxury facilities they offer. For photography enthusiasts, The World Islands is one of the best places to capture stunning pictures, with a beautiful view of the Dubai Skyline as an added bonus.
Dubai Parks and Resorts – Fun Haven for Families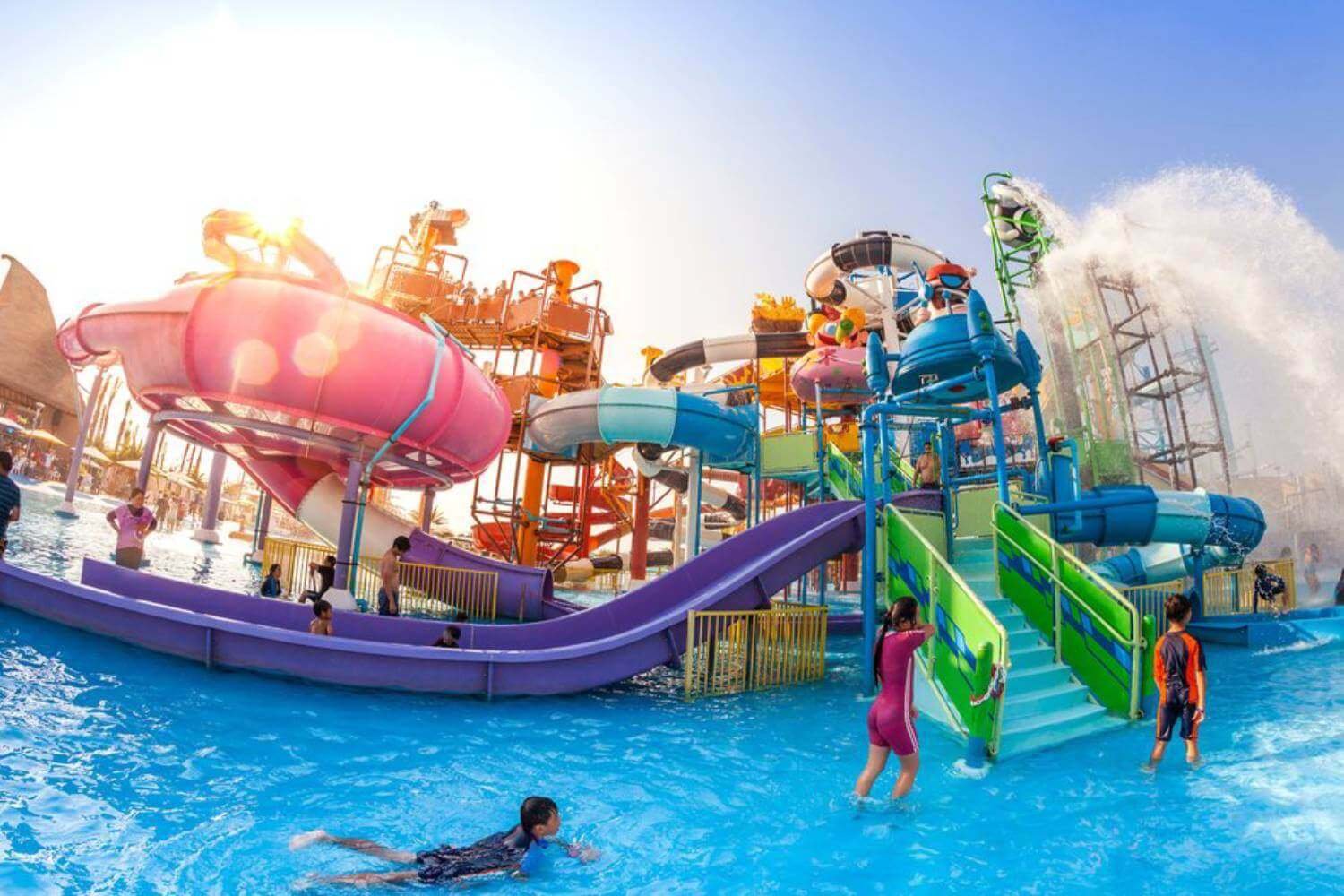 Dubai Parks and Resorts is the ultimate tourist attraction in Dubai that will permanently capture your heart. It is one of the most popular family-friendly destinations in Dubai, specifically curated for those with children and a love for adventure. A visit to Dubai Parks and Resorts is a must if you want to experience the best of Dubai tourism. It is the Middle East's largest integrated theme park destination, comprising three theme parks—Motiongate, Bollywood, and Legoland—and one water park, Riverland, along with a grand entrance plaza and a Polynesian-themed family resort. It offers the best adventures, memories, and fun for tourists.
Enter the world of innovation and extraordinary storytelling at Motiongate Dubai, where you can immerse yourself in a fantasy world of films and encounter your favorite animated characters. Every Bollywood lover must visit Bollywood Park, which showcases the diverse and artistic cultural aspects from all parts of India. Don't miss the Bollywood Sky Flyer ride, the tallest swing ride in the world. At Legoland Water Park, you will find amazing Lego rides designed for kids, with around 20 water slides for families to enjoy.
Riverland, the gateway to Dubai Parks and Resorts, is a must-visit place where you can encounter the greatest eras of the past. Divided into four zones—The French Village, Boardwalk, India Gate, and the Peninsula—these areas will transport you back in time and remind you of bygone eras.
Dubai Parks and Resorts also offers a range of amazing hotels and resorts that will captivate your soul and make you want to stay forever. These accommodations cater to all the needs of tourists. After enjoying adventures and rides, if you desire relaxation and comfort, you can choose to stay here. The hotels and resorts offer good connectivity, stunning styles and decorations that delight the eye, private pools and balconies, themed dinners, and picturesque views for tourists. These are just a few of the many features available.
Ski Dubai – Where Snowy Adventures Begin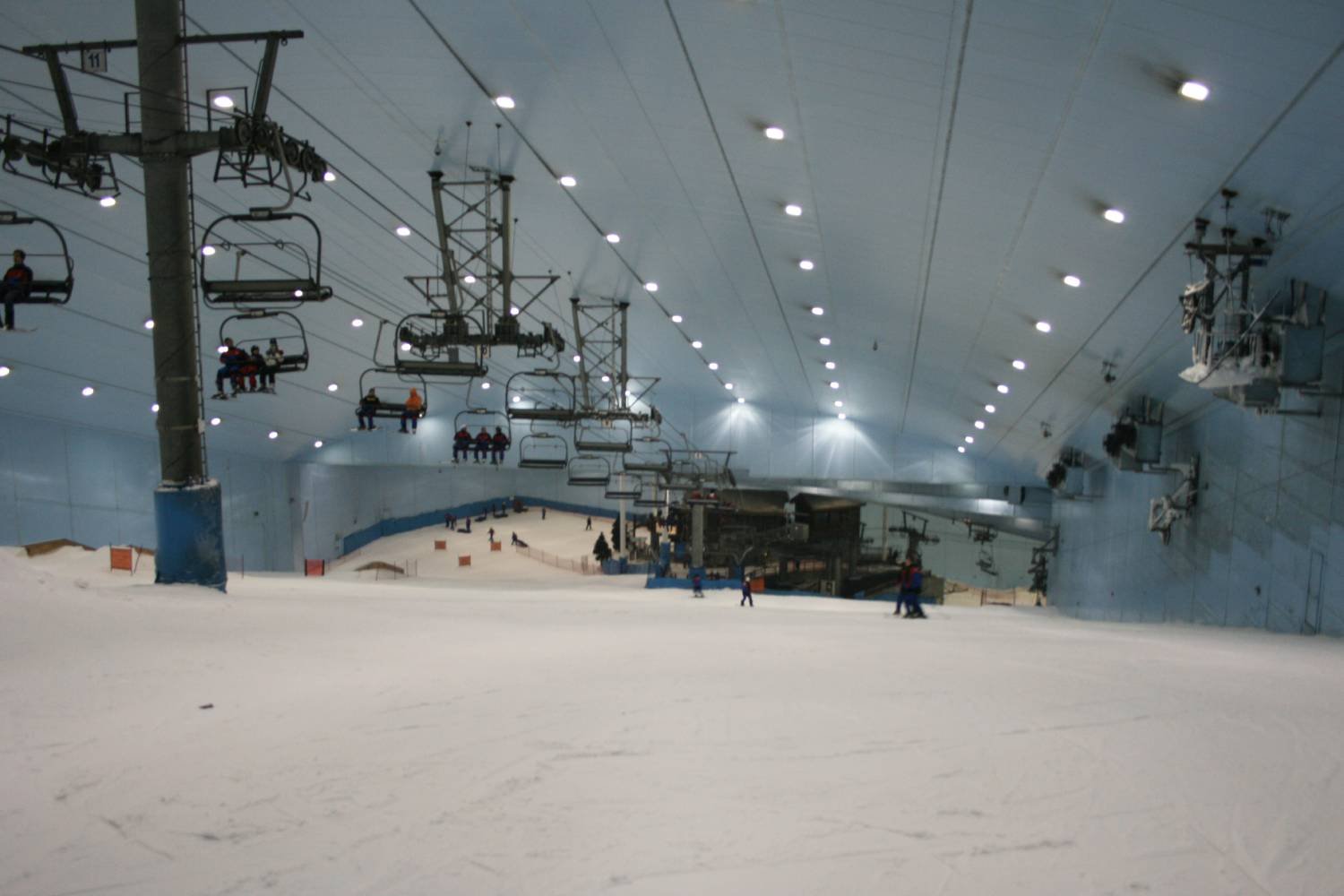 Ski Dubai is a must-see tourist attraction in Dubai for individuals of all ages, offering a fun-filled experience for everyone. If you're in Dubai and looking for a place to enjoy quality time with your loved ones, head to Ski Dubai. The venue offers a wide range of enjoyable activities that create unforgettable memories with your near and dear ones. It boasts a wonderful indoor skiing area where you can engage in skiing, snowboarding, snow bullet rides, and many other thrilling snow rides.
Right on Ski Dubai's slopes, you can enhance your experience by watching movies while sipping on hot chocolate and enjoying popcorn at the Snow Cinema by Vox Movies. If you're new to skiing, you can also learn from Ski School experts while having fun. Additionally, Ski Dubai is a great place to encounter penguins, including the amazing King and Gentoo Penguin species.
Zorb ball, chair lifting, snow park rides, and mountain thriller rides are among the best attractions for tourists of all kinds. For those who love challenges, there are snow challenges to test your skills. Fitness enthusiasts will find a range of amazing workout activities such as snow yoga, morning hikes, HIIT classes, and Zumba classes. Moreover, Ski Dubai offers mesmerizing cafes and restaurants that will captivate your soul with their amazing dishes.
Come and experience the joy and excitement that Ski Dubai has to offer, creating cherished moments for all.
Dubai Opera- Time for Entertainment
Dubai Opera is a must-visit destination for those who love to immerse themselves in the culture and heritage of a place, appreciate cultural performances, enjoy watching performing arts, and indulge in live entertainment and fashion shows. With a seating capacity of 2,000, this multiformat theater promises to captivate your heart with its exhilarating entertainment performances. It is a premier destination for world-class performing arts and entertainment productions. Tourists can enjoy a wide range of live entertainment performances, fashion shows, concerts, conferences, galleries, and exhibitions.
The architecture of Dubai Opera will mesmerize your eyes. Paying tribute to Dubai's maritime history, its design showcases its unique transformation capabilities. This versatile theater can be effortlessly converted into three different configurations: from theater to concert hall, concert hall to flat floor, and flat floor to banquet or event hall. It serves as an ideal venue for gala dinners, weddings, private events, outdoor concerts, workshops, New Year parties, musical nights, and product launches.
For art and music enthusiasts, Dubai Opera stands as the ultimate destination to visit during their Dubai holidays. Immerse yourself in the enriching world of art and music at Dubai Opera.
Palm Jumeirah- Recreation Paradise
Palm Jumeirah is one of Dubai's most beloved tourist attractions that will captivate your senses with its glamorous five-star resorts, amazing restaurants, parks, malls, and mesmerizing beach clubs. There is never a dull moment in Palm Jumeirah. The warm waters of the Arabian Gulf, stunning sunrises and sunsets, the beautiful Broadwalk of Palm Jumeirah, and thrilling water adventures such as wakeboarding, skiing, parasailing, paddleboarding, and yachting make it the perfect place to hang out with your loved ones and create beautiful memories. Numerous restaurants, cafes, and shops offer ample opportunities to spend quality time with your family and rejuvenate your mind.
The captivating palm-shaped island of Palm Jumeirah, located opposite Jumeirah Beach, is a fantastic place to unwind. You must experience shoreside dining and underwater dinner at Ossiano in Atlantis. If you have children, there is no better place than Aquaventure Park, which features numerous fun water slides. Additionally, you can enjoy a romantic cruise tour around Palm Jumeirah with your loved one. Palm Jumeirah is indeed the best place to create everlasting memories with family and friends in Dubai.
Dubai is a fascinating destination for tourists of all kinds, offering a wealth of experiences and attractions that will constantly entice you to plan your next visit. Feel free to ask any queries in the comment section of our blog. If you have already visited Dubai, we are eager to hear your amazing stories. For first-timers, we wish you a happy and safe journey.
Frequently Asked Questions
What are the top ten must visit places in Dubai?
Dubai is at the top of the travel bucket list for every wanderer, and it's not hard to see why. It is a melting pot of diverse cultures, cuisines, and experiences. There are numerous incredible places to explore in Dubai that will undoubtedly leave a lasting impression. Some of the top landmark destinations to visit in Dubai are:
Burj Khalifa
Burj Al Arab
Dubai Mall
Dubai Frame
Old Dubai
Palm Jumeirah
Dubai Creek
Dubai Miracle Garden
Dubai Aquaventure Park
Dubai Skydive
How many days are needed to visit Dubai from India?
Dubai is a remarkable tourist attraction that caters to visitors of all kinds. It offers a wide range of tourist attractions and adventure activities. Exploring this incredible destination in just 2-3 days may not be sufficient to fully experience all it has to offer. To truly enjoy all the fun and activities with your loved ones, it is recommended to allocate 6-7 days to explore Dubai. However, if you are planning a shorter visit of 2-3 days, you can still enjoy some of the most popular destinations in Dubai. The duration of your holiday will depend on the specific activities you choose and the places you wish to explore.
What are the best kids' friendly places to visit in Dubai?
Dubai is an awesome destination for family-friendly holidays, especially when you have kids. There are many amazing places in Dubai that offer entertainment and recreation for children. Here are some of the best kid-friendly places in Dubai to make your kid's holiday truly awesome:
Dubai Fountain
Burj Khalifa
Ferrari world
Legoland Water Park
Bollywood Park
Motiongate
Aqua venture water Park
Miracle Garden
The Global village
Jumeirah Beach
Dolphinarium
Dubai Aquarium and Underwater Zoo
Children's City
Jam Jar
Cafe Ceramique
JA Palm Tree Court
Kidzania
Sky Dubai
VR Park
Green Planet
What are the top shopping places in Dubai?
Paradise for shopaholics, Dubai has amazing places that will entice you to open your purse and buy fascinating souvenirs. From mesmerizing shopping malls to traditional souks, Dubai is a blissful haven for those who love to shop. Here are some of the most amazing places to indulge in shopping in Dubai:
Spice Souk
Perfume Souk
Meena Bazaar Dubai
Dragon Mart
City walk
Farmers Market
The outlet Village
Ibn Battuta Mall
Mercato shopping Mall
Karama Shopping Complex
Wafi Mall
Mall of the Emirates
City Center Mirdif
Friday Market
What are the must visit Beaches in Dubai?
Dubai is renowned as one of the world's top beach holiday destinations. Tourists from all corners of the globe flock to Dubai to immerse themselves in the luxuries offered by its hotels and resorts, and to bask in the beauty of its sandy beaches. Dubai's beaches serve as incredible destinations for enjoying recreational activities with family and friends.
Here are some of the must-visit beaches in Dubai:
Al Mamzar Beach Park
Jumeirah Beach
White Beach
JBR Beach
Sunset Beach
Kite Beach
Al Sufouh Black Palace Beach
Mercato Beach
La Mer Beach
Marina Beach
Jebel Ali Beach
What are the top outdoor activities to do in Dubai?
Dubai is an incredibly popular and adventure-friendly destination that offers a plethora of interesting events and activities to keep tourists entertained. Here, you'll never feel bored as there are numerous awesome outdoor activities to enjoy, making your Dubai holidays truly unique.
Here are some of the top outdoor activities and attractions in Dubai:
Kite Beach: The perfect spot for relaxation with your family.
Adventure and Leisure Parks: Ideal for thrilling rides and fun activities.
Beach Clubs: Experience the happening vibes of Dubai's beach clubs.
Dubai Desert Safari: Explore the desert and engage in thrilling adventures.
Dubai Miracle Garden: A paradise for nature lovers.
Burj Khalifa: Capture stunning pictures and enjoy the adventures of the world's tallest building.
Dhs1 Abra Ride of old Dubai: An experience of a lifetime.
Explore Dubai's Outdoor Markets: Discover the vibrant outdoor markets of Dubai.
Adventures of Hatta: Spend an entire day enjoying the adventures in Hatta.
Pedal Boating in Al Barsha Pond Park: Enjoy a leisurely pedal boat ride in Al Barsha Pond Park.
Visit Amazing Museums of Dubai: Dive into the rich culture and heritage of Dubai through its incredible museums.
Fishing Adventure in Gulf's Warm Waters: Embark on a thrilling fishing adventure in the warm waters of the Gulf.
With these exciting options, Dubai guarantees an unforgettable adventure-filled experience for all visitors.
What are the top places to visit in Dubai at Night?
Don't miss out on Dubai's vibrant nightlife! Dubai boasts an awesome nightlife scene that will leave you mesmerized. The pulsating rhythm of disco songs, delectable food, bustling shops, vibrant street culture, lively parties, and consistently amazing bars and pubs will ensure that your night out in Dubai is truly unforgettable.
Here are some of the most incredible places for a happening night out in Dubai:
Sightseeing at the top of the Burj Khalifa
Al Bastakiya
Dubai Marina and JBR
Night Desert Safari at Dubai desert
Al Thuraya Astronomy Centre,
The Fujairah Beach
Al Qudra Lake,
Acacia Forest,
Wadi Sana
Umm Al Quwain
Al Boom Diving
Dubai Underwater Zoo
Global Village
Night Clubs and Bars
Motiongate Dubai
Shopping Mall of Dubai
Dubai fountain
VR Park
City Walk
Dubai Frame
Lost Chambers
What are the best adventurous places and theme parks to visit in Dubai?
Dubai is undeniably one of the top and must-visit destinations for adventure lovers. This remarkable city offers a plethora of exciting adventure spots that are sure to get your adrenaline pumping. Make sure to visit these places to experience the thrilling adventures Dubai has to offer:
Burj Khalifa
Atlantis Aqua venture Waterpark
Legoland Water Park
Legoland Theme Park
Dubai Desert
Skydive Dubai
Xline Dubai Marina
Deep dive Dubai
Sky Views Dubai
IMG Worlds of Adventure
Motiongate Dubai
Wild Wadi Waterpark
Dubai Global village
Ferrari World Theme Park
Bollywood Theme Park
What are the best places to visit in Dubai for Nature Lovers?
The natural beauty in Dubai is at its peak, offering breathtaking landscapes and a serene atmosphere that will provide you with the most blissful and pleasurable experience. For nature lovers and those seeking solace, Dubai offers a range of awesome places to explore:
Al Safa Park
Zabeel Park
Dubai Creek
Jumeirah Beach Park
Al Mamzar Beach Park
Al Qudra
Ras Al Khor Wildlife Sanctuary
Hatta Dam
Umm Al Quwain
The Green Planet
Dubai Butterfly Garden
Dubai Miracle Garden
What are the top Museums to visit in Dubai?
Dubai is home to several museums that offer valuable insights into its rich heritage and culture. If you are enjoying your holidays here, make sure to visit these top museums in Dubai:
Dubai Museum
Hatta Heritage Village
Etihad Museum
Sheikh Saeed Al Maktoum House
Al Bastakiya
Coffee Museum
Saruq Al- Hadid Museum
Naif Museum
Museum of the future
Pearl Museum
Camel Museum
Dubai Moving Image Museum
Coin Museum
Women's Museum
Al Shindagha Museum
Other Interesting International Travel Guide Blogs to Read
Like & follow us on our following official social media channels
Facebook | Twitter | Linkedin | Instagram | Youtube
Also Check Out: Popular India Tours | Tour Packages | India Tour Packages | International Tour Packages
International Trending Holiday Destinations – Nepal Tours | Bhutan Tours | Singapore Tour | Thailand Tours | Sri Lanka Tours | Maldives Tours | Dubai Tours | Indonesia Tours
Other Popular Trending Holiday Destinations in India – Kashmir Tour | Himachal Tour | Uttarakhand Tour | Rajasthan Tour | Gujarat Tour | Sikkim Tour | Kerala Tour | Andaman Tour | Madhya Pradesh Tour | North East Tours
Tour Packages by Interest – Adventure Packages | Wildlife Packages | Pilgrimage Packages | Heritage Packages | Hill Station Packages | Weekend Packages | Honeymoon Packages | Beach Packages | Chardham Packages | Trekking Packages
Other Interesting India Travel Guide Blogs to Read
Other Interesting Destinations Travel Guide Blogs to Read
Other Interesting Uttarakhand Travel Guide Blogs to Read
Other Interesting South Travel Guide Blogs to Read
Other Interesting Adventure & Trekking Travel Guide Blogs to Read
Other Interesting Rajasthan Travel Guide Blogs to Read
Other Interesting Wildlife Travel Guide Blogs to Read
Other Interesting Kerala Travel Guide Blogs to Read