The land of gorgeous nature, the land of tranquility, the land of Orchids, it is very difficult to define Sikkim's beauty in words. It's one of the most beautiful tourist destinations to visit in India. Perfect for all kinds of travelers. Be it solo travelers, backpackers, couples, adventurers, nature and wildlife lovers and families- Everyone finds bliss in Sikkim. Sikkim is blessed with abundance of natural resources.  Decked with snowcapped mountains, lakes, rivers and varieties of flora and fauna Sikkim is one of the best ecological hotspots of the world. Sikkim is truly a wealth of Eastern Himalayas. One must explore the rich natural bio diversities, blue mountain lakes, gorgeous Buddhist monasteries and hillsides. You will be amazed and enchanted forever. Sikkim is a wholesome tourist destination to visit in India.
Let's explore Sikkim's best tourist attractions and embrace the tranquil shower of nature upon us.
List of Sikkim's Top 15 Tourist Attractions & Places to Explore in 2023/2024
Yuksom
Yumthang Valley
Kanchenjunga National Park
Nathula Pass
Gurudongmar Lake
Tsomgo Lake
Mangan
Lachen
Lachung
Pelling
Ravangla
Namchi
Nathang Valley
Zuluk
Gangtok
Quick Travel Facts About Sikkim Tourism
| | |
| --- | --- |
| Sikkim's Location | Eastern Himalayas |
| Major Rivers | Rangit and Teesta River |
| Popular Festivals of Sikkim | Dasain, Losar, Diwali, Enchey Chaam, Guthor Cham, Pang Lhabsol, Lhabab Dhuechen, Saga Dawa, Tse Chu Chaam , Maghe Sankranti etc. |
| Popular Adventure Activities of Sikkim | Trekking, Mountain Biking, River Rafting, Rock climbing, Paragliding and wildlife Safari etc. |
| Popular Destinations of Sikkim | Gangtok, Namchi, Pelling, Yuksom, Yasmthung, Chungthang, Mangan, Gurudongmar lake, Nathula Pass, Ravangla and Tsomgo etc. |
| Offbeat Travel destinations of Sikkim | Dzongu Valley, Zuluk, Lachen, Lachung, Gyangchung, Chakung, Singhik, Rolep, Okhrey, Yangsum Village etc. |
Get upto 30% early bird discount on Sikkim Tour Packages. For booking Call or WhatsApp on +91-8802149265 / +91-7668130655
1. Yuksom
Yuksom is a wonderful travel destination in Sikkim to rejoice in silence and enjoy a lazy vacation in the midst of alluring natural landscapes. Also known as the gateway to Mt Kanchenjunga, Yuksom's landscapes will blow your heart away with amazing historical beauties, monasteries, waterfalls, beautiful valleys, and lakes. Yuksom literally means "the meeting place of three lamas – Lutsum Chembo, Sempa Chembo and Rinzing Chembo in search of a king to rule Sikkim with righteousness. The footprints of the head lama on Norbugang Chorten can still be seen in the stone seats.
There is also a very important cultural significance of Yuksom for Sikkim.  Yuksom is surrounded by Kanchenjunga. Local people of Sikkim worship the guardian deities of Kanchenjunga. Yuksom is a place which is considered as "Lhakhnag or altar for offering" to the deities of Kanchenjunga. According to the locals every landscape, trees, and caves have their own deities known as Yullha, Zibda. Therefore no one can pollute the environment as it can bring natural disaster in the region.
Yuksom will enrich your Northeast sightseeing experience in a different way. Yuksom is a unique tourist destination in Sikkim. When you see the forests here you will notice that it has Sub-Tropical mixed broad-leaved hill forests. You will find Oaks, Rhododendrons, orchids, ferns, Alnus Nepalensis, Mahua, Sincoli etc. In Many places you will also witness beautiful cardamom cultivation.
For nature lovers, Yuksom is a bliss of serenity. Yuksom is also an amazing Buddhist pilgrimage place. Dubdi Monastery is the oldest of Sikkimese monasteries and is also an important Buddhist pilgrimage center.  Lying between the lowland of Yuksom and Mt Kanchenjunga, you must not miss Kanchenjunga National Park. It's one of the best adventures and wildlife destinations of Sikkim.
In Yuksom the homestays provide experiences of wholesome Sikkimese tradition, culture and cuisine.
Yuksom Dzongri Trekking trail is one of the best things to do for adventure. It gives you the opportunity to enjoy the wide biodiversity of the Kanchenjunga Region.
2. Yumthang Valley
Sikkim's beautiful valley of flowers – Yumthang Valley comes first in the list of top tourist attractions for nature lovers. It is at the elevation of 11, 800ft and one of the most beautiful nature's paradises of the North Sikkim region. Unique floras and faunas, mesmerizing sceneries absolutely worth your time. Moreover, Singba Rhododendron Sanctuary is a sight of joy forever if you visit Yumthang Valley. It boasts of around 40 unique species of Rhododendrons. The serene Yumthang Chu meanders through this beautiful sanctuary, increasing its charm and giving it wholesomeness.
In the month of April/ May and June, the entire Yumthang Valley is decked in beautiful colors of Rhododendron, Primula and Alpine flowers. Do you know the rare and endemic Rhododendron Niveum is only found in this region? It is also the state tree of Sikkim. You will also witness the entire area is surrounded with beautiful mountain ranges.
The stunning array of peaks with Pauhunri and Shundu Tsenpa looks gorgeous. You will also witness many hot springs in the valley which are rich in sulfur and also contain healing properties. Its atmosphere has healing vibes.
3. Kanchenjunga National Park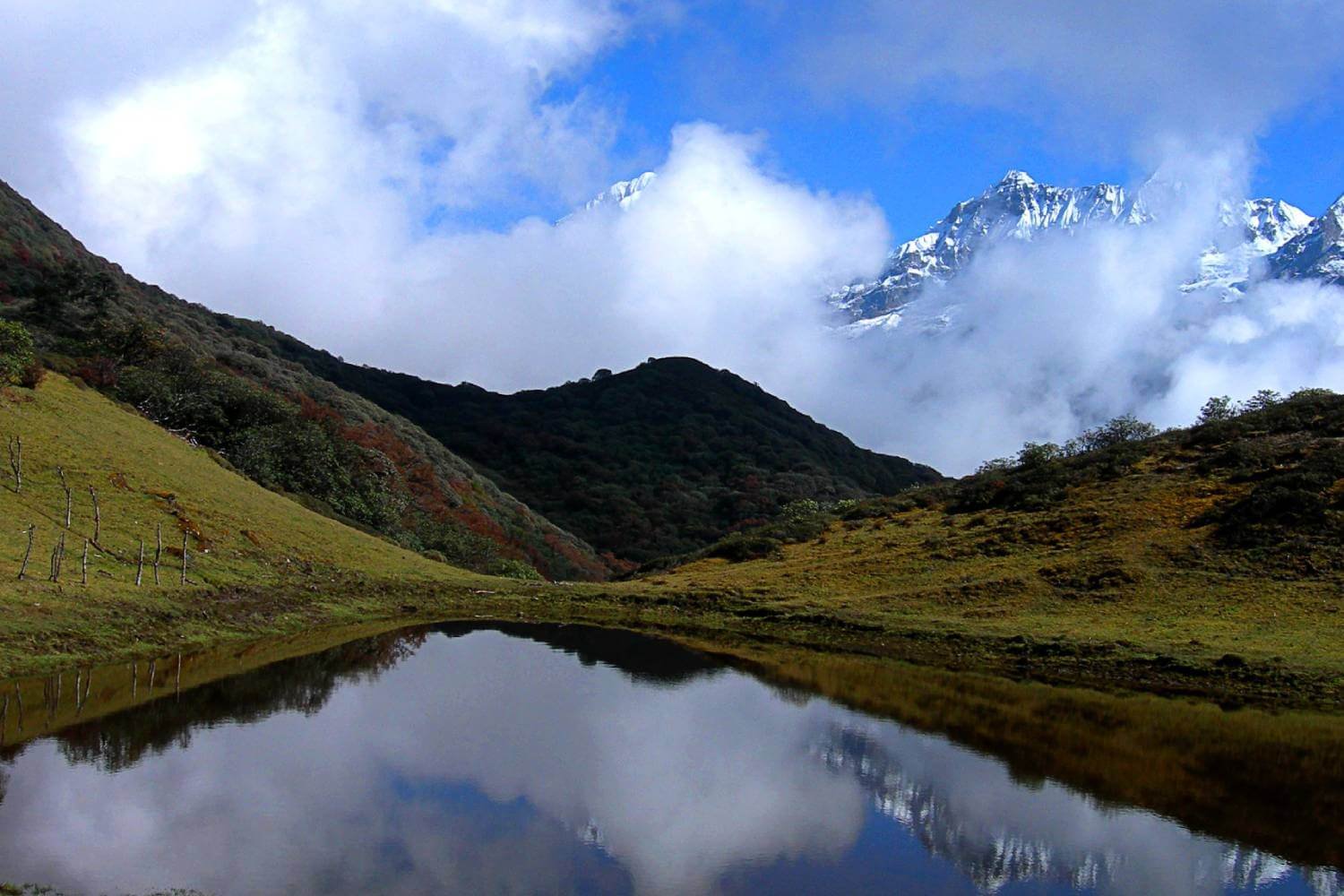 Looking for wildlife adventures in the Northeast Indian state of Sikkim then just go to Kanchenjunga National Park and it will take care of your wild heart forever. It's a wonderful biosphere reserve as well as a UNESCO World Heritage site.  The park is named after the third tallest mountain peak in the world, Mt Kanchenjunga. It is not only a wildlife destination but also one of the most sacred destinations of Sikkim as the buffer zone of the reserve Tholung Monastery is located. It is one of the holiest monasteries of Sikkim. The reserve has varied landscapes. From plains, valleys, rivers, lakes, glaciers to snowcapped mountains, the landscapes are a treat to eyes. It's the best place to see exotic, endangered and rare Himalayan floral and faunal species.
You will be amazed to know that there are 18 glaciers, 17 high altitude lakes and 19 mountain peaks in this Reserve. Just imagine, you will find some of the most beautiful scenes and sights of nature here. The lush green forests of Kanchenjunga teeming with exotic Himalayan wildlife and a home to rare and endemic species of birds and plants. You will witness many faunal species such as Musk Deer, Himalayan Griffon, Goral, Tibetan wild ass, Dhole, Sloth bear, Himalayan blue sheep, Himalayan blue serow, snow leopard and Takin etc. Coming here is a treat to your mind and soul. It is indeed one of the best destinations in Sikkim for adventures.
4. Nathula Pass
Nathula Pass is one of the most scenic tourist attractions to visit in Sikkim. Located at Indo China Border at Jawaharlal Nehru Road, this place is only accessible to Indian Tourists. Due to the snow covered at higher elevations, the vegetation of Nathula Pass is barren. However, you will see beautiful species of Dwarf Rhododendrons, Juniperus, Caltha, Primula and Heracleum. You will be amazed to know that this place doesn't have permanent inhabitants.
There are a small number of Tibetan Graziers or Drokpas (Yak, Sheep and goat herders) and defense personnel. It is also one of the most threatened ecoregions in India. There are many endangered species such as Snow Leopard, Kiang, Tibetan wolf, Golden Eagle, and Ruby Shell Duck etc. Standing next to the Chinese soil is in itself a thrilling experience.
Tourists from across India also come here to visit Baba Mandir. Devotees come here to pay respects to a sepoy, Harbhajan Singh who died here a long time ago. The Senateries and guards believe that his spirit is still alive and protecting the soldiers in this difficult terrain. People here offer slippers to the holy spirit, and it is said that if worn it heals the aching foot. Langar (sacred meal) is served here once a week.
Note– Any Indian tourist who wants to visit Nathula Pass has to take permission from the concerned authorities as the place shares its borders with China. You can visit here only on Wednesdays, Thursdays, Saturdays and Sundays.
5. Gurudongmar Lake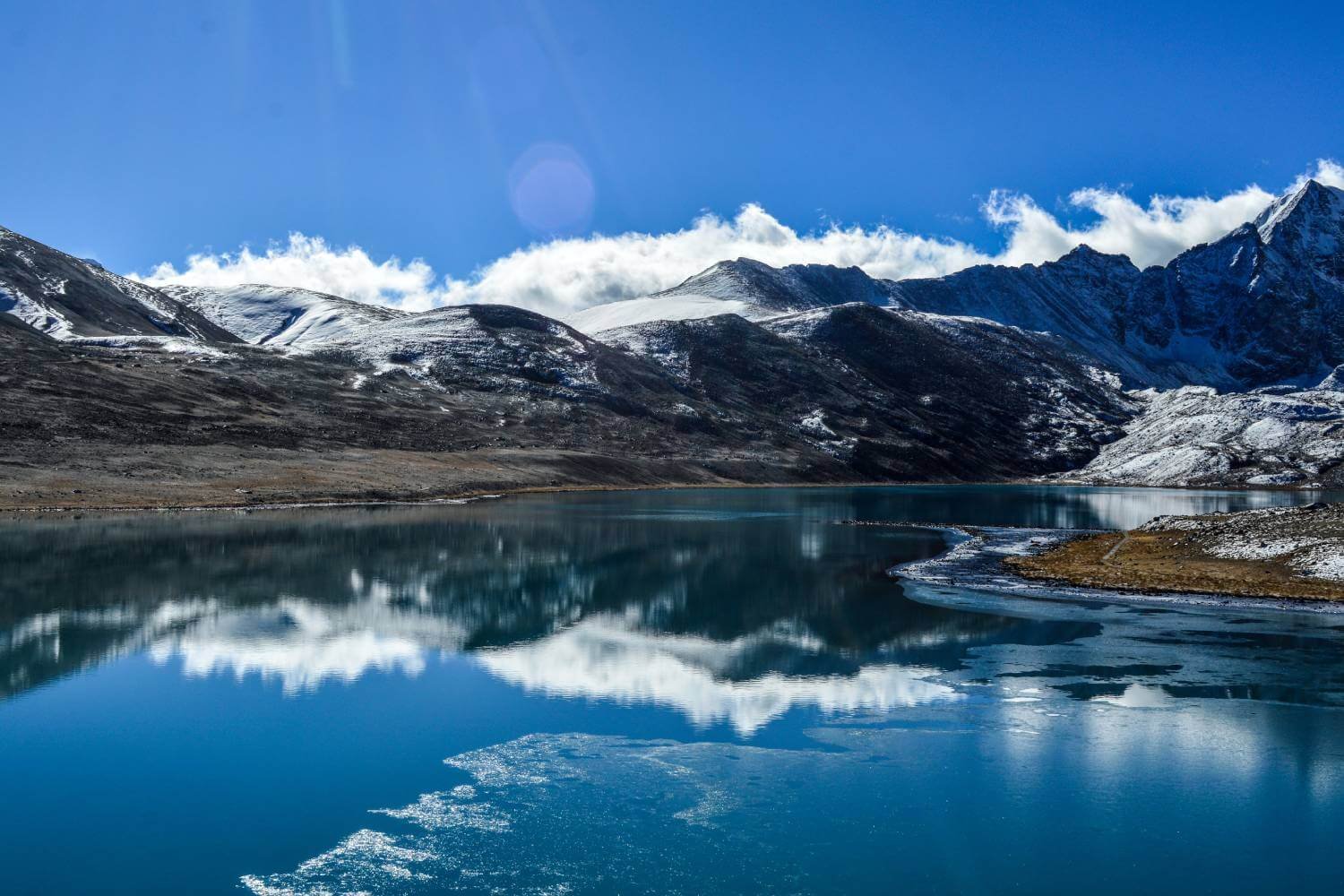 Gurudongmar Lake is one of the top tourist attractions in Sikkim. Stunning vibe and amazing, serene landscapes, it has been captivating the hearts of tourists for over a decade. It also has a great religious significance. Surrounded by snow-covered peaks, this sacred lake's water is one of the   major sources for the Teesta River which is the lifeline of Sikkim and North Bengal.
You will also get a chance to witness rare Brahmakamal in the high alpine pastures of the region. The view of sheep grazing in a distant valley, beautiful natural views all around makes Gurudongmar lake worth a visit. The Most unique aspect of this area is the quality of its environment. It has Dry alpine forests which is the reason why you see the scattered shrubs, barren and snow-covered landscapes.
Another unique aspect is its endangered species. You will be able to witness Tibetan Gazelle, snow leopard, Tibetan Wolf, Tibetan Snowcock, Yaks, Blue sheeps, Raven and other high-altitude animals you have never seen before.
Why is this place called Gurudongmar Lake?
Gurudongmar Lake is the largest and highest lake of Sikkim. It has religious significance for Hindus and local Buddhists. The lake has medicinal properties. The lake got its name from a Gurdwara which was established by Sikh regiment and even today it is maintained by the army. The lake completely freezes during the winter season except at one spot which the locals believe to be blessed water.  According to the local belief it grants children to childless couples.
6. Tsomgo Lake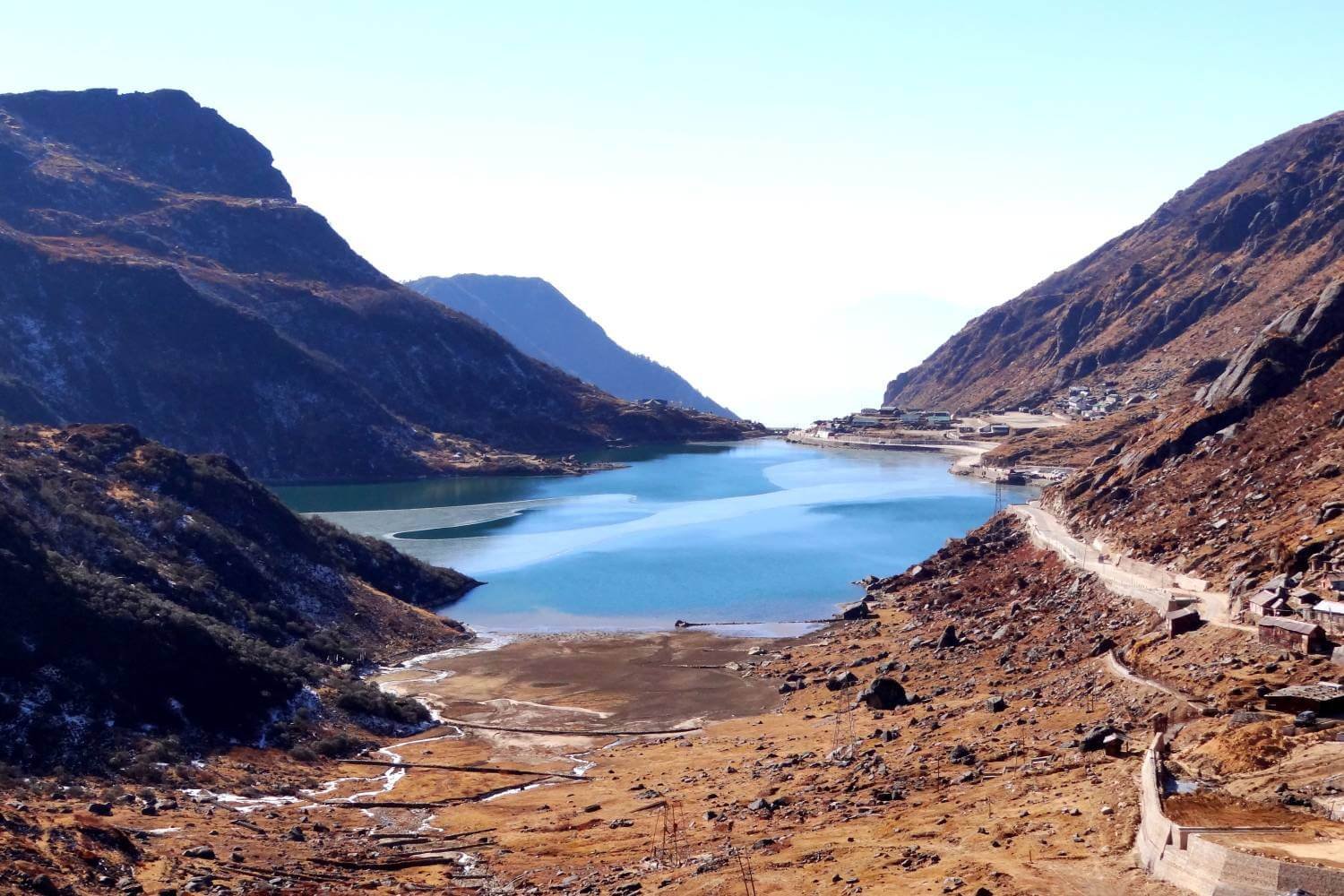 In Bhutia language Tsomgo means – Source of the Lake. It is one of the most enchanting and most alluring tourist destinations which you must not miss on a Sikkim sightseeing tour. The lake has a great religious significance. The view of the lake is awesome. The lake is oval in shape and 15 meters deep. Locals consider it sacred. If you come here in winters the lake will bewitch you with its beauty. The lake completely freezes in winter and the entire land turns into a beautiful snowfall destination.
For a snowfall lover, Tsomgo lake in winters is one of the top tourist attractions to visit in winters. May to August is the best time to enjoy the pleasant weather and beautiful sceneries of nature. You will see beautiful Rhododendrons, alpine flowers like poppies, primulas. In the month of June, you will witness the beautiful Clematis, In July you will find purple irises, pale yellow poppies and local strawberry fragaria, August is a time to witness purple pink Pedicularis Siphonantha. The last to flower is Polygonum. After that you will only see snowfall in the winter. It is also a wonderful home to Brahminy ducks. Near Tsomgo Lake you will be able to see Red Panda, Musk Deers and Goral.
Interesting Story of Tsomgo Lake
The lake was initially placed at Laten. One day an old woman dreamt that the lake shifted to Tsomgo from Laten. She and her two other friends were warned in a dream to relocate from Laten as soon as possible. The old lady informed her two friends, but they ignored her. So, she didn't care and milked her yak and hurriedly poured the milk on the ground for good luck. She was heading to Lhachungkar near Thegu. When she was leaving, she saw an old lady entering Tsomgo where immediately the place turned into water and formed Tsomgo Lake. Those two friends who ignored her were submerged into water with their yak herds.
You will find a temple of Lord Shiva near the lakeside. Earlier Buddhists used to foretell the future by observing the color of the lake. If the color of the lake water is dark, then it foreshadows trouble in the state.
7. Mangan
Mangan offers the best views of the east face of Mt Kanchenjunga. It is also one of the best places to visit in Sikkim for adventure lovers as it's a beautiful trekker's paradise. It's the headquarters of North District and the cardamom capital of India. There are many awesome trekking trails and panoramic views of nature which makes it a perfect tourist spot for couples, photographers and adventurers.
The steep sided valleys, flanking slopes, beautiful orchids, giant bamboos, nettles and Mahua trees are a visual spectacle for nature lovers. The ambiance of Mangan is so refreshing that it will heal your soul from the tiredness and chaos of the world.
One of the best parts of the Mangan sightseeing tour is that if you visit here in December you will get to enjoy the Mangan Music Festival. The rock concerts from Darjeeling and other parts of Northeast adds delight to the moment.
Mangaan gets its name from the Lepcha word which means – Hidden Place. Today we call it Mangan because the Nepalese inhabitants changed its Pronunciation. This beautiful place was founded by Rinzing Namgyal in 1903 as a ration outpost for British troops.  The lower part of Mangan is a world full of delightful chaos. You will see beautiful bustling Mangan Bazaars. The upper part of Mangan is a world of peace and serenity. It has held the rich traditions and culture of Sikkim intact through natural landscapes and historical monuments.
8. Lachen
Lachen brings uniqueness in the sightseeing tour of Sikkim. Situated at an altitude of 2694m, Lachen is a recent addition in the tourism landscape of Sikkim. Lachen is a blissful grassy and flat bush which rises from the snow-clad pine laden mountains and black cliffs. It takes you to the world of magic where nature's alluring charm hypnotizes the soul forever.
Lachen in Bhutia language means wide pass as it used to be the wide passage to enter Tibet. Its cultures and traditions are unique from the rest of the parts of Sikkim. Here you will also see amazing potato cultivation during May to October. If you visit here in December, you will get to see the festival of Losoong which is a mass slaughter of Yaks and sheeps. In the first week of January, you will see Chaam – A mask dance festival held at Lachen Monastery. If you look at the mountains of Lachen you will see Silver Firs most of the time. A place called Lachen truly deserves your attention, it's the best from the rest, unspoilt by the chaos of the modern world.
9. Lachung
Twin sister of Lachen and located on the other side of Lachung Chu, Lachung is a peaceful and heavenly tourist attraction in Sikkim for recreation and relaxation. It's not a very touristy place but the gorgeous vistas of natural landscapes, Himalayan ranges and lush greenery makes your visit memorable forever. You must come here for mind boggling views. Honeymoon couples would find Lachung a heaven to enjoy blissful moments of togetherness.
Just roam around the villages and beautiful stopovers, waterfalls, streams and mountain views will captivate your mind and camera. Lachung Monastery is the main religious center of Lachung. It's a beautiful Bhutia village with unique culture and traditions. The self-governing body called Zumsa takes all the decisions of the village. You will never regret your decision if you visit Lachung. In fact, not visiting Lachung would be missing out on the best hidden paradise of Sikkim.
10. Pelling
Pelling is one of the best tourist attractions to visit in West Sikkim. The mind-boggling views of Mt Kanchenjunga increase its charm. Perched on the wooden bridge the small houses will make you fall in love with the simplicity of this place. Lush green forests and peace-inducing Buddhist monasteries makes Pelling one of the best solace givers to the wanderers from all over the world.
The moist forests of Pelling are worth watching as you will meet many amazing flying creatures such as Green tailed Sunbirds, Flycatchers, Blue Fronted Redstarts, Scarlet and Long tailed Minivets and Shrike Babblers etc. Pelling has Himalayan Wet Temperate forests so you will find Oak, mosses and epiphytes in abundance. You will also witness that the villages around Pelling grow potatoes and cabbages as cash crops. It's an absolute green world to listen and embrace the rhythm of nature. Pemayangtse is the primary monastery of pelling.
Located at the hilltop at an elevation of 6840ft, the wonders of Himalayan Mountain ranges, the surrounding hills and beautiful countryside makes it no less than a paradise for nature lovers and solace seekers. Pelling is also a place which will open the doors of Siliguri, Northeast, Bhutan and Nepal. The bus service here links Pelling with these parts of the world. There is a junction of the four roads that meet at a ridge which is a gateway of four major tourist destinations of Sikkim – Pemayangtse, Yuksom, Uttarey and Khercheopalri. Pelling showcases the unique cultural and natural heritage of Sikkim. So, you must plan an awesome Pelling sightseeing tour.
11. Ravangla
Fantastic landscapes of Ravangla is a must not miss if you are planning Sikkim holidays. It's a perfect tourist destination in Sikkim to visit with family and friends. Even honeymoon couples would find this place an awesome destination for the most memorable moments of their life. It is at the base of Maenam Hill which is a wonderful transit point for trekkers to South and West Sikkim. Ravangla gives a soothing ambiance to Nature lovers.
For adventure seekers, it's one of the best destinations in Sikkim. The wilderness is at its peak as the Maenam Wildlife Sanctuary is located above the town of Ravangla.  It will give you a wonderful chance to explore the rich biodiversity of Ravangla. Scrub forests of Ravangla are a great spot for birdwatching. You will witness Verditer Flycatcher, Grey Bush chats, Blue Fronted Redstart etc. The higher reaches of Ravangla is a home to a rare species of bird called Satyr Tragopan.
During the month of March and April the entire region of Ravangla showcases the colors of Spring with beautiful flowers. So, seek joy and wholesomeness in Ravangla. It's the best tourist destination in Sikkim for sure.
12. Namchi
Namchi is the administrative headquarter of South Sikkim. Perched in the hills, Namchi meaning Sky high is a wonderful tourist attraction for hill station holidays in Sikkim. It is the best kept bliss of nature in Sikkim. Snow Capped mountains all around, the views are awesome here for a mountain lover. It's a place where you will see beautiful species of butterflies such as Barons, Pansies, Sailors, Tigers and Crows etc.
If you are looking for a family friendly destination in Sikkim, Namchi would be the best choice. 4 km above Namchi the towering statue of Padmasambhava blows your senses. Its view heals the soul in a different way. It is less frequented by tourists so you will not find a huge crowd here. From Namchi you can also visit Pelling, Barsey, Darjeeling, Kalimpong and Gangtok. Moreover, don't miss the five-day long Namchi Festival.
The main highlight of this festival is awesome fashion shows, traditional food stalls, cultural shows, folk shows and ethnic dance such as Dohori, Sangini, Balan and Maruni etc. It beautifully showcases the culture and tradition of Sikkimese. Also see the Namchi Flower Festival held in February at Children's Park in Namchi. You will witness rare species of orchids and other beautiful floral species. It's one of the best things to witness for nature lovers.
13. Nathang Valley
Nathang Valley is a paradise on the foothills of mind-boggling Himalayas. It is one of the best destinations to visit in East Sikkim if one loves solitude and peace. Tucked away from the chaos of the world, the valley's ambiance will fine tune your mind, body, and soul. Its beautiful landscapes, peaceful atmosphere is a great invitation to the honeymoon couples. This place is also known as 'Ladakh of East Sikkim'.
Surrounded by snow-capped mountains, home of the yak herders, meandering river streams, snow paradise of Himalayas, Nathang Valley is a thing of beauty and joy forever. During winters, the subzero temperature and the snow makes it a beautiful cold desert. Golden grass of the autumn, colorful flowers of the monsoon and snow of the winters – Every season will blow your heart away with its charm. It's not a very popular tourist spot in Sikkim. If you are looking for alluring offbeat destinations in Sikkim, then Nathang Valley is a must visit.
14. Zuluk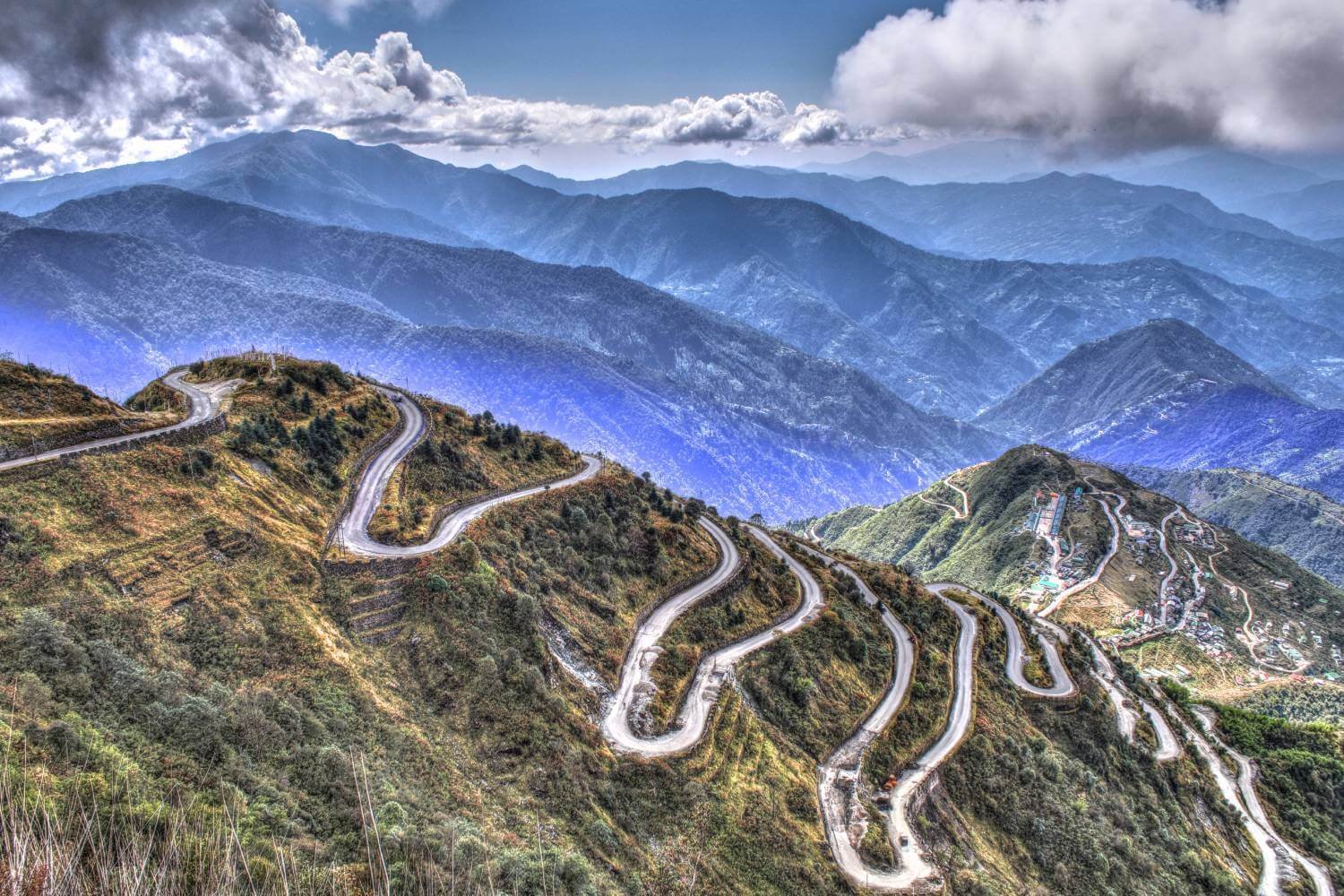 Dzuluk or Zuluk's charm is unbeatable. Consider it if you are looking for solace in Sikkim. It's one of the best travel destinations for peaceful Himalayan holidays in Sikkim. It's a very small but beautiful hamlet located in the lower terrains of lower Himalayas.  The forests of Zuluk are completely virgin which will give you an awesome chance to explore unique flora and fauna of the Himalayas.  Reaching here is not easy, you need a special Inner line permit to reach Zuluk.
Its a restricted and protected area of Sikkim. It keeps the cultural and historical heritage of Sikkim intact. Zuluk lies on the old Silk Route. It's an enchanting tourist attraction which was recently added in the Sikkim travel itinerary. It's a base point to explore some of the most beautiful high-altitude tourist attractions such as Kupup Lake, Tsomgo Lake and Nathang Valley.  Visit Zuluk for exploring some of the most remote untouched natural landscapes. Dozens of twists and turns, zig-zag roads and steep mountains will lead you to enthralling viewpoints. Some of the valleys will show you mighty Himalayan peaks such as Mt Kanchenjunga.
There are many awesome lakes and streams nearby which will bewitch you with its serenity. Winters here are dreamlike. If you love snowfall, Zuluk is a best destination to travel in winters in Sikkim.
15. Gangtok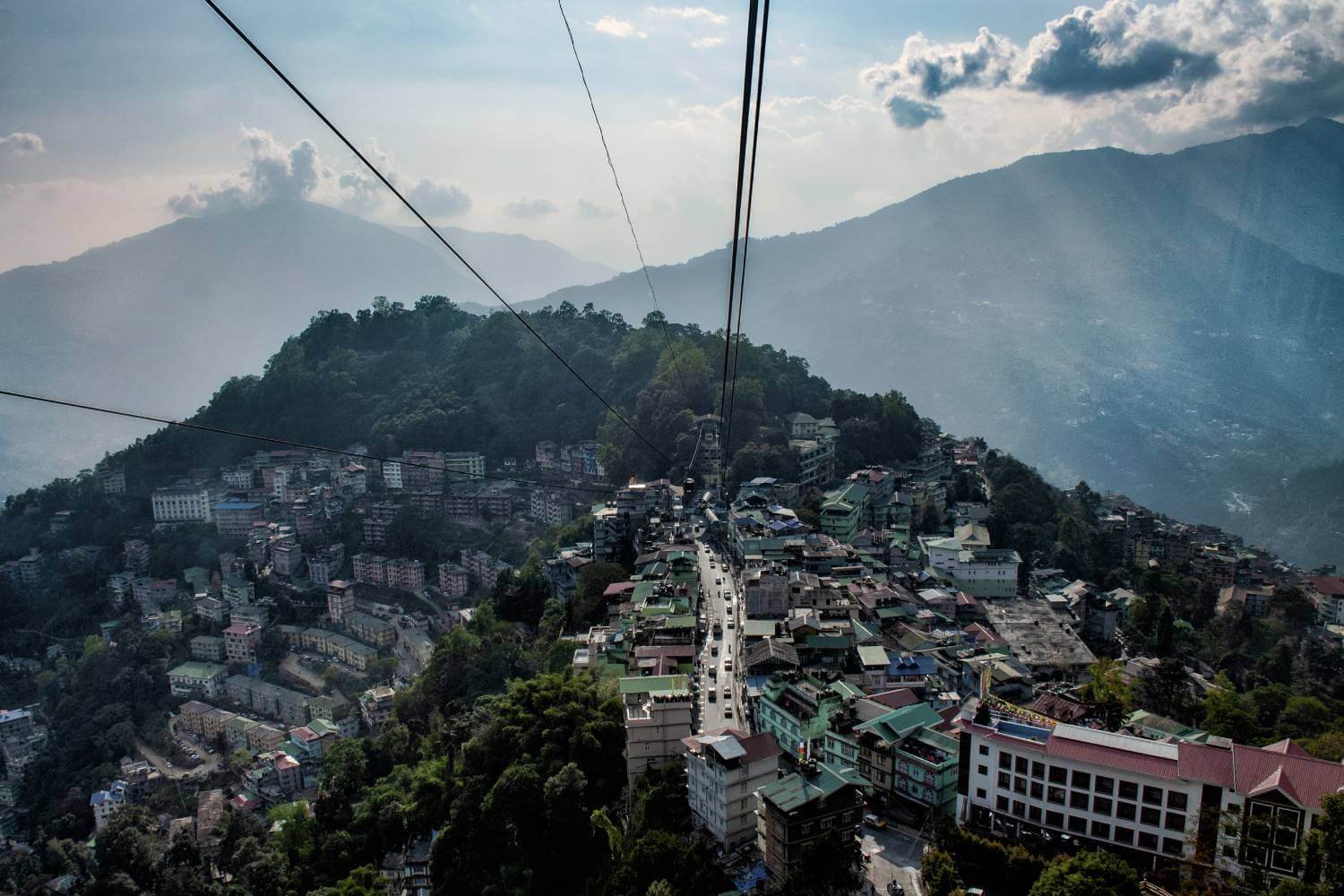 Gangtok is one of the most visited tourist attractions of Sikkim. Its ambiance, tourist attractions, food, culture, and nature stopovers make people think they are in a different world. A world full of peaceful joy and magic. No matter what kind of a traveler you are, Gangtok will always get the best experience of Sikkim tourism here. Solo traveler. Backpackers, honeymoon couples, families, adventurers, Gangtok gives its best to compel the tourists to live here forever.  It's also a great adventure spot.
The majestic Mt Kanchenjunga, amazing trekking trails, river rafting, paragliding and mountain biking opportunities takes care of the wild soul looking for some great adventures. For the spiritually inclined the Buddhist monasteries is an amalgamation of spirituality, peace, and charm. The scenic greenery, lofty Himalayan mountains offers soothing remote locations and stopovers for romantic couples.
Red panda Winter Carnival in the month of December/January shows the colorful cultural festival and heritage of Sikkim.  If you are planning a wonderful Himalayan vacation, then you plan a wonderful Gangtok sightseeing tour.
Don't just read but also pack your bags for awesome Sikkim holidays. Add wholesomeness to your memories. Sikkim is indeed one of the best places in India to truly enjoy the best mountain vacation with family and friends.
Frequently Asked Questions
What are the top tourist attractions to visit in Sikkim?
Sikkim is an awesome tourist destination to plan a perfect Himalayan vacation with your loved ones. Every place in Sikkim has its own charm but some of the places are really the best of all. Here is a list –
Gangtok
Yuksom
Tsomgo Lake
Nathula Pass
Yumthang Valley
Zuluk
Lachen
Lachung
Pelling
Goechala
Gurudongmar Lake
Kanchenjunga National Park
Okhrey
Solophok
Boirong
Sikip
Namchi
Ravangla
What is the best time to visit Sikkim?
It's your choice which month you want to visit Sikkim. Sikkim is beautiful in all seasons. Each season has its own beauty. Winter starts from December to February which offers extremely chilled weather. At the upper reaches of the Himalayas, you experience snowfall but most of the destinations are accessible. Spring Season (March and April) is a beautiful season that offers blissful weather. It's one of the best times for sightseeing in Sikkim. You can try adventure activities like trekking and mountain biking. It's the peak tourism season of Sikkim. Monsoon starts from July to September. It's not the best season to travel but if you are a nature lover, you will find Yumthang Valley, Khecheopalri Lake, Rvangla, Darap Village, Yuksom and Kanchenjunga National Park extremely gorgeous. For paragliding, yak safari and river rafting the months of October and November which is the Autumn season in Sikkim are the best time.
How to travel to Sikkim?
By Air – Pakyong Airport and Bagdogra Airport are the nearest airports to reach Sikkim. Sikkim helicopter services are also available to help the tourist to reach Gangtok and Bagdogra.It onl;y takes half an hour.  You will be able to feast your eyes on Mt Kanchendzonga from sky.
By Road- Most of the top destinations of Sikkim have good road connectivity. Buses and local taxis are available to reach Sikkim tourist destinations. NH 31A connects Sikkim with neighboring towns such as Siliguri, Darjeeling, Bagdogra and Kalimpong. Siliguri is the gateway to reach Sikkim.
By Train – New Jalpaiguri and Siliguri are the two major railheads to reach Sikkim. Ticket reservation facilities are available from Sikkim Nationalized Transport office.
Is it necessary to get a permit to visit Sikkim?
For Indians a permit to enter Sikkim is not needed but at some places you need an Inner line permit to enter the protected areas. For foreigners you need an Inner Line Permit to visit Sikkim. You will get the permit from Sikkim Tourism offices in New Delhi, Kolkata and District Magistrates Office of Darjeeling, Siliguri, and Rangpo on the strength of an Indian Visa.
Which are the top cultural or religious festivals that tourists can attend while visiting Sikkim?
While visiting Sikkim don't miss the cultural and religious festivals. It's the soul of Sikkim. The festival showcases the culture and heritage of Sikkim. Some of the most popular cultural or religious festivals of Sikkim are –
Dasain – (Around October) it is celebrated on the first day of the lunar month of Aswin.
Diwali – Festival of lights (October – November)
Enchey Dham- Ritual Dances of Enchey Monastery (11th Tibetan Month)
Guthor Cham- Dances at Rumtek and Pemayangtse monasteries to welcome the Tibetan New Year.
Pang Lhabsol – (7th Tibetan Month) To worship Mt Kanchenjunga (guardian deity of Sikkim)
Lhabab Duchen- (May – June) Festival symbolizes the descent of Lord Buddha from Heaven.
Losar-   Tibetan New Year's Day (February)
Tse Chu Chaam – (Fifth Tibetan Month) Black hat dances at Rumtek Monastery.
What are the best things to do in Sikkim?
Sikkim is one of the top tourist destinations where you will not feel bored at all. There are many interesting things to do apart from sightseeing. Some of the best things to do for tourists in Sikkim are –
Enjoying Sikkim's Festivals
Trying different Sikkimese cuisines
River Rafting in Teesta River
Yak Safari
Trekking
Mountain Biking
Caving
Hang Gliding
Rock Climbing
Gondola Ride in Gangtok
Adventures of the Zero Point
Wildlife Safari
Bird watching
Sikkim's Nightlife
Relaxing at Hot springs
What are the top places to visit for couples in Sikkim?
Sikkim's landscapes are bliss inducing. Your romance will blossom. Your honeymoon experience will be enriched to the next level. It's a place to create wholesome memories. Pack your bags for some of these awesome honeymoon holidays worthy places in Sikkim –
Zuluk
Lachen and Lachung
Pelling
Namchi
Ravangla
Yuksom
Gangtok
Yumthang
Singhik
Changthang
Gurudongmar Lake
How many days are required in Sikkim for a family vacation tour?
You need at least 12 to 15 days if you want to cover all the major destinations of Sikkim. Sikkim is vast in terms of culinary experiences, monasteries, adventure activities, cultural festivals, and sightseeing destinations.  It's up to you how many days you have to cover which part of Sikkim.
What type of accommodation are available in Sikkim?
From budget to luxury resorts you can get any type of accommodation in Sikkim. It depends on your preference and budget. At remote destinations you will find amazing homestays which will cater to all your needs. Some places are absolutely remote and not luxurious with facilities, but they offer great value for money as they offer decent facilities and showcase their rich culture and traditions. The cheapest accommodation would cost around 1000 while the most expensive would cost around 4 to 5k. The prices also vary according to the season. If it's a peak season the hotels would be costly.
Like & follow us on our following official social media channels
Facebook | Twitter | Linkedin | Instagram | Youtube
Also Check Out: Popular India Tours | Tour Packages | India Tour Packages | International Tour Packages
International Trending Holiday Destinations – Nepal Tours | Bhutan Tours | Singapore Tour | Thailand Tours | Sri Lanka Tours | Maldives Tours | Dubai Tours | Indonesia Tours
Other Popular Trending Holiday Destinations in India – Kashmir Tour | Himachal Tour | Uttarakhand Tour | Rajasthan Tour | Gujarat Tour | Sikkim Tour | Kerala Tour | Andaman Tour | Madhya Pradesh Tour | North East Tours
Tour Packages by Interest – Adventure Packages | Wildlife Packages | Pilgrimage Packages | Heritage Packages | Hill Station Packages | Weekend Packages | Honeymoon Packages | Beach Packages | Chardham Packages | Trekking Packages
Other Interesting Wildlife Travel Guide Blogs to Read
Other Interesting India Travel Guide Blogs to Read
Other Interesting Rajasthan Travel Guide Blogs to Read
Other Interesting Destinations Travel Guide Blogs to Read
Other Interesting Uttarakhand Travel Guide Blogs to Read
Other Interesting Adventure & Trekking Travel Guide Blogs to Read
Other Interesting International Travel Guide Blogs to Read