Beaches, this world is a paradise to swell in the melodies of soothing Sea waves. We all need an escape from the chaos of the world. Even for a short time, we need the healing touch of nature to free us from all the worries. The shoreless ocean, scenic coconut and Palm trees, long nature walks under the glimmering sunset, gorgeous sailing boats and the tranquil vibes – Definitely, visiting the Beaches of India is the best way to celebrate the moments of your life with family, friends, beloved or with thy self.
Come let's talk about top 10 Beaches of India that have the most soothing vibes:
Radhanagar Beach, Andaman
Kavaratti Island, Lakshadweep
Candolim Beach, Goa
Baga Beach, Goa
Alappuzha Beach Kerala
Varkala Beach, Kerala
Mandvi Beach, Gujarat
Serenity Beach, Pondicherry
Om Beach Gokarna, Karnataka
Kanyakumari Beach
Get upto 30℅ of early discount on our all-India Beach Tour Packages. Reach us for more details / bookings – +91-7668130655.
Radhanagar Beach, Andaman & Nicobar
Radhanagar Beach in Andaman and Nicobar Islands welcomes you to a world of complete serenity and relaxation when it comes to the best beach holidays in India. Dotted in serene tropical jungles and coconut trees from both the sides, your eyes will measure the views with awe and excitement. The soft white sand and the emerald blue waters will elevate your toil-weary soul. It is one of the best beaches to visit in India. In Fact, it is included in the list of top 25 beaches in Asia by Tripadvisor traveler's choice awards in 2016.
Highlights
Huts and benches to relax your soul along with snacks and drinks.
Swimming is allowed.
Best sunset views
Evening Nature Walk on both sides of the Beach enables you to capture amazing picturesque views.
It was given the title of 7th best beach in the world by Time magazine in 2004.
Kavaratti Island, Lakshadweep
Head to Kavaratti Island, the capital of Lakshadweep where a series of exciting adventures like kayaking, windsurfing, canoeing, scuba diving and swimming will blow your heart away. It is one of the most amazing Beach Islands to visit for honeymoon couples. Beauteous evening. Calm vibes, exotic and colorful marine life, stunning coral reefs, your beloved partner, soothing romantic moments – your heart will sink down in the tranquil charm of this enchanting place.
Highlights
Water sports – Kayaking, windsurfing, canoeing, scuba diving and swimming, snorkeling etc.
Serene and peaceful Mosques, to be precise 52.
36 spectacular Coral Islands
Candolim Beach, Goa
Nobody can miss Goa, when it comes to the best beach holidays for an amazing holiday. You must visit Goa to enjoy the views of its spectacular beaches at least once in a lifetime. Well, if you have already decided to visit Goa then out of many spectacular beaches, Candolim Beach's delightful calmness, palm and coconut trees all around, chill and grill vibes of amazing nightlife, seafood, shopping hubs and the thrill of watersports will feel like bliss- everlastingly. In front of this beach the nature will look less divine. You will definitely treasure every moment here.
Highlights
Amazing Watersports – Windsurfing, Snorkeling, Boating, Jet-Ski Ride, Flying fish, Kayaking, Flyboarding.
Ship River Princess is a major tourist attraction which has been stuck at sea since 2000.
Awesome Seafood and shopping hubs
Baga Beach, Goa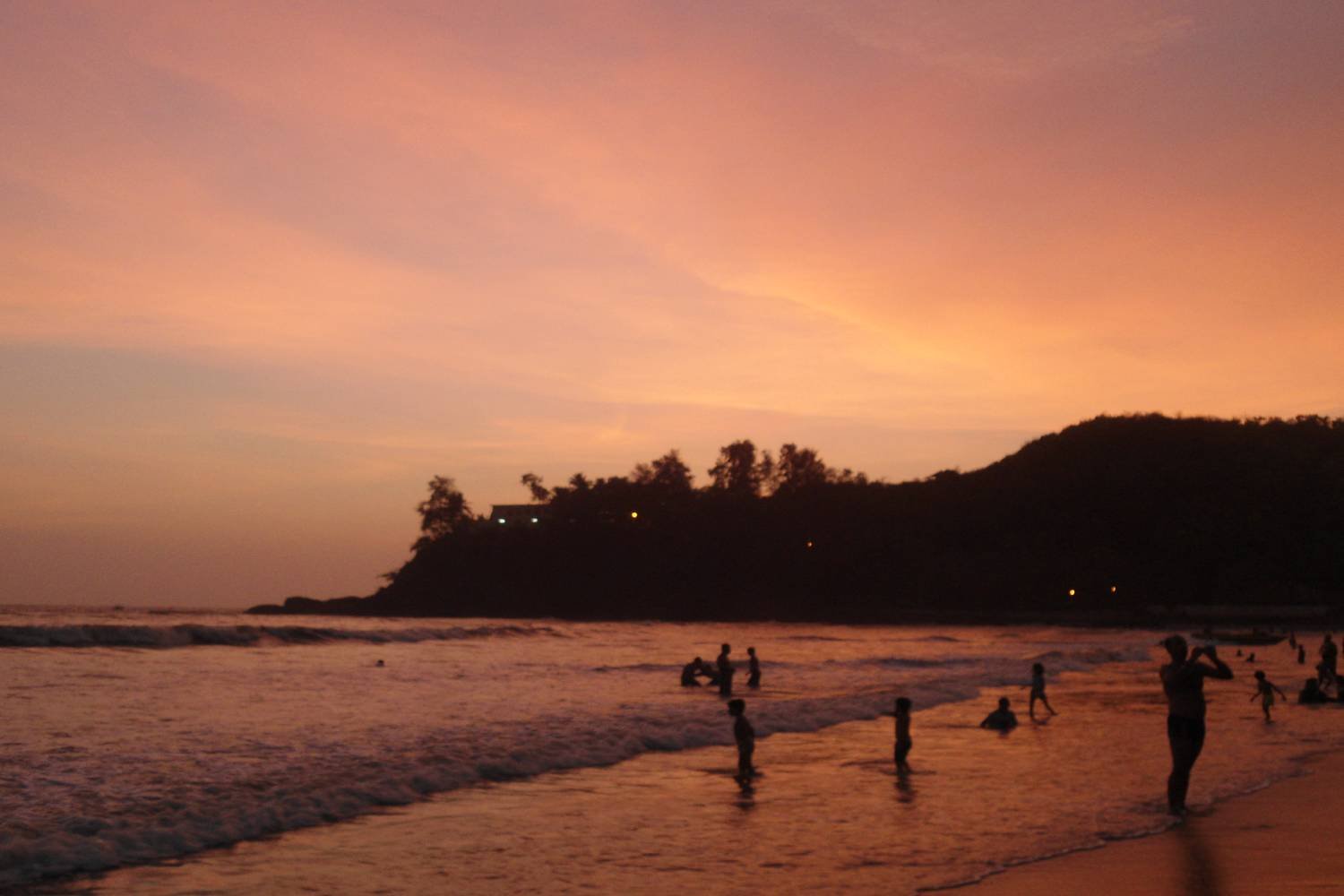 Goa's Gorgeous Baga Beach's soothing charm has been the most amazing highlight for ages to lure the beach lovers from all over the world. The mind-boggling chaos of awesome beach shacks, dining restaurants, authentic clubs and bars and spine-chilling water adventure activities – Baga Beach is full of vitality. It never gets dull. The vibe of Baga beach can enchant any kind of traveler, be it a couple, families or solo traveler. A romantic candlelight dinner for couples, soothing sea view, Island spotting, Dolphin tours for nature lovers and photographers, thrill for adventurers and delightful markets for shopaholics, Baga Beach harbors eternal note of happiness. It is one of the best beaches to visit in India.
Highlights
Parasailing, wakeboarding, windsurfing, kite surfing, jet skiing are the top things to do in Baga Beach
Indoor Snow Park to enjoy games and sledging.
Tibetan Market, Ingo's Night Market are the best shopping places.
Club Tito, Cafe Mambo, Cocktails and Dreams are the best places to enjoy nightlife.
Baga Beach got its name from Baga Creek which flows into Arabian Sea.
Alappuzha Beach, Kerala
Venice of the East, Alappuzha Beach will enchant your soul with its extremely gorgeous backwaters, soul pleasing houseboat cruise tours, rejuvenating vibes, and picturesque views of flora and fauna. The combination of backwaters, lagoons and rivers makes Alappuzha Beach one of the best beaches to visit in South India. With the Delicious Seafood at nearby stalls, adventures of surfing and parasailing, old abandoned lighthouses and gorgeous seashells – Let your thoughts wander swiftly. Blend with the flowing waters and impeccable sunset.
Highlights
Parasailing and Surfing are the best things to do in Alappuzha Beach
You can also enjoy the Houseboat Cruise Tour.
Annual Trophy Boat Race
Timings- 5:00am to 7:00pm
Varkala Beach, Kerala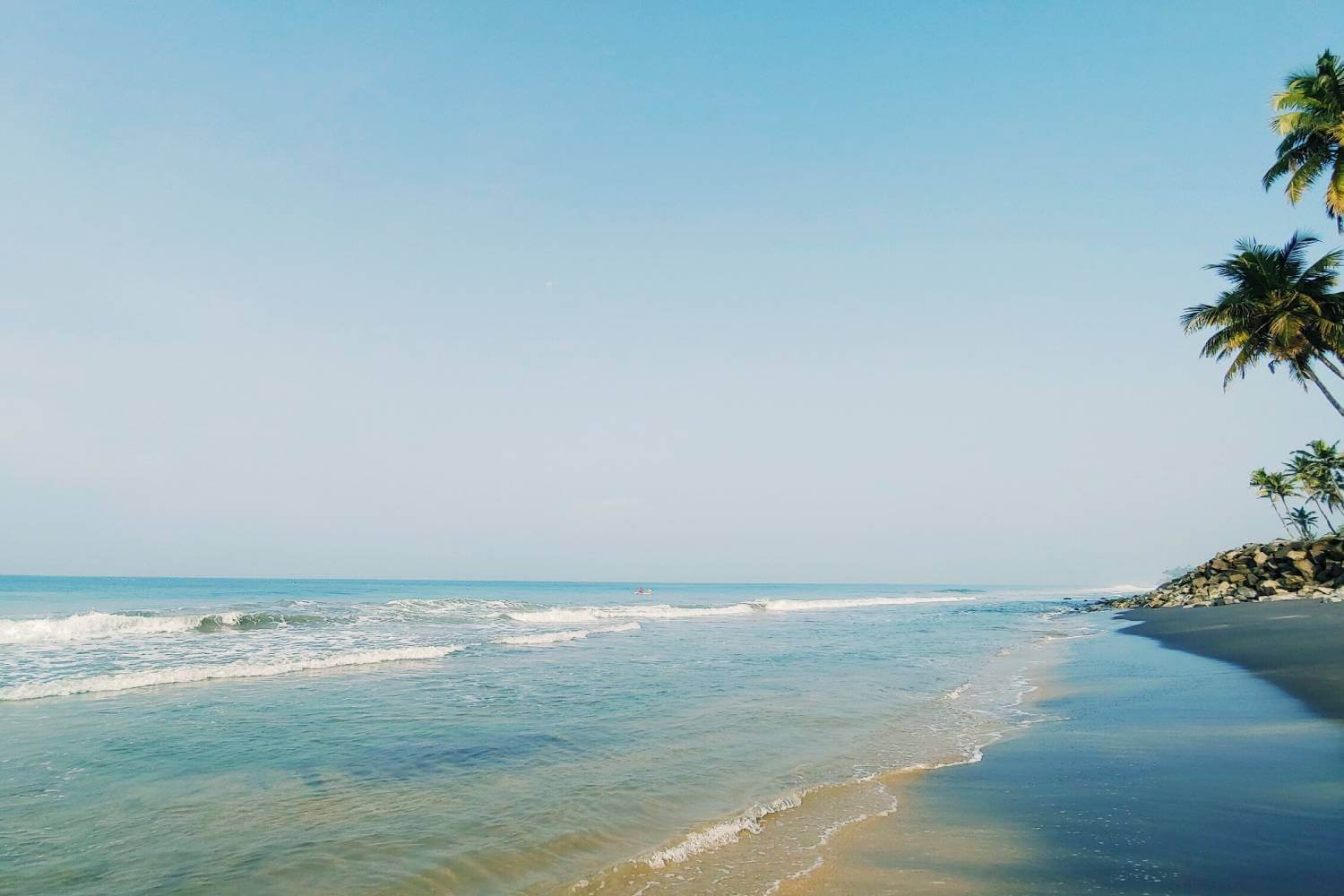 Outskirts of Thiruvananthapuram district is a quiet and surreal beach destination to visit in South India. Varkala Beach also known as Papanasam Beach is very popular for a gorgeous natural spring. It is said that the fresh water spring has medicinal properties and it cures one from all the sins and karmic backlog. The word Papanasam means – (Destroyer of Sins). The golden sands and refreshing vibes along with a divine touch will surely heal your spirit. You must also visit Janardhanaswamy Temple which is a 2000 years old shrine located near the beach. Around Varkala Beach you will also get refreshed with a soothing Ayurvedic massage at ayurvedic massage centers.
Highlights
The Sivagiri mutt and Samadhi is dedicated to a renowned saint and philosopher – Shri Narayana Guru. Thousands of devotees come here to seek blessings during Sivagiri pilgrimage Days – 30 December to 1st January.
Seek divine blessings in 2000 old Janardhanaswamy Temple. The temple is dedicated to Lord Vishnu.
Mandvi Beach, Gujarat
Southern tip of Kutch district looks absolutely charming with the presence of Mandvi Beach. It is one of the best beach destinations to visit in West India apart from the beaches of Goa. The beach lies along the Mandvi Town which was once a port city for India. The beach boasts of alluring sunsets, breathtaking views of the sea and mind-boggling evening sky. Snack stalls, camping, water sports and birdwatching – the whole world seems to lie before you like a world of dreams. A fun filled camel ride and awesome nature walk will rejuvenate your mind, body and soul. Yoga can also be the soul pleaser to your tired soul.
Highlights
Water scooter ride, swimming, parasailing, Banana Boat Ride, zorbing, horse rides and camel rides are some of the top things to do here.
Alluring sunset views and pleasing nature walks will make your day.
Serenity Beach, Pondicherry
Serenity Beach in Kottakuppam at the outskirts of Pondicherry absolutely justifies its name- Serenity. If serenity had a face, then Serenity Beach would be the true representation of it. Serene, calm, soothing and healing, it has all the blissful vibes for the best beach holidays in India. This beach got its name from Serenity Spa Resort Inn which is located at the spot., earlier it was called Kottakuppam Beach. This beach is decked with many sea facing resorts to lure honeymooners, which is also the reason why this beach is one of the best places to visit for honeymoon couples. Romance blossoms in the delightful vistas, tranquil vibes, peaceful sea coasts which is perfect for holding hands and romantic walks. You can also play with the Ocean waves with the thrill of surfing if you are not faint hearted.
Highlights
Picturesque vistas of Peaceful coasts, and tranquil nature walks.
Enjoy Surfing
Om Beach Gokarna, Karnataka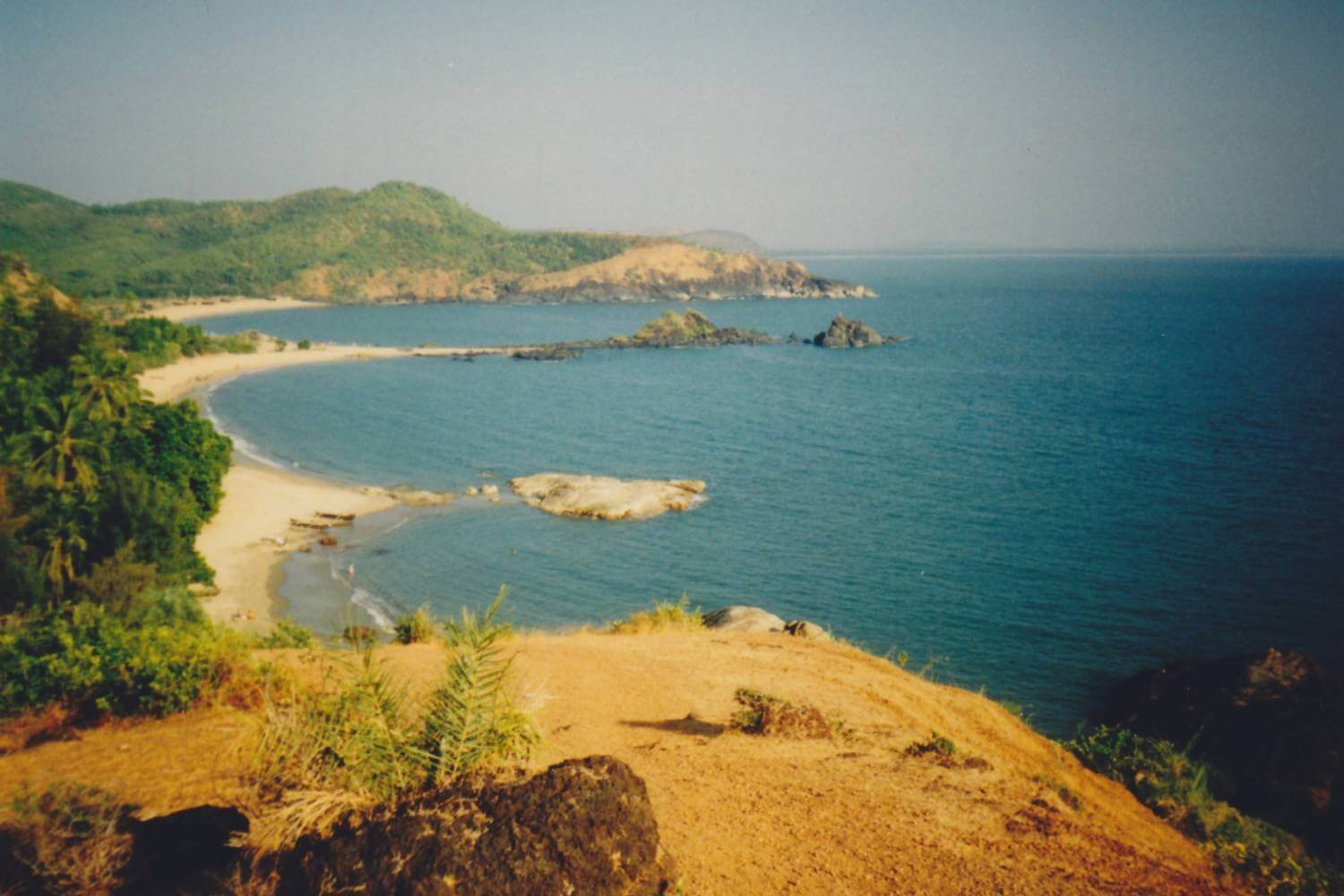 Coastal City of Gokarna is very popular for Om Beach which is one of the most famed beaches to visit in India. The most interesting fact about this beach is that it takes the shape of 'Om' which is a very sacred spiritual symbol for Hindus. Scenic rocky terrains, soothing golden sands and breathtaking glimmer of the sunset will captivate your senses. You will be mesmerized by the views of the beach when the evening comes down upon the blissful shore. Water sports will never make your day dull here. You can try Banana Boat Rides, parasailing, Jet-ski rides etc. This place also offers best hiking opportunities at Om Beach Viewpoint and Rock of Peace.
Highlight
Capture the most beautiful glimmer of sunset and the evening sky in your lens.
Scenes of thrilling water adventure activities will last long in your memories.
Kanyakumari Beach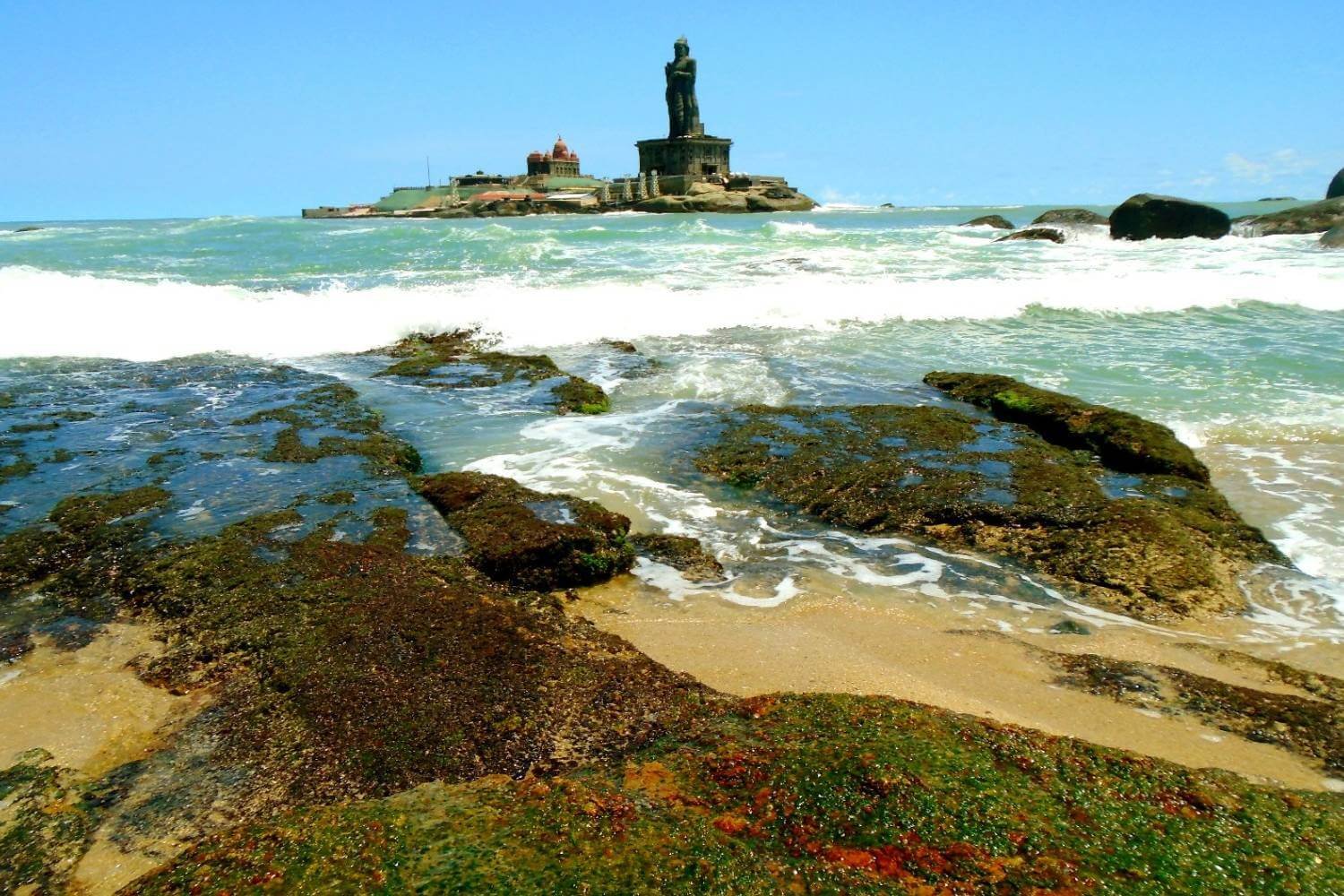 Beauty is defined by Kanyakumari Beach because it offers the most amazing beach views one could ever behold in a lifetime. Kanyakumari Beach comes in the list of top 10 best beaches to visit in India. You will behold the gorgeous confluence of three water bodies- Bay of Bengal, Indian Ocean and Arabian Sea and they don't get mixed. The colors of the water keep changing with the weather and season, Isn't it beautiful? You can see this absolutely gorgeous view from the lighthouse located near the beach. Just relax and embrace the timeless sea breezes.
Highlight
Capture the most amazing views of the beach from an old Lighthouse.
Visit Kanyakumari Amman Temple and Shop conches and seafoam, Bamboo products, jewelry, wall hangings, and seashells showpieces.
Now you have the most delightful list of top 10 beaches of India. So, don't waste your time waiting for the right time. Pack your bags and get ready to enjoy the most amazing beach holidays in India. If you have any query, you can surely ask in the comment section of the blog. Please Do. We will love to hear from you.
Get upto 30℅ of early discount on our all-India Tour Packages. Reach us for more details / bookings – +91-7668130655.
Frequently Asked Questions(FAQ)
What are the best beaches in India for Honeymoon?
Havelock Island
Kavaratti Island
Radhanagar Beach
Agonda Beach
Candolim Beach
Baga Beach
Kanyakumari Beach
Serenity beach
Alappuzha Beach
Varkala Beach
Om Beach
What are the top best beaches in India for family vacation?
Baga Beach
Varca Beach
Paradise Beach
Kanyakumari Beach
Candolim Beach
Radhanagar Beach
Om Beach
Serenity Beach
Marina Beach
Kovalam Beach
Varca Beach
Havelock Island
Alappuzha Beach
Tarkarli Beach
Lakshadweep
What are the best beaches for adventure sports activities?
Candolim Beach
Radhanagar Beach
Om Beach
Serenity Beach
Marina Beach
Havelock Island
Kavaratti Island
Tarkarli Beach
Lakshadweep
Anjuna Beach
Arambol Beach
What is the best season for beach tourism holidays in India?
November to March is the best time to enjoy Beach Tourism in India due to the soothing climate. Monsoons are not safe for travel as the tides will be high which will not allow you to try adventure sports.
What are top beach getaways in South India?
Om Beach
Lighthouse Beach Kovalam
Marina Beach
Varkala Beach
Alappuzha Beach
Poovar Island
Kanyakumari Beach
Pondicherry beach
Cherai Beach
Kappad Beach
Kozhikode Beach
Kollam Beach
Covelong Beach
Serenity Beach
Elliott Beach
What are the top beach tourist places in Goa?
Palolem Beach
Agonda Beach
Majorda Beach
Butterfly Beach
Benaulim Beach
Cavelossim Beach
Mandrem Beach
Patnem Beach
Candolim Beach
Baga Beach
Coco Beach
Siridao Beach
Hollant Beach
Talpona Beach
Galgibaga Beach
Utorda Beach
Cola Beach
Betalbatim Beach
What are the must visit beaches in Kerala?
Kovalam Beach
Kappad Beach
Varkala Beach
Alappuzha Beach
Somatheeram Beach
Bekal Beach
Payyoli Beach
Kannur Beach
Marari Beach
Cherai Beach
Also Check Out: Popular India Tours | Tour Packages | International Tour Packages
Other Informative Blogs to Read
Summer Travel Related Blogs to Read
Winter Travel Related Blogs to Read
Wildlife Travel Blogs to Read
Other Informative Trekking Travel Blogs to Read