The reflection of the ethereal beauty of Uttarakhand, Chopta is a small settlement in the Garhwal Himalayas. Adorned by the lush Deodar, Pine, Rhododendron forests along with sprawling meadows (bugyal), Chopta is a must-visit for visual treats. Add the world's highest Shiva Temple and a surreal remote lake to this experience, and you have a destination with an immense potential of tourism in Uttarakhand. Yes, Chopta is home to Tungnath Temples, one of the Panch Kedar shrines, and the highest Shiva temple in the world, where devotees from near trek to seek the blessings.
A trail fringed by the lush rhododendrons leads to the scenic lake, Deoriatal (2350 m), a trek that has everlasting memories. A trail of about 1-1.5 km from Tungnath to Chandrashila Peak (4090m) also make for a trekking experience to remember. What's more, Chopta that sits about 29 km from Ukhimath, the winter home of the idols of Kedarnath and Madhyamaheshwar, offer unparalleled views of 41 important Himalayan Peaks including Nanda Devi, Chaukhamba, Neelkanth, Bandarpunch, and Trishul. The place also shares border with Kedarnath Wildlife Sanctuary and is thus ideal for birding, sighting animals like musk deer and birds like monal and snow partridge, and photography.
How to Reach Chopta?
Chopta is well-connected by air road from many major destinations of Uttarakhand. Travellers can first reach Haridwar/Rishikesh (by train or road) or Dehradun (by train, rail, road, air) and then take a cab to Chopta that is situated on the road connecting Gopeshwar and Guptkashi. Buses from Rishikesh/Haridwar to Srinagar and Rudraprayag are available, from there, another bus can take one till Ukhimath (29 km away from Chopta). Cabs from Ukimath are available for Chopta.
Best Time to Visit Chopta Valley
As a Himalayan destination, Chopta has a pleasant summer season between April and June and in winters between October and March, the entire Chopta Valley is snow covered but still trekkable. In monsoon, due to heavy rainfall, it may sometime be difficult to reach Chopta, therefore, it is important to check the weather forecast before planning a trip in this season. The best time to visit Chopta is between October and June.
Chopta Valley in Summer: Between the months of April and June, Chopta region is replete with rhododendron and its natural beauty multiplies. It is the perfect time to plan a pilgrimage to Tungnath as well as trek to Chandrashila Peak and Deoriatal.
Chopta Valley in Monsoon: Monsoon rains between July and September make Chopta even more dreamlike, however, the continous downpour sometimes leads to landslides and road blockage making it difficult to reach Chopta. Therefore, it is advised to check the forecast before planning a trip in monsoon.
Chopta Valley in Winter: From October to March, Chopta experiences chilly winter and by December, the destination is covered in the blanket of snow. Though, Tungnath Temple closes during the season, winter trek is open and many adventurers visit during this time.
You Must Also Read This Blog: Best Places to Visit in Uttarakhand
Popular Tourist Attractions in and around Chopta Valley
Chopta is reflective of Uttarakhand's beauty and Himalayan Peaks, forests, and meadow are the reasons behind its natural charm. The presence of Tungnath Temple only add its beauty and sanctity and the imposing Chandrashila and Deorital are its biggest attractions for the tourists.
Tungnath Temple
Situated at an elevation of 3680 m, Tungnath Temple in Uttarakhand holds the record for being the highest Shiva Temple in the world. The shrine is also one of the temples in Panch Kedar, five holy temples dedicated to Lord Shiva. Said to have been built by the Pandavas, Tungnath is an important pilgrimage site in Uttarakhand.
Chandrashila
The summit of Tungnath, Chandrashila also known as 'Moon Rock' is one of the main attractions in Chopta. The peak is trekkable and has an elevation of 4000 m. From the top of the mountain, a spectacular 360-degree view of Himalayan Peaks like Kedarnath Dome, Trishul, Nanda Devi, and Chaukhamba can be witnessed.
Deoriatal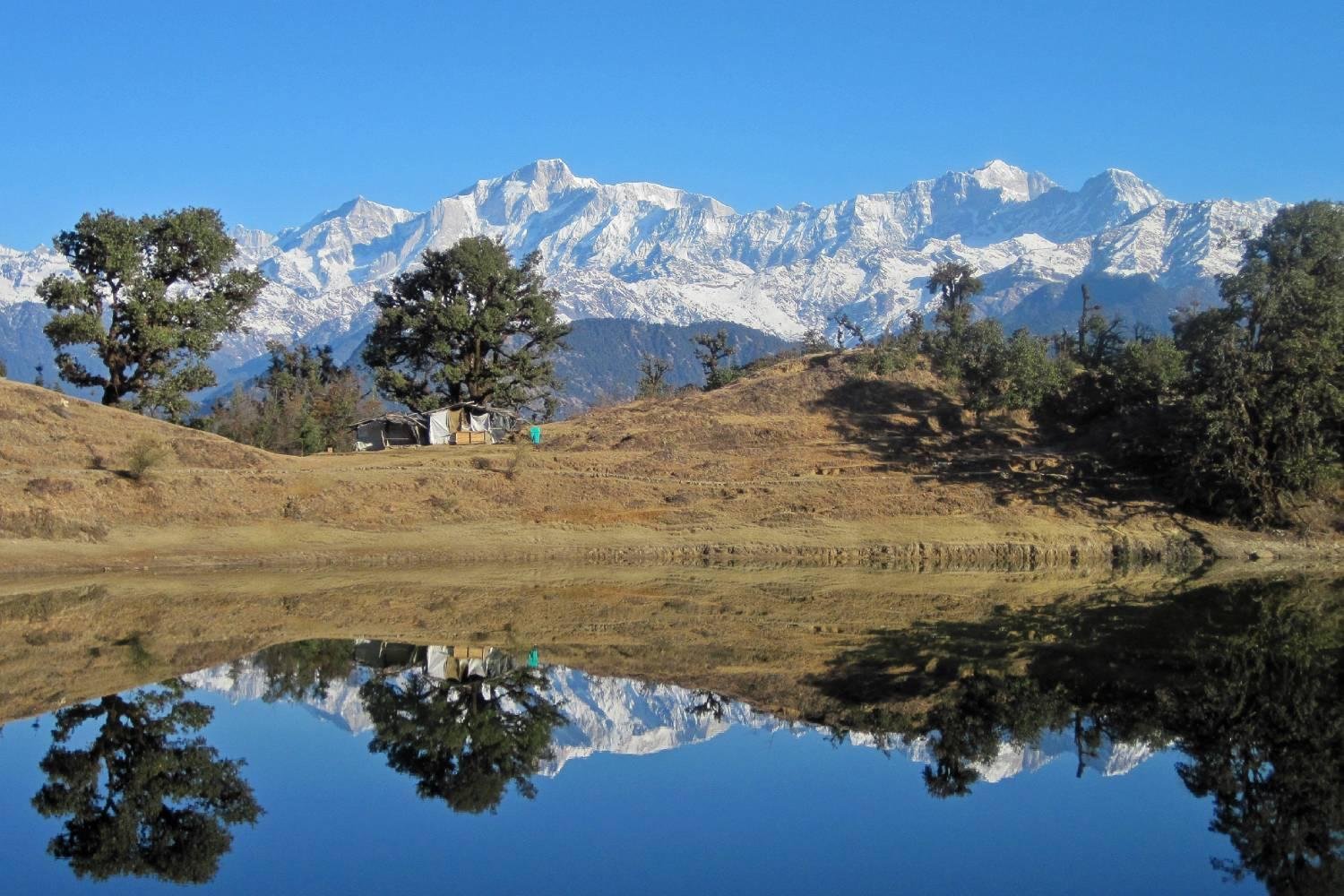 A picturesque lake, Deoriatal is located at an altitude of 2438 m in Chopta region. The lake can only be reached by trekking through an equally scenic trail that during the summer's blooms with rhododendron. The reflection of Chaukhamba peaks can be seen in the crystal-clear water of Deoriatal.
You Must Also Read This Blog: Best Treks Summer Treks in India
Chopta Valley Travel Tips:
Before planning a trip between July and September, it is recommended to check weather forecast.
During the winter season, Tungnath Temple closes.
To witness the blooming of rhododendrons, it is advised to plan a trip in April and May
Snow Trekking in Chopta is possible, but checking the weather forecast before planning the trip is recommended
There are fewer options of staying at Deoriatal, thus booking a hotel in advance is advised.
Other Informative Blogs to Read
Other Informative Wildlife Travel Blogs to Read