Summer is the best time to plan your trekking holidays in India. Not just because most of the treks are open to tourists, but because of the unique trekking experiences associated with this season. While planning summer trekking in India, there cannot be a better option than the Indian Himalayan region in the states of Uttarakhand, Himachal and Sikkim.
Picturesque sceneries, azure lakes, lush bountiful meadows, exotic Himalayan wildlife, high altitude passes, views of spectacular Himalayan peaks and camping under pollution free, starry skies are some of the reasons to plan your trekking holiday at these destinations. The summer season also offers the perfect weather conditions for trying easy, moderate and difficult treks.
If you're seeking an unforgettable trekking and hiking adventure in the India Himalayas this summer 2023, you're in the right place! In this blog, we'll introduce you to the top 10 treks of India that will offer you an experience of a lifetime. These treks offer an excellent chance to connect with nature and provide a welcome escape from the hustle and bustle of daily life. From the stunning vistas of the Himalayas to the lush greenery of the forests, these treks will take you through a variety of landscapes, offering a unique and unforgettable experience that you'll be talking about for years to come.
Kuari Pass Trek
Har Ki Dun Trek
Hampta Pass Trek
Valley of Flowers Trek
Dzongri Trek
Roopkund Trek
Rupin Pass Trek
Bagini Glacier Trek
Bhrighu Lake Trek
Pin Pavati Trek
Take advantage of our early bird discount and save up to 30% on all of our trekking holiday packages. Don't miss out on this amazing offer! To learn more, give us a call at +91-8802149265.
1. Kuari Pass Trek, Uttarakhand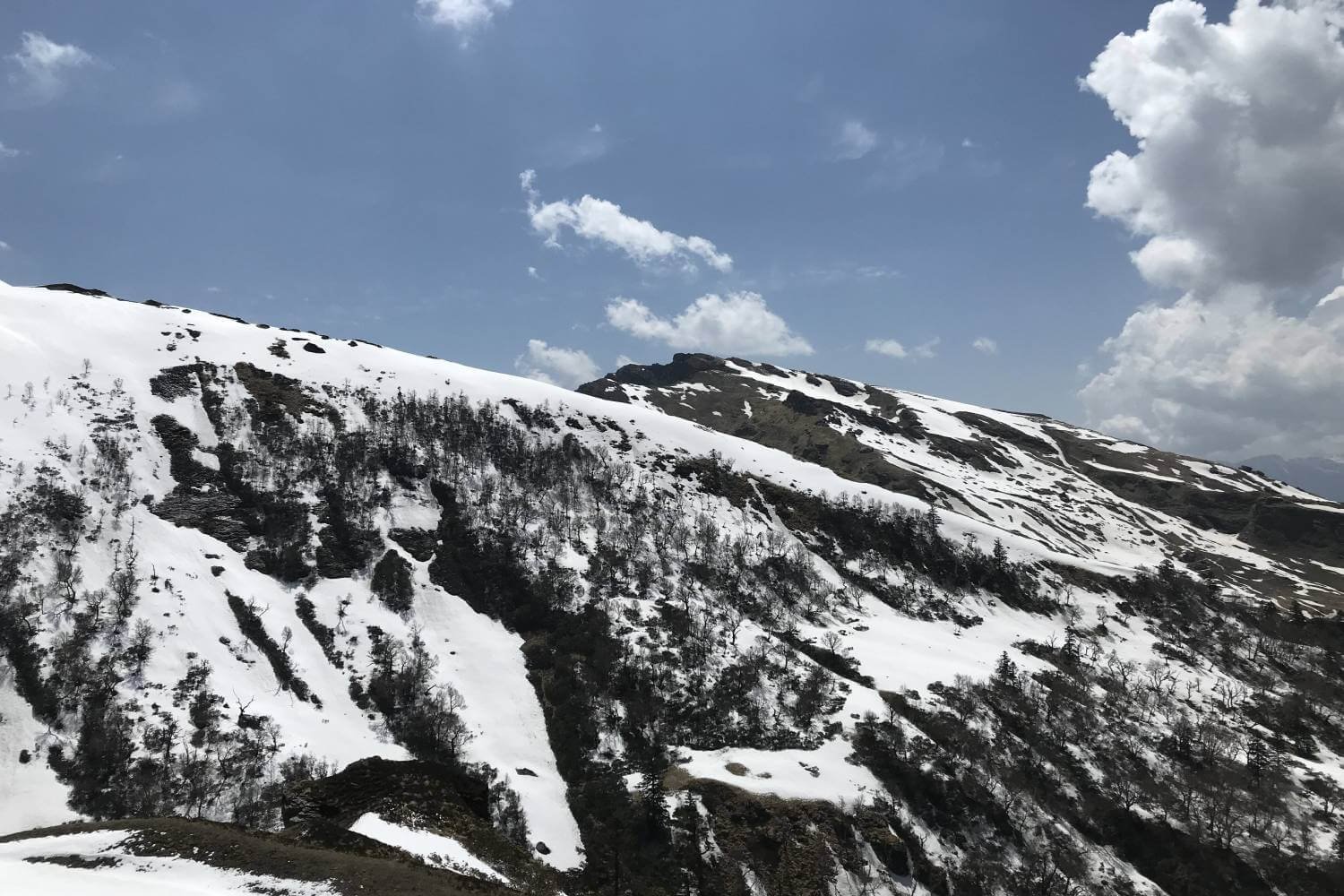 It is believed that the trekking route of Kuari Pass Trek was first discovered by Lord Curzon, then Viceroy of India. That is why it is also known as Lord Curzon Trail. The trek is named after Kuari Pass, located in the vicinity of Nanda Devi Biosphere Reserve in the Chamoli district of Uttarakhand. Situated right in the lap of the Garhwal Himalayas at an altitude of almost 3,718 meters, it offers views that are unparalleled.
The trekking route passes through thick alpine forests of oak, conifer & rhododendron, a quaint village called Ramni which is inhabited by a Himalayan tribe, pasture grasslands & varied landscapes. You are also treated to awe inspiring views of Garhwal Himalayan peaks like Kamet, Chaukhamba and Nanda Devi.
Location: Uttarakhand
Altitude: 14020 ft
Category: Easy to Moderate
Days: 7-8
Best Time: Summer & Winter
2. Har Ki Dun Trek, Uttarakhand
Har Ki Dun Trek in Uttarakhand is one of the best summer treks in India, especially if you are a beginner. The trek takes you to Har Ki Dun, a valley stretched out at the base of Fateh Parvat with thick forests of deodar, chestnut and sycamore.
The trek starts from the tiny village of Sankri in the Garhwal Himalayas and takes you to Taluka, located beside the Rivers Rupin & Supin, which afford spectacular views of Indian Himalayas. The route continues to Osla, followed by a steady ascent to Har Ki Dun. From the valley, you can explore Jaundhar Glacier, Borasu Pass and Lake Morinda. Since Har Ki Dun enjoys an elevation of almost 3,566 meters, you are treated to incredible views of Kalanag, Bandarpoonch and Swargarohini peaks.
Location: Uttarakhand
Altitude: 12000 ft
Category: Easy to Moderate
Days: 7-8
Best Time: Summer & Autumn
3. Hampta Pass Trek, Himachal Pradesh
If you are looking for some adventurous trekking in India in the mountains even though you may have limited trekking experience, Hampta Pass Trek is your best bet. Hampta Pass is located to the east of Manali & Pir Panjal range in Himachal Pradesh. At an elevation of 4,268 meters, it acts as a bridge between Kullu Valley and Lahaul.
The trekking route begins from Manali and takes you across beautiful places like Chikka, the first stop of the trek. You cross forests of oak, pine & rhododendron. The River Hampta also lies en route. You also get an opportunity to enjoy views of Pir Panjal Ranges & alpine lakes like Chandratal while camping under clear star dotted skies.
Location: Himachal Pradesh
Altitude: 14000 ft
Category: Easy to Moderate
Days: 8-9
Best Time: June – Mid October
4. Valley of Flowers Trek, Uttarakhand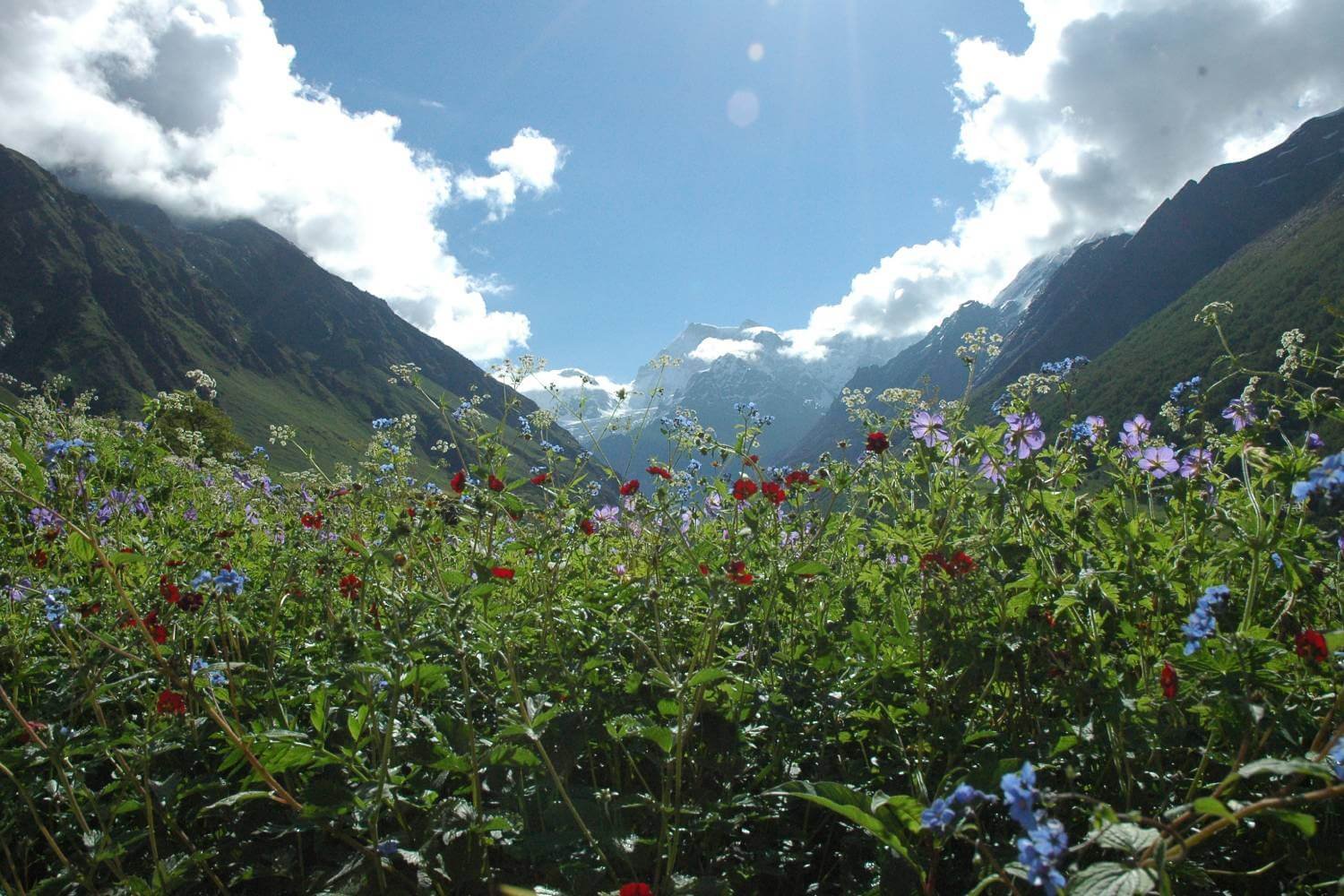 Take the Valley of Flowers Trek during your summer trekking holidays in India, and what you will see will exceed all your expectations. The beauty of Valley of Flowers in Uttarakhand is so captivating that you feel as if it was the abode of Gods & Goddesses.
At an altitude of 3,300 to 3,650 meters, this Valley is clothed with almost 520 species of plants, of which 489 are flowering plants. The flowers mostly found on the ground are poppies, orchids, marigolds & daisies. The park is also covered by sub alpine forests of birch and rhododendron. Several species of medicinal plants are also found. The favourite flowers of tourists is the blue primula, which can be seen from mid July to mid August. The River Pushpavati flows gently throughout the valley, enhancing its overall graciousness.
Location: Uttarakhand
Altitude: 14100 ft
Category: Easy to Moderate
Days: 5-6
Best Time: July – Mid September
5. Dzongri Trek, Sikkim
Dzongri Trek is one of the best short treks that can be taken in April, May and June. Despite being a short trek, it shows you the splendid beauty of Sikkim's landscape. Dzongri is a series of interlinked grassy meadows located right in the middle of deep ravines and mountains, located at an altitude of almost 4,176 meters.
The Dzongri Trek route takes you past Yuksom, Tshoka (from where you can enjoy views of Mt. Pandim), Dzongri Viewpoint and Lake Laxmi Pokhari (at an altitude of 4,200 meters approx with Mt. Pandim & Mt. Tenchingkhang in the background). From Dzongri Viewpoint, you can enjoy views of several mountain peaks like Mt. Kabru north & south, Mt. Kumbhakarna, Mt. Frey Peak and Mt. Goecha Peak.
Location: Sikkim
Altitude: 14100 ft
Category: Easy to Moderate
Days: 5-7
Best Time: March – May and September – December
6. Roopkund Trek, Uttarakhand
Roopkund is an ideal summer trek in Uttarakhand and considered one of the best treks in India. The trek begins at an altitude of 3200m from Lohajung and culminates at the beautiful Roopkund lake at an altitude of 5029m. The highlight of the lake is the remains of human skeletons that were discovered at the bottom of the lake, adding to the allure of the place. With its stunning beauty and mysterious stories, Roopkund is an experience unlike any other.
This trek takes you through the Garhwal Mountains of Chamoli, offering a mix of natural beauty, adventure, and thrilling experiences. The Roopkund lake, popularly known as the "skeleton lake," holds a place in many myths and legends. The hundreds of human skeletons found in the lake in 1942 make it a place of mystery and intrigue. Embark on this trek and witness the enigmatic beauty of Roopkund lake, as you create memories that will last a lifetime.
Location: Uttarakhand
Altitude: 15900 ft
Category: Moderate to Difficult
Days: 7-9
Best Time: April to June
7. Rupin Pass Trek, Uttarakhand
Amidst the majestic Himalayas lies one of the most breathtaking treks that you can experience in the summertime – The Rupin Pass Trek. This trek is truly an adventure full of surprises that will leave you in awe at every turn. The journey begins with a 20-minute walk along the Rupin River, where you can pause to have a picnic or dip your toes in the cool, refreshing waters.
As you progress through the trek, you'll encounter snowfields and glacial valleys, even during the months of May and June. The trail also features a two-day camping experience by the river, surrounded by stunning snow-capped peaks. However, it is important to note that this trek is not for the faint-hearted, as the pass crossing is a challenging 200-meter steep climb through rocky, snow-flanked paths.
But once you conquer the pass, you will be rewarded with an unforgettable view of the stunning grasslands and a serene stream surrounded by the majestic peaks. This is the perfect place to catch your breath and take in the beauty of the surrounding nature. Get ready for an exhilarating adventure and create unforgettable memories with the Rupin Pass Trek in summer season.
Location: Uttrakhand
Altitude: 15000 ft
Category: Moderate
Days: 7-8
Best Time: May, June and September
8. Bagini Glacier Trek, Uttarakhand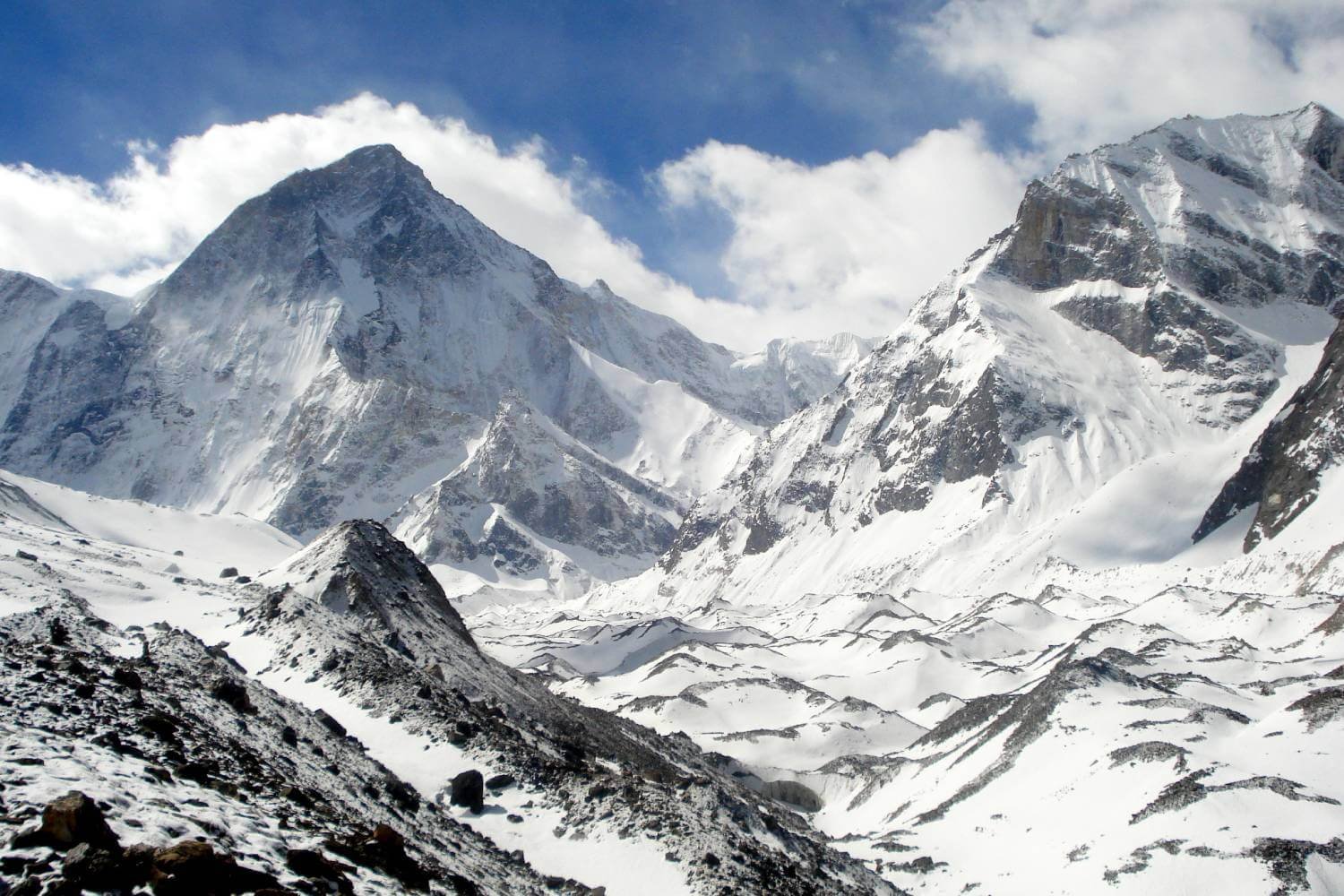 Embark on an unforgettable summer adventure through the majestic Garhwal region of Uttarakhand with the Bagini Glacier Trek – one of the most thrilling summer treks out there. This trail will take you through the stunning snow-capped peaks of Doonagiri, Changa Banga, and Kalanka, leaving you mesmerized by the serene beauty of the area. Starting from Joshimath, this eight-day trek will take you through picturesque hamlets and along tranquil pathways. The Bagini Glacier, located at a towering altitude of 14,816 feet in the Garhwal Himalayas, begins near the base of Trishul and Changabang peaks and flows northwards from there. Within the enchanting Nanda Devi National Park, the trek offers breathtaking views of the peaceful surroundings. Don't miss the opportunity to marvel at the imposing peaks of Dunagiri, Changa Banga, and Kalanka on this awe-inspiring trek.
Location: Uttarakhand
Altitude: 14800 ft
Category: Easy to Moderate
Days: 8-9
Best Time: May to June and September to October
9. Bhrigu Lake Trek, Himachal Pradesh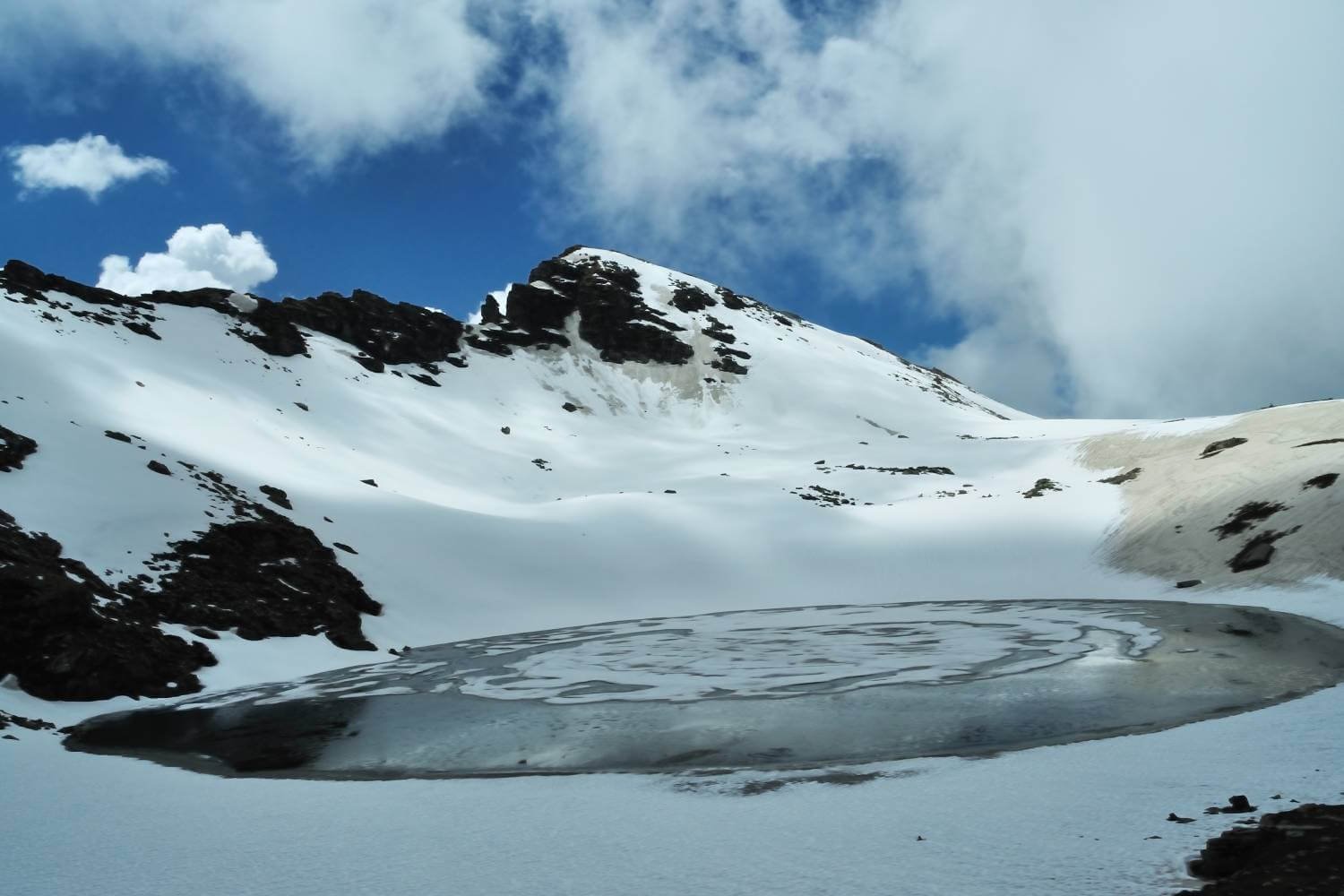 If you are looking for a quick but breathtaking trekking summer adventure, then look no further than the Bhrigu Lake Trek in the heart of Himachal Pradesh. With a duration of just two to three days, this trek is perfect for beginners and seasoned trekkers alike. Set amidst meadows and forests close to the Rohtang Pass, the Bhrigu Lake is a high-altitude glacial lake located in the upper Kullu Valley. At an altitude of 14,000 ft, this trek offers stunning views of the alpine meadows, grasslands, and the seven sister peaks.
The panoramic view of the snow-capped mountains and their reflections on the lake provide ample opportunities for photographers to capture nature in all its glory. The trek has a rich mythological history, as it is believed that the famous saint Maharishi Bhrigu used to meditate near the lake. However, the lake is not the only attraction on this trek – the beautiful grasslands that cover the valley are a sight to behold. As you walk through tree covers and a moderately steep climb to enter the grasslands, you will be left in awe of the beauty that surrounds you.
The Bhrigu Lake Trek takes place in stunning alpine meadows that stretch as far as the eye can see, appearing like an endless blanket of green over the mountain slopes. Keep your eyes peeled for horses galloping around the meadows or grazing on the pastures, and catch glimpses of the mighty Pir Panjal and Dhauladhar Ranges dominating the skyline around you.
To experience the meadows in their greenest, visit Bhrigu Lake between July and September, and you will spot a variety of wildflowers. Although the meadows may change colour from time to time, they will stay with you right up until you reach Bhrigu Lake. Easily accessible from Manali, this is an ideal weekend trek for solo travelers, groups, and families alike.
Location: Himachal Pradesh
Altitude: 14000 ft
Category: Easy
Days: 2 to 3 days
Best Time: June to September
10. Pin Pavati Trek, Himachal Pradesh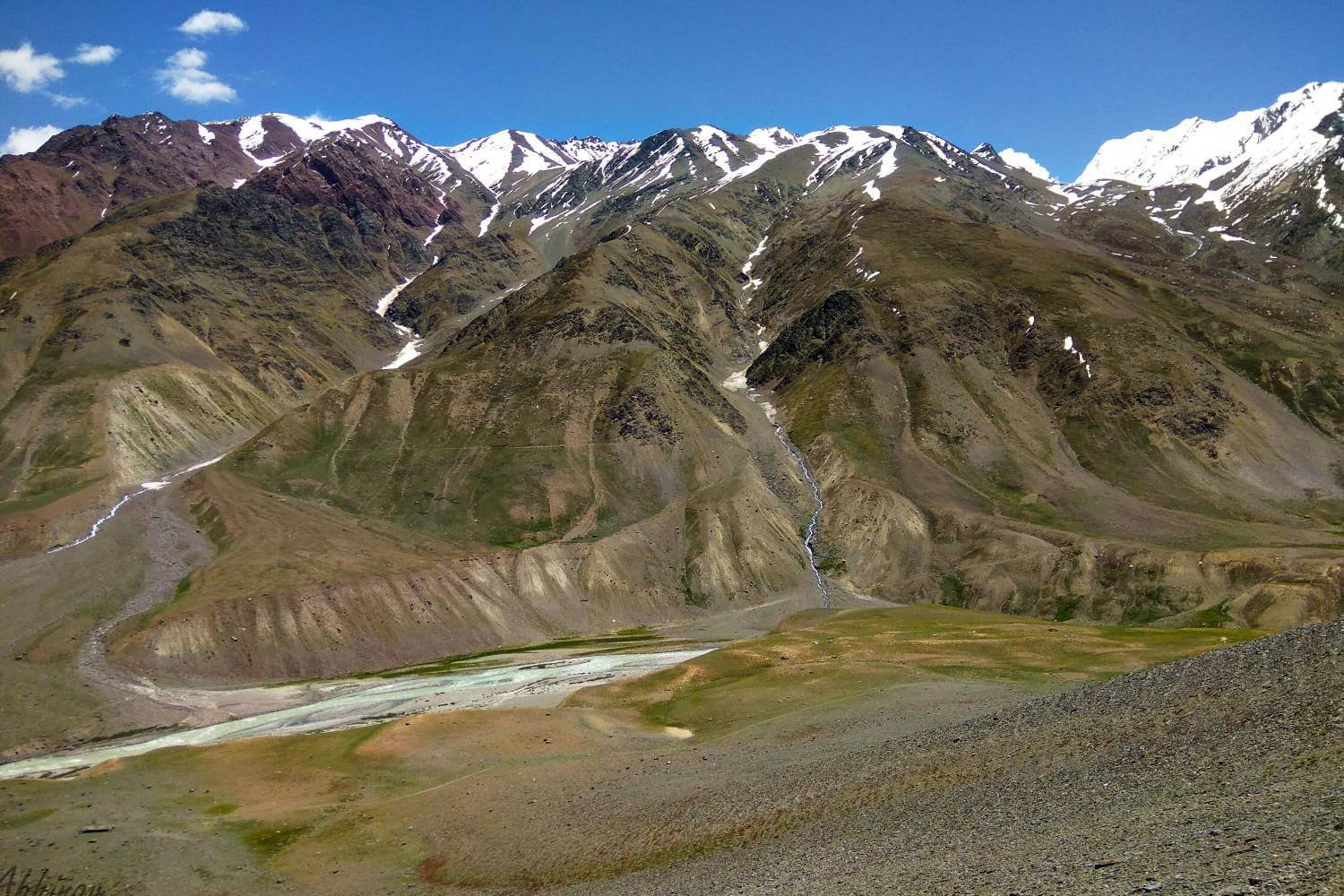 Ranked among the top ten best treks in Himachal Pradesh, the Pin Parvati Pass trek promises an unforgettable experience of connecting with nature. This scenic trek in Himachal Pradesh offers a chance to traverse through lush green forests, towering hills, and pretty mountains, making it an ideal choice for summer trekking. The trek takes you from the picturesque Parvati Valley to the stunning Spiti Valley, covering a challenging terrain that remains snow-covered throughout the year.
While the Pin Parvati Pass trek is not for the faint of heart, experienced trekkers can revel in the beauty of the eleven-day expedition. The trek offers glimpses of rare flowers, green fields, and a diverse range of flora and fauna, including the possibility of spotting Himalayan brown bears. The trek culminates in traversing a 17,457 ft pass, an accomplishment that is sure to thrill any seasoned trekker.
As you hike through the forest and verdant meadows of the Parvati Valley to the Buddhist villages in the Trans-Himalayan region of Spiti, the sharp contrast in landscapes, culture, flora, and fauna is awe-inspiring. The beauty of the trek is amplified by the spectacular scenery, which can catch you off-guard, and provide a sense of accomplishment. The Pin Parvati Pass trek is an excellent choice for trekkers who want to experience a challenging adventure while basking in the natural beauty of Himachal Pradesh.
Location: Himachal Pradesh
Altitude: 17000 ft
Category: Difficult
Days: 11-12
Best Time: July to September
These are some of the best summer treks in India where you can plan your trekking holidays. Which of these do you want to take, or have you taken any of these already? Is there anything you would like to share with us, as part of your trekking experiences? Let us know!
Like & follow us on our following official social media channels
Facebook | Twitter | Linkedin | Instagram | Youtube
Also Check Out: Popular India Tours | Tour Packages | India Tour Packages | International Tour Packages
International Trending Holiday Destinations – Nepal Tours | Bhutan Tours | Singapore Tour | Thailand Tours | Sri Lanka Tours | Maldives Tours | Dubai Tours | Indonesia Tours
Other Popular Trending Holiday Destinations in India – Kashmir Tour | Himachal Tour | Uttarakhand Tour | Rajasthan Tour | Gujarat Tour | Sikkim Tour | Kerala Tour | Andaman Tour | Madhya Pradesh Tour | North East Tours
Tour Packages by Interest – Adventure Packages | Wildlife Packages | Pilgrimage Packages | Heritage Packages | Hill Station Packages | Weekend Packages | Honeymoon Packages | Beach Packages | Chardham Packages | Trekking Packages
Other Interesting Adventure & Trekking Travel Guide Blogs to Read
Other Interesting Destinations Travel Guide Blogs to Read
Other Interesting India Travel Guide Blogs to Read
Other Interesting Rajasthan Travel Guide Blogs to Read
Other Interesting Uttarakhand Travel Guide Blogs to Read
Other Interesting Wildlife Travel Guide Blogs to Read
Other Interesting International Travel Guide Blogs to Read