Mountain beauty of Northern India, Uttarakhand's charm will leave you awestruck forever.  For any traveler whether domestic or International, if there is one place which must not be missed then Uttarakhand comes top in the list of 10 best places to visit in India.  It's a destination to visit in any season of the year. Be it a couple, adventure or nature lover, wildlife enthusiasts, researchers, solo travelers or families- Uttarakhand never disappoints and dulls the moment of a wanderer. You will find the holiest of sites steeped in spiritual mysteries surrounded by the gigantic Himalayan mountains. It's a place of origin of two most sacred rivers of India – River Ganga and River Yamuna. Himalayan mountains add a special charm to the beauty of Uttarakhand.  Apart from the spiritual significance, Himalayan mountains offer some of the most pleasurable adventures such as mountaineering, mountain biking, trekking and rock climbing etc. there is also no dearth of amazing water and aerial sports in Uttarakhand. Uttarakhand is also a paradise for anthropologists, historians, ornithologists, linguists, geologists as it has a wonderful wealth of natural resources. There are so many beautiful hill stations which seduce senses and elevate the mind with delightful cultural experiences and stories. Holidays in Uttarakhand are not always the same. It's always something new here. For family holidays, there is no place better and safer than our Dev Bhoomi – Uttarakhand.
Come let's explore some of the best places of Uttarakhand to visit with family-
Jim Corbett National Park
Mussoorie
Nainital
Tehri Lake
Rishikesh
Haridwar
Kausani
Dhanaulti
Ranikhet
Jageshwar
Dehradun
Bhimtal
Uttarakhand Tourism Quick Travel Facts
| | |
| --- | --- |
| Uttarakhand is known as | Dev Bhoomi, The Land of Gods |
| Uttarakhand is popular for | Pilgrimage sites and Hill Station Tourism |
| Which two were sacred rivers originated in Uttarakhand | River Ganga and River Yamuna |
| Two UNESCO World Heritage Sites of Uttarakhand | Valley of flowers and Nanda Devi National Park |
| First and Oldest National Park of India | Jim Corbett National Park, Nainital District, Uttarakhand |
| Official Language of Uttarakhand | Sanskrit |
| Major holy sites of Uttarakhand | Panch Badri, Panch Kedars, Panch Prayag and Char Dham Circuits |
| Highest Shiva Temple of the world | Tungnath Temple |
| Highest Gurudwara in the world | Shri Hemkund Sahib |
| Very popular Hill Stations of Uttarakhand to visit with family and kids  | Nainital, Mussoorie, Ranikhet, Kausani, Lansdowne, Almora, Dehradun, Pithoragarh, Haridwar, Rishikesh, Dhanaulti, Mukteshwar and Barkot etc. |
Get upto 30℅ of early discount on our Uttarakhand Tour Packages. Reach us for more details / bookings – +91-7668130655.
1. Jim Corbett National Park – Wild Wonderland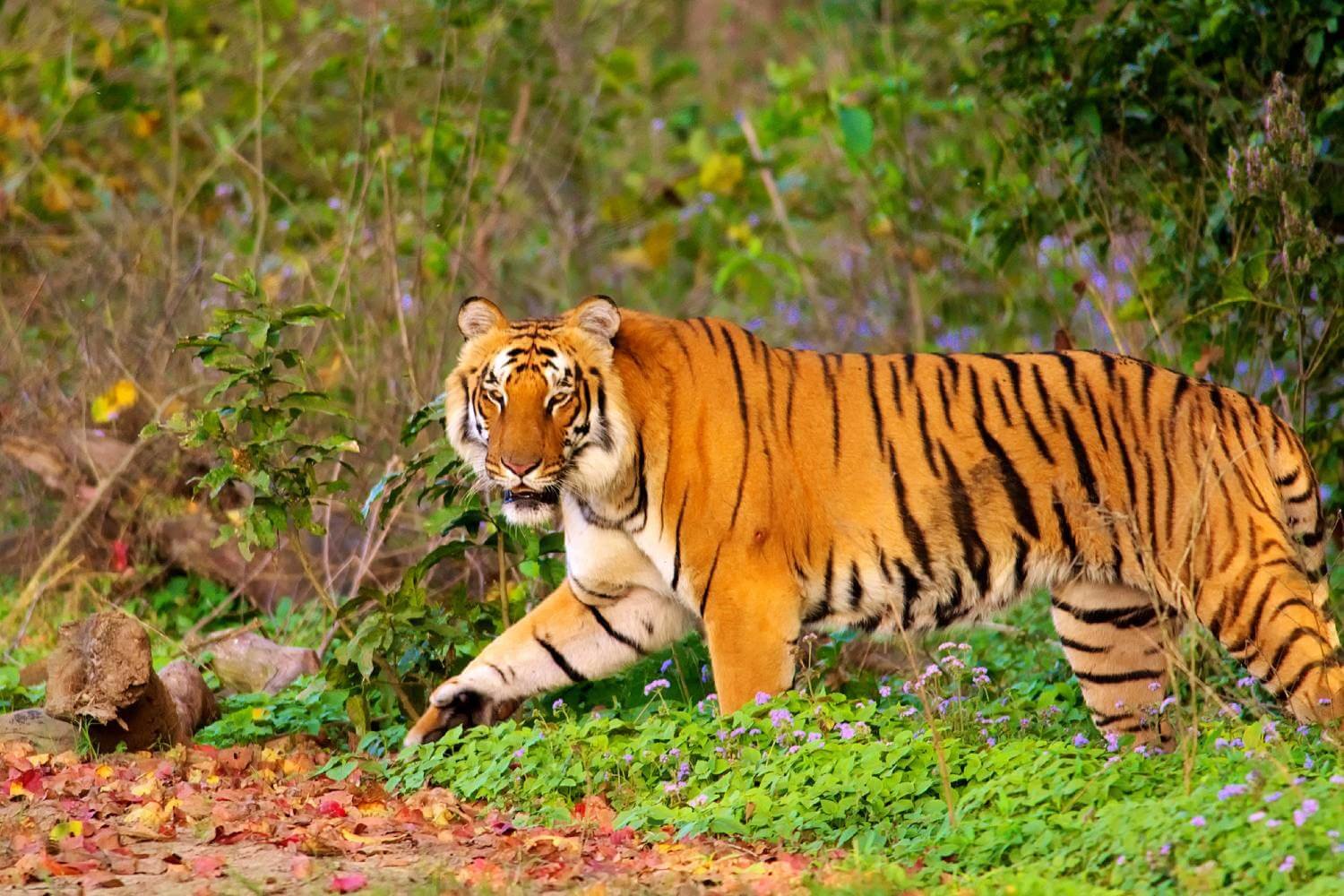 The land of enchantment and wilderness, Jim Corbett National Park will make your family vacations in Uttarakhand exciting. Yes, if you are thinking about thrilling Jeep Safari with your family, Jim Corbett National Park will definitely make your family vacations memorable. This magical landscape has the highest population of Tigers. You will be amazed to know that it is also the oldest National Parks in India. It is from Jim Corbett's territory, the initiative to protect tiger population started. Project Tiger in India was started here in 1973 to safeguard Tigers. Being a tiger rich zone, it is one of the most preferred destinations to enjoy wildlife vacation for adventure and wildlife enthusiasts.  In fact, visiting Jim Corbett with family is the best thing to do. There is so much to explore and learn about the rich wildlife and floral species of India.
There are six major tourism zones in the park to explore such as Bijrani Safari Zone, Jhirna Safari Zone, Dhela Safari Zone, Dhikala Zone, Durga Devi Zone, Sitabani Buffer Zone to explore the floral and faunal wealth of Corbett Tiger Reserve.
To make your Uttarakhand family trip memorable try these amazing things in Jim Corbett National Park with your loved ones –
Speedy waters of Kosi River offer the best River Rafting experience to the tourists. It is one of the best things to do for the one who loves water sports.
Jeep Safari is a must if you are in Jim Corbett National Park. but if you love to explore the park in a more natural way then you can also try Elephant Safari.
You will get the best views of rivers, hills and forests of the reserve if you will do mountain biking.
Do you want to catch and cook fish on your own? Yes, at Jim Corbett you will get the chance to catch a fish and cook it on your own. Fishing is one of the top things to do in Jim Corbett National Park.
Corbett Museum is a place where you and they will learn a lot about the wildlife history of the park. There is also a local shop near the museum which sells local handicraft items, you can purchase amazing souvenirs here. If you have kids, they will enjoy it a lot here. It is one of the best places to enjoy with kids in Uttarakhand.
Corbett Waterfalls surrounded by dense teak forests. What a view! You must click an awesome picture of Corbett waterfalls.
Jim Corbett has around 600 species of birds. You can indulge in birdwatching, if you love the cheerful sounds and sights of migratory birds.
Also Read: Lansdowne Hill Station Travel Guide
2. Mussoorie – Mountain Delight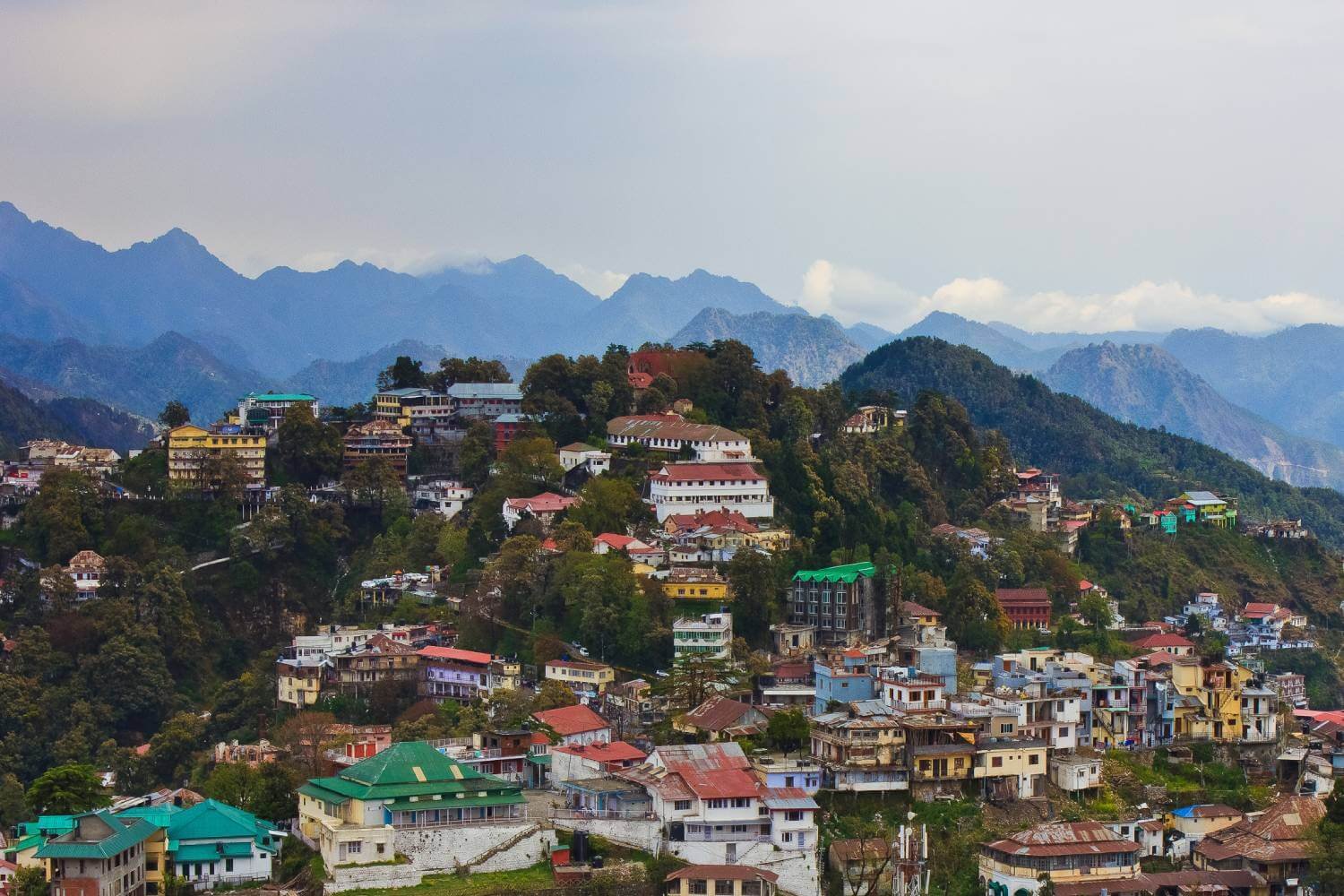 Mussoorie is a delightful charm for mountain lovers. Full of mist, snow-capped mountain views, serene lakes and waterfalls, beautiful picnic spots and lush greenery – Mussoorie is a paradise for wanderers who are planning to visit Uttarakhand with family. Known as Queen of Hills and a treasure of beautiful landscapes, Mussoorie is a soulful sonnet for families, wanderers, nature lovers and adventurers. Nature's bliss feels like a soothing touch of the divine.   Wanderers coming from all over the world, consider it as one of the best hill stations to visit in Uttarakhand for refreshing vibes. It Lies 2000 m above sea level so you will discover some of the most beautiful peaks of Garhwal Himalayas here. Blessed are the cameras who got the chance to capture the delightful beauty of the Himalayan mountains.
There is something for everyone and you will never get bored with the refreshing atmosphere of Mussoorie. Thrilling adventurous activities make family holidays here more memorable. Indeed, Mussoorie's charm, activities and attractions make it the best hill station in Uttarakhand with your family and friends.
Must Try in Mussoorie – Camping in the Upper Himalayas, Paragliding, cable car riding, boating, rock climbing, skating and trekking.
Beautiful Gardens and Parks for Leisure Walks- Cloud's end, Landour, Camel's Back Road, Municipal gardens, Mall Road etc.
Must Not Miss Delicacies– Chainsoo, Urad Ke Pakode, Gahat Soup, Gahat Rasmi Badi Kofta and Aloo Ke Gutke etc.
Also Check Out: Mussoorie Tour Package Itinerary
3. Nainital – Embrace the Lake Paradise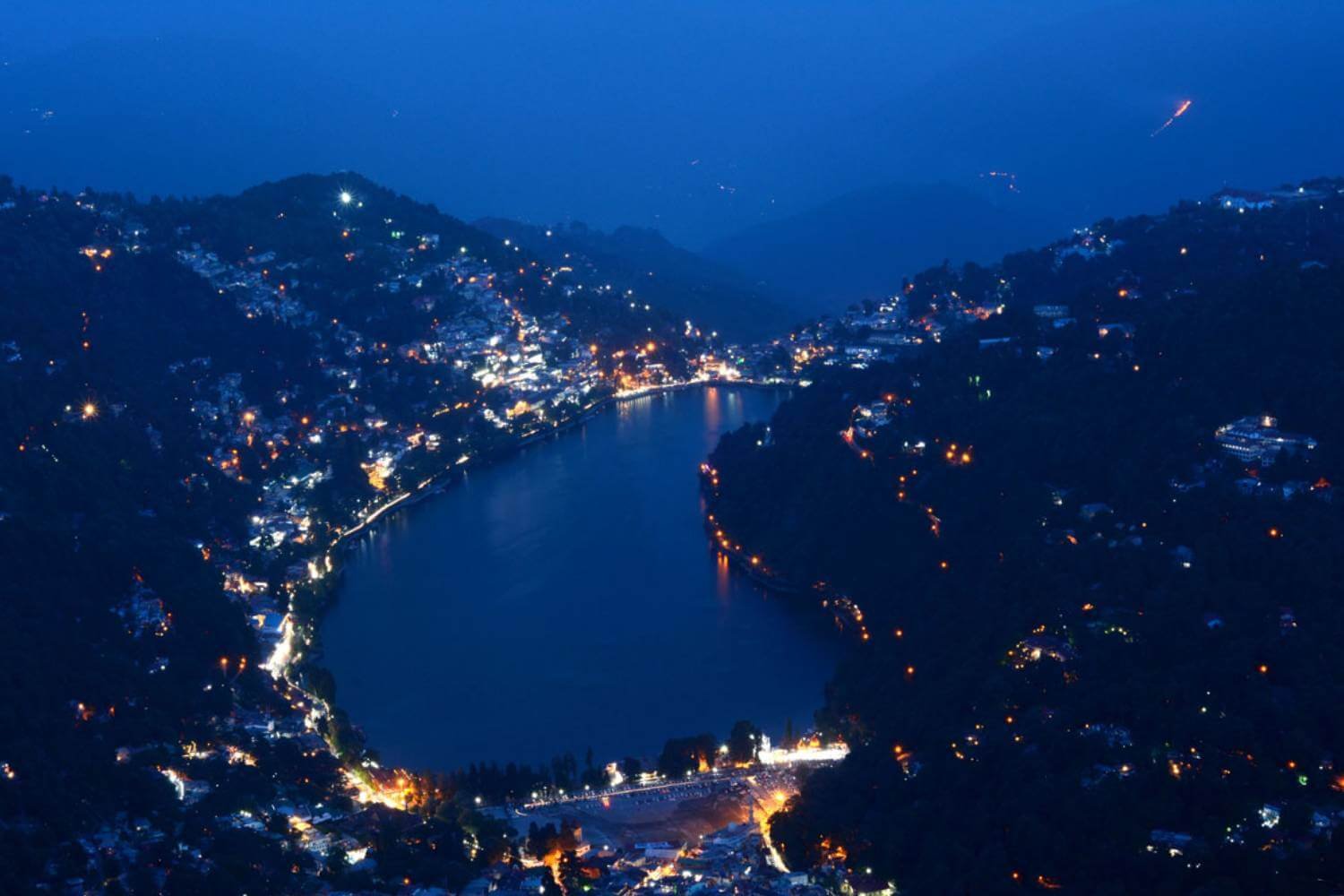 Refreshness of Himalayan mountains, soothing lakes, mesmerizing temples, exciting adventure activities, and abundance of greenery, Nainital is a joyous place to be for a family with kids in Uttarakhand. If you are planning a family holiday in Uttarakhand, you must not miss Nainital. It's a place where the weather is delightful, food is awesome, markets are attractive, attractions are mind boggling. Everything about this place is cool.
Wonderful for a family hill station vacation, the views here will never let your camera stop. Named after Goddess Naina Devi who is an incarnation of Goddess Sati, Nainital also holds a very significant place for the spiritually inclined travelers. It is a pilgrimage place for the Hindu devotees.  It is believed that the eyes of Devi Sati fell on the spot of Naini Lake which is the reason why the temple is situated at the banks of Naini Lake and the place is known as Nainital.  (Nain- Eyes and Tal means – Lake). Naini Lake is the lifeline of Nainital Tourism. Its beauty is irresistible. You can sit for hours admiring the beauty of Naini Lake. It is a best place to spend fun-filled moments with family and friends also as it is one of the favorite summer vacation hill stations for tourists specially for the people of Delhi as it is not very far from NCR regions.
Top Things to Do on a Family Trip in Nainital
The colorful markets – For Local Souvenirs, Delicious cuisines and amazing cultural experiences.
Winter is the time to enjoy the exciting Winter carnival held in December. It includes fun filled activities, delicious cuisines, stalls, cultural performances, music, traditional dances etc.
Enjoy thrilling Wildlife Safari with family and kids at Jim Corbett National Park.
Explore Raj Bhawan- royal Palace, Royal Vibes.
Cave Garden, Rock Climbing, Trekking, Boating – Nainital is a place to enjoy amazing water and mountain adventure activities.
Cheena Peak, Tiffin Top- Stunning Views
Also Check Out: Nainital Weekend Tour Package
4. Tehri Lake – Land of Adventures
Perched at a height of 1700 meters, Tehri Lake is one of the best adventure destinations for fun filled family holidays in Uttarakhand. The best place for a wonderful family trip is a place where there are enough exciting activities to enjoy, and Tehri Lake is one such place where your loved ones will definitely enjoy. The best thing about Tehri Lake is that it is not far from Delhi and NCR Regions so, for a busy person it is a best weekend getaway destination to spend quality time with family and kids.
It is a perfect place for water sports, aerial and land sports. Tehri lake is Asia's largest manmade lake which came into existence in 1978 when Tehri Dam was constructed. To make it a wonderful and exciting tourist attraction, Uttarakhand Tourism Development board UTDB has converted this place into a happening adventure tourism destination. Moreover, the Uttarakhand Tourism Board also organizes Asia's largest lake festival – Tehri Lake Festival in the month of February or March which involves folk dances, amazing food, water sports, cultural programs, jewelry and photo exhibitions and much more.  It's a complete joyous package of celebration art and cultural heritage of Uttarakhand. In Tehri Lake you will never run out of things and the ambiance will never make your day dull here.it is indeed one of the best kid friendly destinations to enjoy in Uttarakhand.
Tehri Lake's Adventures for Family Vacationers
Kayaking
River Rafting
Canoeing
Water Zorbing
Jet skiing
Scuba Diving
Rock Climbing
Mountain Climbing
Trekking
Paragliding
Parachuting
Hot air Ballooning
Speed Boat Ride
Also Read: Almora Hill Station Travel Guide
5. Rishikesh – Silencing the Chaos Within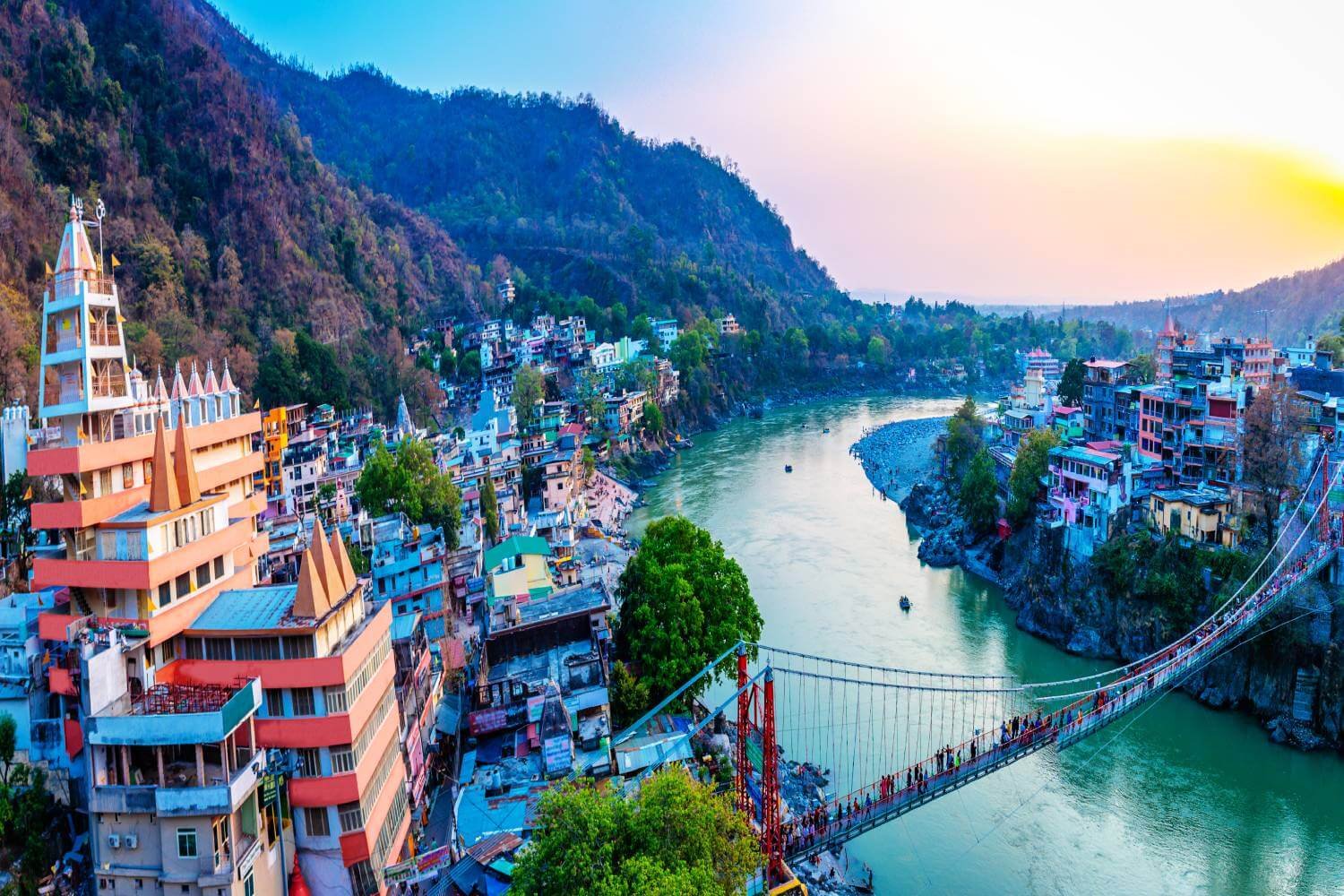 Rishikesh is a serene and solace inducing tourist attraction in Uttarakhand. If you are looking for a place which has a spiritual and peaceful ambiance, then Rishikesh is a place to be in. Especially if you have elderly parents, Rishikesh's blissful atmosphere is one of a kind. Rishikesh is a beautiful spiritual paradise for solace seekers. For any family who is looking for peaceful ambiance and laid-back vacation Rishikesh's vibe will captivate your soul. It is a gateway to the enchanting Garhwal Himalayas. Apart from spiritually inclined tourists, it is also one of the most favorite destinations of Yoga enthusiasts. In fact, you will be amazed to know that Rishikesh is also known as the Yoga capital of India. There are many Internationally renowned Ashrams and yoga centers to learn Yoga and meditation. Rishikesh is also loved by adventure loving souls. The majestic Himalayan mountains in the backdrop, numerous temples and the mesmerizing river Ganga are the thing of Beauty and joy forever, "its loveliness increases, and it will never pass into nothingness".
Adventures in Rishikesh
River Rafting
Bungee Jumping
Giant Swing
Flying Fox
Waterfall Trekking
Cliff Jump
Rappelling
Air Safari
Best places to visit with Family and kids
Ganga Aarti at Triveni Ghat
Ayurvedic Massage
Beatles Ashram
Yoga and Meditation
Cafes of Rishikesh
Temple Hopping
Traditional Garhwali Cuisines
Wildlife of Rajaji National Park
Van Gujjars Community
Shopping
Goa Beach of Rishikesh
Also Check Out: Mussoorie Rishikesh Tour Package
6. Haridwar- Land of Gods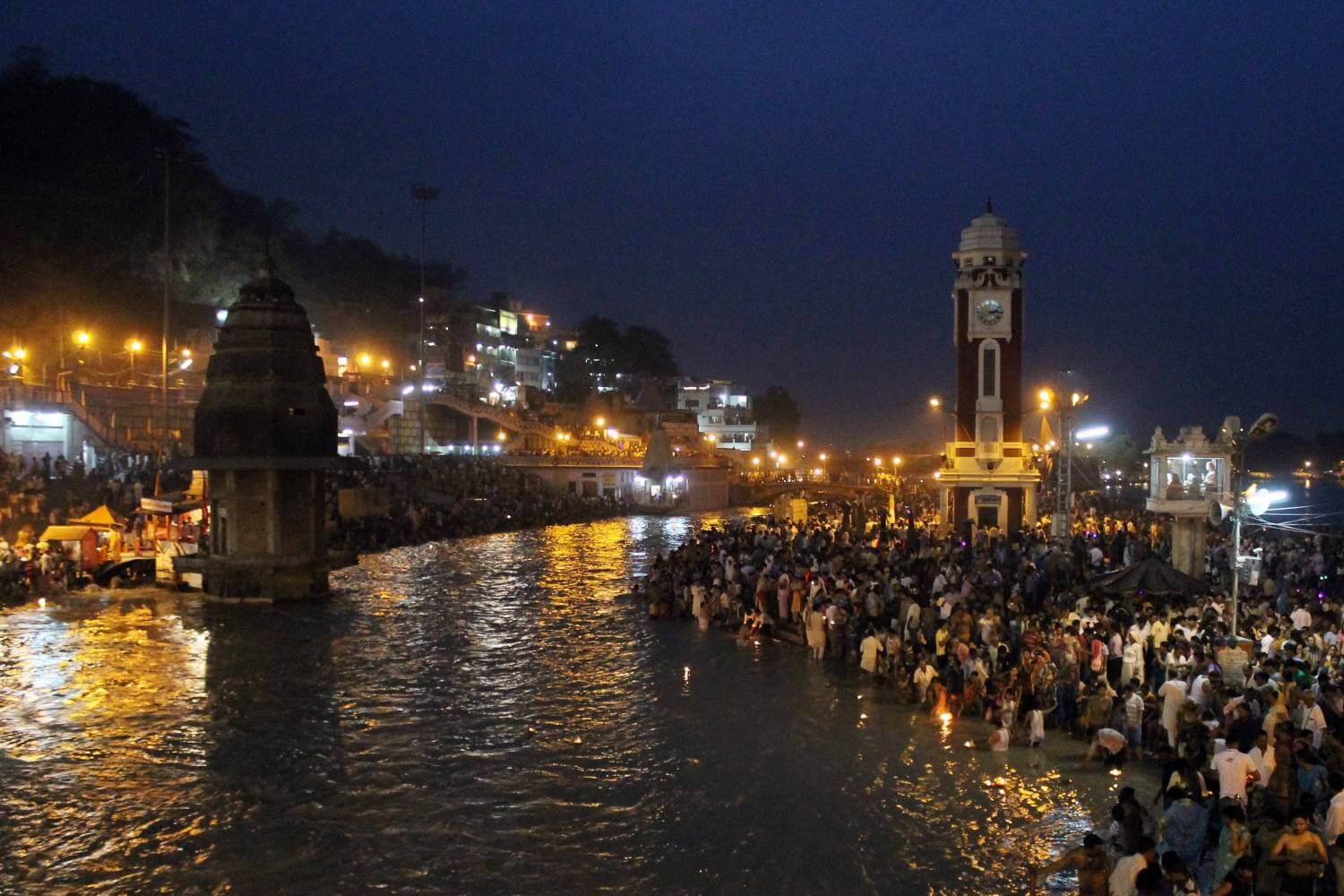 Fine tune your spirit with the serene drops of spiritual grace as Haridwar is one of the holiest pilgrimages in India. It's an ideal place for a lazy family vacation in Uttarakhand. In Haridwar everything functions at a very slow pace. Here you will see numerous temples in the banks of River Ganga, chimes of temple bells, religious chanting of priests and Sandhya Aarti in evening at Ganga Ghats makes the ambiance of Haridwar pious. Steeped in culture and traditions, Haridwar's landscape will elevate your spiritual life to a whole new level. Be it any season, Haridwar never fails to impress you with its delightful chaos.
Haridwar in the rainy season will give you the chance to see Kanwar Mela. You will also get to see Ardh Kumbh Mela every six years and after every 12 years Kumbh Mela which is one of the most important religious festivals for Hindu Devotees. No matter how much you try you will always come to see the beautiful river Ganga and be captivated by the charm of beautiful Ghats such as Vishnu Ghat, Birla Ghat, Har Ki Pauri, Gau Ghat and Ganesh Ghat. Devotees from all across India come to Haridwar to visit the pious Panch Tirthas such as GangaDwara, Har Ki Pauri, Kankhal, Bilwa Tirtha, Kushwart and Neel Parvat and the holy Char Dhams of Uttarakhand.
For Best Family Moments
Ganga Aarti at Har Ki Pauri
Temples of Haridwar
Yoga Ashrams in Haridwar
Holy Bath at Ghats
Ayurvedic Treatments and Spas
Best Shopping Centers in Haridwar
Bara Bazaar
Moti Bazaar
Tibetan Shopping Center
Best Ashrams to Visit in Haridwar
Jai Patanjali Yogpeeth
Ram Ashram
Shanti Kunj
Parmarth Ashram
Vasudev Ashram
Pawan Dham Ashram
Ma Anandamayi Ashram
Best Family Friendly Eateries in Haridwar
Mohanji Puri Wale
Kashyap Kachodiwala
Mathura Walo ki Pracheen Dukan
Also Check Out: Best of Uttarakhand Tour Package
7. Kausani- Come! Mountains are Calling
Kausani is a refreshing mountain getaway and an amazing tourist attraction in Uttarakhand for peaceful family vacations. If you are looking for a place free from crowds, Kausani's delightful landscapes will be a visual treat for your eyes and mind. It's a great place to become one with nature, indulge in nature photography and get lost in the melodious solitude of nature forever.
Kausani will amaze you with its beautiful views of the mighty Nanda Devi, Trishul and Panchachuli Peaks.  Being 1890 meters above the sea level, Kausani's mind boggling waterfalls and streams makes the place photogenic. The nature here is full of sweet dreams which will never let you wake up to go away in a city. If you love winter snow falls then the month of September to November is the best time to come here and if you love the cool weather, then April to June is a perfect time to enjoy the refreshing vibe and chilled mountain breeze.
The Place is so beautiful that even Mahatma Gandhi could not resist himself to call it a "Switzerland of India' in 1929. The famous Hindi poet Sumitra Nandan Pant also wrote many beautiful poems dedicated to the landscapes of Kausani.
Best Places to Visit in Kausani with Family
Rudradhari Falls and Caves
Kausani Tea Estate
Baijnath Temples
Anasakti and Lakshmi Ashram
Pinnath
Gwaldam
Also Read: Auli Hill Station Travel Guide
8. Dhanaulti- Day Dreamers Reality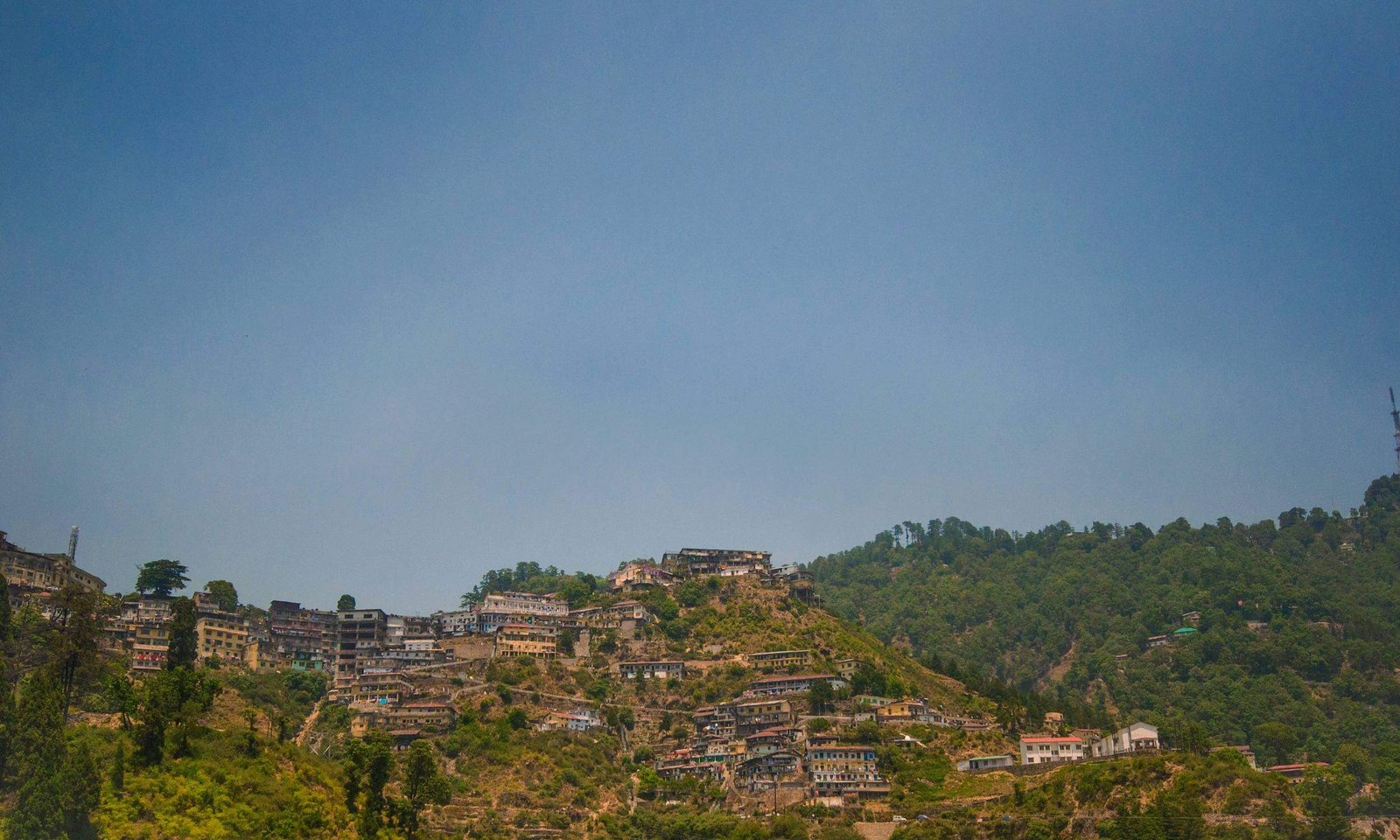 Hills and lush green landscapes make Dhanaulti one of the most beautiful places to visit in Uttarakhand with family and Kids. It's a peaceful retreat, less crowd, silence of nature, delightful weather and chilled mountain breeze- Dhanaulti's essence is all about euphoria. Dhanaulti is one of the best hill stations to explore in Uttarakhand with family. The snow-capped Himalayan mountains surrounded with beautiful dense forests of Deodar; Rhododendron look amazing.  Be it summer or winter, Dhanaulti's alpine woods bewitch the soul in a different way. will blow your mind with its healing vibe. Entire hill station is covered in snow during winter here which is another best reason to visit Dhanaulti for family vacation.
Dhanaulti is also one of the best adventure Hill station getaways in Uttarakhand for family vacationers.
Adventures of Dhanaulti
Horse riding
Rappelling
Sky Walking
Skating
Mountain biking
Rock Climbing
Valley crossing
Skating
Paragliding
Camping
Memorable Family Friendly Destinations
Refresh and rejuvenate your senses at Eco Park
Boating at Company Garden
Mind Boggling Hilly Treks
Nature walks and Village Tours
Sunset of potato Farms
Camping with family
Best Adventure Places- Enjoy the best of Dhanaulti adventure tourism in amazing adventure camps in Dhanaulti with your loved ones –
Camp Dhanaulti Magic
Dhanaulti Camps
Camp Thangdhar
Dhanaulti Mountain camp and cottages
Himalayan Huts Dhanaulti
Also Read: Best Places to Explore in Uttarakhand
9. Ranikhet- Soul Soothing Greenery
Ranikhet is a green world. It is one of the best Hill Stations to visit in Uttarakhand. Perfect for family holidays in Uttarakhand the serenity of Ranikhet would leave no stone unturned to heal your soul. It is one of the most soothing North India Hill Stations in Uttarakhand.
In the summer, Ranikhet offers the refreshing nature of mountains. From Beautiful Chaubatia gardens, forests of Bhalu Dam, serene hamlets of Majkhali to Haidakhan Temple trek, the views are soul pleasing. Winter shows the magic of snowfall and the surreal fog which envelops the whole town captivates the mind.
The rolling green mountains, the rising mist, orchards and villages makes Ranikhet a wonderful place for nature loving souls. Ranikhet's story is quite interesting. It is said that the queen Padmini of Ranikhet was so stunned by the beautiful landscapes of Ranikhet that she asked her king Sukhdev to build a palace for her here. He fulfilled her wish and since then this beautiful Hill Station is known as Ranikhet (Queen's Meadow). You will not be able to find any trace of the palace today but the beauty of Ranikhet has been captivating the tourists from all over the world.
Best Experiences of Ranikhet with family
Kosi River- Anglers Paradise
9 Hole Golf Course surrounded by stunning Himalayan Peaks
Spiritual Hubs for divine wisdom – Kalika Temple, Jhula Devi temple and Mankameshwar Temple
Serene and solitary village of Tarikhet
Best Theme Park – Ashiyana Park
10. Jageshwar- Rediscover the New You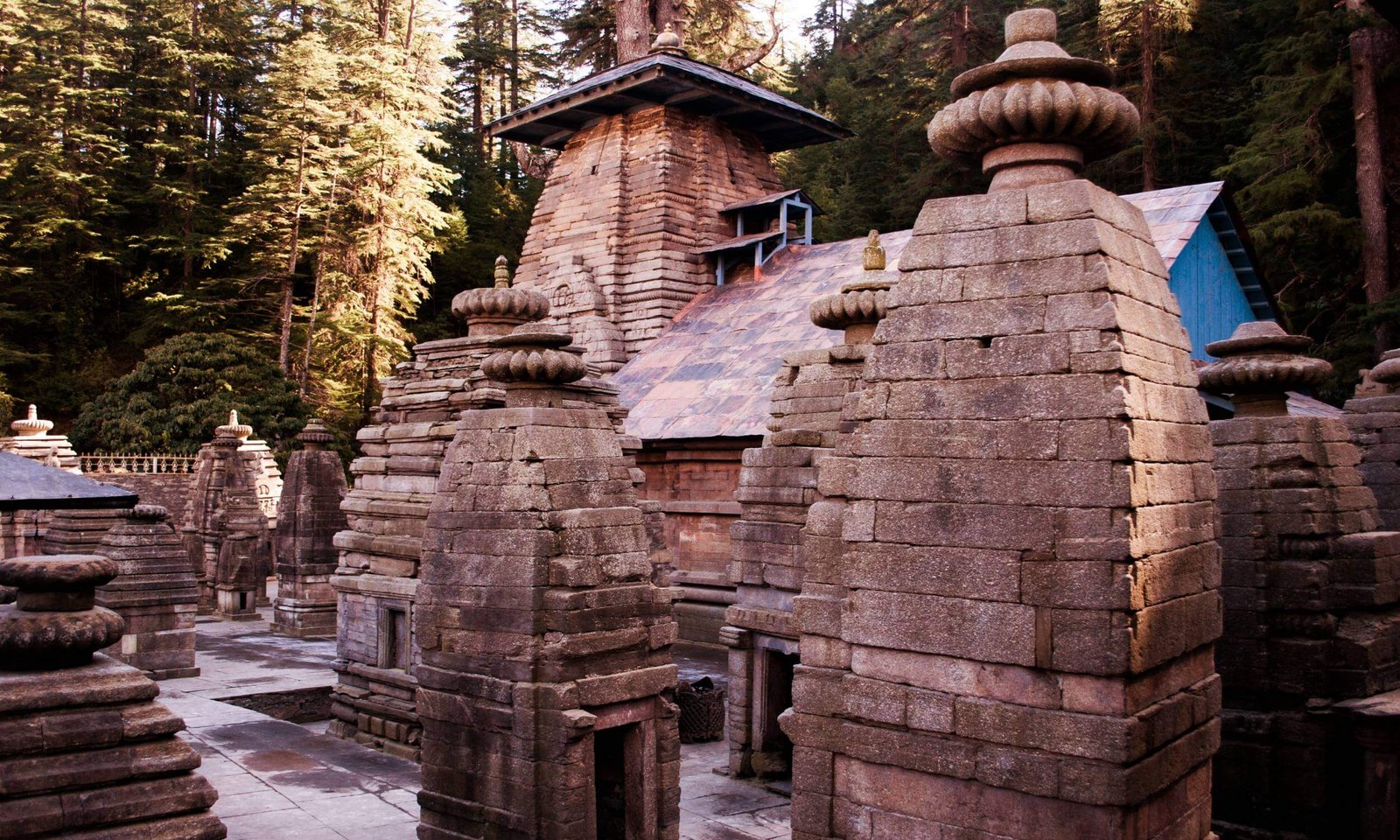 Jageshwar at an elevation of 1870 meter above the sea level is a serene hub of spiritual comfort in Uttarakhand. It's a wonderful pilgrimage destination to uplift your thoughts and fine tune your tired spirits. For a peaceful family vacation in Uttarakhand, Jageshwar's atmosphere will soothe your mind, body and soul. There are around 124 large and small stone temples dating 9th to 13th century AD carrying a rich legacy of ancient dynasties. It's a place where your soul will be blessed by the divine aura of the temples and calmness of nature. It's a perfect place to plan a spiritual pilgrimage trip with your family in Uttarakhand.
The tranquil atmosphere with lush greenery, delightful silence, and less crowd makes it one of the best spots to indulge in Yoga and Meditation. The most beautiful highlight of Jageshwar is its stone temples. It is the biggest group of temples located in a single complex in the world. There are 174 sculptures including stone idols of Lord Shiva and Goddess Parvati. Coming here is like rediscovering yourself in a much-elevated form.
Some of the most prominent temples to visit in Jageshwar
Jagannath Jyotirlinga
Mrityunjay Temple
Hanuman Temple
Surya Temple
Neelkanth Temple
Lakulisa Temple
Pushti Mata Temple
Navagraha Temple
Also Read: Top Hill Stations to Visit in Uttarakhand
11. Dehradun- Best for Himalayan Vacations
Dehradun at the foothills of the beautiful Shivalik range has an irresistible charm. It is also one of the most visited family and Kid friendly tourist destinations in Uttarakhand. The verdant Sal forests, the beauty of Garhwal Himalayas, awe-inspiring Doon Valley will compel your soul to live here forever. Its serenity makes this place a wanderer's delight.
Dehradun has something for every kind of Tourist. Adventure lovers would love to indulge in activities like paragliding, skiing, rafting and cycling etc. numerous temples against the backdrop of soul seducing Garhwal Himalayan mountains will elevate your spiritual thoughts in a different way. The weather of Dehradun remains pleasant throughout the year for sightseeing tours, so if you are planning a trip with family, Dehradun is an ideal retreat to rejuvenate your mind, body and soul.
Dehradun's lovely places will definitely make your day with your loved ones awesome. Here are some of the must visit places in Dehradun-
Robbers Cave
Mindrolling Monastery
Forest Research Institute
Tapkeshwar Temple
Lachhiwala
Paltan Bazaar
Tibetan Market
Assam Barrage
Maldevta
Also Read: Char Dham Yatra Travel Guide
12. Bhimtal- Peace Hub for Solace Seekers
20 km from the beautiful hill station of Nainital, Bhimtal is a lovely getaway to spend quality time with family. It is less crowded than Nainital, which is always bustling with tourists. If you are looking for a peaceful ambiance, then Bhimtal's mesmerizing landscapes will be etched on your soul forever. Indeed, Bhimtal's natural beauty is a serene drop of relaxation for tired souls looking for an escape from the chaos of the world. This beautiful lake city is named after Bhima, a mythological character of Mahabharata. As per the legends, Bhimtal was formerly known as Bhim Sarovar Lake. It is said that Bhim and other Pandava's brothers visited this place during their exile. During their exile time here, Bhima and other Pandava's brothers were unable to find any water resource to quench their thirst, so Bhima, the mightiest of all with his Gada (Mace), made a sudden blow on the ground. It created an opening in the ground which contained fresh underground water. Hence Bhimtal Lake formed which has been captivating the hearts of tourists for over a decade.
For a happy family holidays in Uttarakhand, you will find many interesting tourist destinations in Bhimtal such as –
Victoria Dam
Folk Culture Museum
Hidimba Parvat
Bhimtal Lake
Bhimeshwar Mahadev Temple
Bhimtal Island Aquarium
Garg Parvat
Karkotak Temple
Is Bhimtal worth Visiting? You might think about this question in your head constantly. Well, Bhimtal is a beautiful nature paradise for solace seekers. It is also a wonderful place for adventure lovers. Tourists can indulge in boating, birdwatching, trekking and nature walks with their loved ones.
Also Read: Top Things to Do in Uttarakhand
Tourists who are looking for stunning and exciting places to spend some quality time with their loved ones should definitely visit these places for a wonderful Himalayan family vacation in Uttarakhand. If you have already visited these places then feel free to share your delightful experiences in the comment section.
Frequently Asked Questions
What are some of the must visit places to visit in Uttarakhand for Nature Lovers?
Uttarakhand – Dev Bhoomi is blessed with natural beauty. Its landscapes heal the mind.  The greenery is so refreshing that you will be compelled to live here forever. Some of the top rated and must visit places to visit in Uttarakhand for nature lovers are –
Bhimtal
Deoria Tal
Hemkund Lake
Naini Lake
Valley of Flowers
Nanda Devi National Park
Kausani
Nainital
Ranikhet
Dhanaulti
Chopta
Mussoorie
Chakrata
Harsil
Munsiyari
Can you suggest some family friendly treks in Uttarakhand?
Uttarakhand is the crowning jewel when it comes to mountain destinations. It is one of the most favorite adventure destinations for trekkers of the world. The hidden jewels of Uttarakhand, the less traveled trails offer surprises and endless adventures which makes the trip wholesome. Being a top trekking destination, many seasoned trekkers from all over the world come to Uttarakhand to enjoy trekking. Some of the treks can also be enjoyed with family. Here is a list of best family friendly treks in Uttarakhand –
Kedarkantha Trek
Valley of Flowers
Har Ki Dun
Kedar Tal
Dayara Bugyal
Rudranath temple Trek
Devariyatal Trek
Milam Glacier
Pindari Glacier
Chopta Trek
Nag Tibba trek
What are the best family friendly activities to do in Uttarakhand?
For fun filled family friendly adventures Uttarakhand is one of the best tourist destinations. It is suitable for any kind of traveler. There is no dearth of interesting activities which you can do for memorable moments. Some of the best family friendly activities to do in Uttarakhand are –
Fun moments at Ashiyana Theme Park
Visit Dehradun Zoo
Boating at Naini Lake
Nature Walks of Pithoragarh and Ranikhet
Wildlife Safaris
Staying experience of Daak Ghars of Uttarakhand
Forest Camping
Temple Hopping
Ganga Aarti
Yoga and Meditation
What are the best places to visit with family in Uttarakhand during Summer?
Uttarakhand, a place surrounded by Himalayan mountains has always been attracting tourists. Its pleasant weather and refreshing vibes attract the tourists in the summer season. Famous for its adventure sports, nature places and holy sites, it remains cool even in the summer season. Some of the best places to visit with family in Uttarakhand during Summer are –
Chakrata
Nainital
Harsil
Kausani
Ranikhet
Tehri
Mussoorie
Chopta
Almora
Pithoragarh
Bhimtal
Munsiyari
What are the best places to visit with family in Uttarakhand during Winter?
In winters some parts of Uttarakhand are covered with a sparkling white carpet of snow, which captivates wanderers from all across the globe. Uttarakhand is one of the top winter destinations to visit in India. Why not? It is surrounded by snow laden Himalayan mountains. If you are also planning to travel to Uttarakhand with family in winter then these are some beautiful places to explore –
Khirsu
Auli
Binsar
Dhanaulti
Chakrata
Chopta
Mussoorie
Mukteshwar
Nainital
Kedarkantha Trek
Almora
Chaukori
Chamoli
What are the best places to visit with family in Uttarakhand during Monsoon?
July to September is the time when Uttarakhand enjoys the beautiful season of monsoon. Compared to two other seasons, winter and summer, Monsoon is not a very ideal time to travel here but some parts of Uttarakhand are the bliss of monsoon. The first shower of monsoon refreshes the landscapes of Uttarakhand and it makes the lush foliage of Uttarakhand alive. Some of the best places to visit in Uttarakhand with family in monsoon are –
Valley of Flowers
Chopta
Ranikhet
Uttarkashi
Buffer Zone – Jim Corbett National Park
Lansdowne
Almora
Mussoorie
Can you recommend some good places for camping with family in Uttarakhand?
Amidst the stunning natural beauty of Uttarakhand, you will come across many amazing places to camp with your near and dear ones. Fill your soul with the wholesomeness of fun filled moments with family in these awesome camping destinations of Uttarakhand –
Nainital
Agoda Village
Ali Bedni Bugyal
Baraadsar Lake
Bansi Narayan temple
Byasi
Jim Corbett
Dehradun
Chakrata
Shivpuri
Mussoorie
Pangot
Kanatal
Other Interesting Uttarakhand Travel Guide Blogs to Read
Like & follow us on our following official social media channels
Facebook | Twitter | Linkedin | Instagram | Youtube
Also Check Out: Popular India Tours | Tour Packages | India Tour Packages | International Tour Packages
International Trending Holiday Destinations – Nepal Tours | Bhutan Tours | Singapore Tour | Thailand Tours | Sri Lanka Tours | Maldives Tours | Dubai Tours | Indonesia Tours
Other Popular Trending Holiday Destinations in India – Kashmir Tour | Himachal Tour | Uttarakhand Tour | Rajasthan Tour | Gujarat Tour | Sikkim Tour | Kerala Tour | Andaman Tour | Madhya Pradesh Tour | North East Tours
Tour Packages by Interest – Adventure Packages | Wildlife Packages | Pilgrimage Packages | Heritage Packages | Hill Station Packages | Weekend Packages | Honeymoon Packages | Beach Packages | Chardham Packages | Trekking Packages
Other Interesting Destinations Travel Guide Blogs to Read
Other Interesting India Travel Guide Blogs to Read
Other Interesting Wildlife Travel Guide Blogs to Read
Other Interesting Rajasthan Travel Guide Blogs to Read
Other Interesting Adventure & Trekking Travel Guide Blogs to Read
Other Interesting International Travel Guide Blogs to Read