Unlike other places in India, the North East is the less explored region which you must consider for your next vacation. Why? North East India, the enchanting landscapes of the seven sisters Assam, Arunachal Pradesh, Meghalaya, Mizoram, Tripura, Manipur and Nagaland and their brother Sikkim will literally delight your senses with its unique customs and traditions, abundance of forests, lakes, waterfalls and heritage attractions. Every moment here is spent in excitement as you will constantly think what's next? This was interesting. From food, festivals, lifestyle, to beautiful fairytale-like landscapes, everything here is a door to enter into a new world. There are unique floral and faunal species. Every tribe has their own customs and traditions. There are many beautiful trails which are completely remote and unspoilt. Traveling to North East India will nourish your mind and soul with exciting experiences and you will get to know a lot about the richness of the heritage and culture of Incredible India.
Some Interesting Facts about North East India –
| | |
| --- | --- |
| Arunachal Pradesh is Known as | The land of the Rising Sun |
| Place with the Biggest and the Smallest River Islands of the World | Assam |
| Land of Muga Silk and World's Largest Weaving Village | Assam |
| Only Mothers Run Market | Manipur |
| Wettest Place on Earth | Meghalaya |
| Cave Carved by Hairpin | Pukzing Cave, Mizoram |
| Last Surviving Headhunter Tribe | Nagaland |
| Only Floating Palace of Northeast | Tripura, NeerMahal |
| Land of Seven Sisters | Assam, Arunachal Pradesh, Meghalaya, Mizoram, Tripura, Manipur and Nagaland. |
| Brother of the Seven Sisters | Sikkim |
Trip to the Land of Seven Sisters – Here is the list of top 15 Best Places to Visit in North East India Tour-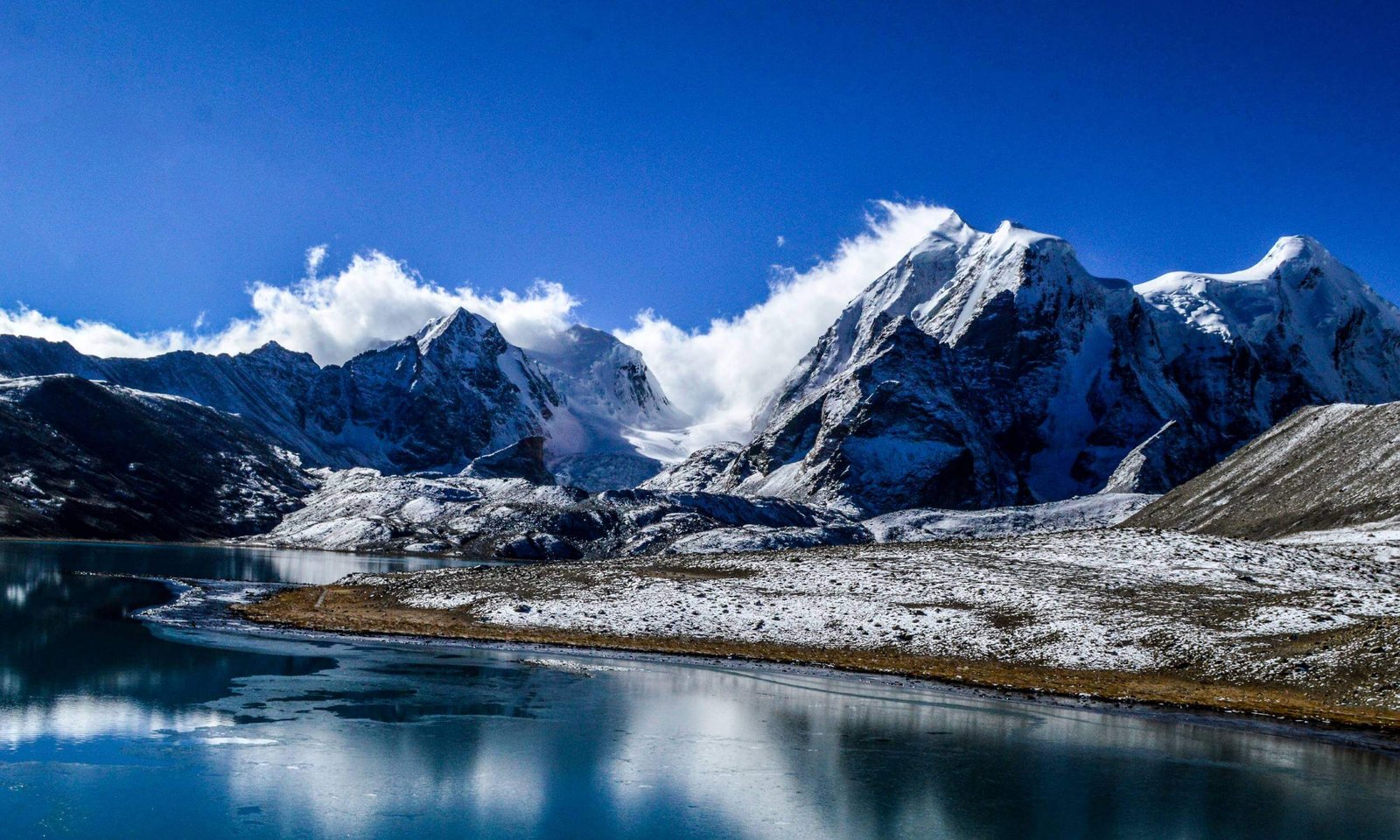 Gangtok (Sikkim)
Tawang (Arunachal)
Shillong (Meghalaya)
Kaziranga (Assam)
Kohima (Nagaland)
Lachen (Sikkim)
Cherrapunji (Meghalaya)
Dawki (Meghalaya)
Aizawl (Mizoram)
Agartala (Tripura)
Rawangla (Sikkim)
Ziro Valley (Arunchal)
Imphal (Manipur)
Guwahati (Assam)
Namchi (Sikkim)
Get upto 30℅ of early bird discount on our Northeast India Tour packages. Reach us for more details / bookings – +91-8802149265.
Gangtok – When your soul needs escape, Come here!
Gangtok is unexplainable joy, calm spirit and a wild escape for soulful wanderers. Care not if you are a solo traveler, an adventurer, nature lover or couple, its breathtaking landscapes and exciting adventures will keep your senses seduced for a long time. The majestic Mt Kanchenjunga will greet you with a smile. Being a very popular hill station tourist attraction of North East, Gangtok captivates adventure seekers for exciting trekking trails, paragliding, river rafting and mountain biking.
If you are spiritually inclined then you will find here many Buddhist monasteries surrounded with rolling greens and forested hills to make your trip wholesome. Wherever you look your eyes will show you blissful greenery and beautiful mountains, perfect for a romantic couple to listen to the melodious rhythms of nature and cherish some moments of togetherness.
Winters make Gangtok livelier as you will be able to enjoy the Sikkim Red panda Winter Carnival in the month of December/January. This beautiful and colorful cultural festival showcases the amazing culture and heritage of Sikkimese people. From adventure activities, cultural performances, rock concerts to authentic traditional food festivals makes Gangtok Tourism experience awesome for tourists. Indeed, it's one of the best choices for spending winter holidays if you are planning a wonderful Himalayan vacation.
Top Tourist Attractions in & around Gangtok, Sikkim
Nathula Pass
Do Drul Chorten Stupa
Hanuman Tok
Ganesh Tok
Tashi Viewpoint
Rumtek Monastery
Saramsa Garden
Lal Bazaar
Kupup Lake
Seven Sisters waterfall
White Hall Memorial
Yumthang Valley
Banjhakri Waterfalls
MG Road
Magnan
Enchey Monastery
Mt Kanchenjunga
Harbhajan Singh Memorial Temple
Himalayan Zoological Park
Tawang- Here, the Landscapes are like the art of Picasso!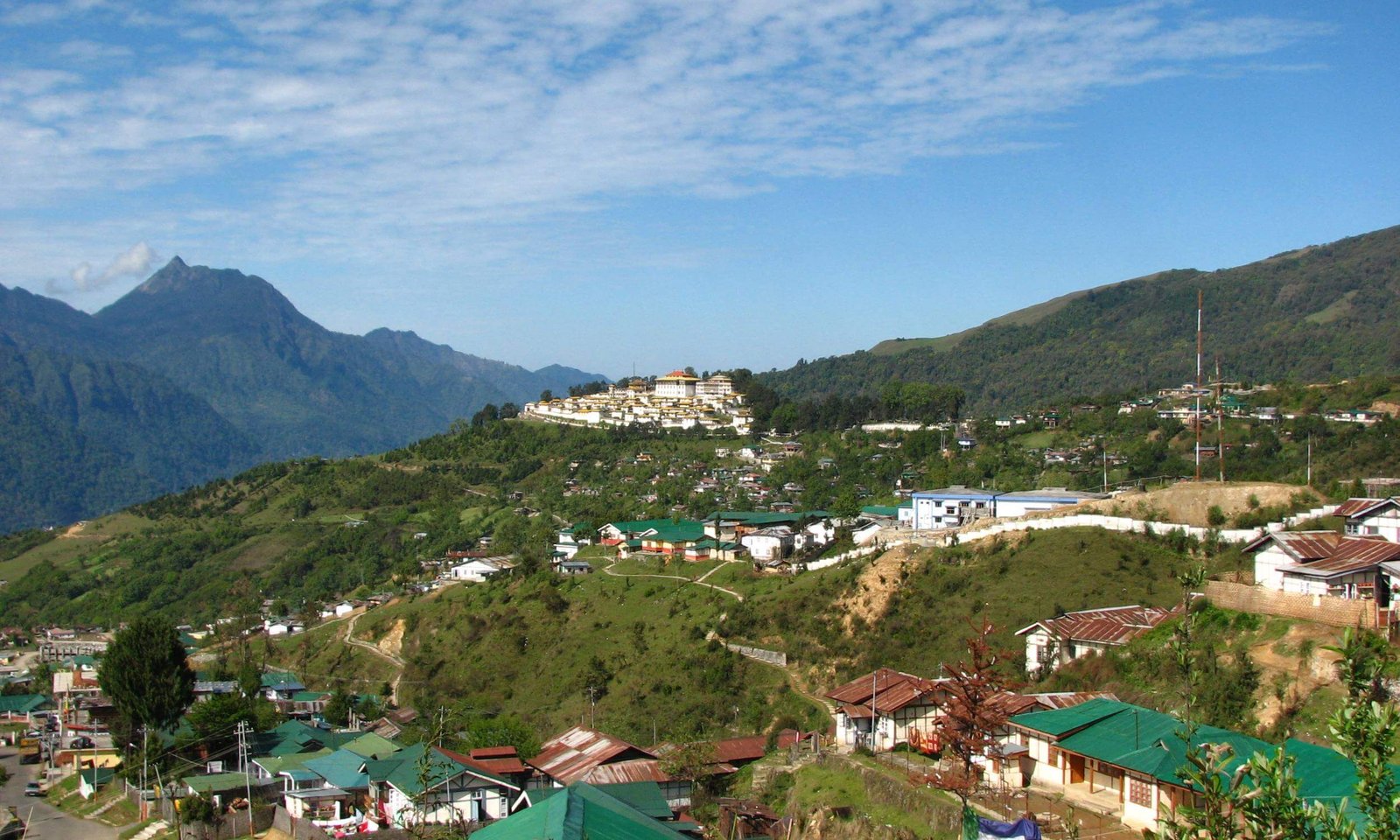 Holidays in Tawang would be one of the most wholesome experiences of your life. The natural landscapes of Tawang will mesmerize any wanderlust who is looking for serenity, beauty, snow and majestic mountain ranges all at once. Tawang in Arunachal Pradesh is a hidden bliss. This wonderful unspoilt hilly attraction has many dense emerald jungles, snowy passes, majestic mountain rangers, Buddhist monasteries, colorful markets, delightful waterfalls and lakes and exciting adventure spots for travelers of all kinds. You will see a world which is very different.
In Tawang, the unique culture and traditions of people increases the richness of the heritage of Incredible India.  You will be fascinated by the rituals and customs of various tribes here. You will recognize the tribesman by their hats adorned with feathers of birds and tufts of red dyed hair. In markets you will see a variety of cane and bamboo products, rice plates, bows, arrows, mats, ornaments, necklaces of bamboo and grass.
Everything here is a great opportunity to learn about the culture and tradition of Tawang. Don't miss the most beautiful view of a frozen lake in the winters- Sela Pass. Also try different dishes such as Tsizinkyola, Momos, Bresi, Puta, Banana Pitha, Panch Phoron ki Tarkari and Thukpa dishes. Last but the best from the rest- Adventures! Zigzagging is one of the best things to do here. Through Zigzagging you will see panoramic views of beautiful towns. Angling and fishing in Siang and Subansiri Rivers and Trekking makes adventure time more thrilling. It is indeed one of the best places to visit in the North East India Tour.
Top Tourist Attractions in & around Tawang
War Memorial Tawang
Tawang Monastery
Sangestar Tso -Madhuri Lake
Dolma Lhakang Lumla Tawang
Chagzam Bridge
Gorsam Chorten Zemithang
Nuranang Waterfall Jang
Craft Centre
Jaswant Garh War Memorial
Buddha Park
Dorjee Khandu Memorial Museum
Shillong – It's time to dream in the original dreamland!
The mesmerizing charm of this dreamy hill station is irresistible for the tourists. It is one of the most beautiful Hill stations to visit for honeymoon couples in North East India. The rolling greens, pristine mountains and breathtaking weather adds pure bliss to the vacation. Shillong is the capital of Meghalaya so you will expect soul seducing weather, lush green parks, beautiful streams and waterfalls. You will see delightful Conifers, Pineapple shrubs, mesmerizing root bridges and also experience the unique lifestyle of Khasi, Garo and Jaintia tribes.
Your soul will dance to the rhythm of the rolling green landscapes, the timeless melody of cool breeze and the pleasant vibe refreshes the tired spirit. If you are looking for a place to seek solace and enjoy the best holidays in North East India, Shillong will never disappoint you. Don't forget to try some of the most delicious dishes here such as Dohneiiong, Jadoh, Tungrymbai, Beatle leafs, Momos and Chomein etc.
Must Visit Attractions in & around Shillong
Umiam Lake
Shillong Peak
Sohpetbneng Peak
The Ward Lake
Meghalaya State Museum
Elephant Falls
Don Bosco Museum
Phan Nonglait Park
Rhino Heritage Museum
Sweet Falls
Kaziranga – Listen to your wild heart!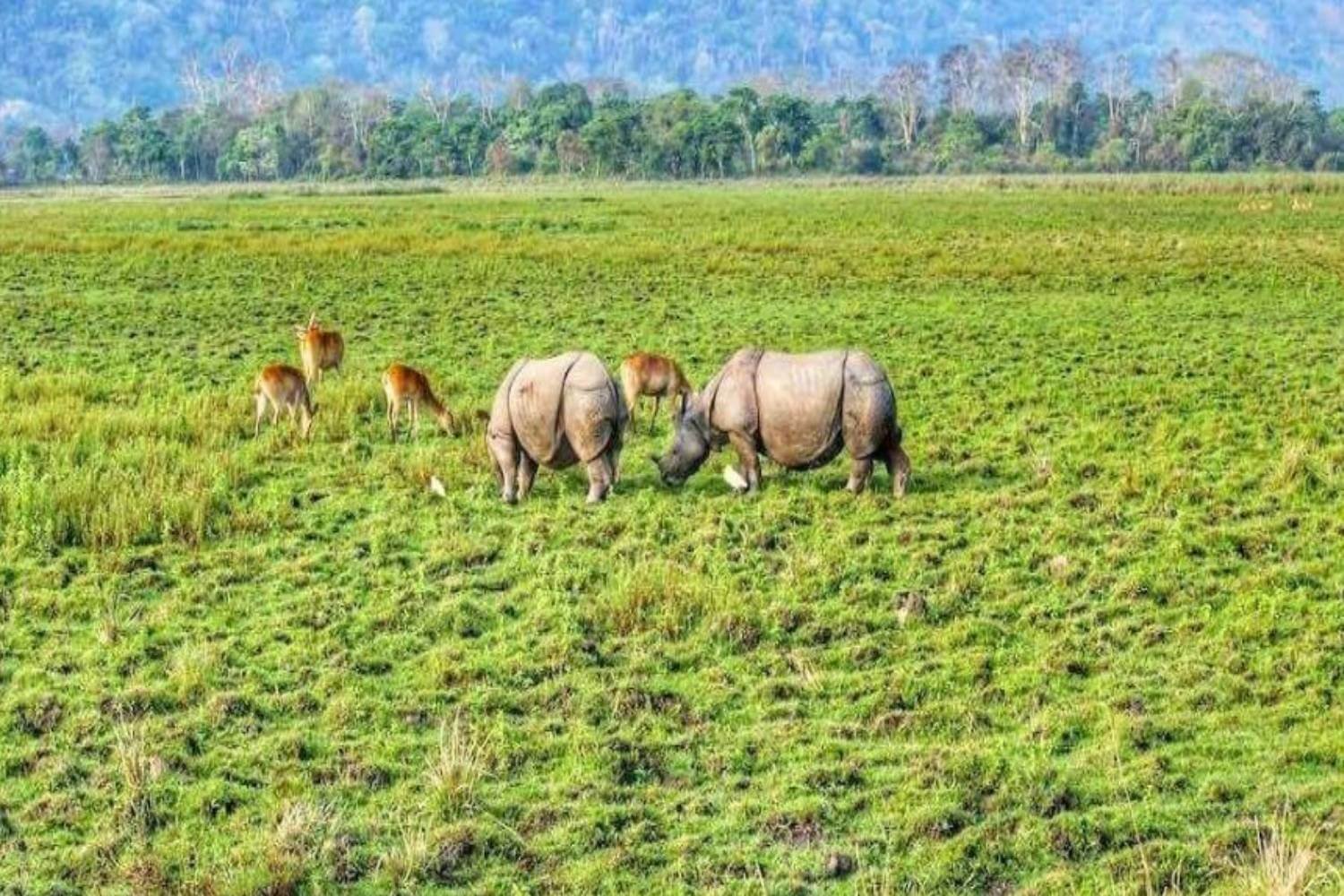 Oh! So, you are interested in wild adventures! Well, Kaziranga is an absolutely marvelous adventure destination for adventure loving souls in North East India. Located in the Golaghat and Nagaon districts of Assam, it is the most visited destination for a refreshing and exciting wildlife vacation in the North East.   It is also the UNESCO World Heritage destination due to its great universal value. Here you will get to see the two-thirds One- horned Rhinoceros population of the world. It also boasts of the highest density of tigers. Apart from that wild Elephants, swamp deers, water buffaloes, Ganga River Dolphins (Endangered species) will delight your sight. The enchanting forests, wetlands and grasslands of this wonderful reserve makes this a bliss inducing paradise for nature lovers as well.
You can do many interesting things to amaze your senses. Numerous water lagoons will give you the visual delight of different species of birds such as Pelican, Whistling Teal, Greater adjutant stork. You can also explore Orchid National Park where you will see 500 species of orchids and other exciting floral species such as 12 species of cane, 46 species of bamboo and 132 species of leafy vegetables etc. The best from the rest is the most thrilling Elephant and Tiger Jungle Safari to explore the entire enchanting wilderness of Kaziranga.
Top Tourist Attractions in & around Kaziranga
Hollongapar Gibbon Sanctuary
Kaziranga National Orchid & Diversity Park
Ethnic Village
Hathikuli Tea Estate
Top Things to Do in Kaziranga National Park
Enchanting Jeep Safari
Birdwatching
Elephant Safari
Kohima – See the Land of unique traditions!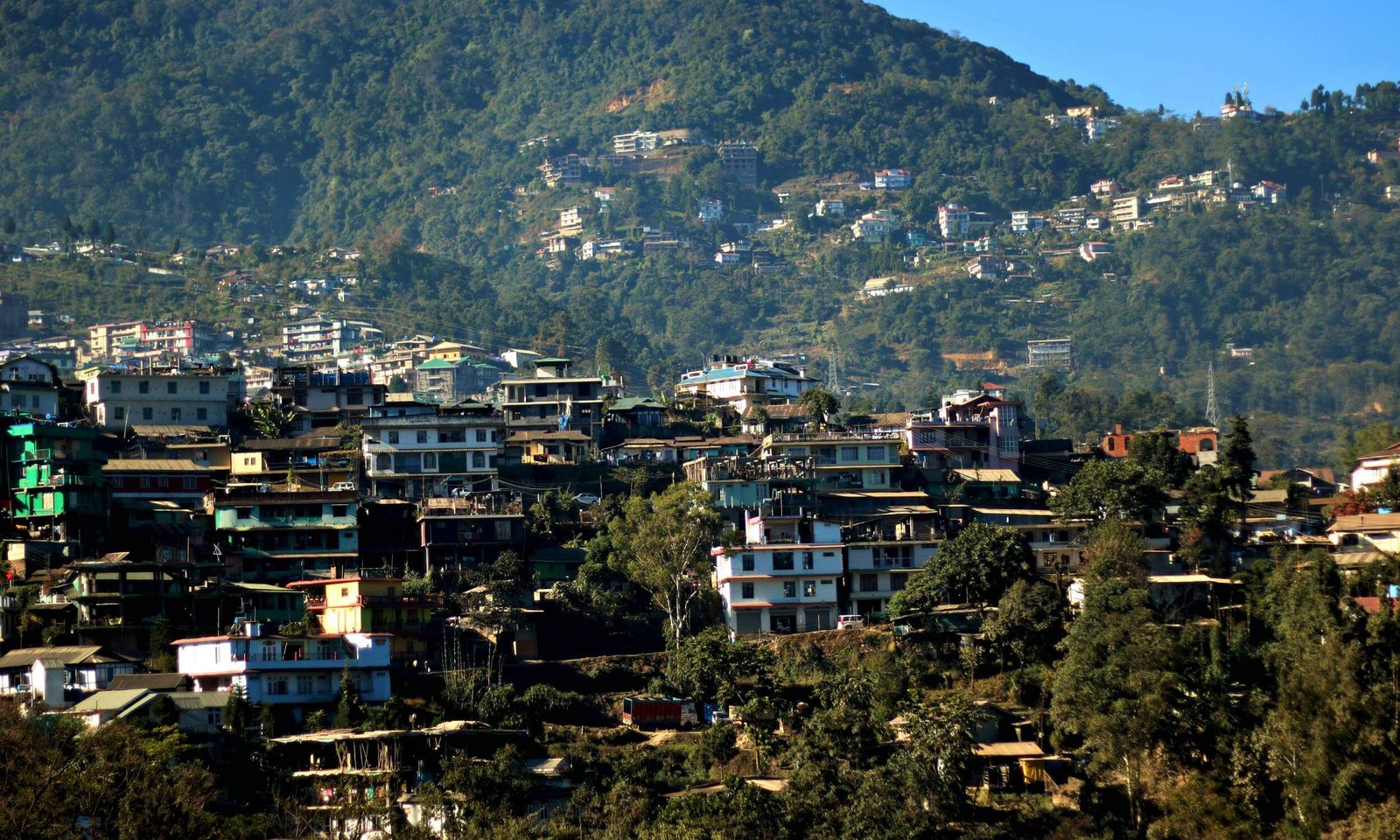 Welcome to the breathtaking land of Angami Naga Tribe- Kohima, the beautiful capital of Nagaland. It is the hidden gem of North East India. The healing touch of the nature, the land of colorful Kewhi flowers from which this blissful town got its name – kewhima/Kohima. Oh! The awe-inspiring landscapes, Japfu mountain ranges, unspoilt rocky terrains- Your heart will melt away. It will definitely quiver with the sweet melodies of delight. Kohima is also a beautiful land of unique traditions of culture. It's a home to a sizable tribal population, the most dominant of them is Angami Nagas. There are various soulful homestays and heritage villages which will enrich your senses with memorable experiences.
Kohima is not only about beautiful views, it's also a place for those who are looking for wild adventures. You can indulge in Jungle camping, mountain climbing. There are various scenic hiking trails for adventure lovers. If you are an expert trekker you can enjoy Japfu Peak trek, it is one of the most challenging treks of Kohima.  Coming here in December would be a great fun as you will get to enjoy the worldwide popular Hornbill Festival. Hornbill Festival celebrates the Culture and tradition of Nagaland. Music, food, festivities, art and craft and dance – Everything will tell you a lot about the uniqueness, traditions and customs of Naga Heritage. Every tribe of Nagaland has something great to show.
From music performances, exhibitions, art works, games. Dramas, weapons, food stalls, mock fights – various tribes of Nagaland participate in the festival to showcase their tradition and culture. It also promotes inter-tribal interactions. If you come here during winters it would be your best holiday in Nagaland. Kohima is a culturally very rich town, it is one of the must visit places in the Northeast India Tour if you are looking for some adventures and unique cultural experiences.
Top Must Visit Tourist Attractions in & around Kohima
Kohima War Cemetery
Nagar Heritage Village
Kisama Heritage Village
Catholic Church
Kohima Museum
Dzuleke Village
Japfu Peak
Touphema Tourist Village
Heritage DC Bungalow Kohima
Dzukou Valley
Botanical Garden
Lachen- Let nature seduce you with their melodious lullaby!
Simple and sublime, Lachen's ambiance will give you the melody of peace. It's a perfect destination for those who are looking for awesome adventures and delightful solitude to refresh your spirit. One of the top visiting places in Sikkim, Lachen is a small village. The name Lachen means Big Pass. There is not much to see in Lachen but one thing we can assure you is that this place is full of adventures and pleasant vibes. Lachen is a gateway for enchanting trekking trails. When you indulge yourself in trekking you will see beautiful alpine pastures, majestic mountain ranges, breathtaking floral and faunal species on your way.
The quaint wooden homes all around add to the beauty of this small village. It is also a transit point for Gurudongmar lake which is the highest and largest lake in Sikkim. It is located amidst the majestic Mt Kanchenjunga ranges. For spiritual moments you can visit Lachen Gompa, it's one of the most popular and serene Buddhist sites of peace and spiritual wisdom. From Lachen, you can also head to Chopta Valley located near Thangu Valley via trekking. Beautiful orchids, lush greenery everywhere, mesmerizing lakes and rivers will blow your heart away.
In winters you can visit Thangu valley, the snowy valley is surrounded with army camps, its views are nothing but pure bliss, its calmness is full of life. Lachen brings a series of exciting adventures in the form of scenic hiking trails, peaceful ambiance and abundance of greenery which will never let you forget your North East India holidays for a lifetime.
Top Must Visit Places in & around Lachen
Gurudongmar Lake
Chopta Valley
Lachen Monastery
Shingba Rhododendron Sanctuary
Thangu Valley
Tso Lhamo Lake
Lhonak Valley
Green Lake
Cherrapunji – Let the rain beat upon your head with silver liquid drops!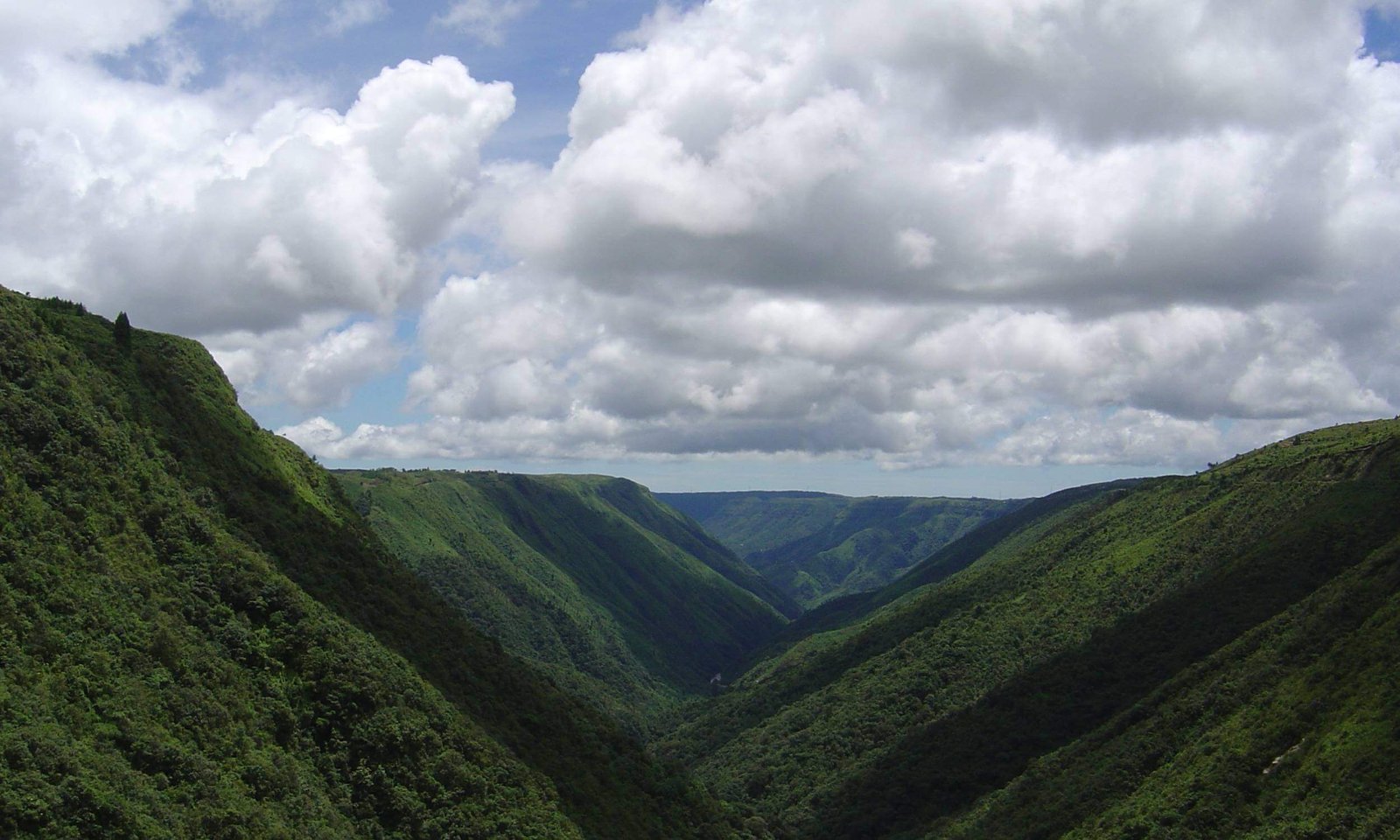 Your wandering will find great delight in exploring the wettest place on Earth – Cherrapunji. This place will amaze you with its weather. There is only one season here- Monsoon. This is one of the most stunning nature travel destinations of North East India. It's wonderful when the rain beat upon your head with its serene drops, when it clatters along the roofs, its mesmerizing to see the swirling clouds over the mountains, the misty valleys will enchant your soul here, tiny rivulets and color changing skies- This place is a perfect destination for solace seekers and romantic couples. The fairytale-like setting of root bridges, verdant gorges, mysterious caves, delicious food, hills and valleys will take you to the world enchantment.
Top Tourist Attractions in & around Cherrapunji
Nohkalikai Falls
Mawsmai Cave
Dainthlen Falls
Thangkharang Park
Nohsngithiang Falls
Mawsynram Village
Krem Mawmluh Cave
Double-decker living root bridge
Seven sister falls
Mawkdok Dympep Valley
Dawki – Real bliss, full of solace!
Located between India and Bangladesh, Dawki in Jaintia hills will show you infinite images of breathtaking landscapes. It is one of the must visit places in north East India. It is quite popular for its annual boat race held during March and April and beautiful ravines and deep gorges. A delightful boat ride with your loved ones while enjoying the greenery will elevate your enthusiasm to a whale new level. This place will compel you to write poems. Everywhere, you will see the serene solitude of nature smiling at you, you will find beautiful rhythms in the sound of the water. The views here will heal your tiredness and refresh your soul.
Top Tourist Attractions in and around Dawki
Umngot River
Jaflong Zero Point
Shnongpdeng
Mawlynnong Village
Burhill Falls
India – Bangladesh Friendship Gate
Jingmaham Living Root bridge
Krang Suri Falls
Bophill Falls
Byrdaw Falls
Aizawl – Exciting portal of memorable adventures!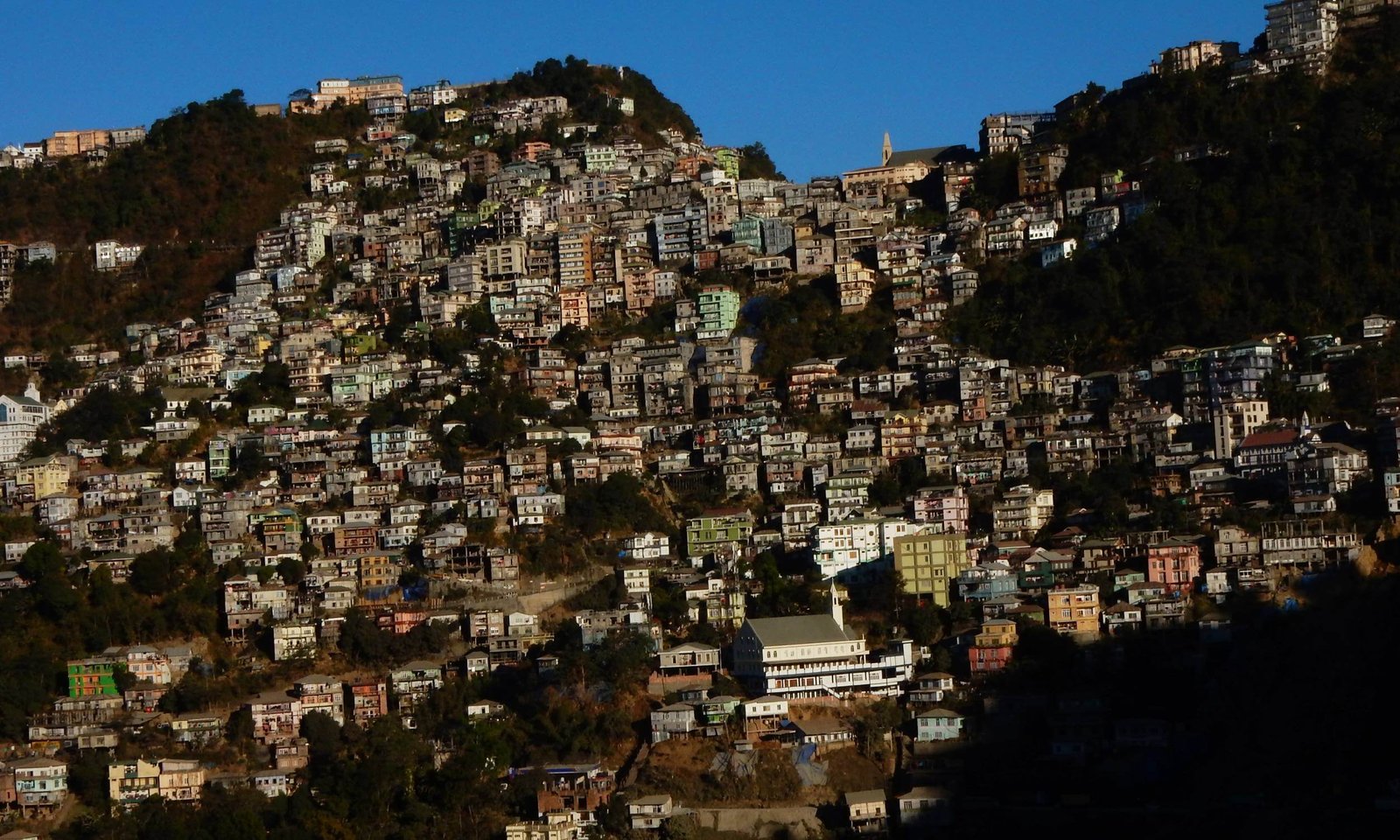 Blissful capital of Mizoram, Aizawl will bewitch your soul completely. Awesome views of lofty hills, the river Tlawng in the west and of the river Tuirial in the east and south, picturesque and peaceful greenery makes Aizawl one of the best places for nature lovers and honeymoon couples in North East India.  Aizawl is also the heart and soul of Mizoram. It's a beautiful cultural center of Mizoram, you will find a great opportunity to learn about the unique culture and heritage of Mizoram. Look for ornaments which are very essential for Mizos. Both men and women here wear ornaments and the most common ornament here is brass two -prong pin with projecting ends.  You will also get to see beautiful head combs of ivory and wood.
You will also see various indigenous designs in clothes at Bazaars which have a great cultural value. Awesome home decor items, bamboo and cane products, baskets, hats, utensils and furniture, fabric and shawls of beautiful patterns will delight shopaholics. In Aizawl, don't miss out on the traditional dishes such as Misa Mach Poora, Arsa Buhchair, Bai and Koat Pitha. Adventure lovers will not get disappointed in Aizawl. There are many interesting things to do in Aizawl for a wonderful thrilling experience such as Angling, exploration of mysterious caves, Mountain climbing and trekking. The culture of Mizos will fascinate you, the adventures will not be forgotten for a long time, the food will touch your soul and the markets will be a delight to your senses.
Top Tourist Attractions in and around Aizawl
Typical Mizo Village
Vantawng Khawhthla (Vantawng Waterfall)
Tamdil (Tam Lake)
Hmuifang Tlang (Mountain)
Durtang Hills
Solomon's Temple
Reiek Heritage Village
Phulpui Grave
Mizoram State Museum
KV Paradise
Khawnglung Wildlife Sanctuary
Agartala –Tranquility, serenity and beauty for eternity!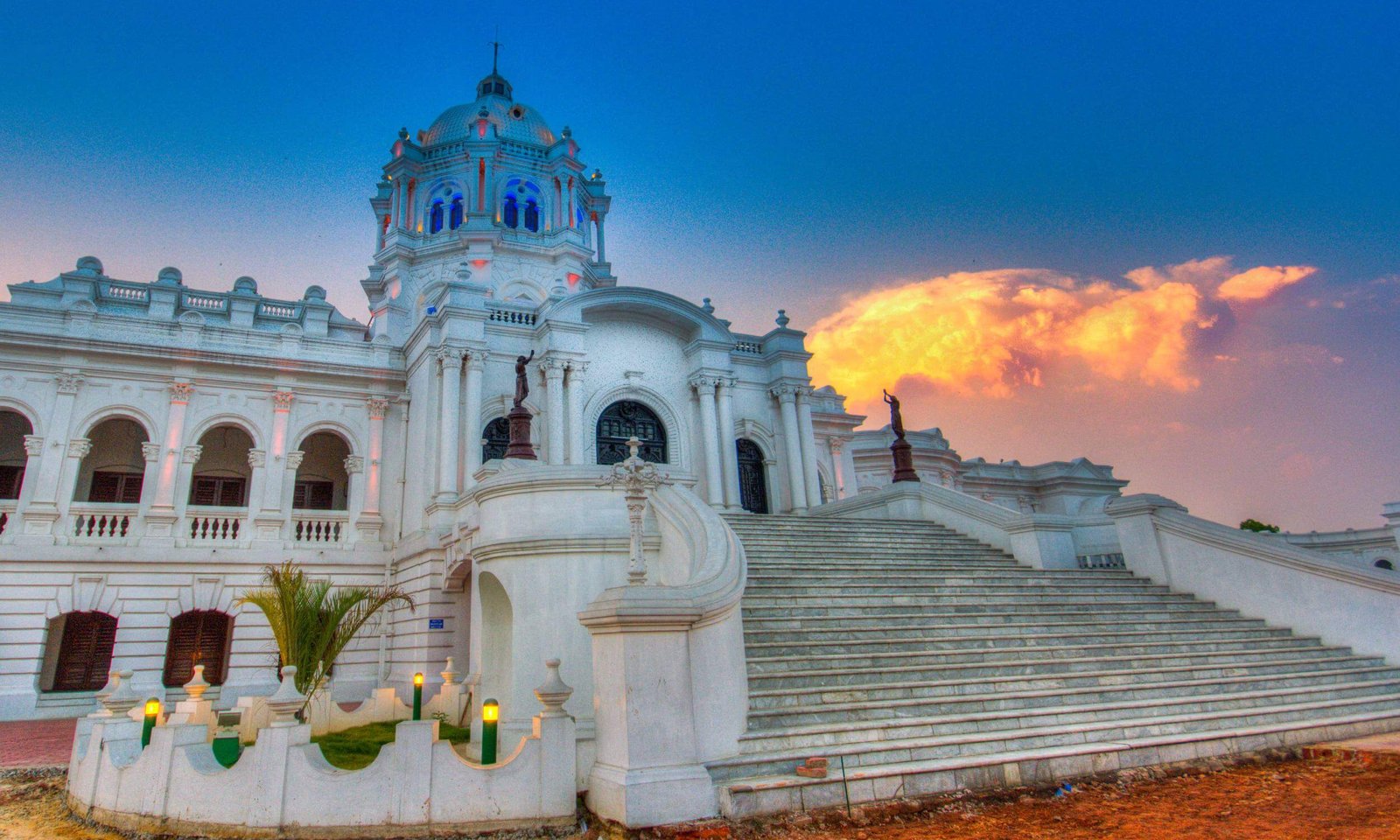 The capital of Tripura, Agartala is a best tourist destination in Northeast India for a nature lover. Its colorful palette will show you the rich cultural traditions, royal heritage attractions, enchanting forests and valleys, cascading waterfalls, mesmerizing hills, stunning lakes and beautiful temples. Its vibe is totally different. Sometimes it is delightfully chaotic, sometimes the serene solitude will sound like natural melodious chimes. Of Course, it is also a favorite spot of adventure seekers. The royal palaces, thrills of adventure in the wildlife sanctuaries, natural beauty, epitome of eternal peace – serene temples, and delicious cuisines such as Muya Awandru, Mosdeng serma, Gudok, Muya bai wahan, Chauk and Berma- there are many things to do here. The list is endless. So, you must consider the awesome Agartala in your Northeast sightseeing tour.
Must Visit Places in and around Agartala
Ujjayanta Palace
Kunjaban Palace
Malancha Niwas
Neermahal
Unakoti
Pilak
Tripura Sundari Temple
Fourteen Goddess Temple
Udaypur
Jampui Hill
Sipahijola Wildlife Sanctuary
Bhuvaneswari Temple
Heritage Park
Trishna Wild Life Sanctuary
Ravangla – Unspoilt Joy!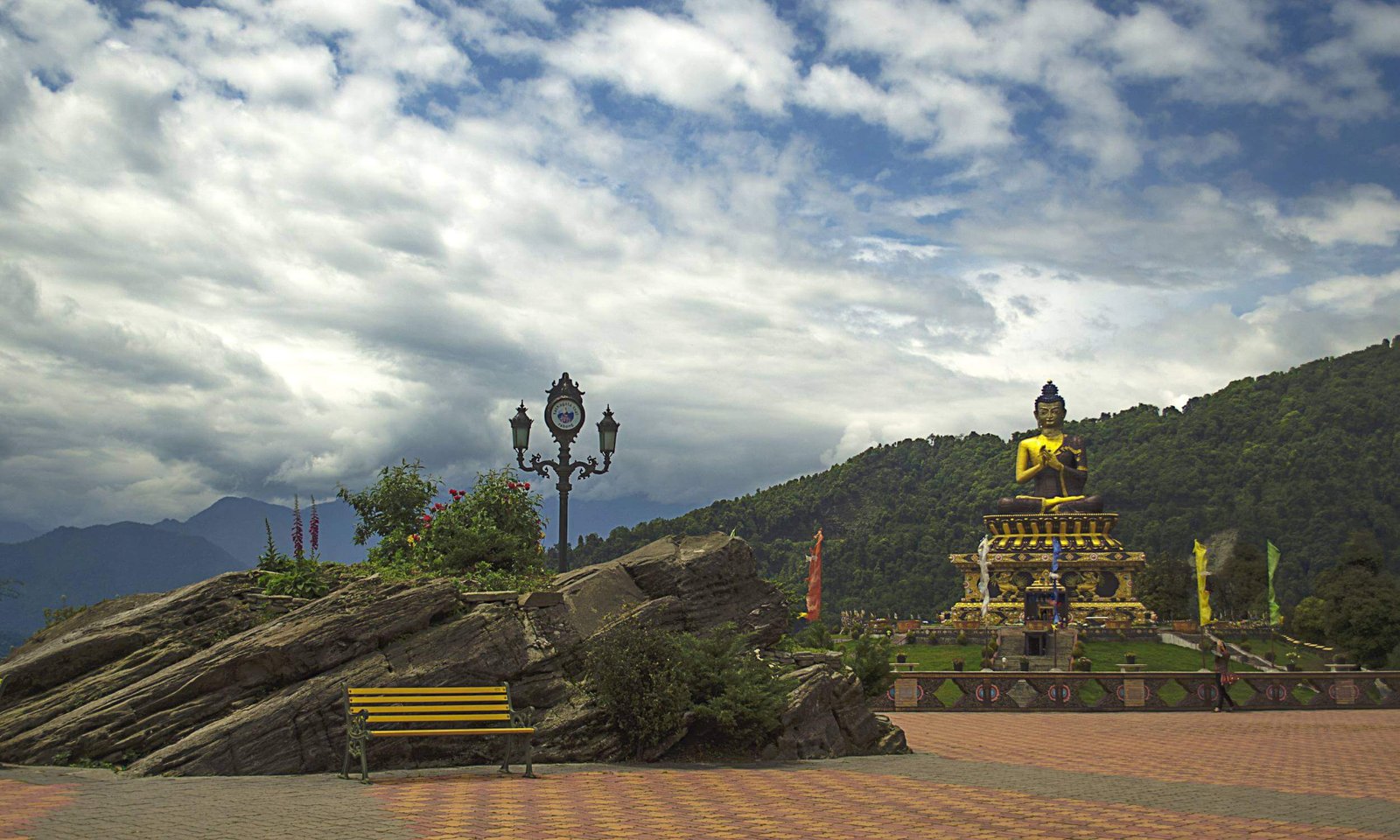 Unspoilt Ravangla can be a great option for your next North East India Vacations. Rawangla is one of the most beautiful and less explored travel destinations in North East India. But those who know about its beauty and serenity always come to seek solace. There are many quaint villages which will seduce your mind with its simplicity, the snowy mountains, lots of greenery, emerald tea gardens, old monasteries and ethnicity will enrich your vacation with unique experiences.
The great Mt Kanchenjunga at the backdrop also makes Rawangla quite delightful and spellbound. One of the most interesting things to see here are the bazaars which will introduce you to the soul of Rawangla. You will find traditionally designed carpets, shawls, wooden carvings and handicrafts. Some Products are of great cultural value. The colorful customs and festivals of the place also attracts tourists from all over the world.
Top Tourist Attractions in & around Ravangla
Buddha Park
Samdruptse Hill
Maenam Hill
Ralong Monastery
Doling Gompa
Ralong Hot Springs
Bon Monastery
Temi Tea Estate
Kewzing Village
Rayong Sunrise View Point
Borong
Ziro Valley – Here the whole world dances with nature's rhythm!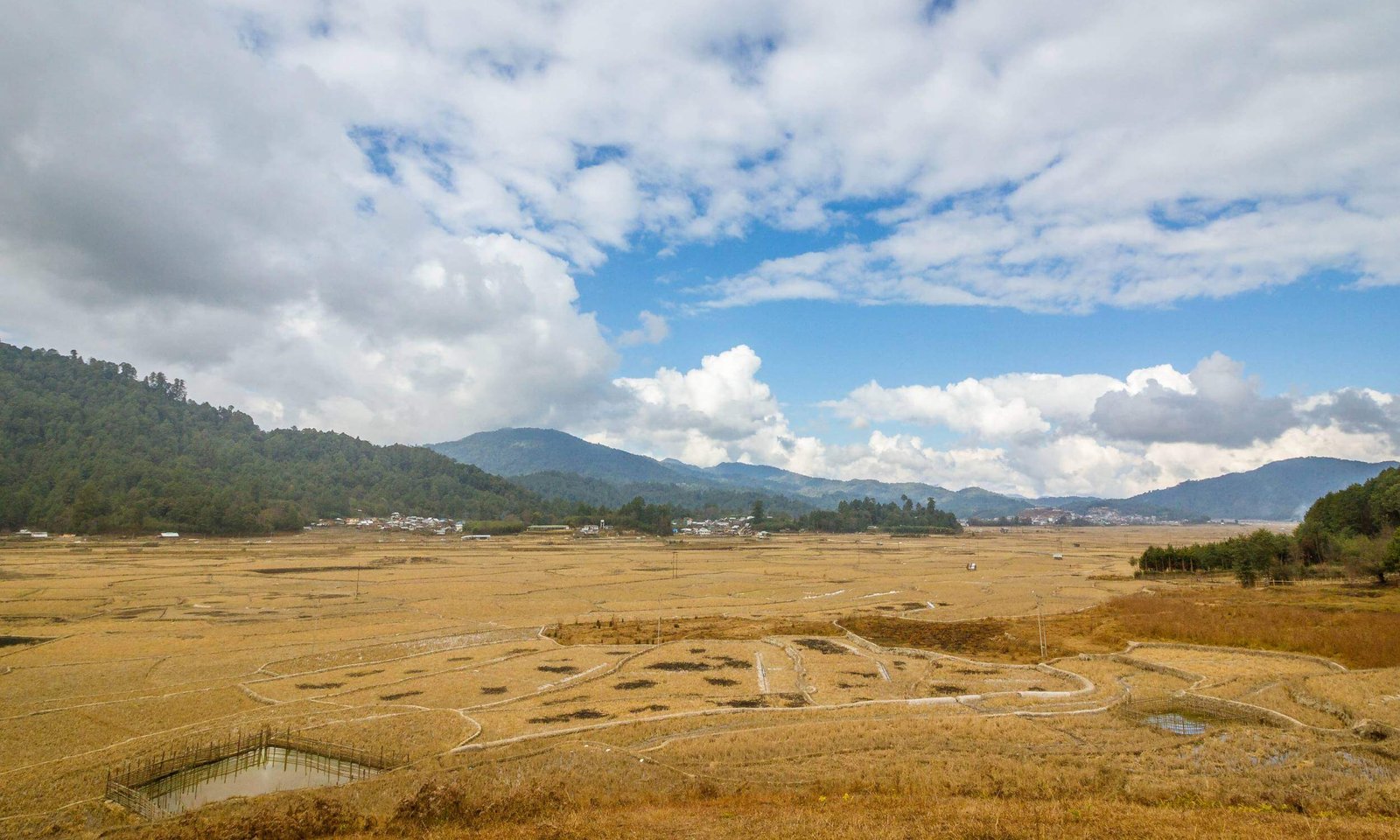 Landscapes full of emerald green forests, beautiful rivulets, elevated patches and mesmerizing paddy fields, Ziro Valley would be a beautiful escape from all the chaos of the world for relaxing holidays in the North East India. It is one of the oldest and top visiting destinations in Arunachal Pradesh. The unique flora and fauna, bamboo forests, green paddy fields, quaint villages are a great treasure which you can cherish to spend some quality time with your loved ones. A photographer who loves nature will find it mesmerizing, a nature lover will see the bewitching sight full of beauty. Ziro valley is a keeper of beautiful paradise in the form of greenery, any tired soul will be able to fine tune his or her spirit. Its vibe has a rhythm and only the true admirer of nature will be able to listen to it.
Popular Tourist Attractions in & around Ziro Valley
Talley Valley Wildlife Sanctuary
Meghna Cave Temple
Kile Pakho
Midey
Ziro Puto
Dolo Mando
Hapoli
Dilopolyang Manipolyang
Pine Grove
Tarin Fish Farm
Bamboo Groove
Tipi Orchid Research Center
Imphal – Here the Soul blossoms to learn the rich culture and heritage of Incredible India!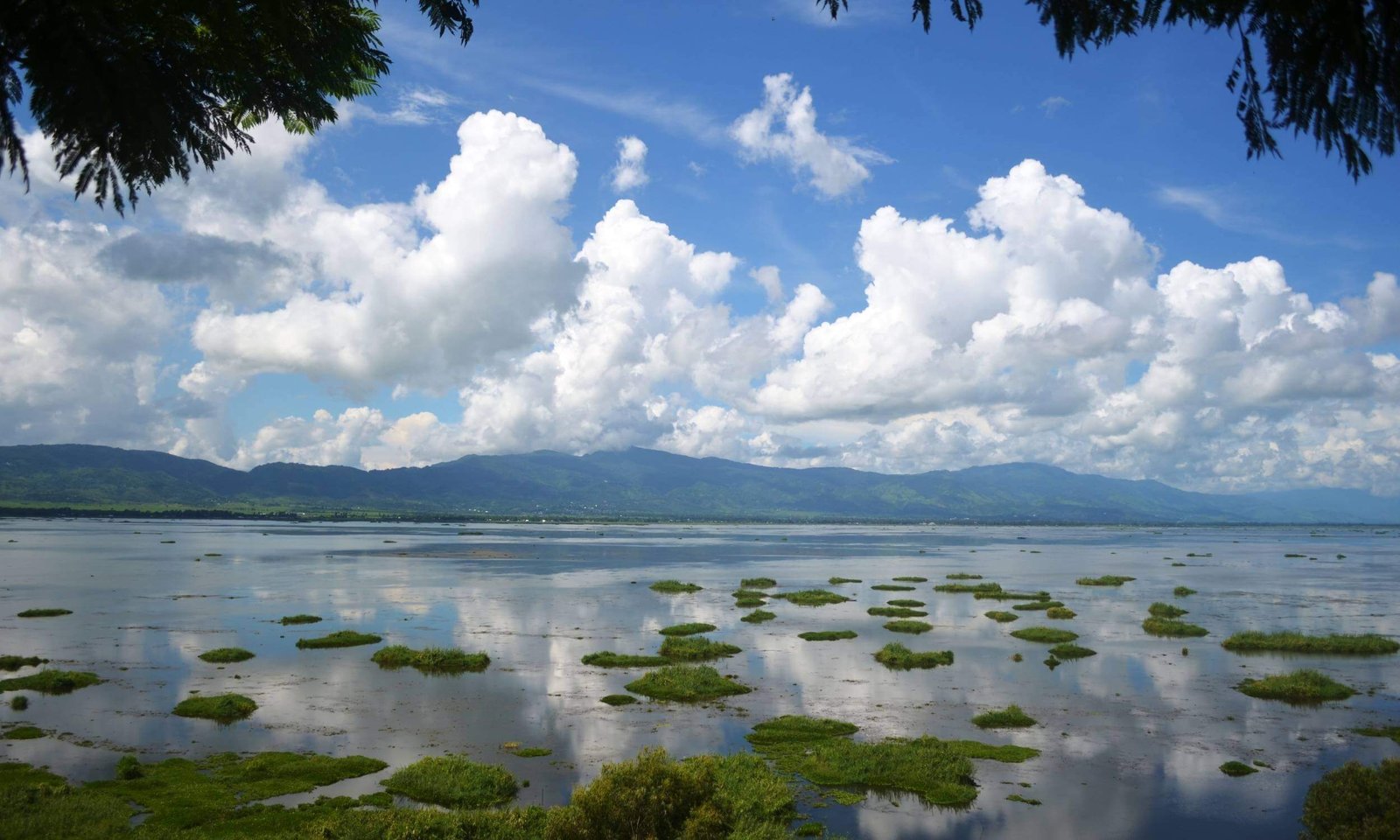 The capital city of Manipur, Imphal is one of the most popular places in North East India where you can go and spend quality time with your loved ones. The essence of the soul of Manipur lies in Imphal. Parallel ranges of verdant hills and snowcapped mountains are the first delights out of many when you enter this beautiful town. The serene lakes, natural caves, many beautiful parks and lush tea estate will nourish your soul with peace and bliss. There are many great historical places and museums to explore here if you want to know about the heritage and culture of Imphal. If you are interested in exploring something unique then go straight to Ima market which is the largest all- women market of the world.
You will see the local women dressed in their traditional attires every morning to welcome the customers. Look for amazing cane and bamboo and pottery products. Also try Paknam, Nga Thongba, Chamthong, Eromba dishes to excite your taste buds. Imphal's charming and unique customs, and attractions will melt your heart away.  Indeed, it's one of the best destinations to spend amazing holidays in the North East India tour.
Popular Tourist Attractions in and around Imphal
Loktak Lake
Red Hill Lokpaching
Kangla Fort
Sirohi National Park
Manipur State Museum
Sekta Archaeological Living Muesum
Manipur Zoological Gardens
Keibul Lamjao National Park
Jama Masjid
Shree Govindajee Temple
Khonghampat Orchidarium
Matai Garden
Commonwealth War Graves Cemeteries
INA Memorial
Maibam Lokpa Ching
Guwahati – Poetry of delight!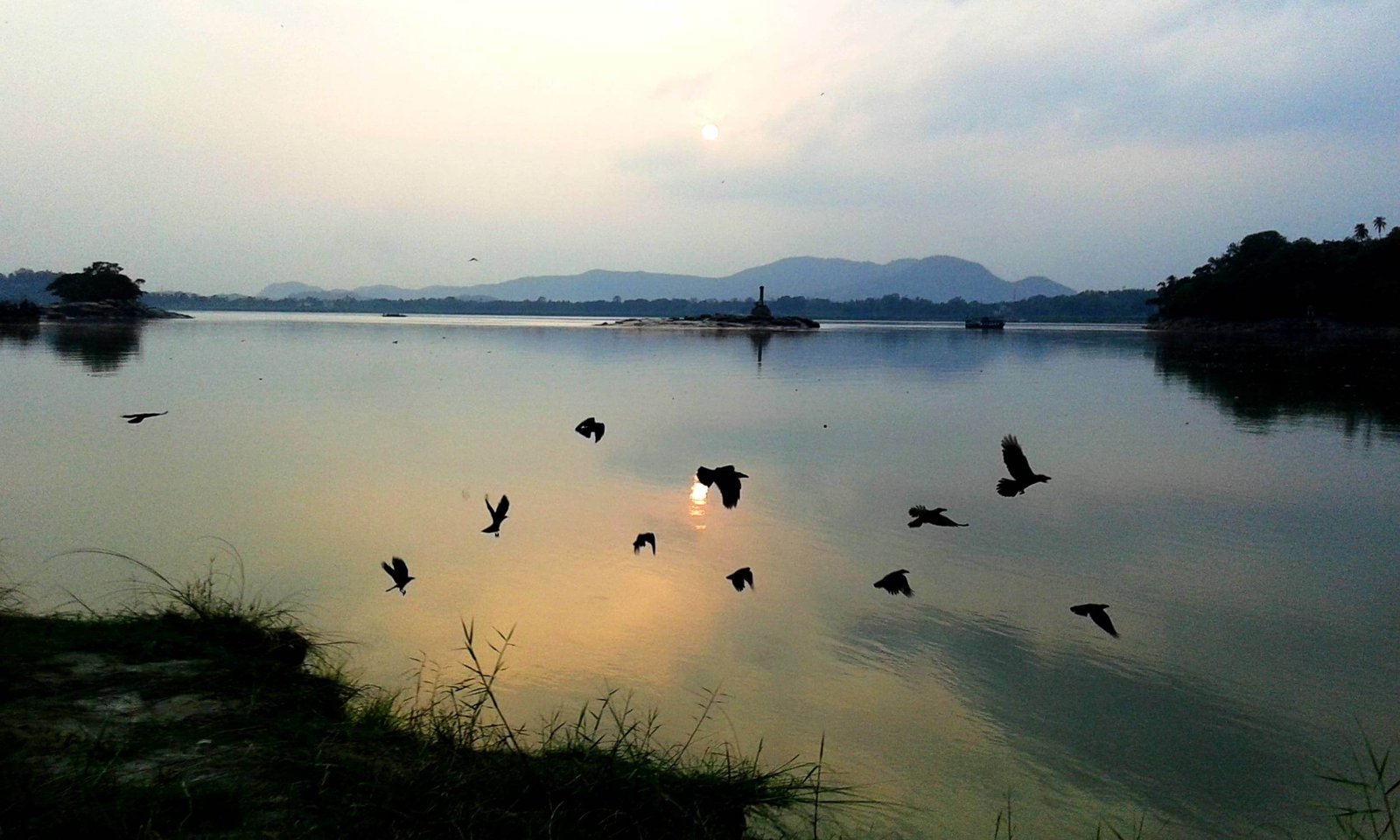 One of the largest cities and the soul of Assam, Guwahati will delight your senses with its mesmerizing temples, bazaars, natural landscapes and adventures. It lies in the southern fringes of the beautiful Brahmaputra River. Imagine the view! The mighty Brahmaputra enchants the tourists from far with its soothing vibes. You can also enjoy cruising in its blissful shores. People also come from far away to visit Kamakhya Temple in Guwahati as it is the sanctum sanctorum of Goddess Kamakhya who is an incarnation of goddess Sati.  Guwahati's natural beauty is breathtaking.
There are many beautiful hiking trails which you can explore. Camping amidst the lush greenery would be bliss inducing. Also explore the exquisite floral species, wander in the enchanting wilderness of wildlife Sanctuaries through a thrilling jungle Safari. Bird Watching adds more delight to your North East India sightseeing tour. The waters of Brahmaputra are a great sight to look for amazing migratory birds. Guwahati has a great cultural heritage. Don't miss the Assam Silk Sarees or Muga Silk, it's one of the best things to look for if you are in Guwahati.
Guwahati is worldwide famous for its silk sarees. It's also a place where you will know about the rulers of Ahom Kingdom which ruled Assam for a long time. There are many heritage mansions, temples and architectural marvels to explore in Guwahati. The folk music and dance, art and craft and festivals of the place have a charm which touches the soul.
Popular Tourist Attractions in & around Guwahati
Assam State Museum
Guwahati Planetarium
Nehru Park
Pobitora Wildlife Sanctuary
Kamakhya Temple
Navgraha Temple
Guwahati Zoo
Umananda Temple
Kaziranga National Park
Namchi – Sacred, Sublime and Serene- This landscape will heal you!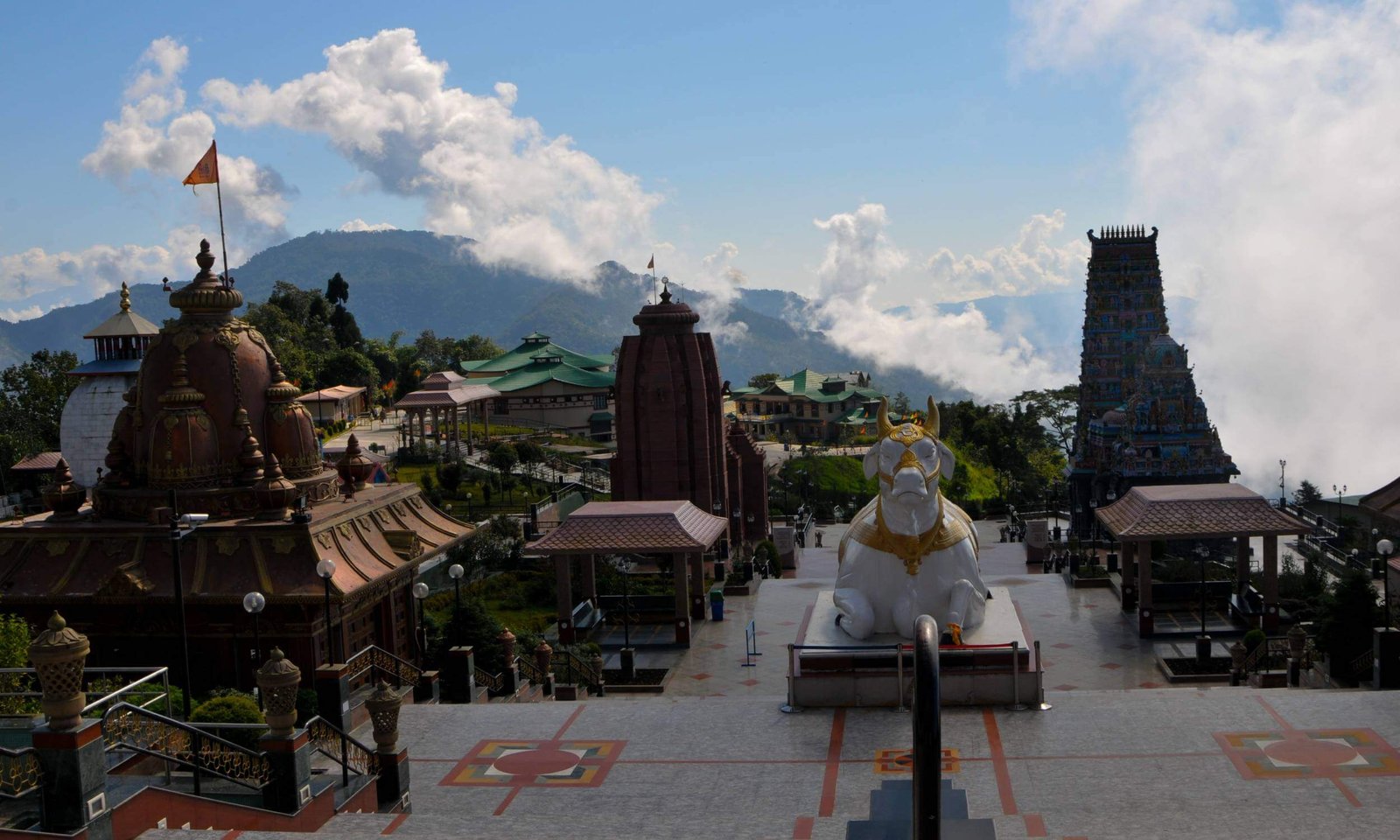 Bliss of South Sikkim, Namchi is a scenic wonder which will amaze your senses forever. Indeed, it is one of the most popular places to visit in Sikkim for an amazing and fun-filled North East India vacation.  You will carry the views of enchanting snow-clad mountains, soul seducing monasteries which are peaceful hubs of spiritual wisdom and eternal peace, refreshing and stunning tea estates and gardens teeming with amazing floral species in the pockets of your heart when you leave its soulful shore.
Any wanderer, be it a couple, family, nature or adventure lover, will find Namchi a paradise of fairytale like setting where one can listen to the solitude of nature, dive deep into the sacred wisdom, get lost into the beauty of the hills, tread to the unknown wonders to get the taste of thrill. It is also a land of colorful festivals. What a great Himalayan holiday it would be if you visit Namchi.
Popular Tourist Attractions in & around Namchi
Solophok Chardham
Samdruptse Hill
Tendong Hill
Doling Gompa
Ngadak Monastery
Serdup Choling Monastery
Tendong State Biodiversity Park Namchi
Maenam Wildlife Sanctuary
Embark on a fun filled journey to embrace the unspoilt beautiful landscapes of the North East region of India. It's a very good decision that you are planning a Northeast holiday trip. Not only it would be a multicultural experience but also every moment spent here would be saved in your memories forever as there will be so much fun and thrilling adventures. Happy Journey!
Popular North East India Tour Packages
| | | |
| --- | --- | --- |
| Package Name | Duration | Starting Price |
| Shillong – Cherrapunji Tour | 3 Nights 4 Days | INR 10550/PP |
| Guwahati – Shillong Tour with Kaziranga National Park | 5 Nights 6 Days | INR 14500/PP |
| Guwahati Weekend Tour | 2 Nights 3 Days | INR 6100/PP |
| Best of Arunachal Tour Package | 6 Nights 7 Days | INR 20700/PP |
| Kaziranga Wildlife Tour | 2 Nights 3 Days | INR 9300/PP |
| Assam Meghalaya Tour Package | 5 Nights 6 Days | —- |
Frequently Asked Questions (FAQs)
Why must you visit Northeast India?
Northeast India, the land of seven sisters — Assam, Arunachal Pradesh, Nagaland, Meghalaya, Tripura, Mizoram, Sikkim and Manipur will show you a very different side of India. These are the most unexplored and unspoilt regions of India which has a potential to lure any wanderlust with its unique culture, beautiful landscapes, wildlife, food and lifestyle. There are various tribes in northeast India who still follow ancient traditions and showcase their unique customs and traditions. They have their own style of agricultural practices, food habits, customs, weapons, attires, languages and houses. You will see unique local customs and traditions which enriches the cultural heritage of Incredible India.
The mesmerizing landscapes, exotic wildlife and abundance of greenery, waterfalls, lakes, rivers and mountains makes the Northeast region a green paradise of India. Some of the places are completely unspoilt. The lifestyle of the people of Northeast will amaze you. You will see more traditional Practices than modern. The consumption of processed food is very low. The regional cuisines are unique, it's quite difficult to generalize Northeast Food as each tribe has their own cuisine.  Holidays in Northeast India bring novelty to your travel experiences. Every moment will be an opportunity to learn something new. Isn't it amazing?
What is the best time to plan holidays to Northeast India?
You decide. According to your preference you can travel to Northeast India. If you want to escape summer heat then the hill stations of North east India will rejuvenate your soul. Some of the best hill stations are Namchi, Shillong, Sikkim, Gangtok, Manipur etc. If you love winters then you can visit Tawang, Ziro Valley, Nagaland, Assam, Sikkim and Arunachal Pradesh. Monsoon brings an abundance of refreshing vibes if you visit Meghalaya. Ideally March to November is the best time to plan a wonderful trip to North east India. These months of the year are favorable for adventures and sightseeing.
What are the top places for family trips in Northeast India?
Some of the most delightful places to spend a quality time with the loved ones in Northeast India are –
Guwahati
Arunachal Pradesh
Kohima
Shillong
Dawki
Tripura
Nagaland
Sikkim
Pelling
Majuli, Assam
Aizawl
Agartala
Kaziranga
Darjeeling
Kalimpong
What are the top places for honeymoon couples on the Northeast India Tour?
Couple time! Let the romance blossom in these stunning places of North East India-
Manipur
Haflong Assam
Majuli Assam
Cherrapunji, Meghalaya
Tawang
Namchi
Aizawl, Mizoram
Kalimpong
Gangtok
Darjeeling
Sikkim
Lachung
Ziro Valley
Rawangla
Yuksom
Kaziranga
Like & follow us on our following official social media channels
Facebook | Twitter | Linkedin | Instagram | Youtube
Also Check Out: Popular India Tours | Tour Packages | India Tour Packages | International Tour Packages
Other Popular Trending Holiday Destinations in India – Kashmir Tour | Himachal Tour | Uttarakhand Tour | Rajasthan Tour | Gujarat Tour | Sikkim Tour | Kerala Tour | Andaman Tour | Madhya Pradesh Tour | North East Tours
International Trending Holiday Destinations – Nepal Tours | Bhutan Tours | Singapore Tour | Thailand Tours | Sri Lanka Tours | Maldives Tours | Dubai Tours | Indonesia Tours
Tour Packages by Interest – Adventure Packages | Wildlife Packages | Pilgrimage Packages | Heritage Packages | Hill Station Packages | Weekend Packages | Honeymoon Packages | Beach Packages | Chardham Packages | Trekking Packages
Other Interesting Destinations Travel Guide Blogs to Read
Other Interesting India Travel Guide Blogs to Read
Other Interesting Adventure & Trekking Travel Guide Blogs to Read
Other Interesting Wildlife Travel Guide Blogs to Read