Seated on the bank of Bhagirathi, Uttarkashi, which when translated in English also mean the Kashi of North. Kashi is the name of another prominent holy city in India, Varanasi. Uttarkashi is known to share strong resemblance with Varanasi and even houses the famed Hindu pilgrimage of Kashi Vishwanath. Situated at an altitude of 1158 m, Uttarkashi is the headquarters of the district of the same name, the largest district of Uttarakhand. This beautiful town is primarily known for its temples, ashrams, and an unmatched spiritual aura. There are temples dedicated to Parshuram, Datatryea, Goddess Annapurna and Kali, and Bhairon.
One of the major attractions in Uttarkashi is the prestigious Nehru Institute of Mountaineering at Ladari. Uttarkashi is also the base for many treks in the Garhwal Himalayas like Dodital Trek, Dayara Bugyal Trek, Kedartal Trek, Gaumukh Trek, Tapovan Trek, Kedarkantha Trek, and Har Ki Dun Trek.
This beautiful hilly town is also surrounded by many picturesque holy places like Gangotri and Yamunotri,two of the Chardham in Uttarakhand along with Kuteti Devi, and Kandar Devta Temple. Maneri Dam and Lake and the offbeat Nelong Valley also are in close proximity to Uttarkashi and are must visit sightseeing places.
Get upto 30℅ of early discount on all our Uttarakhand tour packages. Reach us for more details / bookings – +91-7668130655.
How to Reach Uttarkashi?
Uttarkashi is well-connected by road with two major tourist places in Uttarakhand, Dehradun and Rishikesh. From Dehradun, Uttarkashi is at a distance of 144 km and from Rishikesh, it is 168 km away. Cabs and buses are available from these two destinations for Uttarkashi.
Best Time to Visit Uttarkashi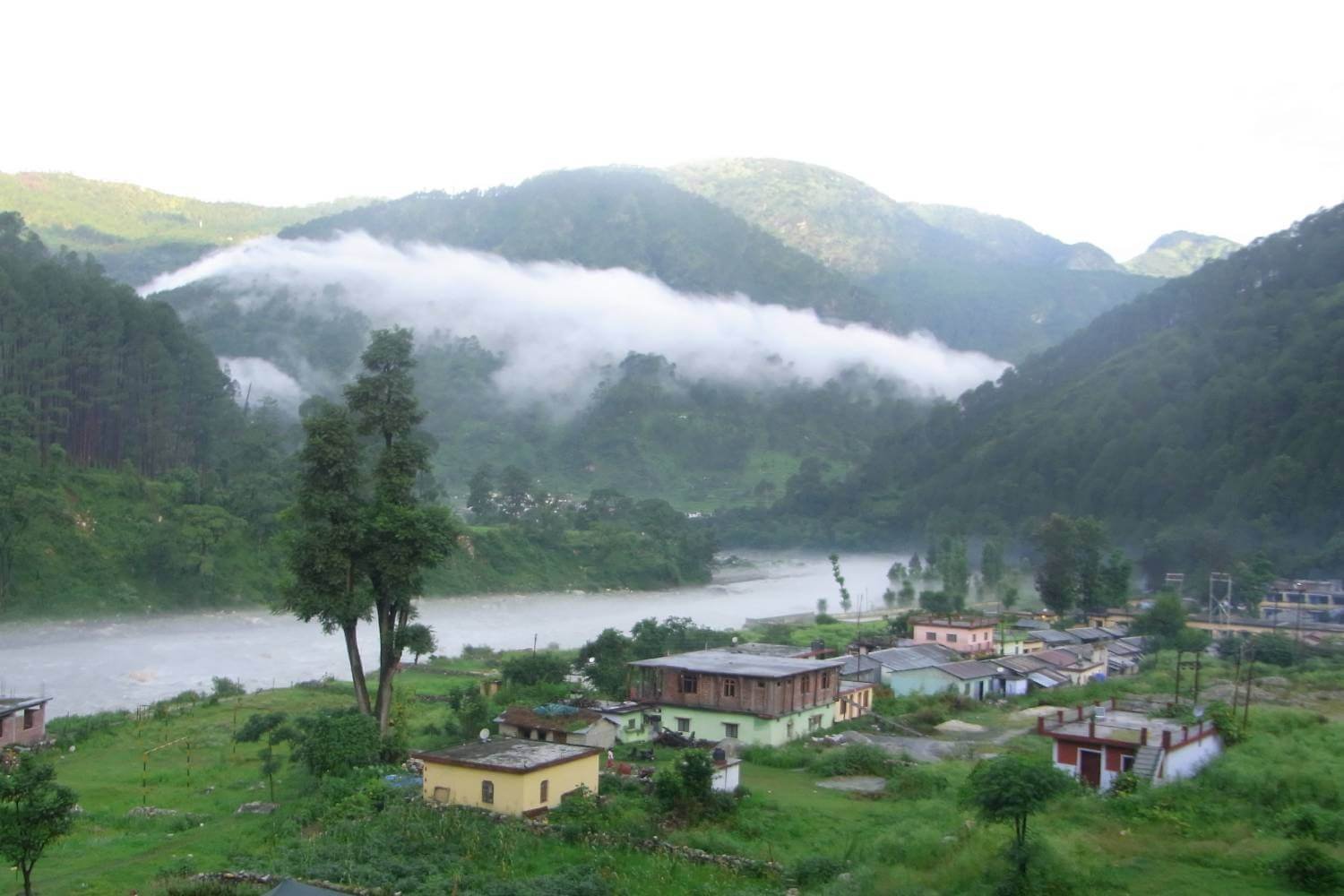 Uttarkashi can be visited round the year; however, summer and winter are two best seasons to visit the town. Summers between April and June are pleasantly warm whereas winters between October and March are chilly but comfortable for planning a trip.
Uttarkashi in Summer: The summer season in Uttarkashi is balmy with temperatures rising up to 30℃. Summer is also the best time to plan trekking tour around Uttarkashi.
Uttarkashi in Monsoon: Rains begin from mid-June and end by September end. Although Uttarkashi can be visited during the monsoon, checking the weather forecast is advised before planning the trip in the rainy season.
Uttarkashi in Winter: The months between October and March are the winter months. The mercury drops down to 0℃ during these months making the season quite chilly. However, winter is a good time to plan a trip to Uttarkashi as well as for trekking to Dayara and Dodital.
Popular Attractions in and around Uttarkashi
Dotted with Hindu temples, ashrams, and dharamshalas, Uttarkashi may seem to be a spiritual destination in Uttarakhand, however, the town boasts a number of other attractions in and around it for nature and adventure lovers.
Dodital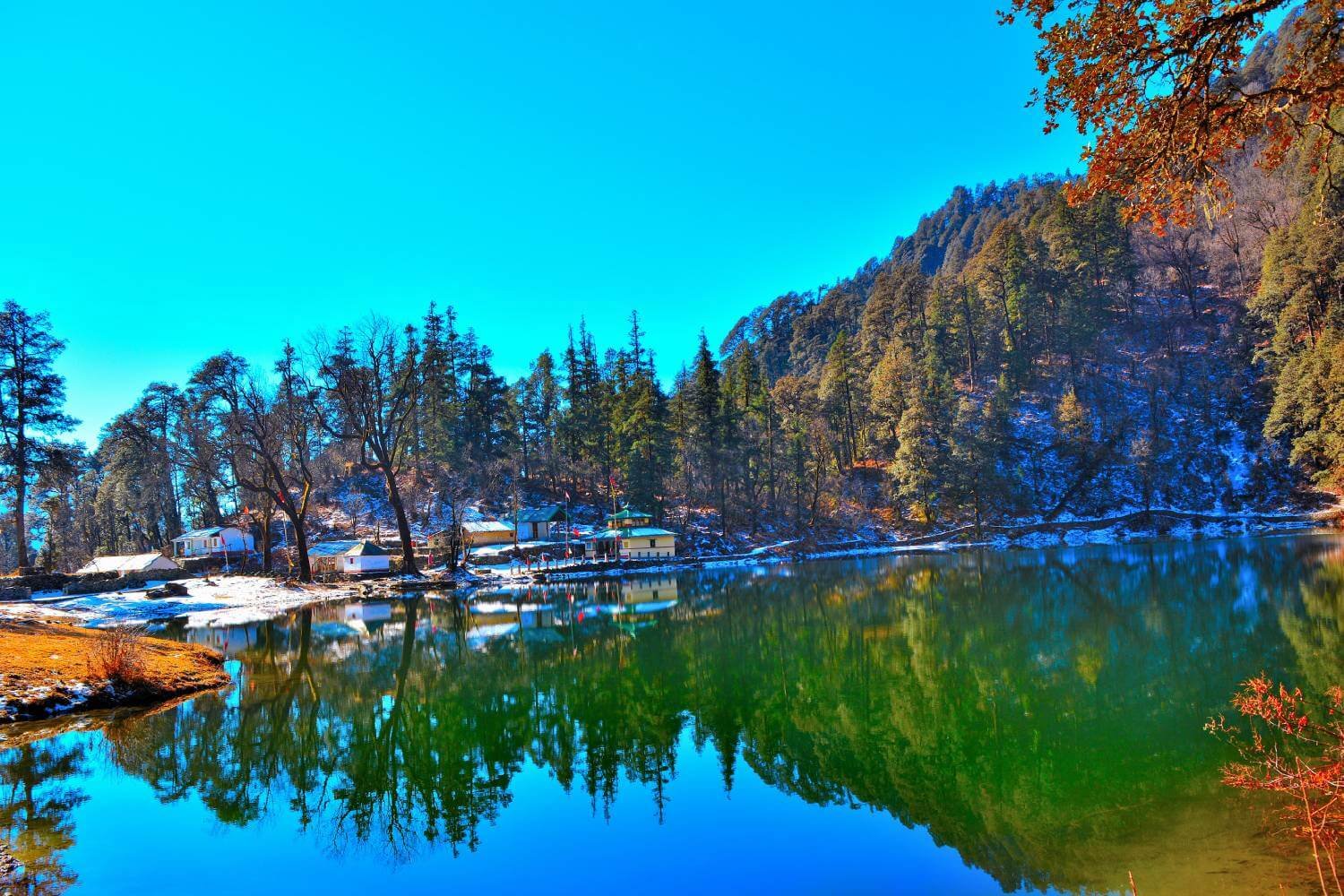 One of the high-altitude lakes at 3310m, Dodital makes for a popular trek in Uttarakhand. Situated some 60 km away from Uttarkashi, this trek is known for beautiful views and a sacred Ganesha Temple. A day hike from Dodital is Darwa Top which offers an impressive view of lofty Himalayan peaks.
Maneri
At a short distance of about 8 km from Uttarkashi, Maneri is a small scenic town seated on the bank of River Bhagirathi. The town is mostly known for Maneri Dam, however, amongst the adventurers, it is also a base for several treks in the district. It also offers the opportunity of river rafting as well as mountaineering to the adventure enthusiasts.
Dayara Bugyal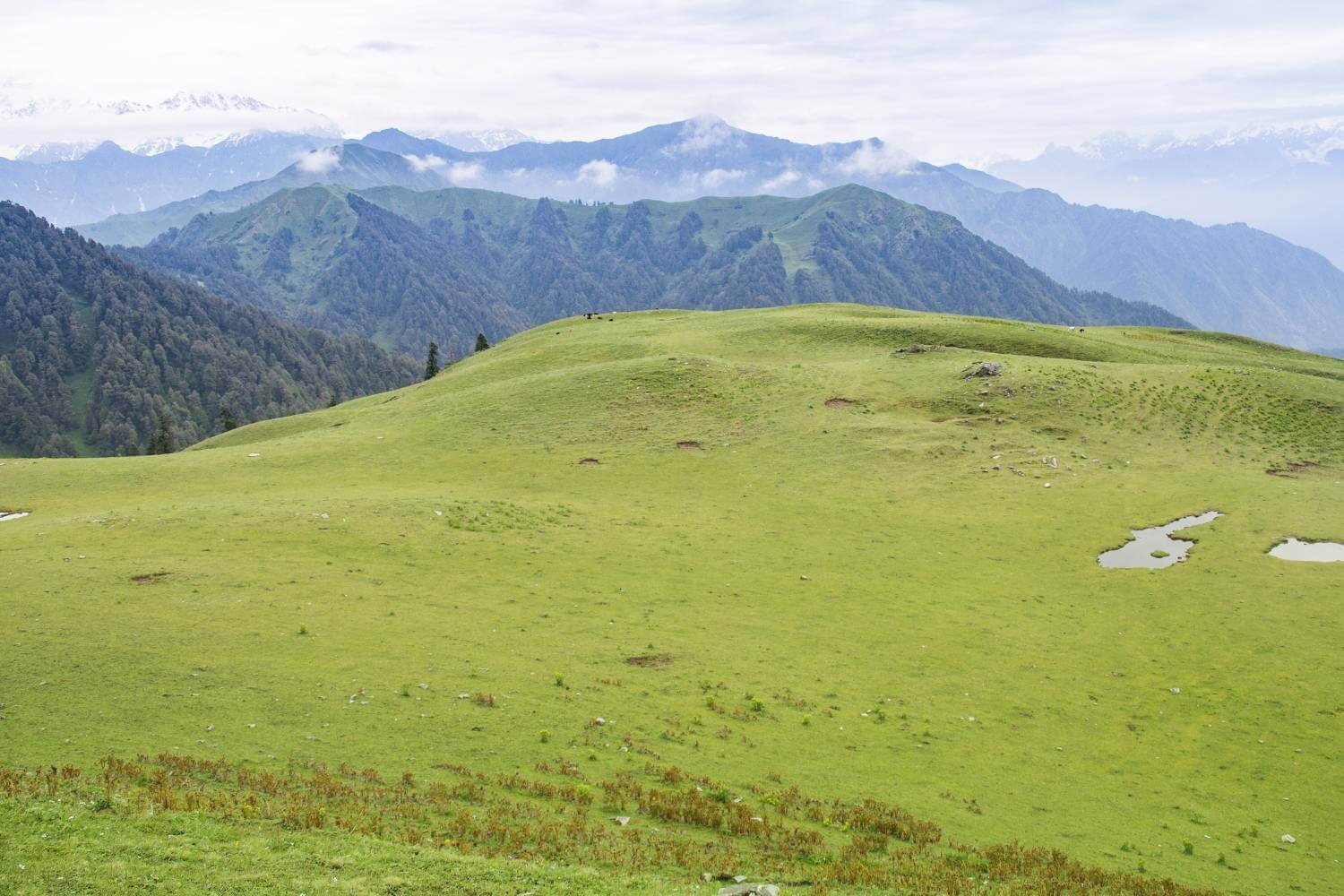 A picture alpine meadow of Dayara is situated at a height of 3048m. Dayara Bugyal is a popular trek in Uttarakhand and can be easily reached from Uttarkashi. A large expanse of meadow opens right in front of the eyes in Dayara Bugyal with incredible views of lofty snow-clad mountains of the region making it an unforgettable experience.
Gangotri Dham
One of the Char Dhams in Uttarakhand, Gangotri is dedicated to Goddess Ganga. Situated some odd 100km from Uttarkashi, this top Hindu pilgrimage destination is also the starting point of many important treks of Uttarakhand like Gaumukh, the source of River Ganga and Tapovan, the lush alpine meadow in the state.
Yamunotri Dham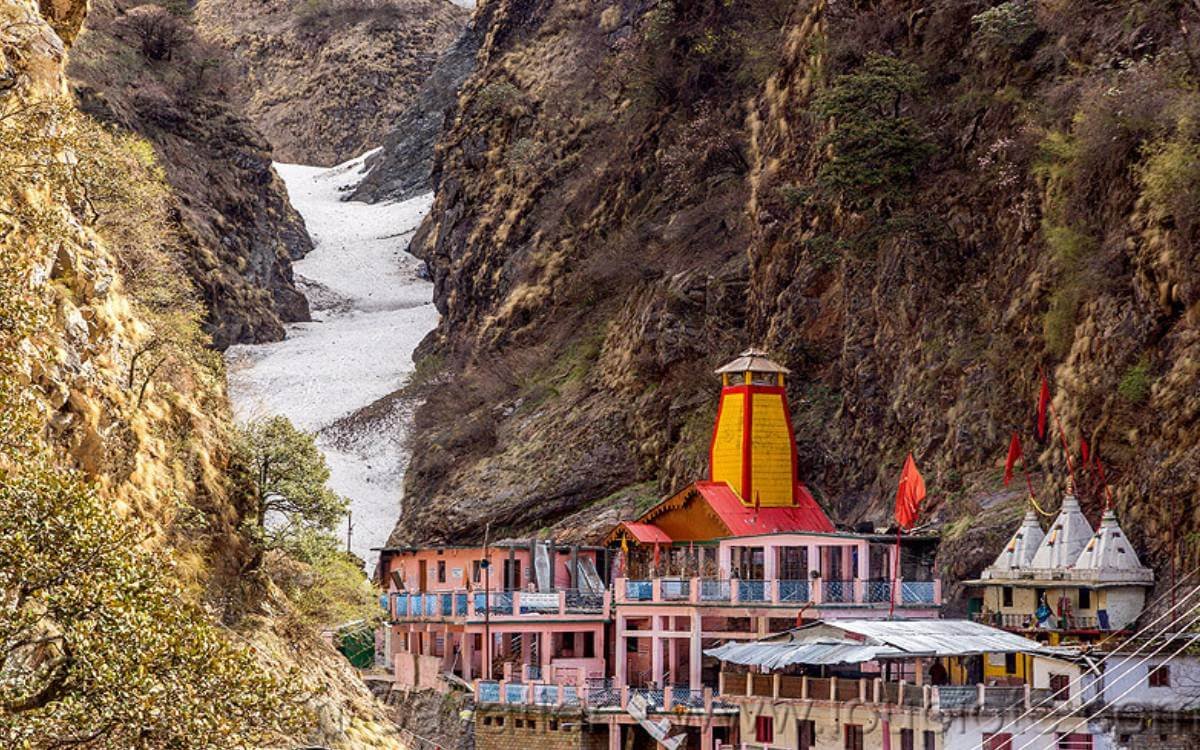 Part of the Chardham Yatra circuit, Yamunotri has a temple dedicated to Goddess Yamuna, the sister of death god Yama. The sacred destination is situated some 160km away from Uttarkashi and is also famous for Yamunotri Glacier and hot water springs.
Gomukh
Widely known as the source of the most holy river of India, Ganga, Gomukh is a large cow's mouth like opening in the Gangotri Glacier. The glacier is one of the largest in the Himalayas and sits some 65km away from Uttarkashi. The Gangotri Glacier is a popular trek among both adventurers and pilgrims.
Kalindi Pass
A high-altitude pass, Kalindi Pass or Kalindi Khal connects Gangotri and Gastoli. The pass is at an elevation of 5950m and is at a distance of about 200km from Uttarkashi. Kalindi Khal is also a popular trek in Uttarakhand but is only suitable for seasoned trekkers.
Gartang Gali
A 105m long wooden bridge, Gartang Gali was once the part of the ancient Indo-Tibet trade route. The bridge is situated in Nelang Valley, which is at a distance of 113km from Uttarkashi.
Harshil
On the bank of Bhagirathi River, Harshil is a picturesque and pristine village in Uttarkashi Distruct that have recently started to get a lot of attention from the tourists. Situated some 79 km away from Uttarkashi, Harshil is known for its apple orchards and as one of the destinations on an old trade route between India and Tibet.
Nelong Valley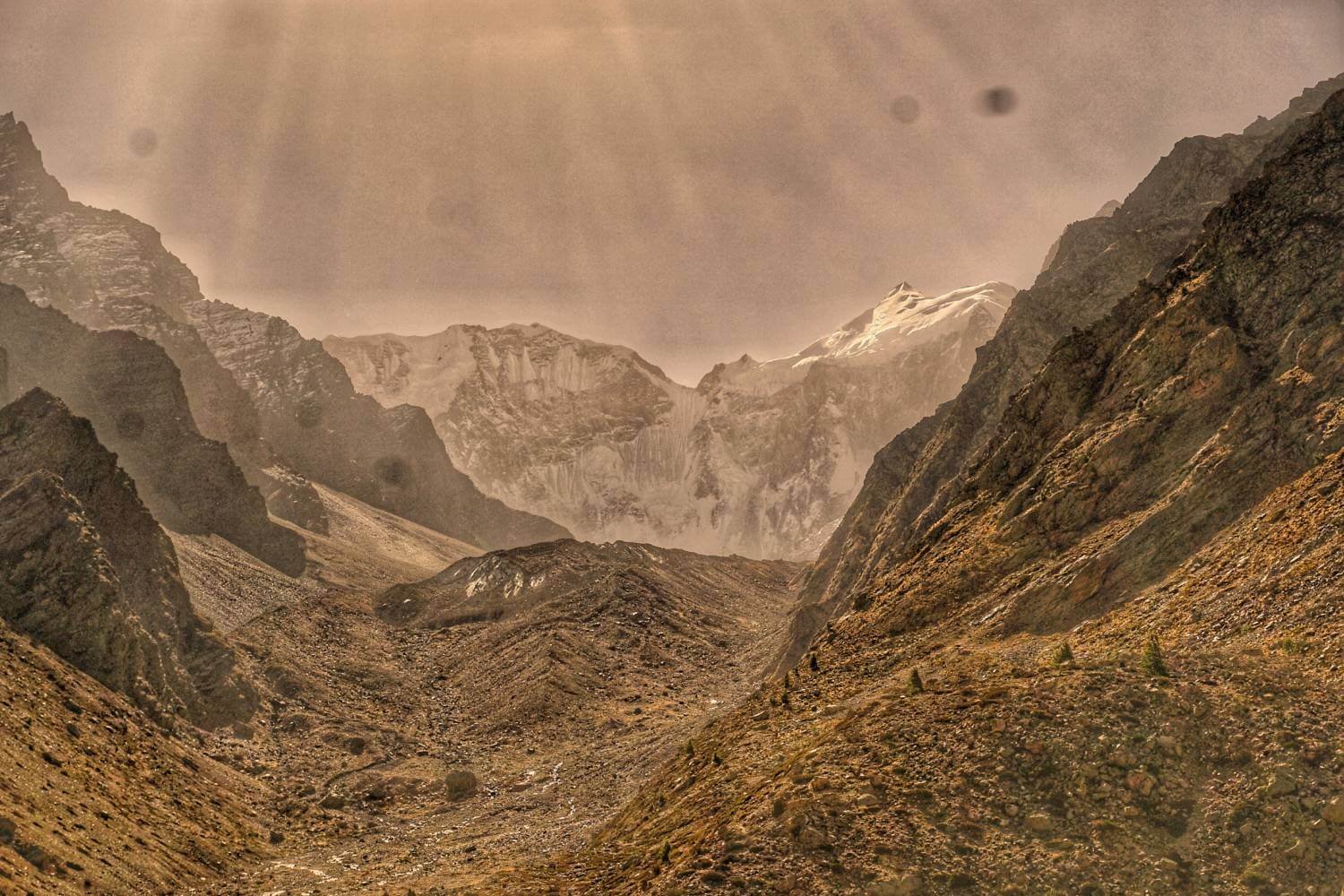 Falling under the Gangotri National Park Region, Nelong Valley is quite an interesting tourist spot near Uttarkashi. It was only in 2015, Nelong Valley opened to public. The valley has strong resemblance to the landscape of Ladakh and has immense historical significance since it was once used as a trade route between India and Tibet.
Vishwanath Temple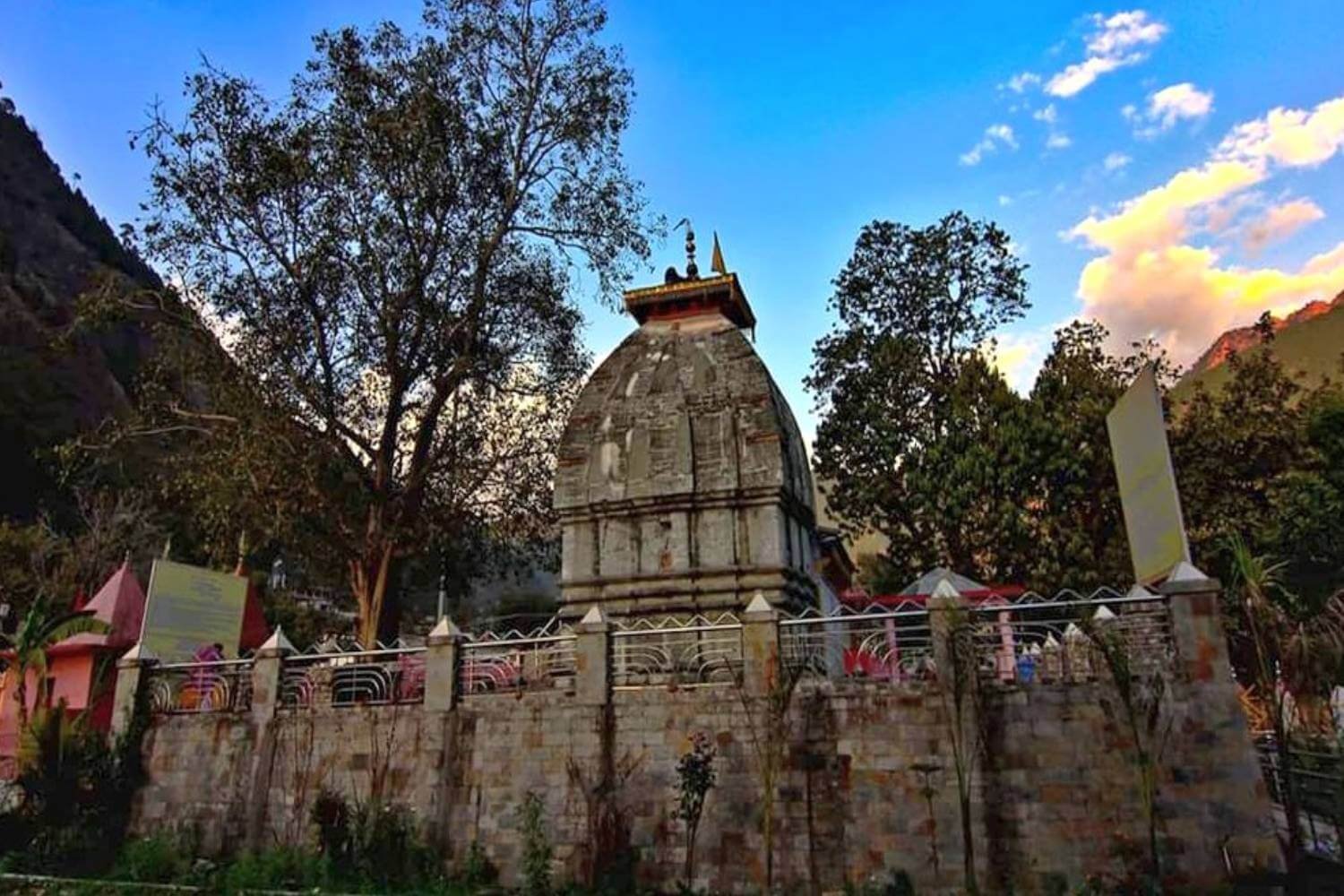 One of the oldest and sacred temples in Uttarkashi, Vishwanath Temple is a major attraction in the town. Dedicated to Lord Shiva, this holy temple is said to have been built by sage Parshuram initially with altercations done to it in 1857 by Queen Khaneti or Tehri. The legend has it when the Kashi or Varanasi will submerge in the water, the Lord Kashi Vishwanath (Shiva) will shift to Uttarkashi.
Kuteti Devi Temple
A short distance away from the town of Uttarkashi, Kuteti Devi Temple is an important Hindu place of worship. The temple is said to have been built by the daughter of the Maharaj of Kota and her husband who found 3 stones at a stone described by Goddess Kuteti Devi in their dreams.
Bhairav Temple
Situated in the Chowk area of Uttarkashi, Bhairav Temple is one of the important temples in the town. The temple is equally important as the Annapurna Temple in Uttarkashi and is bustles with devotees.
Shani Temple
There are two temples dedicated to Lord Shani which stand on each side of Kharsali Village. One of the temples of Shani is a 5-storey building with a bronze diety inside. The view from the temple of the Kharsali Village along the Yamunotri River is truly a sight to capture.
Duryodhan Temple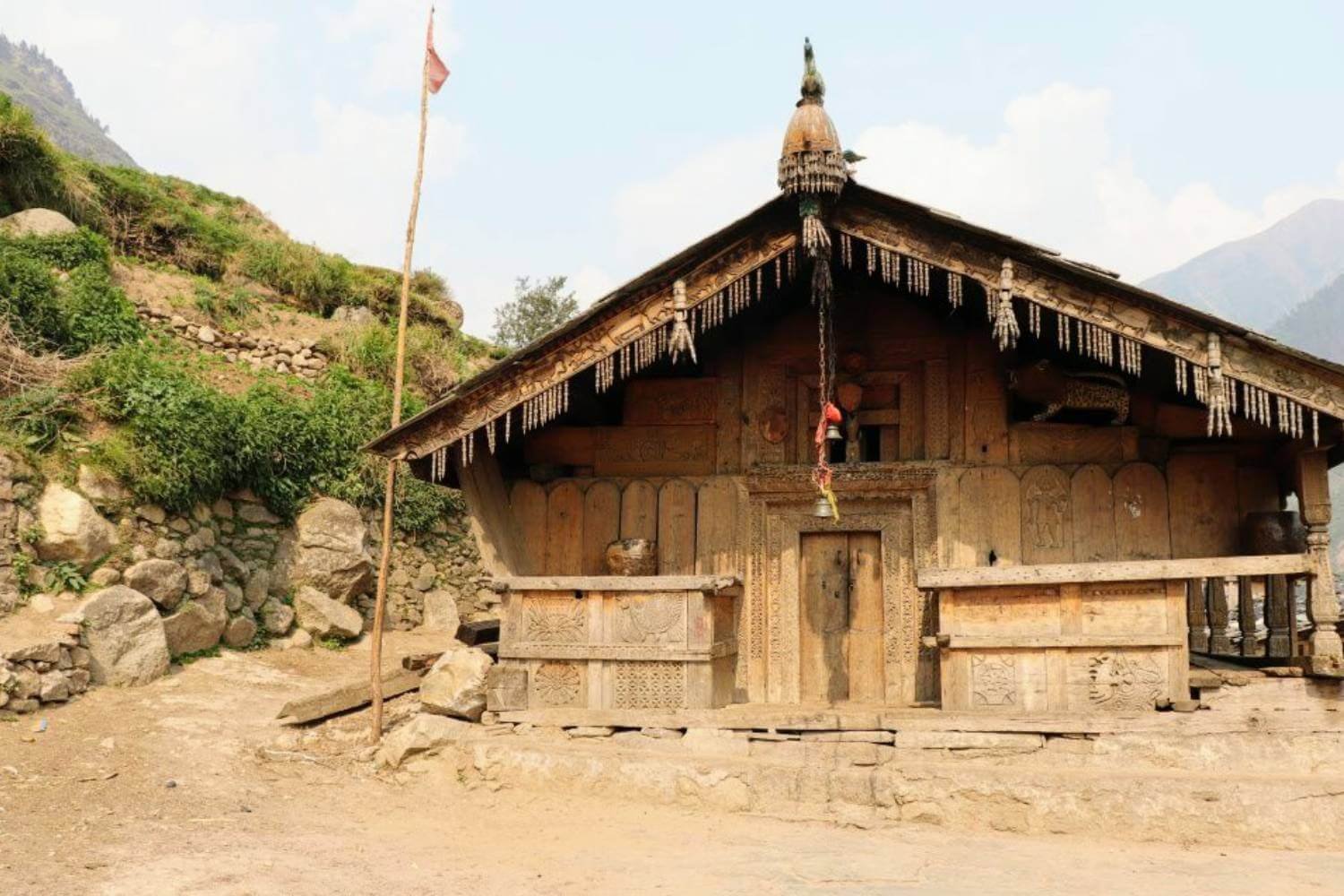 Situated in Saur Village on Mori Taluka/Har ki Dun Road, Duryodhan Temple is an important temple in the region. It is believed the locals pray to Duryodhan and Karna and called them Kshetrapal of the area. They even established two temples, one for each in Saur and Sarnaul.
Karna Devta Temple
Located in Sarnaul Village, Karna Devta Temple is one of the important Hindu places of worship in Uttarkashi District. Seated along the Tons River, the temple holds great significance to the 24 villages of the Mori Block area who consider Karna as their clan god and 'isht' God. One of the legends attached to the temple is that the ants developed the plan to construct this temple dedicated to Karna.
Pokhu Devta Temple
Situated in Netwar, Pokhu Devta Temple along with Karna Devta and Duryodhan temples is an important sacred place in Uttarkashi. Seated along the Tons River, Pokhu Devta is primarily known amidst the locals as a temple of justice. The locals in large number come here with the faith that God Pokhu will provide them the due justice irrespective of their issues/problems.
Kapil Muni's Ashram
About 10 km from Purola, Kapil Muni's Ashram is situated in Gundiyat Village. The ashram is an ancient building where it is believed Sage Kapil meditated to please Lord Shiva. In order to mark the spot where Lord Shiva granted Kapil Muni a boon, a shivling is established and is called Kapileshwar Mahadev.
Where to Stay in Uttarkashi?
Uttarkashi being a renowned town and an important religious base has a decent variety of accommodations for its visitors. One can choose from budget to mid-range hotels and from ashrams and Dharamshala's to tent accommodation in close proximity as staying options in Uttarkashi.
Things to Know Before Travelling to Uttarkashi:
Uttarkashi is a major halt in Garhwal Himalayas and buses and other vehicles are easily available from here to other parts of the region.
Uttarkashi is the base for both Gangotri and Yamunotri Dham, and thus visitors can rest here for a day before heading to either of the two religious destinations.
During the Chardham Yatra time, getting hotels in Uttarkashi can be difficult, thus make sure to make hotel bookings in advance.
Pilgrims on their way to Yamunotri or Gangotri must spare a day or two to explore Uttarkashi for its Vishwanath Temple amongst many other important religious shrines.
Permission to visit Nelong Valley can only be obtained from Uttarkashi, also accommodation for the valley can be arranged with great ease from here.
Also Check Out:  Best Selling International Holidays & India Tour Packages
Explore Other Similar Holiday Destination Tour Packages
Other Informative Blogs to Read
Summer Travel Related Blogs to Read
Winter Travel Related Blogs to Read
Wildlife Travel Blogs to Read