Himachal Pradesh has a rich history, culture, heritage, plenty of nature sightseeing opportunities, lots of scope for adventure, and endears itself to honeymooners, families and all types of travellers!
Himachal Pradesh is one of the best hill station destinations to travel in India. It is a one of its kind destinations for a wonderful hill holiday. Every traveller's delight, it has everything to please your soul. Rich cultural heritage, delicious traditional cuisines, delightful climate, lofty Himalayan Mountain views, exotic flora and fauna which you have never seen before; it also has unique rituals and cultural experiences in store for you; It is the best destination for snow lovers and adventure seekers.
So, it is not only the Land of Gods limited to spiritual places. Every corner of Himachal is decked in beauty and thrilling opportunities. That's why couples, families always and backpackers always look for Hills to spend amazing time with their loved ones. Himachal Pradesh for this reason is the most preferred tourist destination for every kind of traveller. It doesn't have beaches but it will never make you feel bored in any sense.
Quick Facts About Himachal Pradesh
| | |
| --- | --- |
| Region | North India |
| Capital of Himachal | Shimla |
| Himachal Pradesh Latitude | 30o 22' 40″ N to 33o 12' 40″ N |
| Himachal Pradesh Longitude | 75o 45' 55″ E to 79o 04' 20″ E |
| Geographical Area | 55,673 sq. km (According to 2011 Census) |
| State Bird of Himachal | Jujurana (Western Tragopan) |
| State Flower of Himachal | Pink Rhododendron (Rhododendron Campanulatum) |
| State Animal of Himachal | Snow Leopard (Panthera Uncia) |
| Popular Tourist Places in Himachal | Kullu, Manali, Shimla, Chail, Chamba, Dharamshala, Spiti..etc |
| Popular Tourism Activities in Himachal | Nature Sightseeing, Rafting, Paragliding, Trekking, Skiing…etc |
| State Tree of Himachal | Deodar Cedar |
| Longest District of Himachal | Lahaul & Spiti |
| Smallest District of Himachal | Hamirpur |
Let's Explore Some of the Best Places to Visit in Himachal Pradesh
Kullu Manali
Shimla
Dharamshala
Dalhousie
Kasauli
Khajjair
Kufri
Chail
Mashobara
Lahaul Valley
Solan
Spiti Valley
Kinnaur
Chamba
Bilaspur
Get upto 30℅ of early bird discount on our all Himachal Sightseeing Pradesh tour packages. Reach us for more details / bookings – +91-7668130655.
Kullu Manali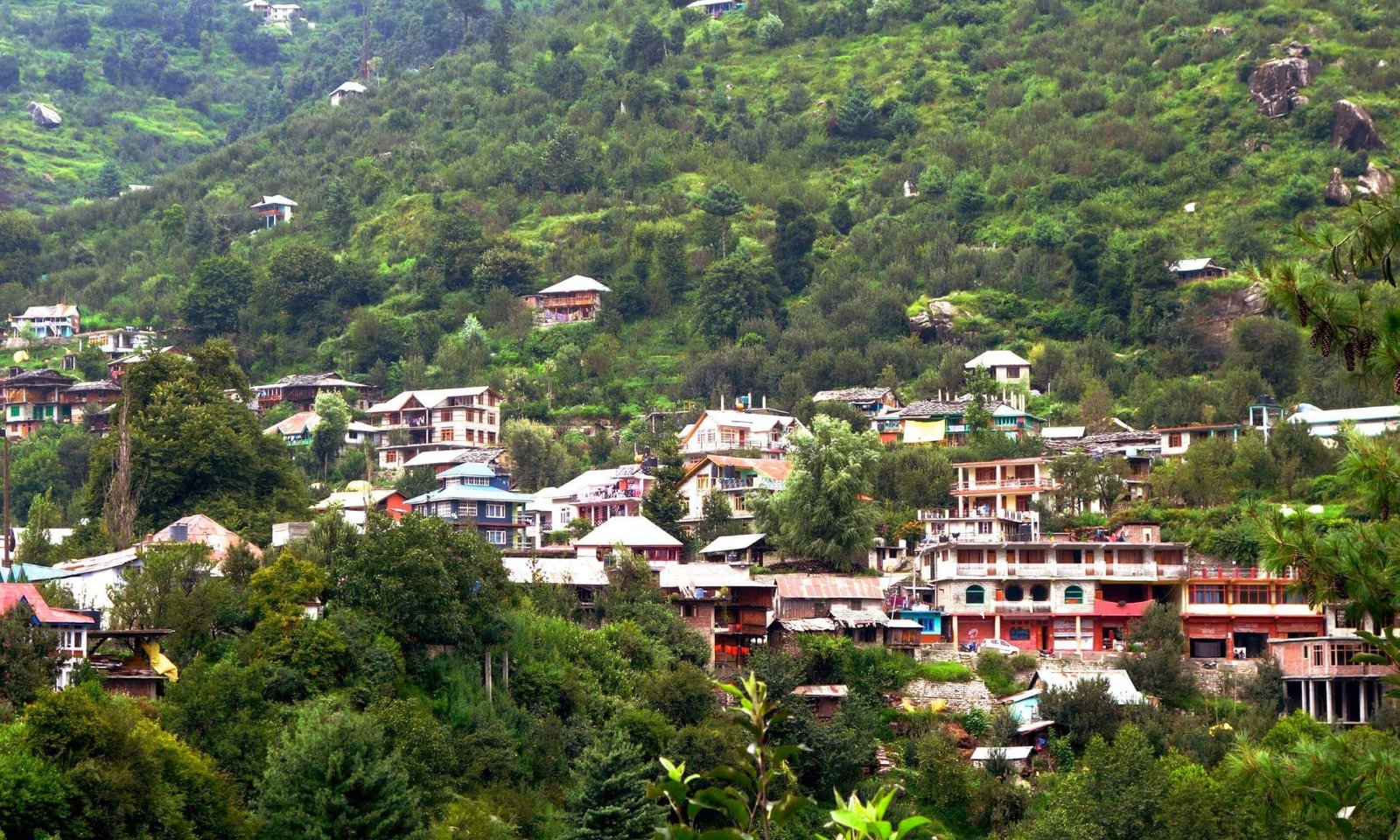 Kullu Manali is one of the best Tourist destinations to explore and enjoy your holidays in Himachal Pradesh. Like Shimla It is also one of the most visited Tourist destinations in India. Kullu and Manali are different places but are always clubbed together. The journey of Kullu is incomplete without exploring Manali and vice versa. Kullu is famous for its rich cultural heritage. It is also known as Valley of the Gods. There are many shrines and monasteries in Kullu. The temple architecture is visually very pleasing.
Manali is blessed with snow-capped mountains, lofty mountain passes, gurgling streams, adventure spots, beautiful trekking trails, hot springs, Buddhist monasteries and temples. If you visit Kullu and Manali it would be a perfect mountain getaway for you. Both are best but Manali is scenically richer but both are incomplete without each other.
Best Time to Visit Kullu Manali
The best views of Kullu Manali can be enjoyed in winters. You will get to enjoy many adventure activities. For an amazing Kullu Manali Tour visit here during winter season. Summers are for nature sightseeing and to see the greener side often mountains. The monsoon is not very favourable to visit here due to heavy rainfall and landslides but if you visit this time avoid water adventure activities. The lush greenery will mesmerise you and you can also check out amazing cafes and music bands in the town.
Best Things to Do in Kullu Manali
Stunning views of Pandoh Dam and River rafting at Beas River are the top tourist activities to do in Kullu Manali.
Enchanting views of Dhauladhar ranges will seduce your senses in Kullu. Try Prashar Lake trek once in a lifetime. You will behold Dhauladhar Ranges, Rohtang Pass and Kinnaur and Pir Panjal ranges which is a wonderful delight.
Paragliding and Bicycle riding is one of the best adventure activities to do in Kullu Valley.
Explore Parvati Valley through Kheerganga Trek. It is one of the top trekking trails to enjoy in Kullu. Don't forget to dive deep into Manikaran Hot springs. It is a serene pilgrimage place you must visit.
In Manali, Paragliding can be done in Solang valley. It is one-of-a-kind experience. You can also enjoy an amazing Ropeway Ride.
Visit Hadimba Devi Temple. It is one of the landmark spiritual destinations of Manali.
Rohtang Pass is a hub of adventure lovers in Manali. Try Paragliding, Skiing, Quad biking and Gondola Rides for fun and thrill.
Explore the beauty of old Manali. It has awesome cafes and restaurants.
Don't miss the Mall Road in Manali. It's a blissful paradise for food lovers and shoppers.
Explore Vashistha hot water springs and the temple. The hot water springs here are said to have medicinal properties. The temple here is dedicated to sage Vashistha who was the guru of Lord Rama.
Enjoy the exotic wildlife of Manali Wildlife Sanctuary.
Explore Naggar, located on the banks of River Beas, it is one of the best places to visit around Manali. Naggar Castle is a delightful landmark destination of Naggar.
Also Read: Complete Manali Travel Guide
Shimla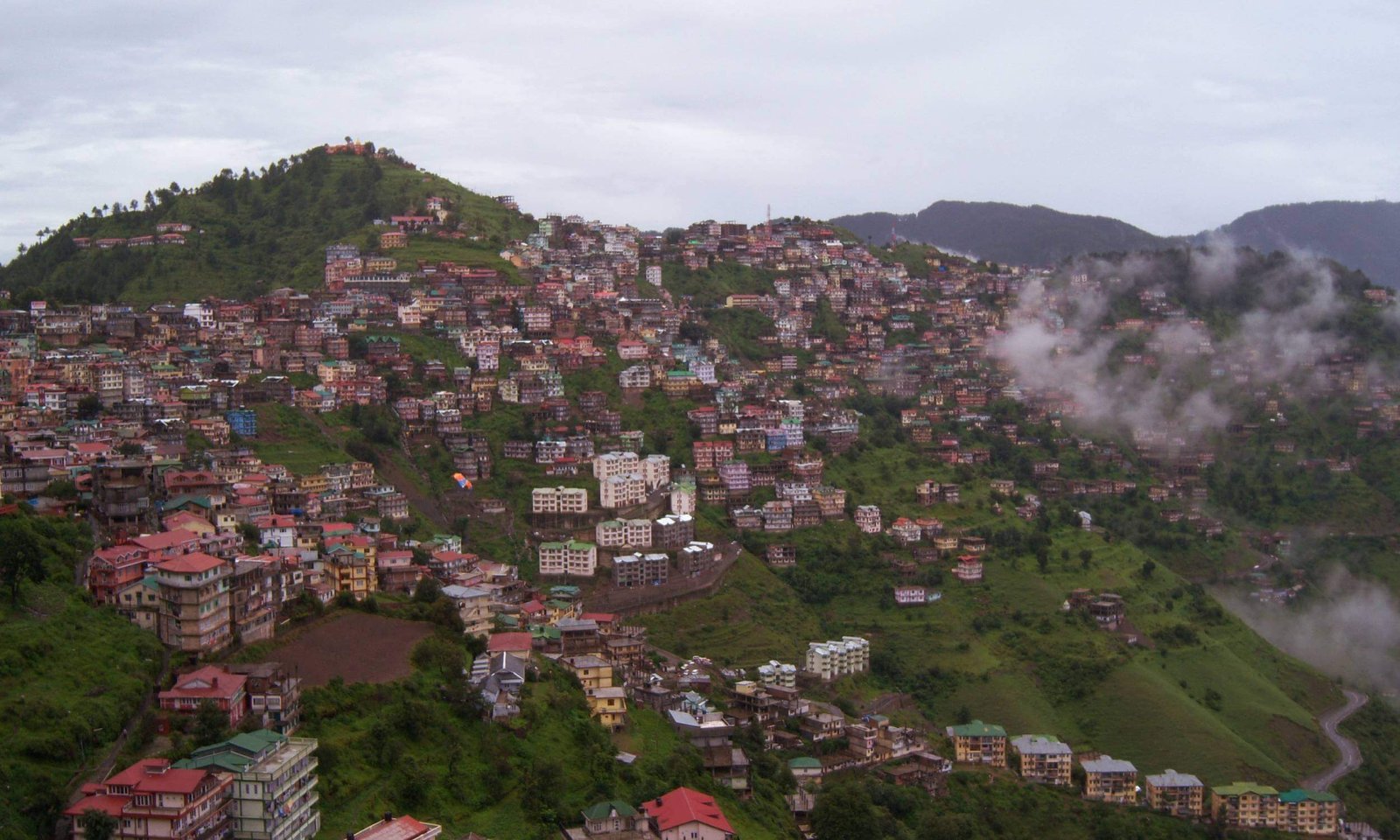 If nobody knows Shimla then you are from a different world. Even International Tourists visit Shimla to enjoy the scenic backdrop of this lovely destination. You can visit here any time of the year. It is a very popular summer as well as winter destination of India. Not only that it is one of the most visited tourist attractions of India and Himachal. An entire book can be dedicated to explain the beauty of Shimla. It is so beautiful. It has been the favourite tourist attraction for honeymoon couples and families for vacation.
It is decked with seven beautiful lofty hills and a 12km scenic long ridge which is more beautiful than any fairy tale setting. Colonial bungalows, adventure activities such as skiing, trekking, paragliding and ice skating in winters. Lush greenery of summer and monsoon, colourful markets, lovely weather makes Shimla a destination for all seasons. You have something to enjoy in every season and nobody will get bored. It comes first in the list of most visited destinations in Himachal. Why not visit Shimla for holidays?
Best Time to Visit Shimla
Shimla is always beautiful but winter is the best time to visit it. Every season has something different to offer. Winters are for adventure lovers. Summers are for nature sightseeing Monsoon are for nature lovers. Anytime of the year in Shimla is a blissful experience. If not for snowfall at least for sightseeing and other outdoor activities. But winters are for snow lovers.
Best Things to Do in Shimla
Out of the many delightful experiences Kalka Shimla Toy train ride experience is a must not miss.
Don't miss the Mall Road. It is the lifeline of Shimla. You will get to know the soul of Shimla here. Shop as much as you can. Also enjoy delicious cuisines here.
Enjoy snow adventure activities like Ice Skating, Skiing, snowboarding etc in Shimla. Shimla is a top snowfall destination in Himachal Pradesh.
Pine forest trails are enough to give you Goosebumps in Shimla. It's a visual treat.
River Rafting from Shimla to Tattapani, nothing can beat the thrill.
Camping is a must in Shimla. Nature views, lofty mountains, amazing campfire and memories with your loved ones – Just Imagine.
There are numerous trekking trails like Shali Tibba, Karol Tibba, Hatu Peak and Tara Devi Trek to enjoy in Shimla.
Explore the architectural marvels of Shimla like Christ Church, Colonial bungalows, Vice Regal Lodge and Botanical Garden etc.
Also Read: Top 10 Weekend Destinations in Himachal
Dharamshala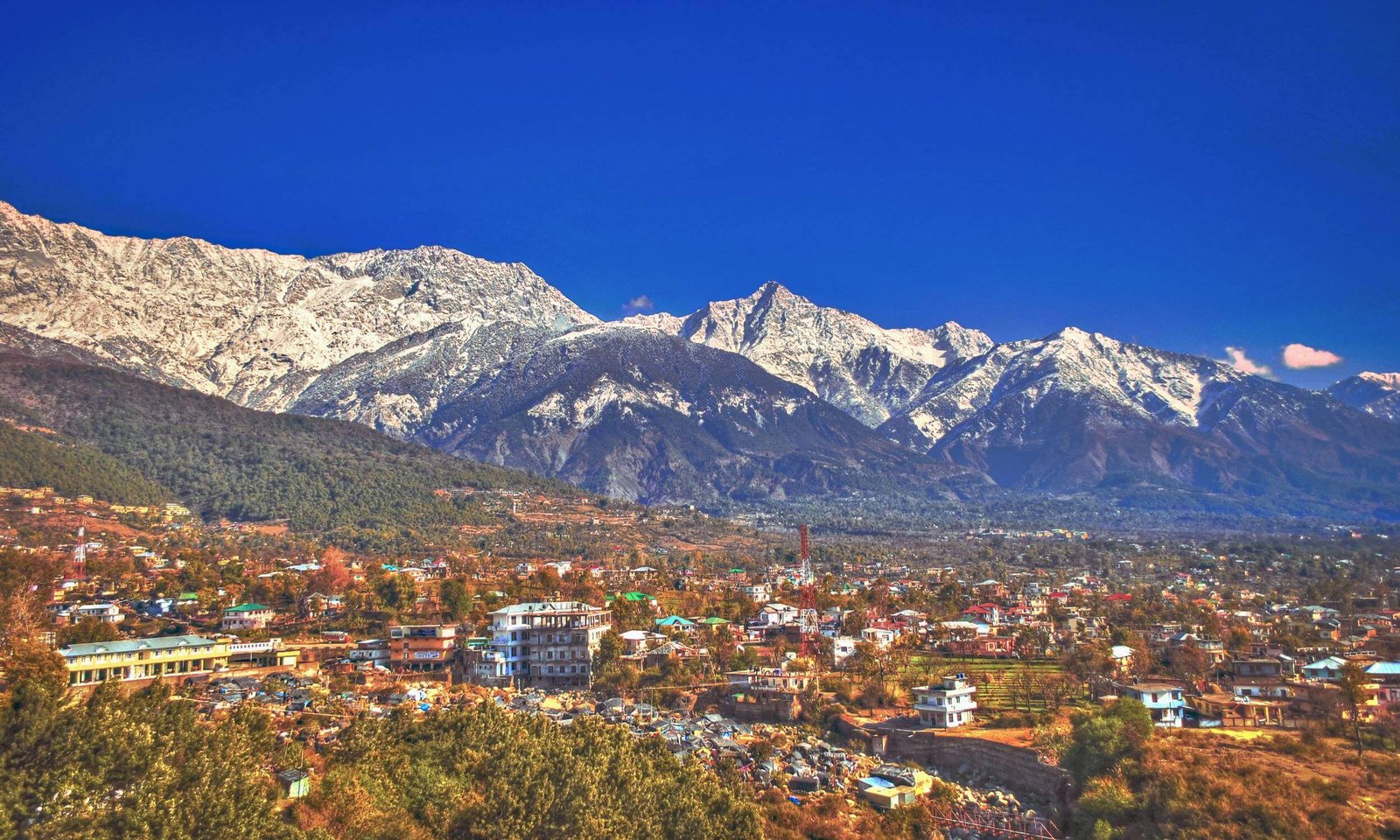 The dense forests of Pine, Deodar, Oak and conifer gaze at you in smile if You visit this enchanting destination known as Dharamshala in Himachal Pradesh. Lovers, couples, families, adventurers, backpackers perfect for all Dharamshala is a blissful hub of wanderers. Its environment has beauty, serenity, tranquillity and refreshment that nobody can resist themselves to fall in love with.
It also has beautiful cricket stadiums where a number of International and IPL matches are held. So, a sports lover knows where to find bliss here. Nature walks, picnics on the banks of soothing lakes, and temple visits are some of the best ways to spend your vacation here. Dharamshala is very colourful. Go see its markets and you will know how.
This place is an important hub for Buddhist followers. It is the home of the Dalai Lama who is a Buddhist leader. You will see plenty of Buddhist monasteries which makes the place a wonderful serene retreat for spirituality seekers. It is one of the top tourist places to explore in Himachal Pradesh.
Best Time to Visit Dharamshala
December to February are the best months of the year to visit Dharamshala. During this time, you will experience snowfall. It is the best time to visit Dharamshala for a honeymoon couple in Himachal Pradesh as Coldest breezes, lofty Himalayan peaks and beautiful views of the valley will bring out the best of your amazing holidays. Another best time is the season of Summer. The weather is not harsh for sightseeing. Summer starts here from March to July. You will see young kids with their families visit Dharamshala on a summer vacation. It is an amazing place with lots of sightseeing and adventure opportunities for family Holidays in Himachal Pradesh.
Best Things to Do in Dharamshala
If you are an adventure lover and coming to Dharamshala then the best thing to do here is Paragliding. Try this amazing activity in the summer season.
Dharamshala is blessed with fantastic landscapes and hilly terrains which are absolutely fit for camping. Couples often try camping and spend blissful moments of togetherness with their loved one.
A visit to Kangra Valley will be a wonderful experience in Dharamshala. You will get to see 8th century Masroor Rock Cut temples and also the Norbulingka Institute which preserves traditional Tibetan arts and crafts.
In Dharamshala the village life is awe inspiring. You will see the simple lifestyle of people. It is an amazing opportunity to learn about the culture of Dharamshala. Some villages are covered with forests, you will definitely enjoy the view.
Explore Kangra Fort. It is one of the oldest forts of India which dates back to the period of Mahabharata.
You must try the local and international cuisine of Dharamshala. It is quite popular for amazing cafes and Restaurants.
Walking around the colourful markets of Dharamshala is another kind of bliss which is unforgettable. You will get Colourful prayer flags, woollens, beautiful jewellery and handicrafts etc.
Decorated with Deodar trees, the forever peaceful and enchanting Dal Lake in Dharamshala offers mesmerising views to click beautiful pictures of nature. There is a temple dedicated to Lord Shiva near the lake.
Explore Monasteries such as Namgyal Monastery, Gyuto Monastery and Dalai Lama Temple complex for eternal peace and spiritual bliss.
Bhagsu Falls is one of the top visiting places in Dharamshala. The scenic views of the gorgeous waterfall will surely delight your spirit.
Also Read: Best Trekking Destinations in Himachal
Dalhousie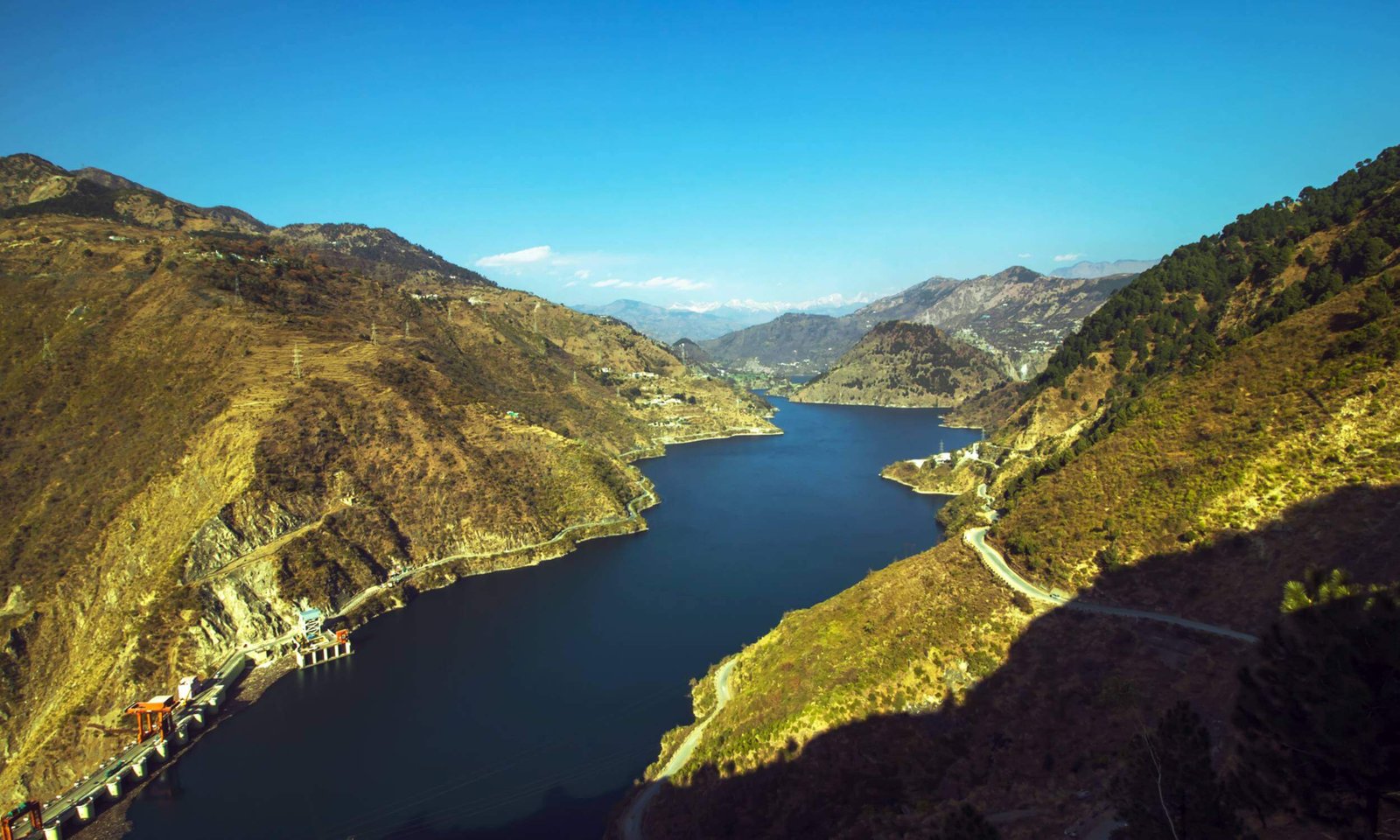 Not visiting Dalhousie in Himachal will definitely make your Himachal Pradesh Tour incomplete. It is one of the most visited tourist destinations in Himachal Pradesh. How can you not fall in love with the views of Snow-capped Pir Panjal Mountains, Dhauladhar mountains and lush green valleys of Dalhousie.
In Himachal you will find Pine and Deodar trees everywhere but in Dalhousie it looks extremely scenic and photogenic. It was once a favourite summer retreat for the britishers. No doubt why. It has the best nature views, best weather and relaxing vibe. You will see wonderful buildings from the colonial era.
From tasty cuisines to amazing architectural marvels, Dalhousie is a must visit if you want to see the true beauty of Himachal Pradesh. It is also one of the top honeymoon destinations in Himachal. Couples find the beauty of Dalhousie hard to resist for a romantic vacation.
Best Time to Visit Dalhousie
Dalhousie is one of the best summer destinations to visit in Himachal Pradesh. Often families and couples come to Dalhousie to enjoy scenic views of lofty Himalayas and nature's best views. The weather is quite pleasant during this time for amazing sightseeing. The season of Summer starts from the month of March and remains till May. This is the best time to enjoy nature walks and hiking. Summer time is also the peak holiday time in Dalhousie to enjoy summer holidays in Himachal Pradesh.
However, you can also consider Monsoon season for sightseeing. The weather is extremely pleasant and refreshing to see lush greenery all around. This place does not receive very heavy rainfall. If you want to enjoy the best views of nature then come here during monsoon. Honeymoon couples often prefer this time of the year to come here. Monsoon here starts from the month of June and remains till mid-September.
During Winters (October to February) the landscape gets covered with a beautiful blanket of snow. So, the snow lovers will get the best views of Dalhousie in the winter season.
Best Things to Do in Dalhousie
The luck of viewing the blending of five beautiful streams in front of your eyes can not be found anywhere else other than Panch Pulla. The old Bridges here are quite photogenic.
Boating in Chamera Lake is one of the best things to do in Dalhousie. You can also enjoy camping and fishing.
Visit Satdhara Falls. The tranquil setting and lush greenery will definitely blow your heart away. Also spend some fun moments with your loved one. It is a great picnic spot.
Embrace divine blessing at Chamunda Devi Temple which is dedicated to goddess Kali who defeated two demons Shumbh and Nishumbh.
Explore the local markets of Dalhousie to get cool handicrafts and enjoy tasty street food at the food stalls.
Named after the freedom fighter Subhash Chandra Bose- Subhash Baoli is an amazing place to behold. The hot water springs here have medicinal properties which are good for he
Also Check Out: Enchanting Himachal Travel Itinerary
Kasauli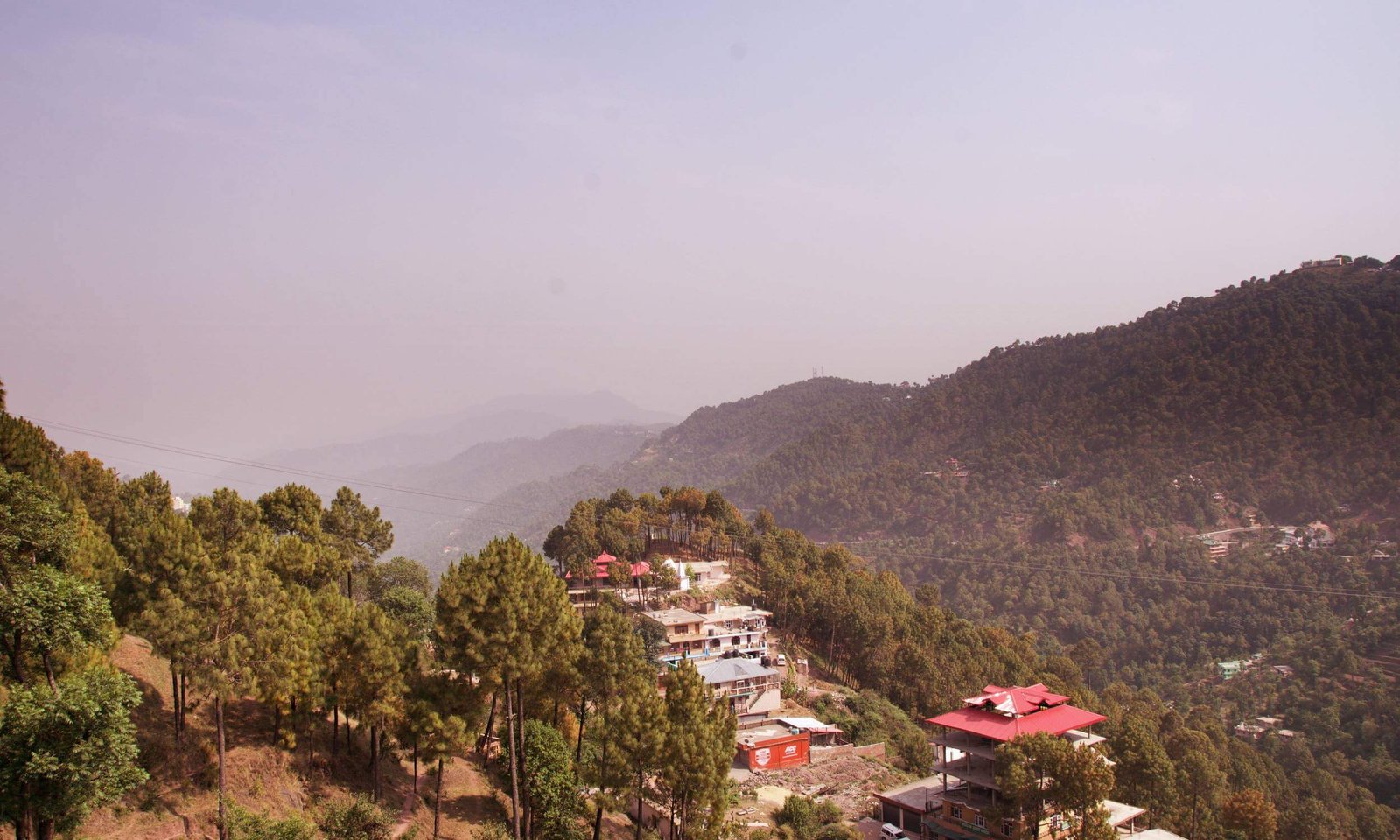 Exploring Kasauli is one of the best things to do when you are in Himachal Pradesh. Decorated by captivating Shivalik Hills, Kasauli is a beautiful tourist attraction to explore with family and friends. Established as an army cantonment town in 1842, this town will give you colonial vibes through its architectural landmarks. You will see beautiful colonial bungalows, Quaint cottages, stunning cobbled pathways, mesmerising Churches and gorgeous souvenir shops. The beautiful legacy of Raj era bungalows will come alive in front of you.
No matter where you are in Himachal, Kasauli has a charm which cannot be found anywhere else. Indeed, a cool place for an extremely scenic holiday in Himachal Pradesh.
Best Time to Visit Kasauli
For enjoying snowfall, Kasauli is the best place in Himachal Pradesh. Kasauli looks extremely photogenic in winter. Summers are also the best time to enjoy a perfect summer vacation here in the lap of nature. It is also the best time for sightseeing and outdoor activities. Real beautiful views of Monsoon make it even better for vacation and romantic outing. The greenery looks more refreshing to the eyes. It receives less rainfall so you can also consider Monsoon for Kasauli trip.
Best Things to Do in Kasauli
You will absolutely love the toy-train ride because of its gorgeous views.
The views from the Timber Trail in Kasauli are awesome to capture in your lens.
Shopping at Mall Road is a must. You will get amazing handicrafts, wooden crafts, metalworks, Shawls, jewellery etc. Also enjoy tasty fast food at the food stalls.
Lover's lane is an ideal place to roam for couples in Kasauli. Also, the beautiful vistas of Gilbert Trail, its narrow roads, chirping birds, lush vegetation and the rocky cliffs are not less than paradise.
Also Check Out: Himachal Honeymoon Tour Itinerary
Khajjiar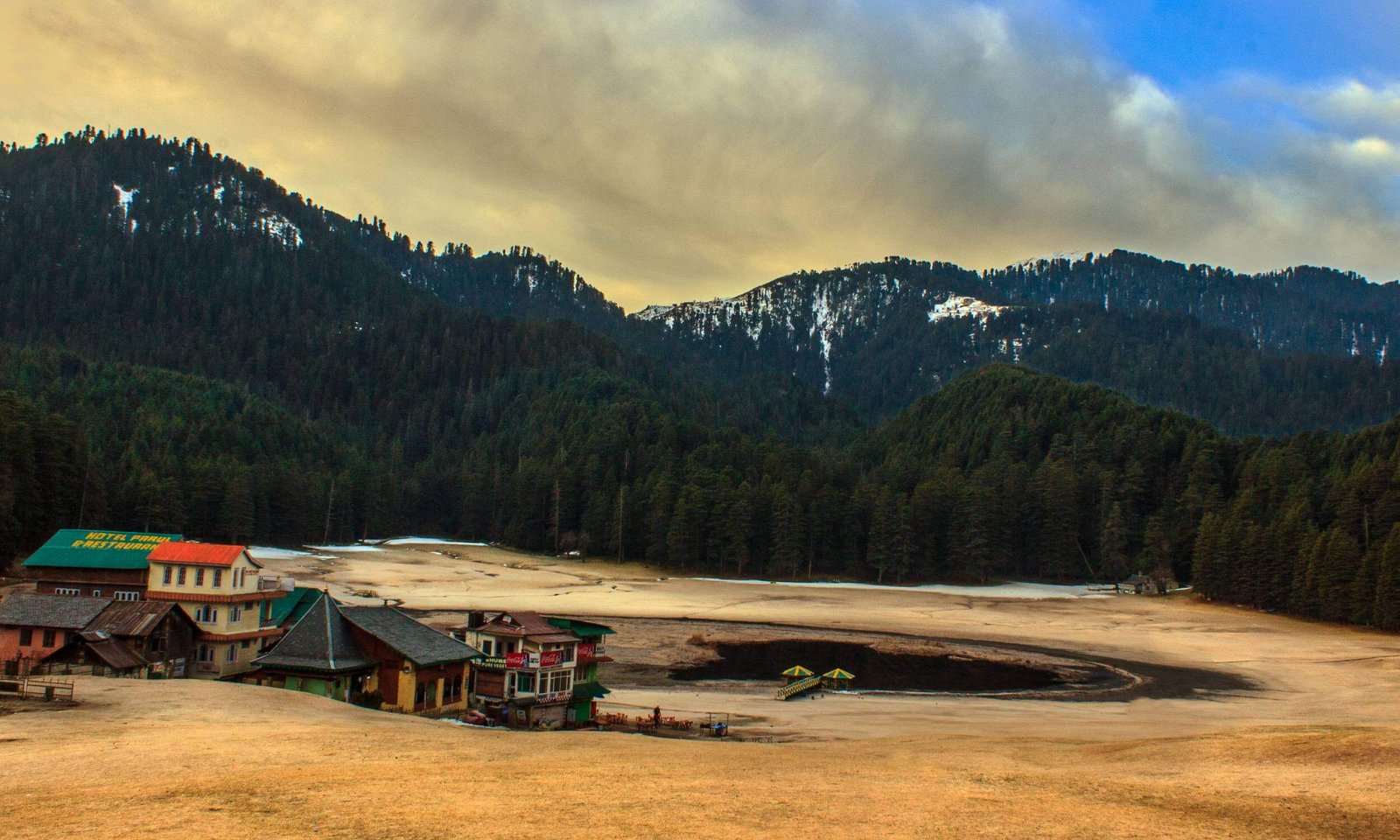 Located in Chamba, Khajjiar is a beautiful and picturesque tourist place in Himachal Pradesh. You will not regret even for a moment after visiting here. This place will seduce you with the beauty of small grassy meadows, Khajjiar lake and Chamera lake and abundance of Vacha wildflower makes this place extremely scenic to visit for honeymoon couples and families for vacation.
Khajjiar is popular because of its adventure tourism. You can enjoy Paragliding, Zorbing, Horse riding etc. It also boasts exotic species of wildlife and flora. There are some soothing shrines to place your restless heart for calmness. You must explore Khajjiar in Himachal Pradesh.
Best Time to Visit Khajjiar
October to March is the best time to explore the beautiful landscapes of Khajjiar. Snow lovers will love the snowfall. In fact, it is the best snowfall destination in Himachal Pradesh. But Monsoons are also the best to enjoy the serene vibes and lush greenery of Khajjiar. The scent of spices, rolling green mountains, streams and paragliding and boating opportunities makes this place best for sightseeing in monsoon in Himachal. If you want to enjoy summer vacation then also it is one of the best places. It is the best time to enjoy trekking, nature walks, picnics and horse riding. To conclude Khajjiar is a destination for all seasons.
Best Things to Do in Khajjiar
You can enjoy Zorbing, horse riding, paragliding, boating etc in Khajjiar for wonderful memories.
Try Tibetan and Himachal Cuisines in restaurants of Khajjiar.
Visit Kalatop Wildlife Sanctuary for enjoying wildlife and nature views.
Also Check Out: Exploring Best of Himachal Tour Itinerary
Kufri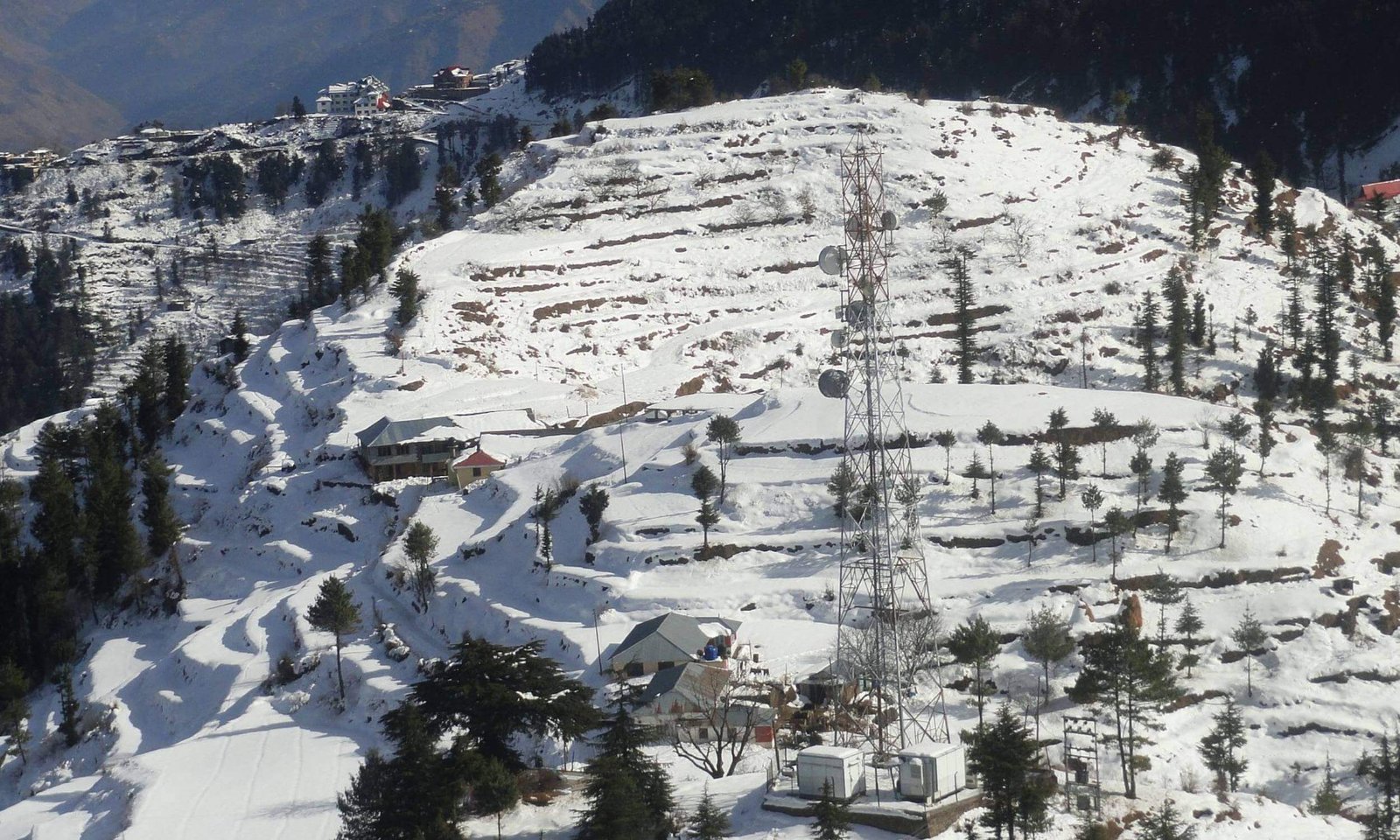 Kufri in the foothills of Himalayas is a paradise for wanderers seeking relaxation and adventure in Himachal Pradesh. If you are looking for a best tourist attraction around Shimla, Kufri is a perfect travel destination to enjoy with family and friends in Himachal. You know what is the most fun thing to do here? It is horse riding.
The Narrow roads are covered in dense pine forests and the lush greenery all around will delight your heart. Perfect for a family vacation and a honeymoon tour, Kufri offers the best views of Himalayan mountains and lush vegetation. If you have to select a place for holidays in winter in Himachal Pradesh then select Kufri. Kufri looks best in Winter.
Best Time to Visit Kufri
Kufri is one of the best winter destinations in Himachal Pradesh. The entire scenery of Kufri is covered in snow during this time. It is also the best time to enjoy thrilling activities like Camping, Hiking, Sledge riding, Tobogganing and Skiing. In fact, in winters you will enjoy the annual Winter Sports Festival organised by Himachal Pradesh Travel and Tourism department in February. Skii lovers from around the globe come here to enjoy this festival.
Best Things to Do in Kufri
If you are fond of wildlife and nature photography then you must visit Himalayan Nature Park. It is rich in biodiversity, exquisite floral and faunal species.
In winters Skiing, sledge riding, Tobogganing, Ice- Skating and trekking are some of the best things to do in kufri. Enjoy the Winter Festival organised by the tourism department of Himachal Pradesh in the month of February.
Also enjoy thrilling Himalayan Yak rides. It is one of the best things to do in Kufri.
Shopping is a delight here. You will get amazing Pashmina Shawls, Tibetan carpets and souvenirs from the local markets.
Chail
Chail is one of the top Hill Stations in Himachal Pradesh. Families often visit chail to spend relaxing summer holidays in Himachal. Why not? This place is fantastic in terms of scenic views, weather and adventure activities. You will see the forests of Chir, Pine and Deodar in abundance here.
Also, the gorgeous views of the countryside is something else, it is beyond words to describe the beauty of this breath-taking place. There are many cricket grounds to enjoy cricket. One of the most popular ones is the School Playground which was commissioned by Maharaja Bhupinder Singh. It is situated at an altitude of 7,500ft. It has numerous nature viewpoints and spiritual shrines to rejuvenate the lost spirit. Lovely and calm environment of Chail always attracts Honeymoon couples to spend some moments of romance. It is indeed one of the best places to visit in Himachal Pradesh.
Best Time to Visit Chail
Chail can be explored throughout the year but summer time is something else. Visit Chail during the peak summer time i.e. the months of April and you will get the best views of nature and feel the delight of the best weather. March to May are the best time of months to visit here for a wonderful summer vacation time. For adventure lovers in Winters Skiing is the best thing to do. Winters here are harsh and people who are not used to extreme cold weather Visit Chail in Summer. Monsoon is a perfect time to visit Chail for honeymoon couples because of the best views of nature and romantic vibes. The greenery all around will captivate your senses.
Best Things to Do in Chail
Surrounded with lush greenery, Pine and Deodar Forests – chail will give you the most scenic camping experience ever. It is one of the best activities to do for couples. Campfire and star gazing here would be an unforgettable experience.
Chilled mountain breeze and beautiful rocky terrains of Gaura and Jhajja will definitely be a visual treat for the wanderers.
Enjoy exotic floral and faunal species and breath-taking nature views at Chail wildlife Sanctuary.
If you try horse riding you will enjoy the most scenic views of Chail. Lush valleys, Apple Orchards, pine forests will give you a visual delight.
Get divine blessings at Kali Ka Tibba, Siddh Baba Ka Mandir and Gurudwara Sahib. Disappear into the spiritual whirlwind.
Explore Chail Palace, a magnificent historical palace built by Maharaja Bhupinder Singh.
Also Check Out: Chail Weekend Tour Package
Mashobra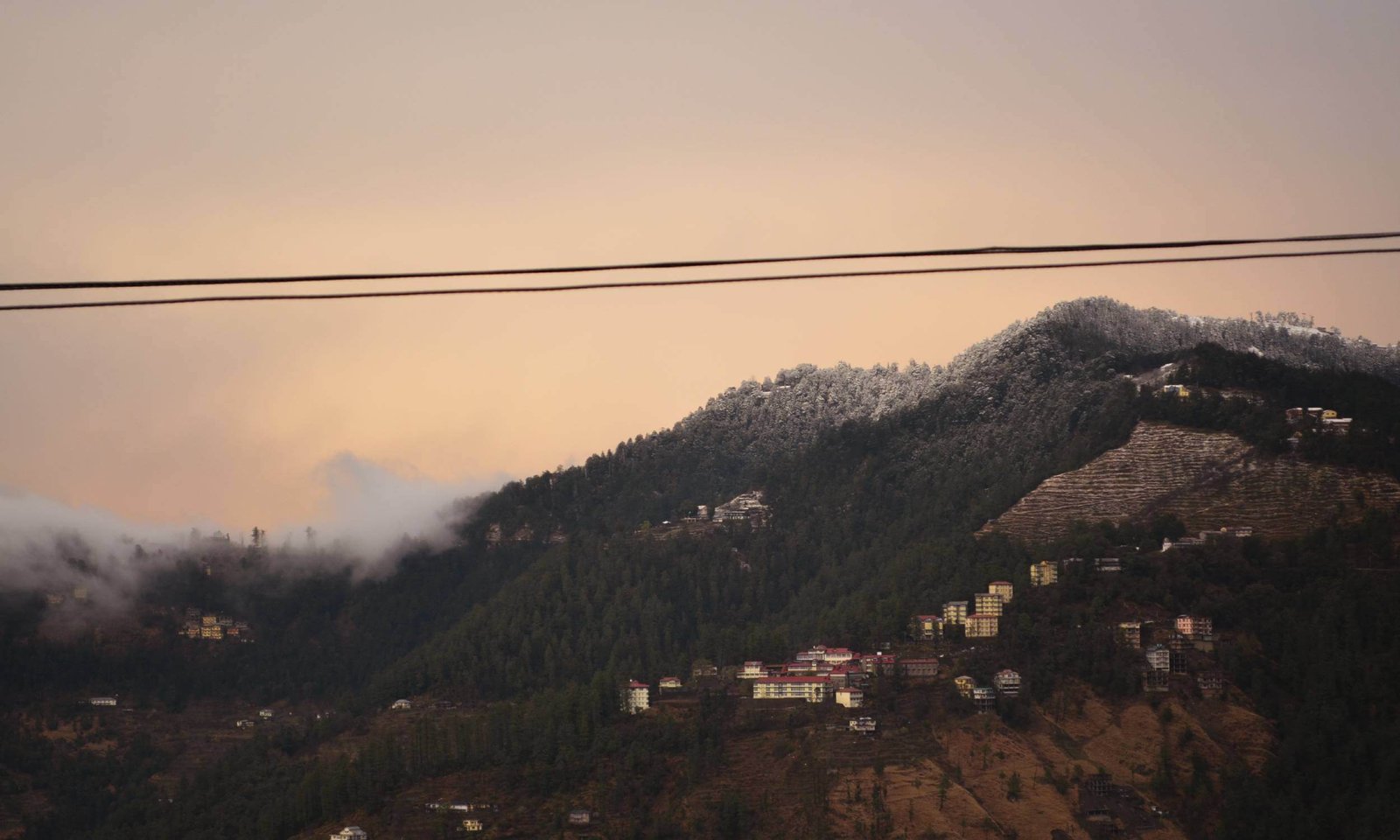 The beauty of Mashobra is unparalleled. It is in fact one of the most beautiful destinations of Himachal Pradesh. Do you know? Mashobra is an official retreat of the President of India. The President of India comes to Mashobra every year to attend meetings with important dignitaries. It is a top tourist attraction for adventurers. People enjoy paragliding in summer and the bliss of Skiing in winter. Isn't it amazing? Nature is everywhere in its beautiful form to welcome you with a smile here. You see lofty peaks, lush greenery, small streams and shrines to get serene drops of solace and peace.
Best Time to Visit Mashobra
The best thing about Mashobra is that you can visit this fantastic tourist spot all around the year. Be it summer, winter, spring or Monsoon with a little precaution.
Best Things to Do in Mashobra
Mashobra is less crowded and less explored. So, it is one of the best spots for any solace seeker who wants to enjoy camping in the bliss of solitude.
Mashobra is blessed with beautiful trekking trails. You will come across Cedar Trees, lush green vegetation, narrow pathways, hills Which will give you the best chance to click pictures. The most popular trekking trail is Shali Tibba Trail.
Paragliding is a wonderful adventure activity to be enjoyed here in summer.
Skiing would be the most fascinating adventure activity to enjoy here in Winter.
Enjoy Bird watching and nature sightseeing in Reserve Forest Sanctuary.
Pay a visit to Mahasu Devta Temple. The temple looks magnificent during the 2-day Mahsu Janta Festival.
You can also explore Jakhu Temple dedicated to Lord hanuman. Jakhu Point is the highest point in Shimla. This temple is very popular for 2 reasons – 1. Because of the footprints of Lord Hanuman. Beautiful views of Shivalik mountains.
Explore the beautiful markets of Mashobra for wooden handicrafts, miniature paintings, keychains, dry fruits etc. The most famous market is Lakkar Bazaar.
Lahaul Valley
If you want to enjoy one of the most scenic road trips from Manali, Lahaul is the place to make this dream come true. Stunning glaciers, soothing rivers, monasteries, mountain villages showcasing Buddhist art and culture, high passes, lush valleys are the main highlights of this lovely tourist destination. If we have to recommend a cool place to spend your vacation in Himachal, Honeymoon in Himachal, even family vacation in Himachal then consider Lahaul as the top place to enjoy.
Adventure lovers will find plenty of adventure activities to do, nature sightseeing is a pleasure here. There are many spiritual hubs to calm your senses; it has places that have a romantic aura in them which every romantic couple will like. It is a place for every kind of traveller. Lovely! It is a paradise in itself.
Best Time to Visit Lahaul Valley
Summer time is the best time to explore Lahaul and now winters are also the best as Atal Tunnel makes it possible to explore Lahaul. Before the construction of Atal Tunnel Lahaul was cut off from the rest of the world but now you can enjoy this amazing tourist destination. Carry light woollens and rain coats even in summer as the weather is unpredictable.
Best Things to Do in Lahaul Valley
Dive deep into spiritual wisdom in Kardang monastery and Jabjesh monastery. Surrounded by enchanting Rangcha mountains, the ambiance will take your heart away.
Explore Shashur Gompa. It is one of a kind. Built in the 17th century by Lama Deva Gyatsho of Zanskar. The lamas here are of the Drukpa sect. You will be amazed by large wall paintings and large Thangakas. You can visit here in the month of June when the Tshechu Festival is celebrated.
Also visit Mrikula Devi Temple which is dedicated to goddess Kali. According to the locals the temple was built by Pandavas from a block of wood. In the temple walls you will see the depiction of the scenes from Indian epics Ramayana and Mahabharata.
If you want to see the most beautiful waterfalls in Lahaul then you must visit Sissu. The green hills, farms and enchanting waterfalls will seduce your soul. Also visit the temple of Raja Ghepan dedicated to Lord Ghepan who is the most revered deity here.
Every July you will see fantastic mask dances in Gemur Monastery. Stunning views and serene ambiance make this monastery a paradise of bliss.
Solan
One of the top tourist attractions, Solan in Himachal Pradesh needs no introduction to wanderers. It is a quite popular trekking and camping destination in Himachal. With enchanting Matiul Peak in the east and Koral Peak in the west, Solan looks captivating to the eyes. Solan is also known as the city of red gold because of the abundance of tomato farms. Lush greenery, lofty peaks and soothing spiritual hubs makes it quite the best place to visit.
There are numerous camping sites to enjoy bonfire and star gazing. You will find ample opportunities to click amazing pictures of nature. Quiet and less crowded but one of a kind, you must visit Solan with your family and friends in Himachal Pradesh.
Best Time to Visit Solan
For nature sightseeing and outdoor adventure activities Visit Solan in Summer season. It is the ideal time to enjoy your vacation in Himachal Pradesh. In the month of June, you will also see the 3-day Shoolini Mata Annual Fair.
Best Things to Do in Solan
Meditate and refresh your soul in the soul seducing atmosphere of Bon Monastery. You will experience moments of eternal peace here.
A visit to Shoolini Mata Temple to worship Shoolini Mata is a must in Solan. Shoolini Mata is a reincarnation of goddess Durga. Get divine blessings.
Explore Dagshai Jail Museum, One of the most unique museums in India. It is said that Mahatma Gandhi stayed for a year in this museum to give support to an Irishman who revolted against the British empire. Learn about the 160-year-old history of this region. It would be a great learning experience.
Never forget to enjoy one of the best things in Solan – Kalka – Shimla Toy Train. The train goes through 106 tunnels and 864 bridges which offers wonderful views for photography.
Explore Kuthar Fort, it is one of the best places to visit in Solan. Built by Gorkha Kings 800 years ago, this fort still stands in pride. Indeed, a best place for photography.
Experience something different. Visit India's oldest brewery – Solan Brewery. It was built in 1855. It is one of the best places to visit with family and friends from a history point of view. It is now converted into a distillery. It is managed by Mohan Meakin Limited.
Spiti Valley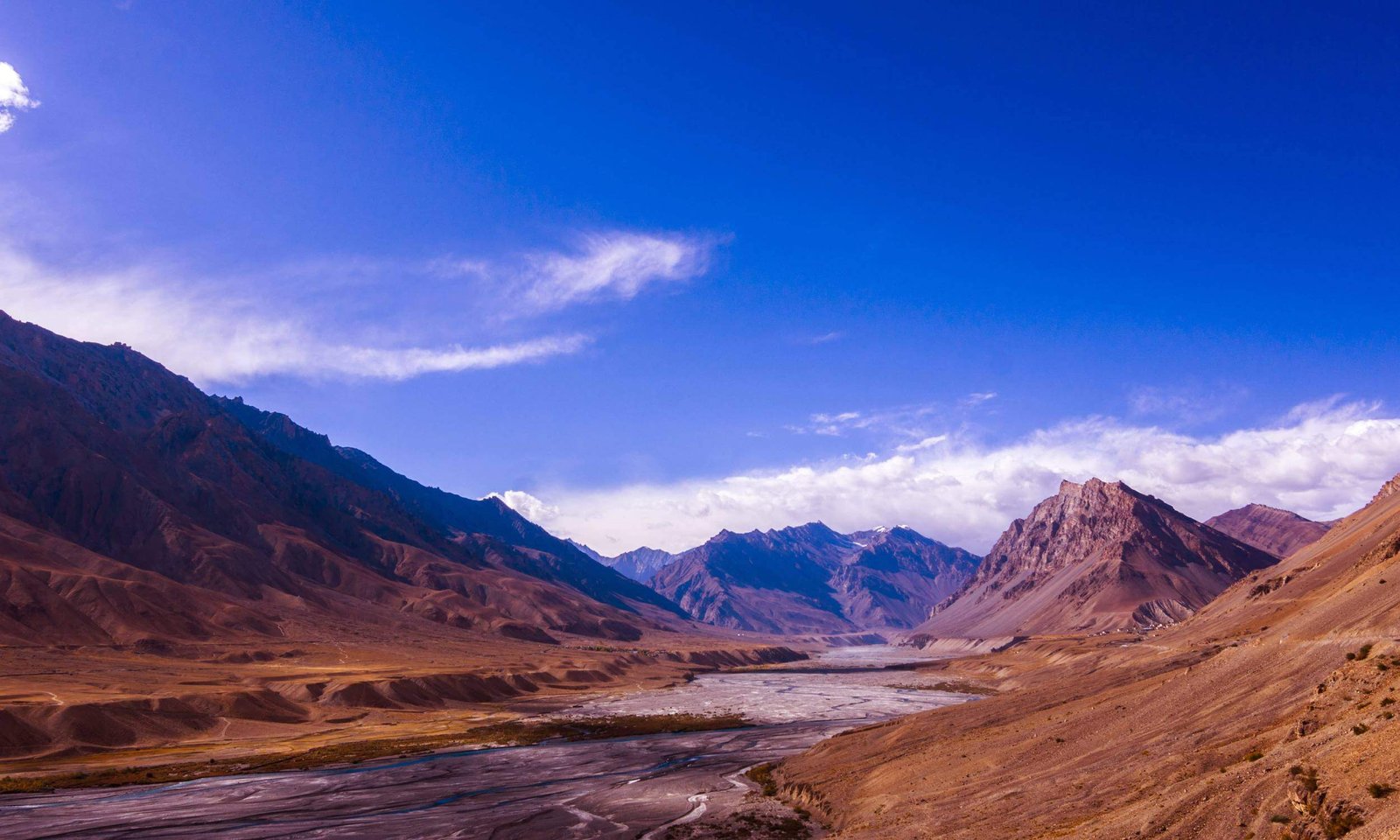 Gorgeous villages, fantastic valleys, scenic cold mountain deserts, Buddhist pilgrimage sites offer the best of Himachal Pradesh Tourism. It comes in the list of top 10 tourist destinations to visit in Himachal Pradesh. Its ambiance is surreal and sublime. One cannot resist clicking pictures to flex in social media handles. The jagged landscapes, Spiti river, lush valleys and snow-clad mountains makes it the most favourite destination for couples to click romantic pictures and spend lovely time.
It is also a perfect place for backpackers and adventure lovers. The beautiful terrains are perfect for paragliding, camping and trekking etc. Because of its best scenic views and dream-like aura one can't stay away for a long time to come to Spiti. You must include Spiti in your Himachal Travel Itinerary.
Best Time to Visit Spiti Valley
Spiti is a best summer destination to explore in Himachal Pradesh as you will get to see the clear roads free of snow from the cold deserts here. The temperature also remains cool for enjoying trekking and other adventure activities. Summer Starts here from the month of May and lasts till June. Winters in Spiti valley are not for the faint hearted as the temperature goes down to as low as – 12 degree Celsius. But if you are a snow lover then you must visit Spiti during winters. Winters start from the month of November and last till April.
Best Things to Do in Spiti Valley
Trekking and camping experience in Chandratal Lake would be unforgettable for a lifetime. Green meadows and a blissful Crescent moon shaped lake around offer the best views to tickle your lenses and fine tune your tired spirit.
Visit Key Monastery and spend some moments of peace and also learn about Buddhist culture. One of the best things about this monastery is that it is very close to Spiti River which offers stunning views to melt your heart.
Treat your adventurous soul. Biking at Kunzum La pass, one of the highest motorable passes of India will increase your thrill and excitement. You will see Bara Shigri glacier, Lofty Chandrabhaga Range and the entire view of Spiti Valley and Lahaul.
For nature and wildlife enthusiasts Pin Valley National Park will be the best place to visit. You will see one of the most endangered species of Leopard – Snow Leopard. You will also be amazed to see Ibex, Marten, Red Fox, Golden Eagle, Griffon, Raven etc and exotic floral species, herbal plants, Juniper and birch trees, Alpine Scrub forests etc.
River Rafting is one of the best things to do when you are in Spiti. Try this thrilling activity in Pin and Spiti Rivers.
Dhankar Lake and Monastery is another spiritual and blissful hub for wanderers who are exploring Spiti Valley. Enchanting views of the lake and soothing spiritual vibes will rejuvenate your soul.
Try local Cuisines of Spiti Valley. Spiti Valley is very popular for its Tibetan dishes and Israeli food. Also explore Tibetan shops for some exotic jewelleries, Ceramic utensils and souvenirs.
Kinnaur
Kinnaur became one of the top tourist destinations in Himachal Pradesh due to the presence of enormous adventure opportunities and nature sightseeing. Scenic valleys, pristine lakes, beautiful orchards, soothing spiritual hubs, enchanting villages, lofty Himalayan ranges and interesting rituals Kinnaur will definitely attract any wanderer soul. Not only is it the best place to visit for holidays with family and friends in Himachal, honeymoon couples looking for a romantic destination in Himachal will find it soul seducing. You see many things here. The lofty Himalayan peaks of Zanskar and Dhauladhar, beautiful river Sutlej, Ravi, Bapsa and their tributaries and greenery all around. It is a heaven for nature lovers and solace seekers.
Best Time to Visit Kinnaur
Kinnaur is considered as one of the best summer destinations to visit in Himachal. Summer here starts from the month of March and lasts till June. During this time sightseeing will be pleasant. The nature of this place is decked with refreshing vibes. The greenery here is soul soothing. It is the best time for nature photography.
During Monsoon the roads here will be in poor condition but the best thing about monsoon here is that you will get plenty of fresh apples. It is also the time to enjoy local festivals in Kinnaur. Monsoon starts from the month of July and lasts till September.
Exploring Himachal would definitely be thrilling if you visit Kinnaur in the Winter season. For snow lovers Kinnaur is the best place to see snowfall during winter in Himachal. Entire place will be covered in snow and you will be able to enjoy the snowfall. You will also see the lifestyle of village people, how they survive in extreme cold.
Best Things to Do in Kinnaur
Kinnaur is a paradise for adventure lovers especially for trekkers. They will find amazing opportunities for trekking here. The best treks to do in this region are Kinner Kailash Parikrama, Bhabha Pin Valley, Tappri to Chitkul and Chhitkul to Gangoitri.
If you really want to experience something different from normal sightseeing then you can try trout fishing in Baspa River. Take a day permit for this amazing activity from local authorities.
Nature walks are the best way to explore the beautiful landscape of Kinnaur. Villages, lush green valleys, stunning river sides and breath-taking beauty of Himalayan mountains will delight your eyes and mind.
Why not experience the great cultural heritage of Kinnaur? Explore temples and monasteries for serene vibes.
Emerald green forests and snow-clad peaks of Sangla Valley is a wonderful attraction which you must explore if you are in Kinnaur. This place is great for roaming with family, friends and honeymoon couples.
Reckong Peo is another delightful tourist attraction of Kinnaur. It is also known as Land of Gods. Great Himalayan Peaks, beautiful Deodar Trees all around, fresh scent of Pine trees – what a view. Just go there and you will realise how beautiful it is.
Chamba
With the views of gushing river Ravi, forever mesmerising Chamba is one of the top visiting places in Himachal Pradesh in today's times in the Himachal Travel bucket list of wanderers. Scenic waterfalls, serene lakes, Snow-capped Dhauladhar mountains and lush green forests – the landscape of Chamba will delight your wanderer soul. Not only nature lovers but adventure lovers also find Chamba a perfect holiday destination in Himachal for a memorable vacation time. Also, Chamba is one of the most romantic places in Himachal Pradesh. The views are awesome to spend romantic moments and click romantic pictures. The misty valleys and serene vibes are perfect for romance.
Best Time to Visit Chamba
If you want to enjoy sightseeing in Chamba then consider the summer season which starts from the month of March and remains till June. It is the best destination to enjoy a perfect summer break with family and friends in Himachal.
Snow lovers will love this place in winter when the temperature of Chamba will fall down to sub-zero levels and they will be able to enjoy snow activities such as skiing, snowboarding and snowball fights with friends etc. You can also call it a perfect winter destination in Himachal Pradesh.
Winter starts here from the month of October and lasts till February. Guess what? It is also a wonderful Monsoon destination in Himachal. Romantic couples can explore Chamba during this time. The greenery during monsoon looks more refreshing. Consider the months of July to September to rejuvenate your soul here.
Best Things to Do in Chamba
Visit Manimahesh lake, decked in lofty Pir Panjal ranges, it is a must explored spot in Chamba for amazing Himalayan views.
Explore the wilderness and breath-taking beauty of nature in Kalatop wildlife Sanctuary. The place is a treasure trove of wild animals such as Himalayan Leopards, Langoor, Deers, Jackals etc. The green landscapes filled with spruce, deodar, fir trees will blow your heart away.
Whether a beginner or an expert you can try beautiful trekking trails of Chamba to enjoy trekking. It would be a spine-chilling experience. Some of the popular trekking trails in Chamba are- Pangi Valley, Kugti Pass and Jalsu Pass etc.
Bhuri Singh Museum will let you see the legacy of Chamba Rulers. It preserves the traditional costumes, paintings, artefacts, and cultural symbols of ancient Chamba. You will learn a lot about the history of Chamba here.
Explore the local shops of Chamba for amazing souvenirs, handicrafts, miniature paintings, needlecrafts etc. Go to Dogra Bazaar and Chaugan Market.
Bonfire with your loved ones amidst the serene nature – Camping in Chamba is a must.
Chamba is a hub for adventure sports like River rafting, Kayaking and canoeing etc. You must try these thrilling water sports for wonderful memories.
Chamba is also the best place to spend a wonderful holiday time with your family and friends in Himachal. Picnic at Central Park and spending fun time with your kids if you are with family will give you real joy.
Bilaspur
Earlier known as Kahloor, Bilaspur is one of the best places to see in Himachal Pradesh. Bilaspur being one of the less explored places in Himachal is a treasure trove of scenically rich views. You will never have a moment of dullness here. From families, adventure lovers, backpackers to honeymoon couples this enchanting destination has something for everyone.
There are numerous beautiful temples in Himachal architecture style and one of the best things about this place is that it is a paradise for water sports activities. The landscapes of Bilaspur are scenically captivating for photography and couples would definitely enjoy the location.
Bilaspur is also very popular for Gobind Sagar Lake which is one of the largest man-made reservoirs in India. It is the lifeline of this district which fulfils all the water needs.
Best Time to Visit Bilaspur
If you love winters then Bilaspur will amaze you with its beauty. You need to carry heavy woollens as the temperature goes down to sub-zero levels. If you don't want to explore Bilaspur in winters then consider the summer season as the second-best option to travel to Bilaspur. The weather might be humid but evenings is bliss. You can definitely enjoy trekking and sightseeing during this time. Avoid monsoons as the water level in the dam increases and you will not be able to do any water sports.
Best Things to Do in Bilaspur
Bilaspur is decked with numerous serene temples. It has a rich culture and religious heritage. Explore Shri Naina devi Temple, Vyas Gufa, Rishi Markandeya Temple, Sheetla Mandirand Nahar Singh Dhaula etc. Exploring temples in Himachal Pradesh sightseeing tour would definitely be a blissful affair.
Couples must visit Gobind Sagar Lake; it is the largest manmade reservoir in India. It offers breath-taking views of rolling hills, lake and Sutlej River. You will also see lots of wild animals and cheerful birds in this area.
Also explore Kandraur Bridge which is a perfect spot for photography lovers. It offers beautiful views of green landscapes. It is also one of the highest bridges in the world.
Paragliding will add more thrill and fun to your Bilaspur trip.
What are the Top Things to Do in Himachal Pradesh?
Top activities & things to do in Himachal are:
Trekking
River Rafting
Paragliding
Trekking in Himachal
Trekking in Himachal means crossing meadows, apple orchards, alpine lakes and expansive valleys. There are easy treks like Nag Tibba, moderate treks like Hampta Pass and difficult treks like Pin Parvati Pass.
River Rafting in Himachal
River rafting in Himachal Pradesh can be enjoyed at the Beas River offering Grade II and III rapids. Other river rafting hotspots are River Sutlej at Tattapani near Shimla, Pirdi on the Beas River near Kullu, on Ravi River near Chamba and River Beas from Manali to Bhuntar.
Paragliding in Himachal
Paragliding is a fun activity in Himachal which can be tried in Bir Billing in Kangra district, Bandla Dhar near Bilaspur and Solang Valley near Manali. Another popular spot for paragliding is at Junga in Shimla district.
What is the Best Time to Visit Himachal?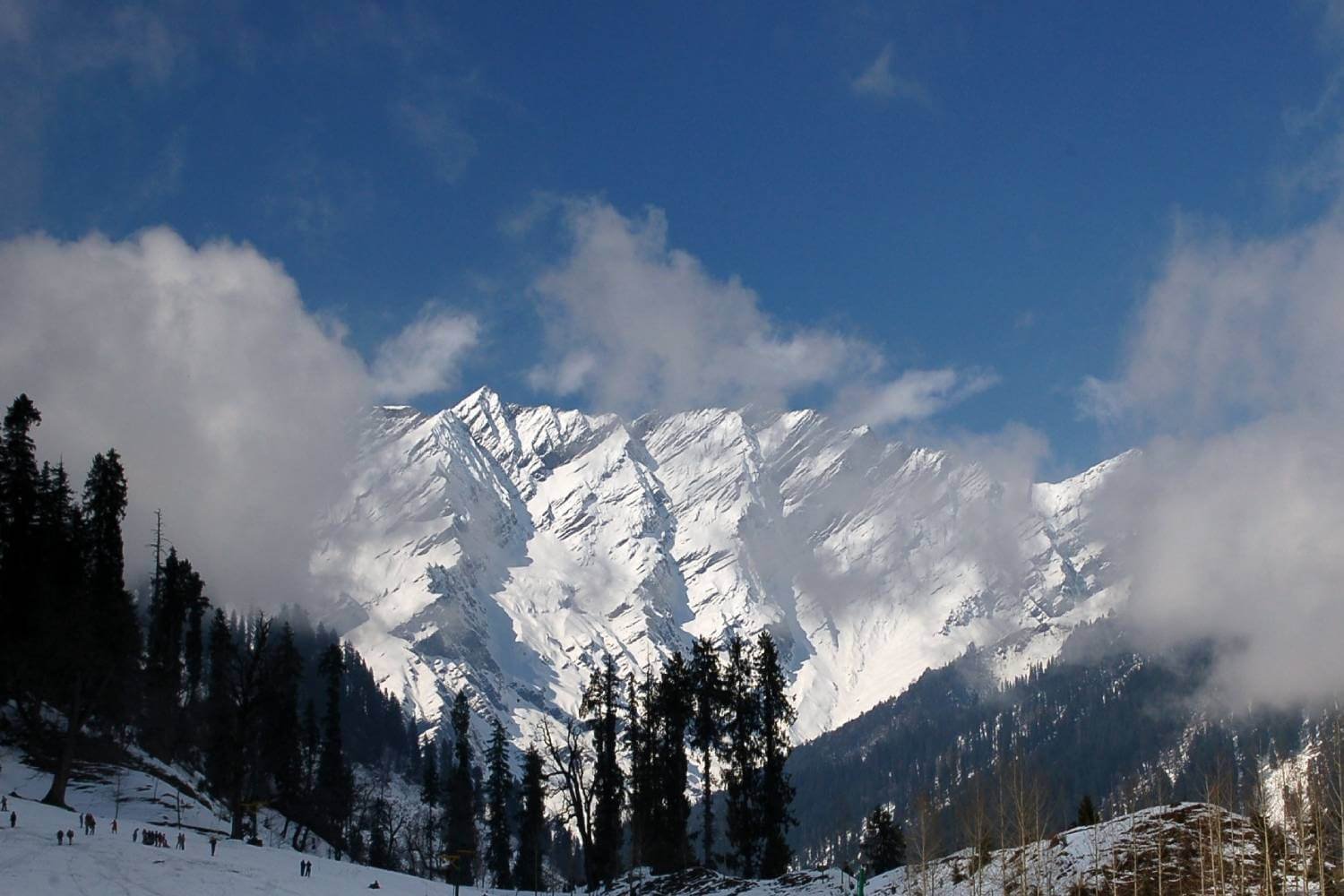 The best time to visit Himachal largely depends on the kind of experience you are looking for. Summer, which starts from mid-April and lasts till June, is ideal for sightseeing, trekking & water sports. Monsoon is marked by landslides, and not much can be done during this time except a little sightseeing. Of course, the landscape looks refreshed after the rains. Winter in Himachal starts from November & lasts till March, and a lot of tourists visit Himachal during this time. Dalhousie, Shimla & other places receive snowfall, while skiing is extremely popular in Kufri, Narkanda and Manali.
How to Reach Himachal?
By Air: There are 3 airports in Himachal: Jubbarhatti Airport near Shimla, Gaggal Airport in Kangra and Bhuntar Airport near Manali. The nearest international airports to Manali are Delhi and Chandigarh.
By Rail: There are two major railway lines operating in Himachal Pradesh. One is the Kangra Valley railway which starts from Pathankot in Punjab and stops at Jodindermahal in Himachal. The other is the Kalka-Shimla Railway which covers 96 kilometers approx. and takes you to Shimla in about 6 hours.
By Road: Buses operated by Himachal Road Transport Corporation (HRTC) as well as private operators are available from Delhi's Majnu ka Teela, Kashmere Gate and Anand Vihar ISBT. Himachal has around 20 national highways including NH-1A which connects Himachal to the major cities and towns of India.
Explore the diverse topography of Himachal Pradesh with Bon Travel India with affordable Himachal tour packages that come with amazing deals & discounts that you won't find anywhere else.
Best Selling Tour Packages in Himachal Pradesh
| | | |
| --- | --- | --- |
| Package Name | Duration | Starting Price |
| Shimla Hill Station Tour | 3 Nights 4 Days | INR 15,000 |
| Shimla Manali Tour | 5 Nights 6 Days | INR 15,000 |
| Enchanting Himachal Tour | 6 Nights 7 Days | INR 17,000 |
| Dalhousie Weekend Tour | 3 Nights 4 Days | INR 10,000 |
| Kullu Manali Tour | 4 Nights 5 Days | INR 13,400 |
| Himachal Honeymoon Tour | 6 Nights 7 Days | INR 16,700 |
| Dharamshala Dalhousie Tour | 4 Nights 5 Days | INR 17,500 |
Frequently Asked Questions (FAQ)
What are the best places to visit in Himachal Pradesh for honeymoon tour?
Himachal Pradesh has always attracted honeymooners, and with good reasons. The top places to visit in Himachal during your honeymoon tour are Shimla, Manali, Chail, Dalhousie, Kullu, Kasauli and Chamba. Add some adventure to your honeymoon by trying out paragliding in Solang Valley, skiing in Narkanda and river rafting in Manali, Tattapani. There are wildlife sanctuaries that you could visit to observe rare Himalayan wildlife like snow leopard, Hiamalayan black bear and monal.
What are the top things to do in a pilgrimage tour to Himachal Pradesh?
A pilgrimage tour in Himachal Pradesh also sounds promising, as there are temples, churches, monasteries and gurudwards, which are visited by devotees in large numbers. There are seven temples dedicated to Goddess Durga alone, besides other famous temples like Jakhoo, some of the most visited monasteries are Namgyal, Kungri and Tabo, gurudwaras like Shri Paonta Sahib and Shri Damdama Sahib and churches like Christ Church, St. Mary's Church and Church of St. John.
What are the top things to do in a family tour to Himachal Pradesh?
A family tour to Himachal Pradesh promises to be recreational, fun and exciting, with so many places to visit. You could go on easy treks like Chandrakhani, Chandratal and Beas Kund, explore the colonial era buildings in Shimla, Manali, Mandi and Dalhousie, take a Kalka-Shimla toy train ride, visit the famous temples like Hadimba and watch rare Himalayan wildlife at wildlife reserves like the Great Himalayan National Park.
Browse our incredible India Tour Packages, and select a package that appeals to you the most.
Like & follow us on our following official social media channels
Facebook | Twitter | Linkedin | Instagram | Youtube
Also Check Out: Popular India Tours | Tour Packages | International Tour Packages
Other Popular Trending Holiday Destinations in India – Kashmir Tour | Himachal Tour | Uttarakhand Tour | Rajasthan Tour | Gujarat Tour | Sikkim Tour | Kerala Tour | Andaman Tour | Madhya Pradesh Tour
International Trending Holiday Destinations – Nepal Tours | Bhutan Tours | Singapore Tour | Thailand Tours | Sri Lanka Tours | Maldives Tours | Dubai Tours | Indonesia Tours
Tour Packages by Interest – Adventure Packages | Wildlife Packages | Pilgrimage Packages | Heritage Packages | Hill Station Packages | Weekend Packages | Honeymoon Packages | Beach Packages | Chardham Packages | Trekking Packages
Other Informative India Travel Guide Blogs to Read
Other Informative Trekking Guides Blogs
Other Informative Uttarakhand Tourism Travel Guide Blogs to Read
Other Informative Wildlife Travel Guide Blogs to Read