India boasts numerous tourist destinations that offer unforgettable experiences, with a single visit creating lifelong memories. Among these destinations is the picturesque Spiti Valley, situated on the northern border of Ladakh. In this article, we will explore this magnificent location in India. Known for its breathtaking beauty, Spiti Valley is regarded as one of the most enchanting and captivating places for visitors. The valley, situated in Himachal Pradesh, is famed for its adventure activities, and dotted with green mountains. In this blog, we will take a closer look at some of the best places to visit and top things to do in Spiti Valley, Himachal Pradesh.
This valley is one of the least inhabited states in India and is located close to the border between Tibet and India. The canyon, which is surrounded by mountain ranges, is closed off only during the winter and spring months due to significant snowfall and road blockages. It is primarily a location for Buddhist research and cultural centers. And you should believe it when we say it is home to some of the best landscapes and filming locations in Indian cinema. Thanks to its high-range mountains, rivers, and pleasant climate it offers scenic views. This valley has a lot of interesting places to see which we will discuss further in this blog.
Discover the top places to visit and exciting things to do in the mesmerizing Spiti Valley, Himachal Pradesh with our comprehensive travel guide.
Visit Buddhist Monasteries
Experience Camping and Trekking
Visit Mummy at the Village of Giu
Admiring Chandra Taal (Moon Lake)
Visit Dhankar Lake
Visit A Panoramic Village– Komik
Visit Kaza- The Capital Town
Explore Breathtaking Wildlife
Discover the Pristine Beauty of Lahaul Valley
Plan your dream Himachal Hill Station getaway today and save up to 30% with our exclusive early bird discounts! Contact us now on +91-8802149265 via Call or WhatsApp to know more.
Visit Buddhist Monasteries
It will be wise to accept blessings and give your spirit a sense of serenity by visiting these Buddhist monasteries before you start your pleasure in these valleys. We would recommend you come here to relax. The ancient antiques and wall sculptures here will astound you as you learn about the customs and cultures of these regions.
The valley is home to several monasteries spread out over a range of elevations. Key Monastery, the largest of them all, is one of them. It is located at the summit. Some of the monasteries include Kungri Monastery, Komic Gompa, Gandhola Monastery, and Tnagyud Gompa, among others.
Also Read: Best Tourist Places to Explore in Manali Himachal
Experience Camping and Trekking
If you went on a vacation excursion but didn't go camping and hiking, you certainly missed out on something amazing. Although staying in a hotel is simple, the greatest way to enhance your experience is to go camping in many villages like Rangrik, Pin Valley, and Kibber. Fortunately, seeing a shooting star can be the most amazing thing you've ever done in your entire life and Spiti Valley gives you the luxury to spend the evenings with your loved ones stargazing. You will be able to see the finest alluring moment of your life when you are relaxing by the river and taking in its beauty. Also, if you are a Palaeontologist, you will be able to take part in fossil research here.
Also Read: Best Places to Visit in Chail Himachal
Visit Mummy at the Village of Giu
Giu is a tiny hamlet positioned halfway between Sumdo and Tabo. A shrine with a naturally preserved dead body which is more than 500 years old is in this village. The village is still untouched by many visitors, you will find about only 50-60 households here. The mummy has a fragile body with weak limbs, you will hear many tales from villagers like its hair and nails are still growing. This location is made more enigmatic by the idea that this mummy is of a Lama who is meditating. The place is getting recognition mainly because of a famous monastery nearby named Tabo Monastery, which is only 40 kilometers away from the village.
Also Read: Top Tourist Destinations of Himachal Pradesh
Admiring Chandra Taal (Moon Lake)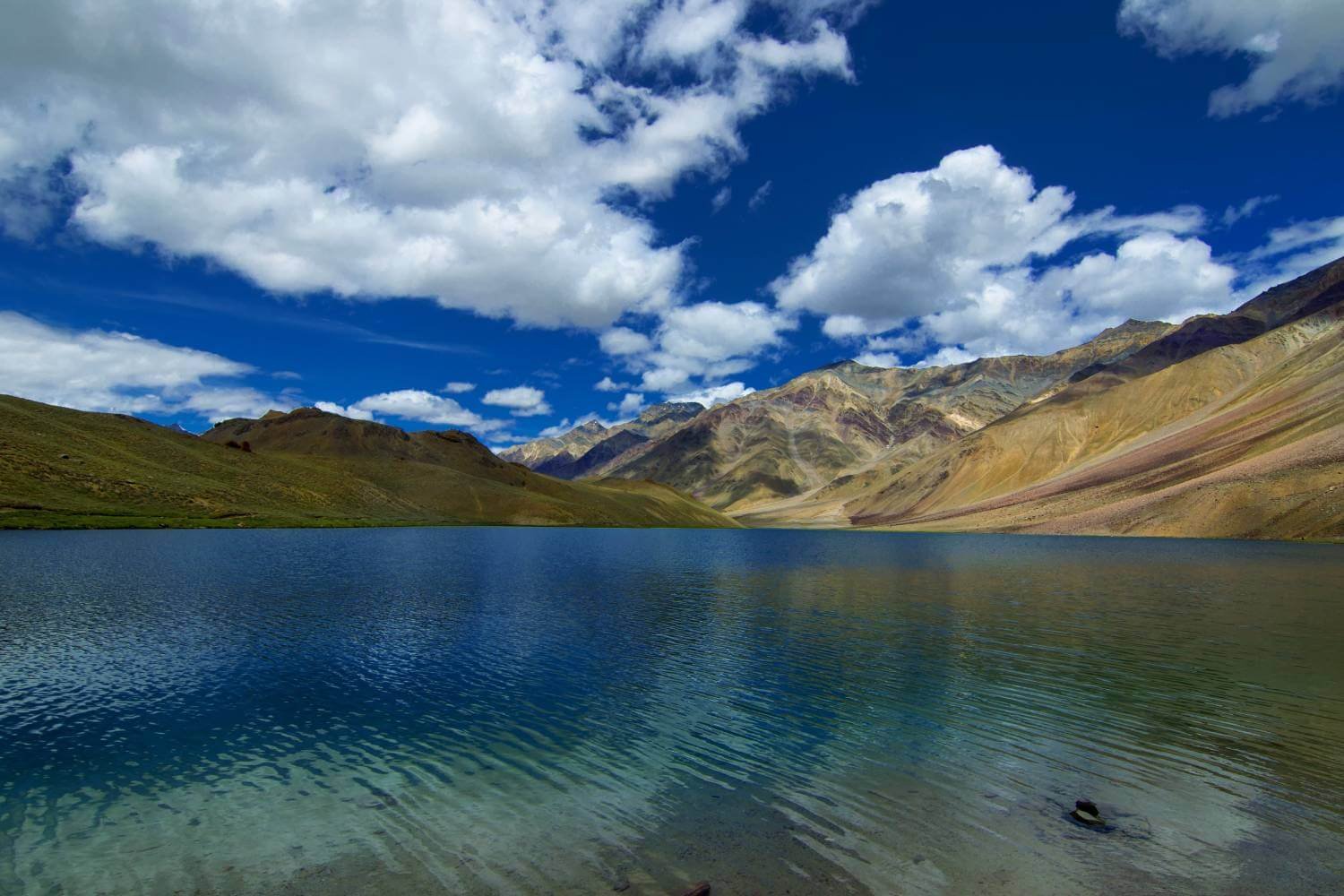 This lake has a crescent shape and is 4300 meters above sea level. It is close to Kunzum Pass. This site, because of its shape which is known as the "lake of the moon," is one of the top destinations to see in the Spiti Valley in June. The lake's hue changes throughout the day from blue, and green, to reddish, and orange; this phenomenon, together with the region's great views due to June weather, adds to the scene's enchantment and panoramic quality. People hike over the Lahaul hills that surround the lake and enjoy overnight camping next to Chandra Taal, which is known as a trekker's paradise.
Also Read: Panch Kailash of Himalayas
Visit Dhankar Lake
One of Spiti's most beautiful lakes is Dhankar Lake, also known as Sar Kund Lake. For visitors looking to spend some relaxing time away from the distractions of those outgoing cities in June, it is one of the most popular Spiti locations. Dhankar Lake, perched at a height of 4270 meters, offers unparalleled natural beauty, and is regarded as a haven for hikers and environment enthusiasts. June in the Spiti Valley is chilly and windy, making it the ideal month to explore lakes like Dhankar.
Visit A Panoramic Village– Komik
The highest motorable territory in the world, Komik is perched at a height of 5486 meters. Unquestionably, this is among the Spiti Valley's less well-known but most beautiful sites to visit especially in summer. Komik is bizarre, picturesque, and equipped with the barest necessities, such as a monastery that provides lodging for travelers and an eco-kitchen (the sole café in the hamlet). The greatest season to travel is the summer since the weather is pleasant and there are clear views of the surroundings.
Visit Kaza- The Capital Town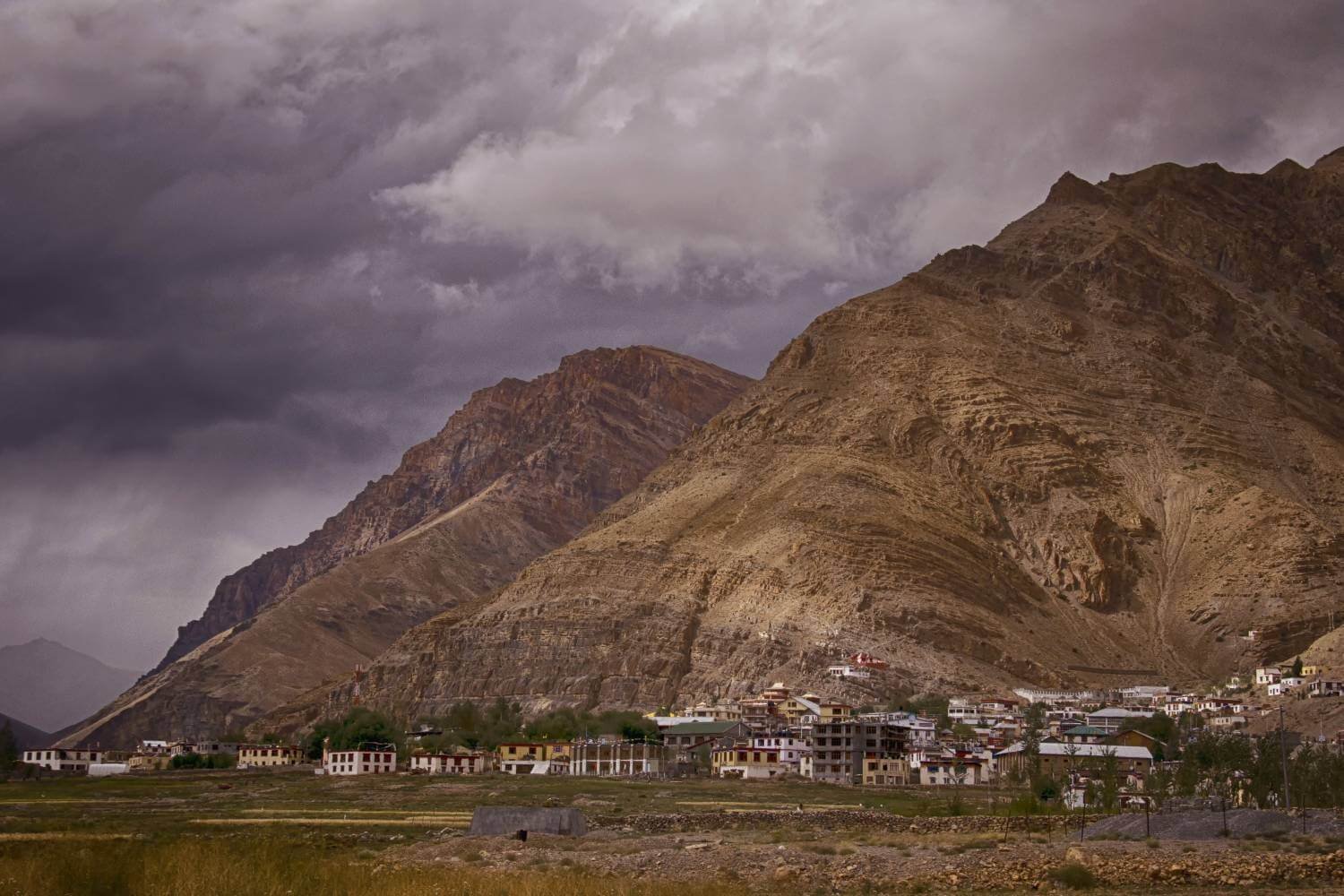 The greatest time to visit Spiti's magnificent capital, Kaza, is during the summer. Kaza town, which is situated on the Spiti River's eroding plains, is encircled by steep mountains and a chilly desert landscape. With its natural and cultural attractions, this is without a doubt one of the best sites to visit in the Spiti Valley. Kaza offers everything, including lakes, passes, monasteries, and small towns. Therefore, when you're exploring this town, make sure you don't miss the one thing that Spiti Valley is known for!
Also Read: Best Treks to Explore in the Himalayas
Explore Breathtaking Wildlife
Pin Valley National Park, a vast biosphere reserve with breathtaking and photogenic surroundings, lies tucked in the upper ranges of the Himalayas. If you're considering a summer trip to the Spiti Valley, Pin Valley National Park should be on your bucket list because it is renowned for being home to unique and endangered plants and animals. The place was established to preserve endangered snow leopards, apart from them you will also see other species like Red Fox, Marten, Weasel, Pika, Snow Cock, and Bearded Vulture. It's pleasant and clear outside in June, and there are many more opportunities to see wildlife. So we advise you to add this exotic location to your travel list!
Also Read: Top National Parks to Visit in India
Discover the Pristine Beauty of Lahaul Valley
This expansive Spiti valley was created by the confluence of the Chandra and Bhaga rivers. Lahaul Valley, which is adorned with incredible natural beauty, draws the most visitors in the summer. Lahaul Valley, which offers unimpeded views of the Chandrabhaga Range and rivers, is one of the most well-liked destinations in Spiti. Additionally, visitors who are adventure geeks can choose exhilarating treks to the Suraj Taal, Chandra Taal, and Kunzum Pass. you will be able to admire the beauty of the Golden Temple adorned with a great image of Lord Buddha.
Also Read: Best Snow Tourist Destinations in India
How to Reach Spiti Valley in Himachal Pradesh?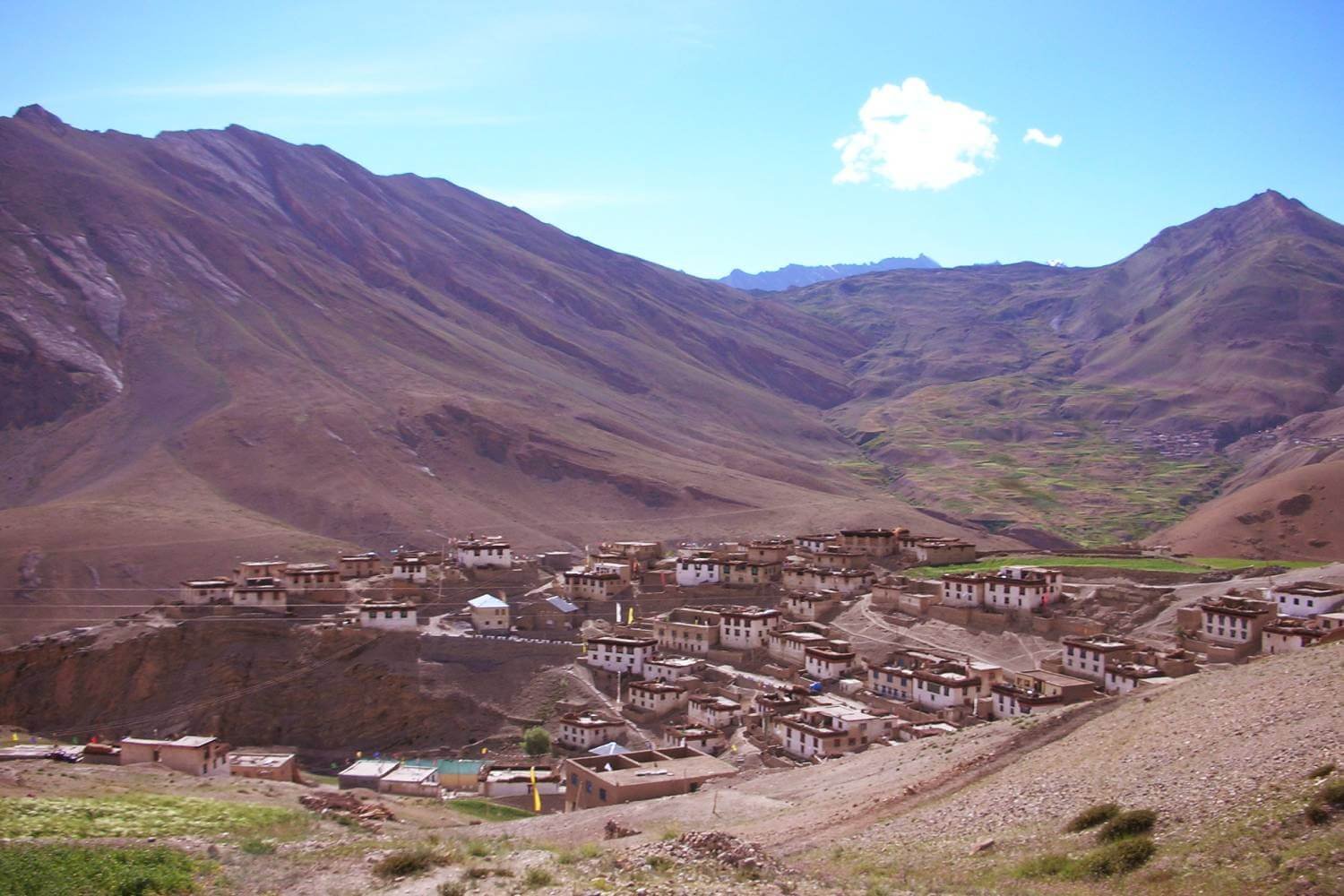 There are several places you can stay. However, you must plan every route that will be both economical and fun for your trip. There are three possible routes you can take to get where you're going.
Most likely, if you're in Himachal Pradesh, you can stay in Shimla. From there, your transportation options include highways with buses or taxis. You won't be able to travel 196 kilometers in five hours. The advantage of your road journey is that you will get to see the beauty of charming villages, numerous monasteries, mountains, and valleys along the way. Your path will undoubtedly get more wonderful.
To go to Spiti Valley, choose the closest airport. The distance between Chandigarh Airport and Spiti Valley is approximately 520 kilometers. Another option for traveling to Spiti Valley is by train, but this is not recommended due to the poor connectivity from the closest train station (Jogindernagar).
Best Time to Visit Spiti Valley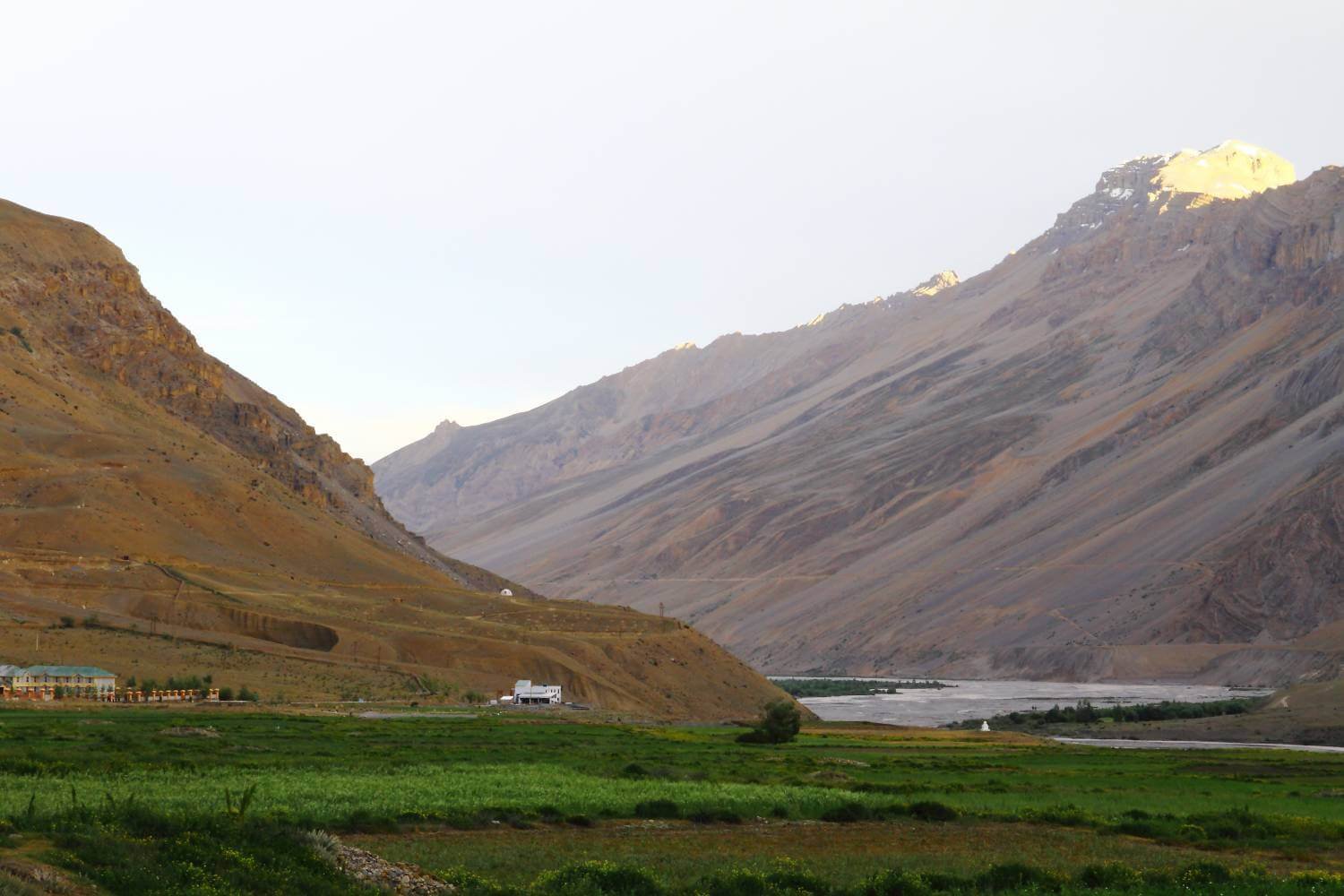 Spiti in Himachal Pradesh is best visited between late May and late September because the roads are covered in thick snow during the winter, keeping Spiti closed to all transport. Only at this time of year is the weather warm enough to allow for the breathtaking vistas of the valley! The typical wintertime temperature in Spiti Valley is as chilly as -30 degrees Celsius, while the pleasant summertime temperature in Spiti Valley ranges from 15 to 20 degrees in June. Before visiting, be sure to check the weather in Spiti Valley in June too.
Drawing from our personal experience, we have compiled an extensive travel blog on Spiti Valley, covering all the essential details. From our journey, we realized that Spiti Valley isn't just a place, it's an emotion. The breathtaking beauty of the cold-desert mountains left us spellbound, and we hope it does the same for you. Bon voyage to this enchanting destination!
Embark on an unforgettable journey to Spiti Valley in Himachal Pradesh with Bon Travel India and avail the best deals on Himachal holiday packages. Contact us on +91-8802149265 via Call or WhatsApp for more exciting offers and customized tour packages.
Like & follow us on our following official social media channels
Facebook | Twitter | Linkedin | Instagram | Youtube
Also Check Out: Popular India Tours | Tour Packages | India Tour Packages | International Tour Packages
International Trending Holiday Destinations – Nepal Tours | Bhutan Tours | Singapore Tour | Thailand Tours | Sri Lanka Tours | Maldives Tours | Dubai Tours | Indonesia Tours
Other Popular Trending Holiday Destinations in India – Kashmir Tour | Himachal Tour | Uttarakhand Tour | Rajasthan Tour | Gujarat Tour | Sikkim Tour | Kerala Tour | Andaman Tour | Madhya Pradesh Tour | North East Tours
Tour Packages by Interest – Adventure Packages | Wildlife Packages | Pilgrimage Packages | Heritage Packages | Hill Station Packages | Weekend Packages | Honeymoon Packages | Beach Packages | Chardham Packages | Trekking Packages
Other Interesting India Travel Guide Blogs to Read
Other Interesting Destinations Travel Guide Blogs to Read
Other Interesting Adventure & Trekking Travel Guide Blogs to Read
Other Interesting Rajasthan Travel Guide Blogs to Read
Other Interesting Uttarakhand Travel Guide Blogs to Read
Other Interesting Wildlife Travel Guide Blogs to Read
Other Interesting International Travel Guide Blogs to Read