Planning a trip to Tamil Nadu?Allow us to help you with the top travel destinations of Tamil Nadu.
Tamil Nadu is adorned with a diversity of heritage and religious tourism. Tamil Nadu is well-known for its carved temples, festivals, and celebration of the arts and hence make a must part of the South India tour.
Top 15 Must Visit Tourist Destinations in Tamil Nadu-
Chennai
Mahabalipuram
Kanchipuram
Rameswaram
Thanjavur
Yelagiri
Ooty
Kodaikanal
Coimbatore
Coonoor
Madurai
Mudumalai
Chidambaram
Vellore
Chennai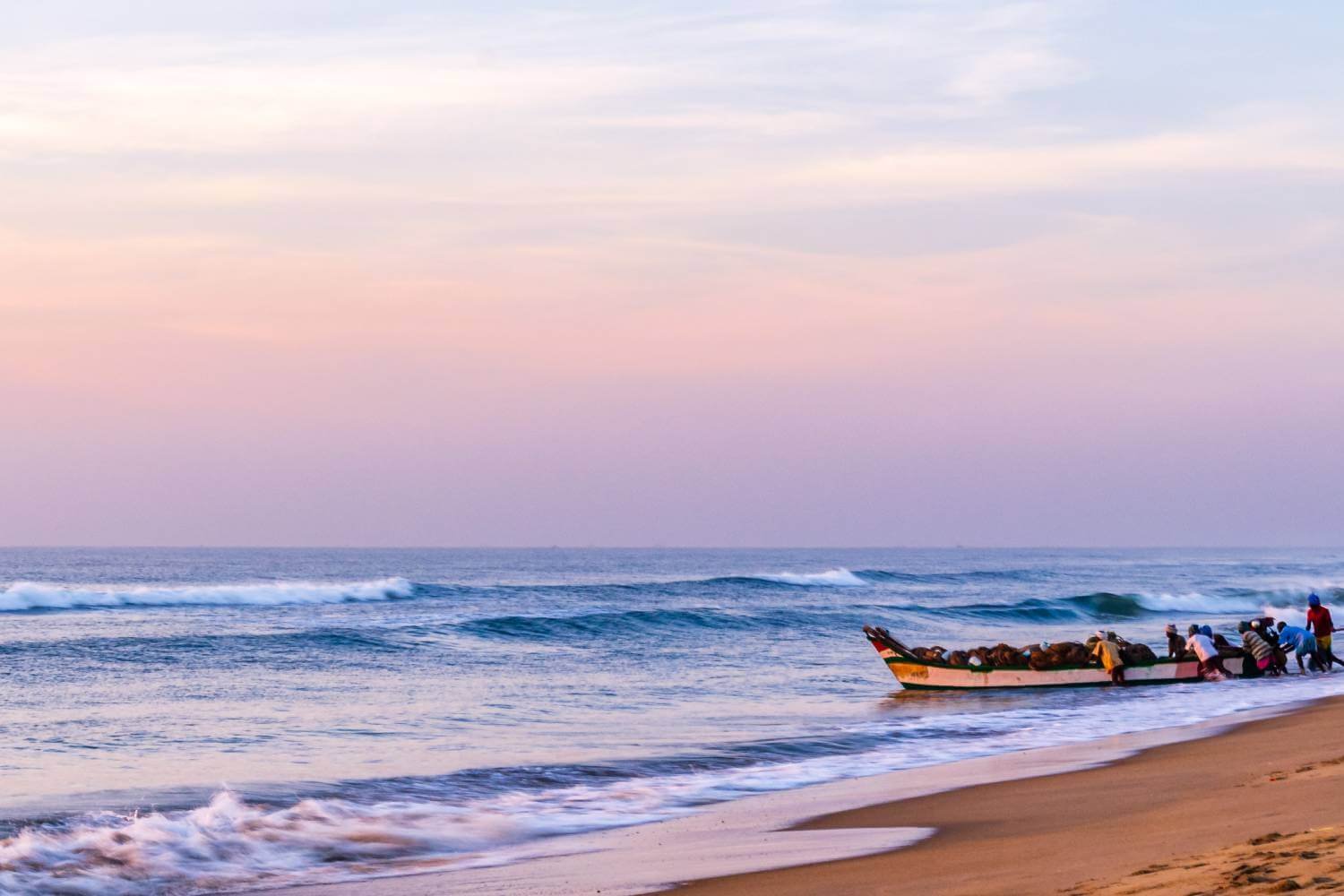 Popularly known as "Detroit of India ", Chennai is the capital of the southern state Tamil Nadu. Home to beautiful temples, churches, British-era museums, monuments, culinary delights and beaches, Chennai is the best place to visit in Tamil Nadu that gives you a glimpse of South India and its culture. If you are planning to visit Chennai, then the ideal time is from November to March. During this period, you can enjoy the best of the winters with a slight dip in Mercury.
Best Tourist Attractions & Places to Visit in Chennai
Marina Beach
Government Museum
Fort St. George
Edward Elliot's Beach
Ashtalakshmi Temple
Mylapore
Valluvar Kottam
Mahabalipuram
Famous for its beautifully carved temples and caves, Mahabalipuram is the home to the dynasty of Pallavas. This small quaint town, Mahabalipuram is a short drive from the capital city, Chennai.The town is a perfect amalgam of culture and history offering magnificent architecture from the Pallavas Dynasty, giving a rejuvenating experience to tourists. This is the reason why it is the best place to explore in Tamil Nadu.If you are planning to visit Chennai, then the ideal time is from November to February.
Best Tourist Attractions & Places to Visit in Mahabalipuram
Shore Temple
Descent of the Ganges
Pancha Rathas
Varaha Cave Temple
Thirukadalmallai
Kanchipuram
Kanchipuram has secured a spot in the world for its beautiful ''Kanchipuram sarees'. The culturally rich city also known as the Golden City of a thousand temples, attracts tourists from all over the world. If you are intrigued by knowing the rise of Hinduism or just want a glimpse of the beautiful South Indian architecture, then you must visit Kanchipuram. It is one of the top heritage destinations to visit in Tamil Nadu.The ideal time to plan your visit to Kanchipuram is from October to March when the summers are bearable.
Popular Tourist Attractions and Places to Visit in Kanchipuram
Ekambareswarar Temple
Kailasanathar Temple
Kamakshi Amman Temple
Tiru Parameswara Vinnagaram
Thiru Ekambaranathar Temple
Rameswaram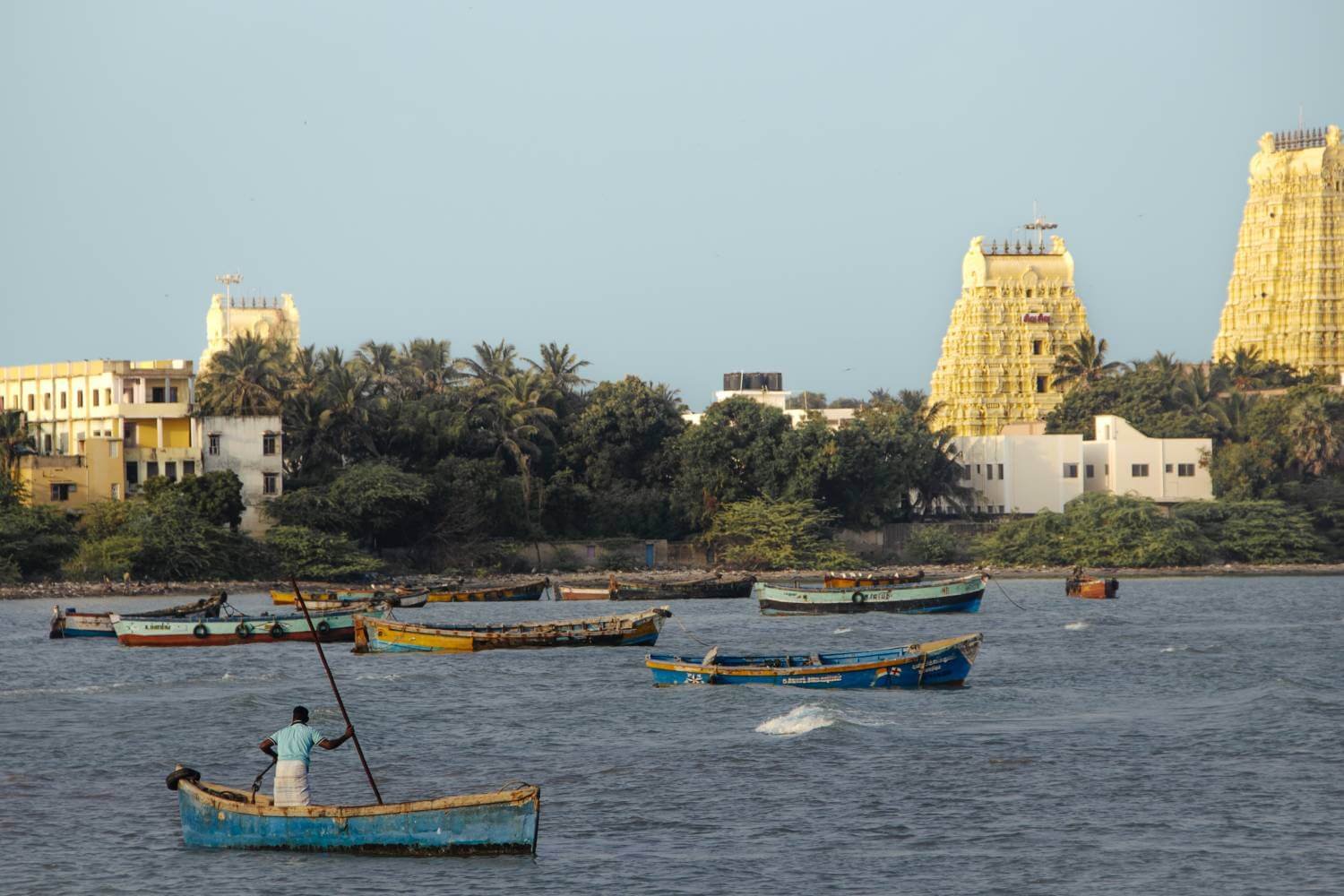 Situated on an island, Rameswaram holds religious significance from the Ramayana period. This town will make you feel closer to Lord Ram when you explore the evidence of his existence. This pilgrimage tourist destination in Tamil Nadu is separated by a Pamban bridge from Sri Lanka.If you are planning to visit Rameswaram, then the ideal time is from October to April.
Popular Tourist Places & Attractions to Visit in Rameshwaram
Arulmigu Ramanathaswamy Temple
Arulmigu Ramanatha Swamy Temple
Villoondi Tirtham
Lakshmana Tirtha
Five-faced Hanuman Temple
Dhanushkodi Temple
Rameshwaram Beaches
Thanjavur
Thanjavur is a center of South Indian religion, art, and architecture. Abode to the Great Living Chola Temples, which are UNESCO World Heritage Monuments, are located in and around Thanjavur. This city of temples boasts paintings, antiques, handicrafts, textiles, and sarees, which are quite popular among tourists. It is one of the best heritage tourist places to explore in Tamil Nadu sightseeing Tour.The ideal time to visit the city is from October to March.
Popular Tourist Places & Attractions to Visit in Thanjavur
Thanjavur Maratha Palace
Saraswathi Mahal Library
Brihadeeswara Temple
Schwartz Church
Thanjavur Palace
Yelagiri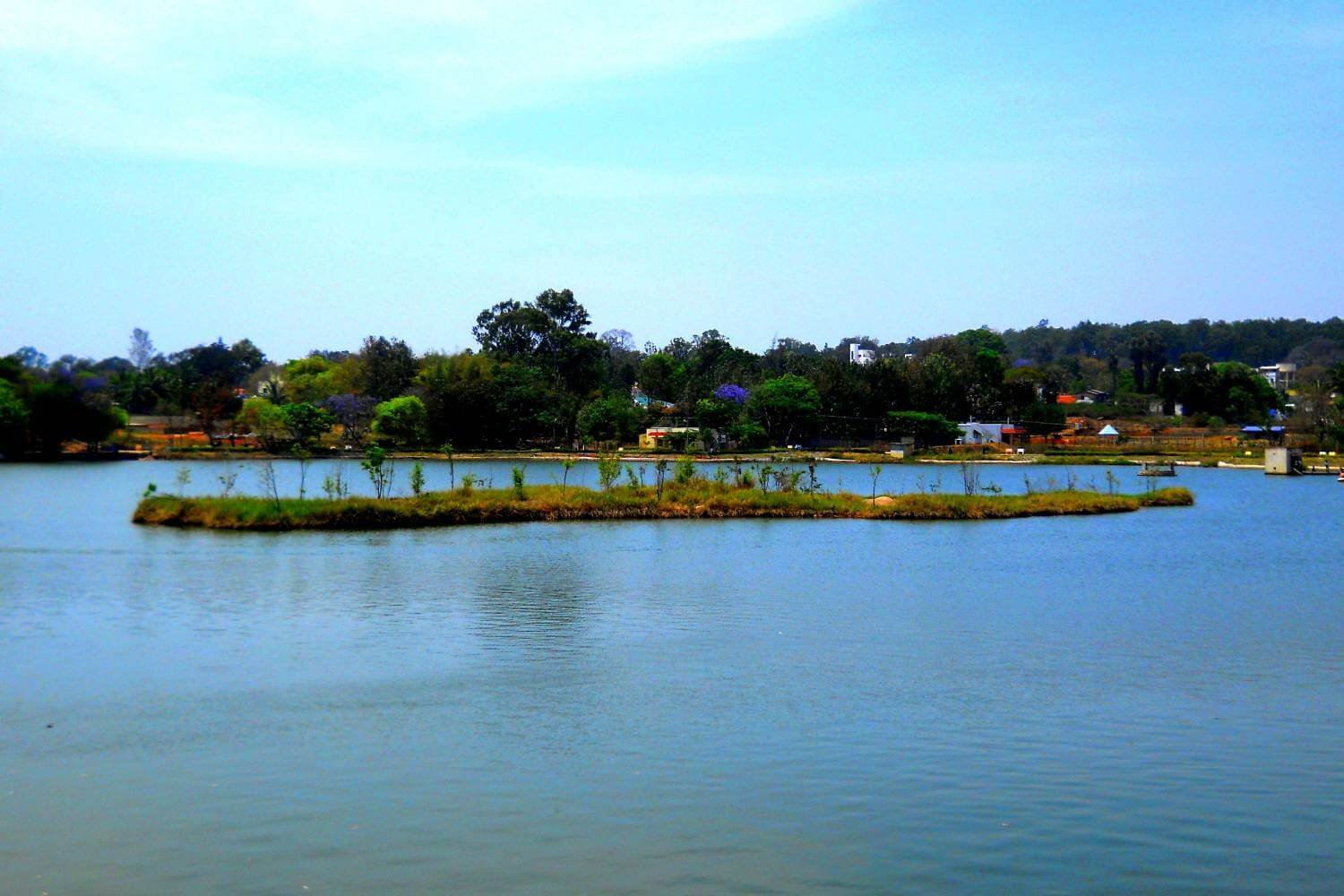 Yelagiri Hills is one of the top hill stations in Tamil Nadu that is situated at an elevation of 4,626 feet. Yelagiri hills are known for trekking as it is surrounded by lush green valleys, beautiful orchards, breathtaking panoramic views of the hills, and rose gardens. One can indulge themselves in various activities such as paragliding, mountain climbing and trekking. To beat the scorching heat of summer, you can plan a visit from May to June and November to February to enjoy the pleasant winters.
Top Places & Tourist Attractions to Visit in Yelagiri
Swamimalai Hills,
Yelagiri Lake
Yelagiri Nature Park
Murugan Temple
Stellar Cave
Kanyakumari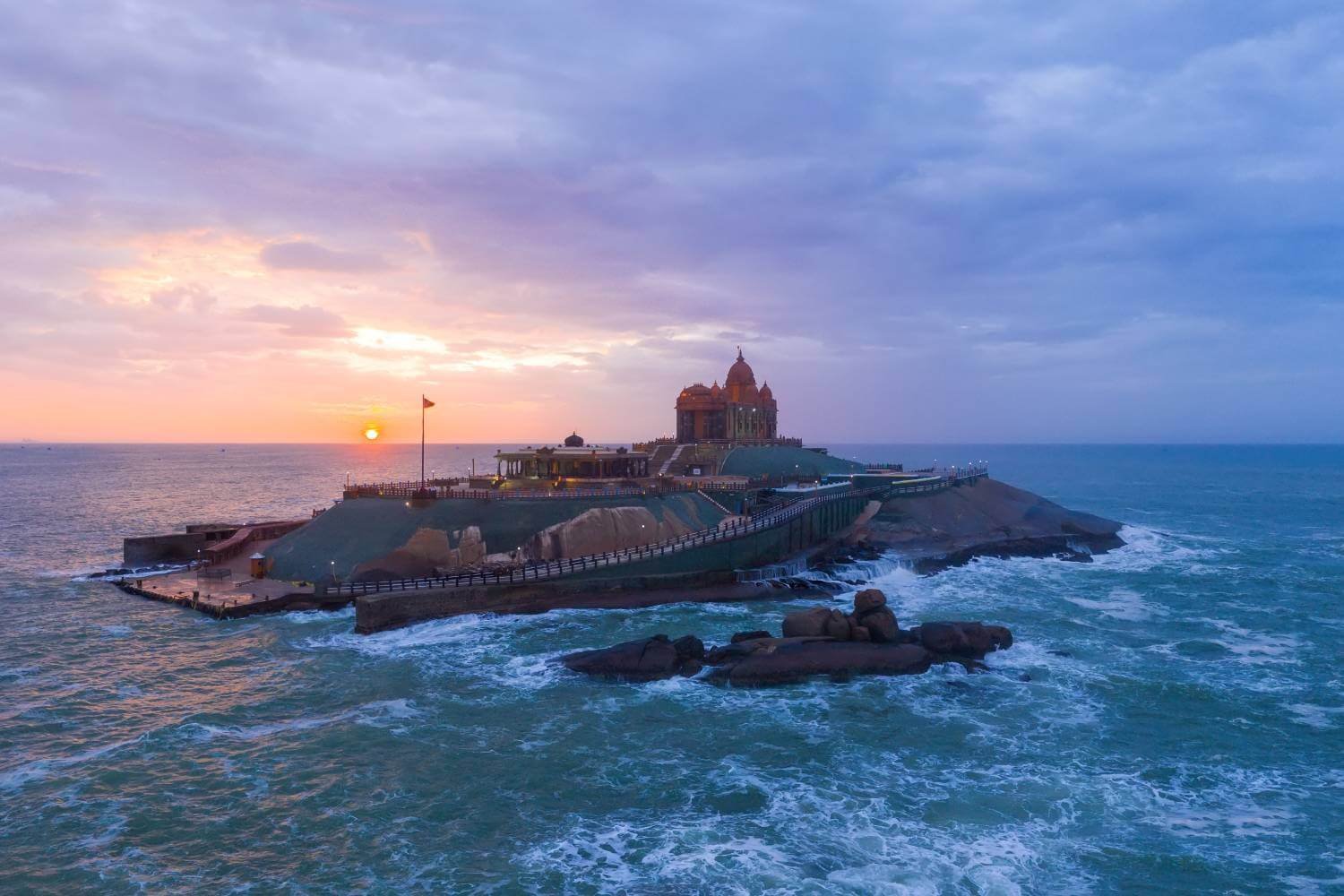 The southernmost town of India's mainland, Kanyakumari is also known as 'The Land's End'. The Kanyakumari district is famous for its majestic hills, pristine rivers, virgin beaches and meandering brooks. It has an essence of architecture, culture and customs of neighbouring states Kerala. It is globally famous for its remarkable sunrise, sunset and moonrise from the 41-metre (133 ft) Thiruvalluvar Statue and Vivekananda Rock Memorial off the coast, and also as a pilgrimage tourist destination in Tamil Nadu. One can plan the visit to Kanyakumari from October to March.
Best Places & Tourist Attractions to Visit in Kanyakumari
Vivekananda Rock Memorial
Kanyakumari Beach
Sarvani Shaktipeeth Shri Bhagavathy Temple
Mahatma Gandhi Mandapam
Our Lady of Ransom Church
Ooty
Ooty is located in the Nilgiris district of Tamil Nadu. A quaint town established as a British Raj summer resort. It is one of the most beautiful hill stations to explore in Tamil Nadu. Ooty is most famous for its tea plantations. Connoisseurs will find plenty to choose from: dust and leaf; black, green, black and white varieties; and flavors such as masala, jasmine, cardamom and even chocolate. Ooty has a picturesque sight of the hills and lush greenery and is a perfect romantic getaway for both honeymooners. One can enjoy a scenic toy train ride established in the British era. The ideal time to visit Ooty is from March to June.
Best Tourist Places & Attractions to Visit in Ooty
Government Rose Garden
Ooty Lakes
The Tea Factory & The Tea Museum
Stephen's Church
Tiger Hill
Kodaikanal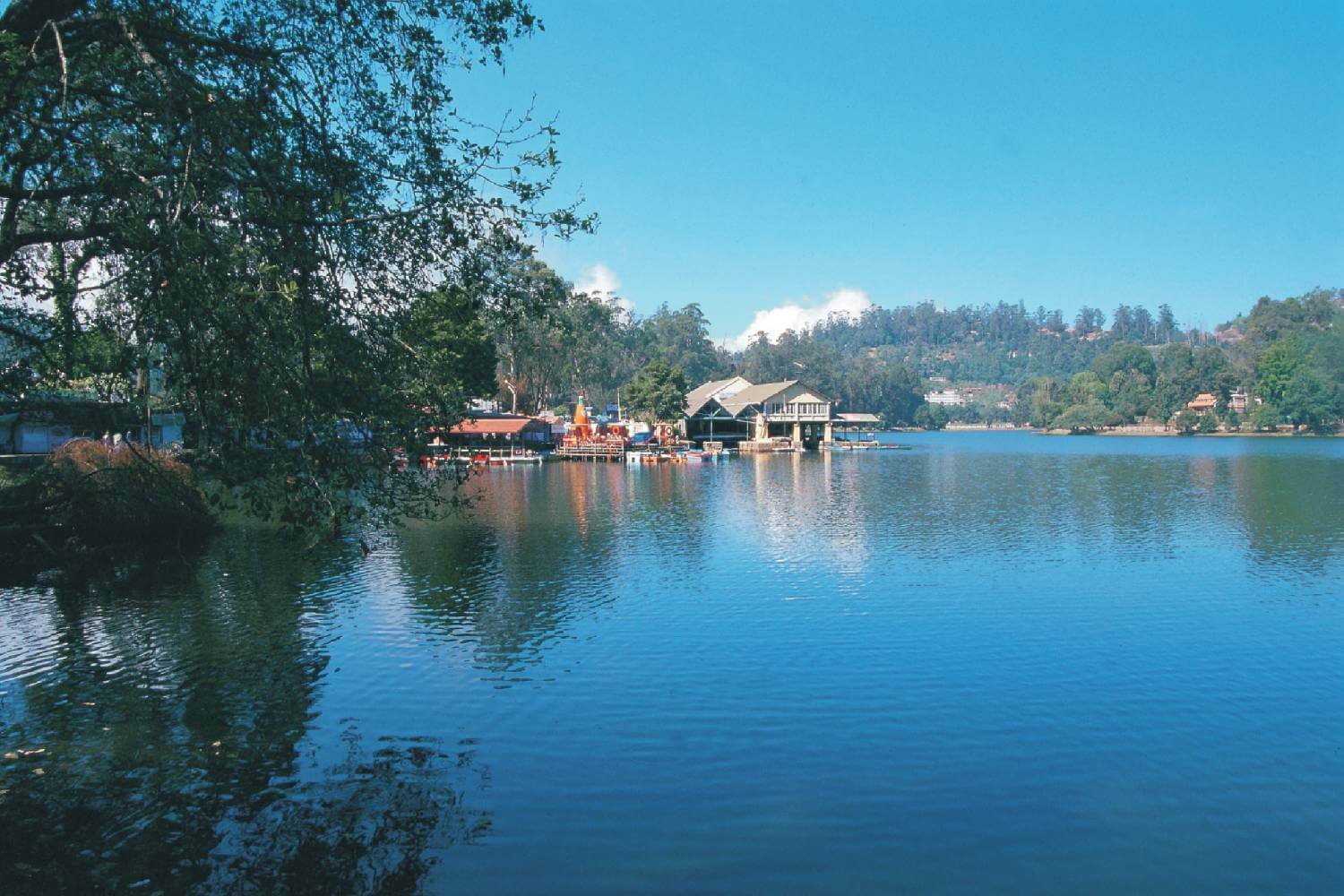 Kodaikanal is a hill town of Tamil Nadu that is festooned with dense forests, huge rocks and pristine waterfalls. Set in an area of granite cliffs at 2,000 meters above sea level, the town centers around man-made, star-shaped Kodaikanal Lake, adjoined by an evergreen grove. Abundant in natural beauty, Kodaikanal is a suitable location for a family holiday in Tamil Nadu. It is also one of the most favorite places visited by honeymooners, adventure enthusiasts and nature lovers. The best time to visit Kodaikanal is March to June and December to February.
Best Places & Tourist Attractions to Visit in Kodaikanal
Coaker's Walk
Kodaikanal Lake
Silver Cascade Falls
Bryant Park
Kurinji Andavar Temple
Bear Shola Falls
Coimbatore
Being one of the largest cities of Tamil Nadu Coimbatore is famous for its industry, textiles and manufacturing. That's why it is known as the 'Textile capital of South India'. Coimbatore is not just about the industry, it is a home for the colorful and intricately carved temples, untouched waterfalls and scenic mountains. It is indeed a must visit place in Tamil Nadu.One can plan a visit to Coimbatore from July to March.
Top Places & Tourist Attractions to Visit in Coimbatore
Marudhamalai
Dhyanalinga
Siruvani Waterfalls
Gass Forest Museum
Arulmigu Eachanari Vinayagar Temple
Famous 112 Feet Tall Statue of Lord Shiva (Known as the Adiyogi Shiva Statue)
Coonoor
Situated at a height of 1,930 meters, Coonoor has emerged as one of the top hill station places in Tamil Nadu. Not only does it present a spectacular view of the Nilgiri Hills and the Catherine Falls, but also makes it a perfect destination to whom "mountains are calling ". Coonoor is also popular for its tea estates in the Nilgiri hills. Coonoor gives a perfect environment for activities like trekking and hiking.One can enjoy the lap of nature in Coonoor from October to March.
Best Tourist Attractions and Places to Visit in Coonoor
Sim's Park
Hight Field Tea Estate
Droog Fort
Tiger Hill Cemetery
Lamb's Rock
Wellington Lake
Madurai
Constructed as a lotus, Madurai City is the epitome of great architecture and culture. The city skyline is overseen by the 14 colorful gopurams (gateway towers) of Meenakshi Amman Temple. The most popular Meenakshi Temple is made in the Dravidian-style Temple and covered in bright carvings of Hindu gods. The vibrant culture and delightful hustle and bustle make it one of the top travel destinations to explore with family in Tamil Nadu.The perfect time to plan your trip to Madurai is from December to February.
Top Places & Tourist Attractions to Visit in Madurai
Meenakshi Amman Temple
Gandhi Memorial Museum
Thirumalai Nayakkar Mahal
Koodal Azhagar Temple
Mudumalai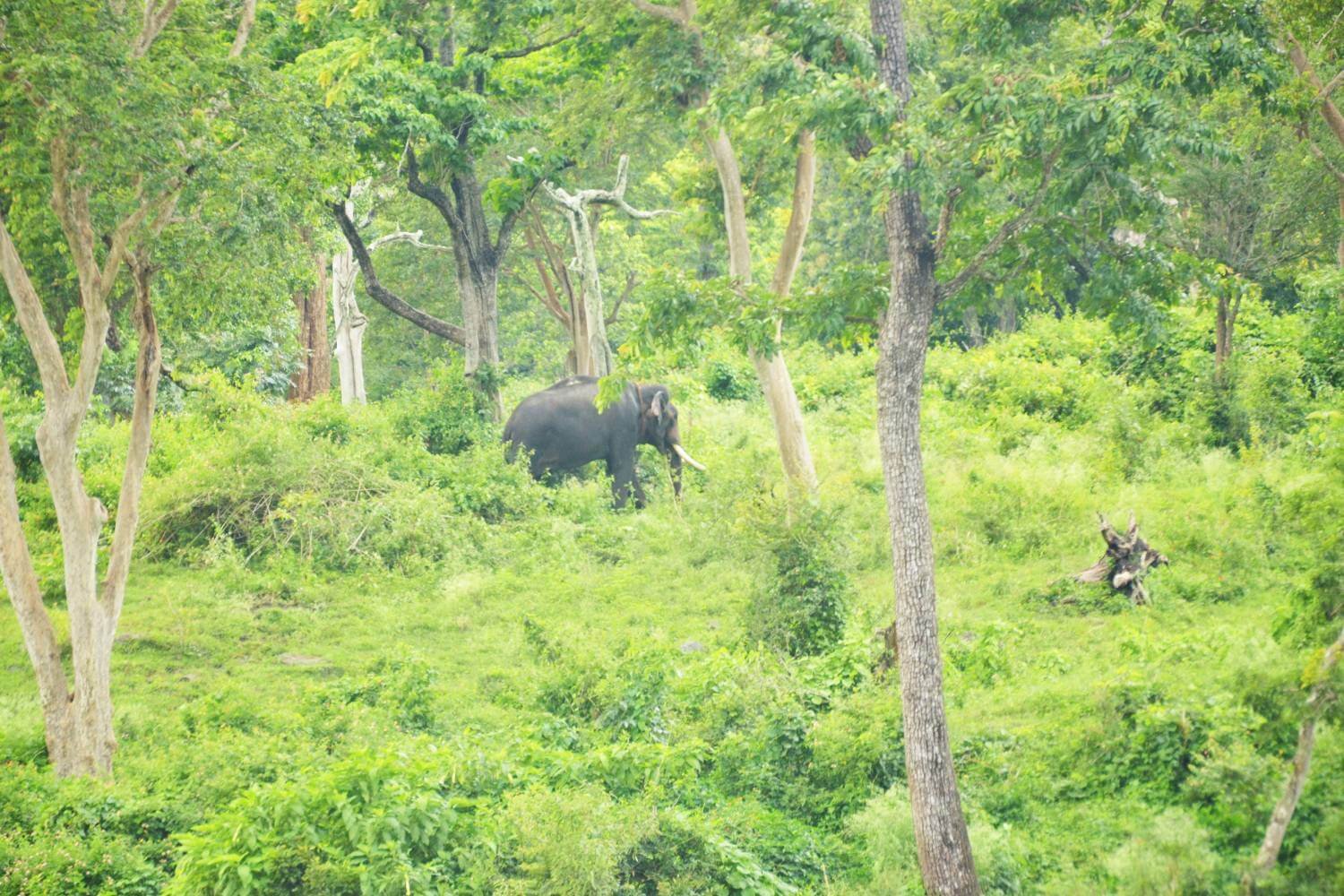 Located in the adorned Nilgiri Hills, Mudumalai is a tourist attraction of the first national park of South India. Mudumalai National Park is in close vicinity of Bandipur National Park which gives visitors an opportunity of visiting both places together, in between them, they house more than 500 species of animals, birds, reptiles and even more species of insects.Needless to say, Mudumalai has breathtaking and fascinating views to offer along with the jungle safari and camping.The favorable months to visit the Mudumalai is between October to May.
Chidambaram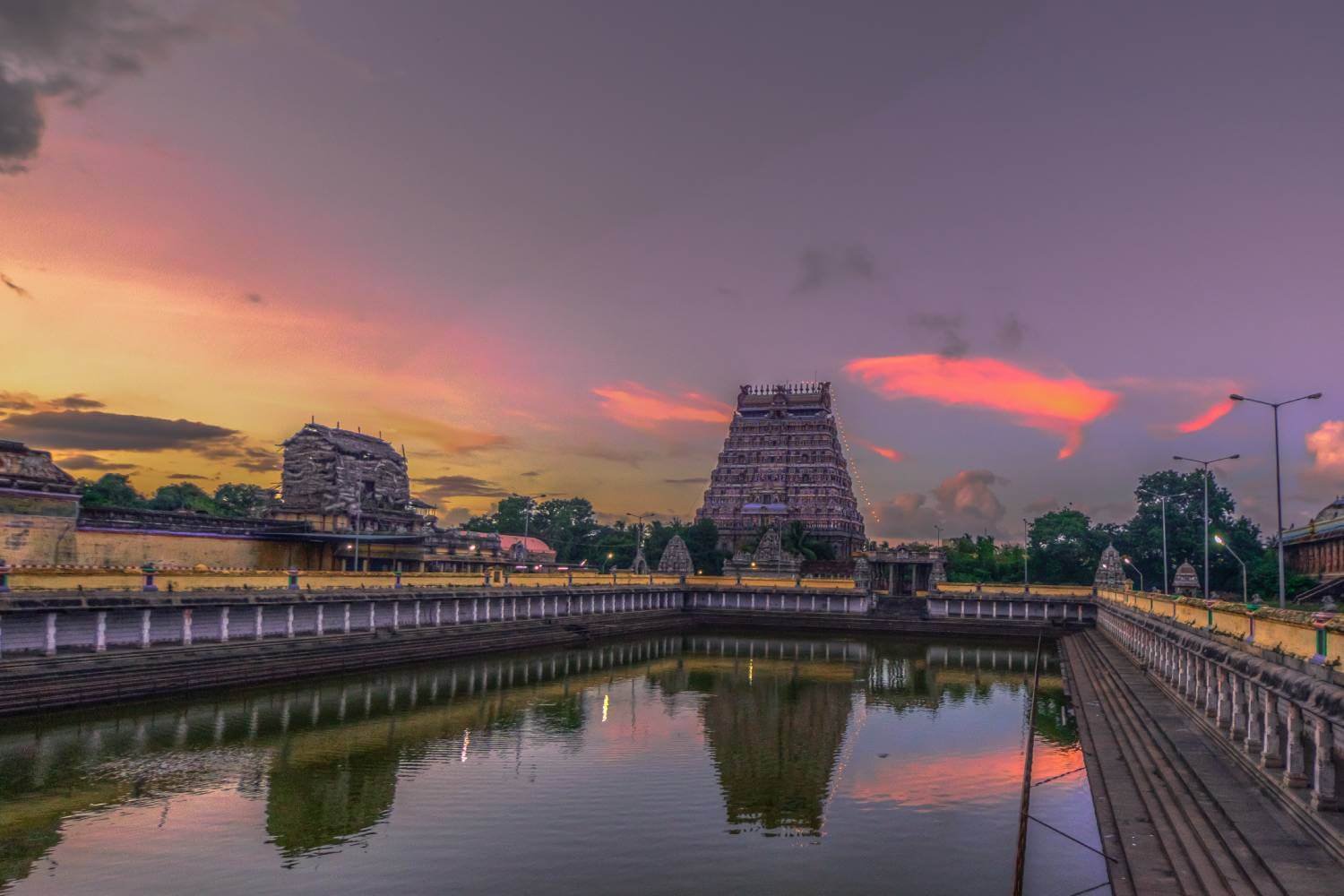 Chidambaram is a beautiful temple town located in the eastern part of Tamil Nadu. The grand history, rich culture, and traditions is a perfect destination for a history buff. Because of the Dravidian culture and magnificent architecture, Chidambaram has become a prominent pilgrimage destination in Tamil Nadu. Not only does this little town offers the best combination of history and culture, one can rejuvenatein the Backwaters of Pichavaram in the midst of Mangrove Forests. Plan your trip to Chidambaram from October to March which is considered the ideal time.
Top Places & Tourist to Visit in Chidambaram
Thillai Nataraja Temple
Govindaraja Perumal Temple
Pasupatheswarar Temple
Tirukkazhippalai Palvannanathar Temple
Vellore
Vellore, popularly known as the leather hub of India. This city is home to hundreds of leather and tannery facilities. Enchanting visitors from every corner of the country, Vellore has attracted tourists because of its cultural-historical background. If you are interested in knowing the history of independent India, then it is one of the best places to visit in Tamil Nadu.You must plan your trip to the city from October to February.
Best Places & Tourist Attractions to Visit in Vellore
Vellore Fort
Jalakandeswarar Temple
Sri Lakshmi Narayani Golden Temple
Ratnagiri Murugan Temple
Balamathi Hills
We hope that this blog will help you in planning a wonderful trip to Tamil Nadu. While top visiting places in Tamil Nadu are famous for their heritage and religious tourism, you will also find solace and delight in its pleasing hill stations. Let the bliss begins. Plan your trip to Tamil Nadu today and have an incredible vacation.
Get upto 30℅ of early discount on our India Tour Packages. Reach us for more details / bookings – +91-7668130655.
Also Check Out: Popular India Tours | Tour Packages | International Tour Packages
Explore Popular Destination Tourism Packages
Other Informative Blogs to Read
Summer Travel Related Blogs to Read
Winter Travel Related Blogs to Read
Wildlife Travel Blogs to Read
Other Informative Trekking Travel Blogs to Read