The awe-inspiring land of smiles, Thailand, is one of the most beautiful travel destinations in the world. This captivating destination enchants the senses and leaves visitors in awe. From the bustling streets of Bangkok, where modern skyscrapers delight every wanderer's heart, to beautiful ornate temples, breathtaking national parks, and sanctuaries, to the serene beaches of the islands where crystal-clear waters and swaying palm trees beckon, Thailand is truly a soul-pleasing destination for tourists of all kinds. Here, vibrant colors, exotic aromas, and friendly smiles greet you at every corner. From the majestic mountains of the north to the sun-drenched beaches of the south, Thailand invites you to embark on a journey of discovery, adventure, and endless fascination. It is undoubtedly a mind-boggling tourist destination for an awesome holiday.
Let's explore some of the most beautiful tourist places to plan an awesome Thailand vacation.
Thailand's Most Famous Beaches to Visit
Nai Harn Beach
Kata Noi beach
Railay Beach
Phra Nang Beach
Sunrise Beach
Thong Nai Pan Noi Beach
Karon Beach
Freedom Beach
Long Beach
The Most Famous Temples to Visit in Thailand
Wat Pho Temple
White temple
Sirindhorn Wararam Phu Prao
Wat Benchamabophit
Wat Chaiwatthanaram
Wat Phra That
Wat Sri Suphan
Wat Mahathat
Sri Mahamariamman Temple
Thailand's Most Famous Adventure Tourism Destinations
Chiang Mai
Krabi
Phuket
Pai
Koh Tao
Koh Phi Phi
Pattaya
Khao Sok National Park
Ayutthaya
Koh Samui
Thailand's Most Famous Shopping Markets
Chatuchak Weekend Market
Rod Fai Market
Ratchada Train Market
Saturday Walking Street
Warorot Market
Cicada Market
Hua Hin Night Market
Unlock Amazing Savings: Enjoy up to 30% Early Bird Discount on Thailand Tour Packages by Bon Travel India. Contact us today via Call or WhatsApp at +91-8802149265 for more information and bookings.
Tourism in North Thailand
Step into a realm of enchantment in Northern Thailand, where ancient temples whisper tales of the past and misty mountains beckon adventurers. Northern Thailand awaits, ready to captivate and inspire. Some of the top places to explore in Northern Thailand are:
Wat Phra That Suthon Mongkhon Khiri
Nestled in the province of Phrae, Thailand, lies a hidden treasure of spiritual significance—Wat Phra That Suthon Mongkhon Khiri. It is one of the top tourist attractions in Northern Thailand.
Perched atop a hill, the temple offers a serene and awe-inspiring retreat for those seeking tranquility, cultural immersion, and a deeper connection with the spiritual heritage and traditions of Thailand. The temple is a visual spectacle, with beautiful and intricately designed shrines that each tell a story of the temple's history and cultural significance. Here, you will spend some of the most cherished moments of peace and tranquility.
The temple walls are adorned with ornate murals displaying scenes from Buddhist mythology and teachings. As you wander through the serene gardens surrounding Wat Phra That Suthon Mongkhon Khiri, you will find tranquil meditation areas and peaceful ponds that rejuvenate the mind, body, and soul. It is also one of the best places to visit with family for peace and relaxation in Thailand.
Khao Kho
Just a 5.5-hour drive away from Bangkok, Khao Kho will captivate your soul with scenic views and serene vibes. Nestled amidst the picturesque mountains of Phetchabun province in Thailand, Khao Kho is a hidden gem that you must not miss while enjoying Thailand sightseeing tour. It is, in fact, one of the most enchanting places to visit in Northern Thailand.
As you ascend the winding roads that lead to Khao Kho, a sense of anticipation builds. The weather in Khao Kho is chilly throughout the year, making it a pure bliss for mountain lovers as it showcases a variety of small and large mountains in the Phetchabun Range.
The mist-kissed peaks of the surrounding mountains create a fairytale setting, adding to the mystique and charm of the place. The serene beauty of Khao Kho attracts many honeymoon couples and adventurers in Thailand.
From Phu Hin Rong Kla National Park to Khao Kho Wind Farm, these vantage points offer breathtaking views of rolling hills, mist-shrouded valleys, and serene lakes. The cool climate and pristine natural surroundings make it the best destination in Thailand for hiking, camping, and bird-watching.
Wat Chedi Chet Thaeo Ancient Remains
Located in Sukhothai, Wat Chedi Chet Thaeo Ancient Remains is one of the most popular places to visit in Northern Thailand. Wat Chedi Chet Thaeo Ancient Remains stands as a testament to the region's rich cultural heritage and the enduring legacy of ancient civilizations. The temple is located in the Si Satchanalai Historical Park and was built by Sukhothai King Lithai between 1340 and 1350 AD. This archaeological site offers a captivating journey through time, where visitors can explore the remnants of a bygone era and unravel the mysteries of the past.
The ancient remains of Wat Chedi Chet Thaeo, with its weathered stone structures and ornate architectural details, tell the story of the grandeur of the ancient past. The chedi is one of the most important structures of this temple. Once a grand structure that housed sacred relics, the chedi now stands in partial ruin, its crumbling facade adorned with intricate carvings and decorative elements. It is indeed a wonderful place for spiritual reverence and self-contemplation. Discover the beauty and intrigue that lie within these ancient remains and let your imagination soar as you piece together the fragments of history that still linger in the air.
Also Read: Best Places to Visit in Krabi Thailand
Tourism in Central Thailand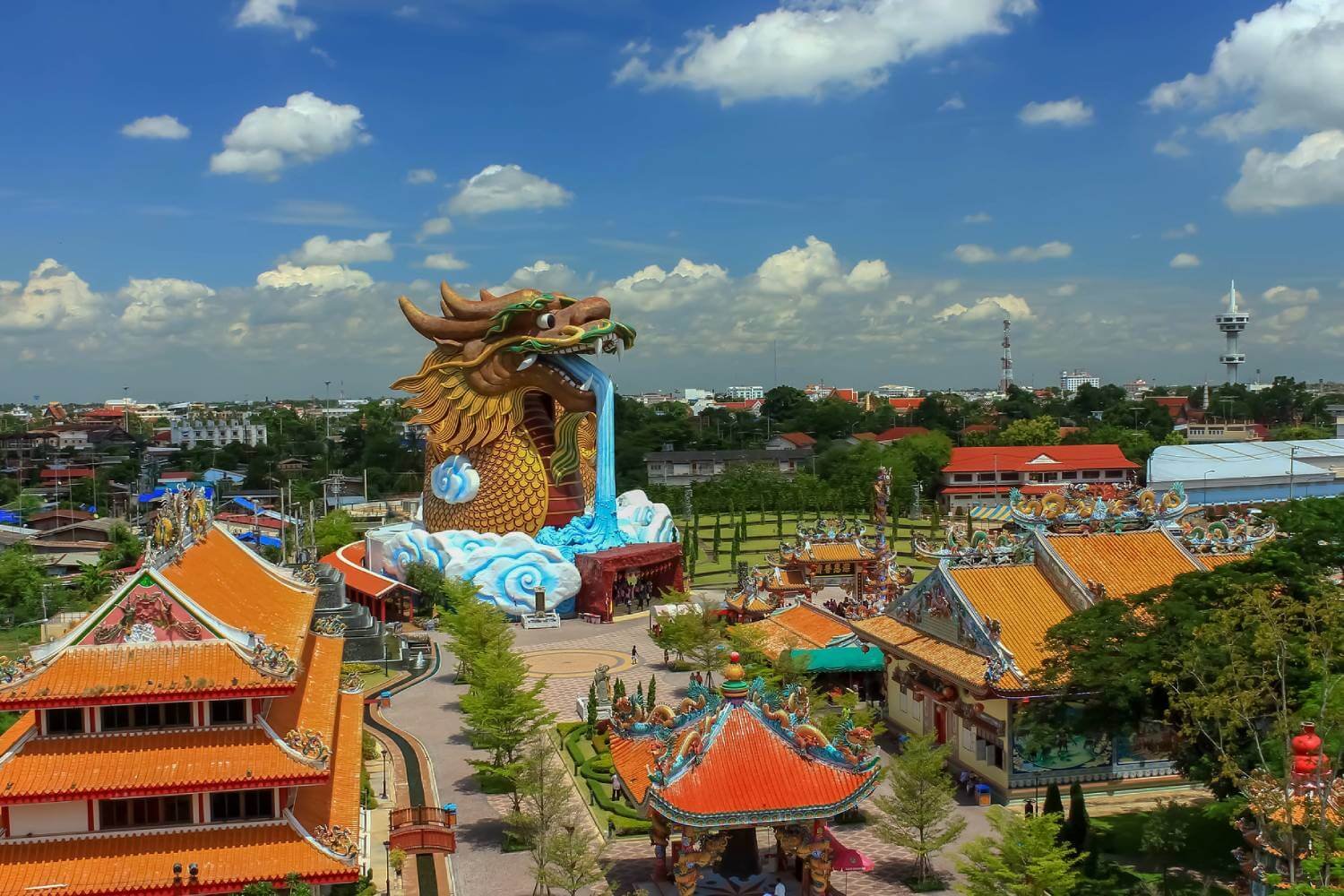 Immerse yourself in the vibrant heartbeat of Central Thailand, where ancient heritage seamlessly blends with modern dynamism. Discover the majestic grandeur of ornate palaces and temples that tell tales of dynasties gone by. Here are some of the top tourist places to explore in Central Thailand:
Suphan Buri City Pillar Shrine
Suphan Buri City Pillar Shrine is one of the most exotic travel destinations to visit in Central Thailand. It holds immense cultural significance and stands as a symbol of history and tradition. The fascinating stories of cultural diversity will transport you to a different world. Just a few steps away from the blissful Chin River, this captivating dragon-like pillar blesses devotees with good fortune and a safe journey, according to the locals. It is a place where the past and present converge, where the rich world of Thai culture unfolds before your eyes.
The city pillar itself is believed to be the dwelling place of the guardian deity, who protects the city and its people. It serves as a central point for prayers, blessings, and important ceremonies, symbolizing the unity and strength of the community. Suphan Buri is renowned for its well-preserved historical sites, including ancient temples, royal palaces, and cultural landmarks. The place is a blessed world of fertile plains, rice farms, lush green landscapes, and meandering rivers. It is definitely a must-visit place if you find yourself in Central Thailand.
Kaeng Krachan National Park
Located in the Phetchaburi region of Central Thailand, Kaeng Krachan National Park is one of the most popular tourist attractions for a family vacation in Thailand. Moreover, if you are a wildlife enthusiast, then without a doubt, pack your bags as this place offers the most captivating sights of Thailand's wild creatures. It was also listed as a UNESCO World Heritage Site in 2021. It is an awesome sanctuary for wildlife sightseeing, camping, and hiking. Adventurers from all across the globe come here to enjoy the exotic wildlife of the country and indulge in thrilling adventure activities.
It is also a fascinating world for nature lovers. Towering mountains, cloaked in verdant greenery, command attention, while deep valleys and winding rivers weave through the terrain, lending a sense of tranquility to the surroundings. The park has two main rivers, the Phetchaburi and Pran Buri rivers, which have their origin point in the Tanaosri mountain range. A boat trip along the picturesque Kaeng Krachan Reservoir is one of the best things to do. The tranquil waters offer a serene backdrop, surrounded by lush green mountains and an abundance of wildlife. One of the park's highlights is its diverse range of wildlife. Kaeng Krachan is a beautiful realm of various species, including elephants, tigers, leopards, bears, and over 480 species of birds. You must visit this wonderful wildlife tourist destination in Thailand for a holiday with family and friends.
Wat Phra Kaew
The Sanctum Sanctorum of Thai Buddhism, Wat Phra Kaew, is one of the most popular religious tourist destinations in Central Thailand. This iconic temple holds a sacred place in the hearts of Thai people and attracts visitors from around the world who seek to witness its beauty and connect with its rich cultural and religious heritage.
At the heart of Wat Phra Kaew resides its most revered treasure—the holy image of the Emerald Buddha. Carved from a single piece of jade, this sacred statue is believed to be the palladium of the Kingdom of Thailand, symbolizing the spiritual and political power of the Thai monarchy.
The sounds of chanting, the fragrance of incense, and the soft glow of candlelight create a sense of reverence and sacredness. Devotees from all over the world come here to receive the divine blessings of Lord Buddha. The temple contains intricate murals that depict scenes from Buddhist myths and teachings. The visual narrative will completely capture your heart with reverence.
Also Read: Best Places to Visit in Pattaya Thailand
Tourism in Southern Thailand
Indulge in the sun-kissed paradise of South Thailand, where turquoise waters gently lap against pristine white sand beaches. Immerse yourself in a world of tropical bliss as lush palm trees sway in the breeze and vibrant coral reefs teem with marine life. Here are some of the best destinations to visit in South Thailand:
Ko Libong
Looking for a budget-friendly destination in Thailand? Visit Ko Libong. It is the most refreshing and beautiful beach in Thailand. Not many tourists know about this hidden gem. The pristine island is known for its breathtaking charm. The island's idyllic coastline invites you to unwind, soak up the sun, and relish in the serenity that surrounds you. Serene, secluded beaches, local villages, and lush mangrove forests serve as important ecosystems and sanctuaries for various bird species. Also, keep your eyes peeled for the elusive dugongs, known as sea cows, which inhabit the surrounding waters and are considered a symbol of Ko Libong's conservation efforts.
It is a great paradise for adventure lovers. Ko Libong presents exciting opportunities for kayaking, paddleboarding, and exploring the island's lush interior. You will discover hidden lagoons, navigate through mangrove channels, and trek along nature trails, which will be the most blissful moments of your life.
Sarai Islands
Located in Satun, Sarai Island is a serene and refreshing retreat for wanderers seeking a beach destination in Thailand. The Sarai Islands are a tropical paradise that will capture your heart and soul. Whether you're seeking adventure, relaxation, or a chance to reconnect with nature, these islands offer an unparalleled experience. They are an ideal travel destination for honeymoon couples in Thailand, as the beauty of the pristine beaches, vibrant underwater world, and romantic setting make them a favorite among couples.
Sailing through the calm waters, hopping from one pristine beach to another, and soaking in the breathtaking coastal vistas add more fun and adventure to your holidays here. You can also explore hidden coves, swim in secluded lagoons, and revel in the untouched beauty that surrounds you. The tranquil vibes, lush vegetation, beautiful coral reefs, and the thrill of snorkeling and diving make this island one of the best destinations for fun-filled beach adventures in Thailand.
Khanom Beach
One of the offbeat travel destinations, Khanom Beach is a soul-pleasing beach destination to enjoy with family in Southern Thailand. The soft, powdery sand invites you to kick off your shoes and take leisurely strolls along the shoreline, while the gentle lapping of the waves provides a soothing soundtrack to your beachside experience.
Unlike some of the more popular tourist destinations in Thailand, Khanom Beach remains relatively unspoiled, offering an intimate and peaceful atmosphere. The soothing serenity will compel you to live here forever. A refreshing dip in the azure sea, feeling the gentle caress of the warm tropical waters against your skin, fine-tunes your tired spirit. For those longing for an escape full of peace and serenity, Khanom Beach is a must-visit place for a laidback budget beach vacation in Thailand.
Also Read: Best Honeymoon Destinations in Thailand
Tourism in East Thailand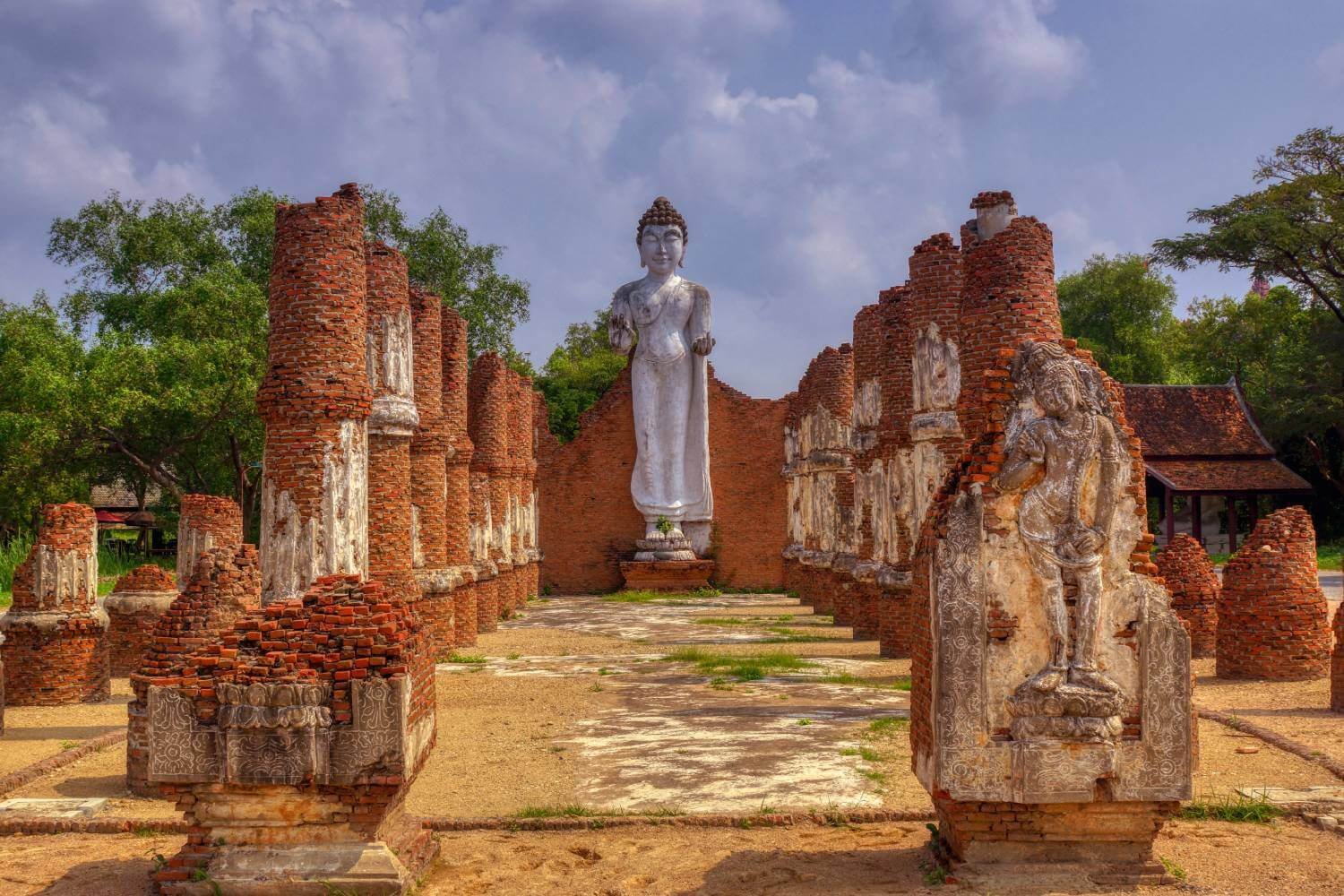 Embark on an adventure into the captivating wonders of Eastern Thailand, where lush jungles and cascading waterfalls create a paradise for nature enthusiasts. The rich cultural heritage of ancient temples and the warm hospitality of local communities seduce the senses. Some of the best places to visit in Eastern Thailand are:
Nakhon Nuang Khet Ancient Market
Visiting the Nakhon Nuang Khet Ancient Market is a captivating journey that allows you to immerse yourself in the trading traditions of ancient Thailand. It is one of the best heritage destinations in Eastern Thailand.
The Nakhon Nuang Khet Ancient Market served as a meeting point for people from diverse backgrounds, fostering connections and nurturing the region's cultural fabric. You will find yourself immersed in a vibrant atmosphere filled with amazing sights, sounds, and aromas of a bustling trading center.
By engaging with local artisans, you can learn about their traditional crafts such as weaving, pottery, and metalwork. You will discover unique handicrafts and authentic local products that showcase the region's artistic heritage and provide a glimpse into the skills passed down through generations. It is indeed one of the best places to visit in Thailand for an outing with friends.
Ancient City
Muang Boran, known as The Ancient City, is a family-friendly destination in Eastern Thailand. This sprawling open-air museum takes visitors on an immersive journey through time, showcasing the architectural marvels and cultural traditions of Thailand's golden past. It is a place where the most famous monuments of the country are replicated.
The Ancient City is a breathtaking replica of the country, featuring over 100 authentic and reconstructed structures from different periods of Thai history. It serves as a living museum, offering a unique opportunity to experience the grandeur of ancient temples, palaces, and traditional villages in one captivating location.
You will also get a glimpse into the diverse lifestyles and traditions of Thai communities throughout history. The recreated traditional villages showcase the unique architectural styles, customs, and handicrafts of various regions in Thailand. From stilted houses in the north to teakwood mansions in the central plains, the Ancient City offers a comprehensive view of Thailand's cultural heritage. It is a must-see place in Thailand if you want to embrace the diverse culture and heritage of the country.
Thap Lan National Park
The blissful Thap Lan National Park, located in the San Kamphaeng Range, is one of the famous tourist destinations to visit with family in Eastern Thailand. Spanning across the provinces of Nakhon Ratchasima, Prachinburi, and Buriram, this vast protected area offers a breathtaking landscape of lush forests, majestic waterfalls, and diverse wildlife. It serves as a beautiful shelter for various wild creatures such as tigers, elephants, leopards, gaurs, banteng, and many mesmerizing species of birds.
One of the highlights of Thap Lan National Park is its stunning waterfalls. As you follow the trails that wind through the forest, you'll encounter cascades of crystal-clear water tumbling down rugged cliffs. The network of blissful hiking trails and the beauty and tranquility of lush greenery create a magical atmosphere. Wanderers are endlessly drawn to this enchanting place.
Tourism in North East Thailand
Journey into the heartland of Northeast Thailand, where beautiful cultural marvels and natural wonders will melt your heart. Wander through vibrant markets, savoring the flavors of authentic traditional cuisine. Some of the best places to visit in Northeast Thailand are:
Nam Phong National Park
Located in the Khon Kaen region, Nam Phong National Park is one of the must-see places in Thailand. Travelers visit this place to explore its rich biodiversity, vibrant floral species, and delicate ferns that create a vibrant mosaic of colors. The melodious songs of birds and the gentle rustling of leaves add a symphony of sounds to the peaceful ambiance. The park is home to various species of animals such as gibbons, monitor lizards, deer, wild boar, mongoose, civet, Asiatic black bears, and delightful species of migratory birds. Hiking is one of the best activities to engage in, allowing you to venture through dense forests where dappled sunlight filters through the canopy, creating an enchanting atmosphere.
Discover hidden waterfalls where crystal-clear waters cascade down moss-covered rocks, offering a refreshing respite from the tropical heat. These waterfalls also make it the perfect place for summer holidays in Thailand. Camping facilities within the park provide the opportunity to spend the night under a star-studded sky.
Beyond its natural wonders, Nam Phong National Park also offers cultural and historical attractions. Visit nearby villages to engage with the warm and welcoming locals, who proudly preserve their traditional way of life.
Kaeng Khut Khu
A spectacular destination for nature and adventure enthusiasts, Kaeng Khut Khu is a must-visit destination for budget holidays in the Northeast region of Thailand. The highlight of Kaeng Khut Khu is undoubtedly its breathtaking waterfall, which cascades down rocky cliffs, filling the air with a refreshing mist and the soothing sound of rushing water. It is also a beautiful place to explore amazing wildlife, making it a delight for bird watchers.
Adventurers will find solace in the soul-pleasing hiking trails that wind their way through the lush landscapes of Kaeng Khut Khu. As you traverse the trails, you'll encounter panoramic viewpoints, hidden caves, and unique rock formations that add to the charm of the area. It is a must-visit place for you and your family and friends in Thailand.
Wat Pho Chai
Wat Pho Chai stands as a revered spiritual sanctuary, inviting visitors to immerse themselves in the rich cultural and religious heritage of Thailand. It is one of the most popular religious attractions in the northeast region of Thailand, perfect for a family visit to seek solace.
Stepping into Wat Pho Chai is like entering a realm of tranquility and devotion. The temple complex is an amazing visual spectacle, with its majestic structures, intricate carvings, and vibrant colors that epitomize the magnificence of Thai architecture.
Beautiful mural paintings adorn the temple walls, and the sound of softly chiming bells and the scent of burning incense create a sensory experience that lingers long after your visit. Visiting Wat Pho Chai is not just an exploration of a physical space but a journey into the heart and soul of Thailand. So, on your Thailand sightseeing tour, don't forget to include this amazing, peaceful, and divine retreat.
We have mentioned some of the best destinations to visit in Thailand. Now, don't wait, pack your bags, embark on a journey of a lifetime, and let Thailand mesmerize your soul with its charm and enchantment. Trust us, you will never forget the charm of Thailand even after you have left its blissful shores.
Explore Exquisite Tour Packages for Thailand
Frequently Asked Questions
What are the top tourist destinations to visit in Thailand?
Thailand is a captivating destination that offers a unique blend of cultural heritage, natural beauty, and warm hospitality. Some of the top tourist destination to visit in Thailand are –
Railay Beach
Kaeng Khut Khu
Wat Pho Chai
Nam Phong National Park
Thap Lan National Park
Nakhon Nuang Khet ancient Market
Ancient City
Sarai Islands
Ko Libong
Khanom Beach
Wat Phra Kaew
Kaeng Krachan National Park
Suphan Buri City Pillar Shrine
Wat Chedi Chet Thaeo Ancient Remains
Wat Phra That Suthon Mongkhon Khiri
Koh Phi Phi
The Grand Palace
What is the best time to visit Thailand?
Thailand offers unique experiences throughout the year, so no matter which season you choose to visit, there's always something exciting to discover. In the summer (March to May), you can enjoy beach activities and water sports in popular destinations such as Krabi and Pattaya. During the rainy season (June to October), you can visit stunning waterfalls and national parks, such as Khao Yai and Erawan National Park. From November to February, it's winter time, and you can experience the vibrant Loy Krathong festival in November, where thousands of lanterns are released into the sky and float on water.
How many days are required to explore the best of Thailand Tourism?
It depends on your personal preferences, interests, and the specific destinations you wish to visit. However, to get a comprehensive experience, it is recommended to spend at least 10 to 14 days in Thailand. If you have less time, you can focus on specific regions or cities.
What are the best Islands to visit in Thailand?
Thailand is known for its stunning islands that offer picturesque beaches, crystal-clear waters, and a range of activities for every traveler. Here are some of the best islands to visit in Thailand:
Phuket
Mu Koh Ang Thong Marine Park
Koh Samui
Koh PhaNgan
Mu Koh Phi Phi
Koh Lanta
Koh Kai
James Bond Island
Koh Tao
Similan Islands
Are there any visa requirements for visiting Thailand?
Yes, there are visa requirements for visiting Thailand, and they vary depending on your nationality, the purpose of your visit, and the duration of your stay. If you are an Indian citizen, then you will need a visa to enter Thailand. However, if you belong to a visa-exempt country, you will not require a visa for certain durations of stay.
Are there any safety concerns for tourists in Thailand?
Be careful and always be aware of your surroundings. Thailand is generally a safe country for tourists. However, it is important to be cautious of scams, pickpockets, and avoid dark and deserted places. Additionally, it is advisable to be cautious about food hygiene to avoid consuming contaminated food. Always use reputable services and conduct thorough research beforehand to prevent falling victim to scams.
What are the must- try dishes in Thai Cuisine?
Thai cuisine is known for its bold flavors, aromatic herbs, and unique combinations of sweet, sour, salty, and spicy tastes. Here are some must-try dishes in Thai cuisine:
Pad Thai
Tom Yum Goong
Kaeng Lueang
Gaeng Daeng
Gaeng Keow Wan Gai
Khao Soi
Khao Pad
Pad Kra Pao Moo
Som Tam
Laab
Khao Niao Mamuang
What are the best beaches in Thailand?
Thailand is blessed with numerous stunning beaches that cater to different preferences and interests. Here are some of the best beaches in Thailand:
Railay Beach, Krabi
Maya Bay, Koh Phi Phi
Patong Beach, Phuket
White Sand Beach, Koh Chang
Lamai Beach, Koh Samui
Sunrise Beach, Koh Lipe
Freedom Beach, Phuket
Haad Rin, Koh Phangan
Nai Harn Beach, Phuket
Long Beach, Koh Lanta
What are the best activities for adventure seekers in Thailand?
These activities offer thrilling experiences in various parts of Thailand, allowing adventure seekers to explore the country's natural beauty and engage in exhilarating outdoor adventures.
Rock Climbing in Railay – Krabi
Scuba Diving in the Similan Islands – Phang Nga
White Water Rafting in Chiang Mai – Chiang Mai
Zip-lining in Chiang Mai or Pattaya – Chiang Mai, Pattaya
Jungle Trekking in Khao Sok National Park – Surat Thani
Elephant Trekking in Ayutthaya or Chiang Mai – Ayutthaya, Chiang Mai
ATV Riding in Phuket or Pattaya – Phuket, Pattaya
Bungee Jumping in Pattaya – Pattaya
Kayaking in Ao Thalane or Phang Nga Bay – Krabi, Phang Nga
Skydiving in Pattaya – Pattaya
What are the best markets for shopping in Thailand?
Thailand is renowned for its vibrant and bustling markets, offering a wide array of goods, from traditional handicrafts to trendy fashion items. Here are some of the best markets for shopping in Thailand:
Chatuchak Weekend Market
Rod Fai Market
Ratchada Train Market
Saturday Walking Street
Warorot Market
Cicada Market
Hua Hin Night Market
What are the best places in Thailand for scuba diving and snorkeling?
Yes, Thailand is indeed one of the best places to try Scuba Diving and Snorkeling. Some of the top Scuba Diving and Snorkeling destinations of Thailand are –
Similan Islands
Koh Tao
Koh Samui
Phuket
Surin Islands
Phi Phi Islands
Koh Chang
Like & follow us on our following official social media channels
Facebook | Twitter | Linkedin | Instagram | Youtube
Also Check Out: Popular India Tours | Tour Packages | India Tour Packages | International Tour Packages
International Trending Holiday Destinations – Nepal Tours | Bhutan Tours | Singapore Tour | Thailand Tours | Sri Lanka Tours | Maldives Tours | Dubai Tours | Indonesia Tours
Other Popular Trending Holiday Destinations in India – Kashmir Tour | Himachal Tour | Uttarakhand Tour | Rajasthan Tour | Gujarat Tour | Sikkim Tour | Kerala Tour | Andaman Tour | Madhya Pradesh Tour | North East Tours
Tour Packages by Interest – Adventure Packages | Wildlife Packages | Pilgrimage Packages | Heritage Packages | Hill Station Packages | Weekend Packages | Honeymoon Packages | Beach Packages | Chardham Packages | Trekking Packages
Other Interesting International Travel Guide Blogs to Read
Other Interesting Wildlife Travel Guide Blogs to Read
Other Interesting India Travel Guide Blogs to Read
Other Interesting Destinations Travel Guide Blogs to Read
Other Interesting Uttarakhand Travel Guide Blogs to Read
Other Interesting South Travel Guide Blogs to Read
Other Interesting Adventure & Trekking Travel Guide Blogs to Read
Other Interesting Rajasthan Travel Guide Blogs to Read
Other Interesting Kerala Travel Guide Blogs to Read