When you think of South India, images of beautiful beaches, lush green plantations, serene cruises, and Ayurvedic resorts may come to mind. And yes, it truly is a wonderful place to explore with your loved ones. However, South India is much more than just picturesque landscapes – it's a melting pot of diverse cultures, cuisines, languages, festivals, and traditions. Exploring South India means discovering unique wonders that you won't find anywhere else in the world, creating unforgettable memories that will last a lifetime.
Whether you're a domestic tourist or an international traveler, planning a family vacation in India, South India is an excellent choice. There are numerous beautiful and exotic places to visit, each offering a unique experience to soothe your senses, seduce your eyes, and restore your energy to its fullest. From Munnar, Ooty, Kodaikanal, Coonoor, Alleppey, Kanyakumari to the Andaman and Nicobar Islands, these places are perfect for a family holiday in South India.
Every corner of South India has a story to tell. The lush green hills, breathtaking beach views, and warm smiles of the locals will fine-tune the romance of your trip. There are places to elevate your thoughts, listen to the sweet melodies of nature, and get your adrenaline pumping with thrilling adventure activities. Kids will be amazed by the amusement parks, wildlife sanctuaries, lakes, historical monuments, temples, museums, and other attractions that South India has to offer. The list will never end. For a memorable family holiday, exploring South India would be a great choice.
To help you plan your South India family holiday, we've put together a travel guide blog with our top 20 recommendations for the best places to visit in South India with your loved ones. We've also included the reasons why each destination is worth visiting, so you can make the most of your trip. Browse through the detailed descriptions below and get ready for an unforgettable family adventure in South India.
Here is some important quick information about South India travel and tourism-
Best Hill Stations Destinations of South India
Coonoor, Ponmudi, BR Hills, Coorg, Araku Valley, Ooty, Yercaud, Yelagiri, Kotagiri, Munnar, Idukki etc.
Best Beach Destinations of South India

Serenity Beaches, Pondicherry
Covelong Beach, Chennai
Alappuzha Beach, Alleppey
Varkala Beach, Varkala
Gokarna Beach, Gokarna
Kanyakumari Beach, Kanyakumari
Mahabalipuram Beach, Mahabalipuram
Cherai Beach, Kochi
Bekal Beach, Kerala
Om Beach, Gokarna
Malpe Beach, Karnataka
Radhanagar Beach, Andaman
Elephant Beach, Andaman
Vijaynagar Beach, Andaman

Best Adventure Destinations of South India
Thekkady, Coorg, Bheemeshwari, Gavi, Hampi, Dandeli, Periyar, Ooty, Munnar, Andaman, Pondicherry etc.
Best Waterfalls of South India
Abbey Falls, Athirappilly Falls, St Catherine Waterfalls, Courtallam Falls, Ethipothala Waterfalls, Hanuman Gundi Falls, Iruppu Falls, Mallalli Falls, Jog Falls, Palaruvi Waterfalls etc.
Popular Historical Places of South India
Mysore, Hyderabad, Kochi, Mahabalipuram, Kanchipuram, Hampi, Guntur, Amravati, Kurnool, Lepakshi, Badami, Bidar, Belur, Sringeri etc.
Here is a list of 20 must-visit destinations to enjoy a holiday with your family in South India-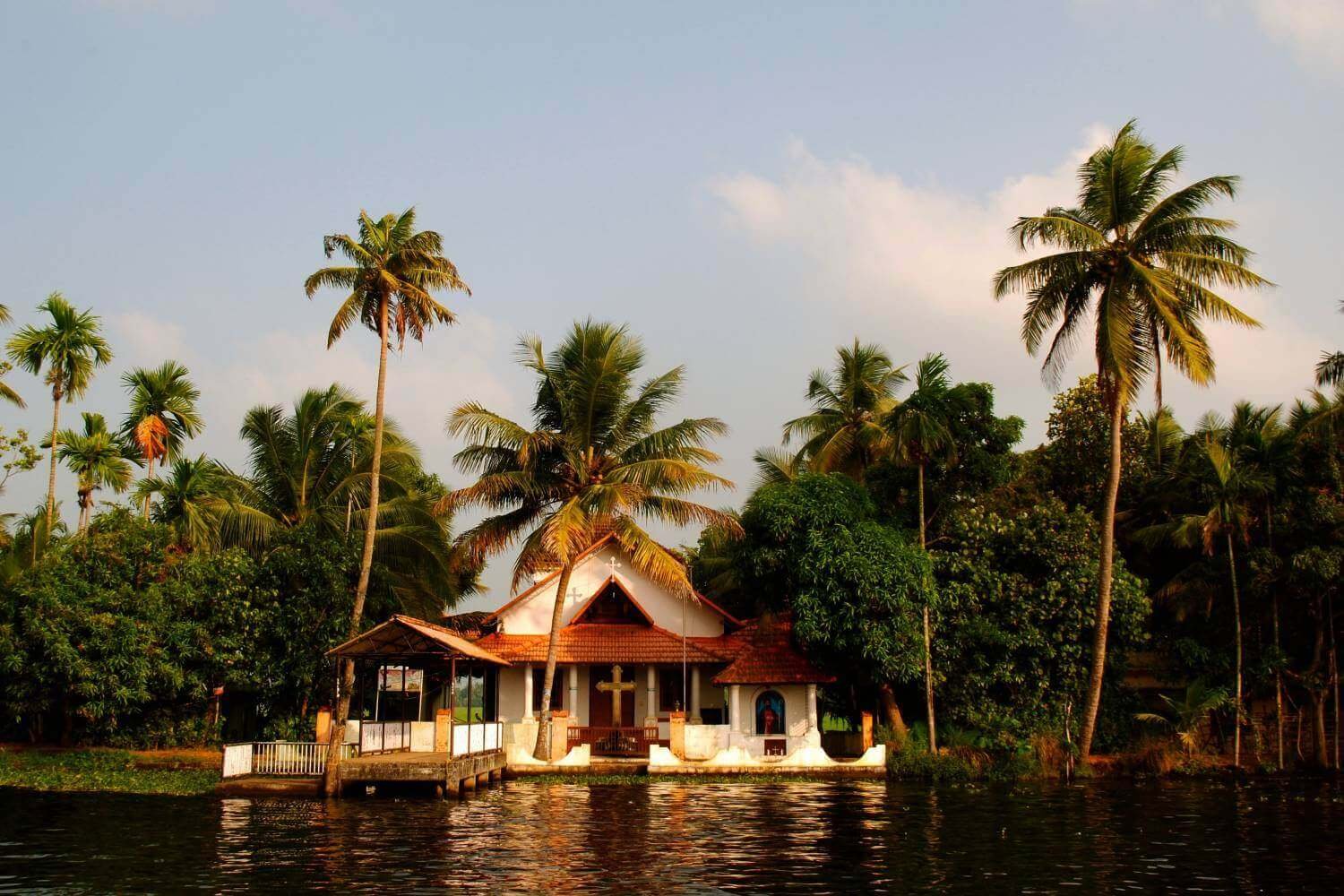 Munnar, Kerala
Ooty, Tamil Nadu
Coorg, Karnataka
Kodaikanal, Tamil Nadu
Hampi, Karnataka
Mahabalipuram, Tamil Nadu
Alleppey, Kerala
Pondicherry, Tamil Nadu
Wayanad, Kerala
Gokarna, Karnataka
Kanyakumari, Tamil Nadu
Thekkady, Kerala
Madurai, Tamil Nadu
Hyderabad, Telangana
Chennai, Tamil Nadu
Andaman
Kovalam, Kerala
Coonoor, Tamil Nadu
Guntur, Andhra Pradesh
Varkala, Kerala
Plan your family vacation to South India with Bon Travel India and save up to 30% with our early bird discount. Call us today at +91-8802149265 to learn more about this exciting offer.
1. Munnar – The Land of the Rolling Green Mountains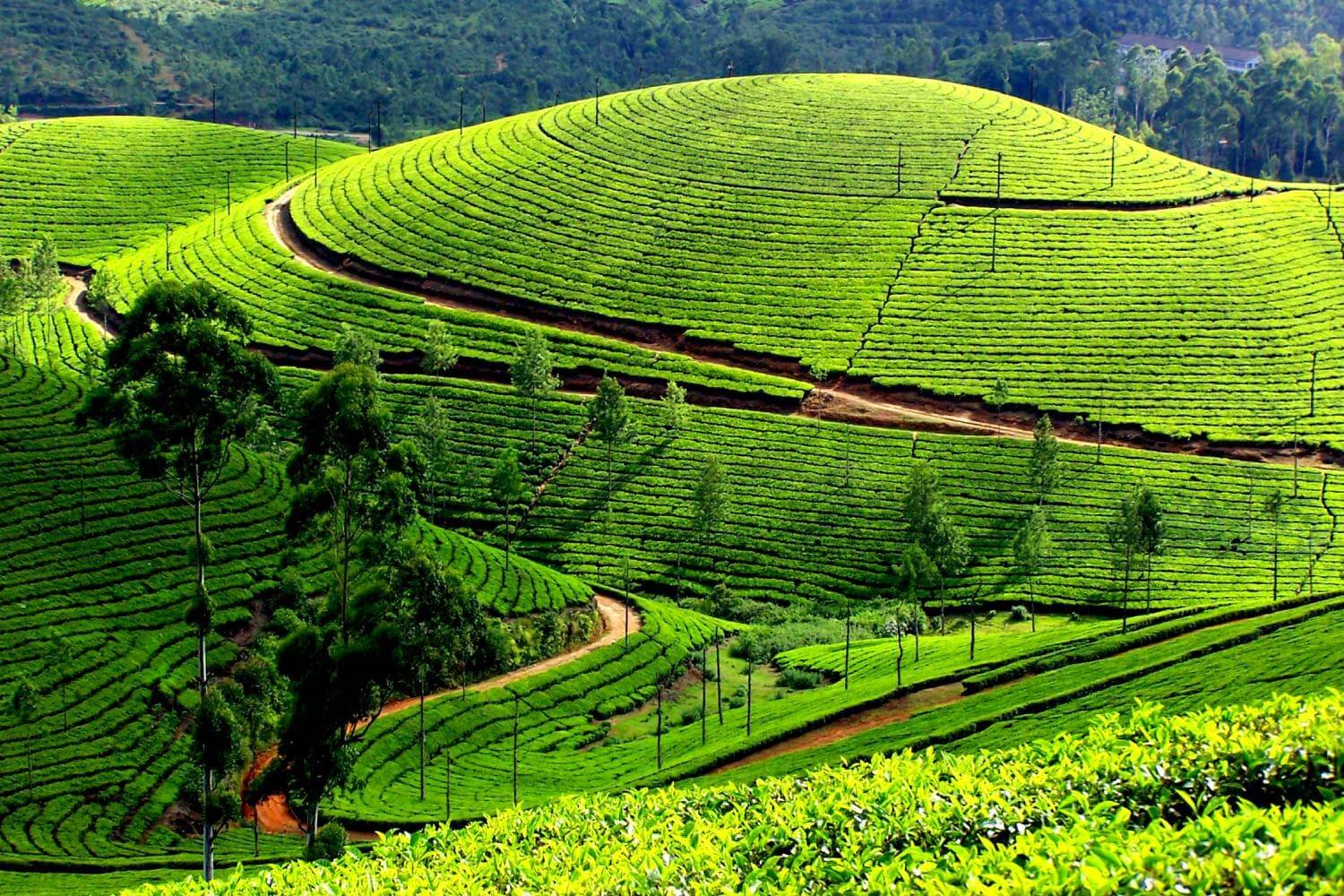 Munnar, an enchanting hill station in Kerala, will show you mesmerizing views of the charming rolling green mountains and emerald green plantations of the gorgeous Western Ghats. The soothing weather, chilled breeze of the mountains, and aromas of tea, coffee, and cardamom will follow you wherever you go.
Located at the confluence of three serene rivers – Muthirapuzha, Nallathanni, and Kundala – Munnar's delightful charm has been attracting lots of travelers for a decade. It is ranked first on the list of top tourist destinations in South India for families. Have you seen the beautiful flower carpets of Neelakurinji, which bloom once every 12 years? No? Then what are you waiting for? It is a must-see natural delight if you want to seduce your senses. The picturesque greenery, mountains, and valleys flooded with amazing wildlife sanctuaries will show you the wild realm of the Western Ghats. It looks beautiful all year round, but during the rainy season, nature's beauty is at its peak in Munnar. Traveling to Munnar with your family would be a one-of-a-kind experience.
2. Ooty – A Perfect Family Getaway
Surrounded by the awe-inspiring Doddabetta Peaks, the beauty of the quaint hill town of Ooty cannot be described in words. In its refreshing greenery, undulating hills, and delightful weather, you will feel most alive. For a family holiday trip, Ooty is one of the best destinations for South India sightseeing where you can actually forget the difference between reality and imagination.
The landscapes of Ooty will transport you into the world of fantasy. There are many coffee and tea plantations, lakes, pine, eucalyptus, conifer, and shola forests, which are nature's beautiful emotions. There are also many colonial architectural wonders to see in Ooty, as it used to be the summer retreat for the British. Holidays in Ooty with family mean you will breathe in the heaven of euphoria.
3. Coorg- Dramatic Landscapes and Delightful Vibes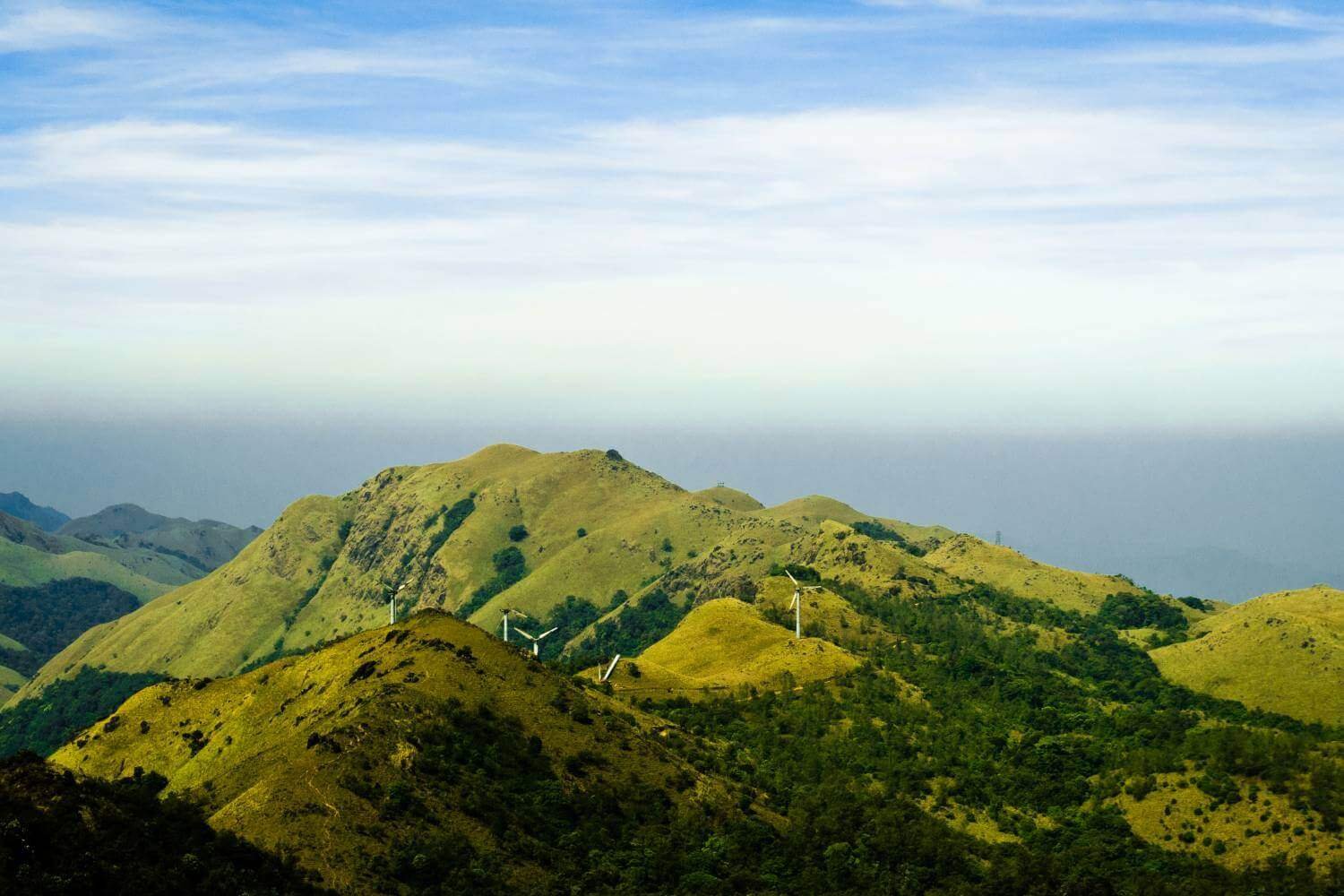 Harbinger of Solace in the mesmerizing Western Ghats, Coorg is one of the top travel destinations of South India for family holidays. The dramatic landscapes of Coorg will bring out the artist in you. You will be soothed and healed by the beauty of the silence of green woody slopes. The views of the misty mountains will fill your soul with wholesomeness. It's a paradise for nature lovers and a haven for photographers.
Walking in the colorful sceneries and seeing the enchanting waterfalls will make your heart go wild. The beauty of tea, coffee, and spice plantations will never let you go back to your home. The more you plunge into the depths of green Coorg, the more you will fall in love with it. In winters, the weather of Coorg will delight your soul. Cool breeze, chilled nights, amazing greenery, and misty mountains make this place awesome for family summer & winter trips in South India.
4. Kodaikanal – Forest Heaven
Kodaikanal's literal meaning is 'Gift of the forest,' and indeed, it is a gift to human beings. For South India family trips, Kodaikanal is a mini world of enchantment. With blissful trekking routes abundant in greenery, cascading waterfalls, pristine lakes, delightful temples, churches, and ancient caves, there is something for everyone and no one ever gets bored. Kodaikanal is also famous for its Kurinji flowers, which blossom once every 12 years. It is an awesome place for nature and adventure lovers, offering interesting opportunities for boating, trekking, and hiking in its natural wilderness and water bodies. There are amazing parks and waterfalls where you can spend some quality time with your loved ones. Kodaikanal hill station is truly the best art of nature.
5. Coonoor – Serene Heaven for Recreation
Coonoor is one of the best hill stations to visit in South India, located 21km from the hill station of Ooty. It's a place that will conquer your heart. If you are planning a family trip in South India during the summer, then Coonoor is undoubtedly the best choice. This place is a heaven of beautiful tea estates and home to mesmerizing trails for hiking and trekking. There are amazing valleys and small scenic villages in Coonoor, perfect for serene nature walks and clicking panoramic views. You will also behold one of the highest peaks of Nilgiris- Doddabetta Peak, and the view of this peak will lead your eyes to the awe-inspiring Hecuba, Kattadalu, and Kulkuri summits. One cannot forget the amazing toy train rides in Coonoor that connect to another nearby station, which is extremely scenic. You will definitely receive more than what you seek in every mile.
6. Kanyakumari – Explore the Land of Sun, Sand, Sea, and Spiritual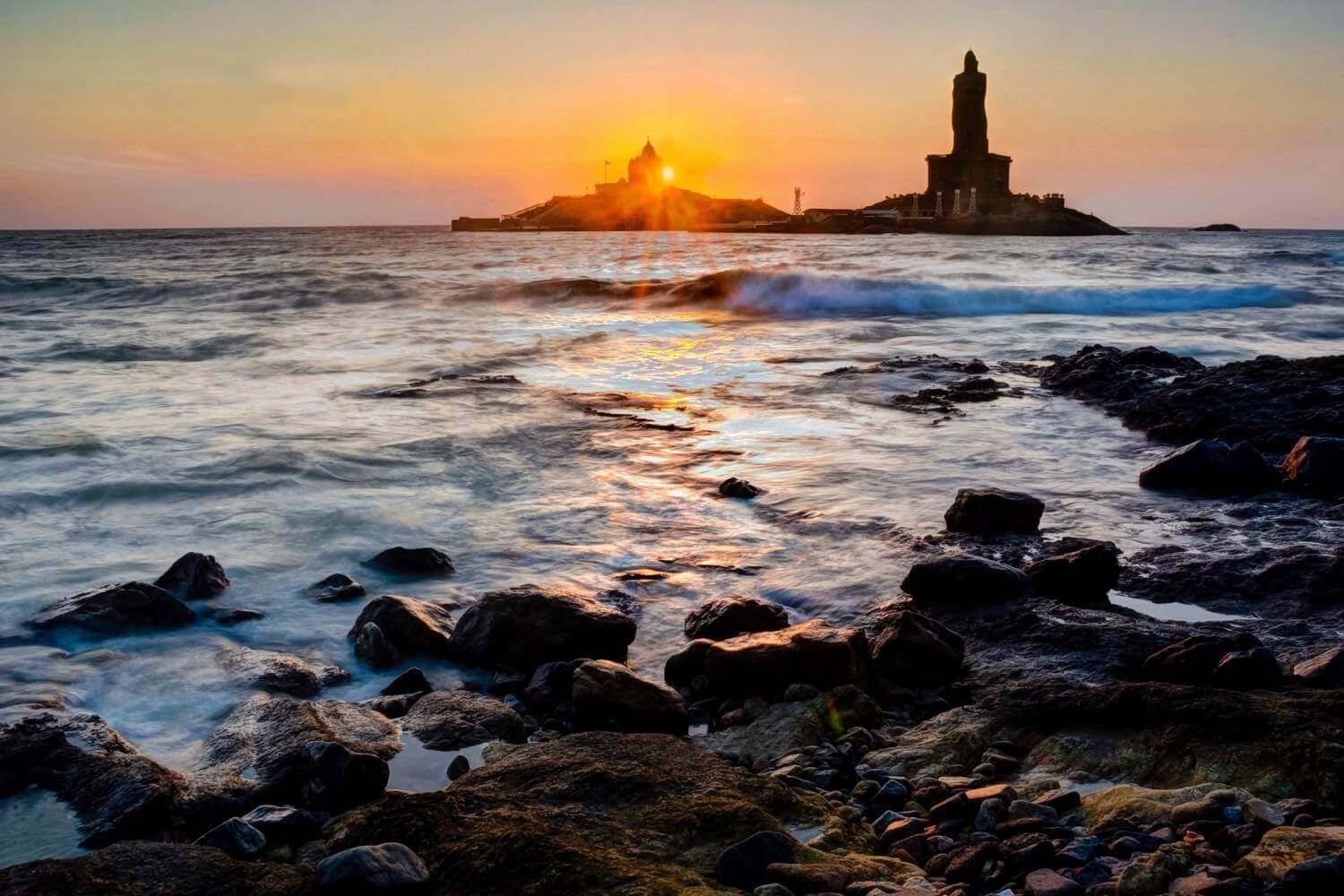 Located at the tip of the Indian Peninsula, Kanyakumari is one of the most scenic travel destinations to visit with your family in South India. It is located at the confluence of the Indian Ocean, Arabian Sea, and Bay of Bengal, which is actually the most iconic view of Kanyakumari. This creates a unique view as the waters of the three giant water bodies merge together. The Sun and the moon face each other with great pride on full moon night. It's a great place to enjoy an amazing beach holiday with family. Kanyakumari is also a great historical and religious destination of South India. Here you will see one of the 108 major Shakti Peethas of goddess Shakti, also known as Bhagwati Amman Temple. The alluring Padmanabhapuram Palace showcases the rich historical legacy of Travancore rulers. The 95ft high stone statue of famous Tamil poet and saint Thiruvalluvar is one of the major landmarks of the beautiful beach city. Indeed, Kanyakumari's wonders will captivate your spirit and unburden your heart from all the worries.
7. Alleppey – Backwater Paradise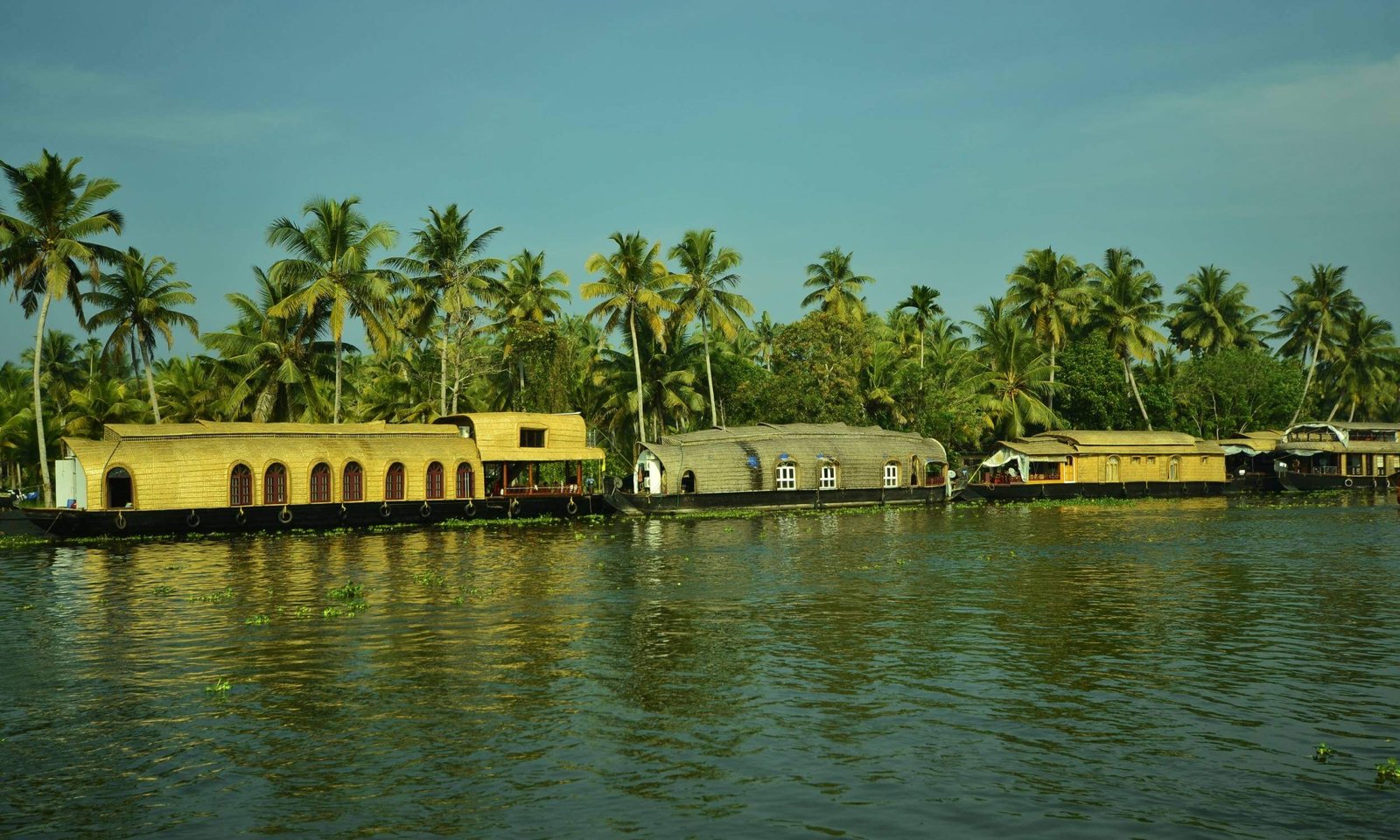 For fun-filled and exciting family trips, Alappuzha or Alleppey or Venice of the East serves as one of the top tourist destinations to visit in South India. Alleppey is the heart and soul of Kerala's backwaters and is in fact one of the top backwater tourism destinations in Kerala. If you are a person who loves houseboats, cruises, delicious seafood, and adventures on the narrow palm-fringed waterways, then there is no better place than Alleppey. We cannot forget the best Ayurvedic spas and massage centers across the city. The soothing touch of nature, serene simplicity, blissful paddy fields, and green scenic villages will compel your soul to take pictures every hundredth of a second. Alleppey is a beautiful poetry of water created by the powerful creativity of nature.
8. Hampi- Here History Comes Alive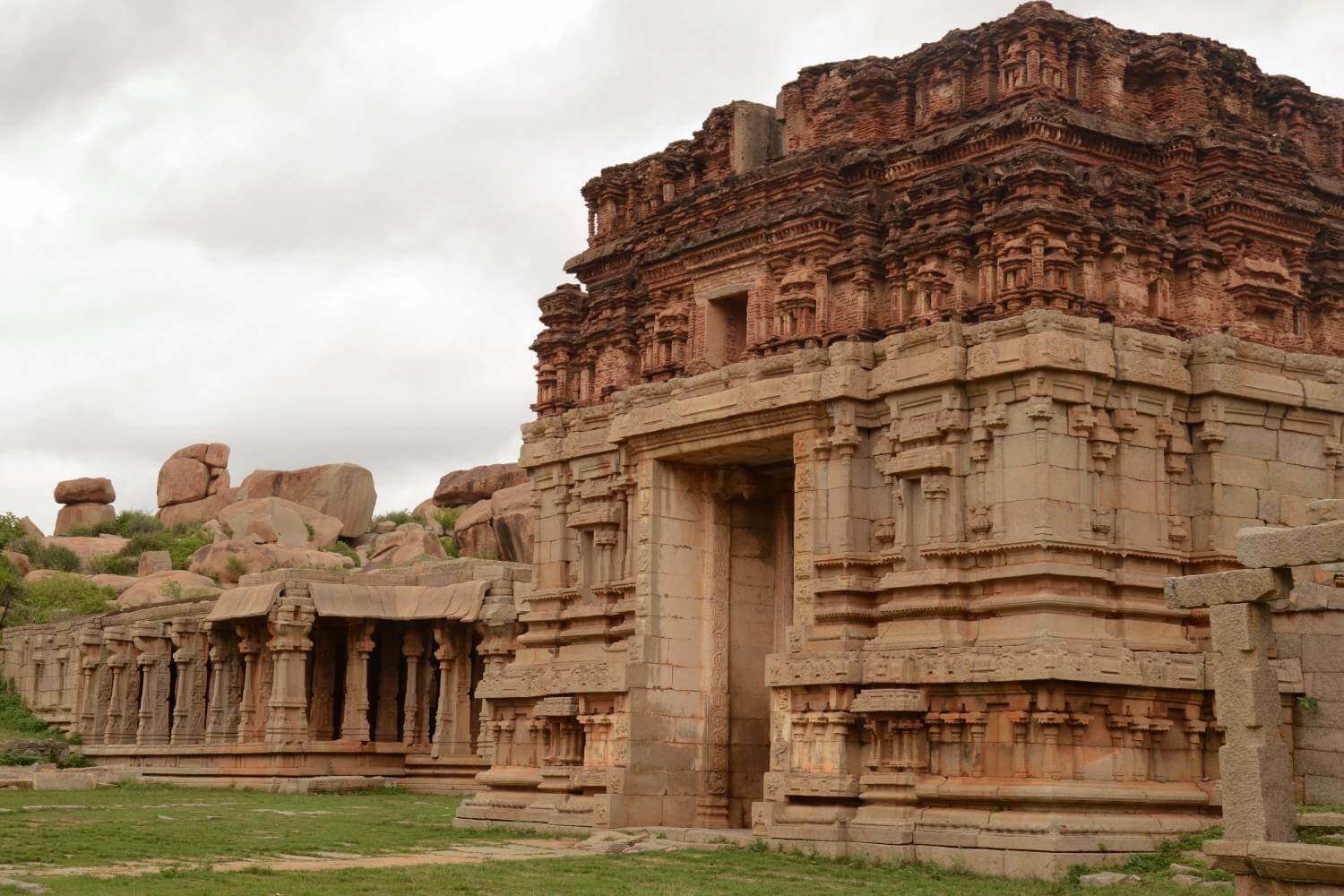 Once the capital of the great Vijaynagar Empire, Hampi today attracts tourists from all over the world for its historical marvels. As a UNESCO World Heritage Site, this magnificent destination is particularly popular for its fascinating Dravidian temples and palaces built between the 14th and 16th centuries. The spectacular Tungabhadra River, craggy hill ranges, and beautiful open plains make Hampi visually appealing, and it is one of the most sought-after destinations for sightseeing in South India. The terrain around Hampi is unique and mysterious, surrounded by boulders of varying sizes.
If you climb to the top, the entire city will be visible, transporting you back to the ancient Vijaynagar Empire. Similarly, looking at Anegundi, located on the northern banks of the Tungabhadra River, offers a real glimpse into Vijayanagar heritage. Its surroundings are home to many forgotten temples and fortifications that will amaze your senses. There is much to learn about the historical heritage of India in these places. Additionally, you can visit the great Anjanadri Hill, birthplace of Lord Hanuman, and the Anegundi Fort, which still stands proudly carrying all the memories of the Vijayanagar rulers. Hampi is a great choice for a family trip, where you can learn about the incredible historical heritage of India and the great Vijayanagar Empire. Indeed, it is a must-visit destination to include in your South India travel itinerary.
9. Mahabalipuram – Poetry of Ancient Monuments
Located on the Coromandel Coast of the Bay of Bengal, Mahabalipuram in Tamil Nadu is one of the best tourist destinations to spend a curious day with family in South India. This magnificent UNESCO World Heritage Site has kept the rich legacy of the Pallava Dynasty intact. The art and craftsmanship of the Pallava Dynasty are sure to leave you mesmerized. The plethora of cave temples, monuments, and sculptures will transport you to the stories of bygone times. The alluring bas-reliefs and rock-cut temples add to the charm of the heritage of the Pallava Dynasty. The town has so many interesting historical sites that it is showcased as an open-air museum to tourists. There is something for everyone. If you're not much of a history buff, you can also enjoy the pristine beaches of Mahabalipuram. If you visit between June and September, surfing is one of the best adventure activities to try.
There is an interesting story behind the name Mahabalipuram. It is said that a demon named Mahabali was killed by Lord Vishnu. Many artists, dancers, poets, and writers have given soul to the beauty of the architectural marvels of Mahabalipuram with creativity and imagination. There are many amazing cafes, markets, and seafood joints to tickle your senses. Visiting Mahabalipuram means going back to the reign of the erstwhile Pallava rulers. Here, history comes alive with magnificence.
10. Wayanad – Experience the Magic of Misty Mountains and Lush Green Forests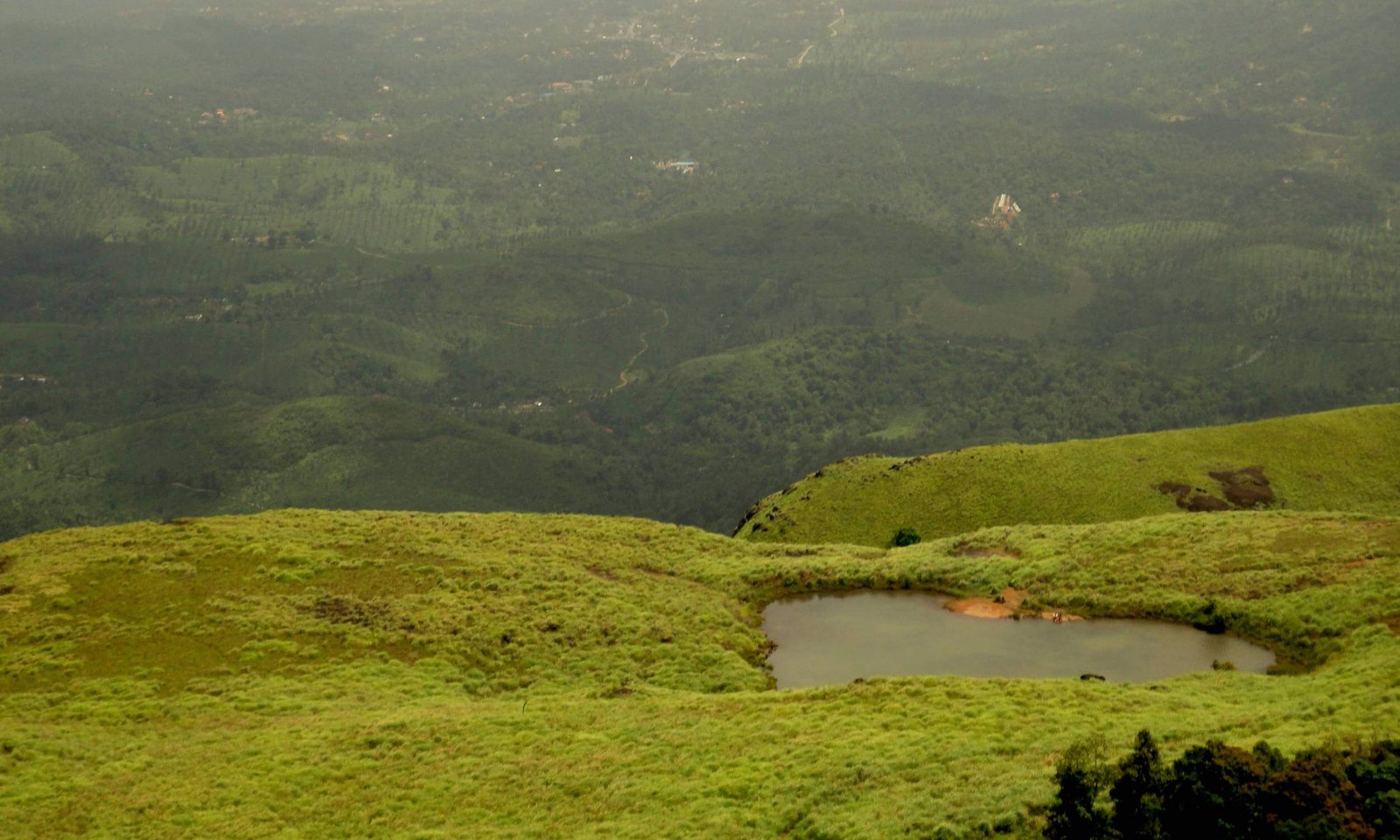 Wayanad takes you on a journey to the world of spices. The lush green plantations of coffee, tea, and cardamom, along with the forests and wildlife, create a mesmerizing landscape. The enchanting green mountains of the Western Ghats cast a magical spell on the minds of tourists. Located at the southern tip of the Deccan plateau, Wayanad's rugged terrains, jungles, and valleys make it one of the most fascinating destinations for nature lovers and families looking for a relaxing nature holiday in South India. The Western Ghats are home to numerous wildlife sanctuaries, including the Wayanad Wildlife Sanctuary, which is an integral part of the Nilgiri Biosphere Reserve. There are many lovely picnic spots amidst the enchanting nature of Wayanad, such as serene lakes, pristine waterfalls, and mind-boggling forest trails that will add pleasure to your trip. The music of nature is in its roar; all you need to do is listen.
11. Pondicherry – Gateway to Your Soul
Looking for a perfect weekend holiday spot to enjoy with your family? Pondicherry (Puducherry) is the place where you can experience the tranquility of a secluded beach and the healing touch of greenery on one hand, while on the other hand, explore the heritage colonial buildings that narrate the story of the bygone British era. There are numerous picturesque beaches to feel the soothing sea breeze and to try amazing adventure sports such as scuba diving, snorkeling, and surfing. Some places in Pondicherry are so peaceful that they seem to be meditating to rediscover their soul. You can relish some of the most delicious seafood in Pondicherry, and also indulge in a variety of cuisines such as organic food, Italian, Mexican, French, Continental, and Chinese. The beauty and simplicity of the small scenic town of Pondicherry will leave you enchanted. It is indeed one of the top budget tourist destinations for a family weekend getaway in South India.
12. Gokarna – Beach Paradise
Gokarna is a must-visit place in South India if you are planning a trip with your family. Located in the Uttar Kannada district of Karnataka, Gokarna is an amazing tourist attraction for beach lovers. There are many pristine beaches to relax and reconnect the heart, mind, and soul with the bliss of nature. The beaches are silent stories of nature in Karnataka, and to listen to their beautiful rapture, one needs to feel the fresh breeze and live in each moment as it passes. You will surely hear the sweet rapture of the shores, and the beautiful sunrises and sunsets invite you to feel the warmth of the sun. The shores reciprocate the warmth of the sun by wearing its light, and you must surrender yourself to the beauty of the beaches. Apart from the lovely beaches, Gokarna is also a great place for spiritually inclined people. There are many shrines to explore and experience divine bliss.
13. Thekkady – Symbol of Beauty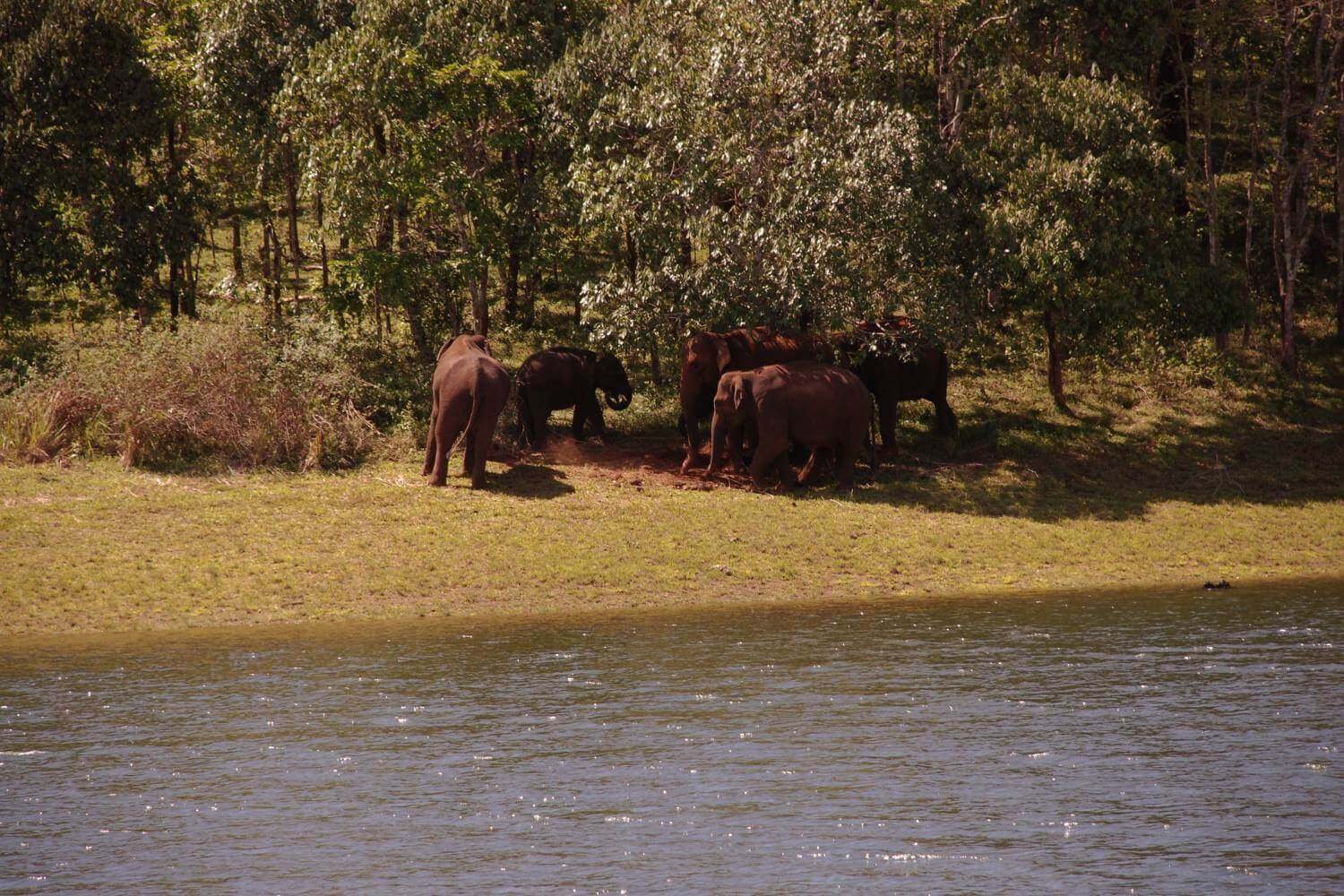 Thekkady is one of the offbeat destinations to travel in South India with family if you are not fond of crowded places. Not much seen and explored, it is a delight for nature lovers, a paradise for honeymoon couples, and a great relaxing stopover for peace-loving families. Surrounded by the captivating Western Ghats, Thekkady has an abundance of greenery, national parks, and wildlife sanctuaries, spice plantations, and small scenic villages that will lead you to the world of serenity. There is no chaos, only something marvelous in its surroundings that will definitely make your trip wholesome. Embrace the pleasant weather and the soothing landscapes whose soul blossoms with the blessings of nature.
14. Madurai – Soul of South India
Madurai, the soul of Tamil Nadu, is one of the most visited tourist destinations in South India. Every year, tourists from all over the globe come to Madurai to explore and enjoy its rich cultural and architectural heritage. If you are a city lover, then Madurai is the place to be. You will see some outstanding works of art and architecture in Madurai. It is also one of the oldest towns in Tamil Nadu. The exquisite temples of Madurai showcase the rich arts and craftsmanship of the Pandian Kings. The Dravidian architecture will leave you awestruck.
There are many scenic hill stations near the city such as Kodaikanal, Meghamalai, and Theni that would make your weekends delightful. Madurai also has many amazing shopping centers where you can shop for sculptures, handicrafts, and wooden products.
Madurai is also known as Madhurapuri. According to legends, there was a king named Kulasekhara who dreamt of Lord Shiva. In his dream, the locks of Lord Shiva were dipped in sweet nectar. So, some drops of sweet nectar rolled down on earth. The place where they fell is known as Madhurapuri.
15. Hyderabad – Views Will Leave You Speechless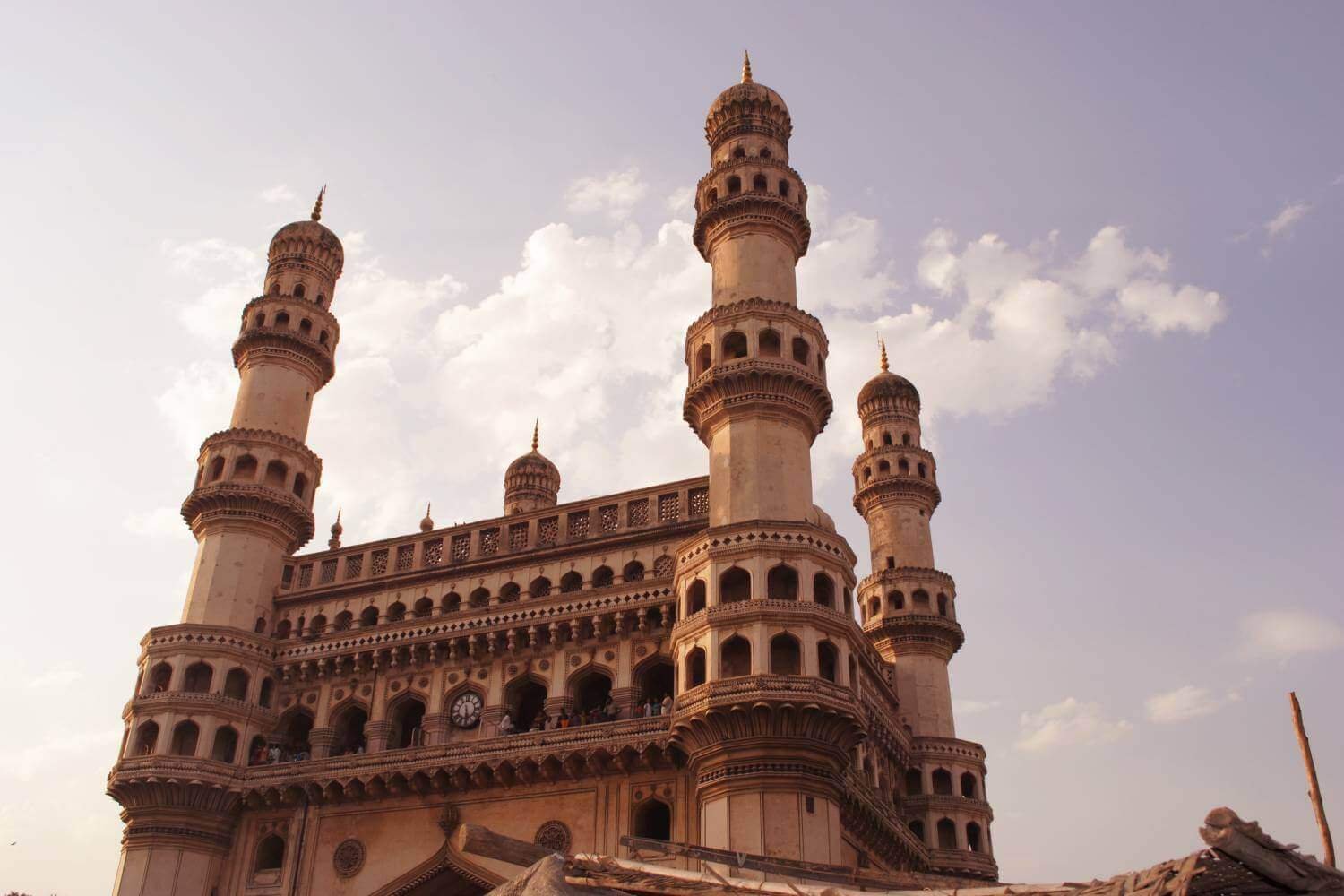 Hyderabad is a beautiful amalgamation of culture, heritage, delightful cuisine, and amazing experiences. The city has two faces: one shows you the old world of history through marvelous architectural monuments of Nizam rulers, and the other shows you the beautiful facets of modern culture. The cosmopolitan population is always in a hurry. The magnificent Char Minar is the soul of this wonderful city. The bustling bazaars are a gateway to the world of rich Hyderabadi cuisine. This mesmerizing place is a heaven for spicy food lovers. Hyderabad's variety of tourist attractions, such as heritage monuments, lakes, parks, museums, bazaars, and cafes, have captivated a lot of attention from tourists. From colorful bangles to amazing fabrics, fun-filled film city tours at Ramoji to the laser show at Lumbini Park, partying and picnicking at Ethipothala waterfalls to blissful boat rides at the shores of Hussain Sagar Lake, Hyderabad is a joy ride for tourists. For a family trip, Hyderabad is one of the best places to visit in South India as it has so much to offer that tourists will want to come again.
16. Chennai – Delightfully Chaotic
Chennai, the marvelous capital city of Tamil Nadu, is an amazing place to enjoy the finest cuisines of the world, ancient temple architecture, mesmerizing artworks, and fascinating natural wonders. If you want to know about South India's art, culture, and heritage, then you must visit Chennai. Located on the Coromandel coast, Chennai's bustling seaport looks stunning. With natural wonders such as soothing beaches, theme parks, cafes, and the delightful chaos of automobile factories and industrial hubs, Chennai's ambiance will delight your soul in different ways if you are fond of city traveling. Sometimes you will feel the delightful chaos of the people around you, and other times you may want to deep dive into the silent reserves of Chennai to fine-tune your spirit. Escape is everywhere; you just need to find it. A family trip to Chennai would be a wonderful experience. This place will never bore you, and you will always be looking for something new.
17. Andaman – Tropical Heaven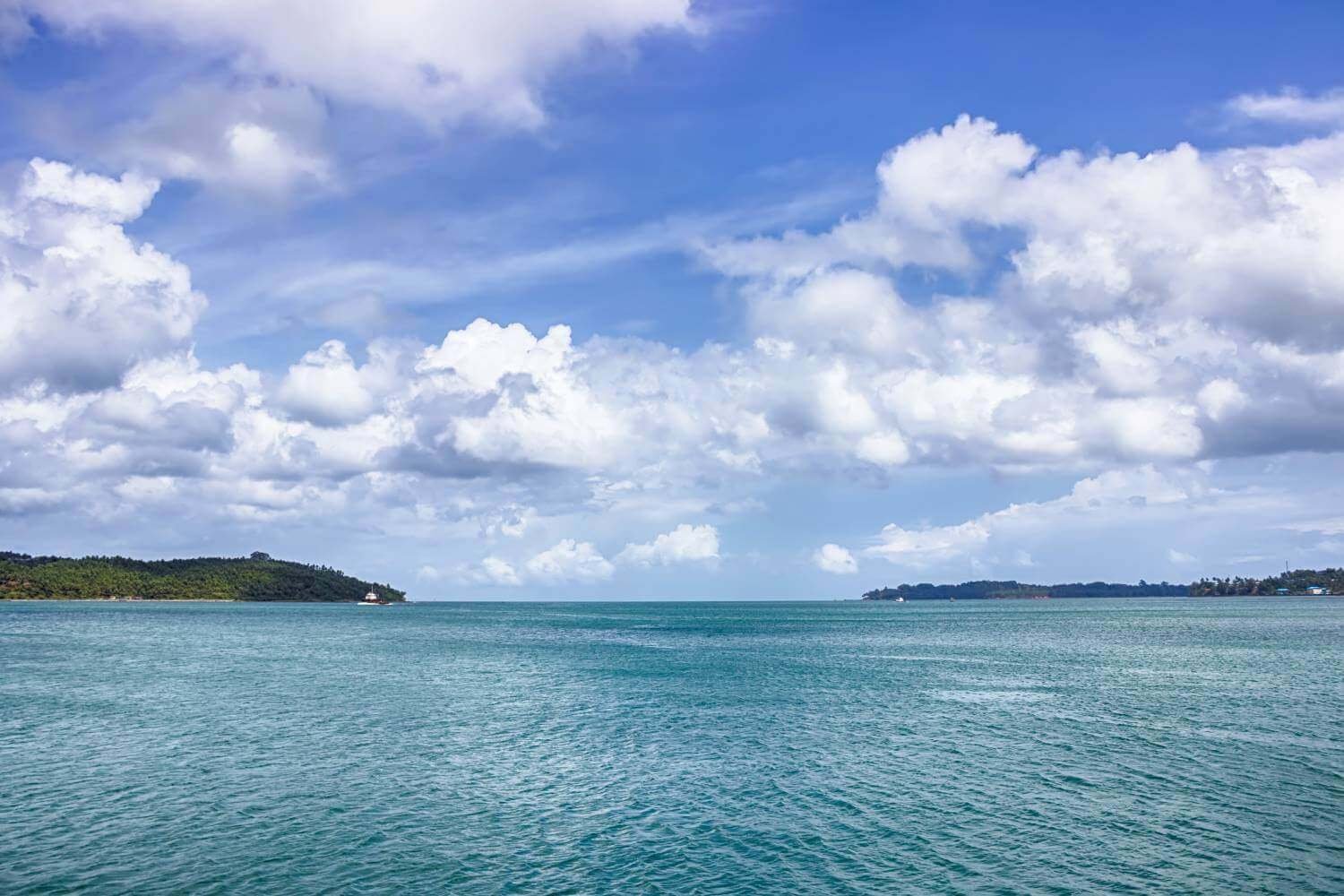 The tropical paradise of Andaman will delight your soul with its mesmerizing weather. It is one of the top tourist destinations to visit with family for a fun-filled beach holiday in South India. The Andaman group comprises a total of 550 islands. Wherever you go, you will feel the warmth of nature. The major highlight of this place is its tropical weather. The southwest and northeast monsoons bless these islands with heavy rainfall. The tropical evergreen rainforests showcasing rich wildlife, a marine world teeming with rare aquatic species and beautiful corals – Andaman is a wonderful hub to enjoy water activities such as scuba diving, sea karting, parasailing, snorkeling, jet skiing, marine adventures and lush greenery. Trekking and island camping are other popular options to spend quality time and create amazing memories with your loved ones. The sandy beaches and fascinating waterfalls offer a pleasant escape for relaxation and recreation into the lap of nature.
Andaman is very rich in wildlife and plant biodiversity. There are around 2500 flowering plants, out of which 10% are endemic, and amazing wildlife species in these islands. Look for Andaman rat, Andaman horseshoe bat, Andaman white-toothed shrew, and Jenkin's shrew. It is also one of the best places for bird watching, with prominent birds such as Andaman woodpecker, Andaman treepie, Narcondam hornbill, Andaman coucal, and Andaman crake.
18. Kovalam – A Treasure Trove of Scenic Beauty and Adventure
Another beach paradise on the list is the awe-inspiring Kovalam, surrounded by the beautiful Arabian Sea and fringed with tall coconut groves. Kovalam will seduce your senses with its panoramic views and is a perfect place for a laidback beach vacation with family in South India. It is also one of the best places to try fun-filled water adventure sports such as kayaking, snorkeling, swimming, and windsurfing. The beaches are also filled with many Ayurvedic spas and resorts for wholesome aromatic massages and Ayurvedic spa therapies. You will never forget the food of Kovalam: try the amazing Kerala cuisines, seafood cooked with aromatic spices, and delicious beachside snacks. Kovalam is a fun place filled with lots of water adventures and amazing opportunities to escape and cherish moments of happiness with your loved ones.
19. Guntur- For a Peaceful Laid-Back Vacation
On the serene banks of the River Krishna, Guntur is a peaceful historical paradise in South India. Did you know that the second oldest evidence of human habitation in India was found in Guntur? Many Paleolithic stone age tools were discovered in Guntur, proving it to be one of the oldest historical towns in South India. It is also one of the most developed cities in Andhra Pradesh, with a maximum number of learning institutes and administrative offices. You will be amazed to know that Guntur is mentioned in scriptures dating back to 1147 CE to 1158 CE. The ambiance of this place is quiet and you will love the heritage monuments of Guntur. There are many gardens, beaches, temples, forts, and caves in Guntur. It is an amazing place to visit with family in South India if you love heritage places, less crowd, and quiet surroundings.
20. Varkala- Rejuvenate Your Senses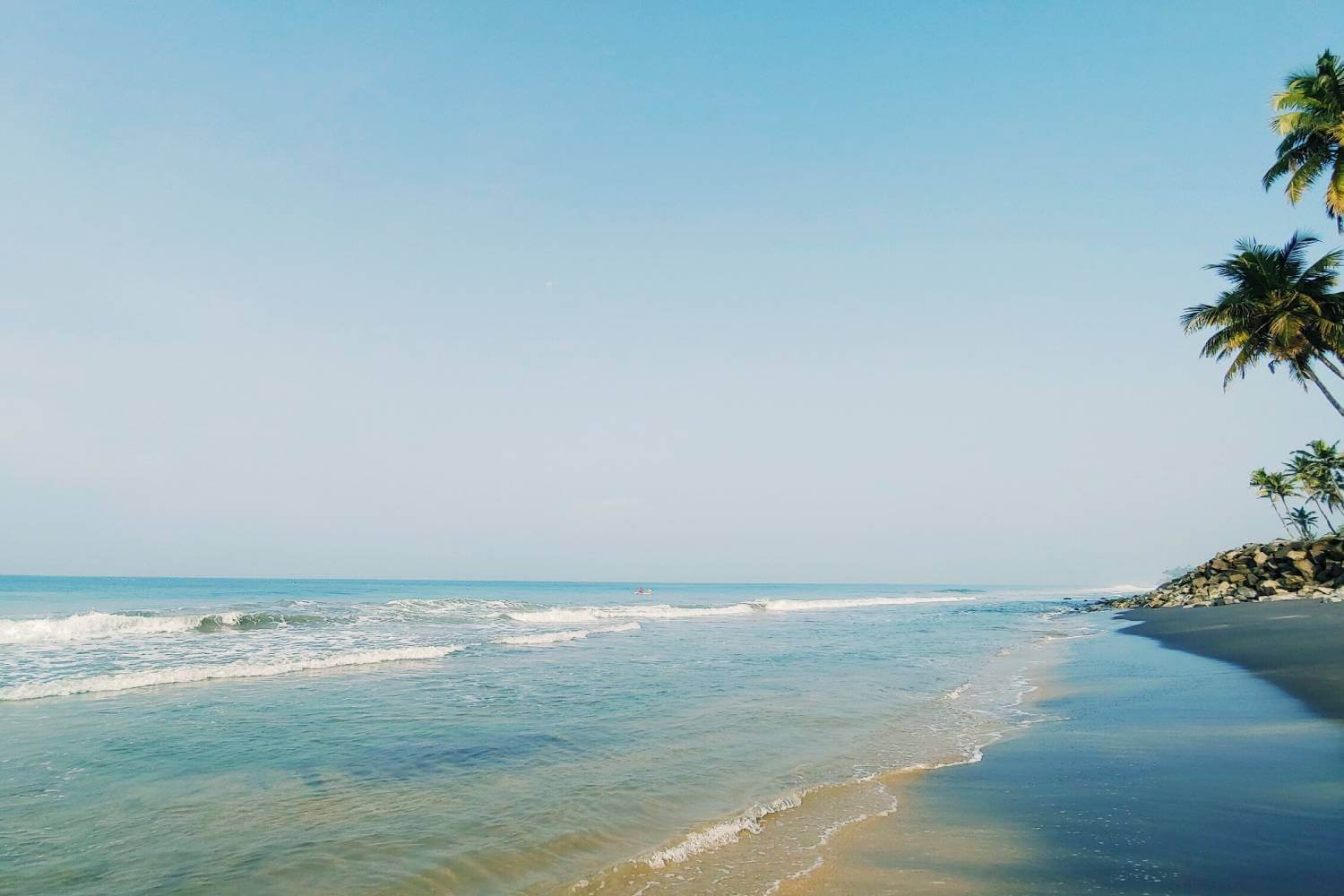 Varkala is an amazing destination to visit with your family and kids in South India. This coastal town offers a lot to tourists of all kinds. From great seafood and mesmerizing beaches to serene temples, hippie culture, Ayurvedic spas, hills, forts, and lake views, the list is endless. The beautiful Varkala beach, the 2000-year-old Vishnu Temple, and the Ashramam-Sivagiri Mutt established by the great religious reformer and philosopher Sree Narayana Guru are prominent highlights of Varkala tourism. Apart from adventure activities, Varkala beach is also popular for its natural spring, which is considered to have medicinal properties. It's a wonderful pilgrimage place, and thousands of devotees visit the Sivagiri Mutt to pay their respects to the guru during Sivagiri Pilgrimage days, which start from 30th December and last till 1st January.
Here is a list of some of the most amazing tourist destinations for a wonderful family trip in South India. We hope that you will have the best of South India tourism in these awe-enchanting landscapes. If you have already visited these places, we would love to hear all your fun-filled stories in the comment section.
Discover more insightful travel guides about South India tourism and explore other interesting destinations by visiting our South India Travel Blog Category.
Frequently Asked Questions
What are the must visit hill stations in South India?
South India is one of the most popular holiday destinations for tourists. It is a haven for nature lovers, adventurers, backpackers, couples, and families. The southern part of India is blessed with amazing greenery, lakes, waterfalls, wildlife sanctuaries, forests, beaches, temples, museums, etc. It is a beautiful tourist destination to spend quality time with your loved ones. You will never feel bored here as there is something for everyone to enjoy. Due to its natural beauty, cuisine, culture, adventures, and amazing monuments, South India is ranked first in the list of top 10 destinations to enjoy holidays in South India.
Some of the best hill station places to visit in South India are –
Ooty
Coorg
Munnar
Idukki
Kodaikanal
Nandi Hills
Yercaud
Yelagiri
Kotagiri
Valparai
Ponmudi
Devikulam
Coonoor
Gavi
Matanga Hills
What are the most popular beaches in South India?
It is not wrong to say that we can call South India 'The Beach Paradise of India.' If you want to have a memorable beach holiday, you can visit some of the beaches in South India. South India offers unique opportunities to learn about the tradition, culture, and cuisine of the region. The beaches in South India are visually very appealing, and you will not be able to resist clicking non-stop pictures of the beaches and beautiful sunrise and sunset views.
Some of the most popular beaches of South India are –
Serenity Beaches, Pondicherry
Covelong Beach, Chennai
Alappuzha Beach, Alleppey
Varkala Beach, Varkala
Gokarna Beach, Gokarna
Kanyakumari Beach, Kanyakumari
Mahabalipuram Beach, Mahabalipuram
Cherai Beach, Kochi
Bekal Beach, Kerala
Om Beach, Gokarna
Malpe Beach, Karnataka
Radhanagar Beach, Andaman
Elephant Beach, Andaman
Vijaynagar Beach, Andaman
What are the top historical places to visit in South India?
South India is a place where history comes alive through its historical monuments. The region's historical places offer a glimpse into the rich craftsmanship, art, culture, and imagination of South India. Your eyes will never tire of exploring these wonders, as the fantastic architectural marvels are sure to leave a lasting impression on your heart, mind, and soul.
Some of the top historical places to visit in South India are –
Hampi
Mahabalipuram
Hyderabad
Kanchipuram
Badami
Bijapur
Chennai
Thanjavur
Mysore
Kochi
What are the best wildlife Sanctuaries in South India?
If you haven't visited the Wildlife Sanctuaries in South India, you're missing out on something truly special. South India is renowned for its national parks and wildlife sanctuaries. The hillocks of the Western Ghats, the enchanting jungles of Mudumalai, the Satpura ranges, and the Nilgiris are incredible landscapes in South India that abound with amazing wildlife. In fact, South India is famous for its wildlife and nature destinations, attracting tourists from all over the world to enjoy the floral and faunal wealth of this region.
The best wildlife Sanctuaries in South India are –
Dandeli wildlife Sanctuary
BR Hills Wildlife Sanctuary
Periyar Wildlife Sanctuary
Brahmagiri Wildlife Sanctuary
Idukki Wildlife Sanctuary
Someshwara Wildlife Sanctuary
Kabini Wildlife Sanctuary
Peppara Wildlife Sanctuary
Wayanad Wildlife Sanctuary
Aralam Wildlife Sanctuary
What are the popular pilgrimage destinations in South India?
South India is one of the most mesmerizing tourist destinations that can elevate your soul spiritually. It is home to many breathtaking temples that showcase the legacy of the Pandaya, Chola, and Chera rulers. The religious scene of South India is an amalgamation of many cultures, including Islamic Sufism, Bhakti movement, and colonial-era influences that have colored the landscapes of South India with shrines of different faiths. With various churches, dargahs, and temples to explore, South India offers an opportunity to embrace the divine seat of the almighty.
The popular pilgrimage destinations in South India-
Tirupati
Rameshwaram
Hampi
Madurai
Kanchipuram
Thanjavur
Kanyakumari
Srisailam
Gokarna
Udupi
Murudeshwar
Ahobilam
Yaganti
Vijayawada
Thrissur
Which are the best places to visit in South India during the monsoon season?
If rain and misty landscapes are your thing, then maybe the monsoon season is the perfect time to visit South India. With the onset of the monsoon season, the misty hill stations, lush green jungles, and pleasant weather will melt your heart. It's also the time for festivals such as Onam (September) and Rath Yatra, as well as for indulging in wonderful Ayurvedic massages. To experience the best of the monsoons in South India-
Chikmagalur
Ooty
Poovar
Alleppey
Sirsi
Munnar
Coorg
Devikulam
Kodaikanal
Coonoor
Gavi
Idukki
Lambasingi
Kanyakumari
Agumbe
Araku Valley
Which are the best places to visit in South India during the winter season?
Winter in the South is characterized by a chilled breeze and dry skies, except for Tamil Nadu where the northeast trade winds bring rainfall. It's the perfect time to travel to mesmerizing hill stations and enjoy the beauty of the hills, with temperatures ranging from 5-20°C. Winter is also an excellent opportunity to enjoy water sports, outdoor activities, and uninterrupted sightseeing.
The best places to visit in South India during the winter season
Coonoor
Ooty
Varkala
Alleppey
Wayanad
Munnar
Kodaikanal
Idukki
Yercaud
Hampi
Mahabalipuram
Coorg
Kochi
Pondicherry
Andaman
Araku Valley
Nandi Hills
Which are the best places to visit in South India during the Summer season?
While the heat of summer makes life unbearable in major parts of India, summer in South India's hill stations is a blissful escape. There are plenty of hill stations in South India to enjoy the pleasant weather and chilled hill breeze. While the plains of South India may be unbearable during summer, the hill stations offer a perfect respite to explore and feel relief from the scorching sun.
The best places to visit in South India during the Summer season are –
Coonoor
Kudremukh
Varkala
Munnar
Yercaud
Coorg
Ponmudi Hills
Araku Valley
Alleppey
Nandi Hills
Ooty
Wayanad
Kodaikanal
Yelagiri
Idukki
What are the famous festivals celebrated in South India?
Festivals in South India are a great way to experience its rich culture, traditions, and heritage. Each state has its own festivals that showcase its unique cultural heritage. Additionally, there are some common festivals that each state celebrates with great pomp and show. Some festivals are inspired by nature, some by sports, some by history, some are ritualistic, and some are dedicated to gods and goddesses. Let's get to know about some of the famous festivals celebrated in South India.
Hampi Festival
Pongal
Onam
Mysore Dasara
Thrissur pooram
Ugadi
Mahamaham festival
Karaga
Vishu
Fire Walking Festival
Arrattupuzha Festival
Like & follow us on our following official social media channels
Facebook | Twitter | Linkedin | Instagram | Youtube
Also Check Out: Popular India Tours | Tour Packages | India Tour Packages | International Tour Packages
International Trending Holiday Destinations – Nepal Tours | Bhutan Tours | Singapore Tour | Thailand Tours | Sri Lanka Tours | Maldives Tours | Dubai Tours | Indonesia Tours
Other Popular Trending Holiday Destinations in India – Kashmir Tour | Himachal Tour | Uttarakhand Tour | Rajasthan Tour | Gujarat Tour | Sikkim Tour | Kerala Tour | Andaman Tour | Madhya Pradesh Tour | North East Tours
Tour Packages by Interest – Adventure Packages | Wildlife Packages | Pilgrimage Packages | Heritage Packages | Hill Station Packages | Weekend Packages | Honeymoon Packages | Beach Packages | Chardham Packages | Trekking Packages
Other Interesting Kerala Travel Guide Blogs to Read
Other Interesting South Travel Guide Blogs to Read
Other Interesting Uttarakhand Travel Guide Blogs to Read
Other Interesting India Travel Guide Blogs to Read
Other Interesting Destinations Travel Guide Blogs to Read
Other Interesting Adventure & Trekking Travel Guide Blogs to Read
Other Interesting Rajasthan Travel Guide Blogs to Read
Other Interesting Wildlife Travel Guide Blogs to Read
Other Interesting International Travel Guide Blogs to Read