Embark on a journey to witness the mesmerizing scenery of Ladakh – a Himalayan destination that every traveler must visit at least once. The high-altitude desert remains cool throughout the hottest months, offering the perfect escape from the summer heatwave. Our comprehensive Leh Ladakh Travel Guide offers insights into the best tourist attractions for your dream trip.
Ladakh landscapes are alluring, dreamy and fascinating. It is on the bucket list of all travelers. At once in a lifetime, we all desire to travel to Ladakh. Rugged landscapes, high altitude lakes and monasteries, mighty Himalayan mountains, highest motorable passes, snowfall, captivating motor biking expeditions and mesmerizing trekking trails, rafting, camping in the meadows, serene stopovers, enchanting festivals and unique cuisines, rituals and culture makes Ladakh is one of the most scenic destinations to travel for every kind of wanderer. Ladakh is one of a kind tourist destination which you must visit at least once in a lifetime.
Quick Travel Information on Ladakh Tourism
| | |
| --- | --- |
| Ladakh is also known as | Moonland, Little Tibet, The Last Shangri – La and The Roof of the World, The Land of High Passes |
| Major Languages Spoken in Ladakh | Ladakhi, Balti, Tibetan, English and Hindi |
| Popular Adventure Activities to Do in Ladakh | Mountain Biking, Trekking, Rafting, Skiing, camping, wildlife safari, Quad Biking, Rock climbing, Paragliding, Archery, Ice hockey and Polo. |
| Best Place for Stargazing and Photography in Ladakh | Indian Astronomical Observatory, Mt Saraswati. |
| One of the Highest Altitude Bridge in the world | Bailey Bridge |
| Rare Twin Humped Bactrian Camel | Nubra Valley |
| A Place Which Defies Gravity | Magnetic Hill, Zero Gravity Hill |
| Largest National Park | Hemis National Park |
| Color Changing Lake | Pangong Lake |
| Beautiful Lunar Landscape | Lamayuru |
| Best Time to Visit Ladakh | Mid-May to September |
| Popular Tourist Attractions in Leh Ladakh | Nubra Valley, Pangong Tso Lake, Magnetic Hill, Leh Palace, Hemis National Park, Zanskar Valley, Tsomoriri Lake…etc |
| Accommodation Options for Tourist in Ladakh | Hotels, Guesthouses, Homestays, Campsites |
Let's know about Ladakh's top 20 incredible tourist attractions.  If you are planning Leh- Ladakh Tour this blog will definitely help you.
Nubra Valley
Hemis National Park
Pangong Lake
Tsomoriri Lake
Changthang
Markha Valley
Diskit Monastery
Thiksey Monastery
Khardung-la Pass
Shanti Stupa
Magnetic Hill
Zanskar Valley
Namgyal Tsemo Gompa
Alchi Monastery
Leh Palace
Hall of Fame
Gurudwara Pathar Sahib
Kargil Valley
Spituk Monastery
Hemis Monastery
Avail Up to 30% Early Bird Discount on Our Leh Ladakh Tour Packages. Contact Us Now via Call or WhatsApp at +91-8802149265 for More Details and Booking.
1. Nubra Valley- Wholesome for Memories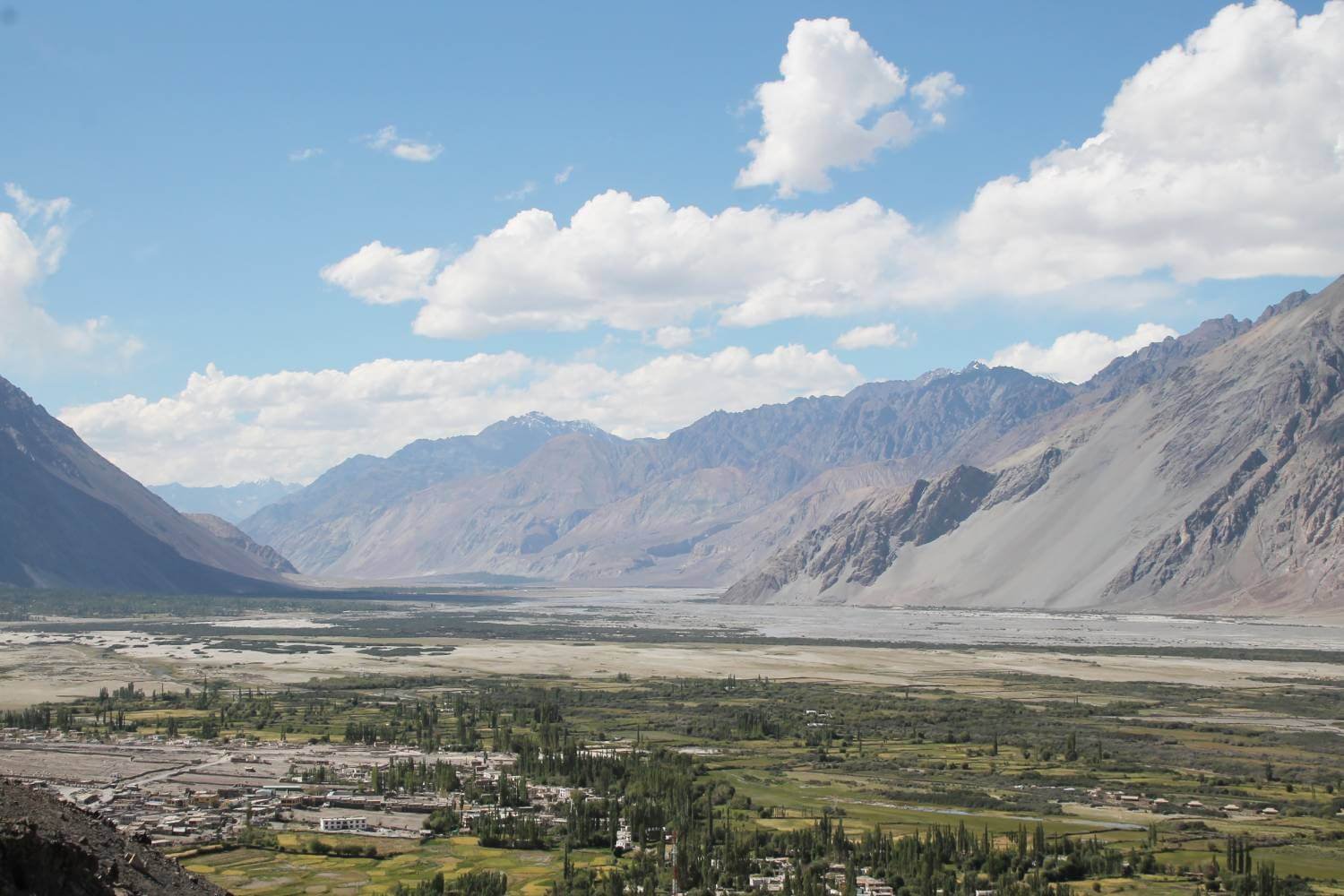 Poetry of the mighty mountains, the green landscapes of the enchanting Nubra Valley will blow your heart away. It comes first in the list of 20 top tourist places to visit in Ladakh. Wherever you go, the varied landscapes, the color changing sky will captivate your soul forever, keep your camera ready.
Arid sand dunes, ancient ruins and euphoric Buddhist monasteries have kept the valley's aura peaceful, mysterious, and spiritual for over a decade. This beautiful valley is located at the confluence of the Shyok and Siachen. You will also see the unique double humped Bactrian camels. However, people love to do rafting, ATV rides and camel safari but the essence of Nubra Valley is not in adventure activities, it's in listening to the silence of the myriad landscapes of Nubra Valley. Take a moment to explore and you will feel that nature is meditating.
Enjoy the therapeutic hot springs of Panamik Village, the holy Yarab Tso Lake's stillness will teach you to return to what is sacred as you breathe more deeply in its serenity. The monasteries and sand dunes of the magical Hunder village are a must not miss. The farming villages, the Baltistani dishes make holidays wholesome forever. Nubra Valley is a must visit place in Leh-Ladakh.
2. Hemis National Park- A Place to Become One with the Wild
Hemis National Park is one of the top tourist attractions to explore in Ladakh sightseeing Tour. It is a wild realm of Himalayan wildlife species who will enchant you with their sights, sounds and stories. Located in Eastern Ladakh, the park is spread over 4400 sq. km. You will be amazed to know that it has the highest population of Snow leopards globally. It is home to many interesting wildlife species such as Red fox, Agrali, Asiatic Ibex, Eurasian Brown Bear, etc. in total there are around 16 mammal species and 73 bird species to see and enjoy the wildlife tourism of Hemis National Park. not to forget the floral species of the park.
The alpine vegetation, rare medicinal plants makes the place an interesting sight to explore to learn about plant life. There are more than 200 snow leopards in the park. Located inside the national park are the monasteries – Gotsang Gompa and Hemis Monastery whose sacred space has the power to rejuvenate your soul from the fangs of chaos. There are many villages inside the park which will captivate your eyes. Rumbak Valley in the park is a fantastic bird watching attraction which you must not miss. Trekking to Stok Kangri and Markha Valley will elevate your adventure experience to a different level.
3. Pangong Lake- Serene, Sublime and Secluded Beauty
Situated at the height of 4350 m, this is the highest saltwater lake in the world. It's one of the most beautiful surprises of nature to mankind. Extending to almost 160 km, its one third part is the euphoria of tourists and the other two thirds are in China. Pangong Lake got its name from a Tibetan word – Pangong Tso which means 'High grassland Lake'. Tourists from all across the globe come to see this richest pearl of the Leh Ladakh tourism. The most interesting highlight of the beautiful lake is that it changes its colors to blue, grey, and green at different times. The climate is very harsh to bear in winters as it is one of the high-altitude lakes in Leh Ladakh. Summer months are perfect to enjoy the beauty of panoramic Pangong Lake.
4. Tsomoriri Lake- Picture of Infinite Beauty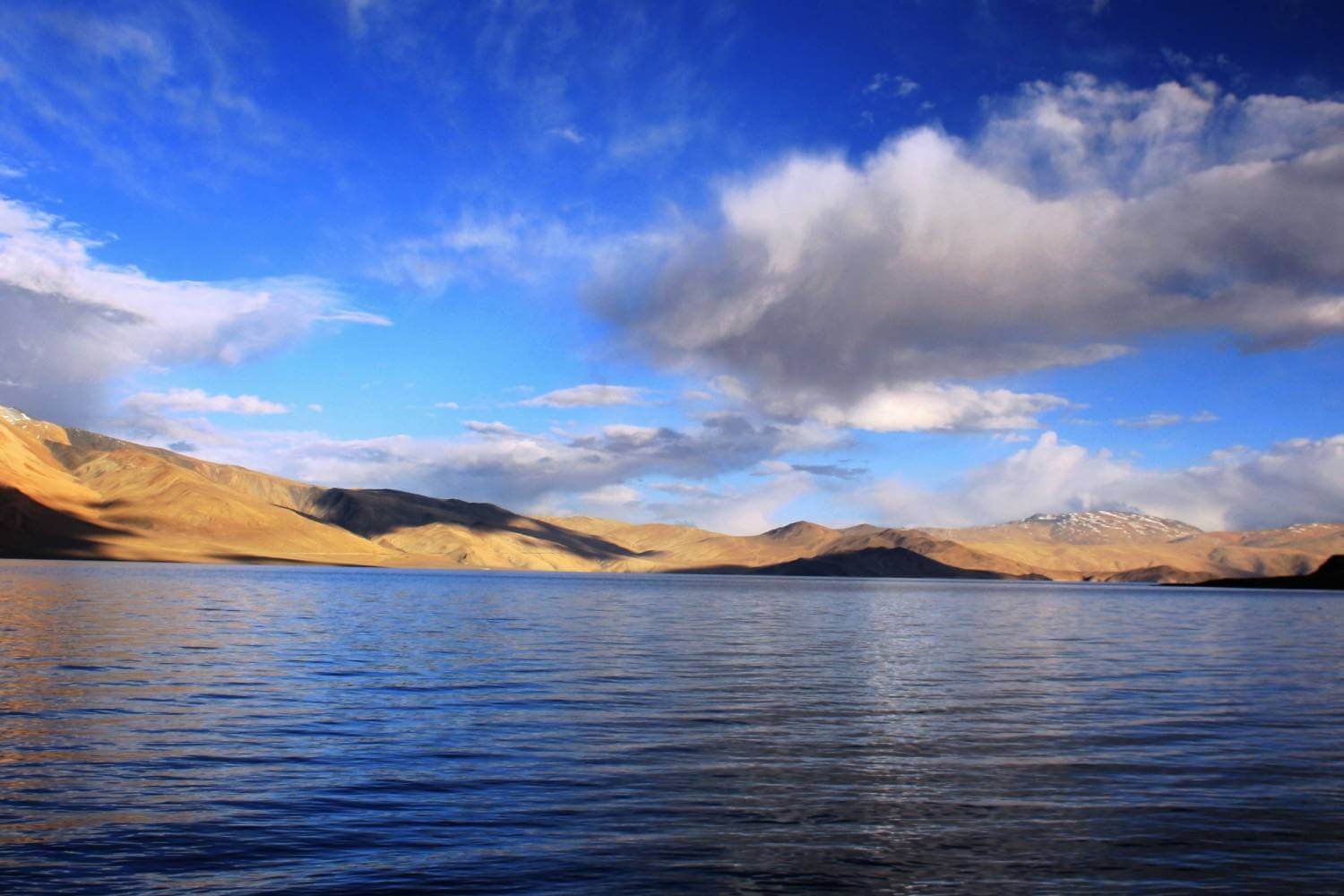 If you are looking for a place to dive deep into the calmness, then why not head to Tsomoriri Lake of Ladakh. It is one of the popular points of tourist interest in Ladakh for peace and nature lovers. Beauty of this lake would awaken in you a feeling that you never knew you had.
Decked in the beautiful Changthang Valley, Tsomoriri lake's lovely loneliness will heal your tired soul from the chaos of the world. It's a lake of quietude and peace. Vibrant in color, surrounded by tall peaks, this is a home to many amazing featured creatures such as the bare-headed goose, great-crested grebe, Brahmin duck and brown-headed gulls. It's also a wonderful place to spot Bharal or blue sheep, marmots, Tibetan sheep, red fox and kiang or Tibetan ass. For a bird watcher and wildlife lover, Tsomoriri lake is an opportunity to meet Himalayan wildlife species and avifauna.
Note- You can enjoy a thrilling mountain biking adventure to make your day memorable in Tsomoriri lake. It is also the highest Ramsar site in the world. So, you cannot put a camp or set up any type of accommodation around this lake.
5. Changthang- Gentle and Wild Paradise for tourists
Beauty of both India and Tibet, the beauty of Changthang will make your heart dance with joy. Isn't it exciting to see the life of Changpa Tribes, Ladakhi and Tibetan nomads living in higher altitudes? This beautiful place will be the music to your soul. Deep gorges, canyons and vertical passes will meet your eyes wherever you go. You will find Changthang to be one of the top 10 most amazing tourist attractions of Ladakh. Gigantic Peaks and highest summits make the sight even more beautiful. Life here is very difficult, the cold climate of this area and the resilience of people inspires us a lot to face difficulties in life.
The arrival of winter brings challenges in the life of the Changpa Tribe. The temperature went down to as low as -30 degrees. People here live in harmony with nature and the wild. Nomads protect their domestic animals such as goats from wild animals and in return they get butter, milk, wool and meat for sustenance. However, you will be mesmerized by the simplicity of lifestyle and the natural beauty of Changthang.
Note- The major highlight of Changthang is Changthang Wildlife Sanctuary which you must visit to completely explore the beauty of Changthang. Spread over an area of 1600 sq. km, this is one of the top tourist attractions to visit in Leh Ladakh. There are a variety of Himalayan floral and faunal species which you have never seen before. You will discover snow leopard, Wild ass, brown bear, mormot, wild yak, Bharal and wolf etc. Don't miss the most beautiful lake – Tso Moriri and the world's highest village Korzok Village. This is also very famous for spotting species of water birds, migratory birds, and a variety of avifauna. Visiting Changthang in Ladakh would definitely be memorable.
6. Markha Valley – Soul of Adventurous and Nature lovers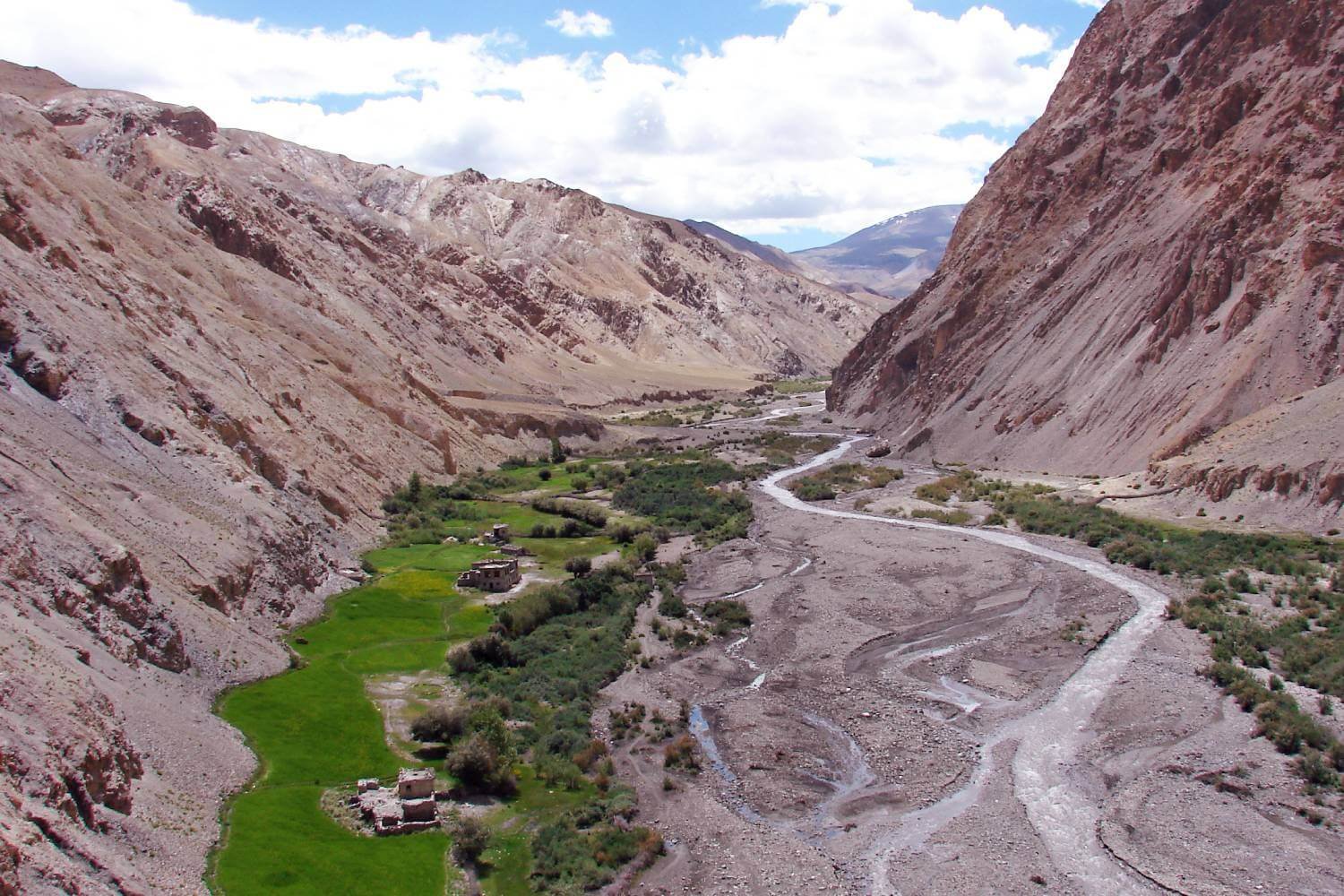 The beauty of Ladakh Himalayas cannot be fully explored if you have not been to Markha Valley. It is one of the most popular treks of Leh -Ladakh. Adventures from all over the world consider Markha Valley in the list of top 5 places to explore in Ladakh. You will be in a dreamland when you see the variety of landscapes this valley is blessed with. It will also take you to the most popular National Park – Hemis National Park which will give you an amazing opportunity to see Himalayan wild animals. You will be in the wild realm of several species like Ladakhi Urial, Lynx, Mountain hare, marmot, red fox, great Tibetan sheep, – Arghali and Dhole etc.
Also, don't miss the opportunity to explore the hidden wonders of Leh- Ladakh such as Rumbak and Yurutse village. You will be spellbound to see the unique lifestyle and soul uplifting rich indigenous culture of Indo- Tibetans. The beautiful sceneries of the valley along the way also attract the lens of many photographers.
Note– The Tibetan markets and Buddhist monasteries will nourish your soul with excitement and spiritual wisdom.  June and September are the best months to explore and enjoy Markha Valley Trek. Markha Valley will be the best place for solace seekers, nature lovers and adventure loving souls.
7. Diskit Monastery – Get the Divine Grace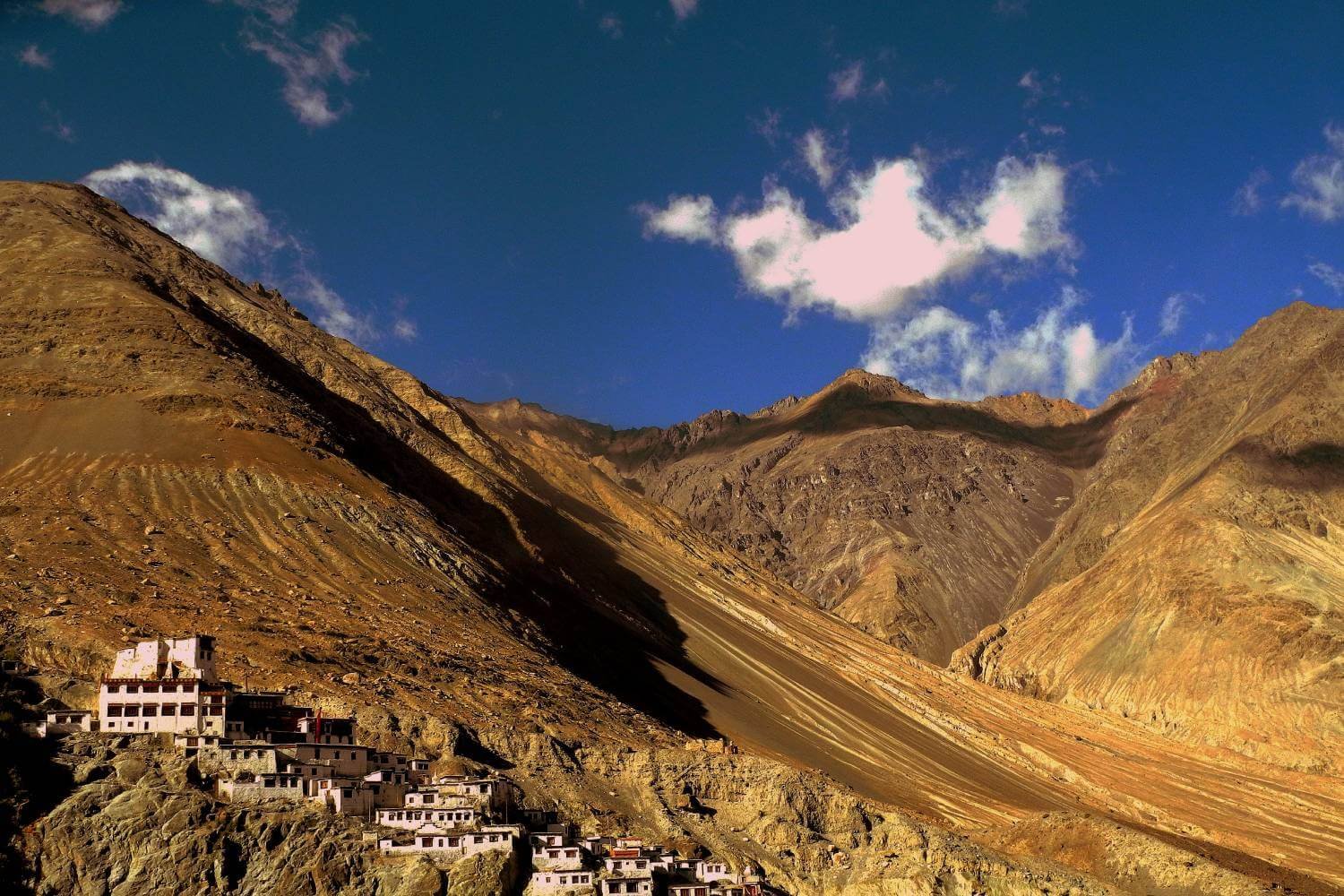 One more sacred place to find yourself.  Located in Nubra Valley, Diskit Monastery is one of the famous attractions to visit in Ladakh. The main highlight of Diskit Gompa is the 106 ft huge Statue of Maitreya Buddha inaugurated by HH Dalai Lama. if you see its surroundings, you will never want to go back. The gorgeous views of Nubra Valley's colorful landscapes blend with the serene silence of the Gompa. It was built by Changzen Tserab Zangpo in the 14th century. December is the best time to visit here as the Dosmoche Festival is celebrated here. The intricate frescos and wall paintings, images of Buddhist deities. Above the monastery is the LachungTemple where the large idol of Tsong Khapa, the founder of the Gelugpa sect of Buddhism is worshiped.  The gorgeous views of Diskit village are irresistible.
8. Thiksey Monastery- Elevated Seat of the Divine
19 km away from Leh, Thiksey Monastery will find the radiance of lost souls. Overlooking the Indus River and Stok range, it offers panoramic views with sacred ambiance to the peace seekers.  It is a must visit attraction in your Ladakh sightseeing tour.
It is a beautiful 12 storey building which displays the wonders of Buddhist art and culture. You will behold Buddhist art in its most elevated form. See the beautiful Thangkas, swords, wall paintings, statues etc. one of the most remarkable attractions is the Maitreya Temple which showcases a 49 ft tall statue of Maitreya Buddha. It is so huge that it covers the two floors of the building.  You must visit Tara Temple dedicated to goddess Tara, there are 21 images of goddess Tara kept in glass covered wooden shelves. Also see Stangyur and Kangyu, the two popular Buddhist.  scriptures in Lamokhang Temple. It's a wonderful place to blend into the rhythm of serenity.
9. Khardung La Pass- Snowy Wonder of Ladakh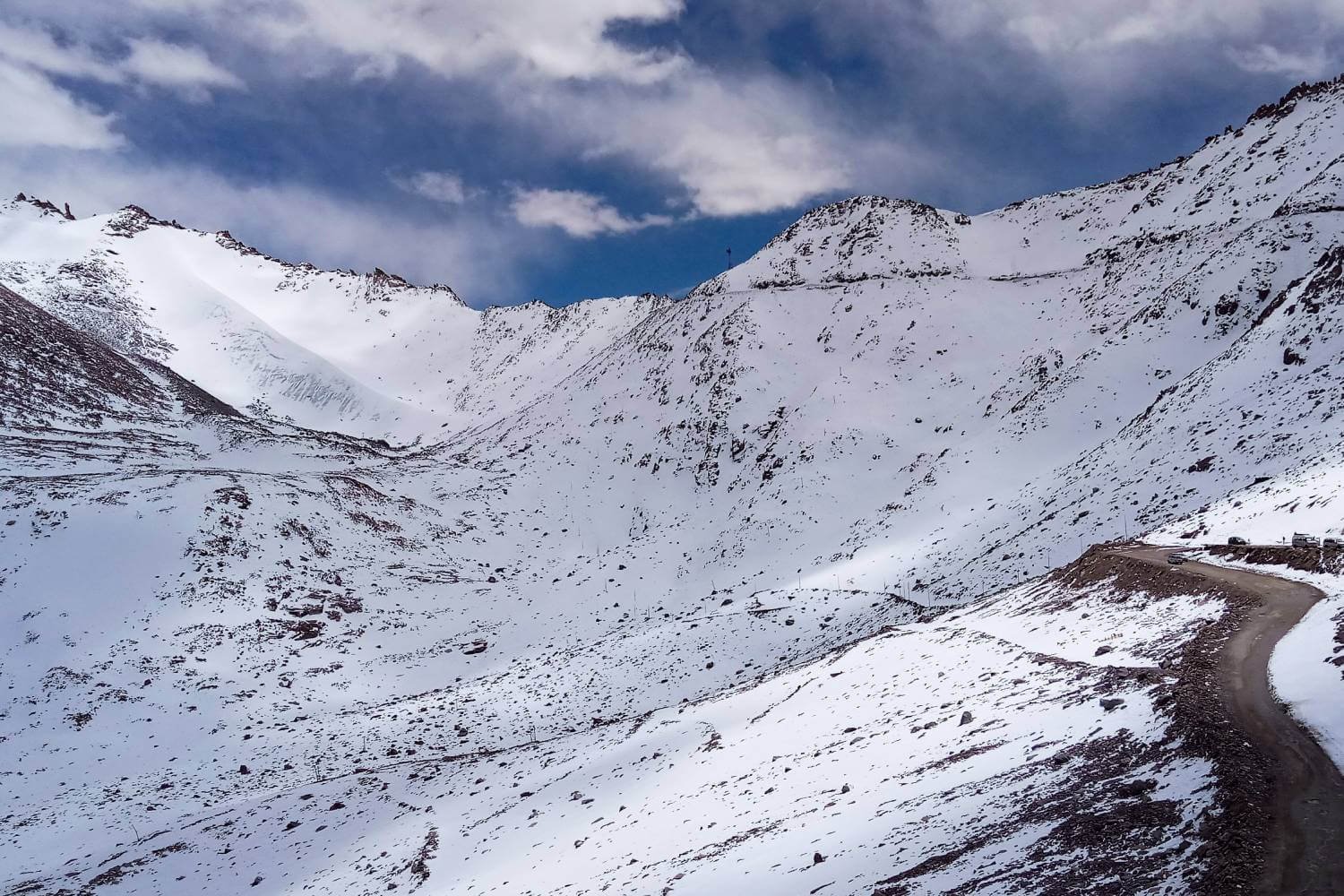 Enchanting gateway to Nubra and Shyok valleys of Ladakh, Khardungla Pass is one of the highest motorable passes in the world. The views here will captivate your heart and soul. You won't be able to stop clicking pictures of this mesmerizing pass.
It is very popular among the adventurers who came here for biking adventures from all over the world. It is at an elevation of 5,395 meters. It's also a very important tourist attraction which is maintained by the Border Roads Organization. The journey to Khardungla is very exciting. You will come across many hairpin bends and high gradients on the road. You need an Inner Line Permit to enter Khardung La Pass. frost covers, hairpin bends makes driving on the roads exciting and dangerous. So always be careful and enjoy the beauty of the enchanting Khardungla Pass. Indeed, it is one of the most picturesque tourist attractions to explore when you are enjoying Leh Ladakh sightseeing tour.
Note- April to June and the month of September to October is the best time to visit Khardung La Pass. if you are a passionate bike rider then it will be one of the best places to visit in Ladakh, cold breeze of the Himalayan mountains, snowy roads and challenging bends will definitely make your adventure soothing.
10. Shanti Stupa- Namobuddha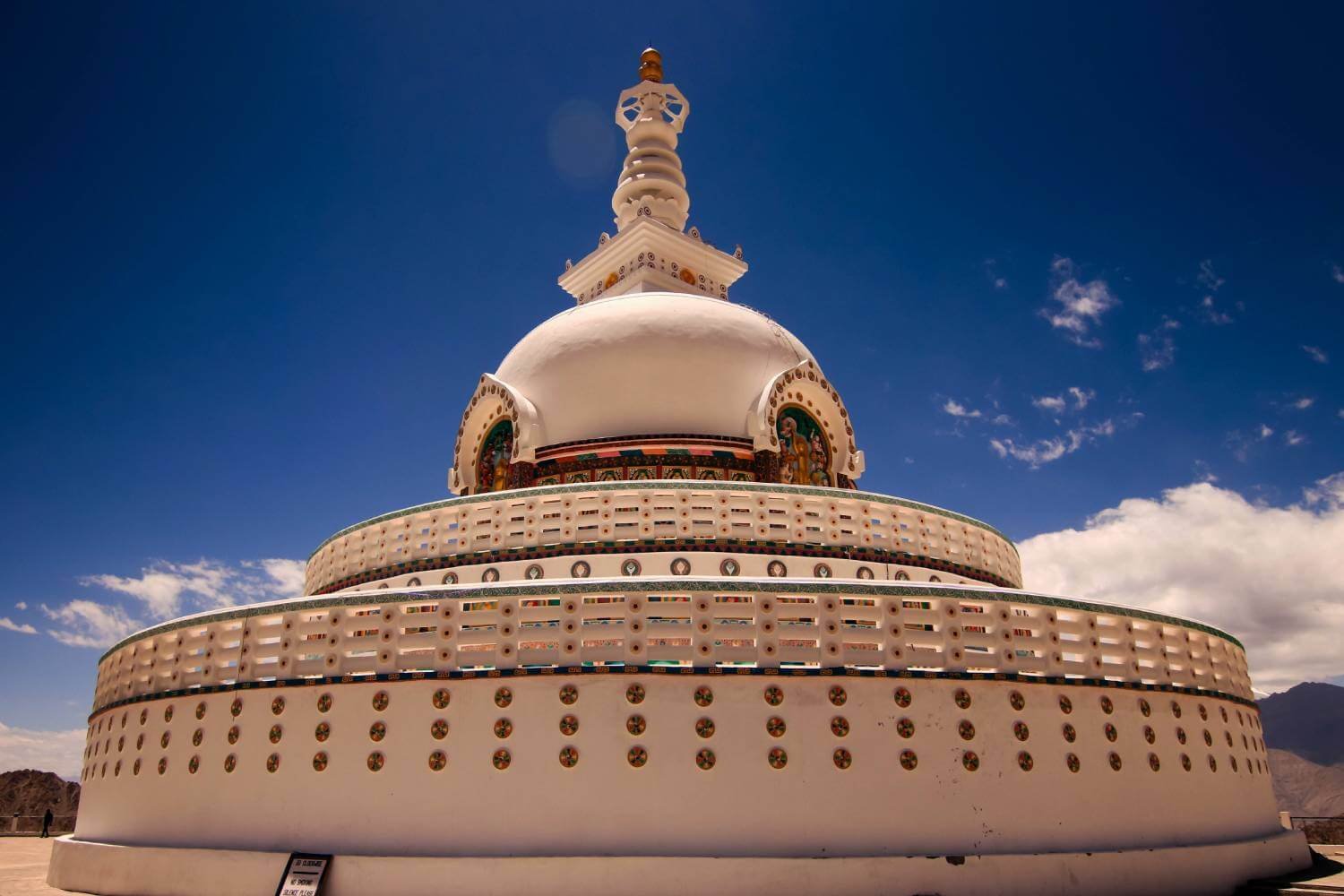 The soul uplifting white domed Buddhist monument known as Shanti Stupa is one of the best places to explore in Ladakh. Decked in a steep hilltop at a height of 11,841 ft, it is a sacred Buddhist pilgrimage place consecrated by the e14th Dalai Lama. Giver of serenity and peace, the view of Shanti Stupa is one of a kind.
The most healing view to your soul will be the gilded statue of the Buddha and the Dharmachakra (wheel of life).  The stupa is a relic of Lord Buddha which was built in 1991 by a Japanese Buddhist named Bhikshu Gyomyo Nakamura.  It was built to promote world peace and to commemorate 2500 years of Buddhism. The mind-boggling views of Leh and Changspa village, mesmerizing sunsets, the beauty of the twilight due to sunset and the spiritual vibe makes this place one of the best tourist attractions to explore in Ladakh for a spiritually inclined and peace-loving soul. Devotees move the wheels and pray to God for their wellbeing.
Note- Timings– 5:00am to 9:00pm & Best time to visit – July to September 
11. Zanskar Valley- Mesmerizing Valley of Himalayas
If you are fond of exploring remote and enchanting locations, then visiting Zanskar Valley would be a great decision. It is one of the best places to visit in the remote corner of Ladakh.  This valley is the crowning jewel of the northern flank of the great Himalayas. Zanskar Valley's mesmerizing landscapes, sparkling water bodies and weather will definitely blow your heart away. Consider this place for honeymoon holidays in Ladakh as the valley's irresistible charm will be in tune with your romantic heart. Zanskar valley would be one of the most wonderful holiday options for families, couples, and adventurers.
You will enjoy amazing opportunities to try water rafting, paragliding and trekking. In fact, there are many mind-boggling trekking options such as Padum Trek, Lamayuru to Darcha Trek. Zongla, Zongkhul etc. are the centuries- old monasteries to restore your sacred reserve of energy. Connecting the valley of Suru and Zanskar, the beautiful Penzil a Pass is an amazing attraction and spot to enjoy camping.
Note– Winters are harsh. Temperature drops down to -30-degree Celsius and the roads are heavily covered in snow. The best time to enjoy the beauty of Zanskar Valley is between the months of June to September.
12. Magnetic Hill- A Place That Defies Gravity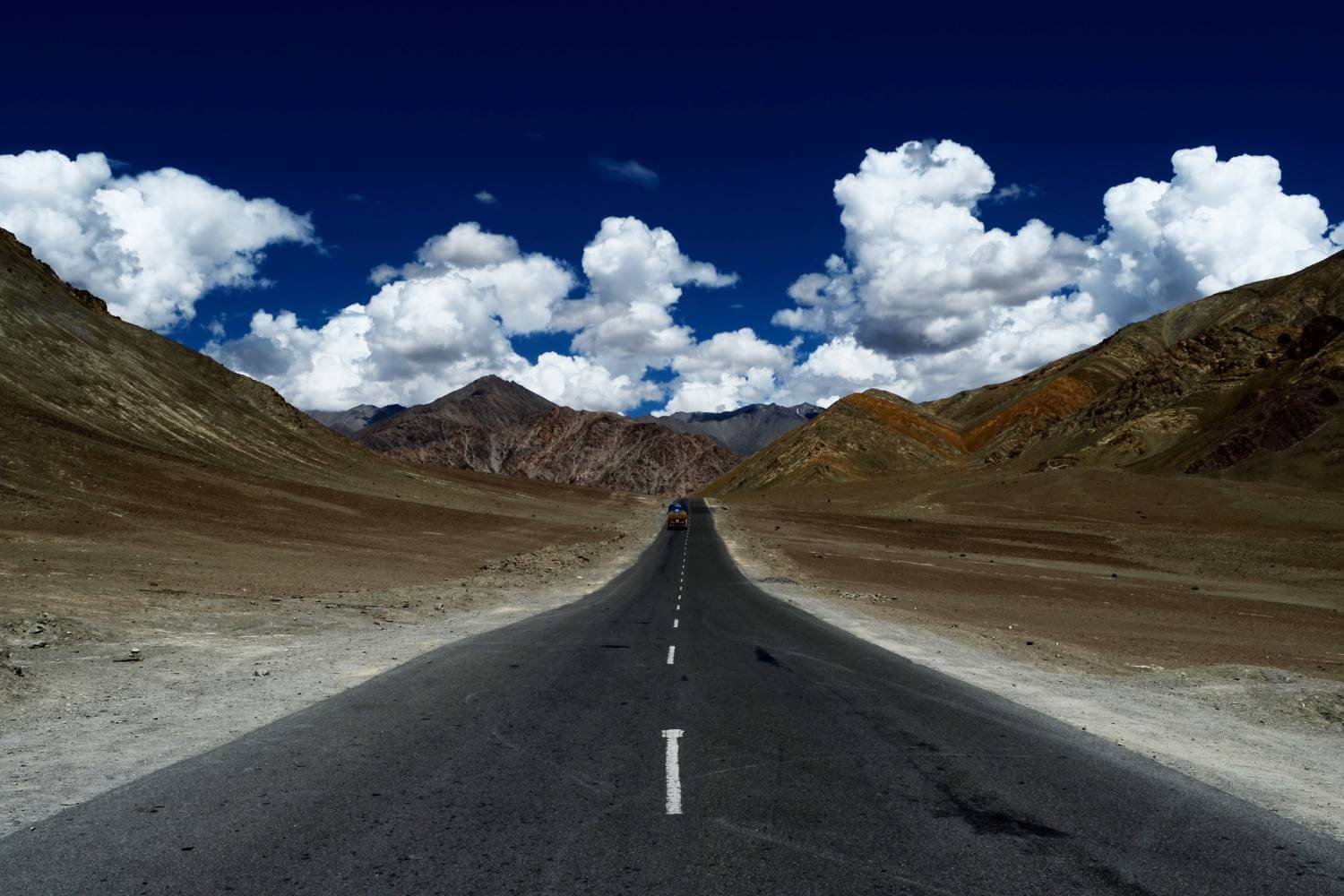 A place which defies Gravity and amaze your curious mind is known as Magnetic Hill of Ladakh. Located at the Leh- Kargil highway, it is one of the top places to visit in Leh- Ladakh.  It is marked by a yellow sign board which states that "The phenomenon that defies Gravity" there is a box which is marked with a white point on the road, also known as the magnetic road, is used to park vehicles. If you park your vehicle at the indicated spot, you will be amazed to see that your vehicle will be moving forward at a speed of 20km/h. The meandering Sindhu River at the east of Magnetic hill is a great place to capture delightful sceneries.
An interesting myth is associated with Magnetic Hill. Villagers here believe that once upon a time this road used to lead people straight to heaven. Those who deserved and pure by heart were pulled directly to heaven. Those who didn't deserve couldn't make it to paradise. According to a popular theory people believe that it's just an optical illusion. The road which actually goes uphill seems like it's going downhill. Driving here will not be a hindrance if you visit it in the months of July and October.
13. Namgyal Tsemo Gompa- Purify Your Heart in the Seat of Divine
Renowned for the three-storey high solid gold idol of Maitreya Buddha, just behind the magnificent Leh Palace, Namgyal Tsemo Gompa is a beautiful monastery of Ladakh.  It is one of the must-see tourist attractions in Leh- Ladakh.
The scenic villages, Zanskar Valley, meandering Indus River makes the surroundings visually appealing to the tourists. It was built by King Tashi Namgyal in 1430 AD. Its ambiance is enough to awaken spirituality from the sacred depths of the soul. If you are fond of spiritual places, then you must visit Namgyal Tsemo Gompa. one-storey high statues of Avalokitesvara and Manjushri also captivate the soul and mind. When you come down from the hill you will also behold Shankar Gompa which is connected to Namgyal Tsemo Gompa. These two monasteries are ritualistically connected. Monks from Shankar Gompa worship Lord Buddha and lit butter lamps at Namgyal Tsemo Gompa. The heavenly vibe of this Gompa makes the heart cheerful.
14. Alchi Monastery- Radiance of the Divinity
Built by Ringchen Zangpo, the eminent translator of Sanskrit Buddhist text into Tibetan, Alchi Monastery is one of the popular religious places to visit in Ladakh. It is a blessed seat of various gods such as principal Buddha Vairocana Lhakhang, Lhotsava Lhakhang, Jamyang Lhakhang (Manjusri temple) and sumtsag Lhakhang. The Indian style Thangka paintings is one of the main highlights of Alchi monastery. It lies on the serene banks of the Indus River. There are many splendid paintings and thousands of miniature paintings of Lord Buddha which captivates the mind. There are souvenir shops, restaurants, and tea stalls for the recreation of tourists.  You will feel the infinite wisdom of spirituality in the ambiance. The surrounding will nourish your soul to make you feel connected to the divine.
15. Leh Palace- Royal Charm of Ladakh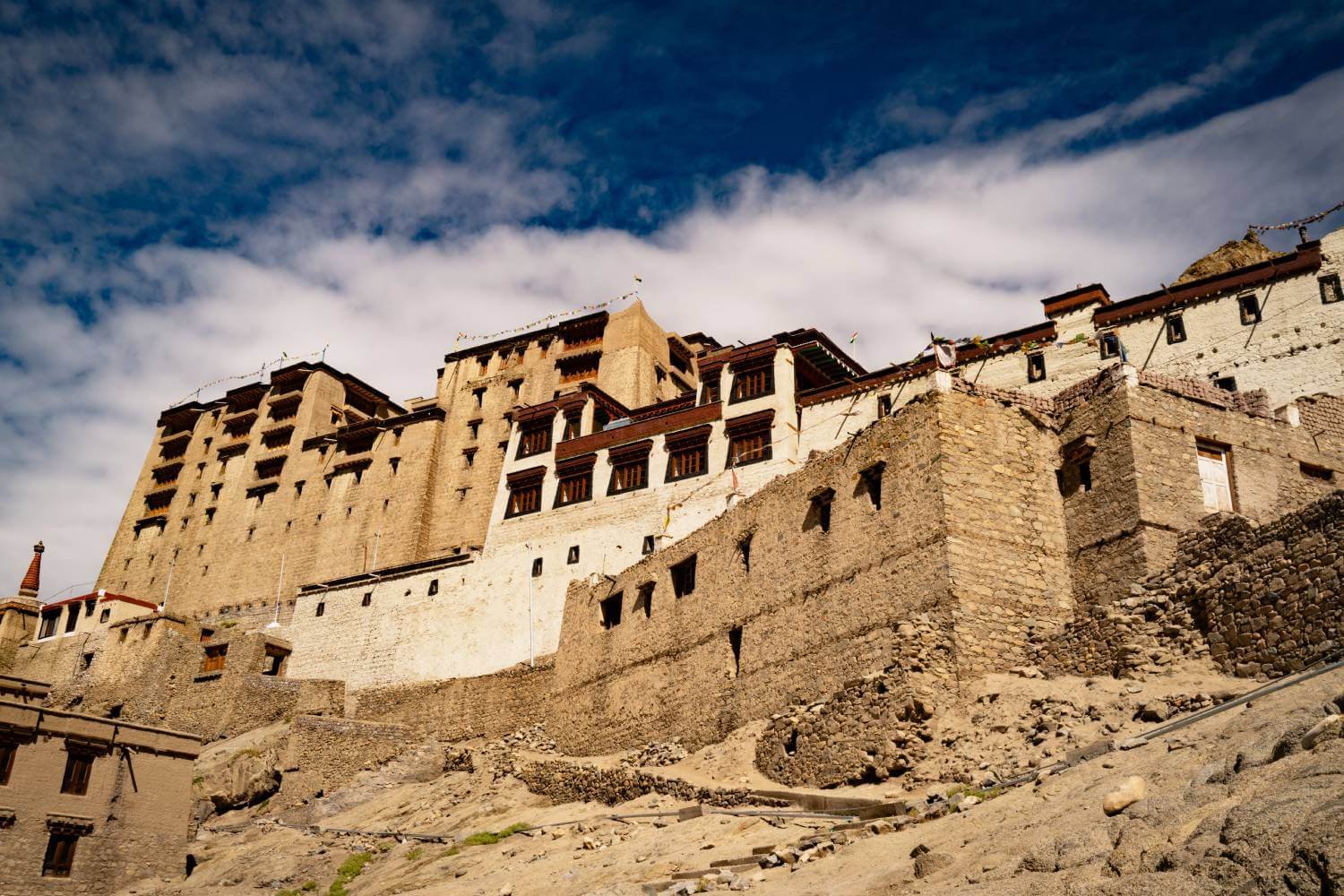 In the 1500s King Sengge Namgyal built the magnificent Leh Palace but it was completed in the 17th century. Today Leh Palace is now one of the top tourist attractions to explore in Ladakh.  Its facade looks like the Potala palace in Lhasa, the capital of Tibet. It's a masterpiece of medieval Tibetan architecture which also boasts 9 storeys. If you look at the view from Leh Palace roof you will be spellbound by the beauty of Ladakh's magical landscape and the mighty Stok Kangri. The wooden carved figurines in the Palace entrance, wooden balconies and Stupas and mural fragments are amazing sights to please your eyes and soul. Chandazik Gompa and the Chamba Lhakhang Temple within which dwells the infinite wisdom of ages and sacred vibe. The museum in Leh Palace carries some artifacts which are more than 450 years old. The palace is under the maintenance of the Archaeological Survey of India.
16. Hall of Fame- Heroes of the Nation
Keeping alive the memory of brave Indian Soldiers who sacrificed their lives in Indo- Pak wars, the Hall of Fame Museum is a treasure and watch worthy tourist attraction of Ladakh.
Located in the Leh- Kargil Road it was built in the memory of Brave Indian soldiers who protected the country with the sacrifice of their life. This museum contains the weapons used in war. In the upper floor, in OP Vijay Gallery you will discover the weapons used in Kargil War. It also contains various apparel and amenities by the Indian Army. There are various pictures of army posts showing the difficult life of soldiers. You will also see the pictures of Kargil Wars.
The wall named "Lest we Forget" shows the pictures of soldiers who sacrificed their life for the nation. In the ground floor there is a projection room where you can watch the documentary on Operation Vijay. You will be deeply moved by the last letter of Captain Vijayant Thapar which is framed on a wall to his parents before he attained martyrdom. There are some sections which also showcase the history and culture of Ladakh region.
Timings– 9:00am to 1:00pm and 2:00pm to 7:00pm
Note- On the front of the Hall of Fame there is a statue of Lord Buddha with a beautiful message which says, "It is better to conquer yourself than to win a thousand battles. Then the victory is yours. It cannot be taken from you, not by angels or by demons, heaven or hell." What a beautiful message to mankind!
17. Gurudwara Pathar Sahib- Sacred Bliss
Revered seat of Guru Nanak Dev Ji, the founder of Sikhism- Gurudwara Pathar Sahib is one of the most beautiful religious places to visit in Ladakh. There is a very interesting story about this sacred place. It is said that Guru Nanak Dev Ji was meditating at this place, but a demon was constantly creating hindrance in his meditation. He was throwing big rocks to disturb him, but Guru Nanak Dev Ji turned the rock into soft wax which was completely harmless. Seeing this the demon realized that Guru Nanak Dev Ji is not a normal person and he asked for penance for his deed. Guru Nanak Dev Ji forgave him. In Gurudwara Pathar Sahib you can see the imprint of the body of Guru Nanak Dev Ji in a boulder and the footprint of the demon. This place is maintained by the Indian Army. Tibetans revered Guru Nanak Dev Ji as a Buddhist saint. Hence, they call him Guru Gompka Maharaj.
18. Kargil Valley- Land of Warriors
Kargil Valley, the second largest town of Ladakh is one of the incredible places to visit in Ladakh. It has been a major trade center in the past having trade relations with China, Central Asia, and different parts of India. It is one of the most visited tourist destinations for mountaineers and trekkers.
It is the place where the famous Indo- Pak war happened in May- July 1999. Tiger Hill, Tololing, Mushku valley and Batalik are some of the best attractions which became the heart of Kargil tourism.
One of the best highlights of Kargil is the enchanting Suru Valley which is a hidden bliss. The meandering Suru River runs through the valley, decked with mesmerizing villages, you won't be able to set your eyes off from its beauty.
Adventurers love Kargil as it offers great opportunities for mountain adventure such as trekking and mountaineering. You can also try snow skiing and river rafting. There are many Buddha statues, fort Palaces, ancient Rock carvings, war memorials, monasteries and mosques which dazzles the eyes and mind.
19. Spituk Monastery- Seat of Sacredness
Decked on a conical hill with three chapels in the periphery of Leh, Spituk Monastery is one of the best tourist attractions to include in your Ladakh itinerary. It was built in the 11th century by Od- de, elder brother of Lha Lama Changchub Od.  The meaning of the name of the monster y is Exemplary which is quite apt as it is one of the most magnificent and desirable seats of Lord Buddha.
Festival of Gustor is celebrated with great pomp and show with beautiful, masked dance performances in the11th month of the Tibetan calendar. It is a celebration of peace and prosperity. It is celebrated in such a grand way that you will hear prayers and rituals 7 days before the day of the festival. It belongs to the Gelugpa lineage of Buddhism. There is a beautiful image of Mahakaal which is kept covered and unveiled in the annual festival of Spituk held in the month of January. Indeed, it is one of the blessed seats where the sacredness of faith is visible in an exalted form.
20. Hemis Monastery – Awake the Inner Peace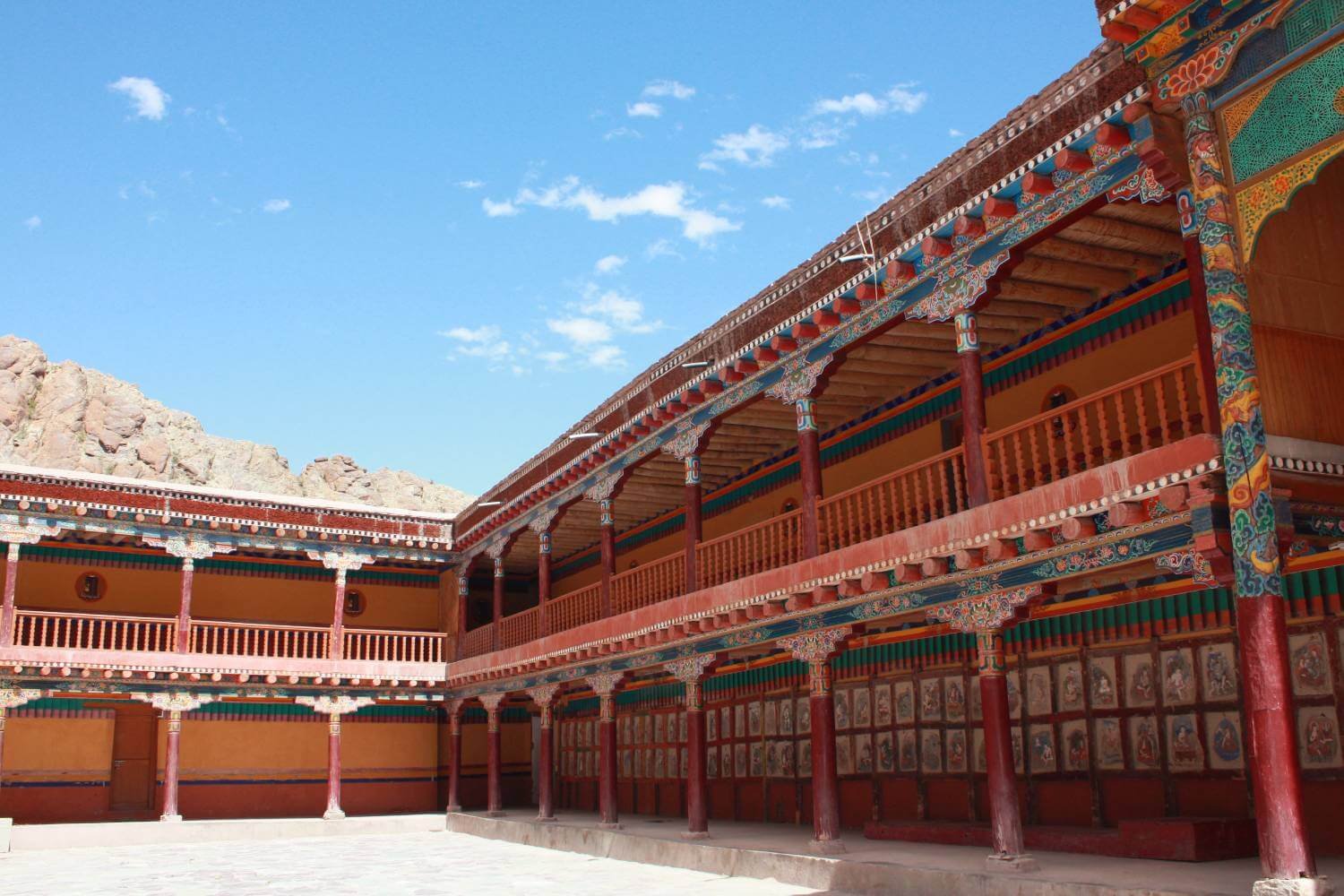 the western banks of the Indus River are blessed with the sacredness of Hemis Monastery. It is one of the top visiting spiritual tourist attractions in Ladakh. It is said that the monastery was built before the 11th century. Re-established in 1672 by Sengge Namgyal, the king of Ladakh. It is one of the most magnificent monasteries of Leh-Ladakh.  It is decorated with beautiful colored flags on all four sides. The wall stones are decorated with religious figures.
You will also find an amazing collection of Thangkas and stupas. Don't miss the grand annual festival of the birth anniversary of Guru Padmasambhava. During the festival you will see the annual bazaar where Ladakhis from remote areas come to buy and sell wares. You will also see the mask dance performance which represents the reincarnation of Buddha. This monastery belongs to the Drukpa lineage of Buddhism. Every 12 years during the Hemis Festival, one of the largest Thangkas is displayed in front of a large crowd.
Its large library contains ancient religious texts, some of them are in unknown languages which will arouse your curiosity. Tourists who are spiritually inclined or who are looking for peace would definitely find Hemis Monastery one of the best places to fine-tune the soul.
Enjoy and explore the wonderful destinations of Leh- Ladakh. Trust us, Ladakh is the most beautiful mountain desert region of India. Holidaying here will be one of the most memorable trips of your life. You will leave its shores but the beauty of Ladakh will keep calling you.
Best Travel Tips to Enjoy Ladakh Trip and Make Amazing Memories
Without planning and knowing your destination, traveling to any place might be physically and mentally overwhelming. As you don't know what kind of challenges you will face. It is very essential to know the basic information about the destination you are traveling to. Knowing the weather conditions, accommodation facilities, culture and destination information makes you a smart traveler. In a place like Ladakh which is blessed with myriad landscapes, harsh weather conditions and unique culture, it is very important to think wisely and collect important information to plan your holiday. The comfort comes with proper planning.  Here are some important travel tips for Leh- Ladakh Holidays –
Ladakh is a land of variations. It is very important to know the weather conditions in advance. In some regions of Ladakh you will experience subzero temperatures, at some places the temperature will fall down to – 30-degree Celsius in winter season. In summer the temperature is quite comfortable. However, you still need to keep some warm clothes as the weather is unpredictable. The road side of the passes is still covered with snow even in the month of June. So, we really can't say. Keep woolen clothes ready.
Some of the places in Ladakh require an Inner Line permit. Plan in advance where you want to explore and get the Inner Line Permit online or from the DC office in Leh.
The level of oxygen is low when you are in the high-altitude area of Ladakh region. Some of you will suffer from mountain sickness. Keep your pace of travel slow and don't rush to places when you are having acute mountain sickness. Let your body rest for a day or two after a high climb of 2000ft for acclimatization. You can also carry Oxygen cylinders. Keep the necessary medicines in your bag. Stay healthy.
Get the post- paid BSNL mobile connect from any phone shop. It's the only mobile connection that functions in Ladakh.
Keep plenty of cash in Hand. There are less ATM machines in Ladakh. Most of the places do not accept credit cards. In Leh Market you will find ATMs of different banks.
Always keep multiple copies of valid ID Proof, PAN card or passport. It will be needed in military checkpoints.
It is not bad to know about the major tourist attractions, culture and heritage of Ladakh before going. It will enrich your travel experience.
You can always rent cars and bikes to enjoy your Himalayan holidays in the best possible manner.
Always book your hotel in advance in Leh. March to June is the peak tourism season. You will find it difficult to get accommodation.
You must hire a private tourist guide to travel locally in Ladakh. Also get the advantage of local transport facility as it is not advisable to travel to most of the areas by foot due to mountain sickness.
Popular Leh Ladakh Tour Packages 2023
Frequently Asked Questions
Why must you Visit Ladakh?
Leh Ladakh is one of the top destinations to visit in India. It is a dream destination of many. High mountain passes, Chadar frozen lake, monasteries, tough terrains, beautiful snowfall and many adventure activities makes it the most wholesome destination for any kind of tourist. A tourist will never get bored here. In fact, every mile will invoke curiosity as Ladakh landscape keeps on changing textures. It is indeed a must visit destination for wanderers.
What are the top destinations to visit in Leh- Ladakh?
Some of the top-rated tourist attractions in Ladakh are –
Pangong Tso Lake
Gurudwara Pathar Sahib
Tsomoriri Lake
Lamayuru
Zanskar Valley
Nubra Valley
Hemis National Park
Khardung La Pass
Kargil
Hall of Fame
Magnetic Hill
Diskit Monastery
Alchi Monastery
Leh Palace
Markha Valley
Chadar Trek
What is the best time to visit Leh- Ladakh?
The best time to visit Ladakh depends on the choice of season. In summer April to May the tourist season starts in Ladakh. From the end of April, the ice of Tso Moriri and Pangong Tso Lake starts melting. The Srinagar-Leh highway opens from the first week of May which makes it more crowded and the best time to visit Ladakh. But Khardung-La and Chang-La passes remain closed due to snowfall.
In Mid-September to October months the temperature starts to cool down a bit. The minimum 1 degree Celsius.
October to March, winter starts. At this time the maximum temperature is 7 degrees and the minimum are -6 degrees Celsius. The lakes freeze completely and it's time to enjoy the famous Chadar Trek of Ladakh. The Zanskar river freezes completely in winters.
How is the weather in Ladakh?
Ladakh is definitely included in the travel list of most Indian tourists. Since Ladakh is a cold and extremely cold region, you should plan your trip to Ladakh according to your cold tolerance. In high altitude places there would be harsh weather conditions. Temperature will drop down to subzero levels. Summer months are a good time to plan your trip but for those who love snowfall, winter is the best time but the cold weather will give you chills.
What is the best way to travel to Ladakh?
The simplest way to travel to Ladakh is by air. Kushok Bakula Rimpochee Airport located in Leh, is the major airport of Ladakh. You can get regular flights from Delhi, Jammu, Srinagar, Mumbai, Kolkata and Chandigarh etc. If you prefer to go by rail it's actually not a favorable option. You cannot reach Ladakh directly by train. There is no train station in Ladakh. The only nearest railway station is Jammu Tawi Station which will help you to reach Ladakh from Jammu. If you want adventures and the scenic beauty in your view then a road trip is highly recommended. You can access the roads of Ladakh from the month of May to October. After that heavy snowfall, bad road conditions will make it inaccessible. Buses, cars, jeeps and motorbikes are easily available for Ladakh Trip.
What are the popular adventure activities for tourists in Leh Ladakh?
Ladakh's cold deserts, rugged terrains call for amazing adventures. It is one of the top destinations for adventurers. Some of the most popular adventure activities to enjoy in Ladakh are –
Mountain Biking
Trekking
Rafting
Skiing
Camping
wildlife safari
Quad Biking
Rock climbing
Paragliding
Archery
Ice hockey
What are the popular trekking routes in Ladakh?
Without trekking adventure your holidays in Ladakh would be incomplete. Trekking is one of the top adventure activities to do in Ladakh.  The landscape of Ladakh is best for trekkers due to the snow-capped mountains and high cold deserts, sparkling lakes and natural beauty.  Some of the most popular trekking routes of Ladakh are –
Markha Valley Trek
Nubra Valley Trek
Chadar Frozen River Trek
Rumtse to Tso Moriri Trek
Stok Kangri trek
Sham Valley Trek
Spituk to Stok Trek
Lamayuru to Alchi Trek
Zanskar Trek from Padum to Lamayuru
Snow Leopard Trek
Padum to Darcha Trek
What are the accommodation options available in Ladakh for tourists?
Don't worry you will get clean and moderate budget accommodation in Ladakh. Hotels in Ladakh offer the best hospitality to the tourists with all the facilities that a traveler needs.  However, if you are in High altitude region or village, you will not get any luxury hotels, but the guest houses will welcome you with warm hospitality and decent facilities. You will get good accommodation options to stay with family.  Any moderate budget stay accommodation in Ladakh would cost around 1500 to 2000 for double bedrooms. Luxury lovers will also get good accommodation options with all the comforts. Some of the best Luxury accommodation options are The Grand Dragon Ladakh, Woody Vu Stok House, Chamba Camp, Nubra Organic Retreat and Stok Palace Heritage Hotel.
What are the popular must-see cultural festivals in Ladakh?
Some of the popular and must-see cultural festivals to enjoy in Ladakh are –
Losar Festival- February to March
Hemis Tsechu- Late June to July
Sindhu Darshan Festival- June
Ladakh Harvest Festival- September
Saka Dawa Festival- June
Dosmoche Festival – May
Yuru Kabgyat – June
Is Ladakh a good destination for Honeymoon couples?
Good? Say Best! Don't underestimate Ladakh's beauty. It is one of the most beautiful tourist destinations of India. Honeymoon couples must visit Ladakh. Every landscape of Ladakh is colorful, beautiful, steeped in beautiful history and amazing stories. The unique cultural experiences, the thrilling adventure activities, the scenic motorable passes, the enchanting monasteries, everything Ladakh is blissful for a romantic couple. For honeymoon couples Ladakh is a must recommend.
Like & follow us on our following official social media channels
Facebook | Twitter | Linkedin | Instagram | Youtube
Also Check Out: Popular India Tours | Tour Packages | India Tour Packages | International Tour Packages
International Trending Holiday Destinations – Nepal Tours | Bhutan Tours | Singapore Tour | Thailand Tours | Sri Lanka Tours | Maldives Tours | Dubai Tours | Indonesia Tours
Other Popular Trending Holiday Destinations in India – Kashmir Tour | Himachal Tour | Uttarakhand Tour | Rajasthan Tour | Gujarat Tour | Sikkim Tour | Kerala Tour | Andaman Tour | Madhya Pradesh Tour | North East Tours
Tour Packages by Interest – Adventure Packages | Wildlife Packages | Pilgrimage Packages | Heritage Packages | Hill Station Packages | Weekend Packages | Honeymoon Packages | Beach Packages | Chardham Packages | Trekking Packages
Other Interesting India Travel Guide Blogs to Read
Other Interesting Adventure & Trekking Travel Guide Blogs to Read
Other Interesting Destinations Travel Guide Blogs to Read
Other Interesting Rajasthan Travel Guide Blogs to Read
Other Interesting Uttarakhand Travel Guide Blogs to Read
Other Interesting Wildlife Travel Guide Blogs to Read
Other Interesting International Travel Guide Blogs to Read