For some wanderer's snowfall is a magical event. It's an amazing experience to witness the beauty of snowfall. Heart becomes poetic, sometimes it brings the memory of first snowfall experience, some consider it heavenly and photographers absolutely love to capture snowfall whenever they get the enhancement. Couples rekindle their romance amidst the snow. Kids play in the snow, build snowmen and snow castles, some sit to write verses, thrill seekers enjoy snowboarding, skiing, sledging and what not. Snowfall is amazing. When snow falls, nature listens, heart melts, soul heals and the child in you once again wants to play. Why not experience the wholesomeness of snowfall in India this winter? There are many enchanting snowfall destinations to explore in India.
Let's talk about some of the most stunning snow destinations in India to visit in winter-
| | |
| --- | --- |
| Manali | Himachal Pradesh |
| Chopta Tungnath | Uttarakhand |
| Mussoorie | Uttarakhand |
| Nainital | Uttarakhand |
| Shimla | Himachal Pradesh |
| Gulmarg | Jammu and Kashmir |
| Spiti & Lahaul Valley | Himachal Pradesh |
| Ranikhet | Uttarakhand |
| Auli | Uttarakhand |
| Khajjiar | Himachal Pradesh |
| Dhanaulti | Uttarakhand |
| Narkanda | Himachal Pradesh |
| Zuluk | Sikkim |
| Kufri | Himachal Pradesh |
| Ladakh | Ladakh |
| Lambasingi | Andhra Pradesh |
| Nathu La Pass | Sikkim |
| Sandakphu | West Bengal |
| Tawang | Arunachal Pradesh |
| Kinnaur | Himachal Pradesh |
| Kartik Swami | Uttarakhand |
Get upto 30℅ of early bird discount on our Hill Station Tour Packages. Reach us for more details / bookings – +91-7668130655/+91-8802149265
1. Manali, Himachal Pradesh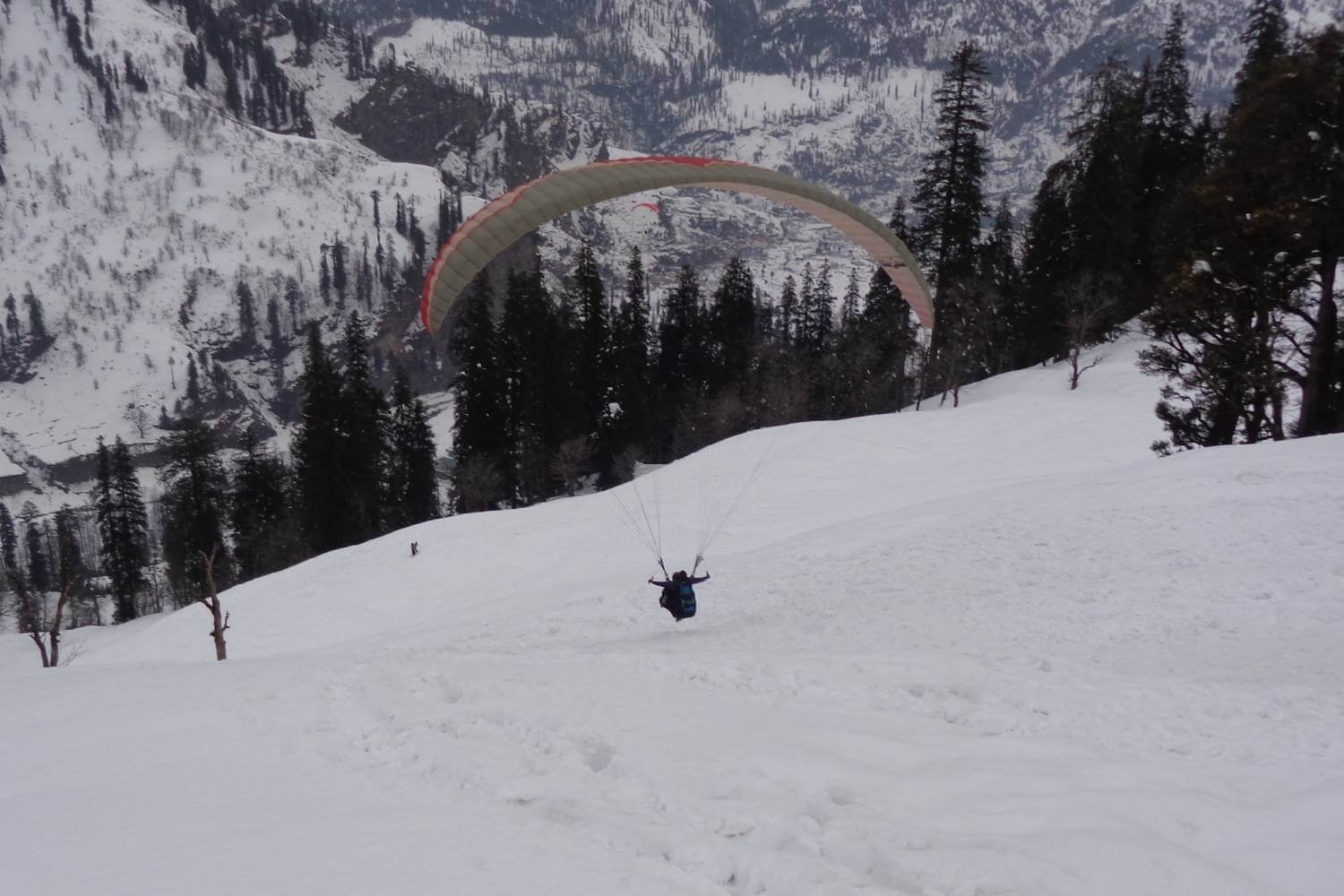 "Feel the Gentle Kiss of Snow!"
One of the most sought-after tourist destinations of North India- Manali is a place to enjoy the best snowfall of the winter season in India. The glittery fairy dust of the snowfall covers the entire landscape of Manali which makes it a complete soul pleaser for honeymoon couples, families, adventurers and nature lovers. Nestled in the mighty Himalayas, it's a blissful paradise to delight your winter vacation. Not a single day will be boring here. There are plenty of things to do for the travelers of all kinds to make the vacation interesting and memorable. The snow- capped mountains, lofty mountain passes, temples and Buddhist monasteries, decorated coffee shops, delicious cuisines and awesome adventure opportunities such as Skiing, trekking, paragliding, mountaineering, rock climbing and river rafting makes Manali a hub of soul wanderers. Indeed, it's a place which you can also visit in summer during summer vacation but the bliss of winter is something else. Enjoy the best winter in Manali.
Try Something Delicious – Chana Madra , Mittha,Chha Ghost, Babru, and Kullu Trout.
Adventures of Manali – It's an awesome place to enjoy Paragliding, Trekking, rafting, mountaineering, Heli- Skiing, Skiing and Trekking etc
Temple Hopping – There are many peace inducing sanctuaries of spiritual wisdom in Manali such as Hadimba Temple, Nako Monastery, Shashur monastery, Vashisth and Jagatsukh etc.
Shopping in Manali– Explore the beautiful Old Manali Market, Tibetan Market, Himachal Emporium, The Mall Road, Manu Market and Bhuttico etc.
Festivities- Don't miss the Manali Winter Carnival which will be held on January 02 and end on January 06. It's one of the most beautiful and amazing cultural and winter festivals of Himachal Pradesh.
Major Highlights of the Winter Carnival
Cultural Programmes
Folk Dances
Local cuisines
Street plays
Magic Shows
Local games
Winter adventure sports (Skiing, snowboarding competitions etc.)
Also Read: Best Places to Visit in Himachal Pradesh
2. Chopta Tungnath, Uttarakhand
"Snowfall Which Lifts Your Spirit!"
Hidden gem of Uttarakhand, Chopta is a beautiful hill station to enjoy the enchanting snowfall views in India during winter. Less crowded, picturesque Pine and deodar forests and mesmerizing snow kissed Himalayan Mountain all around makes this a picture-perfect destination for couples, solo backpackers and families. Those who love the winter snow, Chopta is a must visit snowfall tourist attraction of Uttarakhand, people call this amazing hill station 'the mini-Switzerland of Uttarakhand'. Visit here during the peak winter months and you will feel the spine-chilling breeze. There's magic in the existence of snowflakes which will seduce your eyes.
Adventure lovers would find Chopta a blissful paradise to dive deep into the beauty of Himalayan mountains. You will see beautiful Himalayan mountains such as Nanda Devi, Bandarpoonch, Chandrashila, Mt Trishul and Kedar Peak etc.
Enchanting Tungnath Temple
Chopta is a base point for trekking to Tungnath Temple. The holy Tungnath Temple is one of the third temples out of the Panch Kedar temples in India. Dedicated to Lord Shiva, this temple is decked in the enchanting Chandranath Parvat. It is also the world's highest Shiva Temple.
Also Check Out: Chopta Tungnath Trekking Itinerary
3. Mussoorie, Uttarakhand
"Snowfall is like a rain in slow motion!"
Another famous hill station of India, Mussoorie's snowfall will melt your heart and delight your soul. It is one of the best destinations to enjoy snowfall in winters in India. The months of December, January and February are the months of blissful charm where the whispers of snowfall will sing the hymns of the beauty of mountains. The scenic beauty of the fascinating hill resort Mussoorie has always been attracting the wanderers for a long time. The colonial heritage attractions, snowy landscapes, and heartwarming walks of the Mall road where you will see and capture the most joyous and colorful moments of life. The warm hospitality of Garhwali people makes this hill station a best home to spend winter holidays with family and loved ones.
Let's wander in Mussoorie
Shrouded in mist and snow the delightful views of Mussoorie must be on your travel bucket list of snowfall destinations in India.
Adventures – Mussoorie is the best place to do trekking, camping, mountaineering, paragliding, sky walk, sky bridge, ice- skating and biking etc. You would love to visit the Snow adventure park of Mussoorie.
Cuisines – Try Gahat Rasmi Badi Kofta, Gahat Soup, Aloo ke Gutke, Urad ke Pakode, Chainsoo and Gahat soup.
Do You Love Shopping? – Mussoorie is a real bliss for shoppers. Your shopping experience will be enriched if you visit The Mall Road, Tibetan Market, Library Bazaar, Kulri Bazaar, Sisters Bazaar and classic emporium.
What's in it for Couples?
Kempty Falls – Views of feel the lifetime of togetherness
Mall Road– Soulful Chaos
Lal Tibba– Hold hands and dream another dream
Clouds End- Euphoric moments
Gun Hill Point– Full of Peace and happiness
Mussoorie Lake– Thing of beauty and joy forever
Bhatta Falls– Falls of serenity
Company Garden – Cherish some romantic moments
Surkanda Devi Temple, Jwala Ji Temple and Nag Devi Temple – For togetherness of eternity
Also Check Out: Mussoorie Tour Packages
4. Nainital, Uttarakhand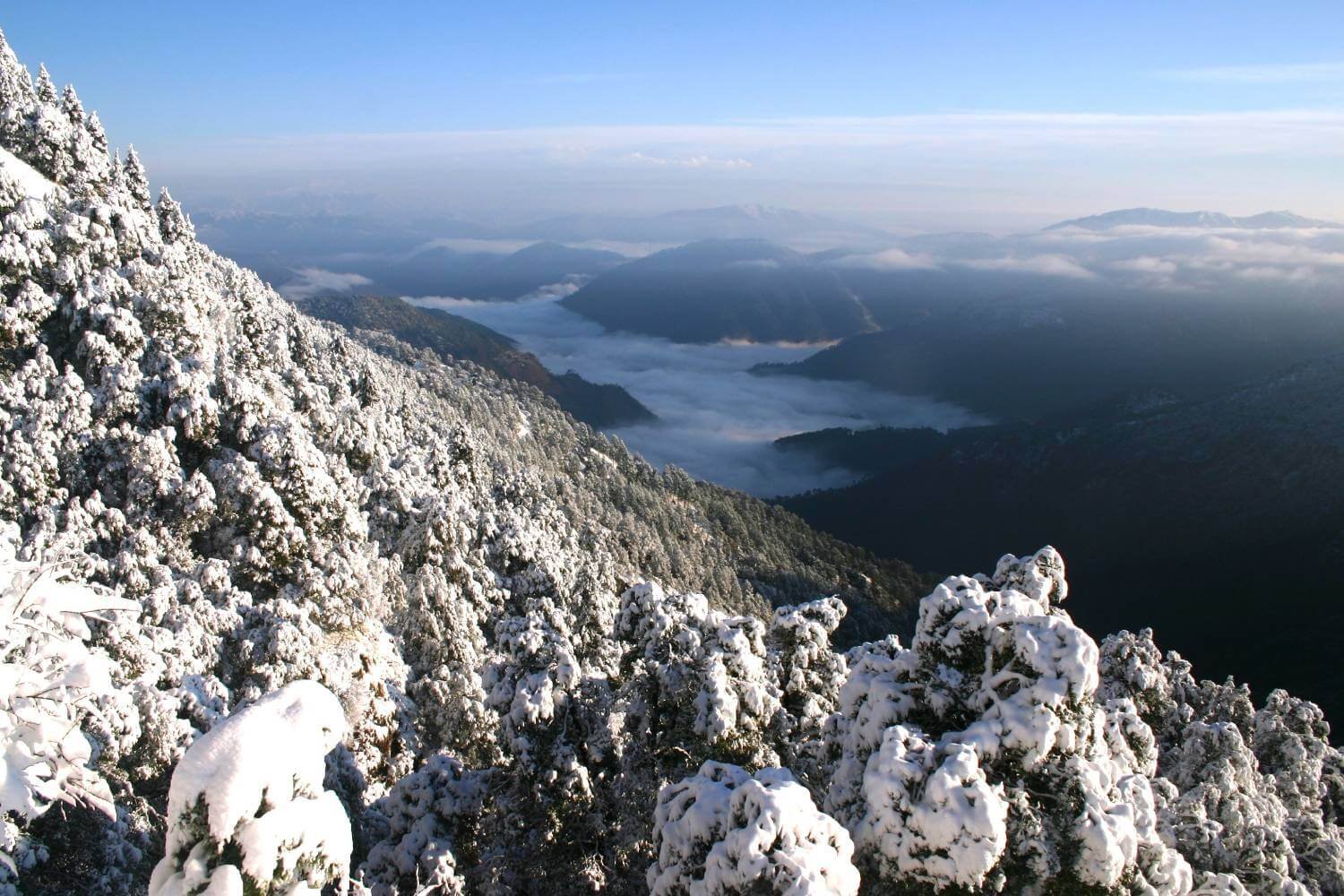 "Snowfalls with Grace!"
Pear-shaped lakes and snow-capped peaks, delightful hospitality and amazing markets makes Nainital a wonderful travel destination to spend winter vacation in winters. It also enjoys mesmerizing snowfall once every 2 or 3 years as it has subtropical weather. But when you witness the snowfall of Nainital you will be directly transported to the garden of Eden. The picturesque snowy landscapes of Nainital is no less than a paradise.  With the arrival of winter, snowfall in Nainital is like a chocolate chip in a cookie. The captivating snowy mountains, the freezing weather and the forever enchanting Naini Lake which is the soul of Nainital looks mind boggling. Photographers would find it to be a very delightful place. So, if you love to spend fun filled and scenic Christmas and New Year, Nainital's snowfall would not disappoint you.
Let's Enjoy the Tourism of the Lake district of Uttarakhand- Nainital
Shopping Time – Nainital is a delightful treasure of happiness for shoppers. Visit the most enchanting Mall Road and Tibetan Market. The colors and vibe will reveal the soul of Nainital.
Enchanting Naini Lake– Boating at Naini Lake is peaceful and awe inspiring with your loved ones. Visit the Holy temple of Maa Naina Devi. Rejoice in the spiritual vibes which keep enriching the tranquil waters of Naina Lake.
Wildlife adventures- It would not be a bad idea if you visit the Jim Corbett National Park, Kilbury and Pangot Bird Sanctuary and Nainital zoo to enjoy the rich wildlife and exotic birds of Nainital.
Moments of Thrill- Tiffin Top's sunrise will heal your soul with its majestic views. Also try camping in Sattal, Naukuchiatal and Mukteshwar, rappelling, trekking, kayaking and rock climbing. Why not visit Eco- cave Gardens for thrill and fun? A ropeway ride of Snow- view Point should be the top things to do on your Nainital Travel itinerary.
Spiritual Wisdom – Seek divine blessings from Hanuman Ji in Hanuman Garhi Temple.
Nainital is also one of the best mountain getaways from Delhi. If you are tired of your work life and want to rejuvenate your soul without taking a leave then Nainital is a must visit attraction to enjoy your weekend.
Also Check Out: Nainital Corbett Tour Package
5. Shimla, Himachal Pradesh
"Snow Sparkles Like a Million Little Suns!"
Covered with the snowy white blanket, the landscapes of Shimla beautify your heart and elevates your soul. It is one of the best hill stations to enjoy snowfall in the winter season. You will fall in love with the soul seducing vibe of Shimla. Captivating for honeymoon couples and families, it's an ideal spot to spend quality time with your loved ones. It is a place that will never make your day dull. There are many exciting things to do for travelers of all kinds. December to February is the time of the year when you witness the sparkling flakes of snow whose beauty has healing properties as it would heal your tired spirit.  Walking on the hill sides surrounded by pine and oak forests covered in snow, the colonial heritage, delicious food, snow adventure activities, scenic hiking trails, mesmerizing mall road, ridge and toy train ride are just the tip of the iceberg, the list is endless. The vibe of Shimla is awesome for the tourists who love mountains and snowfall.
Interesting things to do in Shimla?
Skiing in Kufri – It's the Next best thing to having wings! Have Fun!
Trekking – Jalori Pass, Bashleo Pass, ShailaPeak, Tattapani, Chail and Sarahan – shimla has awesome trekking trails. Free your soul in the scenic landscapes.
Skate Dance– Roller Skating to the tune of the melodious music. You will feel each moment is sweeter than before. The Roller-Skating Hall is on the left of the Lakkar Bazar.
Shimla's Ice-Skating rink is the greatest delight for adventure lovers.
Recreational Shopping – Visit the delightful Lakkar Bazaar, Lower Bazaar, The Mall Road, Tibetan Market, Ram Bazaar, and Middle Bazaar etc. The markets will seduce your senses.
Cuisines- Treat your palette with amazing cuisines such as Chana Madra, Sidu, thukpa, Babru, Mash Daal, Chha Ghost, Dhaam and Patande.
Also Check Out: Shimla Hill Station Tour Package Itinerary
6. Gulmarg, Jammu and Kashmir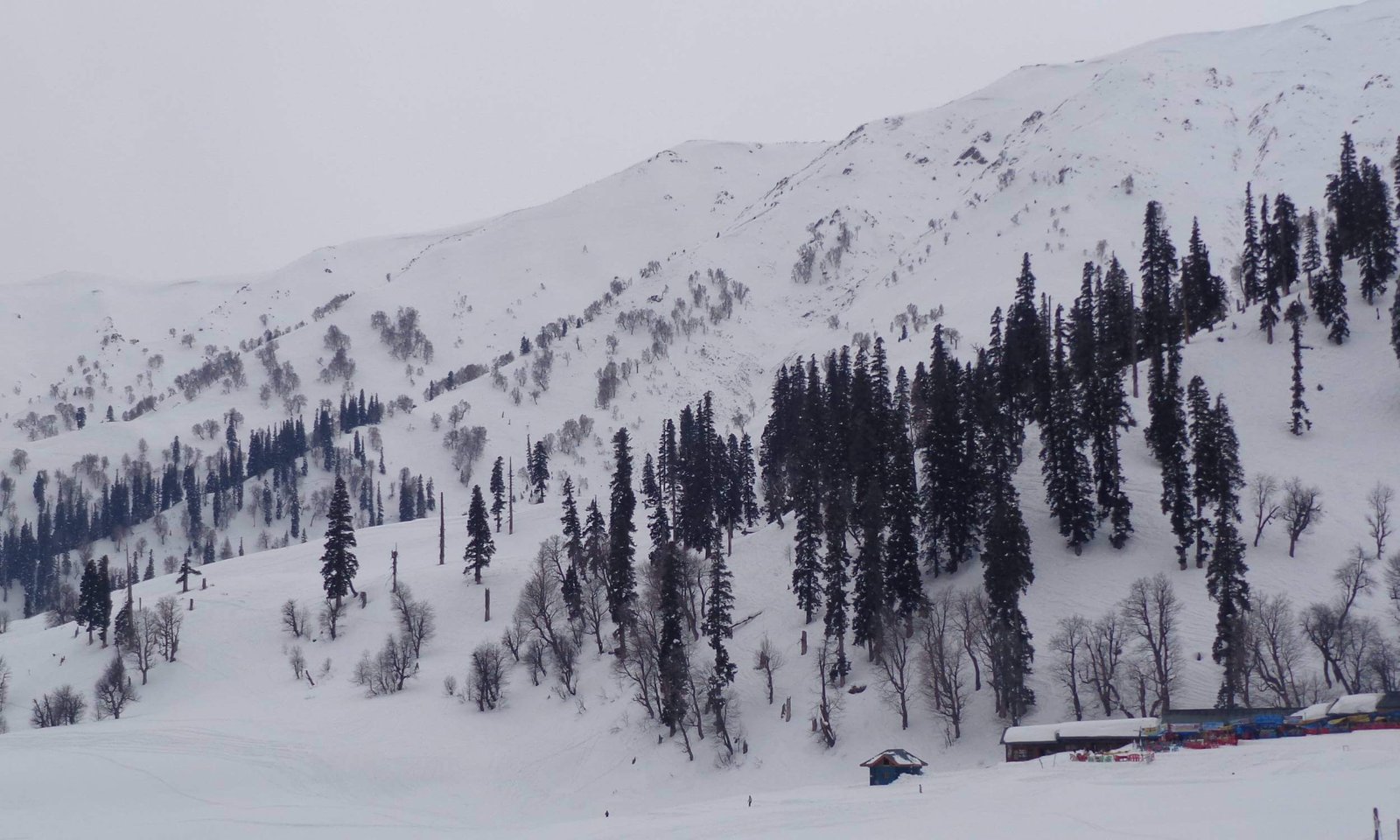 "True Magical Snowfalls"
Gulmarg comes first in the list of top 10 snowfall destinations of India. Gulmarg, from where you see the enchanting Pir Panjal range of the Western Himalayas is the seventh top notch ski destination of Asia.
Ideal for adventurers and couples, Gulmarg is considered to be the best place where the bliss of adventure winter sports makes the moment fun filled and memorable. Tourists visit Gulmarg to enjoy activities like skiing, snowboarding, tobogganing, off-piste skiing and heli-skiing. The deep ravines and pine forested hills, the scenic valleys shrouded in mist and clouds makes this place a fairytale land.
Discover Enchanting Gulmarg!
Gulmarg Gondola– A cable car ride in the Gulmarg gondola is the second highest cable car ride in the world which you must not miss. It will show you the mesmerizing beauty of Gulmarg.
Aparwath Peak- for any snow lover this Apharwat peak would definitely bring bliss. It remains covered in snow throughout the year.
Maharani Temple- Legacy of Dogra Dynasty and the sacred sanctum sanctorum of Lord Shiva and Parvati. Seek Divine blessings.
Badshah Tomb– Sultan Zain-ul-Abidin'S Tomb is a marvelous heritage attraction which dates back to the 15th century.
Food Delights– Gulmarg's food will make your day wholesome. Try Rogan Josh, Yakhni, Kashmiri Muj Gaad, Modur Pulao, Dum Olav, Sheermalas and Paratha Halwa etc.
Adventure – Gulmarg is one of the top snow adventure destinations of India. Enjoy Skiing, snowboarding, tobogganing, off-piste skiing and heli-skiing for a memorable winter vacation.
This is just the tip of the iceberg. There are still many places to see in Gulmarg such as Ningle Nallah, Rani temple, Baba Reshi Temple, Alpather lake, Gulmarg Biosphere Reserve and Children's Park etc. and the beauty of Gulmarg is very difficult to explain in words. Only a true wanderer knows how beautiful Gulmarg is.
Also Check Out: Exotic Kashmir Tour Package Itinerary
7. Spiti & Lahaul Valley, Himachal Pradesh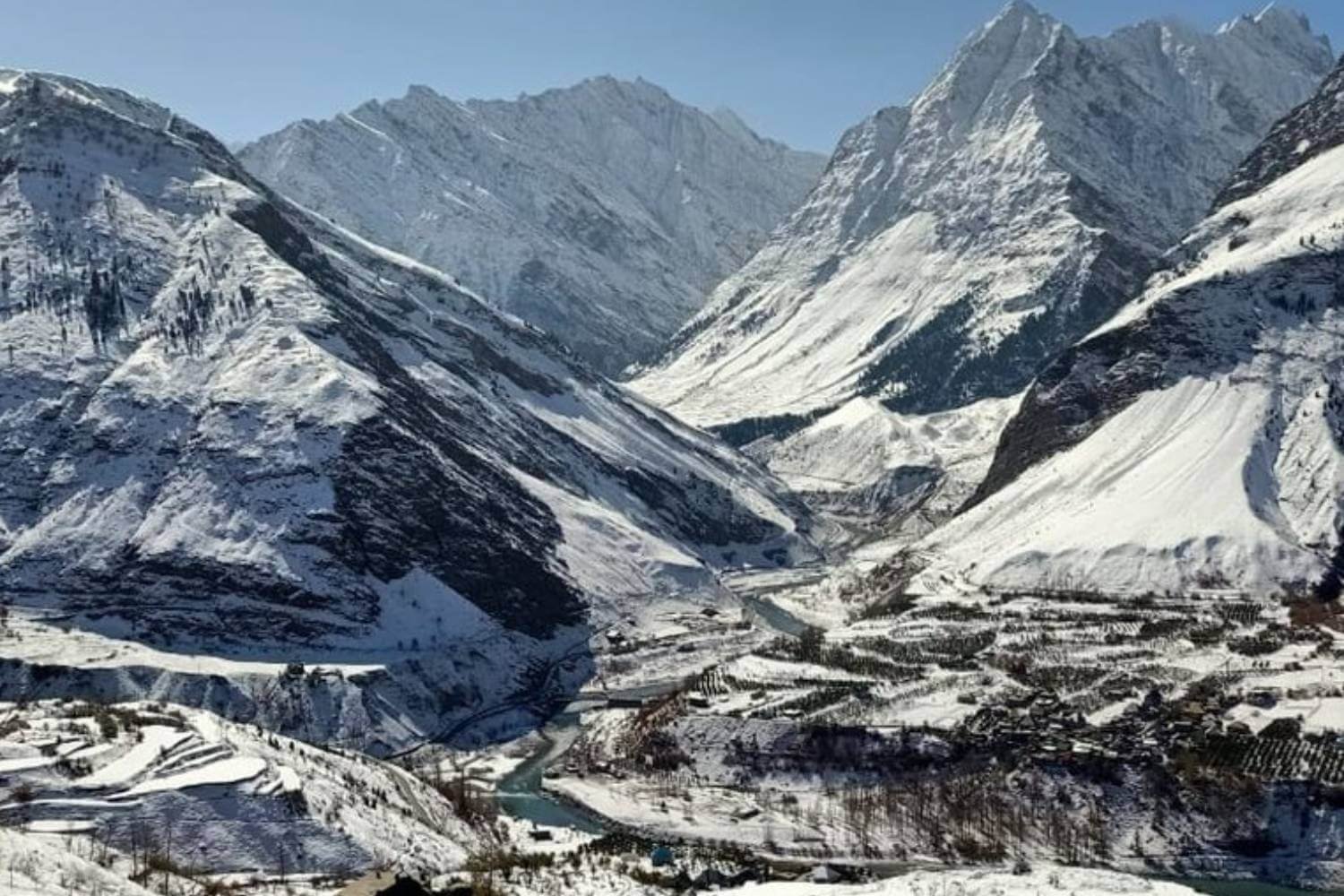 "All Heaven and Earth…Flowered White Obliterate…Snow…Unceasing Snow!"
Located in Himachal Pradesh, Lahaul and Spiti Valley is the perfect destination for nature and snow adventure lovers. The breathtaking snow-capped mountains, the refreshing vibe, the chilled breeze and simplicity of these two remote Himalayan valleys enchant tourists of all kinds from far places.  What attracts the soul is the mesmerizing ancient monasteries, quaint hamlets, crystal clear streams and rivers, snowy mountains and the fresh spell of snow during winters makes it the most enchanting snow destinations for awesome winter holidays. Some parts of Lahaul and Spiti receive around 8.5 m of snowfall. The quaint villages follow age-old rituals and traditions passed on to them by their ancestors. For adventure activities like mountain biking and trekking it's an awesome destination.  The Chandra and Bhaga Rivers in Lahaul seem as if the goddess of nature has landed on earth.
Make your winter holidays memorable in Spiti and Lahaul Valley.
Spiti Special
Spiti and Pin Rivers offer wonderful opportunities to try River Rafting. Don't miss it.
Buddhist Monasteries– There are many blissful Buddhist monasteries in Spiti. Abode of spiritual wisdom and eternal peace explore these wonderful Buddhist monasteries to soothe your heart and soul.
Dhankar Lake Trek – A very challenging trek but the views are worth it.
Mysterious Giu Village of Spiti – It's a place which is very popular for a 500-year-old mummy.
Thrill Seekers- Baralacha Pass is a perfect place for biking and trekking.
Langza and Hikkim Village- Fossil Hunting is the best thing to do here.
Yak Safari – Enjoy the local Yak Ride. Also click awesome pictures of the region.
Lahaul Special
Sissu Village- Traditional Lahaul lifestyle and mesmerizing glacier views of Sissu Village will be forever memorable. Also try camping, star gazing, and trekking. It's also a great place to witness snowfall and it is accessible because of the proximity to Atal Tunnel.
Visit Monasteries– The monasteries of Othang, Tayul, Guru Ghantaal, and Kardang are some of the best monasteries to explore for peace and divine wisdom. You can also explore the scenic remote hamlets of Gondhla, Aukhtang, and Lindor.
Lahaul and Spiti valley showcase the perfect harmony of Indian and Tibetan cultures. You can engage with the locals, embrace their culture. You can also try different local cuisines. You can also be a part of their festivals. Some of the most popular festivals of Lahaul and Spiti region are Ladarch, Phagli, Halda and Dechhang etc.
Top Recommended Himachal Sightseeing Tour Packages
8. Ranikhet, Uttarakhand
"Simply Lose Yourself and Merge with the Bliss of Snowfall!"
Situated in the lap of Himalayas, Ranikhet is a fascinating hill station to travel in the Winter season.  It is also one of the best snowfall destinations of North India. When the snow falls, the entire landscape turns into a bliss paradise. Mind boggling valleys, tall pine and deodar trees, dense forests, scenic narrow lanes covered with fruit vines, zigzag streams, ancient temples with marvelous architecture, Ranikhet has everything which will delight the soul of wanderers.  The main attraction of this hill town is the natural peace that resides here.
The wide variety of dense vegetation of Oak, Deodar, and Pine Forest covered in snow looks so photogenic that you will not be able to resist yourself clicking amazing pictures. The mesmerizing views of Himalayan mountains and the freezing temperature makes Ranikhet a wonderful mountain getaway to enjoy Himalayan winters.
Interesting Things To do in Ranikhet
Jhula Devi Temple- Take the Divine blessings of Goddess Durga.
Jungle Themed Ashiyana Park – Spend some quality time with your loved ones.
Chaubatia Gardens– Perfect for romantic couples. Himalayan Peak and the harmonious melodies of nature will soothe your soul.
Bhalu Dam– It's time for camping with your loved ones. Epitome of tranquility, it's one of the best places to visit in Ranikhet for solace seekers.
Trekking– You should try trekking from Chaubatia Orchard to Holm Farm. It's one of the most scenic treks of Ranikhet.
Paragliding- Majkhali village in Ranikhet is very popular for paragliding adventures.
Pindari Glacier, Kausani, Chaubatia and Kalika are some of the best places which you can go if you want to extend your Ranikhet Trip. You will never forget the breathtaking views.
Also Read: Best Places to Visit in Uttarakhand
9. Auli, Uttarakhand
"Snow Falls Like Stars in the Dark Sky. Truly Enchanting!"
Auli is an ultimate snowfall destination of Uttarakhand in North India. It is the place where adventurers lose themselves in the thrill of snow adventure activities. Exciting snow activities such as skiing, snowboarding, rollerblading, snow trekking, etc. makes this place the best snow adventure destination of North India.  Auli experiences snowfall from November to March. Be it anyone, honeymoon couples, families, adventure lovers, Auli's vibe has a charm to engage you forever in its beauty.  One will also get the panoramic views of majestic Nanda Devi Peak, Hathi Parvat, Mana Devi, Ghori Parvat, Kamet, Nar Parvat and Dunagiri etc.
Top Things to Delight Your Soul in Auli
Trekking to Gurson Bugyal– Gurson Bugyal trek is one of the most popular treks in Auli. You must not miss it if you love trekking.
Skiing- Auli is the best Skiing destination of India. So, not indulging in Skiing will make your Auli trip incomplete.
Fun of Auli Gondola Rides– Joshimath-Auli Gondola and the chair car ride from GMNV to Auli are the two most fascinating rides in Auli which will showcase the entire panoramic landscapes of Auli. Don 't miss it.
Auli Artificial Lake– It is one of the world's highest man-made lakes. Constructed by the government, it is the best place to experience snowfall even in summer.
Also Read: Best Hill Stations to Visit in Uttarakhand
10. Khajjiar, Himachal Pradesh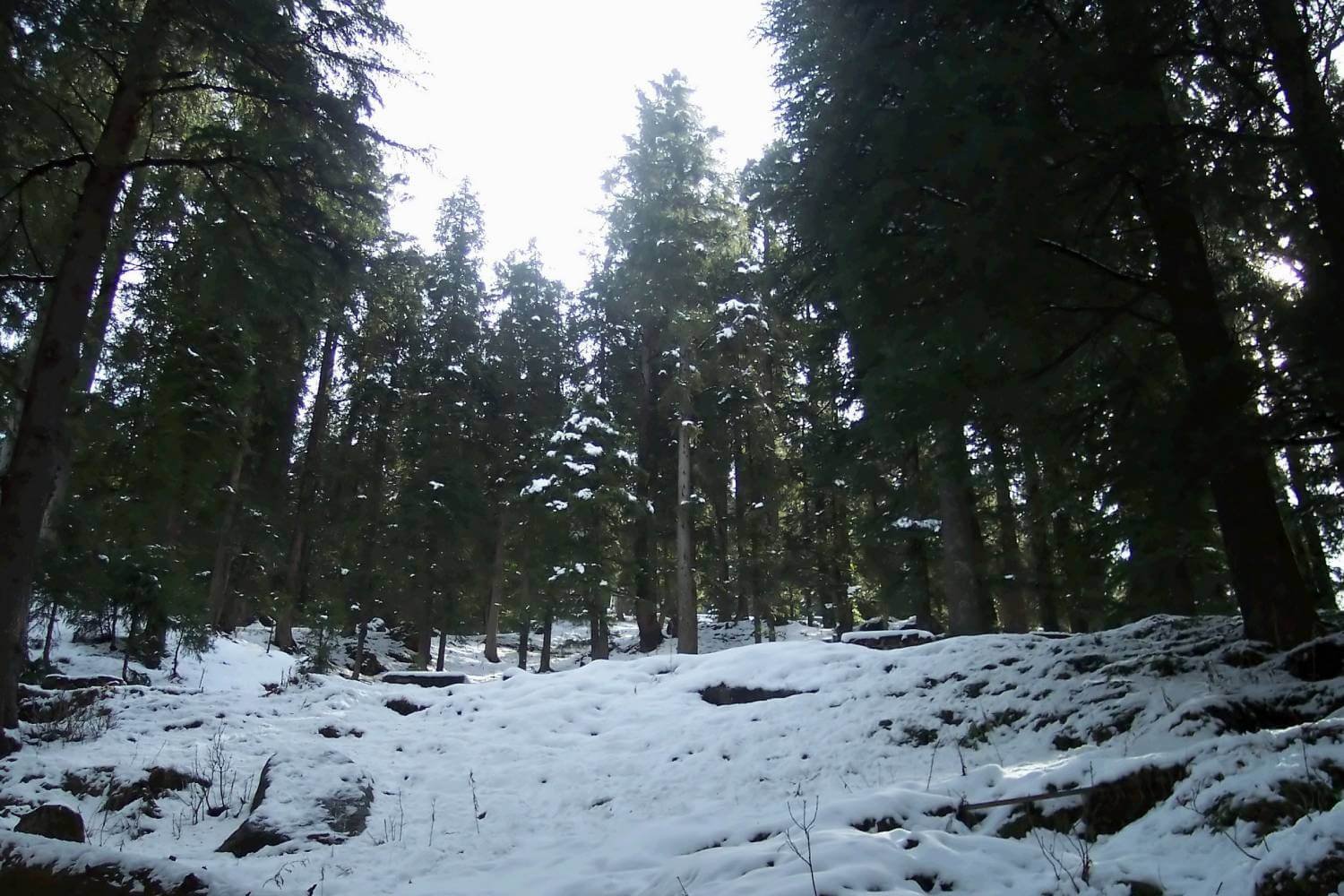 "Sunshine cannot bleach the snow, nor time unmake what poets know"
Khajjiar, a small hill station in the northern state of Himachal Pradesh is a wonderful snowfall destination for snow lovers. It is also known as the mini-Switzerland of Himachal Pradesh. Chilled mountain breeze, refreshing vibe, awe enchanting landscapes and snowy Peaks makes it a very picture-perfect winter destination to explore in North India.  Its beauty and charming environment also attract a lot of honeymoon couples to cherish some romantic moments of togetherness. Though it's a very small tourist destination, it's a complete bliss for solace seekers who love solitude. It's a paradise for adventurers.
When you enter Khajjiar, the first thing which will touch your soul is the fascinating meadows. In winters it will be entirely covered in snow. It's a wonderful place to click beautiful pictures of enchanting Himalayan landscapes. Not very crowded, one who loves peace Khajjiar's silence makes them artists who will write poetries about its beauty.
Amazing Activities to Do in Khajjiar
Zorbing – Zorbing is a very delightful adventure sport to try in Khajjiar Lake. In winters Khajjiar lake remains frozen.
Kalatop Wildlife Sanctuary –Time for a thrilling Jungle Safari. Also Indulge in trekking. You will never regret it.
Paragliding- Explore the snowy landscapes like a bird from 6000 ft.
Cuisines- Chana Madra, Tukdiya Bhat, and Chha Gosht – Try everything. Your Palette will feel bliss.
Horse Riding – Breathtaking scenery of Khajjiar in a horse. How's the idea?
Villages of Khajjiar- Explore the remote Rota, Ladi villages of Khajjiar. Interact with the locals and try some delicious Himachali food.
Khajji Nag Temple– It is one of the oldest temples of himachal Pradesh. Seek divine blessings from Khajji Naga (serpent God).
Also Read: Best Places to Visit in Chail Himachal
11. Dhanaulti, Uttarakhand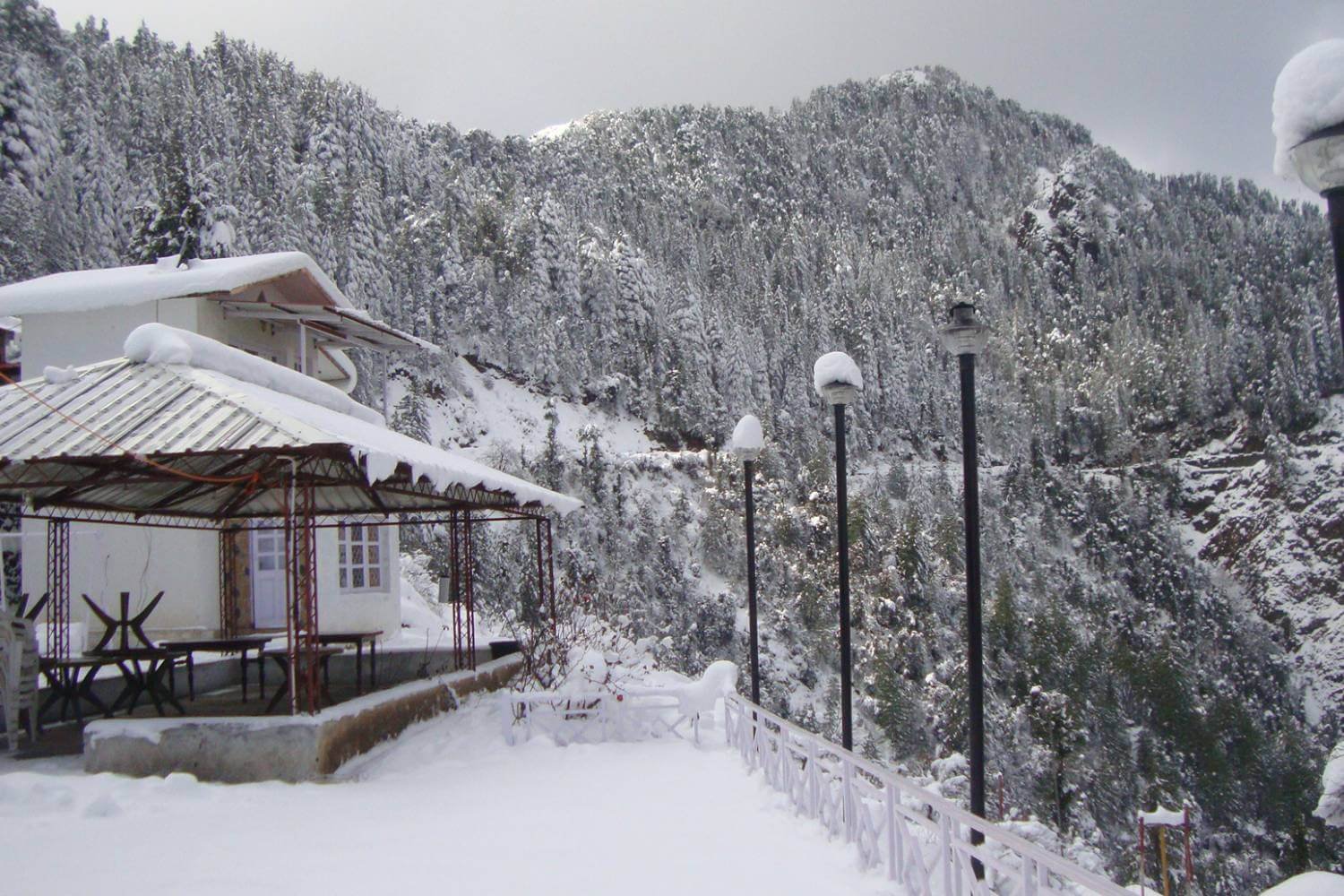 "Close your eyes. Hear the silent snow. Listen to your soul speak."
Hidden Gem for snow lovers, Dhanaulti is a must visit place to enjoy snowfall in winters. Dhanaulti will speak with your soul with its enchanting snowfall views. Yes, it is one of the most popular snow destinations to explore in India. The beautiful landscapes of Dhanaulti will tickle your lenses to click every moment here. Favorite of honeymoon couples and families, Dhanaulti in Winters turns into a land where the snow's healing touch rekindles a thousand small lights of happiness. It is less crowded in comparison to other hill stations of North India. Solace seekers here lose themselves completely in the serene snowy landscapes. The wonderful view of the colorful market on the street, the slow pace of life and delightful sights of Dhanaulti will definitely make winter vacation memorable.
Dhanaulti Delights – Best from the Rest
Beautiful Pahadi villages of Dhanaulti – Sublime amazement with simplicity
Surkanda Devi Temple – Fine tune your spirit by divine wisdom
Dhanaulti Adventure Camps – Try exciting adventure activities such as Skating, Mountain Biking, Quad Biking, Paragliding, Trekking, Rappelling, Rock climbing, sky walk, sky bridging, valley crossing and zip lining etc. some of the best Adventure camps to enjoy all these adventures are –
Camp Thangdhar
Camp Dhanaulti magic
Dhanaulti Camps
Dhanaulti Mountain camp and cottages
Himalayan Huts Dhanaulti
Also Read: Best Places to Visit in Almora Uttarakhand
12. Zuluk, Sikkim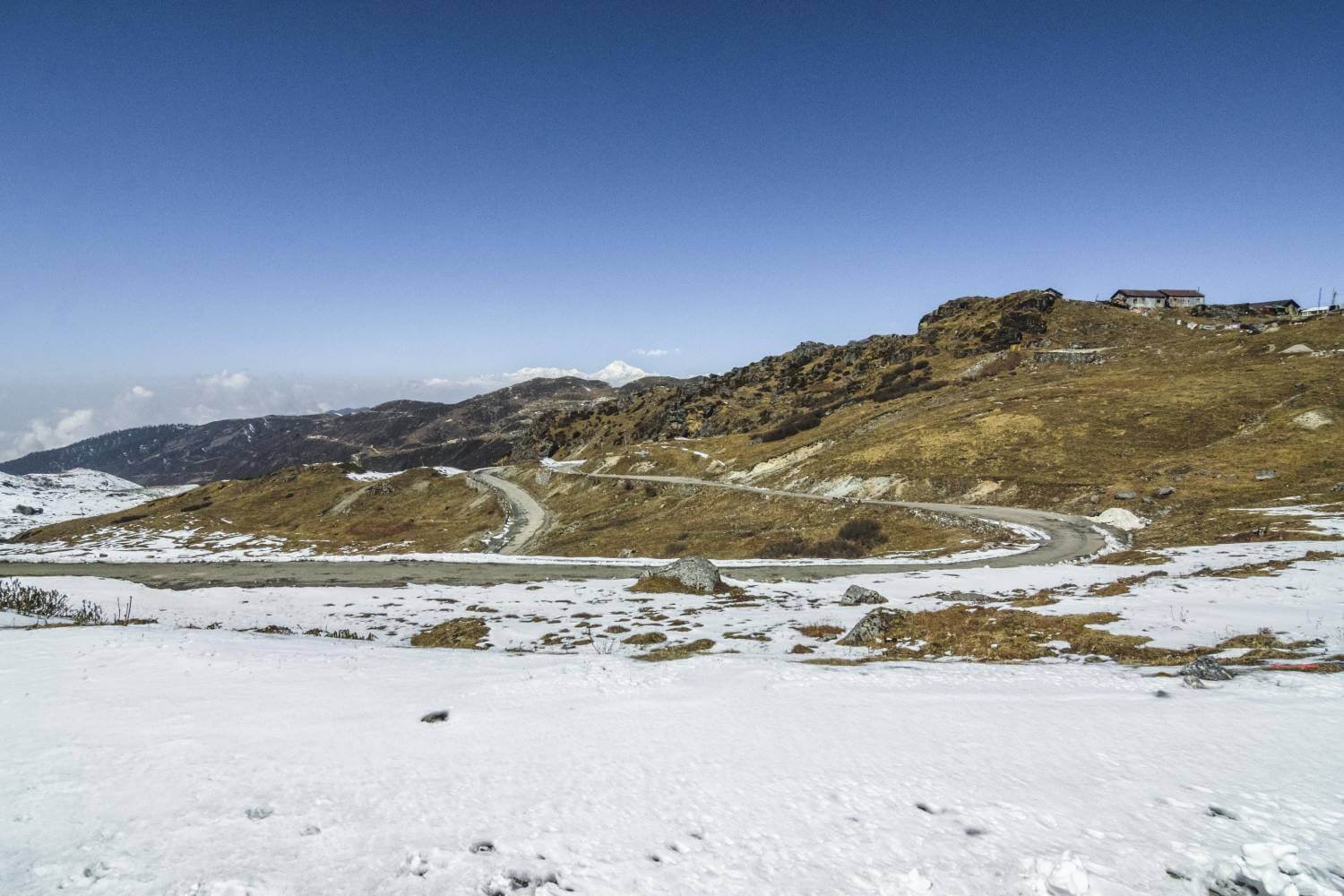 "Hidden Snow Paradise in North East India"
Very few people know about Zuluk in East Sikkim. If you are looking for a less crowded offbeat snowfall destination then Zuluk is one of the most fascinating snow destinations to explore in this winter.  Why not? Its landscapes are poetry of nature. It is less explored, unspoilt and totally away from the negative impact of commercialization.  It's a complete paradise for solitude lovers. The entire meadow of Zuluk is covered in snow during winters. For honeymoon holidays, you can spend your delightful romantic moments in Zuluk. Trust us, you will never forget the enchantment.  Moreover, reaching here is very adventurous. Zuluk journey consists of 32 hairpin turns that are so tumultuous that you start screaming in excitement. It will be your Aha moment.
Amazing Things to See in Zuluk
Thambi View Point- Seek Solace
Nathang Valley- Best Snowfall of winters
Kupup Lake- Forever Enchanting
Tukla Valley- Dreamy landscapes
Old Baba Mandir- Enrich your Soul
Nag Temple- Seek Divine Peace
Tsomgo Lake- Scenic and blissful
Kamalpokhari Lake – Frozen Beauty
Also Read: Best Places to Visit in Northeast India Tour
13. Narkanda, Himachal Pradesh
"A light snow touches her cheek like an angel's butterfly kisses"
65 km from Shimla, Narkanda is another attraction where you will enjoy the bliss of snowfall in winters. It takes only two hours to reach here.it is also one of the best Skiing destinations of North India. Adventurers from all across the globe come here to enjoy skiing. The best thing about Narkanda is that it is less crowded which will make your winter holidays in India very relaxing and refreshing. The peaceful vibe of Narkanda is quite therapeutic which will heal your soul of all the tiredness. In winters Narkanda is covered in snow which makes the landscapes awe enchanting to behold. This small hill station is also surrounded by beautiful mountains. There are beautiful trees of Rai, Kail and Tash all around. houses which were built between the mountains look so scenic, the sunset views, the sparkling snow remain here till February. The forests are covered in snow and look gorgeous. Here you will find trees like Conifer, Oak, Maple, Papules, Aesculus and Corylus. Click awesome pictures of this snowy paradise.
Awesome Places to Visit in Narkanda
Tannu Jubbar Lake – Blissful boating
Hatu Peak- The highest and the beautiful
Stokes Farm – Enchantment of the Soul
Kacheri Mahamaya Temple – Enrich your spiritual wisdom
14. Kufri, Himachal Pradesh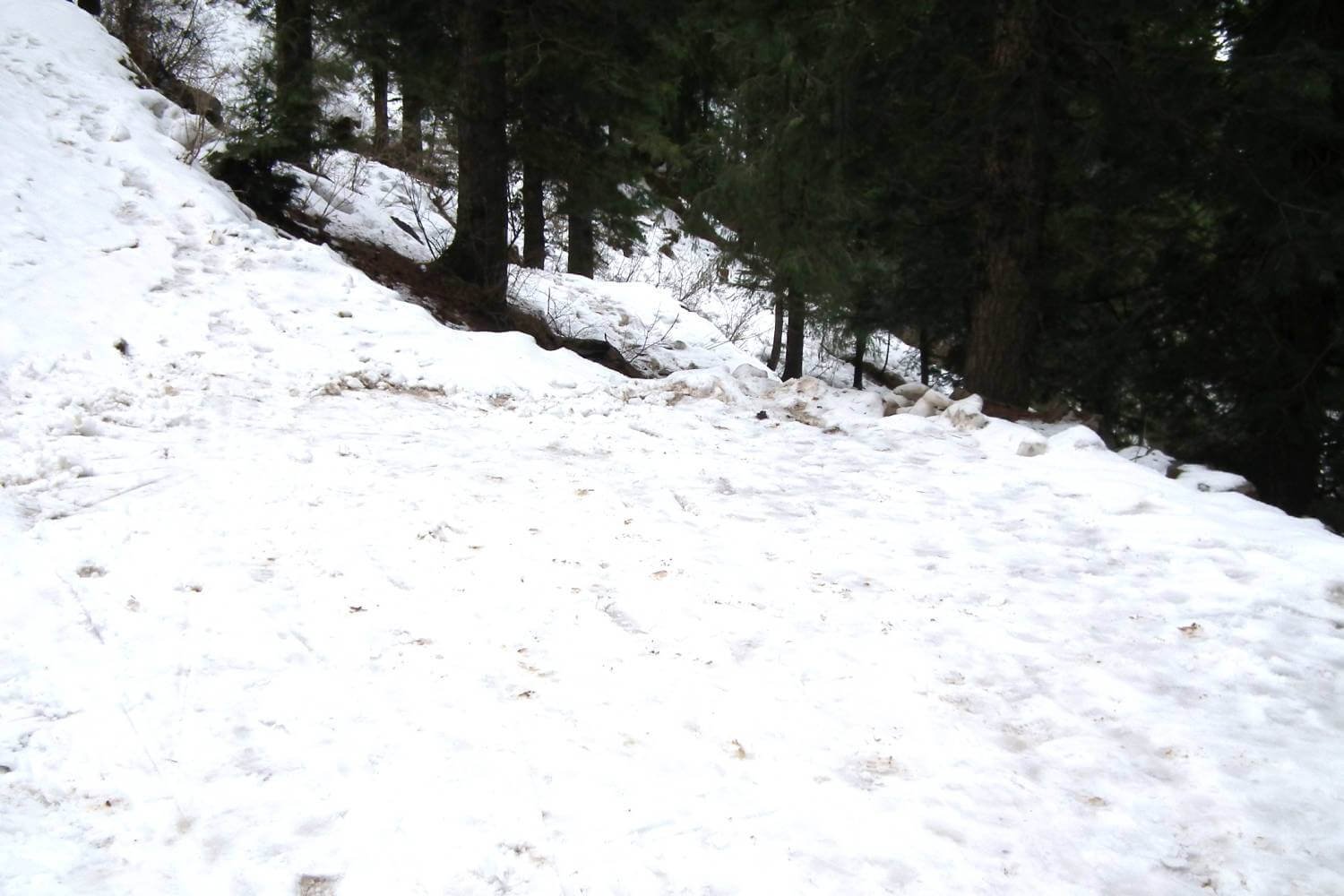 "Snowfall, a perfect beginning to the best winters"
Very popular for its trekking and hiking trails, Kufri should definitely be on your travel bucket list of top snowfall destinations in India. In Kufri winter is a time for adventure lovers. People enjoy skiing and tobogganing on snow-covered slopes. There are also many scenic nature parks and picnic spots which makes this an awesome destination to spend some quality time with family. It's a perfect mountain getaway to enjoy winters with your loved ones. If you are in Kufri, Shimla is not very far. It is the paradise of snow. Most of the people who explore the snowfall in Shimla also extend their trip to Kufri. The scenic location of Kufri has a fairytale-like setting. In winter, in the month of February, Kufri also organizes the annual Winter Festival which is one of the best events to attend in Kufri. You will be able to enjoy lots of amazing snow adventure activities such as Skiing, go-karting and sledging etc. Pony rides add more fun to the winter holidays.
Himalayan National Park – For memorable Wildlife Explorations
Trekking- The world reveals itself who travel on foot
Camping- Snow trail camps with the loved ones
Horse Rides – Fun Filled, Explore beautiful landscapes of Kufri
Yak rides – It will definitely be an exciting ride
Shopping – Kufri is a treat to a shopper soul
Skiing- For Snow lovers
Tobogganing – One of the best adventures in Kufri
15. Ladakh- Dream Snowy Destination
If You want to enrich your holidays with the best snowfall experiences, then Ladakh would be an awesome destination to explore. Be it couples, family or solo backpackers, Ladakh's rugged landscapes attract everyone. In fact it is the place where the landscapes have varieties. Imagine Ladakh and the views of enchanting snow, passes and serene valleys float in front of our eyes. It is one of the top snow tourist attractions to visit in India.
It has something for everyone. For off-roading, trekking, honeymoon holidays, spiritually inclined, mountain lovers, nature lovers, Ladakh is one-of-a-kind snowfall destination for tourists in India.
Ladakh Delights
The peaceful stopovers, the high- altitude frozen glaciers, Karakoram mountains of the north and Himalayas of the South, monasteries, culture and food and exciting adventure activities such as mountain climbing, Bactrian camel rides, motor biking expeditions, white water rafting, camping in meadows makes Ladakh a must visit attraction if you want complete satisfaction of winter vacation and value for money.
Top Recommended Ladakh Tour Packages
16. Lambasingi, Andhra Pradesh
"Kashmir of South India"
Imagining Snowfall in the South? Well, there is only one place where this imagination can be true. Lambasingi is the only place which receives snowfall in winter in South India.  So, if you are looking for an offbeat snowfall destination Lambasingi fulfills this demand. With quaint valleys, chilled temperatures, located in Visakhapatnam in Andhra Pradesh Lambasingi's views will blow your heart away. Shrouded in a blissful mist throughout the year changes its mood to turn in a sparkling white carpet. Lambasingi is full of pepper and coffee plantations. The view of these refreshing gardens spread over a vast expanse will seduce your senses.
You can visit this place from November to January to experience snowfall. The temperature in Lambasingi remains below zero degrees Celsius in winter. So, don't hesitate to experience the best snowfall of winters in south India.
Amazing Attractions to See in Lambasingi
Thajangi Reservoir- Breathtaking Landscapes
Kothapalli Waterfalls- Listen to the melodious chimes of cascading waters
Annavaram Temple- Divine drops of wisdom
Ghat Road- Nature and greenery every where
Yerravaram waterfalls- Soothing views
Bojjannakonda- Mesmerizing Paddy Fields
Susan Garden- Garden of Bliss
Kondakarla Bird Sanctuary – Exotic Birds
Also Read: Popular Tourist Places in South India
 17. Nathula Pass, Sikkim
"Snowy Wonderland, Charismatic"
For the wanderers who are in search of unexplored places, Nathula Pass would be the best choice to enrich your snowfall experience. It is one of the best places in Sikkim to enjoy snowfall. In Tibetan, Nathu means "hearing ear" and La means "near". It is covered with rich alpine floral and faunal species. Only Indians are allowed to visit here on Wednesdays, Thursdays, Saturdays and Sundays, foreigners are not allowed.
This beautiful mountain pass is a picture-perfect destination for photographers. Breathtaking views of snow-capped mountains, long winding roads, enchanting views of Chumbi Valley of Tibet, frozen lakes and temples makes Nathu La pass an amazing tourist attraction for snow lovers. If you can bear temperature up to -25 º celsius then the view of snow will melt your heart. Otherwise, it's a great place to visit in summer. Heavy snowfall might block the roads and extreme cold temperature sometimes makes it unbearable to see the beauty of winters.
Note – To visit here you will require a permit from Tourism and Civil Aviation at Gangtok.
Explore these beautiful places in and around Nathu La Pass
Menmecho Lake Trek – Euphoric!
War Memorial and Exhibition Center – Pay respects to the brave Indian soldiers
Mandakini Waterfall– Serene and solace inducing
Baba Mandir – Seek divine blessings and serenity
Tsomgo Lake – Frozen high- altitude glacier
Kyongnosla Alpine Sanctuary – Explore the rich flora and fauna of Sikkim.
18. Sandakphu, West Bengal
"Blossom sized flakes of Snow"
The highest Peak of West Bengal, highest point of Singalila ridge, Sandakphu will become the heartbeat of snow lovers if they visit here during winters. It has also kept the most beautiful village on its summit from where you will be able to see some of the highest peaks of the world such as Lhotse, Everest, Kanchenjunga and Makalu.  You will also behold the serene Teesta River flowing through Sandakphu which appeals to adventure lovers for thrilling river rafting. People indulge in Sandakphu Phalut Trek to enjoy the mesmerizing winter in India. You will behold the most amazing views of snowcapped Himalayan mountains. The temperature ranges up to 0 to 10-degree Celsius. Indeed, it's a wonderful option to explore the offbeat areas of the North East region and experience amazing winter snowfall.
Places to See in Sandakphu Trek
Trek of Sandakphu will enable you to explore Manebhanjan, Tumling, Chitrey, Tonglu and Bikeybhanjan. Embrace the solace inducing beauty of the Himalayas.
19. Tawang, Arunachal Pradesh
"Fairytale land of Snow"
Tawang is one of the popular travel destinations to visit in the winters. located in the northeastern state of Arunachal Pradesh, every view is blissful here. Every moment would turn into hours and hours of feeling. In winters, the snowfall makes Tawang a mesmerizing paradise to spend winter holidays. What makes Tawang scenic is the fascinating glacial lakes in and around its landscapes which remain completely frozen in winters.  Beautiful mountain Yak rides, warm hospitality of Monpa Tribe, lofty Himalayan mountains and solace inducing valleys makes Tawang a very photogenic place for nature lovers, couples and solace seekers. Moreover, if you are spiritually inclined Tawang is a peaceful abode to dive deep into the spiritual whirlwind coming from monasteries. Tawang Monastery is one of the most popular and extremely sacred for Buddhists. The fragrance of spirituality heals the soul. During the winter season, Tawang gets covered with a thick layer of snow in winters which makes this an amazing snowfall destination to explore in North East India.
Tawang Delights
Sela Pass- Scenic High-altitude motorable pass
Gorichen Peak- Blissful Hiking Trail
Taktsang Gompa – Perfect place for divine solace
Nuranang Waterfalls- Nature's euphoria
Madhuri Lake- Soothing paradise
Jaswant Garh – Respect the Brave martyrs
Bumla Pass-Snow Covered mountains
Also Check Out: 6 Nights Best of Arunachal Tour Package
20. Kinnaur, Himachal Pradesh
"Sublime and Beautiful"
For Adventure seekers and nature lovers and couples, Kinnaur's tourism will shine bright in the list of top snowfall attractions in India. In winter the patches of roads start to get buried under the snow which makes the landscapes of Kinnaur heartwarming. Kinnaur is popular for many reasons. It is a place where you see the serene Sutlej River enters India. It is here where you see one of the five Panch Kailash – Kinner Kailash is placed. Chitkul the scenic village, is the last village of the Old- Hindustan Tibet Trade route and Baspa Valley is located in Kinnaur. Kinnauri apples are also worldwide popular. In Winters the snowfall creates magic, melting millions of hearts who come from all across the globe. The Temperature ranges up to -5 to-15 degrees. Those Looking For unique winter snowfall experiences must visit Kinnaur once in a lifetime.
Kinnaur's Best Highlights
Sarahan- Gateway to Kinnaur
Chitkul- Last Village of India
Kalpa– Kinner Kailash Peaks
Nako Valley – It resembles Spiti Valley
Orchard Tour – Nature's Bliss
Baspa Glacier – Never ending enchantment
Also Check Out: Popular Trekking Trails in Himachal Pradesh
21. Kartik Swami, Uttarakhand
Let's talk about the charm of Garhwal Himalayas. Kartik Swami Temple of Rudraprayag is an awesome destination in India for spiritually inclined and snow lovers. The temple of Kartik swami lies in the Kanak Chauri Village in Rudraprayag. Dedicated to the eldest son of Lord Shiva, Kartikeya, not only will it heal your soul with its sacred vibe but also showcase the beauty of Garhwal Hills.
There is a lot of snowfall in the winter season in January-February. It is also an awesome place to see snow-clad Himalayan peaks of Bandarpoonch, Kedarnath Dome, Meru & Sumeru, Chaukhamba Peak, Neelkanth, Dronagiri, Nanda Ghunti, Trishul, and Nanda Devi group of peaks. You will also see breathtaking views of sunsets and sunrises and the enchanting snow in winter will melt your heart.
There is a very interesting story behind the origin of Kartik Swami Temple. As per the legends, one day Lord Shiva challenged his sons to take the seven rounds of the universe. One who comes first would get the privilege of worshiping first in the world. Lord Kartikeya headed off to take seven rounds of the universe in his vehicle whereas Lord Ganesha took seven rounds of his parents – Lord Shiva and Goddess Parvati. Impressed with the wisdom of Lord Ganesha, Lord Shiva gave him the privilege to be worshiped first. But it triggered the ego of Lord Kartikeya, in order to prove his reverence to Lord Shiva he sacrificed his bones and body to his father. This whole incident occurred in a place where today we see the majestic Kartik Swami Temple.
These awesome places are the treasure trove for winter snowfall lovers in India. What are you waiting for? Pack your bags and plan an awesome trip to explore some of these beautiful snowfall destinations in India. Donald L Hicks said "Every snowflake is unique, yet they are each perfect" Every mentioned place offers snow but they all have different vibe. Snow is a perfect art of God. Not a single place here will disappoint you and offer a perfect winter snowfall experience in India. So, get ready for a delightful snow vacay.
Frequently Asked Questions
Which places are best for snowfall experiences in India?
The Places which are best for snowfall experiences in India where you would want to lose your soul, rekindle your romance, click awesome snow pictures, build sandcastles and snowmen are –
Manali
Gulmarg
Sonmarg
Auli
Lambasingi
Kinnaur
Shimla
Nainital
Ladakh
Spiti and Lahaul
Zuluk
Khajjiar
Dhanaulti
Narkanda
Munsiyari
Tawang
Sandakphu
Ranikhet
Kartik Swami
Nathu La Pass
What are the top destinations in Sikkim to enjoy snowfall?
Some of the top destinations to enjoy the magical event of snowfall are
NathuLa Pass
Pelling
Lachung Village
Zuluk Valley
Lachen Valley
Yuksom Valley
Nathang Valley
Yumthang Valley
Gurudongmar Lake
Chopta Valley
When does snowfall occur in India?
December to February are the months to experience snowfall in different parts of India. The North Region of India experiences beautiful snowfall.
What are the best places in India to experience snowfall in November?
Some of the most stunning places to experience snowfall in November in India are –
Ladakh
Kashmir
Lachung
Auli
Kufri
Yumthang
Pelling
Nathu La Pass
Spiti and Lahaul Valley
Like & follow us on our following official social media channels
Facebook | Twitter | Linkedin | Instagram | Youtube
Also Check Out: Popular India Tours | Tour Packages | India Tour Packages | International Tour Packages
Other Popular Trending Holiday Destinations in India – Kashmir Tour | Himachal Tour | Uttarakhand Tour | Rajasthan Tour | Gujarat Tour | Sikkim Tour | Kerala Tour | Andaman Tour | Madhya Pradesh Tour | North East Tours
International Trending Holiday Destinations – Nepal Tours | Bhutan Tours | Singapore Tour | Thailand Tours | Sri Lanka Tours | Maldives Tours | Dubai Tours | Indonesia Tours
Tour Packages by Interest – Adventure Packages | Wildlife Packages | Pilgrimage Packages | Heritage Packages | Hill Station Packages | Weekend Packages | Honeymoon Packages | Beach Packages | Chardham Packages | Trekking Packages
Other Interesting Destinations Travel Guide Blogs to Read
Other Interesting India Travel Guide Blogs to Read