Auli is a mind-blowing Himalayan retreat and an enchanting Hill Station destination of Uttarakhand. It is also known as the Skiing Capital of India. Due to heavy snowfall in winters, the entire landscape of Auli turned into a snow wonderland. Delightful to the romantic couples, best fairytale type views for nature lovers – the bliss of the Holidays in Auli will last in your senses for several years. In its great depth of beauty, you will rejuvenate your mind with the serene views. Snow is this landscape's most expressive highlight. Tourists from all over the world come to Auli to witness the most beautiful snowfall in India. It is a beautiful winter destination of India. Families often plan their vacation in a hill station when the schools are closed – why not consider Auli this time for an amazing Himalayan holiday?
Special Highlights of Auli Tourism – The Snow Wonderland of India
Auli's most beautiful feature is Snowfall. It's a winter paradise and India's best ski resort destination. Skiing is one of the best adventure activities to do in Auli.
You will see beautiful Oak and Coniferous forests most of the time in Auli.
It is also a gateway to Nanda Devi and the Valley of Flowers National Park. Don't miss it, it's also a UNESCO World Heritage Site known for its exquisite wildlife adventures and exotic floral species.
The cable car ride between Joshimath and Gurson will show you the best views of Snow-capped mountains and lush green landscapes of Garhwal region.
Let's Explore Auli and Know About this Himalayan Paradise in Detail –
| | |
| --- | --- |
| Auli is Popular For | Skiing Adventure |
| Location | Chamoli District, Uttarakhand |
| Best Time to Visit Auli | November to March |
| Prominent Mountain Peaks Visible in Auli | Dunagiri, Mt Nanda Devi, Mana Parvat, Dunagiri, Kamet, Hathi Parbat, Ghori Parbat etc. |
| Best Adventures to Do in Auli | Skiing and Cable Car Ride Over Snowy slopes |
| Best Places & Attractions to Visit in Auli | Auli Artificial Lake, Gurson Bugyal, Nanda Devi Peak, Trishul Peak, Kuari Pass, Chenab Lake, Valley of Flowers and Nanda Devi National Park etc. |
Get upto 30℅ of early bird discount on our Auli Uttarakhand Tour Packages. Reach us for more details / bookings – +91-8802149265.
Get Ready for an Awe- Inspiring Adventure in Auli – Top Things to Do in Auli
Ski Paradise
Auli is one of the best adventure tourism destinations in Uttarakhand. In fact, it is known as the Ski capital of India. You must indulge in this adventure once in a lifetime. The best time to ski in Auli is from the months of December to February.
Auli Artificial Lake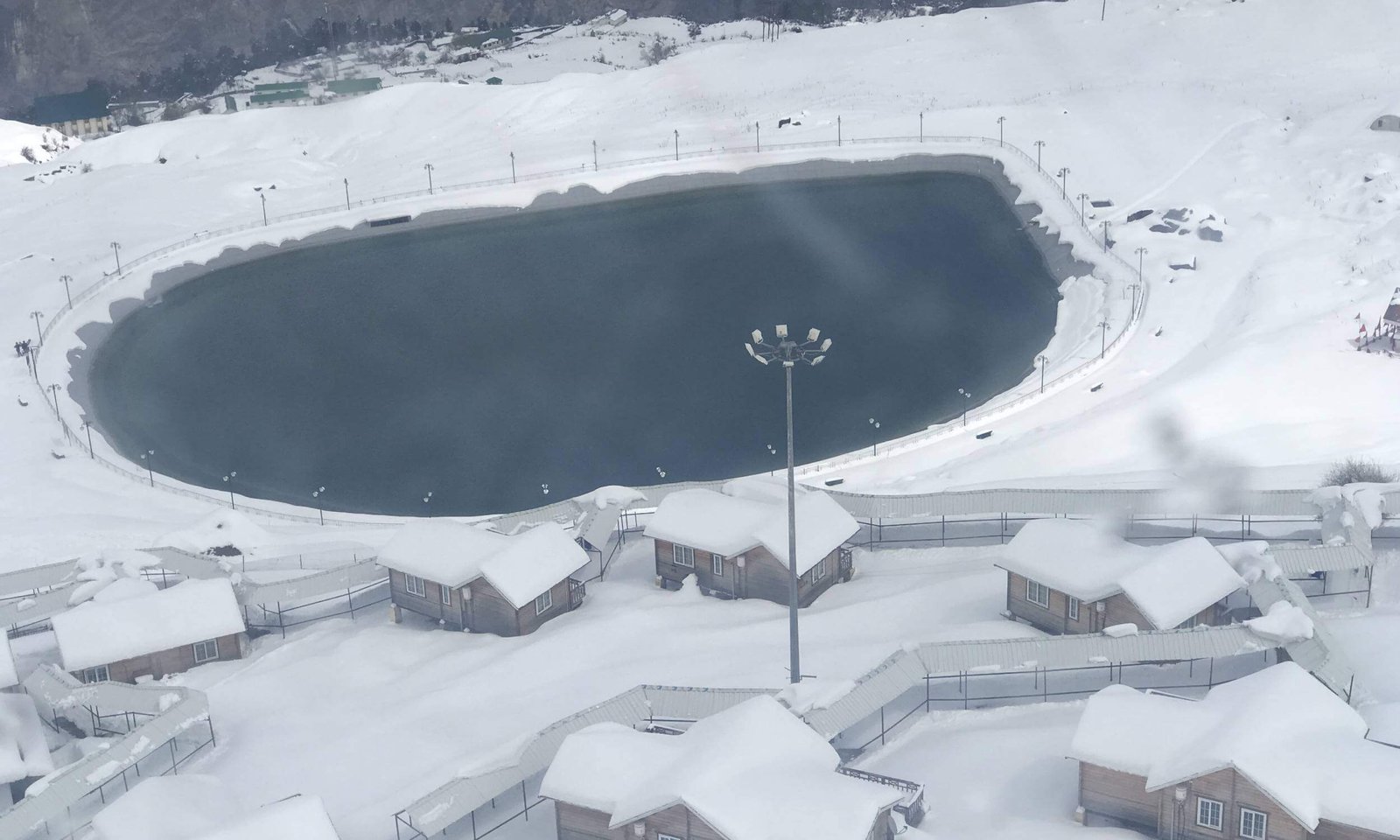 Do you want the best views to pose for mind blowing photographs with your loved ones? Or do you want to experience delightful snowfall even when there is less snowfall? Don't worry you will get to see everything awesome in Auli Artificial Lake. Adjacent to Cliff Top Hotel in Auli, This Lake is a very popular tourist attraction in Auli. Best for honeymoon couples and family day trips in Auli, you will see stunning views of Himalayan mountains. It is constructed by the government for tourism purposes. When there is less snowfall, this place offers the best snowfall views in Auli.  Photography becomes a blissful activity here. Also witness the scenic sunset.
Nanda Devi & Valley of Flowers National Park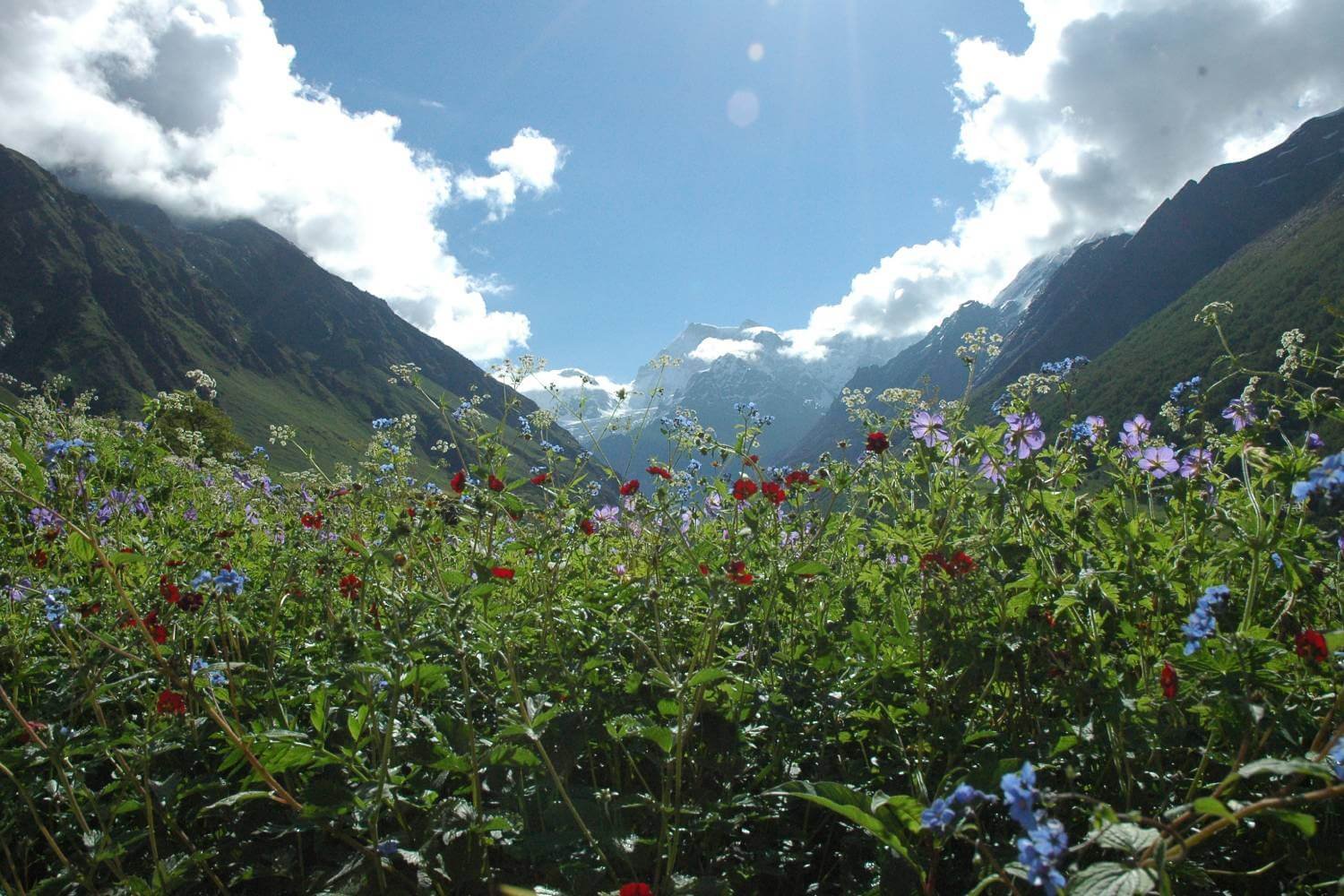 One of the must visit tourist places near Auli. Enjoy the exotic wildlife and floral species of High-altitude Himalayan mountains at Nanda Devi & Valley of Flowers National Park. It is also a UNESCO World Heritage Site. This is the best place to add meaning to your adventures in Auli. It is blessed with an outstanding collection of endemic alpine flowers and rare endangered animal species such the Asiatic black bear, snow leopard, brown bear and blue sheep etc. In the month of August and September you will see the flowers in full bloom and glory. The captivating wilderness, beautiful serene streams and exotic flora and fauna makes this place one of the best reasons to explore Auli.
Ropeway Ride
Enjoy a thrilling and captivating adventurous Ropeway ride from Auli's GMVN Top to Joshimath. You will be mesmerized to see the beauty of Nanda Devi Peaks and all the greenery of the dense forests surrounding it.
Camping
The greenery of the meadows of Auli will enchant your mind. In summer camping is one of the best things to do in Auli. Camping in meadows amidst the hills and forests is a pleasure of a kind which cannot be explained in words.
Birdwatching
You will see a lot of blissful Himalayan birds if you visit Govindghat, Pandukeshwar and Joshimath. Birds such as eagles, doves, woodpeckers, finch and Thrush Grey Bushchat etc. will make your birdwatching venture awesome.
Also Read: Best Places to Visit in Uttarakhand
Trekking Delights for More Adventure Loving Tourists in Auli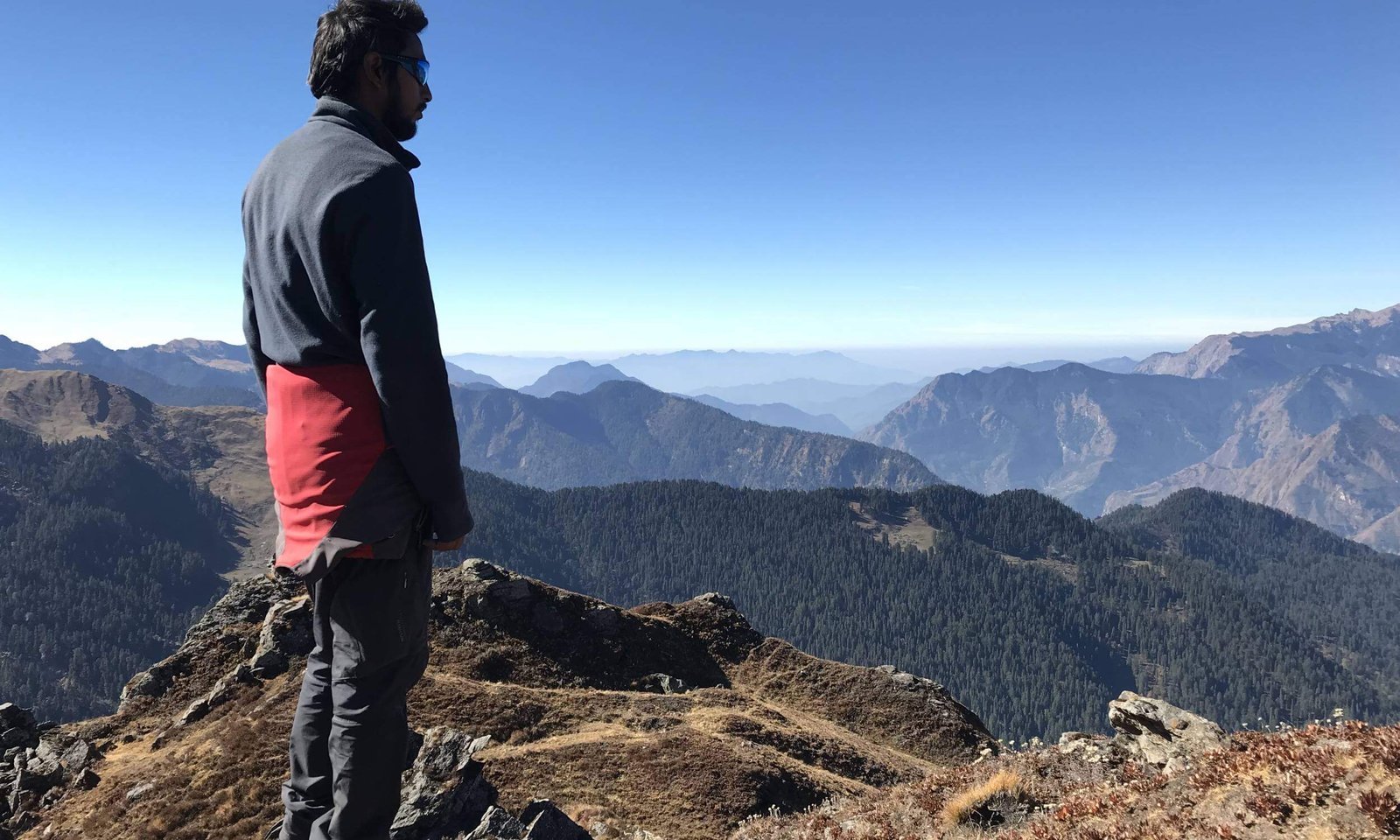 Holidays in Uttarakhand Himalayas will not be boring if you add some thrill to it. If you are not faint hearted and love to explore awesome treks, then you must do Trekking in and around Auli. Auli is blessed with absolutely gorgeous Himalayan slopes for trekking enthusiasts. Some Pleasurable and Challenging Treks to Do in & Around Auli are –
Kamet Trek
Beautiful views of Mt Kamet and Vasundhara tal Glacial Lake and embrace the lifestyle of quaint mountain villages. The trek is a challenging one. As it is the second highest mountain of Uttarakhand.
Kuari Pass Trek
It's every mountain lover's dream destination. Beautiful Oaks, Rhododendrons, stunning forests of Chitrkantha, the breathtaking Khullara meadow and mind-blowing views of Mt Dronagiri. You will get the most amazing views of the Himalayas here.  It is absolutely perfect for Beginners.
Gorson Bugyal Trek
Absolutely stunning alpine forests, small serene lakes and verdant green meadows – Gorson Bugyal Trek is a wonderful short trekking Trail in Auli. It's nature's paradise. You will see the magnificent Nanda Devi Peak, Mana Parvat, Kamet Peak, Hathi Ghoda and Nar Parvat etc. The jaw dropping beauty of this Himalayan paradise will make your adventure thrilling and memorable in Auli. Moreover, indulging in Gurson Bugyal Trek will be the most memorable trek journey to cherish for romantic honeymoon couples in Auli. Spend some romantic moments with your loved ones amidst the beauty of nature.
Chenab Lake Trek
Chenab Lake is a delightful crystalline water lake in Auli. It's a reservoir and lifeline of the people living in Auli. It's one of the most popular tourist attractions to visit in Auli. Adventure lovers loves to visit Chenab Lake for a thrilling trekking experience. You will be able to reach here after reaching Dang Village. The area surrounding Chenab Lake is a treasure trove of natural beauty. Lush green meadows, Oak and Deodar forests will surely soothe your eyes. This lake can only be reached by trekking journey from Dang Village due to bad road condition. The best time to enjoy Chenab Lake trek is from the months of May to October. Perfect for a family trip, capture the best views of nature in your lens for delightful memories.
"A walk-in nature walks the soul back home" – Mary Davis
Auli is worth visiting if you explore these trekking trails for the best adventurous Himalayan holidays in Uttarakhand.
Also Read: Best Hill Stations to Visit in Uttarakhand
Other Top Tourist Attractions & Places to Visit in and around Auli
Joshimath
You will absolutely fall in love with the divine aura of this place. Tourists visit here for a delightful winter Char Dham Yatra. Here the idol of Lord Badrinath is kept at Vasudev Temple in the Winter season. Joshimath is also one of the four Mathas established by Guru Shankaracharya in the 8th century. There are many temples such as Hanuman Mandir, the Gaurishankar Temple, the Ganesh Temple, the Naudevi Temple, Narsimha Temple and the Surya Temple.
Gopeshwar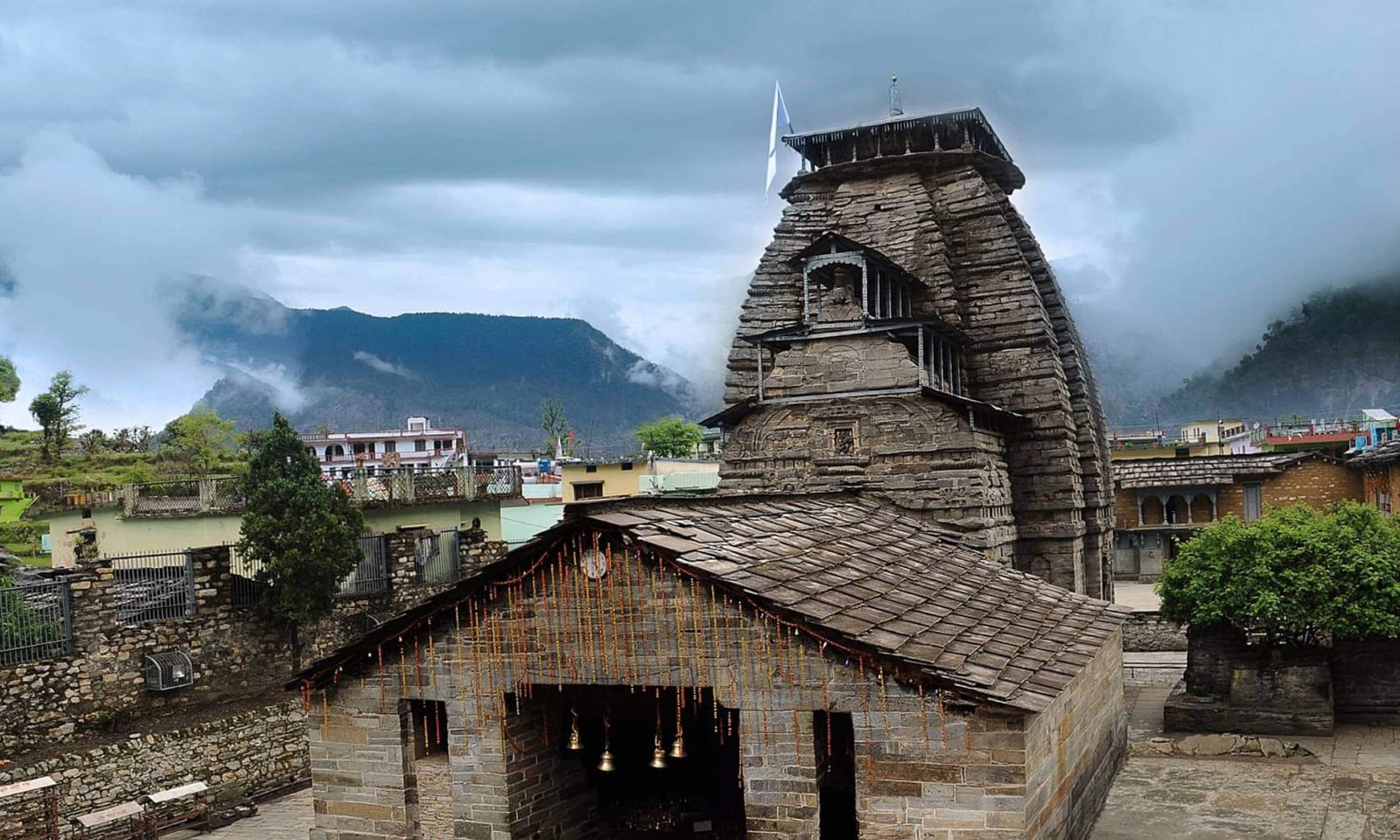 Not very far from Auli and located in the district headquarters of Chamoli, Gopeshwar is a serene nature paradise to spend some amazing moments with your family and friends. It's an offbeat gem of Uttarakhand.  Decked with majestic mountains, soothing streams, and breathtaking terrace farms, the ambiance of Gopeshwar will delight any nature loving soul. Don't forget to visit Lord Gopeshwar Temple as it's a landmark destination of Gopeshwar. The temple is dedicated to Lord Shiva. It is said that Lord Shiva transformed into a Gopi to attend the Maha raas of Lord Krishna in Gopeshwar. He had to transform himself into a Gopi as only Krishna was allowed to enter the Maharaas. Which is also the reason why he is known as Gopeshwar. Devotees from all across India come here to get divine blessings of Lord Shiva.
Chattrakund
Situated in Joshimath, Chattrakund is a beautiful tourist attraction to explore near Auli. It is perfect for a day trip with family and friends. Absorb the peaceful ambiance of the lake and capture beautiful pictures of nature in your lens.
Saildhar Tapovan
Presence of a hot spring nearby makes this place a blissful refreshing paradise for the travelers. It is believed by the locals that the hot spring can cure a lot of skin diseases and has medicinal properties. Bathing in it would be beneficial. It is one of the most popular tourist attractions to explore near Auli.
Bhavishya Badri
Located in subhain Village, Bhavishya Badri is a small temple of Lord Vishnu. It is also known to be the future seat of Lord Badrinath after the end of Kalyug.  The immense natural beauty and peaceful ambiance will captivate your soul. It is one of the best places near Auli for spiritual rejuvenation.
Also Read: Top Things to Do in Uttarakhand
Best Time to Visit Auli in Uttarakhand
Every season in India has its own charm but if you really care about the best season and time then Winter Season (December to March) is the best time to enjoy a vacation in Auli hill station.
Reasons to Visit Auli in Winter
Best Snowfall destination in Uttarakhand
True enchantment can only be found in Auli's snow. Skiing is one of the best things to enjoy here. Beautiful Ski stretches will blow your heart away and you will not be able to resist yourself for skiing.
Nature's Captivating Views
In winter you will get the best views of Joshimath, Pandukeshwar, and Gopeshwar. The hills and beautiful sunrises and sunsets are awesome. You will also get the mesmerizing views of Nanda Devi, Hathi Parvat, Mana Parvat, Neelkanth, Dunagiri and Nar Parvat etc.
Fun filled Gondola Ride
It is one of the longest Asian ropeway rides in India. Entire snow-covered white landscape of Auli can be seen from around 10,000ft. What a spine chilling yet a mesmerizing experience it would be?
Trekking to Gorson Bugyal
If you love adventures, then Trekking at Gurson Bugyal would be the best thing to do in Auli. During winter, the beautiful landscape of this amazing trekking trail is entirely covered in snow. The majestic peaks of Nanda Devi, Hathi Parvat, golden sunsets, dense forests with white snow patches – the views are awesome.
Important Note for Winter Season Travelers – If you wish to travel to Auli in Winter season, then you must know this fact that Auli receives heavy rainfall due to which the roads are not accessible for travel. The Only mode of transport is by ropeway ride from Joshimath. So, please set the ropeway ride timings for winter and plan your trip accordingly. If you reach late you will have to stay at the guest houses of Joshimath. The last Cable car leaves Joshimath at 4:30pm in winter season.
Visiting Auli in Summer Season
Summer (March to June) in Auli can be equally blissful like winters if your preferences are different. A snow lover would visit Auli in Winter but If you are a nature lover you must visit Auli in Summer. Auli's weather is outstanding if you want to enjoy a wonderful hill station vacation with family in Auli. For adventure lovers, trekking is one of the best activities to enjoy in Auli. The green landscapes and meadows of Auli will blow your mind and soul.
Summer Highlights for Auli Holidays
Gurson Bugyal Trek
Gurson Bugyal Trek in summer offers amazing views of lush green meadows and alluring refreshing vibes of nature. It is a perfect spot for nature lovers. The nature here will become your real world and you will never want to reach the shore of the real world of plains.
Auli Artificial Lake
In summer you will really enjoy snowfall views and the thrill of skiing if you visit Auli's artificial Lake.  Built by the government it is the highest man-made artificial lake in India to extend the skiing season in Auli. It's one of the best places to explore in summer in Auli.
Camping in Auli
In summer you can try camping with your near and dear ones in the beautiful landscapes and meadows of Auli. Just imagine a night under the starlit sky, lush greenery all around and bonfire! What a mind-blowing experience it would be.
Cable Car Ride
Of Course, you must enjoy cable car rides in Auli. It is one of the longest cable car rides in Asia which offers stunning nature views of Garhwal region and the entire serene landscape of Auli. It's a complete visual treat.
Also Read: Best Places to Visit in Nainital
Visiting Auli in Monsoon Season
Monsoon (July to September) in Auli will refresh your spirit with its natural vistas. It receives moderate rainfall. If you want to enjoy the best of nature, then Monsoon is the season and the reason to visit Auli.
Monsoon Highlights for Auli Trip
Valley of Flowers is one of the most popular tourist attractions to visit if you are in Auli in monsoon season. Monsoon is the best time to explore this beautiful place. In the month of August to September the flowers in this valley will be in full bloom. Trekkers love this place for breathtaking views of nature, it's the best place for nature photography.  September is also a time to see Mata Murti Ka Mela at Badrinath Temple.
Also Read: Best Places to Visit in Mussoorie
How to Reach Auli?
By Air – The best medium to reach Auli is by air. Jolly Grant Airport of Dehradun is the nearest airport to reach Auli. It is also well connected to all the other major cities. From the airport you will easily get a bus, taxi or cab to reach Joshimath. From Joshimath you will have to either go by a ropeway ride or by road to reach Auli. You will get a bus for Auli from Joshimath.
By Train- On NH58, Rishikesh Railway Station is the best mode to reach Auli if you wish to go by train. It is also connected to all the motorable roads of India. You will get a cab or bus to reach Joshimath and from Joshimath Auli is not very far. You will reach Auli from Joshimath by a ropeway ride or by Bus. Haridwar is also one of the nearest places to reach Auli. You can also get buses from Haridwar for Joshimath.
By Road – Auli is a very popular hill station destination of Uttarakhand. So, it is well connected to all the major cities of Uttarakhand such as Haridwar, Rishikesh and Dehradun. You will easily get a bus or cab from Joshimath to reach Auli. Auli is 14km away from Joshimath.
Note– Finding a bus would be lot easier in Rishikesh and Haridwar than Dehradun for Joshimath. From Joshimath if you are booking a taxi to Auli would be very costly So you should book taxis from Haridwar or Rishikesh to Auli Directly instead of Joshimath.
Also Read: Best Places to Visit in Rishikesh
Where to Stay in Auli?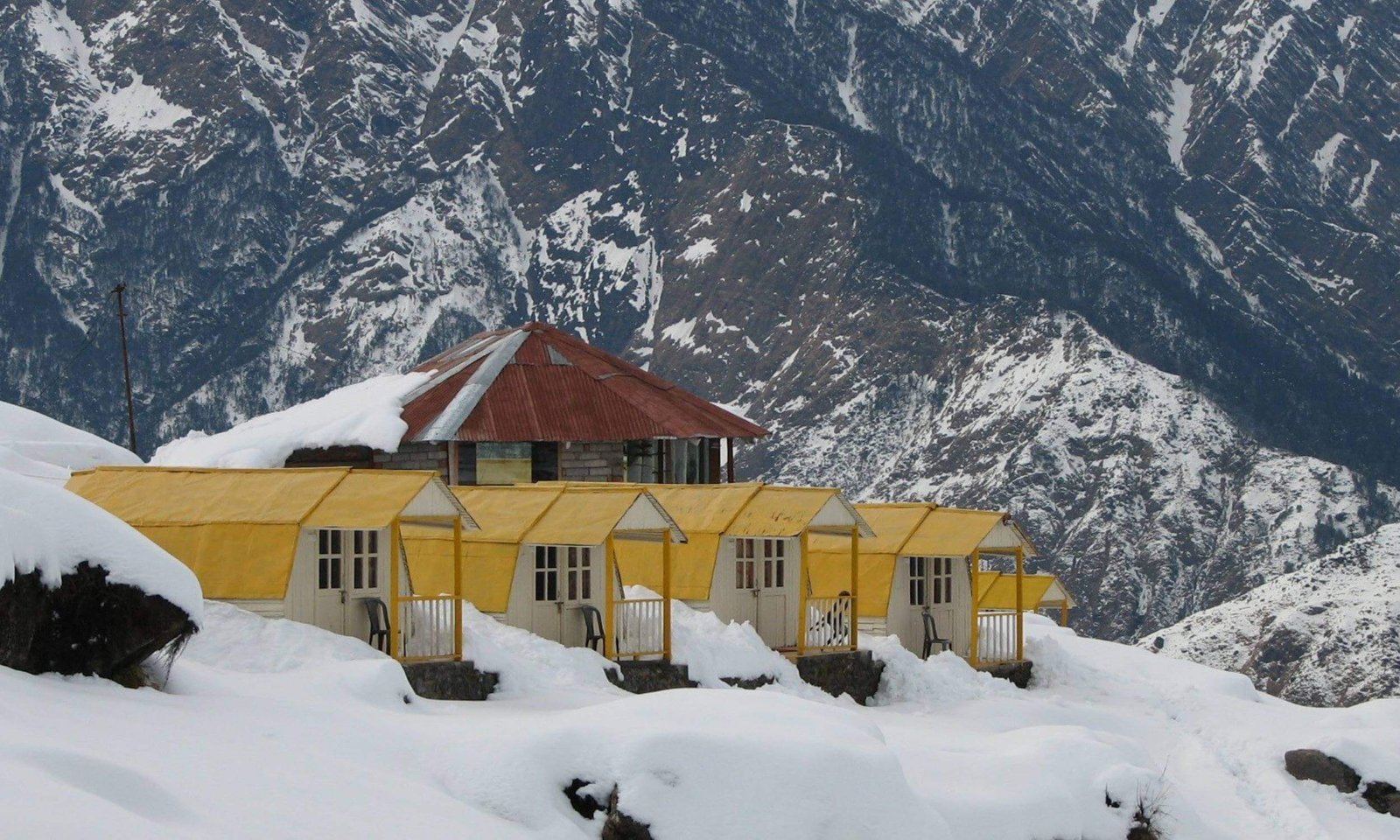 When it comes to the stay options in Auli, you will find the best adobe to relax and rejuvenate your senses. Auli is one of the most popular hill Station destinations of India. Be it a snow lover, backpacker, couples or family, Auli touches the soul of all and gives them the best travel experiences to cherish for a lifetime. There are so many accommodation options in Auli which will make your holiday trip at Auli one of the best.  From budget, 5-star hotels and resorts to decent homestays, you will get every kind of stay option according to your needs and preferences. In terms of tourist destination Auli is already a wonderful place but in accommodation options – it will give you a mesmerizing stay experience.
If you want to enjoy the best holidays in Auli the here is a list of some of the best stay places to look for –
Accommodation Category – Budget
The Himalayan Abode – Bliss for Budget as well as Luxury Travelers. Here rooms are gorgeous with mountain and river side views.
Hotel Manik Resort – Experience their local Himalayan village lifestyle. The rooms are well furnished, and the staff is friendly to the tourists. You will get deluxe as well as dormitory rooms for comfortable stay.
Accommodation Category – Luxury
Blue Poppy Resorts – It has 24 Beautiful huts with modern facilities. You will get the best views of Hathi Ghoda, Nanda Devi Peaks etc. You will also get trekking and camping facilities. For bird watchers it is one of the best places to stay. You will see a lot of Himalayan rare birds around the locality.
Cliff Top Club Resort – Very scenic location. Waking up to the views of Enchanting Garhwal Himalayas surrounded with mesmerizing dense forests makes life blissful when you are in Auli.
The Royal Village – You will see the most picturesque location of Auli if you book The Royal Village. The awesome views of Himalayan peaks will blow your heart away. You will also get the experience of living in a fully equipped log huts and cottages if you want.
Accommodation Category – Homestays
Dream Mountain Resort – It offers all necessities to the tourists for a comfortable stay. Mesmerizing views of nature can be enjoyed in private balconies. It is absolutely pocket friendly.
Nanda View Resort – It is a perfect place for spending a relaxing time with family and friends. If you are a couple, then you will get the best views of beautiful snowcapped Nanda Devi. The rooms are very clean and equipped with decent facilities. Delightful food and friendly staff make this place quite blissful to stay.
Note– July to November is the best time to get budget stay options in Auli.
Also Read: Best Places to Visit in Haridwar
Let's Make Your Travel Comfortable and Enjoyable! Wonderful Travel Tips for Auli
If you are traveling to Auli in peak tourist season then it is better to book your stay in advance. You will get budget hotels in Joshimath and it also has a proper marketplace. But if you really want to enjoy the views of nature and mountains, Auli's GMVN houses are best. You will also find cheap hotels at Karanprayag, Pipalkoti and Chamoli.
There are no ATMs in Auli. You will get ATM's in Joshimath. So, it is better to keep extra cash.
Always carry necessary documents such as ID proof, license and passport etc.
In winter, only cable cars are operational. So, note the timing of cable cars to reach Auli. The cable Car Ride will cost you around INR-500/-. You will reach Auli within an hour. Another option is to get a horse to reach Auli Bugyal. This will cost you around INR-400 to 500/-.
Do not expect very fancy hotels and restaurants in Auli. You will get the best food in decent Dhabas and small restaurants. Also, you will get good food from your booked hotel. Most Of the hotels here have their own menu.
If you love shopping, then Joshimath would be the best option. In Auli you will only get small shops of souvenirs and small stuff.
Also Read: Panch Kedar Yatra Travel Guide
Auli's magical charm has been captivating the souls of wanderers for decades. It's universally acknowledged that if a person visits Auli for once, he or she will definitely resist going back to their town. So, be the one. Plan an awesome vacation to Auli.
Like & follow us on our following official social media channels
Facebook | Twitter | Linkedin | Instagram | Youtube
Also Check Out: Popular India Tours | Tour Packages | International Tour Packages
Other Popular Trending Holiday Destinations in India – Kashmir Tour | Himachal Tour | Uttarakhand Tour | Rajasthan Tour | Gujarat Tour | Sikkim Tour | Kerala Tour | Andaman Tour | Madhya Pradesh Tour | North East Tours
International Trending Holiday Destinations – Nepal Tours | Bhutan Tours | Singapore Tour | Thailand Tours | Sri Lanka Tours | Maldives Tours | Dubai Tours | Indonesia Tours
Tour Packages by Interest – Adventure Packages | Wildlife Packages | Pilgrimage Packages | Heritage Packages | Hill Station Packages | Weekend Packages | Honeymoon Packages | Beach Packages | Chardham Packages | Trekking Packages
You May Also Like to Read
Other Informative Trekking Guides Blogs