"Gujarat: Embrace the Warmth of Hospitality and the Majesty of Landscapes."
Gujarat, a magical landscape steeped in history, culture, and natural beauty, attracts wanderers from all over the world. Visiting Gujarat means you must have time to explore the soul that lies in its diverse landscapes, warm hospitality, and a treasure trove of experiences. Gujarat is indeed one of the best tourist destinations for travelers in India.
Decked along the western coast of India, Gujarat offers limitless activities for tourists to enjoy their vacation. Exploration of ancient ruins, architectural marvels, colorful festivals, delicious cuisines, and fun-filled adventure activities will make your holidays here memorable for a lifetime.
Let us discover the captivating destinations of Gujarat to embrace its timeless heritage and culture.
A Quick Glance at the Popular Tourism Highlights of Gujarat:
| | |
| --- | --- |
| Vibrant Cultural Heritage | Gujarat boasts a rich cultural heritage with diverse traditions, music, dance, and art forms. |
| Majestic Temples and Spiritual Sites | The state is home to magnificent temples and spiritual sites, offering a serene and spiritual experience for visitors. |
| Enchanting Natural Beauty | Gujarat's natural beauty includes lush forests, scenic landscapes, and breathtaking hill stations that captivate nature enthusiasts. |
| Wildlife Encounters | The state is renowned for its wildlife sanctuaries and national parks, offering thrilling wildlife encounters and safaris. |
| Magnificent Historical Landmarks | Gujarat showcases impressive historical landmarks such as ancient forts, palaces, stepwells, and archaeological sites. |
| Serene Beaches and Coastal Charm | With its long coastline, Gujarat boasts serene beaches and coastal towns, perfect for relaxation and water activities. |
| Thriving Urban Centers | The state's thriving urban centers, including Ahmedabad and Surat, offer a mix of modern attractions, shopping, and vibrant nightlife. |
| Delicious Culinary Delights | Gujarat is famous for its diverse and delicious cuisine, including dishes like dhokla, thepla, and Gujarati thali. |
| Traditional Handicrafts and Artistry | The state is known for its intricate handicrafts, including bandhani textiles, pottery, woodwork, and metalwork. |
| Festivals and Celebrations | Gujarat celebrates a myriad of festivals with great pomp and show, including Navratri, Diwali, and the International Kite Festival. |
Popular Tourist Destinations of Gujarat
Sabarmati Ashram, Ahmedabad
Rann of Kutch, Bhuj
Gir National Park, Junagadh
Somnath Temple, Veraval
Dwarkadhish Temple, Dwarka
Champaner – Pavagadh Archaeological Park, Champaner
Statue of Unity, Kevadia
Patan Step Well, Patan
Bhuj Old Town, Bhuj
Modhera Sun Temple, Modhera
Laxmi Vilas Palace, Vadodara
Mandvi Beach, Mandvi
Saputara Hill Station, Saputara
Jama Masjid, Champaner
Lothal Archaeological Site, Lothal
Gujarat's Delicious Cuisines
Dhokla
Khandvi
Fafda
Thepla
Undhiyu
Gujarati Kadhi
Kachori
Gujarati Dal
Handvo
Sev Tamatar Nu Shaak
Surti Locho
Jalebi
Khaman
Gujarati Khichdi
Shrikhand
Gujarat's Fun Places for Kids
Kankaria Lake, Ahmedabad
Balvatika and Children's Park, Ahmedabad
Science City, Ahmedabad
Gujarat Science City, Ahmedabad
Parimal Garden, Ahmedabad
Indroda Nature Park, Gandhinagar
Swapna Srushti Water Park, Gandhinagar
Ajwa Water Park, Vadodara
Sayaji Gardens, Vadodara
ISKCON Temple, Ahmedabad
Sardar Vallabhbhai Patel Museum, Ahmedabad
Dinosaur Park, Gandhinagar
Vardhman Fantasy Amusement Park, Surat
Fun World, Rajkot
Polo Forest, Idar
Popular Shopping Places in Gujarat
Law Garden Market, Ahmedabad
Rani No Hajiro, Ahmedabad
Sindhi Market, Ahmedabad
Manek Chowk, Ahmedabad
CG Road, Ahmedabad
Dhalgarwad Market, Ahmedabad
Lal Darwaja Market, Ahmedabad
Teen Darwaza, Ahmedabad
Kankaria Lake Market, Ahmedabad
Patan Patola Heritage, Patan
Bhujodi Village, Bhuj
Anjar Market, Bhuj
Mandvi Beach Bazaar, Mandvi
Kutch Craft Village, Bhuj
Law Garden Night Market, Ahmedabad
Avail up to 30% Early Bird Discount on Gujarat Tour Packages offered by Bon Travel India. For more details, call or WhatsApp at +91-9310109466.
Ahmedabad – Where Every Street Tells a Story of Resilience and Diversity
Ahmedabad, one of the iconic travel attractions of Gujarat, is where every street tells a story. If you want to know the soul of Gujarat, there is no other place like Ahmedabad. It is a mind-boggling blend of rich history, vibrant culture, and progressive modernity.
With its bustling streets, mesmerizing architectural wonders, and renowned educational institutions, the blissful city of Ahmedabad has been captivating travelers for decades. This place is full of fascinating stories and history. It is India's first UNESCO World Heritage city. Centuries-old mosques, temples, and stepwells, the charming aura of the old city, colorful bazaars, delicious cuisines, soul-pleasing multiplexes, and historical landmarks will make your day fantastic here. The list of top visiting places never ends. You will always find amazing things to make your holidays wonderful in Ahmedabad. Beyond its historical allure, Ahmedabad pulsates with vibrant culture and traditions.
The magnificence of the city can be seen through its colorful festivals, most notably Uttarayan, the delightful International Kite Festival. During this time, the skies are decked with a lot of colors as people engage in friendly kite-flying battles. You will also get to taste amazing, delicious street food of Gujarat during the festival. Indeed, Ahmedabad is a wonderful cultural capital and one of the top tourist destinations to visit in Gujarat.
Beautiful Places to Explore in Ahmedabad
Sabarmati Riverfront: "Where Serenity Meets the River's Flow."
Sidi Saiyyed Mosque: "An Architectural Marvel Carved in Stone."
Kankaria Lake: "Tranquility Amidst Urban Delights."
Adalaj Stepwell: "A Sublime Oasis of Architectural Splendor."
Jama Masjid: "Where Faith Finds Peace and Grandeur."
Sarkhej Roza: "A Melody of Islamic Architecture and Serenity."
Science City: "Igniting Curiosity, Inspiring Wonder."
Law Garden: "A Vibrant Tapestry of Art, Culture, and Shopping."
Bhadra Fort: "Guardian of History, Gateway to Ahmedabad."
Calico Museum of Textiles: "Weaving Stories of Heritage and Craftsmanship."
These beautiful places in Ahmedabad offer unique experiences, showcasing the city's rich history, architectural marvels, serene landscapes, and vibrant cultural attractions.
Rann of Kutch – Nature's Mesmerizing Canvas
The Rann of Kutch is a bewitching land that transports visitors to a world of surreal beauty and endless horizons. It is one of the must-visit places in Gujarat if you are planning a Gujarat sightseeing tour.
The landscape of the Rann of Kutch is a magical white salt marsh that allures the senses with dramatic sunsets. If you love photography, the Rann of Kutch's mesmerizing canvas will give you goosebumps.
One of the highlights of a visit to the Rann of Kutch is the annual Rann Utsav, a vibrant festival that celebrates the beauty and culture of this enchanting desert. If you visit the Rann of Kutch during this time, you will see the most beautiful side of this white desert. Colorful tents, fun-filled cultural performances, delightful folk music, and soul-pleasing dance performances will blow your heart away. Don't forget the delicious local cuisines and the mind-boggling views of the starlit sky of Kutch.
The white desert of the Rann of Kutch blossoms with bliss and glows with vibrant colors. If you indulge in the Sunset Safari, you will witness the most beautiful spectacle on earth. Glistening salt flats, adventurous camel safari rides, staying at luxurious tents, and tranquil vibes make this place a fantastic tourist hub for travelers from all around the world. It's a place to make a deep connection with nature, seek solace, and taste the thrill of adventures.
Beautiful Places to Explore in Rann of Kutch
White Rann of Kutch: "Where Boundaries Blur and Dreams Take Flight."
Kala Dungar (Black Hill): "Where the Sky and Earth Converge in Harmony."
Kutch Desert Wildlife Sanctuary: "Discover the Wildlife Oasis in the Desert."
Mandvi Beach: "A Coastal Gem Where Sun, Sand, and Serenity Meet."
Dholavira Archaeological Site: "Unveiling the Ancient Ruins of a Lost Civilization."
Narayan Sarovar: "Where Spirituality Meets Tranquility in the Sacred Lake."
Bhujodi Village: "A Tapestry of Art, Craft, and Rural Charm."
Great Rann of Kutch: "Endless Horizons of Salt and Solitude."
Aina Mahal: "A Palace of Mirrors Reflecting Majestic Splendor."
Vijay Vilas Palace: "A Royal Retreat Amidst Lush Gardens and Opulence."
Gir National Park – Royal Abode of Asiatic Lions
The iconic Gir National Park is one of the best landmark destinations in Gujarat. If you are in Gujarat, you must plan a trip to the mesmerizing Gir National Park, which has kept intact the legacy of the majestic Asiatic lions. With its enchanting dense forests, rolling hills, and sprawling grasslands, Gir is a delightful abode of endangered species that have been saved from the brink of extinction.
Gir National Park is the only place on Earth where the Asiatic lions roam freely in their natural habitat. Witnessing these rare endangered creatures, such as sambar deer, Chowsingha (the world's only four-horned antelope), jackal, Indian fox, hyena, and Asiatic white lions, makes this an awesome destination for wildlife lovers.
As the king of the jungle, the Asiatic lion takes center stage, attracting travelers from all over the world to witness their graceful movements. Embarking on a safari through Gir National Park is an exhilarating experience as one ventures deep into the wilderness, guided by expert naturalists.
Apart from the wild creatures, the park also boasts amazing floral species, alluring riverbeds, and a variety of delightful bird species. There are around 200 species of avifauna, including white-backed and long-billed vultures, which are endangered bird species in the park.
To become one with nature, Gir offers the opportunity to participate in community-based ecotourism initiatives. You can enjoy village walks and interact with the villagers to learn a lot about their heritage and culture. If you want to make your Gujarat sightseeing tour interesting and thrilling, then you must plan a wildlife safari at Gir National Park.
Beautiful Places of Gir National Park
Sasan Gir National Park: "Where the Wild Roams Free in Pristine Forests."
Gir Interpretation Zone: "A Window into the Kingdom of the Asiatic Lions."
Kamleshwar Dam: "Where Nature's Serenity Meets Majestic Wildlife."
Devalia Safari Park: "An Up-Close Encounter with Gir's Exotic Fauna."
Tulsi Shyam Temple: "A Sacred Haven Amidst the Wilderness of Gir."
Kankai Mata Temple: "Seek Blessings in the Lap of Nature's Majesty."
Girnar Wildlife Sanctuary: "Exploring Biodiversity at the Foothills of Girnar."
Crocodile Rearing Centre: "Witnessing the Ancient Reptiles of Gir."
Jamjir Waterfall: "Nature's Cascade of Beauty and Refreshment."
Sinh Sadan: "A Restful Abode in the Heart of Gir's Wild Splendor."
Somnath Temple – Faith's Eternal Destination
Standing as a beacon of spirituality and devotion, the magnificent Somnath Temple is indeed one of the most popular religious destinations in Gujarat.
Steeped in history and mythology, this revered shrine of Somnath is a delightful abode of Lord Shiva. It is one of the most important pilgrimage sites to visit in Gujarat. Devotees from all over India visit the Somnath Temple to seek solace and divine blessings from Lord Shiva.
The history of the Somnath Temple is as fascinating as it is ancient. The temple has been rebuilt several times, with many invaders attempting to destroy it, but nobody could succeed. Today, the Somnath temple still stands with pride, showcasing its magnificence to the devotees. The temple has been rebuilt several times throughout its existence. The Somnath Temple is a symbol of resilience and faith of the devotees. The temple's architecture is mind-boggling, with intricate carvings, ornate domes, and magnificent spires, making Somnath Temple one of the most beautiful temples in India. Try capturing a picture of Somnath in sunlight; it looks amazing against the beautiful backdrop of the Arabian Sea.
The temple is also renowned for its evening aarti, a truly mesmerizing spectacle that fills the air with a divine aura. The spiritual vibes and panoramic views of the sunrise and sunset over the Arabian Sea leave a lasting impression on the hearts of devotees.
Darshan Timings: 6:00 am to 10:00 pm
Aarti Timings: Morning – 7:00 AM, 12:00 Noon, 7:00 PM.
Light and Sound Show Timing: 8:00 PM to 9:00 PM.
Dwarka – A Journey to the Divine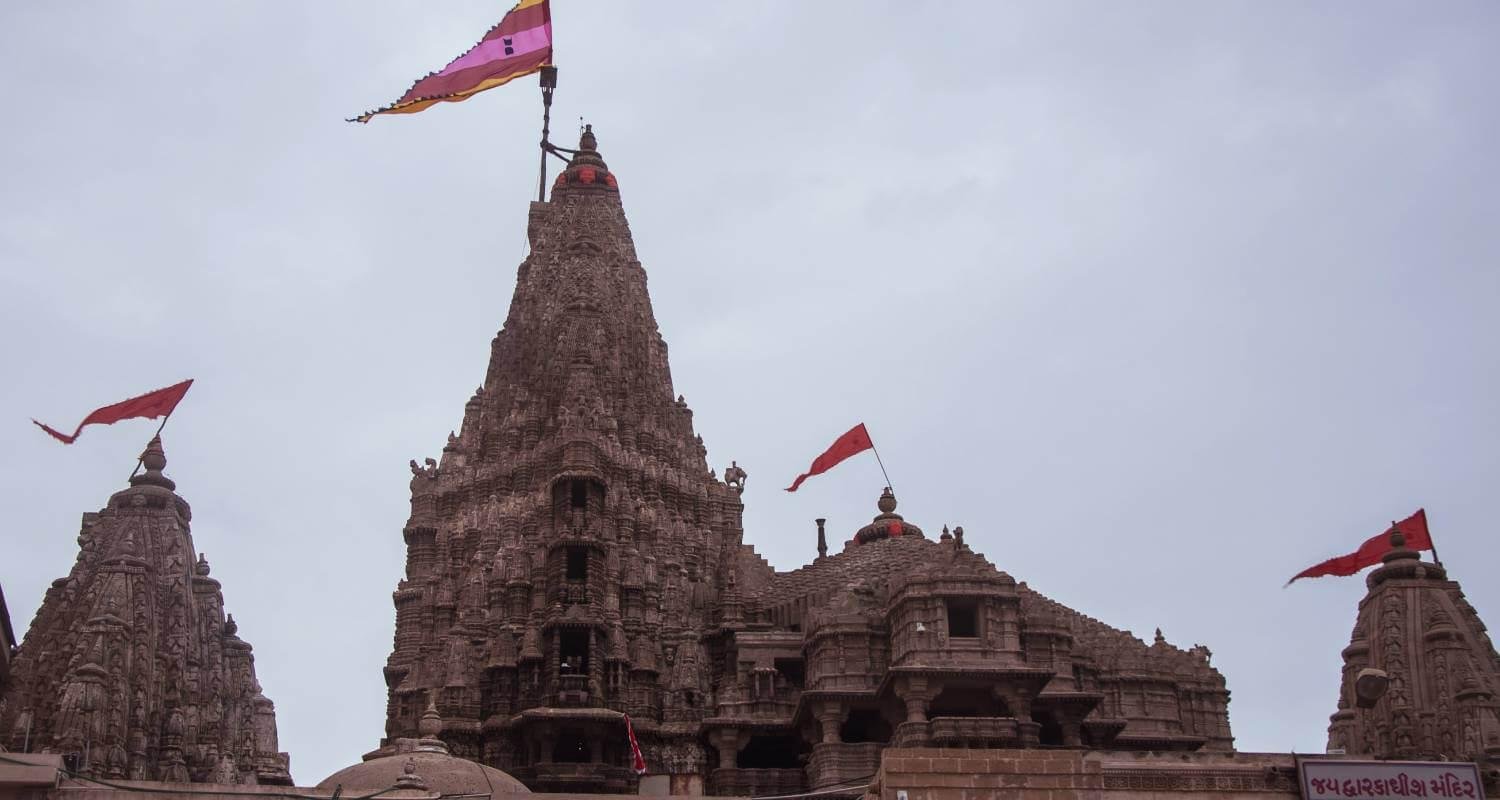 The enchanting coastline of Gujarat has the sacred city of Dwarka, which seeks to rekindle spirituality and embrace divine blessings. Revered as the ancient kingdom of Lord Krishna, Dwarka holds a special place in the hearts of devotees and pilgrims from around the world.
It is said that Dwarka is the place where Lord Krishna established his kingdom and is also known as Dwarkadheesh. The city is rich in spiritual heritage. The blissful lanes, bustling markets, and temples showcase age-old rituals of devotion and reverence.
The main highlight of Dwarka is the magnificent Dwarkadheesh Temple, dedicated to Lord Krishna. Devotees from all across India flock to this sacred abode to seek divine blessings from Lord Krishna.
Beyond its spiritual significance, Dwarka offers glimpses into ancient history and mythology. The city is believed to have been submerged underwater multiple times, with remnants of its ancient glory still visible today, providing a fascinating insight into the city's past. Submerged structures and artifacts reveal a civilization lost in time.
Dwarka's charm extends beyond its temples and historical sites. The Dwarka Underwater Archaeological Excavations showcase amazing and mysterious submerged structures and artifacts of the lost civilization of Dwarka.
Dwarka is a paradise for shopping lovers. Beautiful intricate handicrafts, traditional textiles, and colorful trinkets on display will definitely captivate your mind. Shopping in the markets will reveal the soul of Dwarka. You can interact with shopkeepers, explore the local culture, and enjoy delicious cuisines. Dwarka's picturesque coastline offers serene beaches that must not be missed. The gentle sea breeze, the rhythmic sound of crashing waves, and the panoramic vistas will make your holidays in Gujarat relaxing and refreshing. The city's warm hospitality makes it a top destination to visit in Gujarat.
Beautiful Places to Visit in Dwarka
Dwarkadhish Temple: "Where Divinity Shines in Sacred Splendor."
Dwarka Beach: "Where Golden Sands Meet the Azure Waters."
Nageshwar Jyotirlinga Temple: "A Spiritual Journey to Seek Lord Shiva's Blessings."
Rukmini Devi Temple: "A Shrine of Love and Eternal Devotion."
Gomti Ghat: "Where Pilgrimage Meets Serenity by the Holy River."
Bet Dwarka: "Exploring the Mythical Kingdom of Lord Krishna."
Sudama Setu: "A Bridge of Friendship Spanning Time and Faith."
Dwarka Lighthouse: "Guiding Ships and Hearts with Majestic Views."
Gopi Talav: "A Serene Lake Immersed in Tales of Divine Romance."
Dwaraka Archaeological Museum: "Preserving the Ancient Treasures of Dwarka's History."
Sabarmati Ashram- Cradle of India's Freedom Movement
Sabarmati Ashram holds, with love, the profound legacy of Mahatma Gandhi, the father of the Indian nation. This serene paradise is the cradle of India's freedom struggle, taking us back in time to witness the golden bygone days of the Indian freedom struggle. Sabarmati Ashram symbolizes peace, simplicity, and the ideals of nonviolence.
Also known as the Gandhi Ashram, Sabarmati Ashram is a must-visit place in Gujarat for history lovers. It is the place where Gandhi Ji developed and implemented his principles of truth, compassion, and nonviolent resistance.
The ashram's soul-seducing ambiance, with its rustic charm and peaceful surroundings, makes it a fascinating place to explore in Gujarat. It showcases simple mud-brick huts where Gandhi and his followers lived. Hriday Kunj, which still holds all his personal belongings and the essence of his life, serves as a testament to his legacy.
Sabarmati Ashram is a place where Gandhian principles and social change are still promoted. It offers workshops, seminars, and lectures on nonviolence, rural development, and sustainable living. With pride, Sabarmati Ashram carries the enduring spirit of Mahatma Gandhi.
Beautiful Places to Visit in Sabarmati Ashram
Sabarmati Ashram: "Where Mahatma Gandhi's Legacy of Peace Ignites the Soul."
Hriday Kunj: "The Home of Gandhi's Ideals and Revolutionary Spirit."
Gandhi Smarak Sangrahalaya: "Preserving the Life and Lessons of the Father of the Nation."
Upasana Mandir: "A Sacred Space for Reflection and Spiritual Harmony."
Magan Niwas: "Where Simplicity and Self-Sufficiency Define Gandhian Living."
Nandini: "Discovering the Art and Craft of Khadi at the Ashram."
Vinoba-Mira Kutir: "Honoring the Legacy of Vinoba Bhave and Mira Behn."
Swachhagraha: "Inspiring a Clean and Green Revolution through Gandhian Values."
Santokba Durlabhji Memorial Hall: "Celebrating the Contributions of Women in the Freedom Movement."
Saptarishi Cottages: "Retreat in Tranquility Amidst the Ashram's Natural Surroundings."
Champaner Pavagadh Archaeological Park
Champaner Pavagadh Archaeological Park will blow your heart away with its ancient ruins and fascinating architectural marvels. It is a wonderful UNESCO World Heritage Site. If you are interested in knowing about the rich history and cultural heritage of Gujarat, then Champaner Pavagadh Archaeological Park will fulfill your expectations.
Decked in the awe-inspiring foothills of Pavagadh Hill, the park showcases amazing fortifications, palaces, religious buildings, water-retaining installations, and the ancient village of Champaner from the 8th to the 14th centuries. One of the most important highlights is the mesmerizing Kalika Mata Temple on the top of Pavagadh Hill. Devotees from all across India come here to seek blessings from Kalika Mata.
Exploring Champaner Pavagadh Archaeological Park is like stepping into a living museum. The air is filled with a sense of mystery and grandeur as visitors uncover the layers of history and marvel at the intricate details of the structures.
Apart from its historical significance, the park is a beautiful nature paradise. The lush greenery, rolling hills, and vibrant flora and fauna create tranquil vibes and a soul-seducing atmosphere for travelers. It is definitely the best place to explore in Gujarat.
Beautiful Places of Champaner Pavagadh Archaeological Park
Champaner Archaeological Park: "Where History Unveils Its Ancient Secrets."
Jama Masjid: "A Majestic Symbol of Islamic Architecture in Champaner."
Pavagadh Hill: "Ascending to Spiritual Heights in the Heart of History."
Kalika Mata Temple: "Where Devotion Meets Majestic Mountain Views."
Kevada Masjid: "A Serene Sanctuary of Architectural Grandeur."
Sahar ki Masjid: "An Oasis of Tranquility Amidst Champaner's Ruins."
Helical StepWell: "Descending into the Mysteries of Ancient Engineering."
Nagina Masjid: "A Jewel of Tranquility amidst Champaner's Splendor."
Jami Masjid: "A Timeless Tribute to Champaner's Islamic Heritage."
Fort of Pavagadh: "Guardian of History, Witness to Changing Times."
Statue of Unity- Inspiring Pride, Unity and National Identity
Amidst the picturesque landscapes of Gujarat, the Statue of Unity definitely commands attention and awe. This colossal tribute is a symbol of unity, pride, and inspiration. It honors the visionary leader, Vallabhbhai Patel, who played an important role in India's independence and the unification of the nation. It is one of the top tourist attractions to visit in Gujarat.
The structures and ambiance of this place leave a lasting impression on the hearts of the travelers. The artistry and craftsmanship of skilled artisans make the sculpture of Vallabhbhai Patel a great visual spectacle. The statue's bronze exterior glistens in the sunlight, exuding an aura of strength and resilience.
The statue and its sprawling complex are a wonderful spot for cultural activities, exhibitions, and educational programs for tourists. The tranquil setting, mesmerizing botanical garden, and the beautiful valley of flowers make it one of the most captivating places to visit on your Gujarat tour. The Statue of Unity is a great symbol of the power of unity, the strength of a nation, and the resilience of its people.
Beautiful Places to Explore around Statue of Unity
Statue of Unity: "Rising in Majesty, Inspiring Unity and Pride."
Valley of Flowers: "Nature's Canvas Blooms in the Shadow of Unity."
Sardar Sarovar Dam: "Harnessing the Power of Unity, Nurturing Life."
Jungle Safari: "Exploring the Wilderness at the Footsteps of Unity."
Museum of Unity: "Unveiling the Legacy of a Visionary Leader."
Ekta Mall: "Celebrating Diversity, Embracing Unity in a Shopping Haven."
River Rafting: "Conquering Rapids, Bonding in Unity's Waters."
Cactus Garden: "A Desert Oasis of Unity's Thorny Beauty."
Light and Sound Show: "Chronicles of Unity Illuminated in Spectacular Splendor."
Unity Glow Garden: "A Glittering Wonderland of Unity's Brilliance."
Modhera Sun Temple – A Testament to the Sun's Sacred Power
Travelers who love timeless beauty and ancient spiritual grandeur must visit the Modhera Sun Temple in Gujarat. It is one of the most popular religious attractions in Gujarat, built in 1026-27 CE during the reign of Bhima I of the Chalukya dynasty. As one approaches the Sun Temple, a sense of awe washes over them. The temple's intricate carvings, delicate sculptures, and ornate pillars delight the senses of tourists.
The temple is dedicated to the sun god, Surya, and its architecture reflects the cultural synthesis that prevailed during that period. The magnificent rectangular-shaped Rama Kund has 108 shrines of various gods and demi-gods. In the Sabha Mandap, you will see beautifully sculpted renderings of the 12 Adityas (Sun Gods). The sculpted renderings on the pillars showcase the sun according to the 12 months of the year.
Every nook and corner of the temple tells a story, inviting visitors to unravel the mysteries of ancient mythology and immerse themselves in the divine aura of the surroundings.
At the Modhera Sun Temple, travelers can bask in tranquility and connect with their inner selves.
Modhera Sun Temple Timings: 7:00 am to 6:00 pm
Junagarh – A Mosaic of Architectural Splendor and Rich Heritage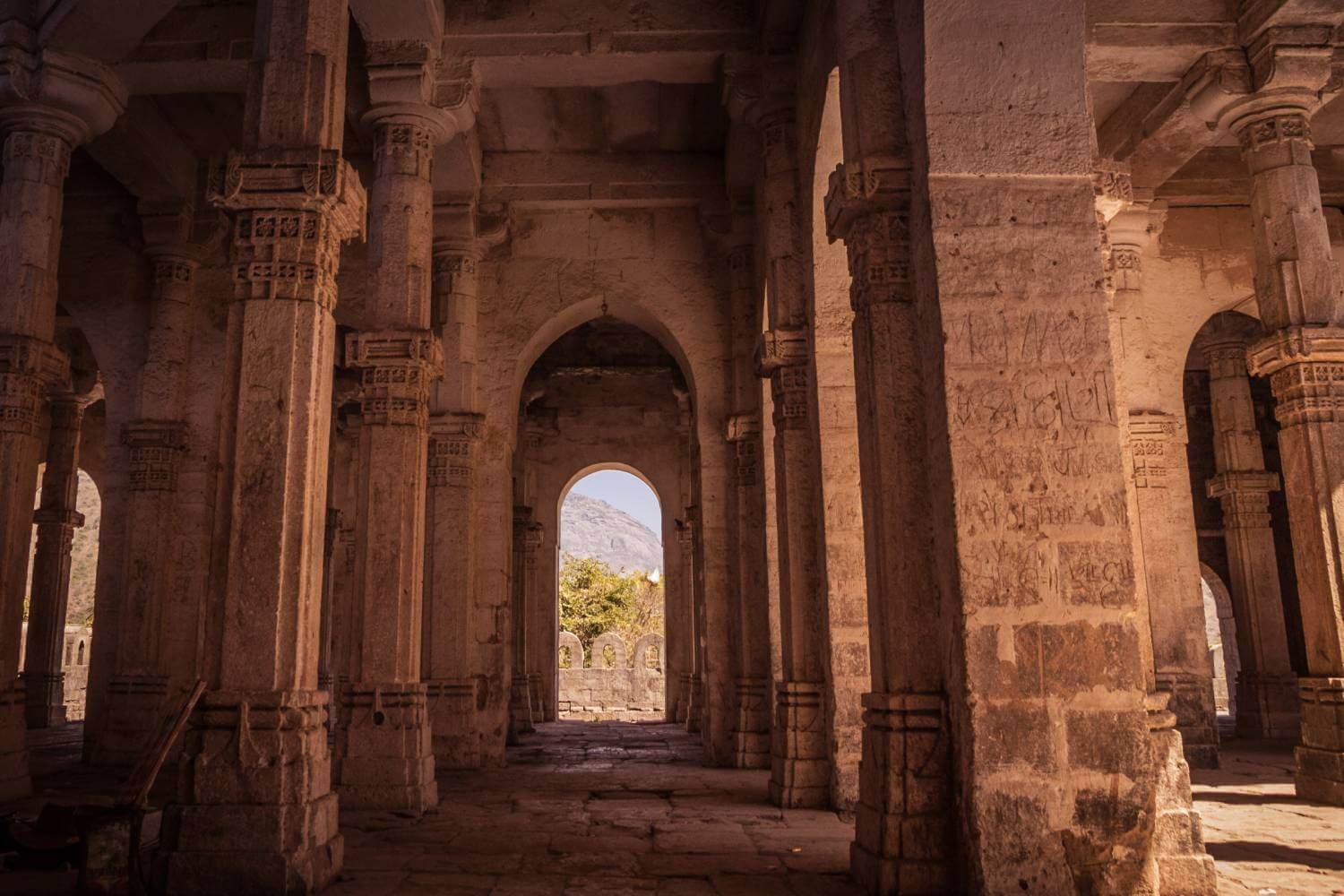 A tapestry of historical wonders, spiritual sanctuaries, and cultural extravaganzas, Junagarh is an amazing tourist destination to explore in Gujarat. It is a city that holds within its confines the stories of courage and strength. The warm hospitality and brilliant architectural wonders of Junagarh attract tourists from all over India.
Stroll through the bustling bazaars, savor the flavors of delicious Gujarati cuisine, and embrace the rich art, cultures, and heritage. You will be compelled to live here forever. The city's amazing festivals and fairs showcase the rich cultural traditions of Gujarat. One of the most prominent festivals of Junagarh is the mesmerizing Bhavnath Fair. It is a vibrant celebration of music, dance, and religious fervor. Pilgrims, musicians, and artists from all across the globe participate to create a joyful ambiance. For the spiritually inclined, Junagarh offers a spiritual sanctuary in the form of temples. The breathtakingly beautiful Jain temples, such as the Neminath Temple and the Parsvanath Temple, are great places to seek solace and spiritual grace. Junagarh will tell you the story of its rich history, architectural wonders, and vibrant culture. It shows you the grandeur of bygone eras and offers a glimpse into the rich heritage of Gujarat.
Beautiful Places of Junagarh
Uparkot Fort: "Unveiling Junagarh's Majestic Past, One Fortress at a Time."
Mahabat Maqbara: "A Testament to Junagarh's Architectural Splendor."
Darbar Hall Museum: "Journeying Through Junagarh's Regal Heritage."
Sakkarbaug Zoological Garden: "Where Wildlife Thrives in Junagarh's Green Oasis."
Ashokan Rock Edicts: "Tracing Ancient Inscriptions in Junagarh's Historical Landscape."
Damodar Kund: "A Serene Oasis of Tranquility Amidst Junagarh's Bustling Streets."
Girnar Hill: "Ascending to Spiritual Heights in Junagarh's Sacred Mountain."
Mahakali Temple: "Seeking Blessings at the Divine Abode of Junagarh."
Durbar Hall Palace Museum: "Immersing in Junagarh's Regal Opulence."
Adi-Kadi Vav: "Exploring the Architectural Marvels of Junagarh's Stepwell."
Patan – A Cultural Haven
Patan is a city that captures the essence of Gujarat's rich cultural tapestry. It is one of the best destinations to visit in Gujarat for budget-friendly travelers. The city is very famous for its beautiful architectural marvels, colorful festivals, and artistic traditions. Patan invites you to lose yourself in its heritage, discover hidden treasures, and create lasting memories that will forever be etched in your heart.
Exploring Patan is like a journey back in time where history, art, and spirituality merge harmoniously to delight the hearts of tourists. The city's narrow lanes, warm hospitality, and amazing ancient marvels make this place an amazing spot for travelers who want to explore the heritage tourism of Gujarat. Patan definitely offers a truly unique and enriching experience to travelers of all kinds.
Beautiful Places of Patan
Rani ki Vav: "Descending into the Timeless Beauty of Patan's Queen's Stepwell."
Patola Heritage House: "Weaving Threads of Tradition in Patan's Textile Paradise."
Sahastralinga Talav: "A Serene Reservoir Reflecting Patan's Ancient Grandeur."
Khan Sarovar: "Tranquility Amidst Patan's Scenic Lakeside Retreat."
Patan Patola Heritage Museum: "Unraveling the Rich Tapestry of Patan's Artistic Legacy."
Panchasar Jain Temple: "Where Devotion Resides in Patan's Sacred Sanctuary."
Shankheshwar Parshwanath Temple: "Seeking Enlightenment in Patan's Jain Pilgrimage Site."
Hemchandracharya Jain Gnan Mandir: "Illuminating Minds with Knowledge in Patan's Jain Temple."
Rani-ki-Vav Garden: "A Blossoming Oasis Embracing the Elegance of Patan's Stepwell."
Hatkeshwar Temple: "Bowing to Divinity in the Serene Ambience of Patan's Temple."
Bhuj – A Gateway to Kutch's Splendors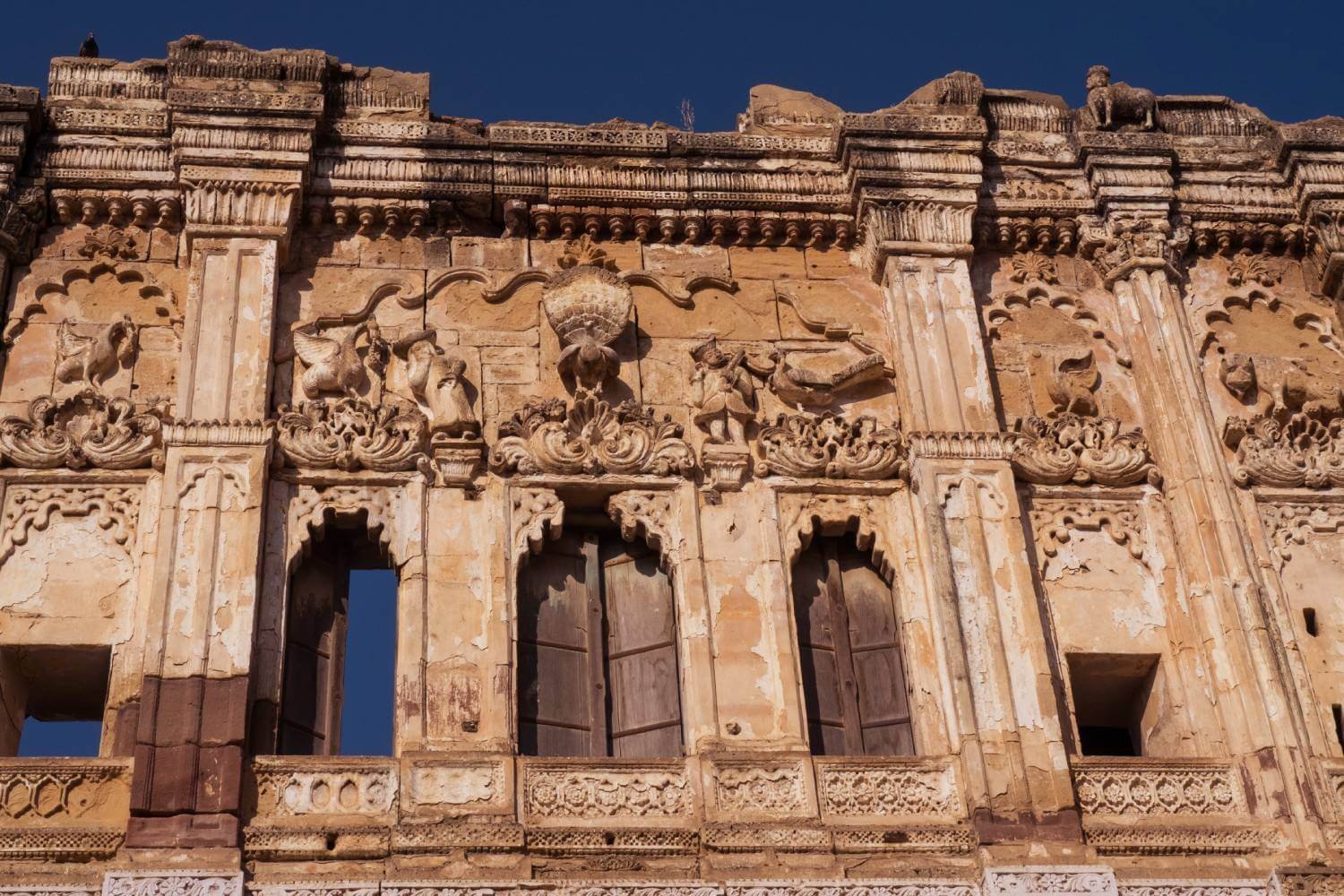 The city of Kutch, Bhuj, is also known for its vibrant markets, where artisans and craftsmen display their exquisite creations. It is famous for its majestic palaces that display the architectural brilliance of bygone days. Bhuj is a visual delight for travelers in Kutch of all types.
Some of the most favorite spots in Bhuj that you must not miss are the Bhujodi village, which showcases the age-old art of creating vibrant textiles, and the bustling and colorful Bhuj Haat, which is a wonderful handicrafts market. Here, you will find amazing colorful textiles, beautiful metalworks, embroideries, and wood carvings. It's also the perfect place to shop for unique souvenirs. The majestic palaces, bustling markets, natural beauty, and rich art and craftsmanship of Bhuj make it a truly unforgettable destination. If you are planning your itinerary for the Gujarat Tour, you must include Bhuj for delightful experiences and memories.
Beautiful Places of Bhuj
Aina Mahal: "Where Bhuj's Rich Heritage Reflects in Shimmering Splendor."
Prag Mahal: "A Majestic Marvel of Bhuj's Architectural Grandeur."
Kutch Museum: "Unveiling the Treasures of Bhuj's Cultural Tapestry."
Bhujia Hill: "Ascending to Panoramic Views of Bhuj's Enchanting Landscape."
Bhujodi Village: "Immersing in Bhuj's Artistic Traditions and Handicrafts."
Hamirsar Lake: "Tranquility and Serenity Meet at Bhuj's Luminous Lake."
Swaminarayan Temple: "Seeking Spiritual Harmony in Bhuj's Sacred Abode."
Sharad Baug Palace: "Stepping into the Royalty of Bhuj's Historic Palace."
Chhatardi Tombs: "Honoring Bhuj's Glorious Past in the Serenity of Tombs."
Kutch Desert Wildlife Sanctuary: "Encountering Nature's Wonders in Bhuj's Untamed Wilderness."
Vadodara- The Royal Heritage City
Vadodara, a city of beauty and delight, creates an unforgettable experience for visitors. It is a place where regal palaces, art galleries, and sacred sites coexist harmoniously, offering a glimpse into Gujarat's rich heritage. It is also one of the top heritage destinations to visit in Gujarat.
Vadodara will show you its enchanting gardens, magnificent palaces, beautiful art galleries, and culinary delights, leaving a long-lasting impression on your mind.
You will see mesmerizing palaces and grand structures adorned with intricate artwork and craftsmanship scattered throughout the city. Vadodara exudes a regal charm. It is a destination that invites you to immerse yourself in its culture and architectural wonders. It has something for every traveler, whether they are a history buff, an art enthusiast, a food lover, or someone seeking a memorable travel experience.
Beautiful Places of Vadodara
Laxmi Vilas Palace: "Where Royalty Resides, Unveiling Vadodara's Regal Grandeur."
Sayaji Gardens: "Nature's Oasis in the Heart of Vadodara's Serene Landscape."
Maharaja Fateh Singh Museum: "Immersing in Vadodara's Artistic Legacy and Heritage."
Kirti Mandir: "Paying Tribute to Vadodara's Illustrious Past and Inspiring Figures."
Champaner-Pavagadh Archaeological Park: "Exploring Vadodara's Ancient Secrets Amidst Serene Hills."
EME Temple: "Where Faith Meets Architectural Brilliance in Vadodara."
Vadodara Museum and Picture Gallery: "Unraveling Vadodara's Cultural Tapestry in Art and Artifacts."
Kala Ghoda Art District: "A Vibrant Canvas of Creativity and Expression in Vadodara."
Ajwa Water Park: "Splash into Fun and Adventure in Vadodara's Refreshing Retreat."
Sardar Patel Planetarium: "Stargazing and Discovering the Cosmos in Vadodara's Celestial Dome."
Mandvi – A Coastal Paradise
Mandvi is one of the top tourist destinations to visit in Gujarat. If you are a beach lover, then without any doubt, you should visit Mandvi once in a lifetime. It is a place where the waves gently caress the shore, a haven of tranquility and natural beauty. Soul-soothing leisurely walks along the shore would be one of the most pleasing moments of your vacation in Mandvi. It's a great place for recreation and rejuvenation of the soul with your loved ones in Gujarat. It is also very popular for its colorful markets and historical sites. Mandvi invites you to fall in love with its tranquil allure and create long-lasting memories with your family and friends.
You can also enjoy fascinating and thrilling water sports activities, such as jet skiing, parasailing, and banana boat rides. Mandvi indeed offers a delightful retreat for those seeking a blend of relaxation and cultural exploration.
Beautiful Places of Mandvi
Mandvi Beach: "Where Tranquility Meets the Sparkle of Mandvi's Shimmering Sands."
Vijay Vilas Palace: "Unveiling Mandvi's Royal Splendor in a Palatial Retreat."
Rukmavati Bridge: "Connecting Mandvi's Past and Present in Architectural Grace."
Shyamji Krishna Verma Memorial: "Honoring Mandvi's Patriotism and Legacy of Freedom."
Mandvi Shipbuilding Yard: "Witnessing the Artistry of Mandvi's Maritime Heritage."
Topansar Lake: "A Serene Haven Reflecting Mandvi's Natural Beauty."
Swaminarayan Temple: "Finding Spiritual Solace in Mandvi's Sacred Abode."
Wind Farms Beach: "Embracing the Tranquil Breeze at Mandvi's Windmill-Dotted Shore."
Mandvi Fort: "Guarding Mandvi's Rich History Amidst Scenic Coastal Views."
72 Jinalaya: "Seeking Inner Peace at Mandvi's Jain Temple Complex."
Saputara- Nature's Picturesque Paradise
For those seeking a bit of adventure, solace, and a nature retreat, Saputara offers exciting experiences to make your Gujarat holidays one of a kind. Away from the chaos of the modern world, its magical landscapes offer a break from the hustle and bustle of city life. Saputara is a haven of natural beauty and tranquility that offers a perfect retreat for nature lovers.
Stunning viewpoints, thrilling trekking trails, delightful weather, and alluring sunrises and sunsets make Saputara one of the best places for relaxation in Gujarat, such as Sunset Point and Sunrise Point. Breathtaking panoramic views of the surrounding valleys and hills paint the eye's canvas with bliss. The hearts of adventurers must be ready for paragliding, zip-lining, or rappelling, etc. The lush forests, cascading waterfalls, and meandering rivers create a serene ambiance that is perfect for rejuvenation and relaxation. The Saputara Lake, a paradise for nature lovers, is a great place to enjoy boating and nature photography. Saputara is also surrounded by well-maintained gardens, such as the Lake Garden and Step Garden, offering tranquil spaces to unwind, enjoy the beauty of nature, and listen to the soothing silence of nature.
Beautiful Places of Saputara
Saputara Lake: "Where Serenity Reflects in the Azure Waters of Saputara."
Sunset Point: "Embracing Nature's Canvas of Colors at Saputara's Sunset Vista."
Saputara Tribal Museum: "Unraveling the Cultural Tapestry of Saputara's Indigenous Tribes."
Step Garden: "Cascading Beauty and Tranquility in Saputara's Terraced Garden."
Artist Village: "Exploring Saputara's Artistic Spirit in a Village of Creativity."
Table Top Point: "Admiring Panoramic Views from Saputara's Scenic Vantage Point."
Gira Waterfalls: "Immersing in Nature's Grace at Saputara's Majestic Waterfalls."
Ropeway Ride: "Suspended in Awe, Soaring Above Saputara's Picturesque Landscape."
Pandava Caves: "Unveiling Ancient Mysteries in Saputara's Enigmatic Caves."
Rose Garden: "A Fragrant Retreat Amidst Saputara's Blossoming Flowers."
Jamnagar- Crown of Gujarat
Jamnagar offers a delightful blend of heritage and natural beauty to tourists. From breathtaking beaches to delightful historical marvels, Jamnagar creates magic in the minds of wanderers. It has many serene retreats for nature and bird lovers, providing a peaceful haven for bird enthusiasts and nature lovers. The Khijadiya Bird Sanctuary is one of the major bird-watching destinations in Jamnagar, home to a variety of migratory and resident bird species, offering a delightful opportunity to observe them in their natural habitat.
Jamnagar is also famous for its vibrant bazaars and bustling markets where you will get a chance to find an amazing range of traditional handicrafts, Bandhani sarees, textiles, and jewelry.
Moreover, Jamnagar offers a wonderful retreat on the beaches along its coastline. There are many tranquil beaches such as Balachadi Beach and Dwarka Beach where the soul comes alive. Leisurely walks along the shore, mesmerizing sunset views, and pleasant weather make this place an amazing choice in Gujarat for beach lovers in India.
Beautiful Places of Jamnagar
Lakhota Lake: "Tranquility and Serenity Meet at Jamnagar's Lakhota Lake."
Lakhota Palace and Museum: "Immersing in Jamnagar's Rich History and Royal Heritage."
Marine National Park: "Discovering Marine Marvels in Jamnagar's Pristine Waters."
Bala Hanuman Temple: "Seeking Divine Blessings at Jamnagar's Spiritual Abode."
Khijadiya Bird Sanctuary: "A Haven for Avian Delights in Jamnagar's Natural Sanctuary."
Darbargadh Palace: "Stepping into the Grandeur of Jamnagar's Historic Palace."
Dwarkadhish Temple: "Embracing Devotion in Jamnagar's Sacred Dwarkadhish Temple."
Narara Marine Sanctuary: "Exploring Jamnagar's Underwater Wonderland of Marine Life."
Ranmal Lake: "Glimpses of Nature's Beauty in Jamnagar's Scenic Lake."
Bhujio Kotho: "Witnessing Jamnagar's Towering Architectural Splendor."
Gandhinagar – A Melting Pot of Cultures and Ideas
Gandhinagar beautifully captures the essence of modernity, serenity, and cultural heritage. It is one of the top tourist destinations to visit in Gujarat. For visitors seeking a blend of urban comfort and natural beauty, Gandhinagar is the place to be.
The tranquil ambiance, cultural treasures, and the warmth and hospitality of Gujarat's capital city, Gandhinagar, create a piece of heaven for creating beautiful memories with your loved ones. The city is a beautiful combination of tradition and modernity. Beautiful gardens and amazing infrastructure make the city of Gandhinagar soul-pleasing. It is also one of the top heritage and cultural destinations in Gujarat. Its cultural heritage is evident in its numerous museums and art galleries.
Gandhinagar's museums showcase the rich history and cultural traditions of Gujarat through a diverse collection of artifacts, textiles, and folk art. For shopaholics, Gandhinagar offers a range of shopping options. One of the best shopping places, the vibrant Sector 21 Market, is a beautiful hub where visitors can explore a variety of shops selling traditional handicrafts, textiles, and spices. Also, explore the amazing bustling night markets, which offer unique shopping experiences to travelers.
Beautiful Places of Gandhi Nagar
Akshardham Temple: "Gandhinagar's Spiritual Haven of Tranquility and Devotion."
Indroda Nature Park: "Exploring the Wonders of Nature in Gandhinagar's Serene Oasis."
Adalaj Stepwell: "An Architectural Marvel Unveiling Gandhinagar's Historic Splendor."
Sarita Udyan: "Where Nature's Beauty Blooms in the Heart of Gandhinagar."
Children's Park: "A Wonderland of Fun and Joy for All in Gandhinagar."
Sardar Patel Memorial: "Honoring the Visionary Leader in Gandhinagar's Iconic Tribute."
Mahatma Mandir: "A Symbol of Gandhinagar's Respect for Mahatma Gandhi's Legacy."
Punit Van: "Embracing Nature's Bliss in Gandhinagar's Verdant Forest."
Hanumanji Temple: "Finding Solace and Serenity in Gandhinagar's Sacred Temple."
Trimandir: "A Spiritual Retreat for Mind, Body, and Soul in Gandhinagar."
Palitana – Divine Serenity
Palitana is a great spiritual place to explore in Gujarat. Spiritually inclined tourists who embark on a journey of devotion and self-discovery must visit Palitana once in a lifetime. With captivating magnificent temples, breathtaking natural beauty, and a serene ambiance, Palitana is a great delight for nature lovers, spiritual people, and solace seekers. A visit to this sacred pilgrimage site is not only a chance to explore Jain heritage but also an opportunity to reconnect with oneself amidst the serene hills of Gujarat.
Palitana boasts of an astounding collection of beautiful and intricately carved temples. The Shatrunjaya Temple Complex is the crowning jewel of Palitana, with its stunning architecture, awe-inspiring sculptures, and serene surroundings. Palitana stands as a revered pilgrimage site and a haven for spiritual seekers. Famous for its mesmerizing Jain temples, Palitana attracts devotees and tourists from all over the world, giving them a glimpse into the rich Jain heritage of Gujarat.
Beautiful Places of Palitana
Shatrunjaya Hill: "Ascending to Spiritual Heights at Palitana's Sacred Shatrunjaya."
Adishwar Temple: "Where Devotion and Architecture Converge in Palitana's Majestic Temple."
Rishabhdeo Temple: "A Serene Abode of Peace and Devotion in Palitana's Sacred Grounds."
Kumar Pal Jain Museum: "Exploring Palitana's Artistic Treasures and Jain Heritage."
Palitana Wildlife Sanctuary: "Embracing Nature's Splendor in Palitana's Pristine Sanctuary."
Taranga Hill: "Basking in the Panoramic Beauty of Palitana's Taranga Hill."
Angar Pir: "A Tranquil Oasis of Spirituality in Palitana's Mystical Surroundings."
Dharmanath Bhagwan Jain Temple: "Discovering Palitana's Spiritual Serenity and Jain Teachings."
Motisar Lake: "Reflections of Tranquility at Palitana's Scenic Motisar Lake."
Hathicha Devalaya: "Witnessing Palitana's Elephants in Stone at Hathicha Devalaya."
Lothal – Unearthing a Lost Civilization
Lothal offers a captivating journey back in time, allowing visitors to discover the mysteries of an advanced urban civilization that once flourished on the banks of the mighty Saraswati River.
Dating back over 4,500 years, Lothal was a major port and trading hub of the Indus Valley Civilization. It is one of the most captivating heritage places to visit in Gujarat for those who love to delve deep into history.
Numerous artifacts have been discovered from this ancient civilization. The bead factory and the intricate pottery found in the excavations shed light on the craftsmanship and industrial prowess of the civilization.
The surrounding landscape adds fascinating charm to the beauty of Lothal. The vast expanses of the breathtaking Rann of Kutch and the gentle flow of the blissful Sabarmati River create a solace-inducing backdrop for this historical site. Watching the sunset over the archaeological ruins adds a touch of magic and reverence, reminding visitors of the enduring legacy of the Indus Valley Civilization.
A visit to Lothal will reveal many secrets of the ancient past. Let us embark on an unforgettable voyage of discovery.
Beautiful Places of Lothal
Lothal Archaeological Site: "Journeying Back in Time at Lothal's Ancient Port City."
Lothal Museum: "Unveiling the Rich History of Lothal's Maritime Civilization."
Dockyard at Lothal: "Exploring the Maritime Excellence of Lothal's Shipbuilding Hub."
Acropolis at Lothal: "Where Lothal's Past Glory Reaches New Heights."
Warehouse Complex at Lothal: "Tracing the Trade Routes of Lothal's Prosperous Era."
Great Bath at Lothal: "Immersing in the Mystique of Lothal's Ancient Rituals."
Streets of Lothal: "Walking the Path of Ancient Civilization in Lothal's Alleyways."
Workshops at Lothal: "Witnessing the Artistry and Innovation of Lothal's Craftsmen."
Citadel at Lothal: "Guarding Lothal's Strategic Importance in Ancient Times."
Living Quarters at Lothal: "Peeking into the Lives of Lothal's Inhabitants from the Past."
Dholavira – Fascinating Tales of the Indus Valley Civilization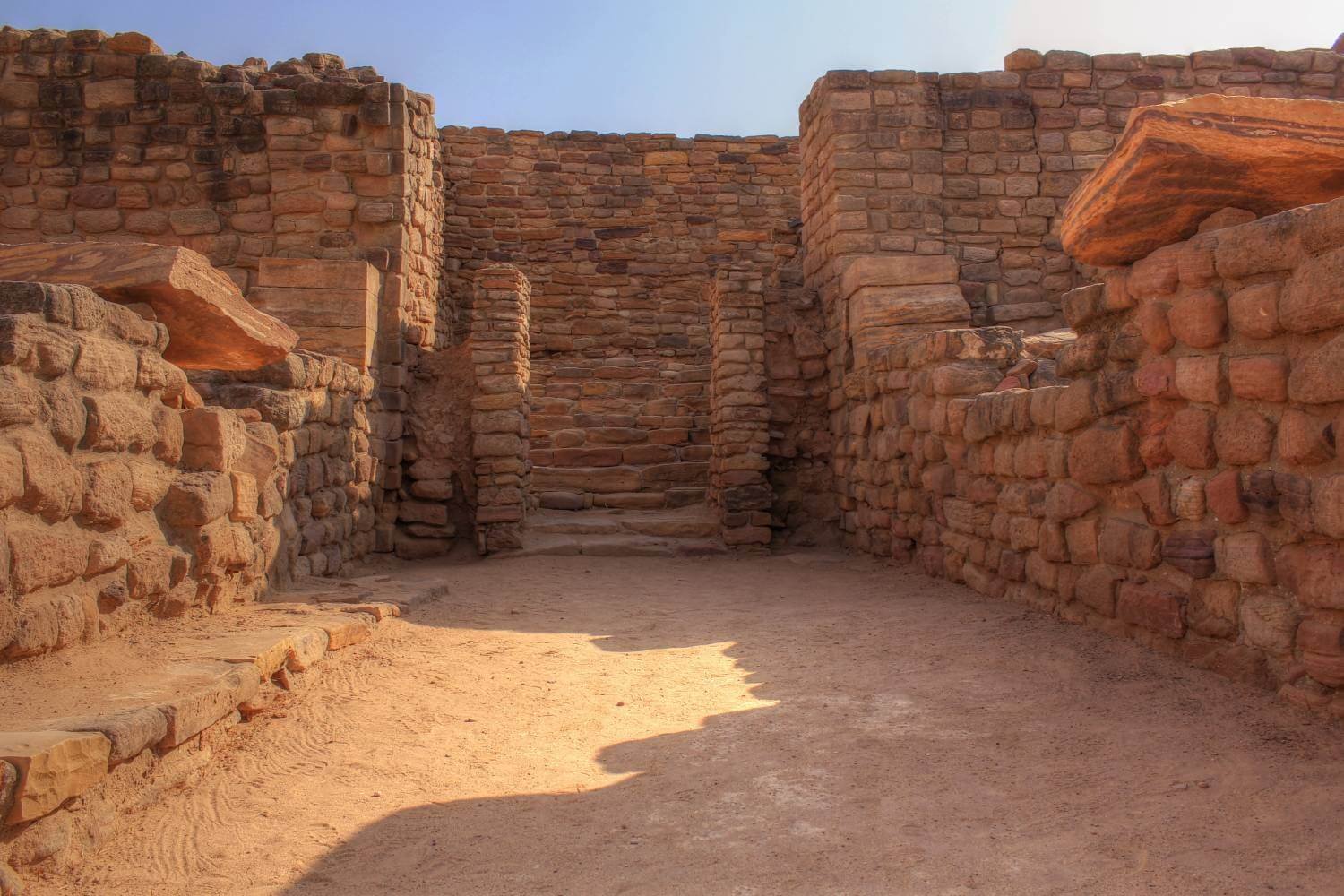 Dholavira is a captivating destination for history enthusiasts, archaeology lovers, and those seeking a deeper understanding of ancient civilizations. It is a must-visit place in Gujarat if you are curious and love to explore heritage sites.
Dholavira's ancient civilization was ahead of its time. It is difficult to believe that it has well-preserved ruins, an intricate drainage system, public wells, and underground reservoirs that are features of modern world infrastructure. As you explore the remains of this lost city, you'll be transported to a bygone era, where the echoes of the past whisper their secrets and ignite the imagination. Dholavira invites you to embark on a journey of discovery, unlocking the mysteries of an ancient civilization that continues to fascinate and inspire.
Within the citadel of Dholavira, you'll discover the beautiful remnants of grand structures, including the royal palace, ceremonial halls, and granaries, which tell a lot about the grandeur of the ancient world. The labyrinth of narrow streets, residential quarters, and fascinating structures will amaze your curious mind. The vast, barren beauty of the Great Rann of Kutch stretches as far as the eye can see, creating a beautiful background for Dholavira.
Beautiful Places of Dholavira
Dholavira Archaeological Site: "Unearthing the Secrets of Dholavira's Lost Civilization."
Great Rann of Kutch: "Witnessing the Vastness and Beauty of Dholavira's Surroundings."
Dholavira Fossil Park: "Exploring Dholavira's Prehistoric Wonders in Stone."
Dholavira Museum: "A Glimpse into Dholavira's Ancient Legacy and Artifacts."
Citadel of Dholavira: "Standing Tall in the Echoes of Dholavira's Historic Fortification."
Water Reservoirs of Dholavira: "Engineering Marvels that Sustained Dholavira's Civilization."
Street Patterns of Dholavira: "Navigating the Urban Layout of Dholavira's Ancient City."
Signboard of Dholavira: "Decoding the Indus Script at Dholavira's Enigmatic Signboard."
Sun Temple of Dholavira: "Basking in the Radiance of Dholavira's Sacred Solar Worship."
Excavated Houses of Dholavira: "Stepping into the Homes of Dholavira's Long-Gone Inhabitants."
From ancient archaeological marvels to the rhythmic beats of folk dances, from wildlife encounters to soul-stirring spiritual journeys, Gujarat offers an immersive experience that leaves an indelible mark on the hearts of travelers. Indeed, you will be spellbound to see its rich culture and heritage and its breathtaking beauty.
Explore Popular Gujarat Sightseeing Tour Packages
Frequently Asked Questions
What is the best time to visit Gujarat?
Here are the highlights of the Seasons in Gujarat. Choose your best season and plan a wonderful Gujarat Trip-
Winter Season (November to February):
"Embrace the Tranquil Charms of Gujarat's Winter Wonderland"
"Experience Gujarat's Cultural Splendors Amidst Cool Winter Breezes"
"Discover Gujarat's Hidden Gems in the Enchanting Winter Season"
Summer Season (March to June):
"Unleash Your Adventurous Spirit in Gujarat's Summer Thrills"
"Sun, Sand, and Safari: Explore Gujarat's Summer Escapades"
"Immerse Yourself in the Vibrant Summer Festivities of Gujarat"
Monsoon Season (July to September):
"Witness Gujarat's Nature Come Alive in the Monsoon Magic"
"Explore the Refreshing Beauty of Gujarat Amidst Rainy Delights"
"Indulge in the Serenity and Greenery of Monsoon in Gujarat"
How to Travel Gujarat?
By Air – You can easily reach Gujarat via Sardar Vallabhbhai Airport. It is one of the major airports to reach Gujarat.
By Train- Surat railway station, Ahmedabad Railway Station, Rajkot Railway Station and Vadodara Railway Station are some of the major railway lines of Gujarat which are connected to other major Indian cities.
By Road- If you are traveling Gujarat by road then buses are the most convenient options to reach here. You will get buses from all the major Indian states. Volvos and Gujarat State Road Transport Corporation (GSRTC) offer bus services from major Indian states.
What are the must-visit tourist attractions in Gujarat?
Some of the must visit Tourist attractions in Gujarat are –
Sabarmati Ashram, Ahmedabad
Rann of Kutch, Kutch
Gir National Park, Junagadh
Somnath Temple, Somnath
Dwarkadheesh Temple, Dwarka
Champaner-Pavagadh Archaeological Park, Champaner
Modhera Sun Temple, Modhera
Statue of Unity, Kevadia
Patan Step Well (Rani Ki Vav), Patan
Mandvi Beach, Mandvi
Sardar Vallabhbhai Patel Museum, Ahmedabad
Nal Sarovar Bird Sanctuary, Ahmedabad
Sarkhej Roza, Ahmedabad
Laxmi Vilas Palace, Vadodara
Jama Masjid, Champaner
Saputara Hill Station, Saputara
Kankaria Lake, Ahmedabad
Dholavira, Kutch
Sabarmati Riverfront, Ahmedabad
Gandhi Ashram, Porbandar
Is Gujarat safe for tourists?
Yes, Gujarat is absolutely a safe travel destination for tourists. If you take appropriate measures for your personal belongings and stay aware of your surroundings, especially the crowded places then the chances of mis happenings will be less.
What are the famous festivals celebrated in Gujarat?
Here is a list of the most popular festivals of Gujarat-
Navratri
Uttarayan (Kite Festival)
Diwali
Holi
Janmashtami
Rann Utsav
Makar Sankranti
Tarnetar Fair
Bhavnath Mahadev Fair
Bhadra Purnima Fair
What are popular wildlife sanctuaries in Gujarat?
Some of the most popular wildlife sanctuaries in Gujarat are –
Gir National Park and Wildlife Sanctuary
Blackbuck National Park, Velavadar
Wild Ass Sanctuary, Little Rann of Kutch
Marine National Park, Gulf of Kutch
Jessore Sloth Bear Sanctuary
Barda Wildlife Sanctuary
Nal Sarovar Bird Sanctuary
Girnar Wildlife Sanctuary
Gir Forest National Park
Purna Wildlife Sanctuary
What are the best places to see birds in Gujarat?
These are the best places to enjoy birdwatching in Gujarat –
Khijadiya Bird Sanctuary
Nalsarovar Bird Sanctuary
Velavadar Blackbuck National Park
Thol Bird Sanctuary
Purna Wildlife Sanctuary
Wild Ass Sanctuary
Gaga Wildlife Sanctuary
Jessore Sloth Bear Sanctuary
Shoolpaneshwar Wildlife Sanctuary
Hingolgadh Nature Education Sanctuary
What are the popular handicrafts of Gujarat?
Some of the most popular handicraft items available in Gujarat are –
Bandhani: Vibrant tie-dye textile art characterized by intricate patterns and vibrant colors.
Patola: Exquisite silk sarees known for their double ikat technique, showcasing rich colors and geometric patterns.
Kutch Embroidery: Intricate and colorful hand embroidery using mirror work, thread work, and appliqué techniques.
Rogan Art: Traditional art form involving the use of castor oil to create intricate and colorful patterns on fabric.
Wood Carving: Skillful carving of wood to create intricate designs on furniture, home decor, and religious artifacts.
Block Printing: Traditional printing technique using hand-carved wooden blocks to create beautiful designs on fabric.
Terracotta: Pottery made from clay, featuring intricate designs and traditional forms like vases, figurines, and lamps.
Patang Making: Colorful kite making, a popular craft during the kite festival in Gujarat.
What are the must visit famous beaches in Gujarat?
Some of the must visit famous beaches of Gujarat are –
Mandvi Beach: "Unwind and Relax at Gujarat's Tranquil Paradise, Mandvi Beach."
Dwarka Beach: "A Serene Coastal Retreat to Discover Amidst the Spirituality of Dwarka."
Diu Beach: "Sun, Sand, and Serenity Await at Gujarat's Charming Coastal Haven, Diu Beach."
Tithal Beach: "Bask in the Golden Sands and Sparkling Waters of Tithal Beach, Gujarat."
Gopnath Beach: "Escape to Gujarat's Secluded Gem, Gopnath Beach, for a Tranquil Coastal Experience."
Nargol Beach: "Discover Gujarat's Hidden Beach Gem, Nargol, where Serenity Meets Natural Beauty."
Porbandar Beach: "Where Waves Meet History, Porbandar Beach Invites You to Explore Gujarat's Coastal Charm."
Madhavpur Beach: "Embrace the Scenic Beauty and Mythological Significance of Madhavpur Beach in Gujarat."
Chorwad Beach: "A Coastal Delight on Gujarat's Shores, Chorwad Beach Offers Relaxation and Tranquility."
Umargam Beach: "Unwind and Rejuvenate at Umargam Beach, a Pristine Coastal Escape in Gujarat."
What are the must visit heritage sites in Gujarat?
Some of the must visit heritage attractions in Gujarat –
Champaner – Pavagadh Archaeological Park: A UNESCO World Heritage Site showcasing the rich architectural and cultural heritage of Gujarat.
Rani ki Vav: An intricately carved stepwell in Patan, recognized as a UNESCO World Heritage Site.
Modhera Sun Temple: A magnificent 11th-century temple dedicated to the Sun God, renowned for its intricate carvings and architectural brilliance.
Sarkhej Roza: A complex of tombs, mosques, and palaces in Ahmedabad, showcasing a fusion of Islamic and Hindu architectural styles.
Dwarka: An ancient city associated with Lord Krishna, featuring historic temples like the Dwarkadhish Temple and Bet Dwarka.
Lothal: An archaeological site dating back to the Indus Valley Civilization, offering insights into India's ancient maritime trade.
Patan's Stepwells: Notable stepwells like the Rani ki Vav, Sahastralinga Talav, and Khan Sarovar are architectural marvels in Patan.
Vadnagar: A historic town with sites like the Hatkeshwar Temple and Sharmishtha Lake, known for their architectural and cultural significance.
Pavagadh Hill: Home to the Kalika Mata Temple and the historic Champaner city, known for its archaeological ruins.
Junagadh's Heritage Sites: The Uparkot Fort, Mahabat Maqbara, and Adi-Kadi Vav are some of the prominent heritage sites in Junagadh.
What are the best places to explore the tribal culture of Gujarat?
Some of the best places to explore the tribal cultural heritage of Gujarat –
Kutch District: Immerse Yourself in the Vibrant Tribal Traditions of Gujarat's Kutch Region.
Dang District: Discover the Rich Cultural Heritage of Gujarat's Dang Tribal Communities.
Chhota Udaipur: Experience the Authentic Tribal Life and Customs of Gujarat's Chhota Udaipur Region.
Bhil Village Tour: Step into the Fascinating World of Gujarat's Bhil Tribes and their Ancient Customs.
Poshina: Delve into the Enchanting Tribal Culture of Gujarat's Poshina and Witness their Intricate Artwork.
Mandvi Village: Engage with the Tribal Communities of Gujarat's Mandvi Village and Discover their Unique Traditions.
Bardoli: Uncover the Historical Significance and Tribal Heritage of Gujarat's Bardoli Region.
Saputara: Immerse Yourself in the Tribal Way of Life in Gujarat's Saputara and Enjoy their Folk Dances and Music.
Danta: Explore the Indigenous Tribes and Ancient Customs of Gujarat's Danta Region.
Dahod: Witness the Colorful Festivals and Traditional Practices of Gujarat's Dahod Tribal Communities.
What are the popular adventure activities available in Gujarat?
Here is a list of some of the most amazing adventure activities available in Gujarat-
Paragliding in Saputara: "Soar Above the Clouds and Embrace Freedom in Gujarat's Paragliding Paradise."
Rappelling at Pavagadh: "Conquer New Heights and Descend into Adventure at Gujarat's Thrilling Rappelling Spot."
White Water Rafting in Dandeli: "Ride the Rapids and Feel the Rush of Adrenaline in Gujarat's Rafting Wonderland."
Zip-lining in Girnar: "Zip through the Canopy and Experience Gujarat's Thrilling Zip-lining Adventure."
Hot Air Ballooning in Rann of Kutch: "Float Amidst the Magical Landscape and Discover Gujarat's Hot Air Ballooning Bliss."
Wildlife Safari in Gir Forest: "Embark on a Wild Expedition and Witness Gujarat's Majestic Wildlife up Close."
Trekking in Wilson Hills: "Traverse Scenic Trails and Unveil the Beauty of Gujarat's Trekking Paradise."
Scuba Diving in Tarkarli: "Dive into the Depths and Explore Gujarat's Underwater Wonderland of Tarkarli."
Desert Safari in Little Rann of Kutch: "Roam the Vast Expanse and Embrace the Spirit of Adventure in Gujarat's Desert Safari."
Rock Climbing in Pavagadh: "Conquer the Vertical World and Scale New Heights in Gujarat's Rock-Climbing Haven."
Like & follow us on our following official social media channels
Facebook | Twitter | Linkedin | Instagram | Youtube
Also Check Out: Popular India Tours | Tour Packages | India Tour Packages | International Tour Packages
International Trending Holiday Destinations – Nepal Tours | Bhutan Tours | Singapore Tour | Thailand Tours | Sri Lanka Tours | Maldives Tours | Dubai Tours | Indonesia Tours
Other Popular Trending Holiday Destinations in India – Kashmir Tour | Himachal Tour | Uttarakhand Tour | Rajasthan Tour | Gujarat Tour | Sikkim Tour | Kerala Tour | Andaman Tour | Madhya Pradesh Tour | North East Tours
Tour Packages by Interest – Adventure Packages | Wildlife Packages | Pilgrimage Packages | Heritage Packages | Hill Station Packages | Weekend Packages | Honeymoon Packages | Beach Packages | Chardham Packages | Trekking Packages
Other Interesting Wildlife Travel Guide Blogs to Read
Other Interesting India Travel Guide Blogs to Read
Other Interesting Destinations Travel Guide Blogs to Read
Other Interesting Rajasthan Travel Guide Blogs to Read
Other Interesting Uttarakhand Travel Guide Blogs to Read
Other Interesting South Travel Guide Blogs to Read
Other Interesting Adventure & Trekking Travel Guide Blogs to Read
Other Interesting Kerala Travel Guide Blogs to Read
Other Interesting International Travel Guide Blogs to Read