North India, a blessing for mountain lovers, adventure seekers, and those looking to escape to hill stations, is a pure bliss for wanderers in search of absolutely amazing locations with pleasant climates. It is an abode of spiritual towns, lush valleys, scenic and mystical mountains, and panoramic lakes. North India specializes in enriching your soul with solace and evergreen thrilling adventures. It's no wonder that many couples choose North India as their honeymoon destination, as it offers some of the most picturesque locations in India. Additionally, families often plan their summer vacations in North India. We are not saying that other parts of India are not worth visiting, but North India is particularly popular among tourists for its adventures, family vacations, pilgrimages, and honeymoons. North India is a pearl in the crown of Indian tourism, offering gorgeous landscapes, cuisines, culture, heritage, festivals, mountains, and adventures that you will absolutely love.
In this blog, we will showcase 16 amazing destinations in North India to help you plan your vacations with your loved ones.
Agra, Uttar Pradesh
Varanasi, Uttar Pradesh
Leh Ladakh
Rishikesh, Uttarakhand
Jaipur, Rajasthan
Shimla, Himachal Pradesh
Amritsar, Punjab
Haridwar, Uttarakhand
Srinagar, Jammu and Kashmir
Dharamshala, Himachal Pradesh
Nainital, Uttarakhand
Udaipur, Rajasthan
Manali, Himachal Pradesh
Jaisalmer, Rajasthan
Pushkar, Rajasthan
Jim Corbett National Park, Uttarakhand
Quick Travel Information for a North India Trip
| | |
| --- | --- |
| Best Hill Stations of North India | Manali, Shimla, Kullu, Dharamshala, Solan, Kufri, Naldehra, Nainital, Ranikhet, Leh, Chamba, Dalhousie, Kasauli, Chail, Narkanda, Bir, Gulmarg, Pahalgam, Srinagar. |
| Best Spiritual Towns in North India | Varanasi, Mathura, Vrindavan, Haridwar, Rishikesh, Pushkar, Ajmer, Dharamshala, Jammu Kashmir, Sarnath, Amritsar, Gangotri, Yamunotri, Badrinath, Kedarnath, Uttarkashi. |
| Best Places for Couples in North India | Agra, Shimla, Srinagar, Ladakh, Nainital, Solan, Udaipur, Jaipur, Jaisalmer, Jodhpur, Dehradun, Dalhousie, Parvati Valley, Auli, Spiti, Ranthambore. |
| Best Places for wildlife Lovers in North India | Jim Corbett National Park, Dachigam National Park, Ranthambore National Park, Sariska National Park, The Great Himalayan National Park, Rajaji National Park, Hemis National Park, Gulmarg National Reserve, Dudhwa National Park, Chail Wildlife Sanctuary. |
Get up to 30% early bird discount on India Holiday Packages with Bon Travel India. For more details, call or WhatsApp us at +91-8802149265.
Agra – Marvelous Charms of the Mughal Era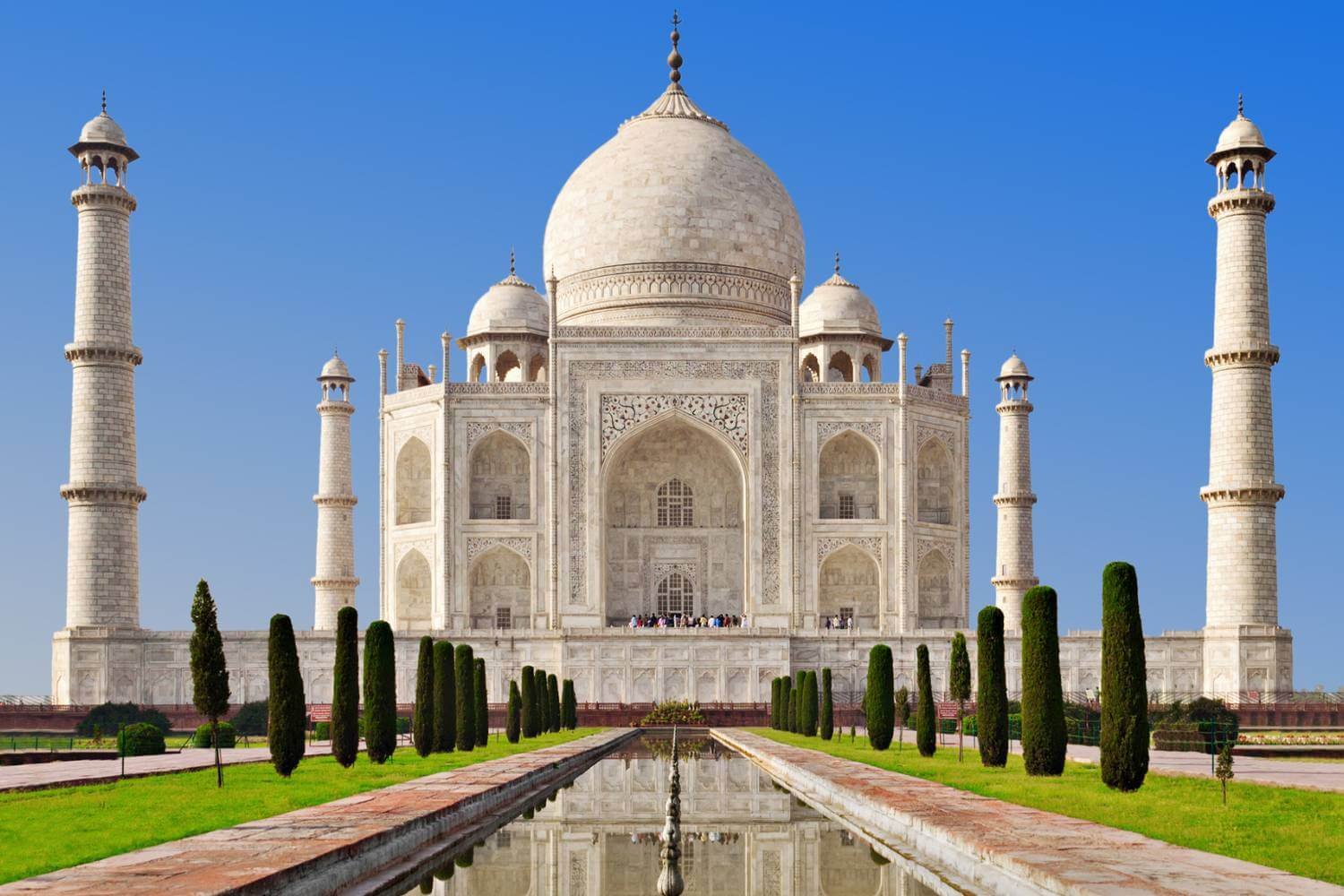 On the mesmerizing banks of the river Yamuna, Agra stands with pride, showcasing its glorious history and captivating monuments from the Mughal Era. Tourists from all over the world visit Agra to explore its marvelous architectural wonders. The Taj Mahal, known as the symbol of love, has been enticing tourists for ages and remains the most visited attraction in Agra. As the former capital of the Mughal Empire in 1556 AD, Agra is home to incredible Mughal Era monuments and natural attractions.
Agra has preserved the rich history of the Mughals in India and is renowned for its handicraft markets and delightful snacks. While tourists flock here to see the Taj Mahal, they also get lost in the beauty of other architectural marvels and attractions, realizing that Agra is much more than just the Taj Mahal. It is a wonderful destination for family trips and solo adventures in North India.
Highlights of Agra
Agra boasts delicious snacks that are specialties of the region, such as Dal Mouth and Petha. You will also find a variety of mouthwatering Mughlai cuisines.
A fantastic collection of Zardosi embroidery, mirror-worked garments, wall hangings, bedspreads, cushion covers, and marble inlay work awaits you in Agra.
Taj Mahal, one of the most renowned destinations in Agra, requires no introduction.
Experience the vibrant nightlife of Agra with its amazing nightclubs, perfect for enjoying with friends and loved ones.
Agra offers a water world experience, making it an ideal place for fun-filled moments with family and friends.
Popular Attractions to Visit in Agra
Itimad- Ud- Daulah – The Baby Taj
Taj Mahal- Symbol of love
Agra Fort – Magnificence of Mughal Empire
Fatehpur Sikri – Shukri, A token of Gratitude
Anguri Bagh – Charbagh Style Mughal Garden
Jama Masjid- Friday Mosque
Gurdwara Guru Ka Tal- Divine blessings
Jahangir Mahal- Built by Akbar for his Son
Mehtab Bagh – Enchanting Mughal Garden
Taj Museum – Boasts original Mughal artifacts and artworks
The water World- Fun filled day with family
Sikandra Fort- Tomb of Emperor Akbar
Moti Masjid – Beautiful Pearl Masjid
Also Check Out-  8 Days Golden Triangle Tour Itinerary
Varanasi – The Soul of India
Located on the banks of the River Ganges in Uttar Pradesh, Varanasi is one of the finest destinations for immersing yourself in the rich heritage and culture of India. It is the oldest city in India and a perfect choice for sightseeing in North India. In Varanasi, time seems to lose its hold as the city follows its own unique timeline. It is also a significant Hindu pilgrimage site, attracting devotees from all around the world. The ancient domes, ashrams, muths (monastic establishments), vibrant and captivating rituals on the Ghats (steps leading to the river), bustling marketplaces adorned with Banarasi sarees, and the breathtaking view of sunrise from a boat on the Ganges will leave you spellbound.
Varanasi is also known as the City of Salvation, as per Hindu belief that dying in Varanasi releases one from the cycle of rebirth. The city's spiritual elevation and soul-nourishing atmosphere make it a vibrant location for capturing awe-inspiring photographs. Sarnath, located just 10 km away from Varanasi, holds significance as the place where Lord Buddha delivered his first sermon. If you have time after exploring Varanasi, a visit to Sarnath will offer insights into this Buddhist pilgrimage destination. Varanasi breathes life into Indian culture and heritage. If you are planning a vacation and seeking a peaceful retreat, Varanasi is the ultimate destination to visit in North India.
Some Popular Places to Visit in Varanasi
Sarnath – Ruins of enlightenment
Chinese Temple- Seat of Divine Lord Buddha
Shri Kashi Vishwanath Temple- Abode of lord Shiva
Dasaswamedh Ghat – Most famous Ghat of Varanasi
Tulsi Manas Mandir- Origin of Ramcharitmanas
Manikarnika Ghat – Cremation Ghat of Varanasi
Bharat Mata Mandir – Abode of mother India
Tibetan Culture – Custodian of Tibetan culture
Kedar Ghat- For Sacred Baths
Assi Ghat- Divine Peace
Ramnagar Fort – Mughal Charm
Shri Durga Temple – Pray to Maa Durga
Sankat Mochan Hanuman Temple – Embrace the divine grace
Batuk Bhairav Temple- The Healer
Highlights of Varanasi
Old temples Tour of Varanasi
Ganga Aarti
Peaceful vibes of the Ghats of Varanasi
Take a bath in Sacred Ganges
Sunrise and sunset from the Ghats
Craft of the Weaver Village
Delightful boat rides
Shopping in Varanasi is fun
Must try the street food of Varanasi
Also Read: UNESCO World Heritage Sites in India
Leh Ladakh – The Wanderer's Dream Destination
A dream destination for every wanderer, Leh Ladakh is one of the most captivating mountain attractions for North India holidays. With its rugged valleys, fascinating Himalayan mountains, snow-covered mystical rivers, lush green valleys, and enchanting stupas, Leh Ladakh offers an abundance of adventures and experiences to enjoy. It caters to every type of traveler.
If you are an adventurer, Leh Ladakh provides enticing opportunities for mountain biking, rafting, dune bashing, trekking, and more. For peace-loving tourists, the monasteries and stupas serve as havens of solace and spiritual grace. Couples will find dreamy landscapes in Leh Ladakh that offer countless corners to create blissful moments of togetherness and capture amazing pictures. Leh Ladakh is a land of unparalleled beauty that deserves a visit at least once in a lifetime.
Some Popular Places to Visit in Leh Ladakh
Zanskar Valley – Beautiful Views
Pangong Tso Lake- Sublime Scenes
Kargil- Top adventure destination
Nubra Valley- Arabian nights Experience
Magnetic Hill- No gravity
Hemis National Park – Wildlife adventures
Shanti Stupa- Amazing Sunrise and sunset views
Leh Palace- Magnificence of old days
Tso Moriri Lake- Scenic and serene
Chadar Trek – Most beautiful adventure
Phyang Gompa- Stunning Views and elevated thoughts
Namgyal Tsemo Gompa- Buddha's Teachings
Highlights of Leh Ladakh Tour
Breathtaking views of Pangong Lake
Thrilling biking adventure at Khardungla Pass
Visit all the Heritage attractions
Serene vibes of Shanti Stupa
Extremely thrilling Trek – Chadar Trek
Magic of Magnetic Hill
Night Camping in Ladakh
Fun at Local Markets of Ladakh
Traditional Ladakhi Food
Yak Safari
White Water Rafting
Heliskiing in Zanskar
Also Check Out Popular Ladakh Tour Packages
Rishikesh – Seek Solace in the Yoga Capital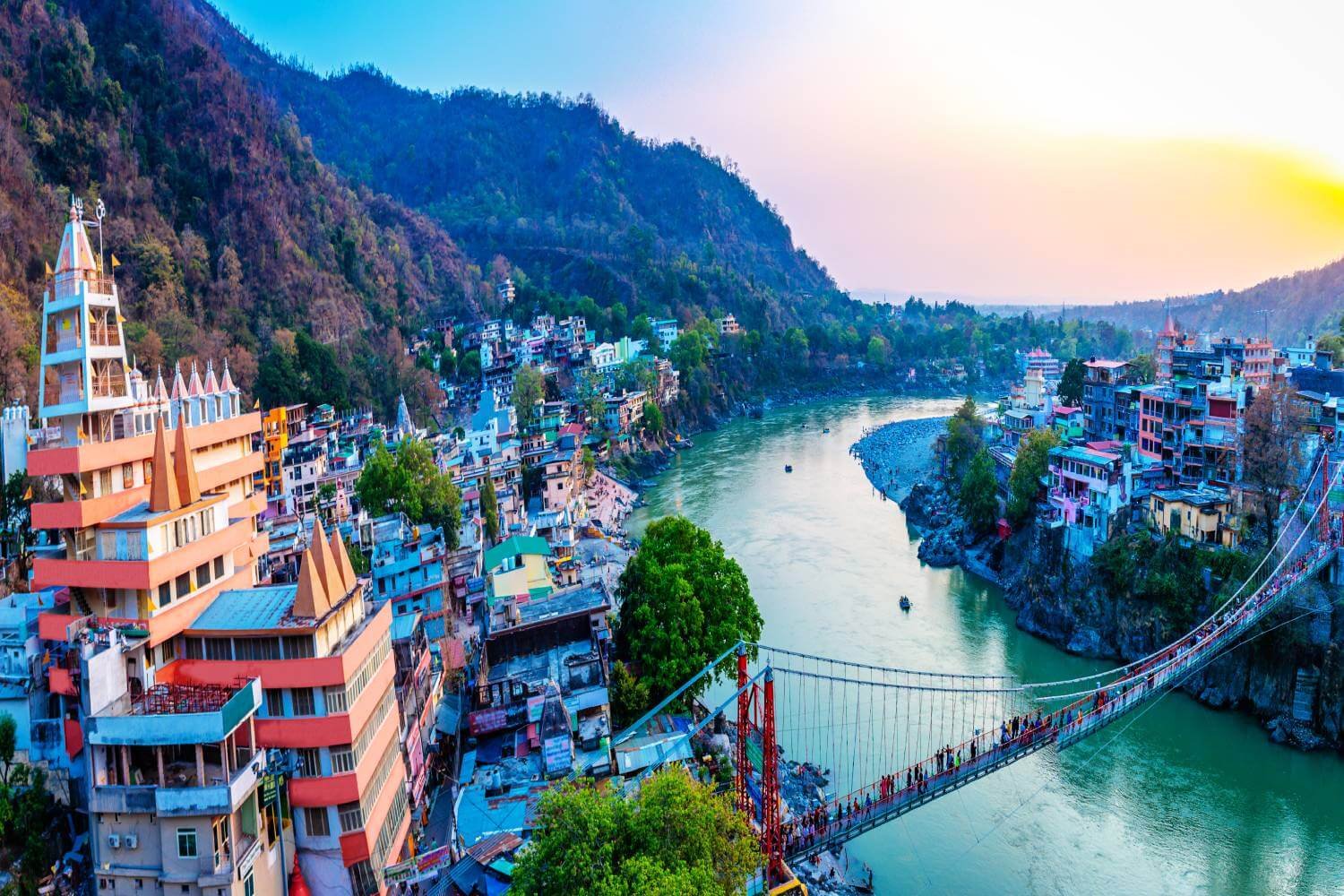 A spiritual town nestled on the serene banks of the Ganga, Rishikesh is a wonderful retreat for those seeking peace, spiritual enlightenment, and fitness enthusiasts. It is one of the most popular spiritual tourist destinations in North India, located in Uttarakhand. If you are looking for a refreshing and tranquil vacation with your family, Rishikesh is one of the best places to include in your North India sightseeing tour. The beauty of Rishikesh is truly soul-soothing, surrounded by the majestic Shivalik range of the Himalayas on three sides. It holds immense significance as a pilgrimage site for Hindu devotees, who visit Rishikesh to immerse their souls in the divine vibes of the evening Ganga Aarti.
The city's rhythm is slow and peaceful, offering numerous temples, ashrams, and yoga centers to rejuvenate one's weary spirit. Rishikesh is also renowned among adventure lovers who flock from all corners of the globe to experience thrilling activities such as river rafting, kayaking, bungee jumping, and rock climbing. Furthermore, besides being a gateway to Haridwar, Rishikesh serves as a wonderful starting point to embark on a journey to the Char Dhams (four holy abodes).
Some Popular Places to Visit in Rishikesh
Lakshman Jhula- Suspension Bridge to honor Lord Lakshmana
Neelkanth Mahadev Temple- Abode of lord Shiva
Ram Jhula- Suspension bridge to honor Lord Ram
Triveni Ghat- Divine Ganga Aarti
Parmarth Niketan- Top Yoga Center
Rishikund- Blessed Kund by Goddess Yamuna
Bharat Mandir- Temple of Lord Hrishikesh Narayan
Tera Manzil Temple- Trimbakeshwar Temple
Vashishta Cave- Embrace Peace
Himalayan Yoga Ashram- Yoga and Meditation Sessions
Raghunath Temple- Dedicated to Lord Rama
Highlights of Rishikesh Tour
River Rafting
Bungee Jumping
Yoga Centers and Ashrams
Ganga Aarti
Temple Hopping
Parasailing and Paragliding
Hot air ballooning
Delightful camping
Rock climbing
Reiki Healing
Wildlife adventures
Also Check Out Popular Rishikesh Sightseeing Tour Packages
Jaipur – The Lovely Pink City of India
In 1727 AD, Maharaja Sawai Jaisingh II founded the enchanting Pink City of Jaipur, which has since captured the hearts of adventurous wanderers. It entices visitors with its rich history, vibrant culture, authentic cuisines, magnificent forts and palaces, bustling bazaars, and serene temples. Jaipur stands as one of the most popular tourist attractions in North India. In the Conde Nast Traveler Readers' Choice Survey, Jaipur ranked 7th among the best places to visit in Asia.
Jaipur is a significant landmark destination on the Golden Tourist circuit, along with Delhi and Agra. The Rajasthani architecture of the magnificent City Palace, the golden abode known as Sunehri Kothi, Bandhani textile artworks, the captivating traditional dance of Kachhi Ghodi, beautiful lac bangles, the awe-inspiring Hawa Mahal, and the thrilling experience of hot air ballooning in Jaipur all add to the joy of a holiday in North India.
Some Popular Places to Visit in Jaipur
Samode Palace- Rajput Haveli architecture
Jai Niwas Udyan- Light and Sound Show
Amber Palace- UNESCO World Heritage Site
City Palace- Pride of Maharaja Sawai Jai Singh II
Hawa Mahal- Iconic Landmark of Rajasthan
Jantar Mantar- For astronomical observations
Nahargarh Fort- Abode of Tigers
Jaigarh Fort- Home to the world's largest canon
Birla Temple- Dedicated to lord Vishnu
Gaitore- Memorials of kings
Vidyadhar Garden-Beautiful Garden for peaceful retreat
Highlights of Jaipur Tour
Blissful sunsets of Jal Mahal
Traditional Rajasthani Cuisines
Spiritual vibes of Galtaji Temple
Heritage Hotel stay experience
Fun Camel Safari
Shopping at the colorful bazaars of Jaipur
Amazing Hot air Balloon Ride
Visit all historical monuments of Jaipur
Also Read: Best Places to Visit in Rajasthan
Shimla – The Queen of Hills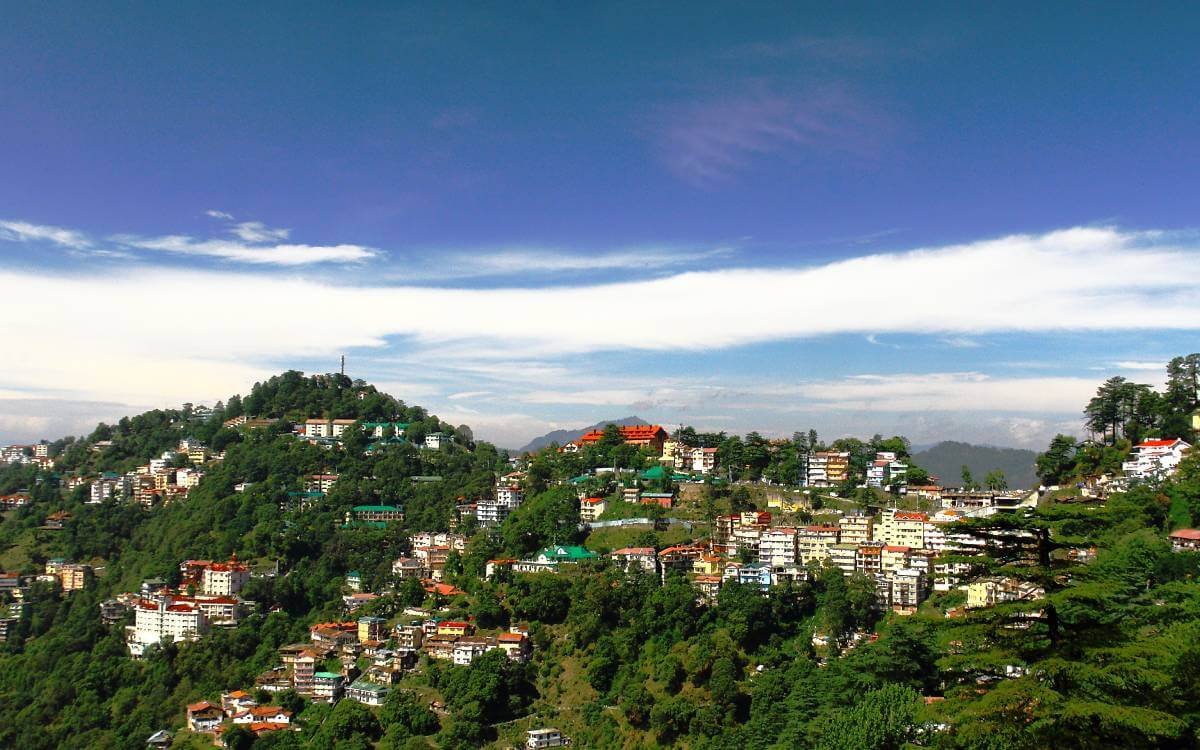 One of the most stunning hill resorts and destinations in North India, Shimla's beauty will forever captivate your soul. Whether you are a family, couple, or solo traveler, Shimla ranks high on the bucket list of wanderers seeking scenic hill stations for memorable mountain holidays. Situated at an altitude of 2,205 meters, Shimla boasts a soothing climate, which was why it served as the summer capital of the British in India. This place showcases the architectural marvels of colonial India, such as the Viceregal Lodge and iron lamp posts.
Blessed by nature and nestled in the blissful Himalayas, Shimla offers a space for meaningful connections with the natural world. The Mall Road, the lifeline of this quaint hill station, serves as the soul of Shimla. To truly understand the lifestyle of Shimla, spend a day exploring the Mall Road, which comes alive with local travelers and vacationers. From mid-July to September, snowfall enthusiasts keep the place vibrant by engaging in thrilling snow adventure activities. The bustling 12 km-long ridge and the serene landscapes attract countless couples seeking to create cherished moments together. Shimla is also a delightful paradise for families. As the heat on the plains becomes unbearable, families choose Shimla to spend delightful summer vacations. Indeed, Shimla ranks among the most popular places to visit in North India. Don't forget to pack your bags for this dreamland.
Some Popular Places to Visit in Shimla
The Ridge- Most scenic views of Shimla
Mall Road- Lifeline of Shimla
Jakhoo Hill- The highest hill of Shimla
Shimla State Museum- Heritage of Shimla
Summer Hill- Potter Hill of Shimla
Annadale- Meadows of bliss
Chadwick Falls- Lush greenery and serene beauty
Christ Church- Oldest Church
Himalayan Bird Park- Bird Watching paradise
Lakkar Bazaar- Shopping Time
Green Valley- Nature's Kiss
Highlights of Shimla Tour
Fun filled toy train rides with loved ones
Souvenir shopping
Ice- skating
Thrilling River Rafting
Explore the historical monuments
Enjoy delicious Himalayan cuisines
Pine forest Walks
Trekking Trails and birdwatching
Camping in the woods
Restaurants, cafes and bars in the Ridge
Also Read: Best Places to Visit in Himachal Pradesh
Amritsar – Nourishment for the Soul
Founded by Sri Guru Ramdas Ji, the fourth Guru of Sikhs, in 1574 AD, Amritsar's rich culture and heritage will delight your soul. The city of Amritsar is home to Harmandir Sahib, the main pilgrimage site for Sikhs. It has a fascinating history. Legend has it that before the founding of Amritsar, the area was covered with dense forests and beautiful lakes. Guru Ramdas Ji invited 52 traders from different sectors to settle in places like Patti and Kasur. The families of these 52 traders started the first 32 shops, which came to be known as Batisi Hatta. The Guru himself shifted with them, and the city came to be known as Ramdaspur. However, the city obtained its present name from Amrit Sarovar, a holy tank started by Guru Ramdas Ji but left incomplete. His successor, Guru Arjan Dev Ji, completed the Amrit Sarovar project and located the Golden Temple – Harmandir Sahib – in the middle of the Sarovar. Guru Arjan Dev Ji also ceremoniously installed a copy of the Guru Granth Sahib (the holy texts of Sikhs) in Harmandir Sahib.
Amritsar boasts numerous shrines that showcase the rich spiritual heritage of Sikh culture. The city nourishes your soul with its delicious cuisine, vibrant festivals, bustling bazaars, and warm hospitality. It is a must-visit destination if you are planning a North India tour.
Some Popular Places to Visit in Amritsar
The Golden Temple- First place to go
Wagah Border Ceremony- Patriotic Party
Partition Museum- Story of partition
Punjabi Restaurants- Heavenly Food of Punjab
Mandir Mata Lal Devi- Unique funhouse as well as Divine
Jallianwala Bagh- Tribute to the Martyrs
Baba Atal Tower- Tallest building of Amritsar
Ram Bagh Gardens- Embrace serenity
Gobindgarh Fort- History and culture of Amritsar
Shri Durgiana Mandir- Abode of Goddess Durga
Shri ram Tirath Temple-Birth place of Luv and Kush
Hall Bazaar- Shopping paradise
Khairuddin Mosque- Part of Indian Freedom Struggle
Highlights of Amritsar Tour
Harmandir Sahib – First Place to go
Food of Punjab
Shopping at local bazaars such as Hall Bazaar
For Fun – Suncity Amusement and Waterpark
Ceremony of Wagah Border
Admire all the historical places of Amritsar
Harike Wetland Birdwatching
Also Read: Pilgrimage Tourism in India
Haridwar – Embracing the Ganges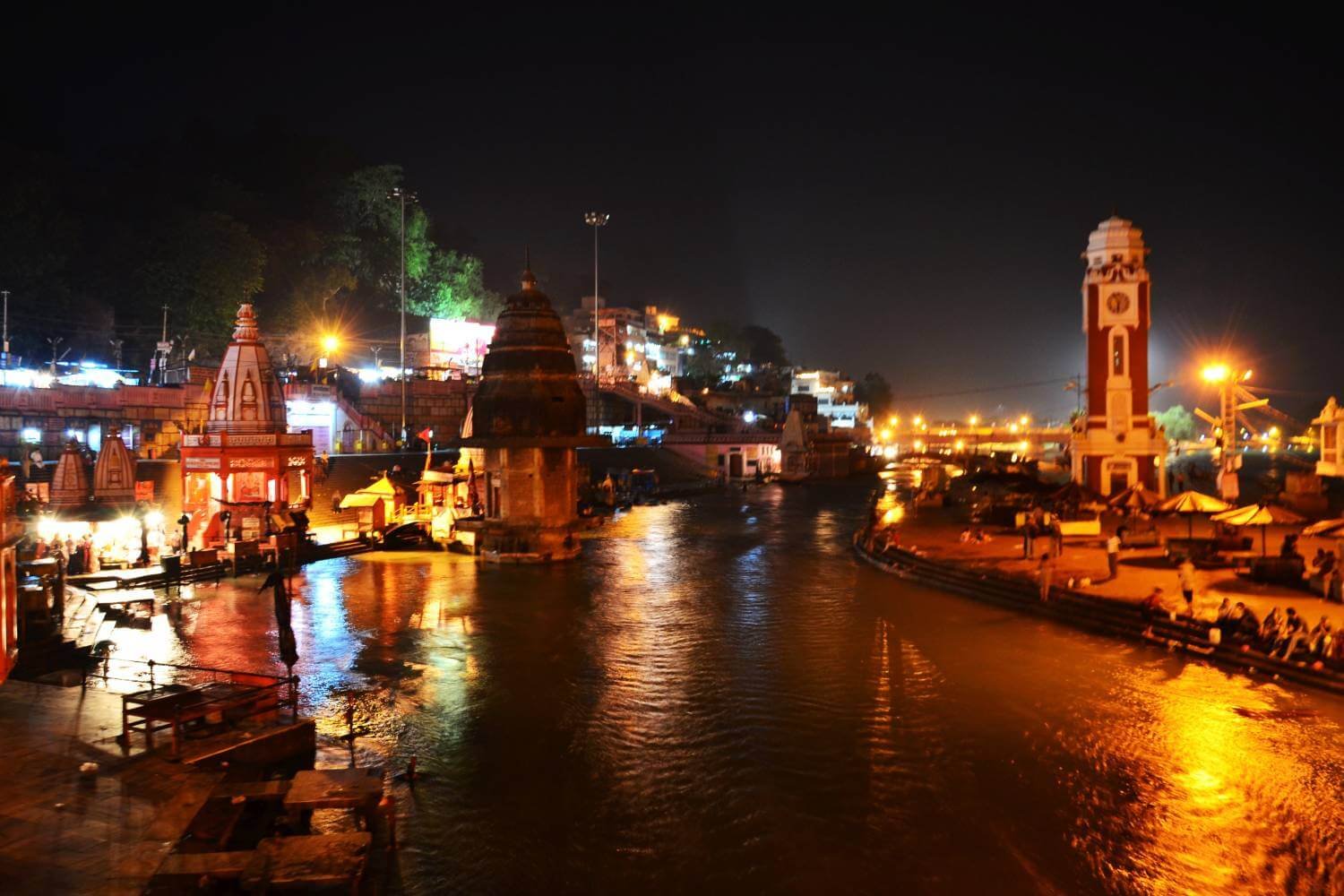 Located in the foothills of the Himalayas, Haridwar is one of the top pilgrimage tourist destinations in Uttarakhand, North India. It is highly unlikely that you haven't heard about this place if you are not from India. Haridwar holds immense significance as one of the most important Hindu pilgrimage sites in the country. Tourists flock here in search of spiritual enlightenment, as it is often referred to as the "Gateway to Gods". The river Ganga, revered as the most sacred of all Indian rivers, flows through Haridwar. One of the most unforgettable experiences in Haridwar is the evening Ganga Aarti. As evening descends, the atmosphere becomes incredibly enchanting. The chants of mantras, the resonating sound of bells, the flickering lamps, and the flowing waters of the Ganga create a mesmerizing spectacle that can captivate you for hours, nourishing your soul with profound peace.
Haridwar hosts the Kanwar Mela every year during the rainy season, and every six years, the grand Ardh Kumbh Mela is celebrated with great fervor. Haridwar is also renowned for its ashrams that offer incredible opportunities for yoga, meditation, and Ayurveda sessions. Moreover, Haridwar serves as the gateway to the ultimate pilgrimage destinations in India – the Char Dhams. The ethereal and awe-inspiring aura of Haridwar is truly unparalleled.
Some Popular Places to Visit in Haridwar
Har ki Pauri- Landmark destination of Haridwar
Mansa Devi Temple- Divinity of Bilwa Parvat
Chandi Devi Temple- Dedicated to Chandi Devi
Shanti Kunj- Headquarter of All World Gayatri Parivar
Chilla Range- Enjoy the Himalayan Wildlife
Daksha Mahadev Temple- Dedicated to Lord Shiva
Saptrishi Ashram- Peace Divine
Bilkeshwar Mahadeva Temple- Dedicated to Lord Shiva and his consort
Gau Ghat- Penance to Cows
Neel dhara Pakshi Vihar- Bird watching and trekking
Highlights of Haridwar Tour
Ganga Aarti
Temple Trails
Trekking and Birdwatching
Yoga and Meditation at the Ashrams
Shopping at Bara Bazar and Moti Bazar
Ayurvedic Sessions
Wildlife at Rajaji National Park
Also Read: Best Places to Visit in Uttarakhand
Srinagar – Soul-Seducing Landscapes
At an altitude of 1730 m above sea level, Srinagar beats like a heart in the body of the Kashmir Valley. If you are looking for the most beautiful and photogenic places, then Srinagar is one of the top tourist destinations in North India. It is a favorite place for honeymoon couples and solo travelers. The enchanting River Jhelum captivates the heart, and Srinagar is known for its beautiful lakes. There are many gardens in Srinagar, and the breathtaking Dal Lake will leave you mesmerized. The soul-seducing backdrop of the Himalayan mountains will never cease to inspire your camera, inviting you to capture infinite pictures. Don't miss out on the adventures of hiking, rafting, and mountain biking in this beautiful city.
The revered temples, Sufi shrines, wooden bridges, bustling bazaars, forts, Chinar-laden roads, and amazing Mughal-era gardens are just the tip of the iceberg. The blissful folds of Srinagar make it the queen of beauty, and every mile here reveals the fascinating charm of the city. In summers, colorful flowers deck the entire land, creating a paradise reminiscent of Eden. Winters bring the joy of snowfall, adding to the scenic allure of Srinagar. It is a scenic fairytale land where you can get lost in euphoria.
Some Popular Places to Visit in Srinagar
Dal Lake- Iconic place of Srinagar
Wular lake- breathtaking views
Nigeen Lake- Enjoyable Shikara Rides
Chatpal – Offbeat gem of Srinagar
Mughal Gardens- UNESCO's Site
Manasbal Lake- Deepest Lake in Kashmir Valley
Nishat Bagh- Second largest Mughal Garden
Chashme Shahi- Embrace natural springs
Shankaracharya Temple- Dedicated to Lord Shiva
Kheer Bhawani Temple- Goddess Kheer Bhawani
Highlights of Srinagar Tour
Visit all the temples and historical attractions of Srinagar
Birdwatching of Manasbal Lake
Stay in a delightful houseboat
Amazing boating and Shikara Rides
Escape to lush green Mughal Gardens
Paragliding
Traditional Kashmiri Cuisines
Explore Floating vegetable markets
Explore breathtaking apple orchards
Also Read: Best Places to Visit in Jammu and Kashmir
Dharamshala- Little Lhasa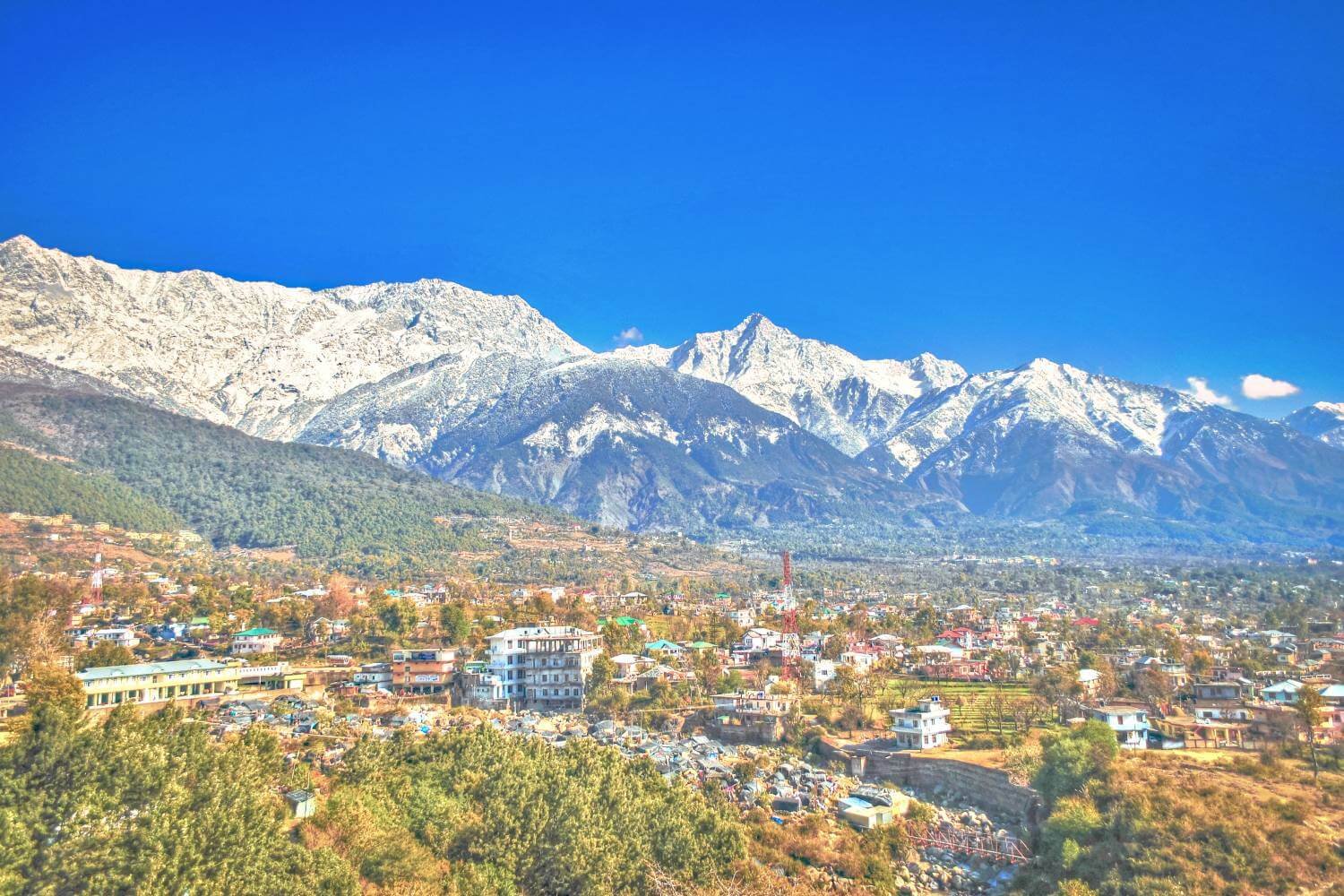 The land of Tibetans, Dharamshala will amaze your mind with its simplicity, lush greenery, authentic cuisines, and culture. It's a blissful destination in the western Himalayan region. If you are visiting North India, you must visit Dharamshala once in your lifetime. It's the wonderful home of the Dalai Lama and all the Tibetans in exile. It is one of the top attractions to learn about Buddhism in a holistic way. Pilgrims and tourists love Dharamshala for its awe-inspiring beauty and wholesome tourist experiences.
Scholars also visit Dharamshala to enrich their minds with divine wisdom. The blissful Dhauladhar mountain ranges in the upper reaches of the Kangra region, beautiful conifers and pine forests, mesmerizing tea gardens, soothing climate, and snow-covered peaks make Dharamshala one of the best hill station destinations to visit in North India with family, especially for those seeking solace and tranquility.
Some Popular Places to Visit in Dharamshala
Triund Hill-Trekking adventures
Dharamshala Cricket Stadium- For Cricket lovers
St John in the Wilderness Church-dedicated to John the Baptist
War Memorial-Tribute to Kangra Soldiers
Library of Tibetan Works and Archives- Know Tibetan Literature
Bhagsunath Temple-Dedicated to Lord Shiva
Gyuto Monastery- Crown of Dhauladhar Range
Kareri Dal Lake- Serene Nature's Gift
Kangra Fort- Largest Fort of Himalayan Region
Tsuglagkhang Temple- Dalai Lama Temple
Bhagsu Waterfall- Nature Lovers Retreat
Jwala Devi- Dedicated to Jwala Devi
McLeod Ganj- His Holiness Dalai Lama's residence
Kalachakra Temple – Tibet's Rich culture
Highlights of Dharamshala Tour
Cafes of Dharamshalas are delightful
Delicious Tibetan food
Explore Mcleodganj Markets
Camping and trekking at Triund, Kareri Lake, and Indrahar Pass
Paragliding
Zip lining, hiking, fishing and cycling
Walk at refreshing tea gardens
Visit all the monasteries and temples of Dharamshala
Also Check Out Popular Himachal Tour Packages
Nainital- A Perfect family Escape
The lake city of Nainital in Uttarakhand is one of the most popular destinations that entices wanderers seeking peace and bliss during their North India holidays. Nainital is renowned as one of the top tourist attractions in North India, captivating visitors with its serene ambiance and breathtaking scenery. Naini Lake, surrounded by the majestic Garhwal mountains, serves as the heart and soul of this enchanting city.
The name "Nainital" is derived from Goddess Naina, the revered deity of Naina Devi Temple situated at the northern end of Naini Lake, attracting thousands of devotees annually in search of divine blessings. In addition to its spiritual significance, Nainital offers a plethora of other fascinating attractions. The vibrant bazaars and stalls along Mall Road tempt the shopaholics, while the splendid mountain vistas, pleasant weather, historical monuments, and thrilling adventure activities make Nainital a perfect destination for families and friends to create lasting memories in the scenic landscapes of Uttarakhand.
Some Popular Places to Visit in Nainital
Naina Devi Temple- Divine Seat of Goddess Naina Devi
Naina Lake- Lifeline of Nainital
Nainital Zoo- Wildlife Lovers
Tiffin Top- Picnic Spot of Nainital
The Mall Road- Soul of Nainital
Raj Bhawan- British Charm
Eco- Cave Gardens- Fun Adventures
Snow View Point- Breathtaking views of Himalayas
Gurney House- Colonial Cottage
Hanuman Garhi – Get blessings from Lord Hanuman
Highlights of Nainital Tour
Boating at Naini Lake
Fun adventures at Eco Cave Garden
Sunrise of Tiffin top
Divine Blessings at Naina Devi Temple
Food of Chandni Chowk
Explore Hanuman Garhi – Divine Grace
Fun filled day at Mall Road
Royal Charm of Raj Bhawan
Shop at Tibetan Market
Amazing Nainital Ropeway Ride
Also Check Out Popular Nainital Sightseeing Packages
Udaipur – The City of Beautiful Lakes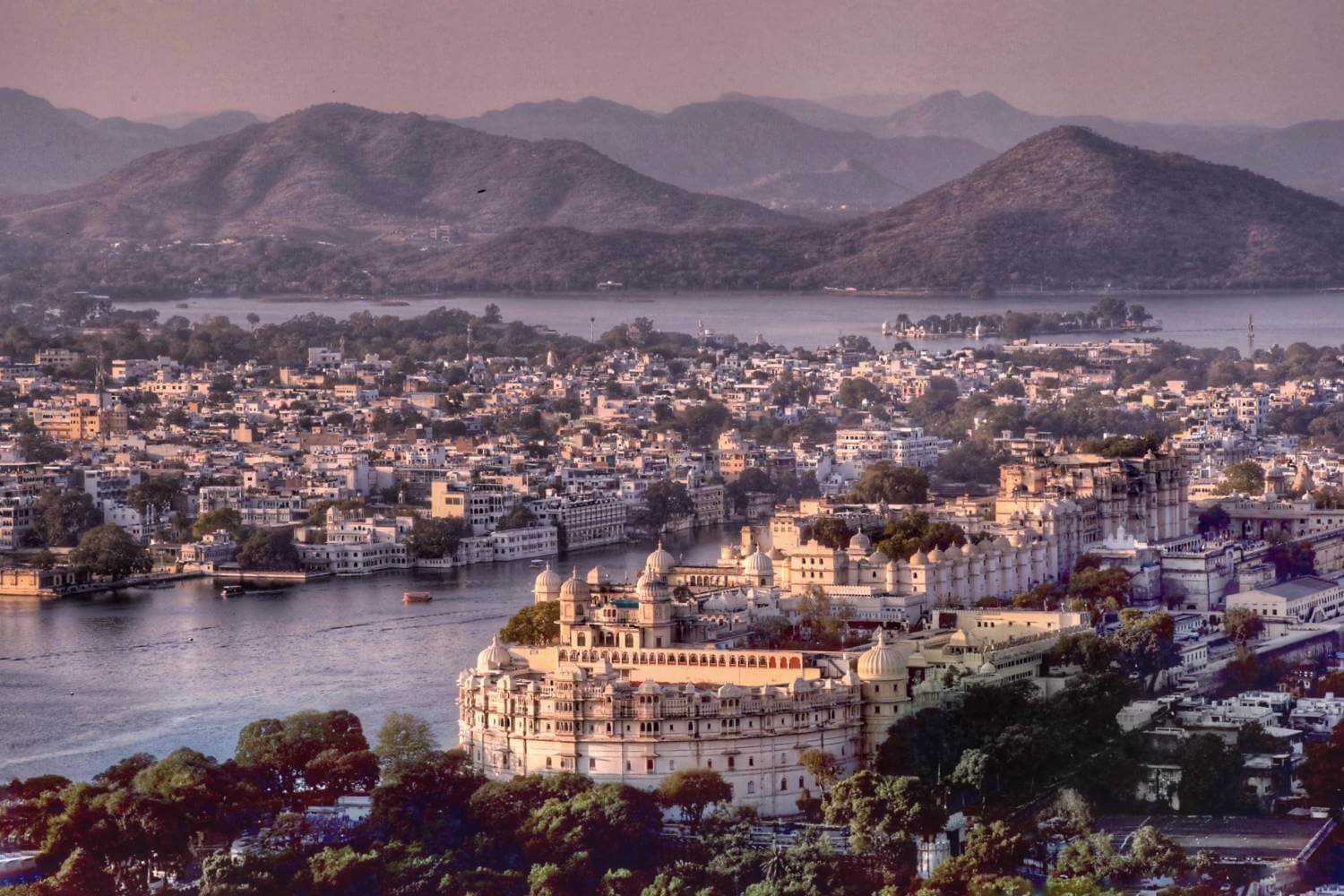 Beautiful city of lakes in Rajasthan, Udaipur, is one of the top heritage destinations to visit in North India with family and friends. Udaipur is a dreamland for many wanderers. The view of shimmering lakes from every rooftop would be the most euphoric moment for your eyes. It is also known as the "Venice of the East" because of the abundance of beautiful lakes. The lush green hills of Aravalli add more charm to this amazing dream paradise. Narrow lanes lead you to colorful markets, mesmerizing havelis, dense forests, revered temples, and soul-soothing art and curio stalls, making Udaipur a wonderful holiday destination in North India to create everlasting memories with your loved ones.
It is one of the most fascinating places to visit during the monsoon in North India. Winter months are also very favorable for a Udaipur trip in your North India sightseeing tour. Authentic Rajasthani cuisines, folk dance performances, and magnificent forts— the charm of Udaipur always captivates the souls of wanderers.
Some Popular Places to Visit in Udaipur
City Palace- Magnificent masterpiece of Royalty
Lake Palace- Summer Palace
Jag Mandir- Lake Garden Palace
Monsoon Palace- Spectacular views of Udaipur
Ahar Museum-Mewari Cenotaphs
Fateh Sagar Lake- Delightful Boating adventure
Jagdish Temple- Spectacular Indo- Aryan architecture
Saheliyon Ki Bari- Garden of the Maidens
Lake Pichola- Dreamy Views
Sukhadia Circle- Three-tiered marble fountain
Bagore Ki Haveli – Beautiful interiors and Glass Mirrors
Highlights of Udaipur Tour
Shopping at Hathi Pol Bazaar
Visit vintage Car Museum
Explore all the Historical forts and palaces of Udaipur
Tiger lake Trekking
Thrilling Aravalli Trekking
Haldighati – Know the History
Breathtaking views of Dudh Talai Lake
Visit Ahar Museum
Boat Cruise
Sunset of Fateh Sagar Lake
Heritage and crafts of Shilpgram
Puppet Shows at Bhartiya Lok Kala Mandal
Cuisines of Udaipur
Also Check Out- 7 days Best of Rajasthan Tour
Manali – The Valley of the Gods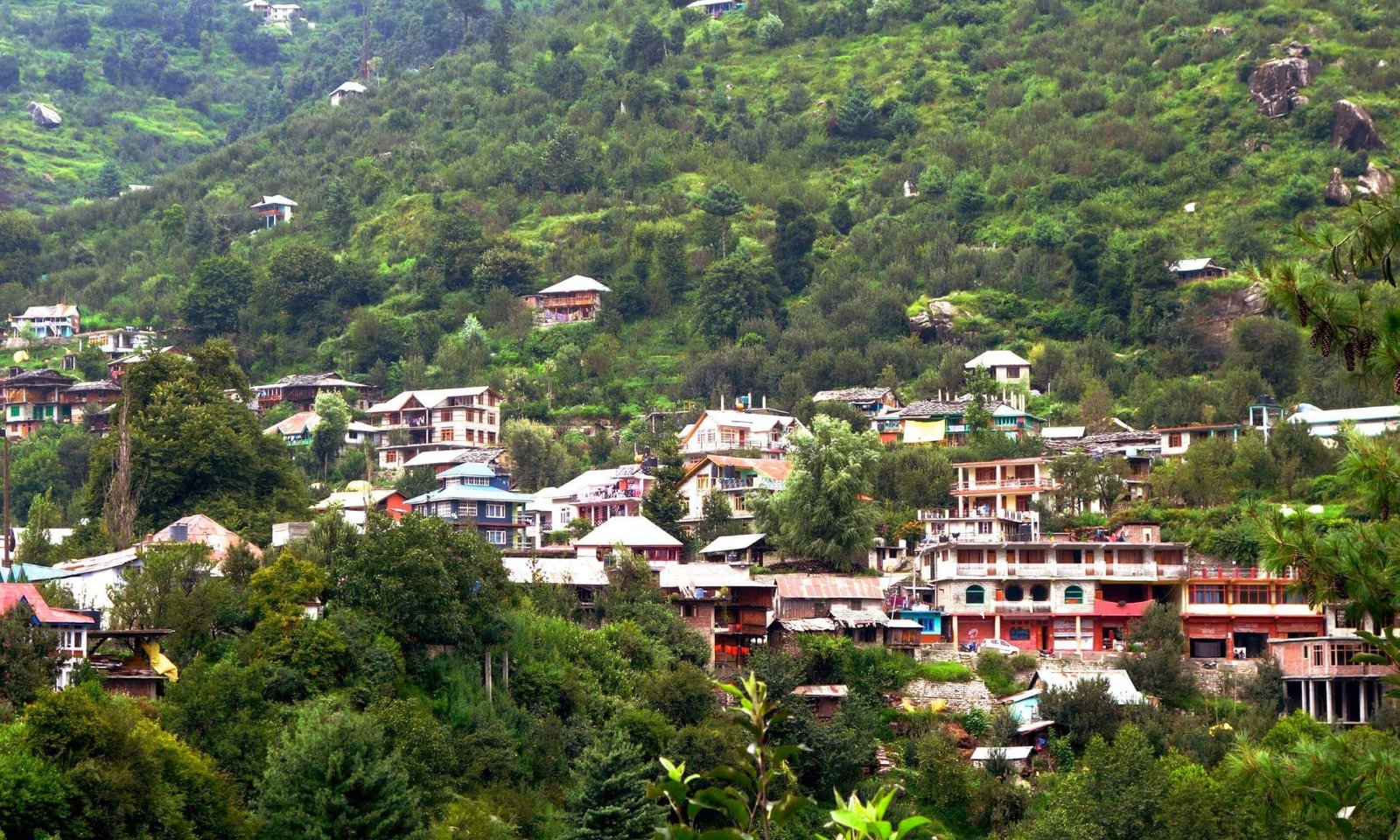 Manali needs no introduction when it comes to finding the best hill station to visit in North India. You must visit Manali at least once in your lifetime. The beauty of Manali is one of a kind, a gift from the Himalayas to humankind. Nature's beauty is at its peak here, offering blissful views no matter the time of day. From families and solo travelers to adventurers, nature lovers, and honeymoon couples, Manali is the perfect choice to spend an amazing and fun-filled time with your loved ones.
The pleasant weather, snow-capped mountains, mesmerizing views of the Beas River, rich cultural heritage and traditions, and the enchanting embrace of nature's lap with snow-fed streams make holidays in Manali one of the best experiences in North India. Additionally, it's a wonderful place to try thrilling adventures like river rafting, rowing, and water crossing. Manali has everything you need for a peaceful and fun-filled holiday in the lap of nature.
Some Popular Places to Visit in Manali
Hadimba Temple- Dedicated to Goddess Hidimba Devi
Solang Valley- Adventure Hub
Rohtang Pass- Perfect spot for Nature lovers and Photographers
Bhrigu Lake- Amazing Trekking spot
Manu Temple- Origin of mankind
Nehru Kund- Delightful natural springs
Old Manali- Cherish Blissful Bygone Days
Naggar Castle- Kullu Heritage
Manali Gompa- Gadhan Thekchhokling Gompa
Himalayan Nyingmapa Buddhist Temple- Sit and Meditate
Museum of Himachal Culture and Folk Art- Himalayan Heritage
Highlights of Manali Tour
Gushing of the waterfalls
Vashisht Hot Water Springs
Beas Kund Trek
Zorbing Thrill
River Rafting
Bhrigu Lake Trek
Skiing at Solang Nallah
Lush greenery nature walks at Apple Orchards, Van Vihar Park
Fun of Mall Road
Visit all the temples and Historical places of Manali
Also Check Out Popular Manali Tour Packages
Jaisalmer – The Land of the Golden Castle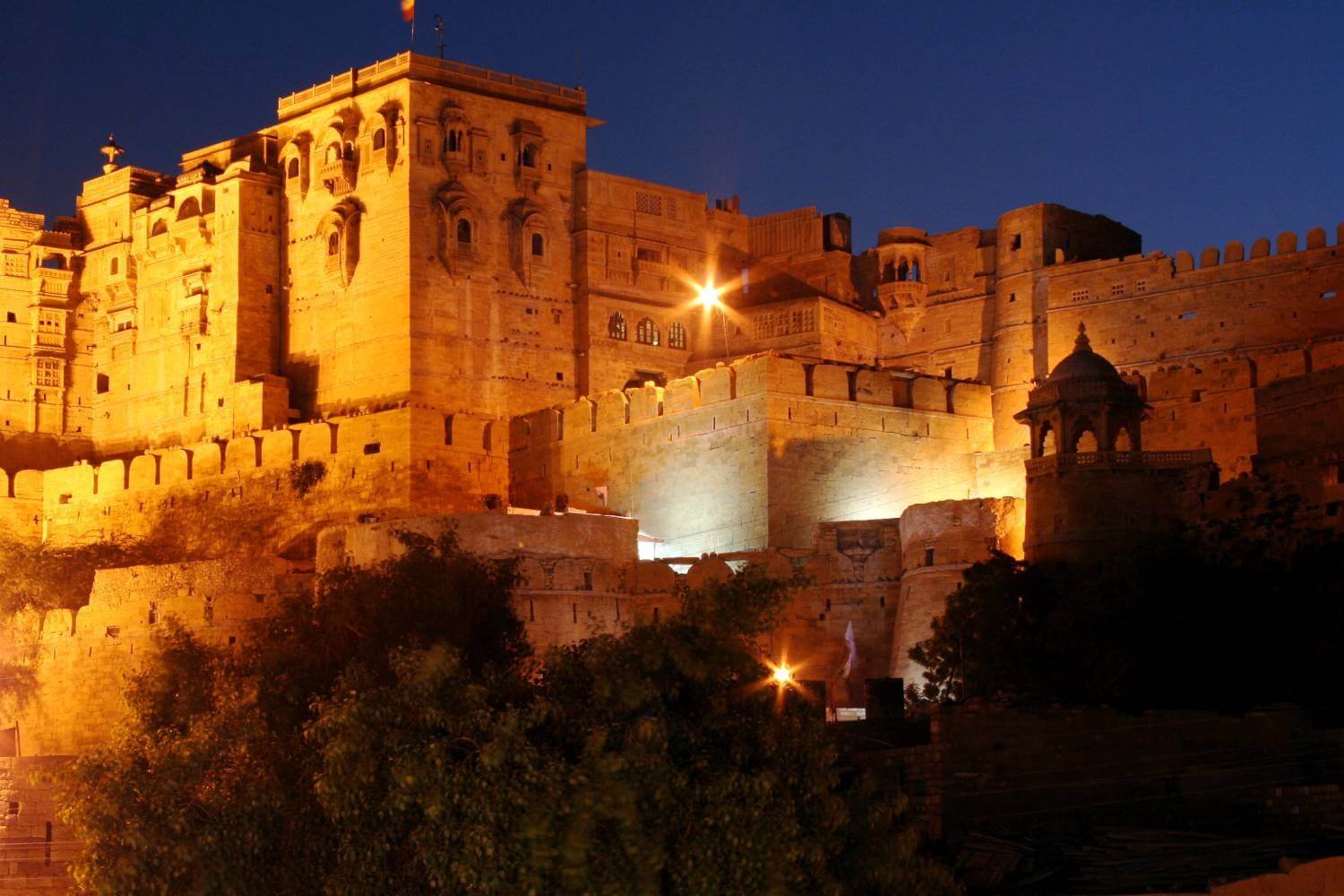 The Land of the golden desert, Jaisalmer, attracts wanderers of all kinds. For geology lovers, the Grand Fossil Park is just 15 km away from the city, where you can go back in time to witness the Thar desert of 180 million years ago. Jaisalmer's most iconic destination and the most beautiful attraction is the Golden Fort of Jaisalmer. This fort is unlike any other fort in India. It houses numerous shops, hotels, and havellis (homes) where generations have preserved their stories and lifestyles for decades.
There is a fascinating story behind the founding of Jaisalmer. It is said that in the 12th century, Rawal Jaisal, the eldest heir of Rawal of Deoraj, was searching for a new location to establish his capital. He came across sage Eesul, who revealed a prophecy from Lord Krishna that a descendant of the Yaduvanshi clan would create a new kingdom at the very spot where the Jaisalmer Fort proudly stands today, carrying the memories of bygone times. In 1156 AD, Rawal Jaisal constructed a mud fort and named it Jaisalmer. It is one of the finest heritage sites to visit in North India. The breathtaking views of Jaisalmer will compel you to stay here forever.
Some Popular Places to Visit in Jaisalmer
Gadisar Lake- Amazing light and sound show
Jaisalmer Fort- Sonar Quila
Nathmalji Ki Haveli – Beautiful Miniature Style Paintings
Jaisalmer Government Museum – Heritage of Jaisalmer
Salim Singh Ki Haveli – Magnificent 18th century Landmark
Patwon Ki Haveli – Beautiful Carved Haveli
Mandir Palace- Cloud Palace
Jain Temples of Jaisalmer – Dedicated to Rikhabdevji and Shambhavdevji
Desert National Park- Wildlife of Desert's unique ecosystem
Bada Bagh-Royal Cenotaphs of Jaisalmer Rulers
Tanot Mata Temple – Reincarnation of goddess Hinglaj
Highlights of Jaisalmer Tour
Magnificence of Jaisalmer Fort
Gadisar lake breathtaking views
Quad Biking in Sam Sand Dunes
Dune Bashing in Thar Desert
Desert Safari and Camping
Local and traditional cuisines of Jaisalmer
Light and Sound shows in Jaisalmer
Rooftop Dinner
Delightful Puppet Shows
Also Read: Heritage Tourism in India
Pushkar – Serenity Redefined
Thousands of tourists and devotees flock to the beautiful city of Pushkar in Rajasthan. It is a significant pilgrimage place for Hindu devotees and undoubtedly one of the best destinations for travelers in North India. The breathtaking views of Pushkar will delight your eyes. Situated at a height of 510 meters, the scenic town of Pushkar is surrounded by hills on three sides. A notable mountain called Nag Pahar acts as a natural border between Ajmer and Pushkar. Pushkar is also renowned for its beautiful roses, earning it the title of "Rose Garden of Rajasthan." The city is adorned with old temples and bathing ghats.
Curving around Pushkar Lake, the city invites you to explore its charming markets and delightful cafes. In the evening, the true glory of Pushkar unfolds as the lake sparkles with the illumination of beautiful aarti lamps and the melodious sound of puja chanting bells fills the air. The Brahma Temple of Pushkar is a significant landmark where tourists and devotees from all around the world come to seek divine blessings from Lord Brahma. Other important destinations include the Savitri Devi Temple (the first consort of Lord Brahma) and the Gayatri Devi Temple (the second consort of Lord Brahma).
To fully immerse yourself in the culture and beauty of Pushkar, a visit during the month of November, specifically during Kartik Poornima, is highly recommended. This is when the famous Pushkar Camel Fair takes place, offering one of the most highly rated travel experiences in Rajasthan. During this time, Pushkar is at its full glory, attracting over 400,000 visitors in just 14 days. The fair is a vibrant celebration featuring musicians, dancers from the Thar Desert, puppet shows, mouthwatering Rajasthani snacks, cattle exhibitions, concerts, and even hot air balloon flights. The experience of Pushkar during this festival is sure to leave a lasting impression on your heart.
Some Popular Places to Visit in Pushkar
Pushkar Lake- Tirtha Raj
Brahma Temple- Dedicated to Lord Brahma
Gurudwara Singh Sabha- Divine Nourishment
Varaha Temple- Ancient Temple
Savitri Temple- Goddess Savitri (First consort of Lord Brahma)
Rangji Temple- Dedicated to Lord Rangji (Vishnu)
Pap Mochini Temple- Soul Healing
Man Mahal- Royal palace cum Heritage Hotel
Highlights of Pushkar Tour
Jeep Safari and Camel Safari
Desert Camping
Ratnagiri Hill Trek
Temple Hopping
Savitri Temple Cable car Ride
Shop at the local markets
Kalbelia Dance Performances
Explore Rose Garden
Holy Dip of Pushkar Lake
Pushkar Fair
Also Read: Best Places to Visit in Mount Abu
Jim Corbett National Park – Embrace the Wilderness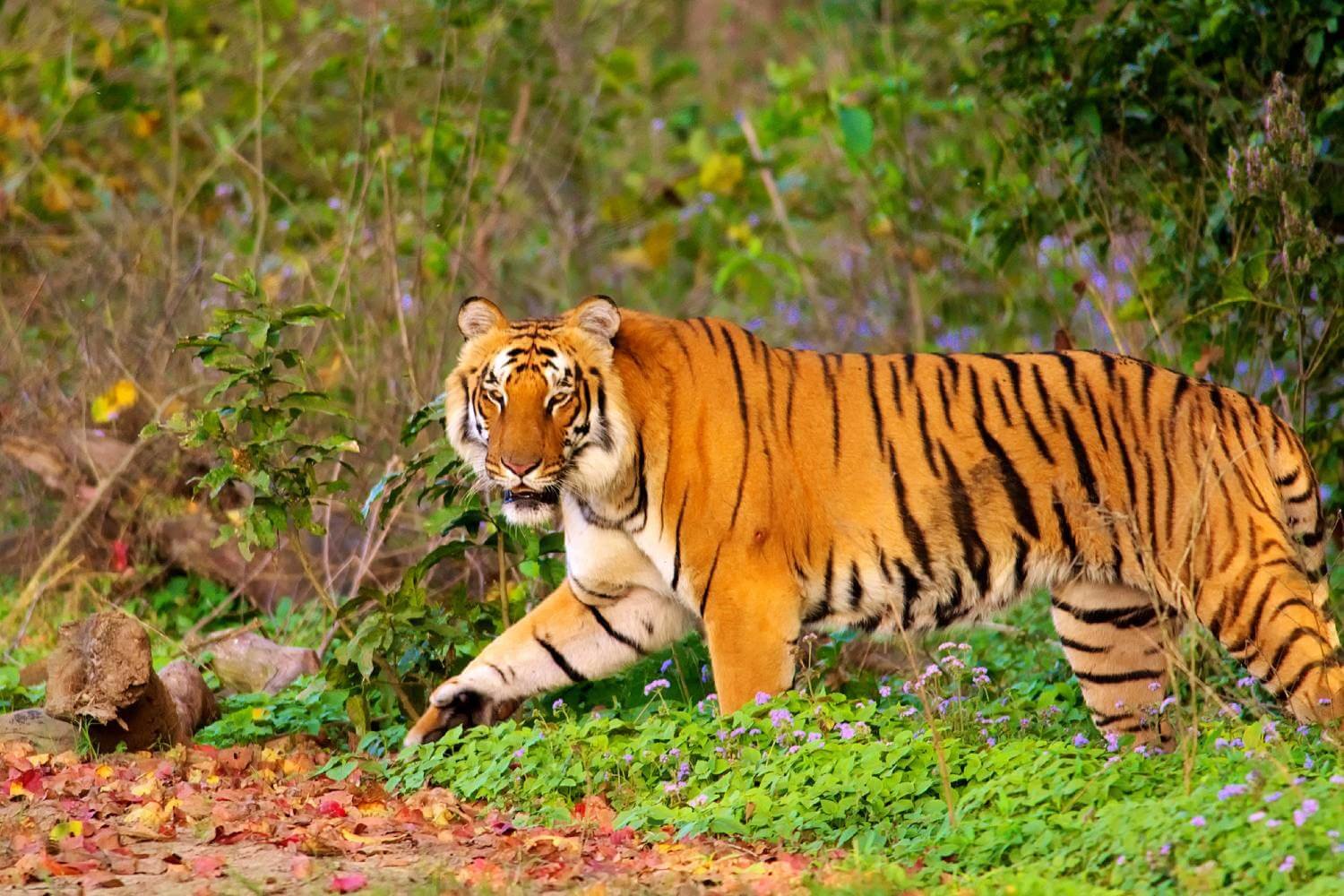 India's oldest wildlife sanctuary, Jim Corbett National Park, is home to an incredible variety of wildlife species. Named after the renowned naturalist Jim Corbett, who was legendary for hunting man-eating animals in the Kumaon region, this park became the first site for the launch of Project Tiger in 1973. The enchanting realm of Jim Corbett National Park will captivate your senses with its magnificent tigers, elephants, hog deer, Asiatic black bears, sambar deer, sloth bears, yellow-throated martens, and more. The park is also a haven for aquatic fauna and birdlife, boasting around 600 bird species including the white-backed vulture, golden oriole, Pallas fish eagle, and great pied hornbill.
The tigers take the center stage at Jim Corbett National Park, attracting wildlife enthusiasts from around the world who can't resist the opportunity to spot these majestic creatures. Nature lovers are also drawn to this enchanting wilderness, where they can explore the stunning forests of sal, khair, bamboo, and sissoo trees. The park is adorned with flowering trees such as madaar, dhak, amaltas, and shrubs like zizyphus, maror phali, and jhau. Without a doubt, Jim Corbett National Park is one of the top tourist attractions in North India for adventure lovers.
Highlights of Jim Corbett National Park
Jungle Safari
River Rafting
Fishing
Nature Walk
Cycling
Visit Corbett Museum
River Crossing
Mountain Climbing
Camping
Explore Corbett Waterfalls
Birdwatching and Trekking
Visit Garjia Temple
Also Check Out Popular Jim Corbett National Park Tour Packages
All these places are sources of eternal beauty and joy that never fail to attract wanderers. Their beauty is everlasting. If you're planning a trip to North India, make sure to include some of these destinations. It will undoubtedly be a mind-boggling experience. Feel free to share your delightful travel stories with us in the comments section.
Frequently Asked Questions
What are the top tourist destinations in North India?
North India is a region of India where you can enjoy a lot with your family, friends, or for a honeymoon. It offers mountains, rivers, hill stations, spiritual places, numerous adventures, and a rich culture with amazing cuisines. North India is a vibrant tourist destination. Here are some of the top tourist destinations to visit in North India:
Agra
Varanasi
Leh Ladakh
Rishikesh
Jaipur
Shimla
Amritsar
Haridwar
Srinagar
Dharamshala
Nainital
Udaipur
Manali
Jaisalmer
Pushkar
Jim Corbett National Park
What is the best time to visit North India?
North India experiences different climates in different places, with varied landscapes throughout the region. It is home to snowcapped mountains, hot and humid plains, lush green meadows, and valleys with a monsoon-type climate. Therefore, choosing the right season is crucial when planning a trip to North India.
Winter travel destinations of North India – Dalhousie, Shimla, Manali, Udaipur, Jaipur, Pushkar, Jaisalmer, Delhi, Varanasi, Lucknow, Ladakh, Ranikhet, Gulmarg and Srinagar etc.
Summer Travel Destinations of North India- Shimla, Manali, Kufri, Spiti, Ranikhet, Solan, Chandigarh, Mussoorie, Lansdowne, Patnitop, Bir and Kasol etc.
Monsoon Travel Destinations of North India- Ranikhet, Nainital, Almora, Munsiyari, Srinagar, Auli, Dhanaulti, Kaza, Pithoragarh, Karjat, Chamba Udaipur, Binsar, Bhimtal, Narkanda, Chakrata, Dharamshala and Mount Abu.
What are some popular hill stations to visit in North India?
North India is the hill station heaven of the country. It has so many awe-inspiring hill stations that no words will be sufficient to describe its beauty. Some popular Hill Stations of north India are –
Pahalgam
Gulmarg
Srinagar
Nainital
Patnitop
Karjat
Almora
Dalhousie
Mussoorie
Spiti valley
Shimla
Kullu
Manali
Mcleodganj
Ranikhet
Chamba
Munsiyari
Pithoragarh
Auli
Mount Abu
What are some famous historical sites in North India?
Some most popular Historical Sites to enjoy historical heritage tour in North India are –
Taj Mahal Agra
Qutub Minar, Delhi
Amber Fort, Jaipur
Jamali Kamali, Delhi
Hawa Mahal, Jaipur
Jaisalmer Castle – Jaisalmer
Alwar Fort, Alwar
Leh Palace – Ladakh
Jallianwala Bagh, Amritsar
Stok Palace Ladakh
National Museum Delhi
Fatehpur Sikri, Agra
Humayun's Tomb
Ranthambore Fort, Ranthambore
Chittorgarh Fort, Chittorgarh
What are some popular adventure sports activities in North India?
North India is one of the amazing regions of India for adventure lovers. Some popular adventure sports activities in North India-
Paragliding
Bungee Jumping
Mountain Biking
Shikara Boat Ride
Zip Lining
Hot Air Ballooning
Skiing
Skydiving
Snow Leopard Sighting
Trekking
Wildlife Safari
Caving
Camping
Which is the most visited national park in North India?
The most visited national parks in North India are-
Jim Corbett National Park
Dachigam National Park
Ranthambore National Park
Sariska National Park
The Great Himalayan National Park
Rajaji National Park
Hemis National Park
Gulmarg National Reserve
Dudhwa National Park
What are some popular pilgrimage sites in North India?
Some popular pilgrimage sites in North India-
Varanasi
Gangotri
Yamunotri
Badrinath
Kedarnath
Mathura
Vrindavan
Vaishno Devi
Brahma Temple Pushkar
Amarnath Cave
Haridwar
Rishikesh
Bodhgaya
Like & follow us on our following official social media channels
Facebook | Twitter | Linkedin | Instagram | Youtube
Also Check Out: Popular India Tours | Tour Packages | India Tour Packages | International Tour Packages
International Trending Holiday Destinations – Nepal Tours | Bhutan Tours | Singapore Tour | Thailand Tours | Sri Lanka Tours | Maldives Tours | Dubai Tours | Indonesia Tours
Other Popular Trending Holiday Destinations in India – Kashmir Tour | Himachal Tour | Uttarakhand Tour | Rajasthan Tour | Gujarat Tour | Sikkim Tour | Kerala Tour | Andaman Tour | Madhya Pradesh Tour | North East Tours
Tour Packages by Interest – Adventure Packages | Wildlife Packages | Pilgrimage Packages | Heritage Packages | Hill Station Packages | Weekend Packages | Honeymoon Packages | Beach Packages | Chardham Packages | Trekking Packages
Other Interesting India Travel Guide Blogs to Read
Other Interesting Destinations Travel Guide Blogs to Read
Other Interesting Uttarakhand Travel Guide Blogs to Read
Other Interesting South Travel Guide Blogs to Read
Other Interesting Adventure & Trekking Travel Guide Blogs to Read
Other Interesting Rajasthan Travel Guide Blogs to Read
Other Interesting Wildlife Travel Guide Blogs to Read
Other Interesting Kerala Travel Guide Blogs to Read
Other Interesting International Travel Guide Blogs to Read