Welcome to this Kerala Travel Guide blog, where we're going to explore the enchanting beauty of Kerala – the tropical paradise located on the southwestern coast of India. Known as "God's Own Country," with its palm-lined beaches, tranquil backwaters, lush green hills, and vibrant culture, this southern state boasts breathtaking landscapes, diverse cultural experiences, and some of the most mouth-watering cuisine you'll ever taste. Whether you're seeking relaxation, adventure, or spiritual enlightenment, Kerala has something for everyone.
In this blog post, we bring you the 15 top things to do in Kerala, which will take you on a journey through some of the state's most beautiful and iconic landmarks on your Kerala tour. Whether you're looking to unwind on a beach, explore the backwaters, discover the local cuisine, or experience the cultural traditions, Kerala has something for everyone. From exploring the exotic water sports and colourful festivals to indulging in Ayurvedic treatments, Kerala will leave you spellbound and wanting more. So, sit back, relax, and let's dive into the wonders of Kerala!
Here is the List of 15 Top Things to Do in Kerala
| | |
| --- | --- |
| Top Activities to Do | Location |
| Ayurvedic Spa Treatment Destinations in Kerala | Kovalam, Thrissur, Palakkad, Thekkady, Kumarakom |
| Exploring Hill Stations | Munnar, Wayanad, Thekkady, Vagamon, Idukki, Athirapally |
| Experiencing Backwater and Houseboat Tourism | Alleppey, Kumarakom, Kuttanad, Kavalam |
| Experiencing Cultural Festivals | Alleppey, Thrissur, North Malabar (Kolathunadu), Thiruvananthapuram |
| Experiencing Caravan Luxury | Kumarakom, Vagamon, Thekkady |
| Spice Plantations Exploration | Wayanad, Munnar, Thekkady |
| Exploring Beach Destinations | Kovalam, Varkala, Kochi, Alappuzha, Thiruvananthapuram, Kozhikode, Kannur, Kollam, Bekal, Poovar |
| Trying out Local Cuisines | Kayikka's Rahmuthala Hotel (Kochi), Dhe Puttu (Kochi), Indian Coffee House (Trivandrum), Rapsy Restaurant (Munnar) |
| Trekking and Hiking | Munnar, Wayanad, Palakkad, Thiruvanathpuram, Kozhikode |
| Wildlife Exploration | Pathanamthitta, Munnar, Palakkad, Thiruvanathpuram, Kannur, Thekkady, Wayanad |
| Visiting Temples and Religious Places | Guruvayur, Sabarimala, Pathanamthitta, Trivandrum, Kannur, Vagamon, Thrissur, Kottayam |
| Experiencing Experiential Tourism or Village Tourism | Kozhikode, Palakkad, Kannur, Kottayam, Kasaragod, Idukki, Wayanad |
| Shopping Handicrafts and Souvenirs | Ernakulam, Idukki, Kannur, Pathanamthitta |
| Exploring Heritage Sites | Kochi, Bekal, Wayanad, Palakkad, Thrissur, Thalassery |
| Cycling Tour | Kottayam, Vagamon, Munnar, Varkala, Chalakudy, Valparai, Alleppey |
Plan your perfect Kerala vacation with Bon Travel India and enjoy an exclusive early bird discount of up to 30%! Contact us at +91-8802149265 for details.
1. Ayurvedic Spa Treatment: Rejuvenate Yourself with Ancient Ayurvedic Therapies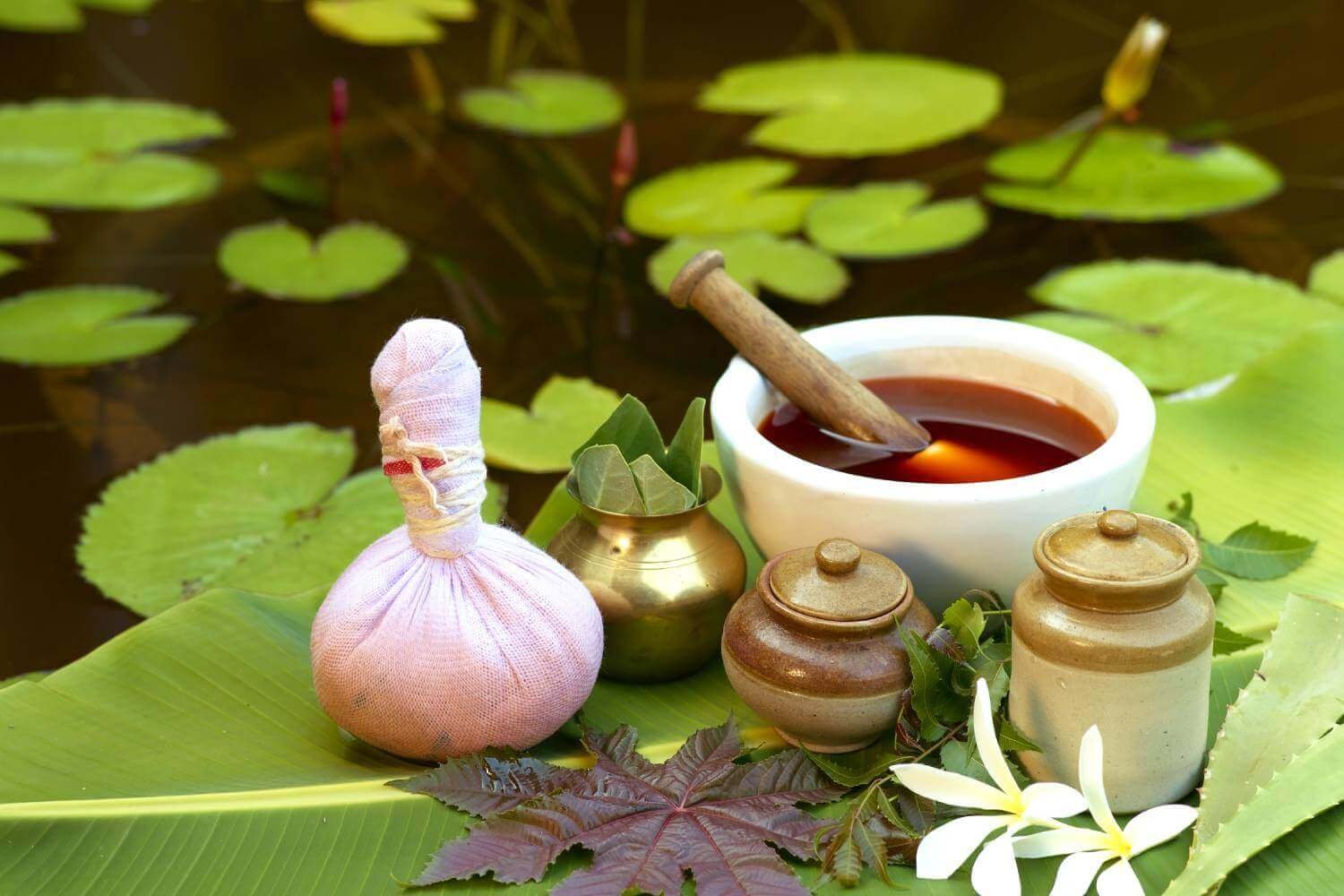 Ayurveda, an ancient system of medicine, has been practised in Kerala for centuries, and the state is home to some of the best Ayurvedic spas in the world. One of the top things to do while visiting Kerala is to experience an Ayurvedic spa treatment. These treatments are designed to balance the body and mind, promote relaxation, and restore the body's natural balance. They use natural herbs and oils, combined with expert massage techniques, to provide a deeply relaxing and rejuvenating experience.
Ayurvedic spa treatments in Kerala are usually conducted in a peaceful, natural setting, providing a serene and calming experience. Some spas may also offer yoga and meditation sessions, along with healthy Ayurvedic meals, to enhance the overall wellness experience.
Here's a list of the 10 Best Ayurveda Resorts in Kerala which you can consider visiting:
Somatheeram Ayurvedic Health Resort (near Kovalam Beach)
Kairali Ayurvedic Healing Village Health Resort (Palakkad)
Beach and Lake Ayurvedic Resort (Pozhikkara Beach, Kovalam)
The Leela Kovalam (Kovalam)
Nattika Beach Ayurveda Resort (Thrissur)
Kalari Kovilakom (Palakkad)
Soma Manaltheeram Ayurveda Beach Village (Kovalam)
The River Retreat Heritage Ayurvedic Resort (Thrissur)
Niraamaya Retreats Cardamom Club (Thekkady)
Maya Spa at The Zuri Kumarakom Lake Resort (Kumarakom)
2. Exploring Hill Stations: Escape to The Misty Mountains of Kerala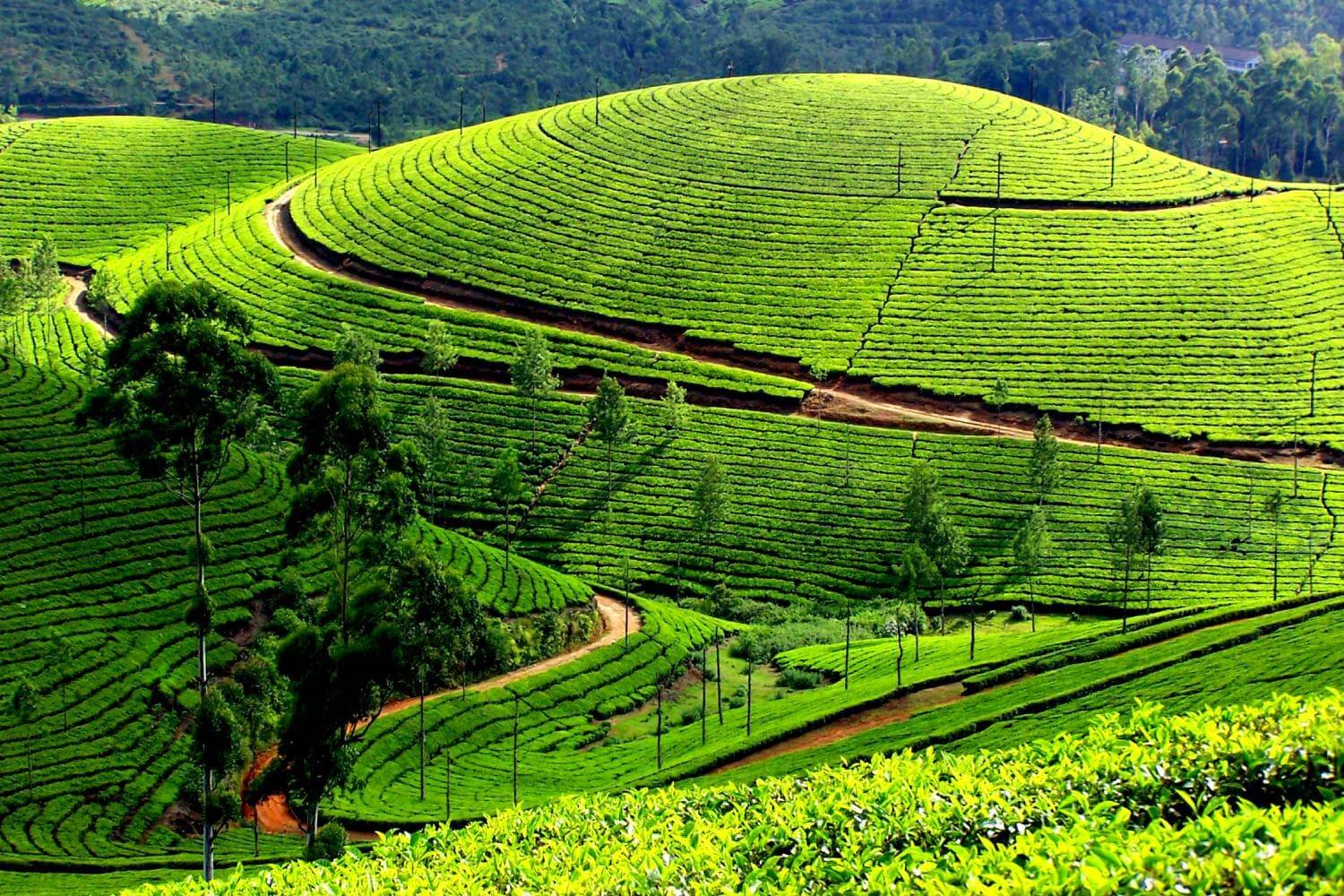 Kerala, the land of coconut palms and backwaters, is also home to some of the most breathtaking hill stations in India. These tranquil and picturesque hill stations are a perfect escape from the bustling city life, offering a serene and refreshing atmosphere amidst the lush greenery. Exploring these hill stations is truly an unforgettable experience and one of the top things to do in Kerala with family that will leave you mesmerised.
Trekking through the dense forests, taking a dip in the pristine waterfalls, and enjoying the stunning views of the misty hills are some of the best things to do in these hill stations, which are unquestionably some of the top tourist attractions of the state. Apart from the natural beauty, these hill stations also boast of rich cultural heritage and mouth-watering cuisine that will tantalise your taste buds.
Here's a list of Top Hill Stations in Kerala with the names of must-visit places:
Munnar: Mattupetty Dam, Attukad Waterfalls, Eravikulam National Park, Tata Tea Museum and more.
Wayanad: Soochipara Waterfalls, Edakkal Caves, Wayanad Wildlife Sanctuary, Meenmutty Waterfalls and more.
Thekkady: Periyar Tiger Reserve, Mangala Devi Temple, Suruli Falls, Pandikuzhi, Anakarra and more.
Vagamon: Murugan Hill, Ulipooni Wildlife Sanctuary, Marmala Waterfalls, Karikadu Viewpoint, Echo Point and more.
Idukki: Valara Waterfalls, Keezharkuthu Waterfalls, Idukki Arch Dam, Hill View Park, Periyar National Park and more.
3. Staying in a Houseboat on Backwaters: Exploring The Nooks and Corners of The State
Staying in a houseboat on your holidays in Kerala is a must-try experience for all kinds of travellers. A houseboat or Kettuvallams (in local language) in Kerala offers a unique experience of living in the lap of nature. The houseboats are equipped with all modern amenities, including air conditioning, comfortable bedrooms, and modern bathrooms. The best time to experience the houseboat ride in Kerala is between October to March, which is the peak season for spending a vacation in Kerala.
The backwater tourism in Kerala basically covers a huge area, more than 900 square kilometres through the interconnected lakes, canals and lagoons, lying parallel to the Arabian Sea Coast. As you glide through the backwaters, you will witness the stunning landscape of Kerala with its lush greenery, coconut groves, and paddy fields. You can also spot a variety of birds and aquatic animals such as kingfishers, egrets, and otters. The houseboat ride takes you through the narrow canals and waterways, allowing you to explore the local villages and their culture up close.
Some of the water sports activities you can experience in Kerala backwaters are:
Shikara Ride
Fishing
Canoeing
Kayaking
Jet Skiing
Some of the best backwater destinations in Kerala:
Alleppey
Kumarakom
Kuttanad
Kavalam
Kainakary
Vaikom
Thottappally
4. Attending Cultural Festivals: The Vibrant Side of Kerala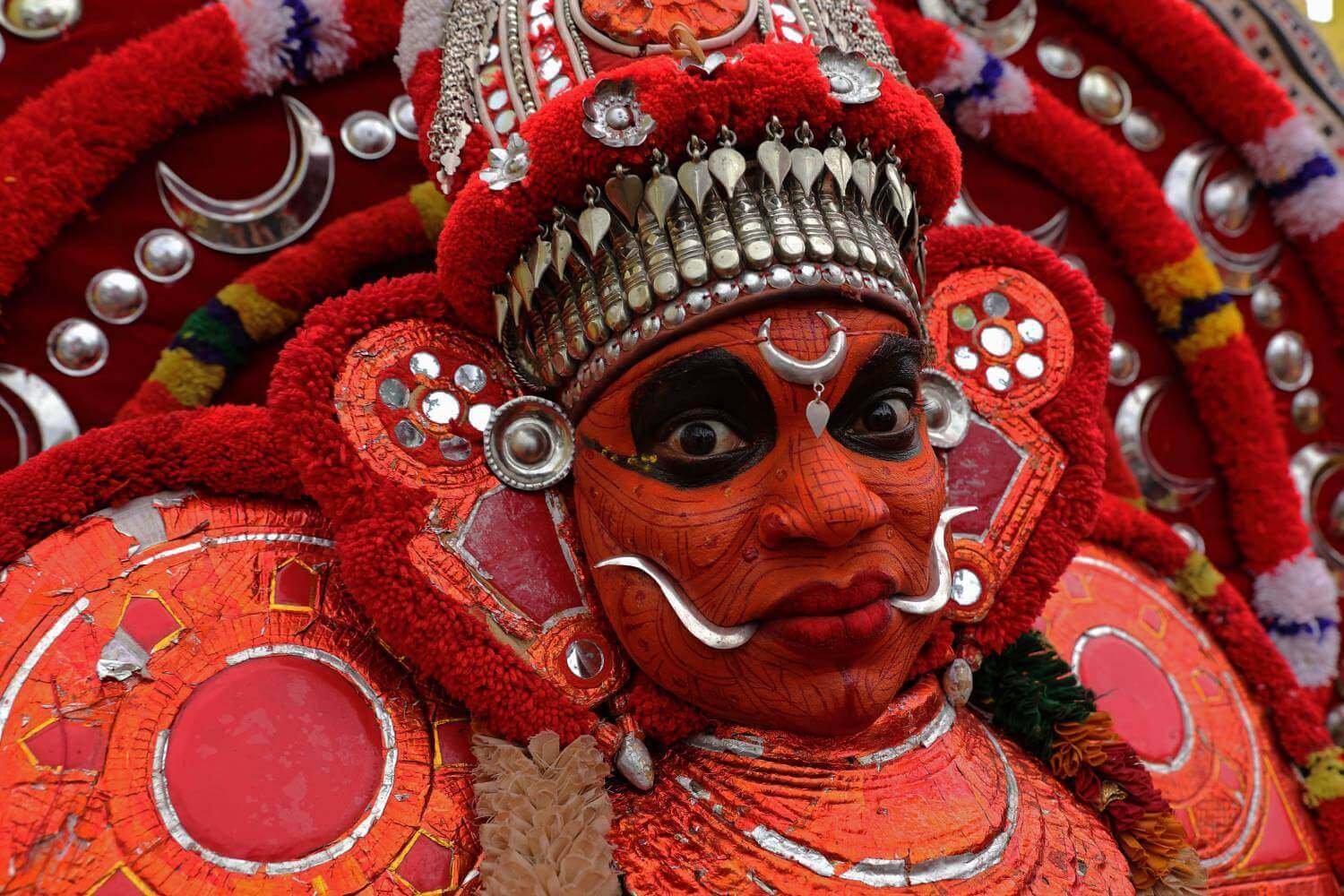 A unique opportunity to experience the state's rich and diverse cultural heritage, attending cultural festivals is to witness the vibrant side of the state and its communities. Kerala is known for its colourful festivals that are celebrated with great enthusiasm and passion, which can be considered as one of the top reasons to visit Kerala for a traveller who is passionate about exploring culture, tradition and customs of a place.
Attending these festivals allows tourists to witness and participate in traditional rituals, dances, music, and art forms that have been passed down through generations. They can also taste authentic Kerala cuisine and witness the creativity and skill of local craftsmen. Moreover, festivals in Kerala provide an opportunity for tourists to interact with the locals, learn about their customs and traditions, and understand the significance of the various rituals and festivities.
List of some famous festivals of Kerala:
| | |
| --- | --- |
| Name of the festivals | Months of the festivals |
| Onam | August to September |
| Thrissur Pooram | April |
| Vishu | April |
| Kerala Boat Race Festivals | Second Saturday of August, July to September |
| Theyyam | April and December |
| Attukal Pongala | February to March |
5. Caravan Luxury Experience: Explore Kerala with A Different Perspective
A new tourism product from the Department of Tourism, Government of Kerala – Keravan Kerala offers travellers a new perspective in exploring the beauty of the state. The experience proffers a sustainable effort which benefits local communities in unexplored villages as well as scale up opportunities for the tourism department. This kind of once-in-a-lifetime-experience for Kerala sightseeing has been integrated with travel, leisure and stay and it would give the travellers opportunities to explore the alluring beauty of the state.
The Keravan Kerala packages also include VLE or Village Life Experience packages which offer travellers to experience the authenticity of rural life, tradition and culture. The project also includes eco-friendly parks across Kerala which will enable travellers to spend days and nights exploring a place of their choice. Not to mention, these destinations offer stunning views of the backwaters, as well as opportunities for activities such as bird watching, fishing, and kayaking.
Here's the list of amenities which are offered in a tourist caravan in Kerala:
Sofa-cum-bed
Kitchen
Fridge
Microwave Oven
AC
Dining Table
Internet Connectivity
Internal and External Charging System
GPS
Bharat Stage VI Compliant
Eco-friendly waste management system
Real-time monitoring system
Audio-Video Facility
6. Spice Plantations Exploration: Learn about Kerala's Uniqueness in Spice Production
Kerala has been known for centuries for its trade in spices, which were highly valued in ancient times and were even considered as a form of currency. Referred to as the "Land of Spices," today, Kerala's spice plantations attract tourists from all over the world who are interested in learning about the history and culture of spices, as well as their medicinal and culinary properties.
Visitors can take guided tours of the spice plantations, where they can learn about the different types of spices grown in Kerala such as pepper, cardamom, cinnamon, clove, nutmeg, and turmeric and how they are cultivated, harvested, and processed. The plantations are usually located in hilly areas, which are also some of the top tourist destinations in Kerala. The plantations are spread over large tracts of land and they are a beautiful sight, with rows of tall trees and lush greenery all around.
Best Time to Visit Spice Plantations
September to March is the best time for spice plantation tours as the spices will be ready to harvest this time. Also, this is the perfect time for birdwatching as the green land attracts several birds.
Spices to Buy from the Plantations: Herbal Oil, Spice Powders and Spices.
Activities to Do: Nature Walk, Spice Tasting, Eating Lunch with Fresh Spice from Plantations, Birdwatching, Photography and more.
7. Beach Hopping: Experience A Coastal Odyssey Like No Other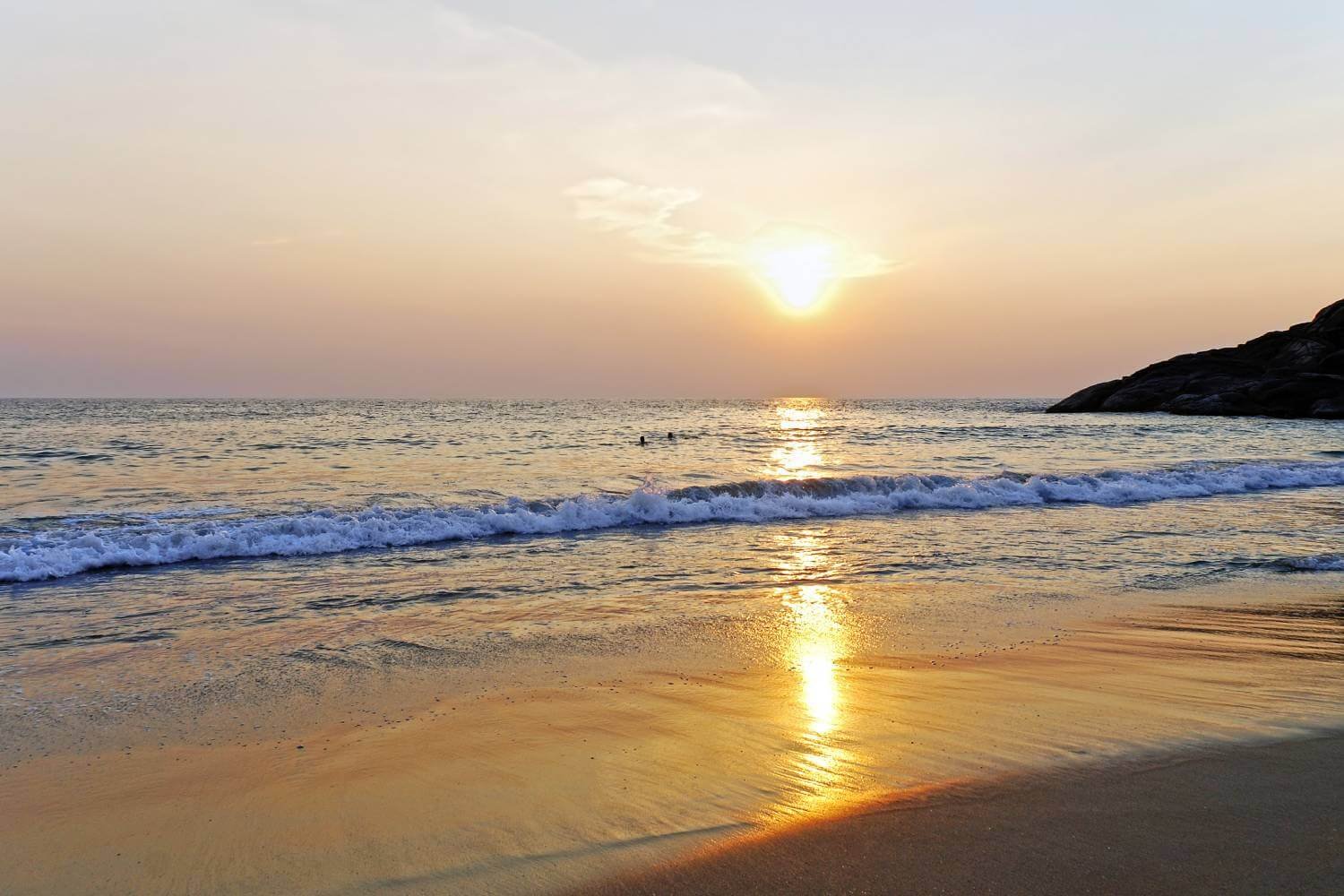 Beach hopping in Kerala is an incredible experience that allows you to explore the state's stunning coastline and witness its natural beauty. Each beach offers a unique experience and something special to discover. From water sports activities to spending a special time with your partner, these beaches are undoubtedly some of the best places to visit in Kerala.
The beautiful beaches lined with palm trees along the long coastline of Kerala also offer a unique way to introduce the local villages and their people to the world. You can choose to stay with them for some days to learn about their lifestyle, traditions and cultures. The state is certainly blessed with so many beaches and they all are unique in their own way while offering a particular experience.
Here are the names of some best beaches in Kerala and reason for their popularity:
Kovalam Beach: Water Sports Activities
Samudra Beach: Romantic Getaway
Varkala Beach: Wellness Activities
Marari Beach: Peaceful and Serene Environment
Kannur Beach: Cultural Exploration
Muzhappilangad Drive-In Beach: Where You Can Drive or Ride Your Cycle
Bekal Beach: For History Lovers
Cherai Beach: Secluded Beach for Peace Lovers
8. Tasting Local Cuisines: The Explosion of Flavours and Authenticity of Kerala's Diversity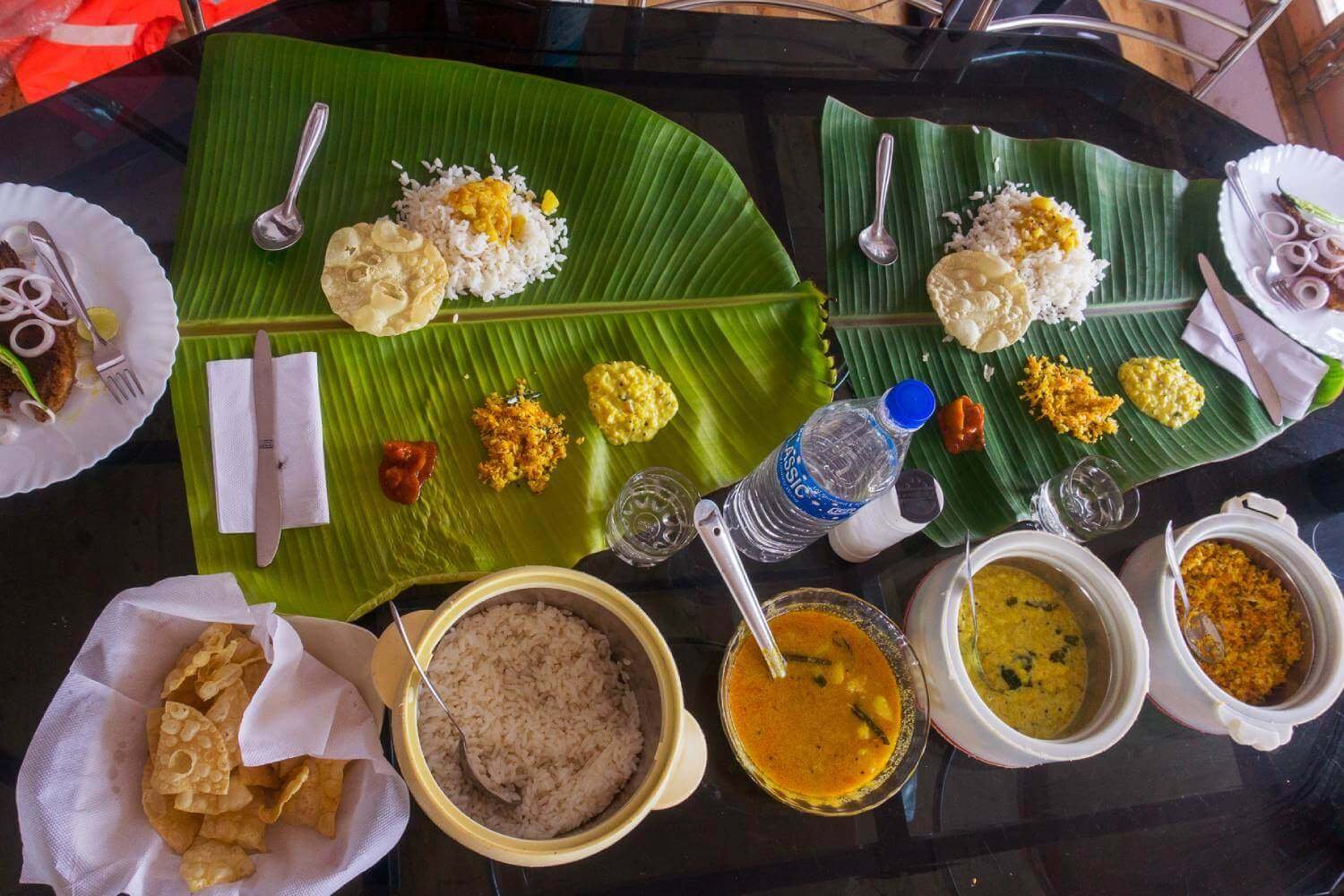 The food in Kerala is mainly influenced by its geography, history, and cultural traditions. With a long coastline along the Arabian Sea and several rivers, Kerala has access to a wide range of seafood, which is a staple part of its cuisine. Moreover, coconut trees grow here in abundance and as you already know that the state is known as the "Land of Spices." So, not to mention, the cuisines are usually focused with the spices and coconut, which taste unique in flavour.
The food of Kerala is also influenced by the diverse range of communities living here. It can be found in both vegetarian and non-vegetarian styles. Tasting out different foods in Kerala is a must-try for anyone visiting the state or interested in exploring the diverse cuisine of India, especially on celebratory occasions such as Onam, Vishu or weddings.
Here are the names of some dishes of Kerala which you should try while visiting:
Hindu Cuisine: Sadya
Mappila or Muslim Cuisine: Pathiri, Kallummakkaya, Irachi Puttu, Pathiri, Kuzhi Mandi and more.
Nasrani or Chiristian Cuisine: Mappas, Pidi, Piralen, Meen Molee, Irachi ularthiyathu.
9. Trekking: Passing through The Mystical Hills and Lush Green Valleys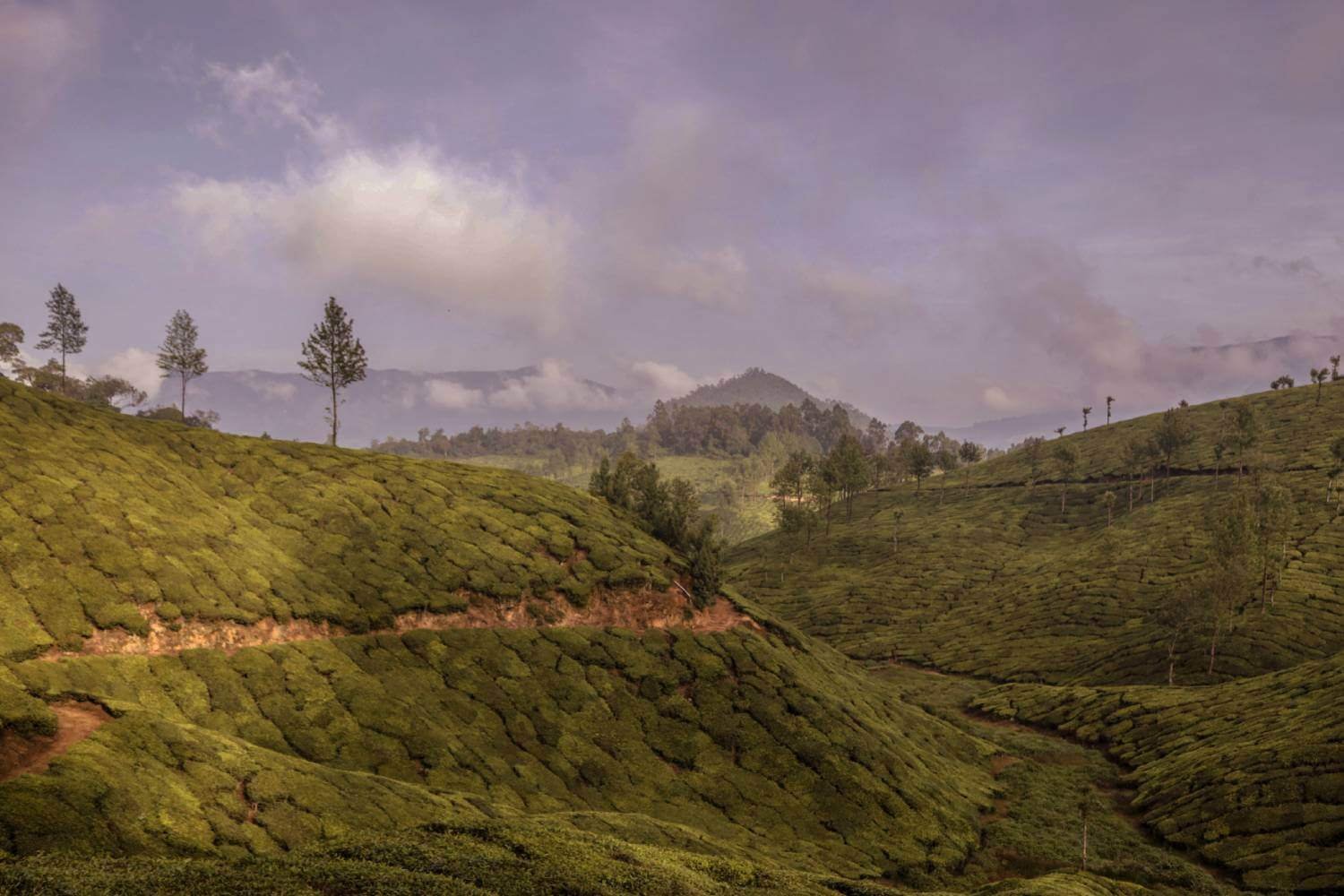 Besides being home to serene backwaters, pristine beaches and lush green forests, Kerala is also known as the ideal destination for trekking and hiking. With its diverse terrain, ranging from majestic mountains to rolling hills, Kerala offers a variety of experiences that are sure to thrill adventure seekers. The hills of the state offer a variety of trekking options ranging from easy to difficult, making it suitable for all levels of trekkers and a unique opportunity to explore the region's natural beauty.
The thrilling hiking paths turn out as green as possible after the monsoon and the waterfalls become gurgling enough to accompany the adventure seekers while climbing. Besides the waterfalls, the soothing green fields of plantations and the aroma will also tickle you throughout the journey. So, the months of August and September are the best time to enjoy this task. Although, Kerala is known as an all-season trekking hub with multiple trekking routes open throughout the year.
Some of the top places to visit in Kerala for trekking are:
Chembra Peak (Wayanad)
Anamudi Peak (Eravikulam National Park)
Agasthyakoodam Peak (Thiruvanathpuram)
Dhoni Hills (Palakkad)
Silent Valley National Park (Palakkad)
Ramakkalmedu Peak (Idukki)
Thusharagiri Waterfall Trek (Kozhikode)
Ponmudi Trekking (Trivandrum)
Nelliyampathy Trekking (Palakkad)
10. Wildlife Exploration: Explore The Wild Side of Kerala
The alluring dense forests of Kerala which are home to a rich variety of wildlife and pure form of nature, are some of the best places to see for nature lovers and wildlife enthusiasts. While some of the forests are UNESCO World Heritage Sites, some of them are least polluted, well maintained eco-tourist spots to visit. They are home to numerous endangered species and wonderful wildlife including elephants, tigers, leopards, monkeys, deer, and several bird species. And, wildlife exploration in these places is considered as a thrilling experience for years. The opportunities for visitors to witness the natural beauty of the region while having jeep safaris, nature walks or staying in a tree house is none other than an experience to remember for life.
Apart from spotting wildlife in these top visiting tourist places in Kerala, people can indulge them in other activities like birdwatching, boating, hiking, camping, bamboo rafting and spending elephants in camps. To let you know, summer, i.e., March to May is the best time for wildlife exploration.
Some of the best places in Kerala for wildlife exploration:
Gavi Forest (Pathanamthitta)
Parambikulam Tiger Reserve (Palakkad)
Munnar Deep Forests (Eravikulam National Park)
Agasthyakoodam Biological Park (Thiruvanathpuram)
Thattekad Bird Sanctuary & Nature Camp (Kothamangalam)
Nelliyampathy Hills (Palakkad)
Kannavam Reserve Forests (Kannur)
Silent Valley National Park (Palakkad)
Thekkady- Periyar Wildlife Sanctuary
Tholpetty Wildlife Sanctuary (Wayanad)
11. Visiting Temples and Religious Places: Discover The Spiritual Side of Kerala
After its pristine beaches, mystical hill stations, alluring biodiversity and ancient ayurvedic treatment facilities, Kerala is also known as a land of diverse cultures and traditions as it has a rich history of spirituality and is home to various religions like Hinduism, Islam, Christianity, and Judaism. And, its diversity is truly reflected in the spiritual places located throughout the state as the top tourist places in Kerala.
The temples and religious places in Kerala are known for their stunning architecture, intricate carvings, and vibrant rituals. Some of the famous temples in Kerala include the Sabarimala temple, Guruvayoor temple (India's third largest temple dedicated to Lord Krishna), Padmanabhaswamy temple (richest temple in Kerala), and the Ambalapuzha Sri Krishna temple. These temples are not only significant from a religious point of view but also showcase the rich cultural heritage of Kerala. Apart from temples, Kerala is also home to other religious places like churches, mosques, and synagogues. The St. Francis Church in Fort Kochi, the Jama Masjid in Malappuram, and the Paradesi Synagogue in Kochi are some of the notable ones.
Here's a list of some of the best religious places in Kerala where you should visit once:
Guruvayur: Guruvayur Temple, Mammiyoor Shiva Temple, Parthasarathy Temple.
Sabarimala: Ayyappa Temple, Malikkappuram Devi Temple, Pampa Ganapathy Temple, Vavar Shrine.
Pathanamthitta: Kaviyoor Rock Temple, Kaviyoor Mahadeva Temple, Manjinikkara Church, Malayalapuzha Devi Temple.
Trivandrum: Padmanabhaswamy Temple, Karikkakom Chamundi Devi Temple, CSI Christ Church.
Thrissur: Vadakummnathan Temple.
12. Experiential Tourism/Village Tourism: A Responsible Tourism Mission by Kerala Tourism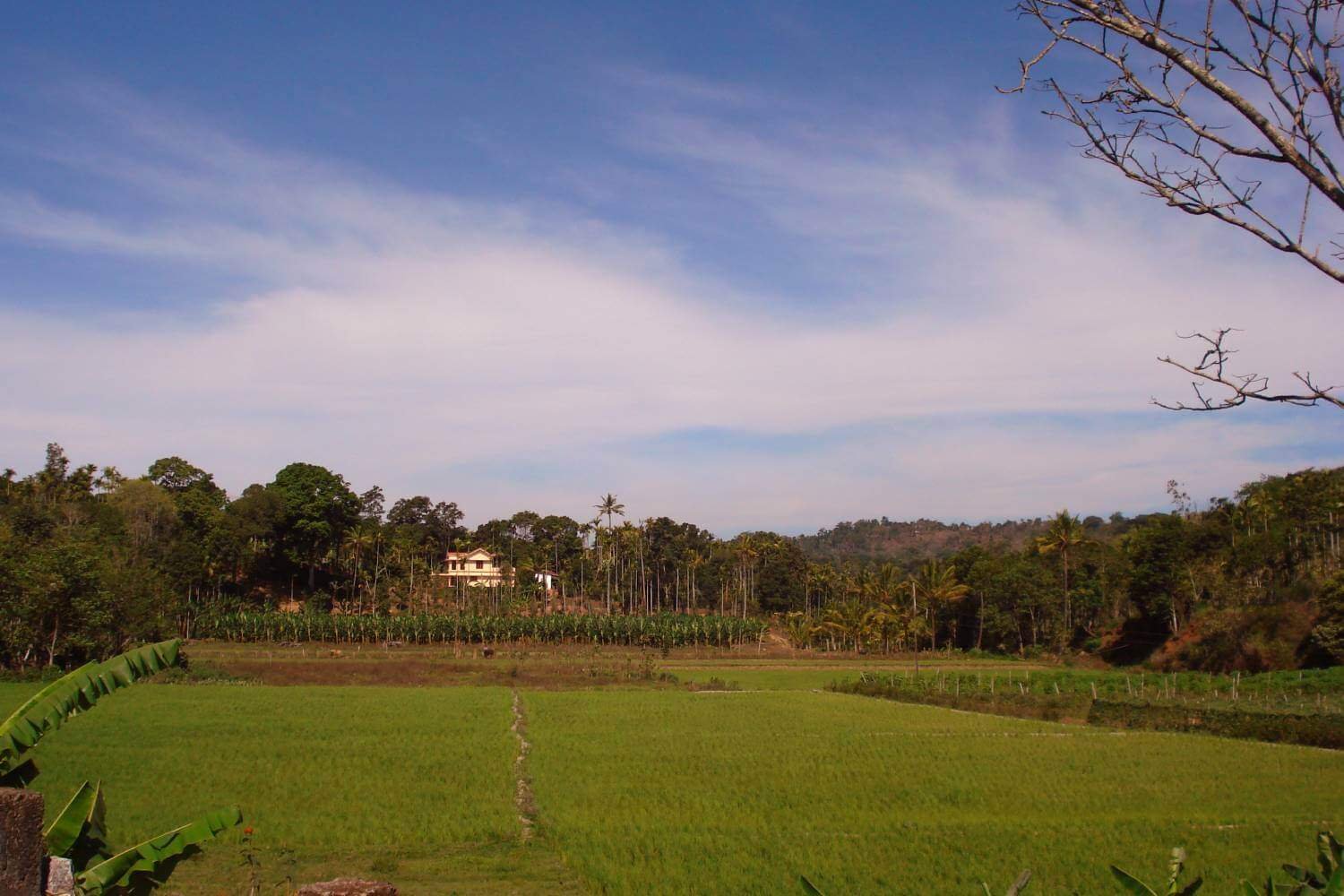 The fabulous villages of Kerala are believed to be the places which will take you to a peaceful world where beauty and serenity exist together. The exotic combination of these two elements make these villages some of the top visiting places in Kerala for travellers who want to explore the authenticity of the state through its rural landscapes. And, Kerala Tourism Department, one of the leading tourism authorities of the country, does not want to miss this chance to make Kerala more enriched with providing visitors with an opportunity to get a first-hand experience of the traditional way of life in Kerala. Under the concept of Responsible Tourism Mission, the department launched a project called 'STREET' which stands for Sustainable, Tangible, Responsible, Experiential, Ethnic, Tourism hubs and it focuses on experiential tourism in some of the beautiful villages.
The village tourism initiative launched by Kerala Tourism offers visitors a chance to stay in traditional homestays, interact with local people, participate in local activities, and experience the unique cuisine and hospitality of the state. Visitors can engage in various activities like farming, fishing, cooking, handicraft making, and traditional art forms like Kathakali and Mohiniyattam.
Places to experience village tourism in Kerala:
Kozhikode: Kadalundi
Palakkad: Thrithala, Pattithara
Kannur: Pinarayi, Ancharakkandi
Kottayam: Maravanthuruthu, Manchira
Kasaragod: Valiyaparamba
Idukki: Kanthalloor
Wayanad: Chekadi
13. Buying Handicrafts and Souvenirs: Memories to Take Home
Handicrafts have been an integral part of Kerala's culture for centuries, and the state is home to a thriving handicrafts market. The handicrafts of Kerala are known for their intricate designs, skilled craftsmanship, and use of natural materials.
The handicrafts market in Kerala is thriving, with many artisans and craftsmen making a living from their craft. The state government has also taken steps to promote and support the handicrafts industry, including providing training and financial assistance to artisans. The handicrafts of Kerala can be broadly classified into three categories: woodcrafts, metal crafts, and textiles. Some of the popular wooden handicrafts are toys, masks, figurines and furniture which are made of wood including teak, rosewood and sandalwood. Skilled metalworkers make intricate brass and bronze sculptures including lamps, utensils and vases which tourists love to buy. Textile handicrafts are also famous in Kerala which are made of cotton and silk and people love to buy saris, dhotis and mundus.
Things to buy in Kerala:
Kasavu Sari
Aranmula Mirror
Nettur Petti (jewellery box)
Coir Products
Elephant Model
Nettipattom (foreheads wear of elephants in traditional events)
Nilavilakku (oil lamps)
Kathakali Masks
Snake Boat Model
Pulpaya (traditional straw mats)
Coconut Shell Handicrafts
Mural Painting
Ramacham Vishari (hand fans)
Kerala Bronze Vessels
Sandalwood Figurine
14. Heritage Sites Exploration: Learn The History of Kerala through Places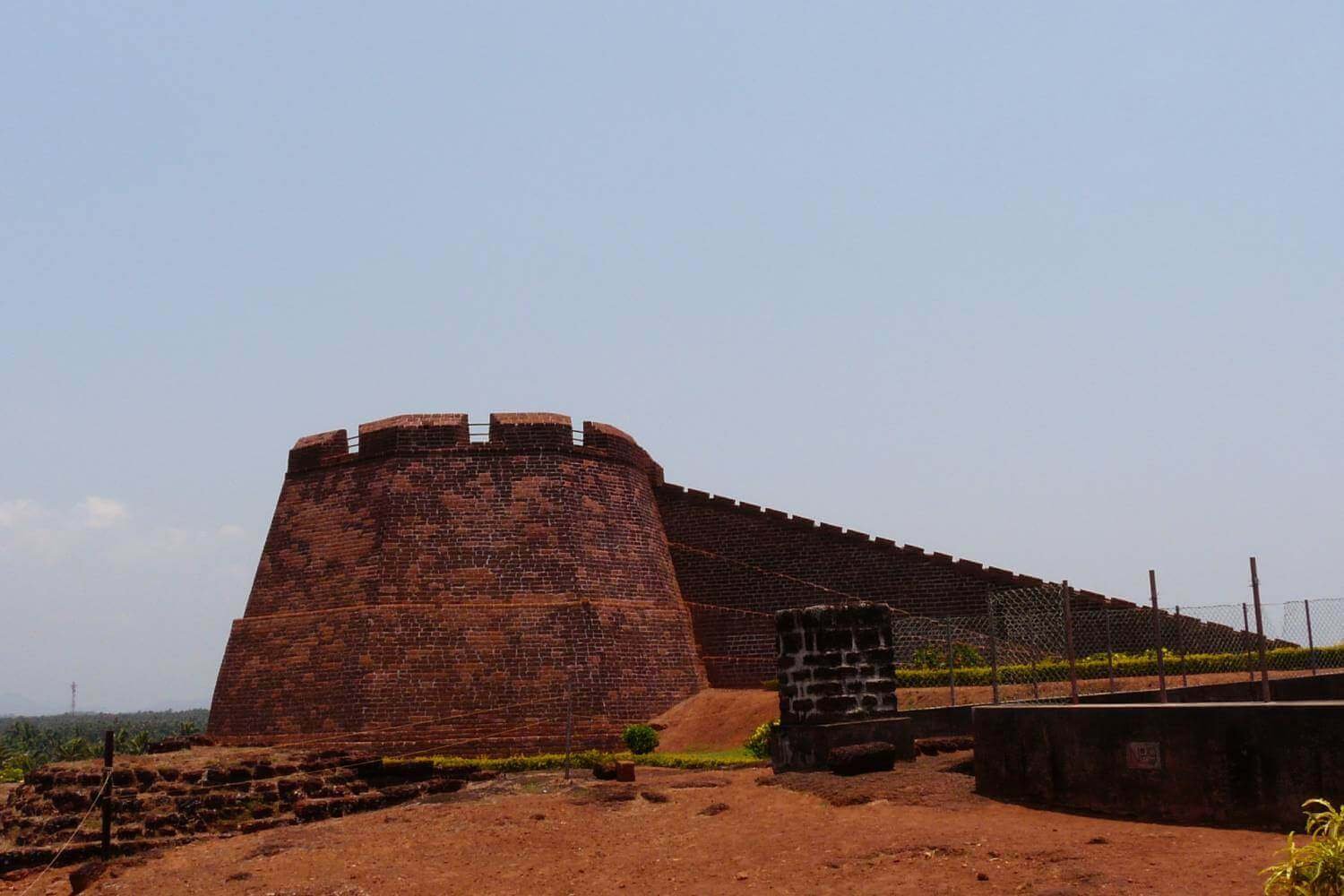 Like other states in India, Kerala is also home to a plethora of heritage sites that attract visitors from all around the world. From ancient temples and churches to majestic palaces and forts, these sites offer a glimpse into the rich history and culture of the state. The stunning architecture, intricate carvings, and vibrant murals are a testament to the artistic brilliance of the bygone era. These sites not only offer a visual treat but also provide an immersive experience that takes you back in time. So, if you're a history buff or just looking to explore the cultural heritage of India, Kerala is the place to be!
Heritage Sites to Visit in Kerala
Mattancherry Palace, Kochi
Fort Kochi, Kochi
Pallipuram Fort, Kochi
Bekal Fort, Bekal
Edakkal Caves, Wayanad
Palakkad Fort, Palakkad
Thalassery Fort, Thalassery
Matri Dei Cathedral, Kozhikode
Peralassery, Kannur
15. Cycling Tour: Explore Kerala on A Cycle
People who have visited Kerala say that there is no dearth of activities to do in 'God's Own Country.' The list can go on, but before ending, we must add one activity that could be the best for you. As you already know that this beautiful coastal state is known for its lush green landscapes, picturesque backwaters, and serene beaches and one of the best ways to explore the beauty of Kerala is by taking a cycling tour through these breathtaking landscapes.
Cycling through the winding roads of Kerala allows you to soak in the breathtaking scenery, experience the local culture and cuisine, and get up close and personal with the locals. The state's relatively flat terrain makes cycling an enjoyable and accessible activity for people of all ages and fitness levels. With numerous cycling routes available, you can choose a tour that suits your interests and time frame.
Here are some of the best cycling routes you must explore in Kerala:
Kottayam to Vagamon Road
Varkala to Kappil Beach
Munnar Tea Plantations
Alleppey to Kuttanad
Munnar to Marayoor
Kumarakom Village Roads
So, this is our list of top 15 things to do in Kerala along with their details including some of the top tourist spots where you can experience the activities. As you already know that this South Indian state offers a multitude of exciting activities and experiences for travellers from all walks of life and the list can go on and on. So, if you are someone who has already visited Kerala and experienced any unique activity, kindly share your views in the comment section, so that we can add here and help travellers to know about your experience. Otherwise, if you are planning to visit Kerala in the near future and need any assistance, you can contact us anytime, anywhere.
Recommended Kerala Tour Packages
Other Interesting Kerala Travel Guide Blogs to Read
Frequently Asked Questions
What are the best activities to do in Kerala for adventure enthusiasts?
Some of the best activities to do in Kerala for adventure enthusiasts are trekking, wildlife safaris, water sports, bamboo rafting, rock climbing, houseboat cruising and more.
What are the top activities for couples in Kerala?
Some of the top activities for couples in Kerala are houseboat cruising, hill stations exploring, beach hopping, ayurvedic spa treatment, attending cultural shows and festivals, exploring historical places, visiting wildlife sanctuaries, and trying out local cuisines.
What are the best tips for first-time travellers to Kerala?
Some of the best tips for first-time travellers to Kerala are:
Choose the right time to visit.
Plan your itinerary well.
Pack according to the season.
Respect local culture.
Try out local cuisines.
Explore the backwaters.
Get an ayurvedic massage therapy.
Book your accommodation in advance.
Learn a few local phrases.
What are the top unique things to do in Kerala in Winters?
Some of the top unique things to do in Kerala in winters are attending Cochin Carnival, visiting the hill stations, beach hopping, going on a birdwatching tour, watching the practice sessions of Aranmula Snake Boat Race, indulging in Ayurvedic treatments and more.
What is the best summer adventure to do in Kerala?
Some of the best summer adventures to do in Kerala are:
Surfing in Kovalam
Rock climbing in Munnar
Kayaking in Alleppey
Paragliding in Vagamon
Bamboo Rafting in Wayanad
Rafting in Thekkady
Trekking in Munnar
What are the best Wildlife retreats in Kerala?
Some of the best wildlife retreats you can visit while vacaying in Kerala are:
Periyar Wildlife Sanctuary
Silent Valley National Park
Chinnar Wildlife Sanctuary
Wayanad Wildlife Sanctuary
Parambikulam Wildlife Sanctuary
Like & follow us on our following official social media channels
Facebook | Twitter | Linkedin | Instagram | Youtube
Also Check Out: Popular India Tours | Tour Packages | India Tour Packages | International Tour Packages
International Trending Holiday Destinations – Nepal Tours | Bhutan Tours | Singapore Tour | Thailand Tours | Sri Lanka Tours | Maldives Tours | Dubai Tours | Indonesia Tours
Other Popular Trending Holiday Destinations in India – Kashmir Tour | Himachal Tour | Uttarakhand Tour | Rajasthan Tour | Gujarat Tour | Sikkim Tour | Kerala Tour | Andaman Tour | Madhya Pradesh Tour | North East Tours
Tour Packages by Interest – Adventure Packages | Wildlife Packages | Pilgrimage Packages | Heritage Packages | Hill Station Packages | Weekend Packages | Honeymoon Packages | Beach Packages | Chardham Packages | Trekking Packages
Other Interesting India Travel Guide Blogs to Read
Other Interesting Destinations Travel Guide Blogs to Read
Other Interesting Uttarakhand Travel Guide Blogs to Read
Other Interesting South Travel Guide Blogs to Read
Other Interesting Adventure & Trekking Travel Guide Blogs to Read
Other Interesting Rajasthan Travel Guide Blogs to Read
Other Interesting Wildlife Travel Guide Blogs to Read
Other Interesting International Travel Guide Blogs to Read