Hey there! So, you're planning a visit to Kerala for your holidays? Well, that's a fantastic decision. Kerala's wonders have been captivating tourists for a decade, and one can never resist the allure of lush tea fields, emerald backwaters, awe-inspiring hill stations, exotic wildlife, thrilling adventure activities, and delicious food, among other things. We could go on and on about this beautiful place; the list never seems to end. Kerala appeals to everyone, whether you're here for a honeymoon, family vacation, adventure trip, or a relaxing spa getaway. The series of enchanting experiences will nourish your soul and mind, making it one of India's most visited tourist destinations.
Kerala holds a special place on the international tourism map. Its rich arts and cultural history, breathtaking destinations, lush forests, mountains, waterfalls, lakes, beaches, and Ayurvedic science therapies attract not only national travelers but also a large number of international visitors keen on exploring Kerala's tourism. With Kerala being one of Southern India's most frequented destinations, it now boasts the largest number of five-star properties in India, offering world-class hospitality services to its guests. With numerous national and international tourism awards, Kerala is a must-explore haven for all types of travelers.
List of top 12 tourist places of Kerala which will make your holidays memorable for lifetime-
Munnar
Vagamon
Wayanad
Kovalam
Periyar
Varkala
Kochi
Kovalam
Kumarakom
Thekkady
Kozhikode
Trivandrum
Athirapally
Plan your perfect trip to Kerala now and enjoy up to 30% off on Kerala Sightseeing tour packages. Contact us at +91-9310109466 for bookings and more information.
Kerala Tourism Attractions Quick Info at a Glance
| | |
| --- | --- |
| Popular Beaches in Kerala | Kizhunna Beach, Thottada Beach, Thalassery, Chaliyan Beach, Chembirikka Beach, Varkala Beach, Kovalam Beach, Muzhappilangad Beach, Kollam, Beach, Kozhikode Beach, Poovar Beach, Cherai Beach, Beypore Beach, Kannur Beach |
| Kerala Heritage Attractions | Padamanabhapuram Palace, Arakkal Palace, Kilimanoor Palace, Palakkad Fort, Poojnar Palace, Krishnapuram Palace, Kuthiramalika Palace, Kollengode Palace, |
| Must Visit Waterfalls in Kerala | Athirappilly Waterfalls, Vazhachal Waterfalls, Thusharagiri Waterfalls, Thoovanam Waterfalls |
| Top Tourist Destinations Kerala | Munnar, Wayanad, Kumarakom, Kovalam, Kochi, Periyar..etc |
| Top Things to Do in Kerala | Camping, Trekking, Watersports, Mountain Biking, Zip-Lining, Cruising..etc |
Let's dive deep into the beauty of pristine backwaters, mesmerizing nature, Golden beaches and serene mountain ranges – Top Tourist Places & Attractions of Kerala-
1. Munnar – Kashmir of South India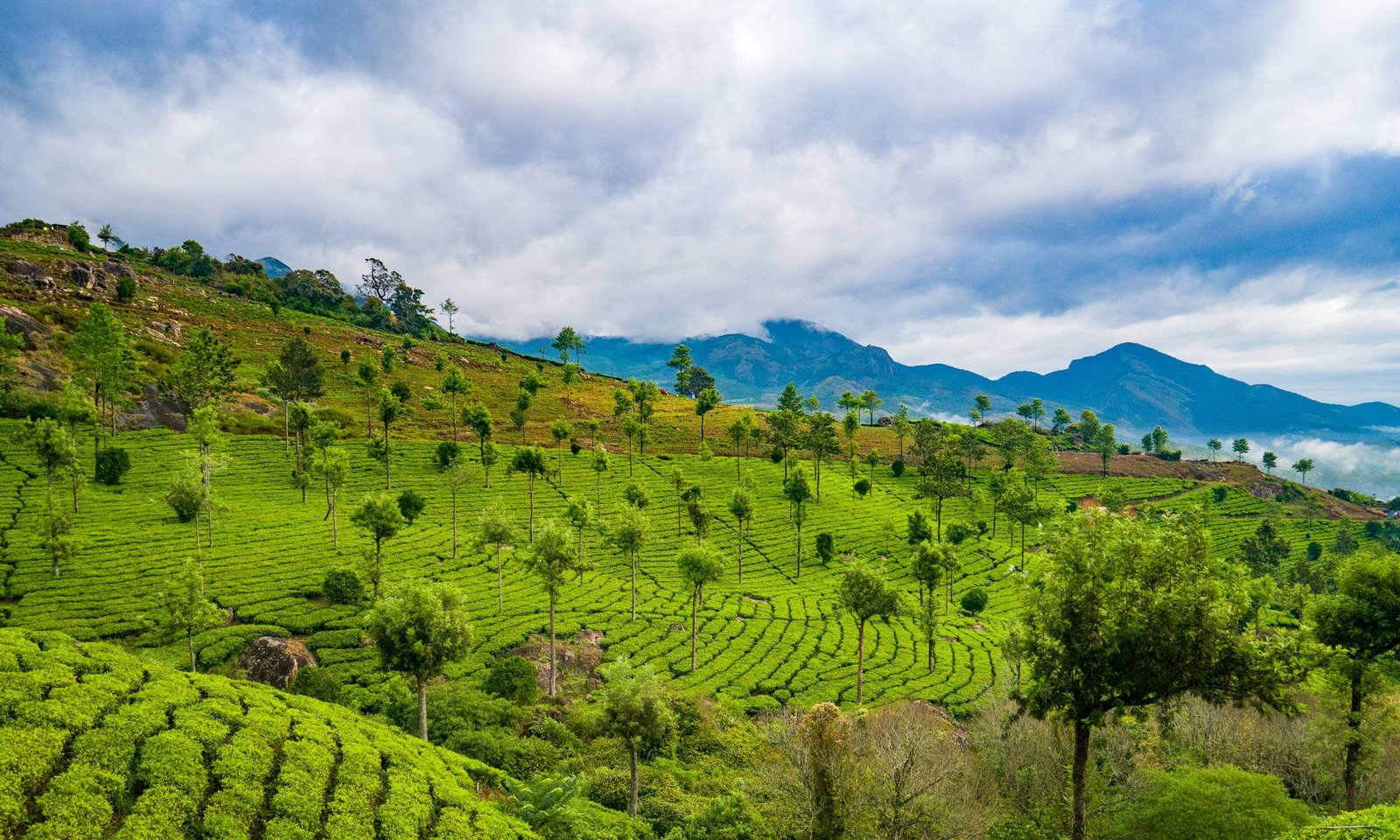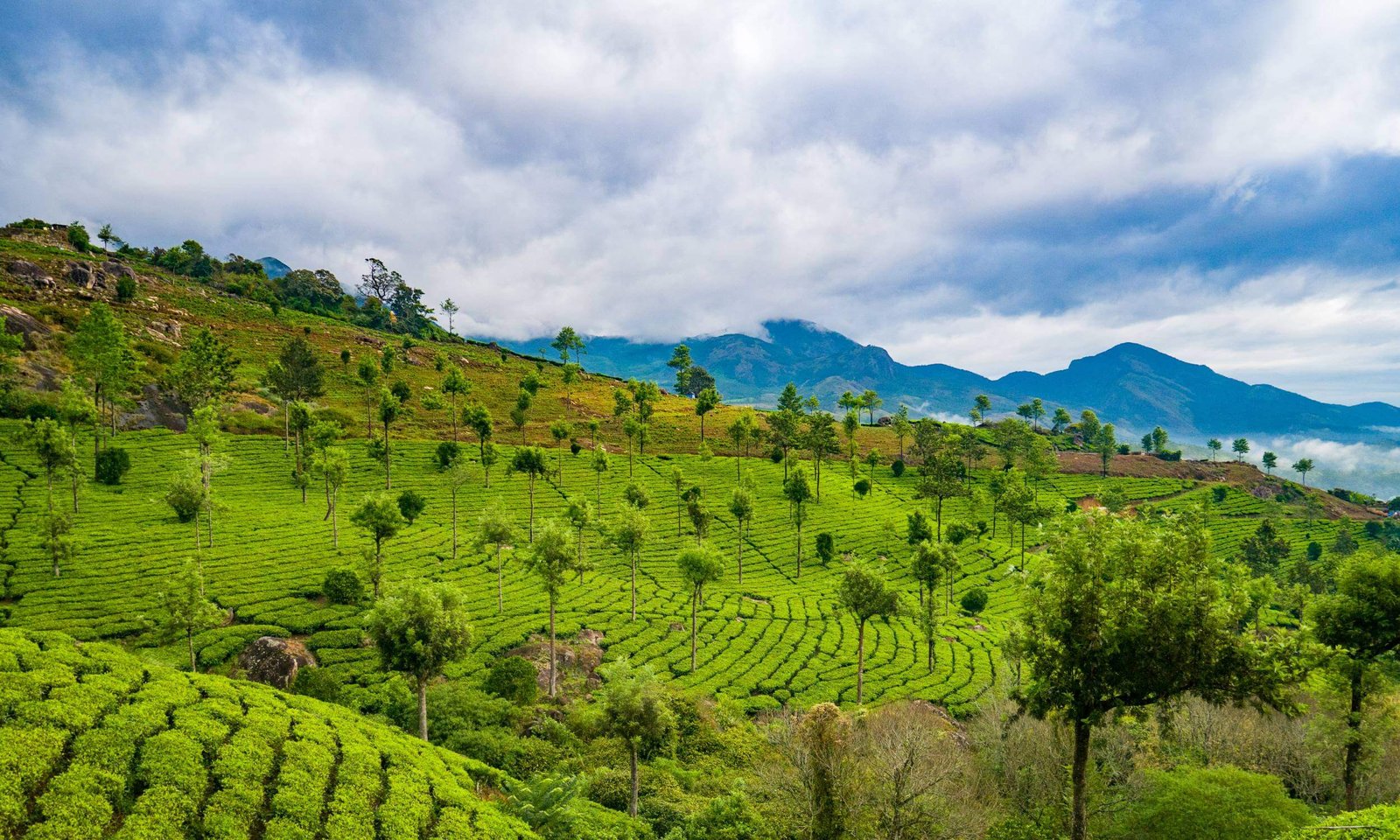 Every mountain lover's dream, honeymoon couple's dream destination, Nature lover's solace spot – Munnar is one of the most sought-after tourist destinations to visit in Kerala. The landscapes of Munnar are something else. Have you ever seen a real fairytale destination in India? You must have seen many beautiful destinations in your life but go, see Munnar. Munnar's incredible charm, lush greenery will seduce your eyes. You will see the most beautiful rivers Muthirapuzha, Nallathanni and Kundala, enchanting carpets of Neelakurinji flowers which bloom every 12 years, and the beautiful peak of Anamudi. Combination of beautiful valleys and lush green mountains, enchanting national parks and wildlife Sanctuaries, Munnar will always stay in your heart even after you have left its shore.
Best Places to See and Things to Do in Munnar
Eravikulam National Park – Go wild and enjoy the exotic Wildlife of Munnar
Munnar Tea Museum is one of the best places to enrich your senses with delightful aromas. Munnar is very famous for different varieties of Tea.
Shop at the local markets of Munnar. Tea, strawberries and spices are the best products of Munnar.
Devikulam – A must visit hill station destination in Kerala. Enjoy Trout fishing and stunning natural vistas.
Camping is the best thing to do if you are in Munnar. Visit Top Station. Camping amidst the forests, plantations and valleys with your loved ones will make your Munnar Holidays memorable. It is one of the best things to do for couples in Munnar.
Get ready for the most thrilling trekking adventure at Blossom Park. The dark dense forests look so stunning yet scary sometimes.
Living in hotels and resorts is common but if you want a unique stay experience then stay at the tree houses in Munnar.
The best place for all the adventure and sightseeing fun in Munnar is Echo Point. For nature lovers the views are awesome. Tourists can enjoy boating, trekking and birdwatching. You will also behold beautiful Neelakurinji flowers which bloom every 12 years.
Enjoy Mountain biking, cycling and trekking in western Ghats. The gorgeous views of the countryside of Kerala, dense forests and plantations will blow your heart away.
Some of the Best Places to Stay in Munnar
Tea Country
Abad Copper
Hotel Royal Retreat
Munnar Inn
Hotel Lonely Planet
Hotel Autumn Trees
Lakeview Resort
2. Vagamon- Nature's Best Kept Secret
Vagamon, also known as Wagamon lies on the border between Kottayam and Idukki. It is one of the top five tourist destinations of Kerala, perfect for family vacation and honeymoon holidays. It also comes in the list of 50 attractive places of world according to National Geographic. The aura of Vagamon is awe-inspiring. Misty, dreamy, full of lush green tea plantations and rolling green hills, the ambiance of Vagamon will delight your eyes and mind. Away from all the worldly chaos, the serenity and solitude bliss of green forests, waterfalls, flower carpets and hills will never make your day dull here.
If you are in Vagamon then don't miss Thangal Para. This visually captivating place is also a serene and spiritual hub dedicated to Lord Muruganmala – Lord Muruga. Tourists visit Vagamon in the summer season to beat the heat of plains and enjoy the greenery.
Best Places to See and Top Things to Do in Vagamon, Kerala
Pine Forest walk of Vagamon will be the best nature walk tours for you. The beauty and solitude of nature will surely soothe your tired spirit and rejuvenate your senses.
Visit Vagamon Lake, it is one of the best places for couples and families. The rolling green hills and lush tea estates makes this place more photogenic. Try Boating and Rowing.
Ulipooni Wildlife Sanctuary- Feel the silence of nature and explore the wilderness. You will see wild elephants and majestic tigers here. The rugged mountains are surrounded by a scenic lake in which you can enjoy boating. It's couples favorite spot to spend some romantic moments.
Marmala Waterfall- Enchantress of the Jungle. It's a perfect place to seek solace and enjoy trekking.
Thangal Para- This place has a great spiritual significance for islamic devotees. It is said that Sheikh Farduddin, an Afghan saint took his last breath at this spot. Devotees come to see the tomb of the Sufi Saint and seek divine blessings.
Mundakayam – An enchanting Hill Station. Paragliding is one of the top things to do here.
Embrace the solace and absorb the refreshing vibes coming from the greenery in Vagamon Meadows.
Murugan Mala- Get the divine blessings of Lord Muruga.
Some of the Best Places to Stay in Vagamon
Falcon Crest Resort
Holiday Vagamon
Vagamon Heights
Chillax Vagamon
Saj Vagamon Hideout
Angel's Vagamon
Lavender Vagamon
3. Wayanad – Fascinating Greenland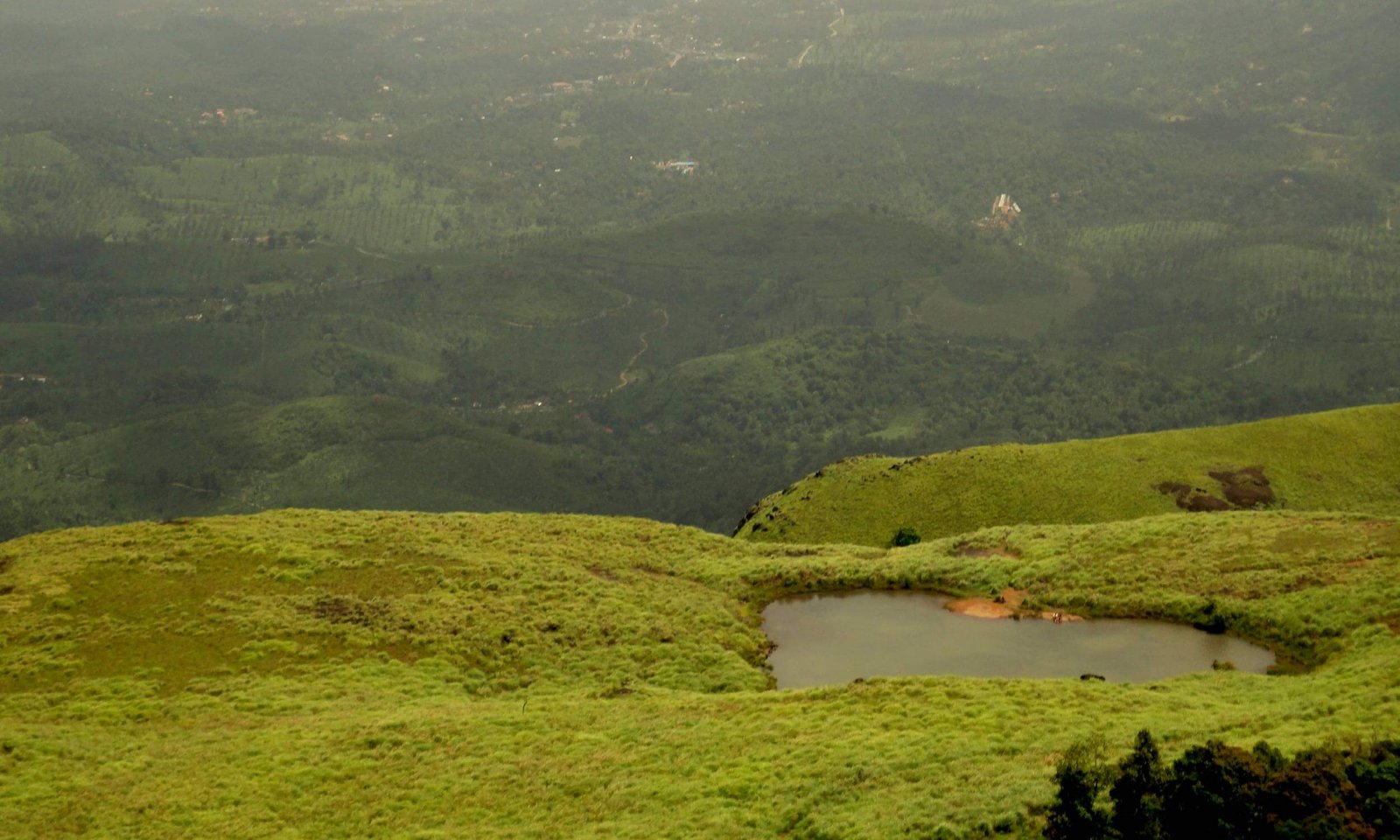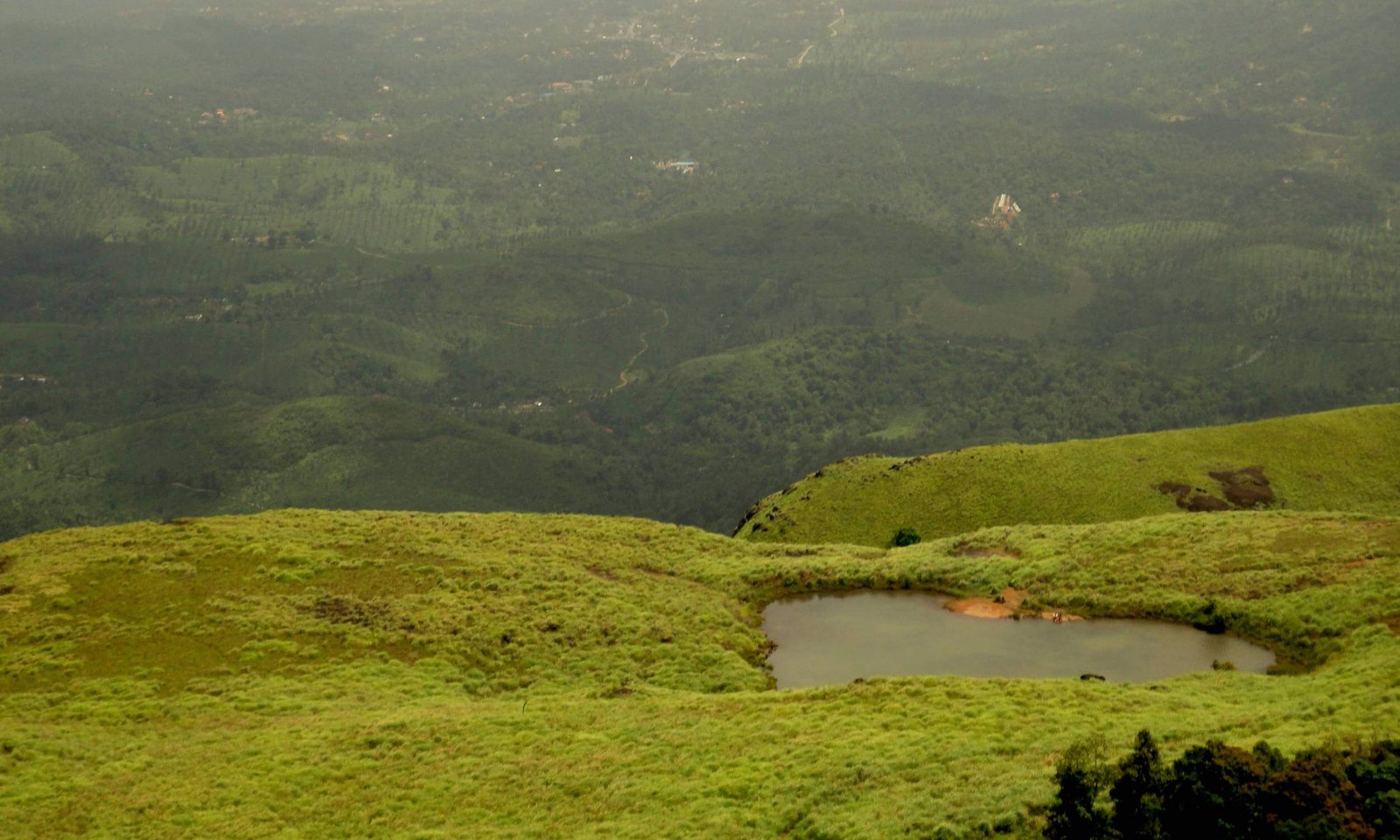 Delight your eyes with the lush green coffee, cardamom, tea plantations as Wayanad is very popular for its stunning nature walk tours. It is one of the best honeymoon destinations of Kerala. Holding hands of your beloved amidst the lush greenery will make your romantic moments one of a kind. Every corner of Wayanad is photogenic. Your camera lens will be filled with great memories.
Located at the southernmost tip of deccan plateau, the soul seducing green forests of Wayanad also comes in the list of 20 reserves in the UNESCO World Network of Biosphere Reserves. To enjoy with family, you will find many stunning picnic spots. Adventure lovers will find Wayanad amazing as there are plenty of adventure activities to try such as trekking, mountain biking, camping, zorbing, speed boating, wildlife safaris and ziplining etc. Indeed, your holidays in Wayanad will be memorable for a lifetime.
Best Places to See and Top Things to Do in Wayanad
Alluring Banasura Sagar Dam – Second Largest Dam in Asia. Delightful vistas of Banasura Hills will blow your heart away.
Chembra Peak – Highest Peak in Wayanad. You will be able to see entire landscapes of Wayanad. Trekking to the dense forests adds more thrill to your trip.
Explore the exotic flora and fauna of Kuruva Island. The rare species of birds and flora, scenic bamboo bridges and pristine nature – its a beautiful nature paradise of Wayanad.
Greenery all around, Pookode Lake is a perfect place to seek solace and click amazing pictures. It is surrounded by forests and western Ghats. Enjoy boating to explore and embrace the greenery of the forest.
Edakkal Caves – Time to explore stone age carvings of Neolithic and Mesolithic age.
If you are in Wayanad then exploring the green zones, waterfalls, forests and river streams is a must. Wayanad is rich in greenery. The lush tea estates, camping amidst the forests, bamboo rafting and boating in Kuruva Island will make your holidays in Wayanad memorable.
Some of the Best Places to Stay in Wayanad Kerala
After the Rains, Meppadi
Wayanad Wild, Lakkidi
Wayanad Silver woods, Kalpetta
Vythiri Village, Vythiri
Lakerose Wayanad, Kalpetta
Wayanad Village Resort, Thondernad
4. Kovalam – Paradise of Golden Beaches
What is best then spending your entire day in the golden beaches of Kovalam? Kovalam is very popular for its stunning beaches. It comes in the top 10 tourist destinations of Kerala. The beaches of Kovalam will fine-tune your spirit. Do you know? Kovalam Beach is an internationally renowned beach and is one of the best tourist spots for beach and adventure lovers. Sea Bathing is quite popular there. There are many shopping spots, Ayurvedic resorts, convention facilities where you can feel the bliss of peace and fun. Don't miss the South Indian and continental delicacies, it's worth a try when you are in Kovalam.
One of the best things about Kovalam is that you will be able to find the best budget cottages and hotels for a comfortable stay. Some are so beautiful in terms of views. You will wake to the sound of the breeze and the beauty of the seaside will blow your heart away.
Best Places to See and Top Things to Do in Kovalam
Catamaran Rides in Hawah Beach – Place for thrilling activities
Baked delicacies of German Bakery are a must not miss.
Kovalam offers amazing opportunities to enjoy adventurous water sports such as Sculling, swimming, surfing and paddling etc.
Relax your soul in Ayurvedic Massage centers.
Kovalam is very popular for oil scented sarees, coconut and coir products. The markets near lighthouse beach are awesome.
Backwater Cruise in Ashtamudi Lake- One of the top things to do in Kovalam
Sunset point at Edakallu and the beauty of serene beaches are awesome spots for romantic souls.
Explore spiritual hubs such as Shri Padmanabhswamy Temple and Parashurama Temple. Also explore Vizhinjam Rock Cut Cave Temple. It was built in the 18th century. The sculptures of Lord Shiva and Mata Parvati in this temple remained unfinished. It is under the supervision of the Archaeological Survey of India.
Some of the Best Places to Stay in Kovalam
The leela Kovalam
Green Cove Resort by Taj Vivanta
Turtle on the Beach
Hotel Samudra
Travancore Heritage Beach Resorts
Somatheeram Ayurveda Village
5. Periyar – Land of the Wild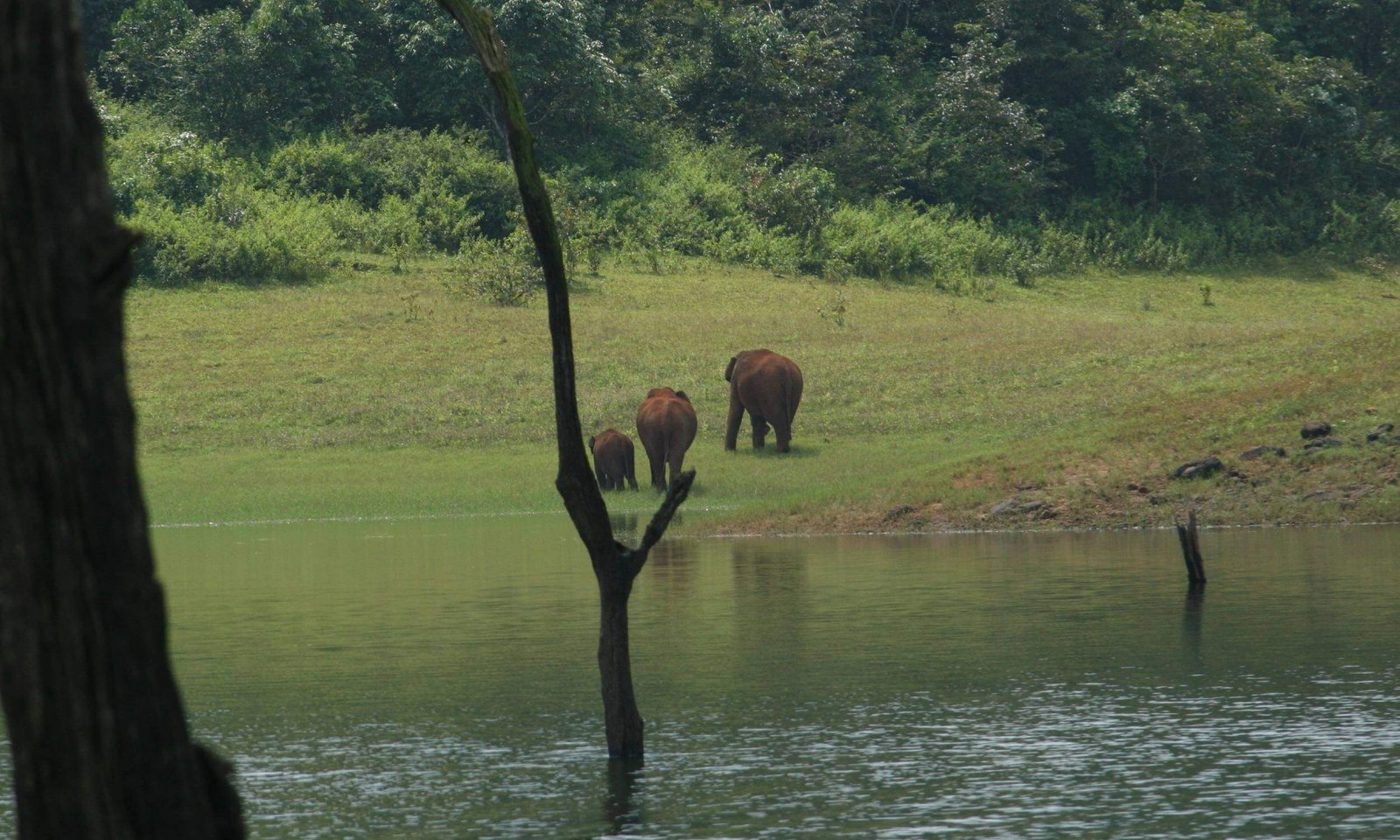 Where can you see the most beautiful spice gardens of Kerala? It's none other than Periyar. It's a beautiful spice village of Kerala and a captivating eco-tourist destination. Decked with enchanting cottages, and nature's beauty all around, the tranquil vibes give so much joy to the soul and mind. You will not feel tired anymore.
If you are a wildlife and nature lover then Periyar would be a great place for you. It is very popular for its amazing Tiger Reserve. It is spread across an area of 777 sq. km which is the largest protected area with a wealth of amazing floral and faunal species.
One interesting fact is that this place got its name from the serene Periyar river whose origin is deep inside the forest. The rustic and refreshing setting of this incredible spot will surely give you the memories you are looking for. Indeed, Periyar's beauty proves that it is the best destination to visit in Kerala for every traveler.
Best Places to See and Top Things to Do in Periyar
Romantic Boat Safari at Thekkady Lake will be the best thing to do if you are here for your honeymoon.
An off-road Jungle Jeep safari at Gavi will enrich your thrilling ventures.
Explore the exotic wildlife and flora of Periyar Tiger Reserve. It is one of the best places to explore in Periyar. Enjoy a thrilling Wildlife Safari.
Some of the most fun filled and thrilling adventure activities to do in Periyar are Bamboo Rafting, Tree House stay and Jungle Camping. Periyar Tiger trail and elephant rides will add some more thrill and excitement to remember for a lifetime.
The picturesque Hill station destination of Periyar can be best explored by Trekking.
Some of the Best Places to Stay in Periyar
Cardamom Country
Shalimar Spice Garden, Periyar
Niraamaya Retreats Cardamom Club, Thekkady
Spice Grove Hotels and Resorts, Periyar
Greenwoods Resort, Periyar
Spice Village- Nature Habitat, Periyar
6. Varkala- Serenity Redefined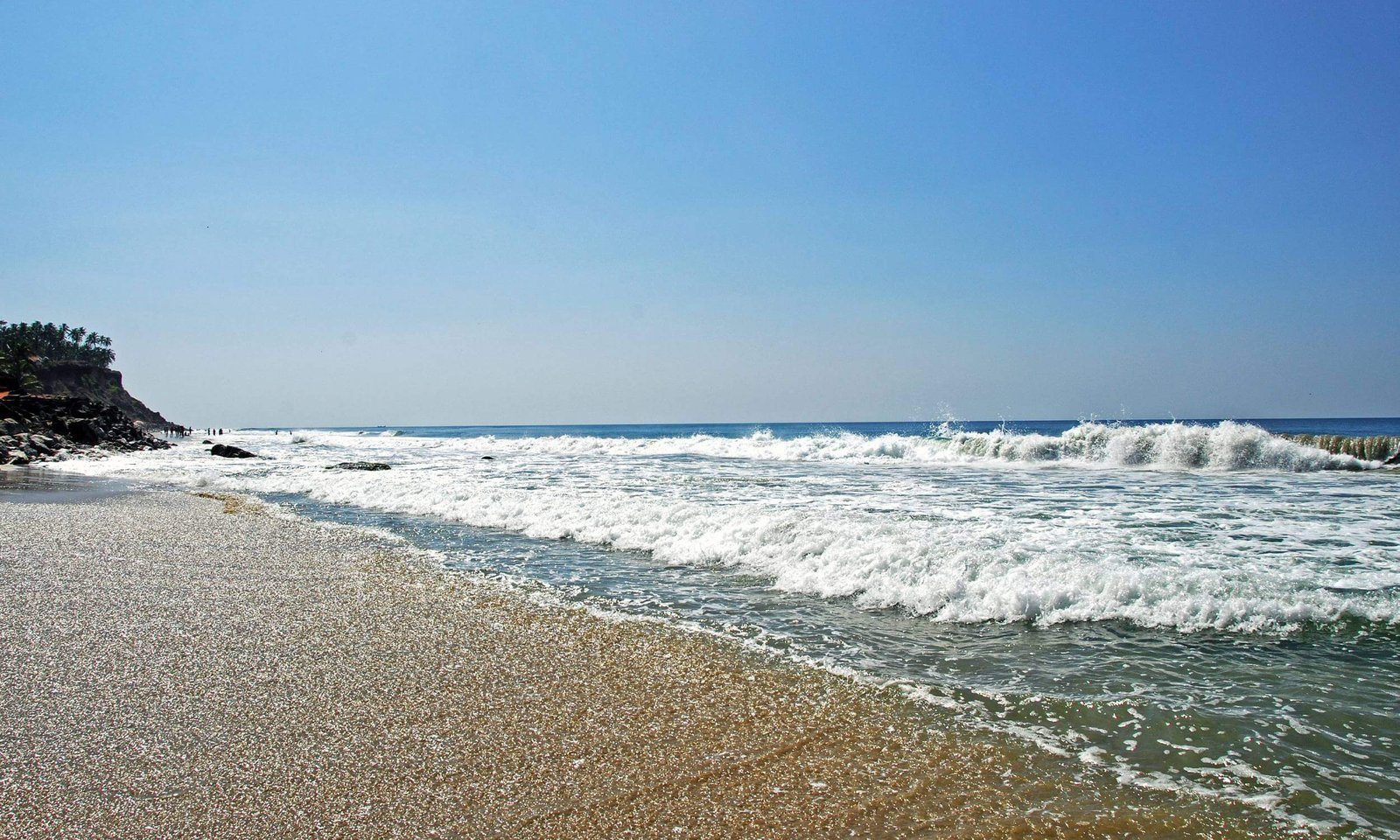 Quiet, serene and delightful, Varkala in the outskirts of Thiruvananthapuram is a charm you would love to see again and again. Varkala is one of the must not miss tourist destinations of Kerala. It is very popular for spiritual pursuits. One of the must visit charm of Varkala is a 2000-year-old Janardhanaswamy Temple which stands on a beautiful cliff looking at the most stunning Varkala Beach.
You will find delicious sea food in the shacks, beautiful lakes, hills, lighthouses, Ayurvedic spas and springs which will definitely make your day here. One interesting fact about Varkala Beach which is the landmark destination of Varkala is that it is also known as Papanasam Beach and it's very famous for a natural spring. It is said that bathing in it will remove your bad karmas.
Best Places to See and Top Things to Do in Varkala
Serene, spiritual and bliss inducing a visit to Varkala beach is a must. Its waters have healing powers that's what the locals believe.
Get the divine blessings of Lord Vishnu at Janardhana Swamy Temple. The temple is 2000 years old.
Fairytale setting, serene backwaters of Varkala- A Visit to St Sebastian's Pilgrim Church is a visual treat.
Sivagiri Mutt is a popular religious place in Varkala. It is a pilgrimage center which has the samadhi of Shri Narayan Guru. Devotees from all over the world come here to seek blessings from the Guru.
Serenity of Edava Beach will captivate your senses.
Visit Anjengo Fort, it's a popular historical place located in Varkala. The backwaters near this fort and enchanting coconut groves on the shoreline makes this place a visual spectacle.
Some of the Best Places to Stay in Varkala
Zostel Varkala
Quality Inn
Varkala Cliff Villa
Short Giraffe Hostels
Kiaora Hometel
7. Kochi – Queen of Arabian Sea
Kochi is another best tourist place you can't miss in Kerala. In fact, consider it as the soul of Kerala. A hotbed of art, food and culture, heritage and colorful festivals – Kochi will give you a plethora of delightful experiences to cherish for a long time. From emerald backwaters, to stunning heritage and cultural sites, green fields, museums, churches, art galleries, folk theaters and lakes- Kochi is a best place to enjoy traditional Kerala culture and relaxing beach holidays and heritage tours. If you love metropolitan city tours then surely Kochi will never disappoint you as it shows you the cultural nerve of Kerala.
Best Places to See and Top Things to Do in Kochi
Explore the rich legacy of the erstwhile rulers of Kochi at Mattancherry Palace.
Chinese Fishing Nets- Most scenic spectacle of Kochi
Fun with Majestic Elephants- play with baby elephants at Ernakulam's Elephant Training Center.
St Francis Church is one of the oldest churches of India established by the Portuguese in 1503. Its beauty will captivate your senses.
Enjoy shopping at Princess Street. It is also known as Loafer's Corner. There are many cafes, book stores, and shops which will make your day delightful.
You must visit the most stunning beach of Kochi- Marine Drive.
Know about the rich history and cultural heritage of Kerala at fort Kochi
Some of the Best Places to Stay in Kochi
Taj Malabar Resort and Spa
Kochi Marriott Hotel
Crowne Plaza Hotel
Trident Hotel
Holiday inn
Hotel Abad Chullickal
8. Kumarakom – The Gateway to the Backwaters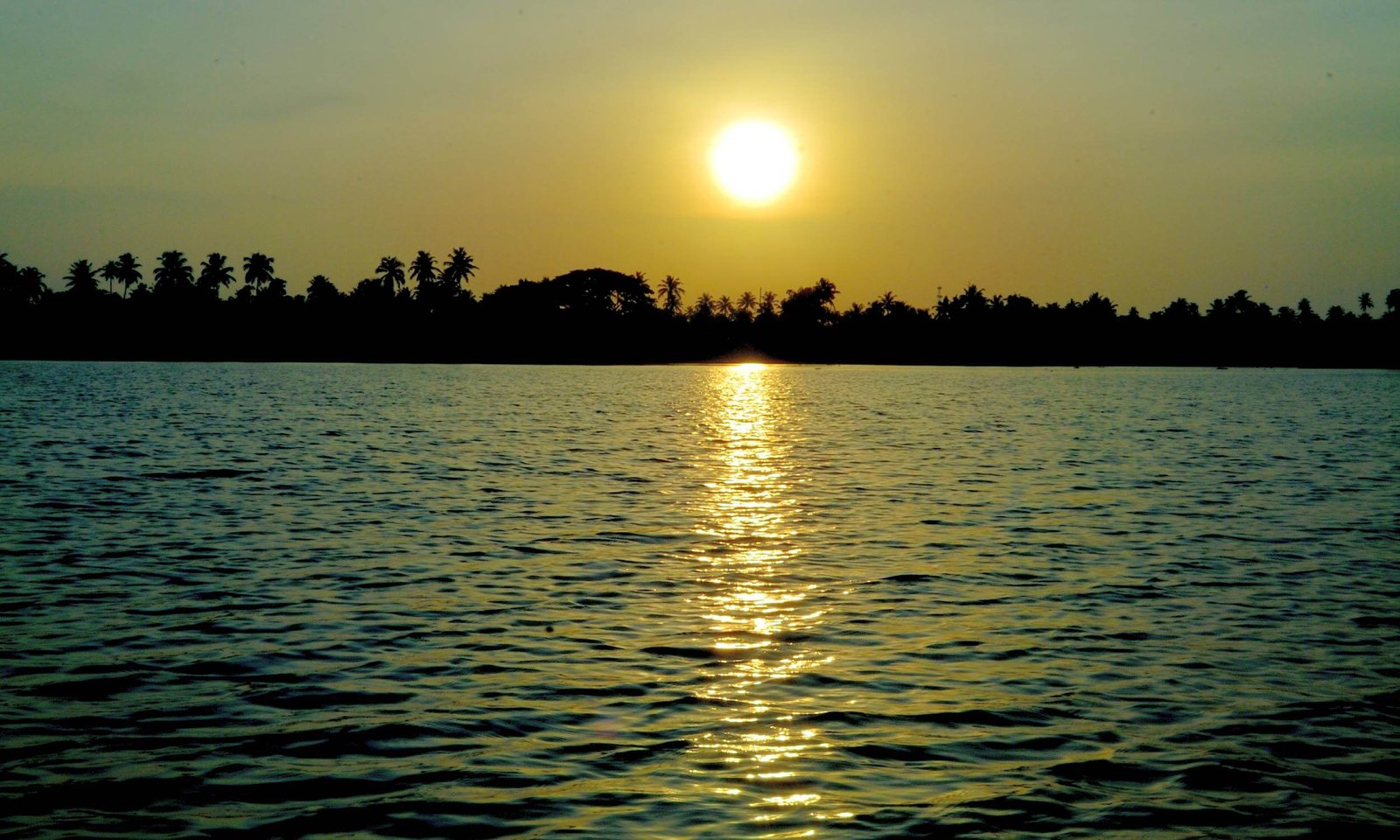 Don't miss the village on the soothing banks of the mighty Vembanad lake – Kumarakom. You will be mesmerized to see the setting of this place. Mangrove forests, coconut palms, cool weather makes Kumarakom scenic so rich that you will not be able to stop yourself from clicking pictures. It's a treasure trove for nature and bird watchers. Kumarakom is very popular for its amazing Bird Sanctuary which is spread across 14 acres. You will see stunning migratory birds such as Siberian Stork, Herons, Teals, Waterfowls, Cuckoo, Flycatchers and owls etc. Roaming through the narrow canals and mangrove forests in a houseboat is another delight which you will never forget. It is an enchanting backwater destination which is also perfect for the best family holidays in Kerala.
Best Places to See and Top Things to Do in Kumarakom
Watch the delightful migratory birds and greenery at Kumarakom Bird Sanctuary.
Boating would be the best thing to do in the serene lake of Kumarakom. It is also famous for its backwater tourism. Enjoy a houseboat cruise. It is the perfect thing to do if you are on honeymoon vacation in Kerala.
Beauty of Aruvikkuzhi Waterfall will mesmerize your soul.
Ayurvedic Spa- Relax your mind and body.
Local street walk in Kumarakom will be a visual spectacle.
Alluring sunset views and fishing in Vembanad Lake will be the most delightful tourist activity to do in Kumarakom.
Some of the Best Places to Stay in Kumarakom
Kumarakom Lake Resort
Zuri Resort Kumarakom
Aveda Resort and Spa Kumarakom
Vivanta By Taj Kumarakom
Coconut Lagoon Kumarakom
Lake Song Kumarakom
9. Thekkady – Poetry of Nature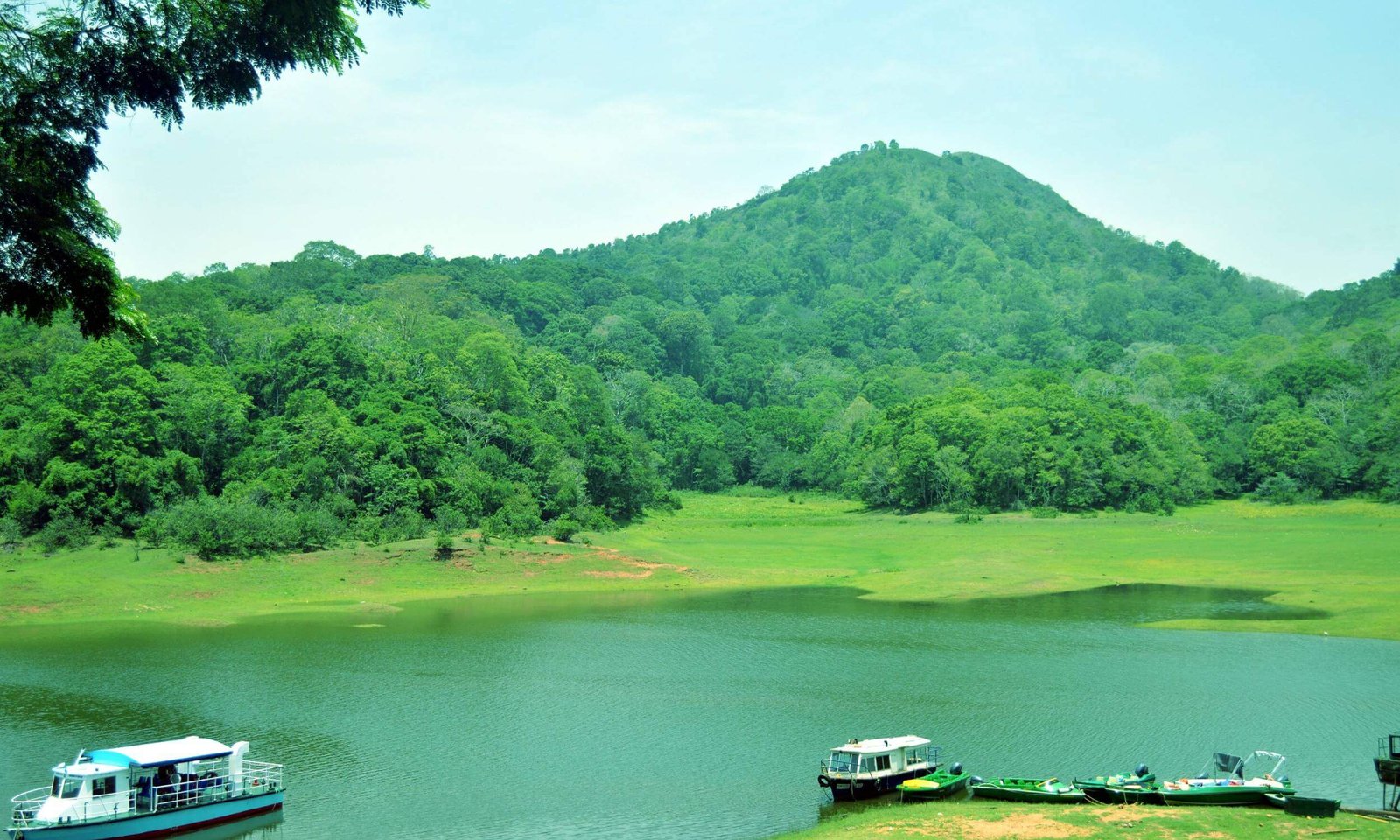 Kerala's green carpet and an enchanting tourist spot, Thekkady will seduce your senses with its wildlife and adventure activities. It is an amazing tourist destination of South India popular for Periyar Tiger Reserve which is one of India's largest Tiger Reserves. It's not less than a heaven for a nature lover. Tea, coffee, cardamom plantations, hill slopes, and tropical forests will greet you as you step in the blissful world of Thekkady. You will see a variety of animals such as wild elephants, wild boars, bison, tigers, deers and sloth bears etc. Apart from that it's a great place to absorb spiritual bliss in serene temples and spend a fun filled day around picturesque waterfalls and cascades. If you are looking for a wonderful honeymoon destination in Kerala, Thekkady's charm will enrich your honeymoon experience.
Best Places to See and Top Things to Do in Thekkady
Enjoy Boating and explore the rich greenery of Periyar forests in Periyar lake.
Get the divine blessings at Mangala Devi Temple. Also enjoy the beautiful ambiance.
Gavi is a beautiful eco-tourism destination which you must visit if you are in Thekkady.
Bamboo Rafting and Hiking in the forests of Periyar are the best thrilling activities to do in Thekkady.
Enjoy the exotic wildlife of Periyar Tiger Reserve.
Explore the beautiful rural side of Kerala in Bullock Carts.
Visit the valley of Pandikuzhi and get lost in its fairytale-like setting. Streams, waterfalls, rich floral and faunal species and lush greenery will mesmerize you.
Thekkady is very popular for its spice plantations and tea factories. Make sure you explore some of them. It is the best place to enjoy the magic of the monsoon in Kerala. The greenery will seduce you forever.
Some of the Best Places to Stay in Thekkady
Kofiland Resort
Aranya Nivas
Woods N Spice
Cardamom Country
Spice Village
Greenwoods Resort, Thekkady
10. Kozhikode – City of Enchanting Greenery
Serene Solitude of the lush green countryside, thrill of the adventure in pristine beaches, captivating wilderness of the exotic wildlife sanctuaries, breathtaking river and hillsides makes Kozhikode one of the top family tourist destinations of Kerala. Holidaying with family and loved ones here will never disappoint you as it has so much to offer for sightseeing.
It is said that the famous explorer Vasco De Gama set his foot in India in Kozhikode. This place has a rich historical legacy which you will see through its tourist attractions as they still carry the vibe of Dutch, French and British invaders. A day in Kozhikode means lots of fun and adventure. Ancient ports, crafts village, backwaters of Elathur, Canali canal and Kallai river and thrilling water sports makes Kozhikode one of the best tourist places in Kerala for family holidays.
Best Places to See and Top Things to Do in Kozhikode
Beautiful sunset, soothing sea breeze, alluring vistas of golden beaches and thrilling water sports – Make your day awesome at Kozhikode Beach.
Interested in History? Explore the 15,000-year-old shipping Yard at Beypore. It's quite interesting.
Learn some skills from the village people of Iringa Craft Village. They show their traditional art and craft to the tourists. It's one of the best things to see in Kozhikode.
Enjoy a Houseboat cruise at the backwaters of Kozhikode.
Kakkayam Dam is a wonderful picnic spot to spend some quality time with your family and friends. Enjoy boat rides and hiking.
If you love birdwatching then visit Kadalundi Bird Sanctuary. This place is also very popular for deep water crocodiles. It's quite fascinating to see them.
Some of the Best Places to Stay in Kozhikode
Renai Kappad Beach Resort
Le Candles Resort Kozhikode
The Raviz Calicut
The Gateway Hotel
Westway Hotel
The Beach Hotel
Hotel Span
11. Trivandrum – Kerala's Soul
Rest from the best here comes Trivandrum, the capital of Kerala is no doubt a landmark destination of Kerala. It will show you the real soul of Kerala. The rich culture and heritage of Kerala comes alive when you visit the temples and amazing museums of Trivandrum. Long shoreline, pristine beaches, breathtaking backwaters, south Indian delicacies, shopping spots, museums, historical monuments, dance and art performances, festivities and serene temples – Trivandrum has everything for a traveler. Whether you are on a family vacation, backpacker, solo traveler, honeymoon couples, Trivandrum will take the fun of your Kerala Tour to another level. You will learn a lot about Kerala's culture in Trivandrum.
Best Places to See and Top Things to Do in Trivandrum
Away from the chaos of the world, explore the calm world of Samudra Beach. Cool sea breeze and scenic vistas will rejuvenate your mind.
Learn about the rich cultural heritage and history of Kerala by exploring Museums. Some of the most popular museums are Napier Museum, SMSM Institute and the Natural History Museum.
If you are in Trivandrum then you must visit Padmanabhaswamy Temple. Rich in architecture, it's truly a visual spectacle.
Skydiving and Paragliding are the most popular adventure activities to do in Trivandrum. You must try it once.
Rejuvenate your spirit in Ayushmanbhava Ayurvedic Center.
Explore the rich heritage of Travancore Dynasty at Kanakakunnu Palace.
Indian Coffee House in Trivandrum is one of the best spots to enjoy the best filter coffee of Kerala.
Some of the Best Places to Stay in Trivandrum
Agastya Ayurveda Garden
Chakra Ayurvedic Resort
Bio Veda Hill Resort
Poovar Estuary Island Resort
Lake Palace Hotel
12. Athirapally – Nature's Best Canvas & Magical Waterfall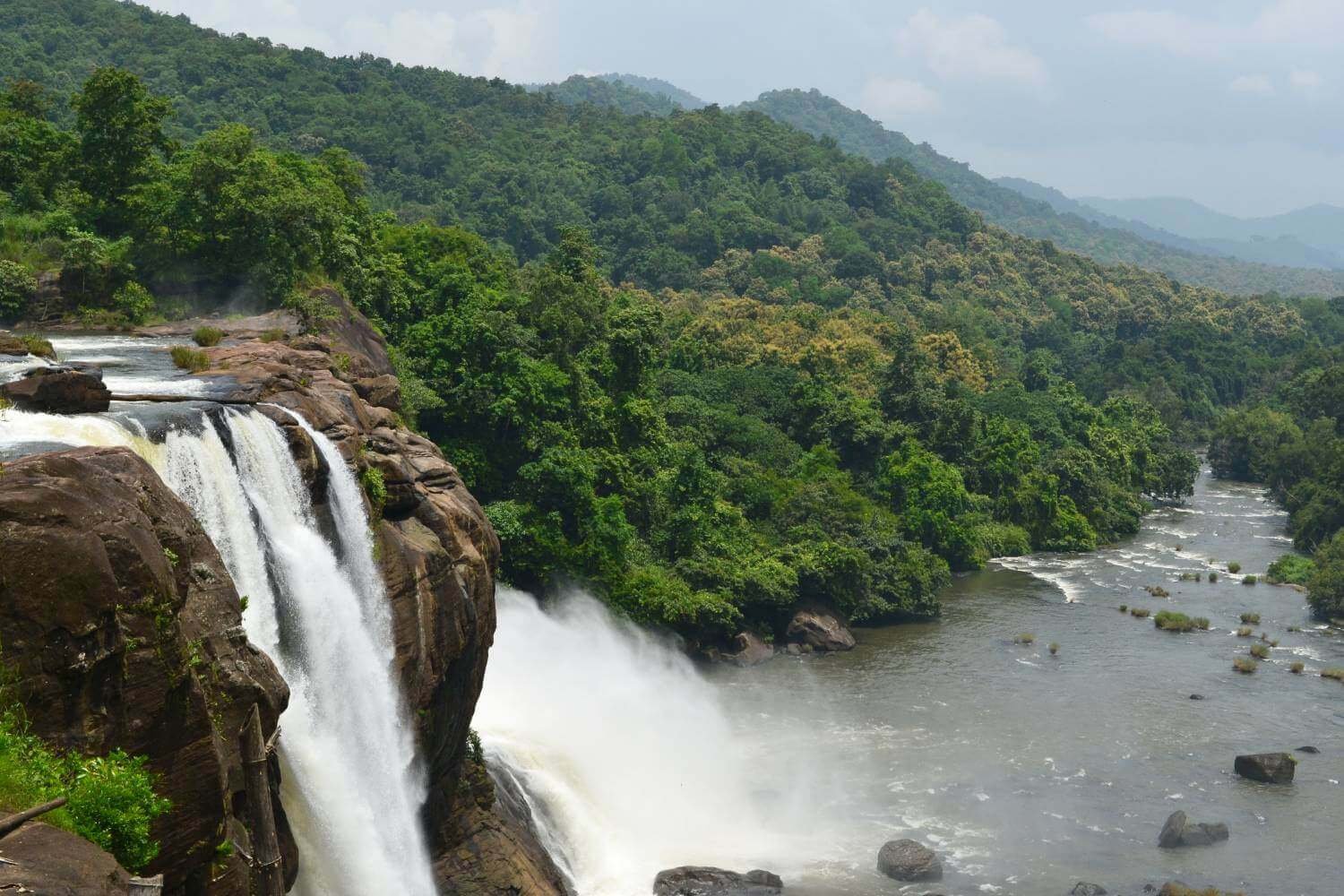 Athirapally, one of the top tourist places in Kerala, is a breathtaking spectacle for nature enthusiasts. Known for its mesmerizing waterfalls and lush landscapes, it's a must-visit on any Kerala sightseeing tour. The majestic Athirapally Falls, plummeting from a height amidst dense forests, offers a surreal experience. The surrounding Vazhachal Forest Gardens provide a picturesque backdrop for those seeking tranquility. The region's rich biodiversity and eco-tourism initiatives add to its charm. Adventure seekers and photographers find their haven here. Athirapally encapsulates the essence of Kerala's natural beauty, making it an unforgettable stop for every traveler.
Best Places to See and Top Things to Do in Athirapally, Kerala
Athirapally Waterfalls: Witness the majestic cascade of Athirapally Falls, one of India's most impressive waterfalls.
Vazhachal Forest Gardens: Explore the lush Vazhachal Forest Gardens, a haven for nature lovers with diverse flora and fauna.
Charpa Falls: Discover Charpa Falls, a hidden gem known for its serene atmosphere and pristine surroundings.
Thumboormuzhi Dam: Visit Thumboormuzhi Dam to witness the Chalakudy River's scenic beauty and enjoy boating.
Nature Walks: Take rejuvenating nature walks through the surrounding forests, embracing the tranquility and rich biodiversity.
Sholayar Dam: Enjoy panoramic views of the Sholayar Dam, surrounded by the Western Ghats, and relish the picturesque landscapes.
Photography: Capture breathtaking shots of the waterfalls, lush greenery, and wildlife, making Athirapally a paradise for photographers.
Kauthuka Park: Explore Kauthuka Park, a unique garden that showcases miniature versions of traditional Kerala homes and farms.
Wildlife Watching: Embark on wildlife watching expeditions in the nearby forests, with chances to spot various species of birds and animals.
Bamboo Rafting: Experience the thrill of bamboo rafting on the Chalakudy River, a memorable way to explore the region's beauty.
How to Reach God's Own Country – Kerala?
By Air – Kerala by air is the most convenient way of travel. Kerala has three international airports – Kochi International Airport, Calicut International Airport, Thiruvananthapuram International Airport and they are well connected to all the major states of India and important national attractions of Kerala.
By Train – Train is also a very good option to travel to Kerala. There are more than 200 railway stations in Kerala and all are well connected to the major states in India such as Delhi, Mumbai, Chennai, Amritsar, Dehradun and Bengaluru etc. Kasaragod, Kottayam, Ernakulam, Kozhikode, Alappuzha, Kollam etc. are some of the major railway lines in Kerala.
By Road- Traveling to Kerala by road is a very fascinating experience. It is for the wanderers who love to explore, adventure and click a lot of pictures. NH – 17, 49 and 47 connect to Kerala. Kerala State Road Transport Corporation is very well connected to all the small and big destinations of Kerala. There is no shortage of bus, auto and cab services in Kerala.
By Sea – For most of us traveling to Kerala by sea is a very unique travel mode but it's worth it. You can travel to Kerala by sea through the islands of Lakshadweep via Arabian Sea.
Weather & Climate of Kerala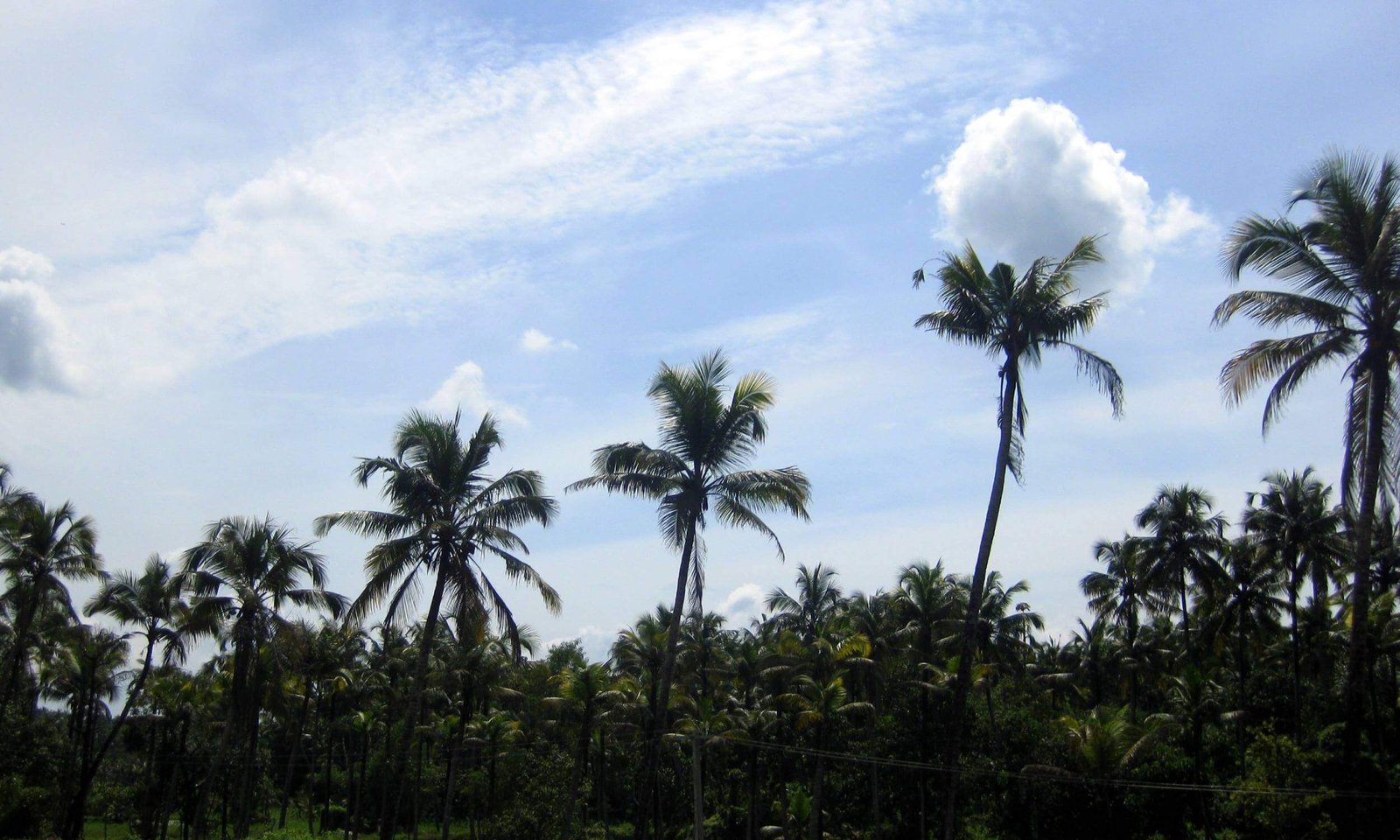 Every season in Kerala has its own unique quality So, Kerala is beautiful and a lovely option to travel throughout the year. However, there are different types of travelers who are looking for specific things to enjoy in a particular destination.
Let's see what Kerala has to offer in each season.
Summer Season in Kerala – (March to May)
Summer offers a wonderful travel experience of Kerala if you are traveling to the hill Stations. In coastal areas and plains, the temperature remains humid all day. The temperature ranges up to 35 °C. To enjoy an amazing summer vacation in Kerala, it is best to visit the delightful Hill Stations. The cool climate, greenery, and adventure activities will make your trip awesome. Munnar, Ponmudi, Kottapara, Vagamon, Wayanad, Gavi, Idukki, Munnar are some of the best Hill Stations to visit in Kerala in Summer.
Summer is also a time to enjoy colorful festivals of Kerala such as Vishu, Ambalapuzha Arattu, Kerala Boat Festival and Thrissur pooram etc.
Monsoon Season in Kerala – (July- August, October and November)
Kerala, the God's own country, looks most beautiful during the monsoon. The green looks greener and the refreshing vibes will take away all your tiredness. Kerala enjoys monsoon two times. One, Southwest Monsoon which is the main rainy season of Kerala. It starts at the end of June. Second, the Northeast Monsoon which starts in October. It is a great time to enjoy the rain and nature's beauty. The best thing to do during the monsoon here is Ayurvedic therapies. It will definitely fine tune your spirit. Varkala, Wayanad, Alleppey, Thekkady, Munnar and Kozhikode are the best destinations in Kerala for magical monsoon experience.
Winter Season in Kerala (December to February)
Winter in Kerala starts from Mid-November and remains till February. The temperature ranges up to 18°C. It is the best time for sightseeing and enjoying adventure activities. You can visit Hill Stations, beaches, cities, wildlife safaris, Ayurvedic spas, and enjoy backwater tourism etc. for a perfect winter vacation in Kerala.
Best Time to Plan Your Trip to Kerala
Kerala is blissful throughout the year. You can plan your trip anytime. But if we talk about sightseeing, adventures activities and overall festivities then You must consider the Winter season to plan your trip to Kerala. There will be no humidity, less rainfalls and the weather of Hill Stations is awesome. It is the best time to enjoy trekking, wildlife Safaris, hill Station holidays, backwater tourism, boat races, festivities like Garudan Thookkam Festival, Christmas, New Year celebrations, Kochi Carnival, Temple festivals such as Jagannath Festival, Kanathoor Nalvar Bhoothasthanam Festival, Kalpathi Ratholsavam, Kuttikkol Thampuratty Theyyam and Malabar Mahotsavam etc.
Now you know about the most scenic places to visit in Kerala. What are you waiting for? Pack your bags and be ready for one of the best Kerala holiday trips of your life.
Explore Top Recommended Tour Packages for Kerala
Like & follow us on our following official social media channels
Facebook | Twitter | Linkedin | Instagram | Youtube
Also Check Out: Popular India Tours | Tour Packages | India Tour Packages | International Tour Packages
International Trending Holiday Destinations – Nepal Tours | Bhutan Tours | Singapore Tour | Thailand Tours | Sri Lanka Tours | Maldives Tours | Dubai Tours | Indonesia Tours
Other Popular Trending Holiday Destinations in India – Kashmir Tour | Himachal Tour | Uttarakhand Tour | Rajasthan Tour | Gujarat Tour | Sikkim Tour | Kerala Tour | Andaman Tour | Madhya Pradesh Tour | North East Tours
Tour Packages by Interest – Adventure Packages | Wildlife Packages | Pilgrimage Packages | Heritage Packages | Hill Station Packages | Weekend Packages | Honeymoon Packages | Beach Packages | Chardham Packages | Trekking Packages
Other Interesting Kerala Travel Guide Blogs to Read
Other Interesting India Travel Guide Blogs to Read
Other Interesting Destinations Travel Guide Blogs to Read
Other Interesting Rajasthan Travel Guide Blogs to Read
Other Interesting Uttarakhand Travel Guide Blogs to Read
Other Interesting Wildlife Travel Guide Blogs to Read
Other Interesting South Travel Guide Blogs to Read
Other Interesting Adventure & Trekking Travel Guide Blogs to Read
Other Interesting International Travel Guide Blogs to Read