Pench National Park, located in the Madhya Pradesh districts of Seoni and Chhindwara, gets its name from the Pench River, which carves a course through the forest. It crosses both Madhya Pradesh and the neighboring state of Maharashtra due to its size. One of Rudyard Kipling's best works, The Jungle Book, was inspired by the entrancing beauty of Pench National Park.
This park can be the wildest fantasy for nature lovers, with its rocky pathways, wooded hills, clear rivers, and gushing streams that draw large crowds of tourists each year. No other region in India can boast of having over 300 different species of flora and wildlife as a result of the lovely, thick woodlands! Additionally, there are swarms of local and migratory birds that live here.
Here's the important information about Pench National Park
| | |
| --- | --- |
| Location | Madhya Pradesh |
| Districts | Seoni and Chhindwara |
| Established | 1992 |
| Area | 273 square kilometers |
| Number of Tigers | Approximately 25+ |
| Other Predators | Indian Wild Dogs, Leopards, Jackals, Jungle Cats |
| Prey Species | Sambhar, Chital, Gaur, Langurs, Wild Boars, Rhesus Macaques |
| Bird Species | Approximately 170, including Owls, Crow Pheasants, Red-vented Bulbuls, Crimson-breasted Barbets, Magpie Robins, Lesser Whistling Teals, Pintail Ducks, Shoveler Ducks, Herons |
| Flora in Pench National Park | Southern Tropical Dry Deciduous Teak Woods, Tropical Mixed Forest Vegetation, Bamboo, Medicinal Herbs |
| Top Attractions    in Pench Reserve | Kalapahad, Kohka Lake, Sita Ghat, Totladoh Dam and Reservoir |
| Best Time to Visit Pench | October to June |
| Activities in Pench Reserve | Jungle Safari, Night Safari, Birdwatching, Cycling Tour |
| Recommended Seasons to Visit Pench | Winter for wildlife and photography, October for scenic beauty, birdwatching |
Enjoy Up to 30% Off on Pench Jungle Safari Tour Package with Bon Travel India. For more details, please call or WhatsApp us at +91-8802149265.
Uncovering the Rich History of Pench National Park
The Pench River, which runs through the Reserve from north to south, influenced the naming of this Reserve. If you are Indian, you are likely aware of the significant role played by the location of Pench in Central Indian history. Pench National Park has a rich history of conservation. Established in 1992, it became the 19th Tiger Reserve worldwide and was included in the "Tiger Conservation Project." The park spans a vast area of reserve forests, protected forest regions, and buffer zones to preserve its diverse species. In total, Pench National Park's Reserve covers 273 square kilometers.
The history of this park is captivating. The Ain-i-Akbari, a 16th-century book written by Abu'l-Fazl ibn Mubarak, chronicles Akbar's administration empire and portrays its grandeur and natural wealth. Moreover, the BBC television series "Spy in the Jungle," which featured the lives of four tigers in Pench, was also filmed there.
Also Read: Bandhavgarh National Park Travel Guide
Pench National Park: A Haven for Endangered Wildlife and Diverse Fauna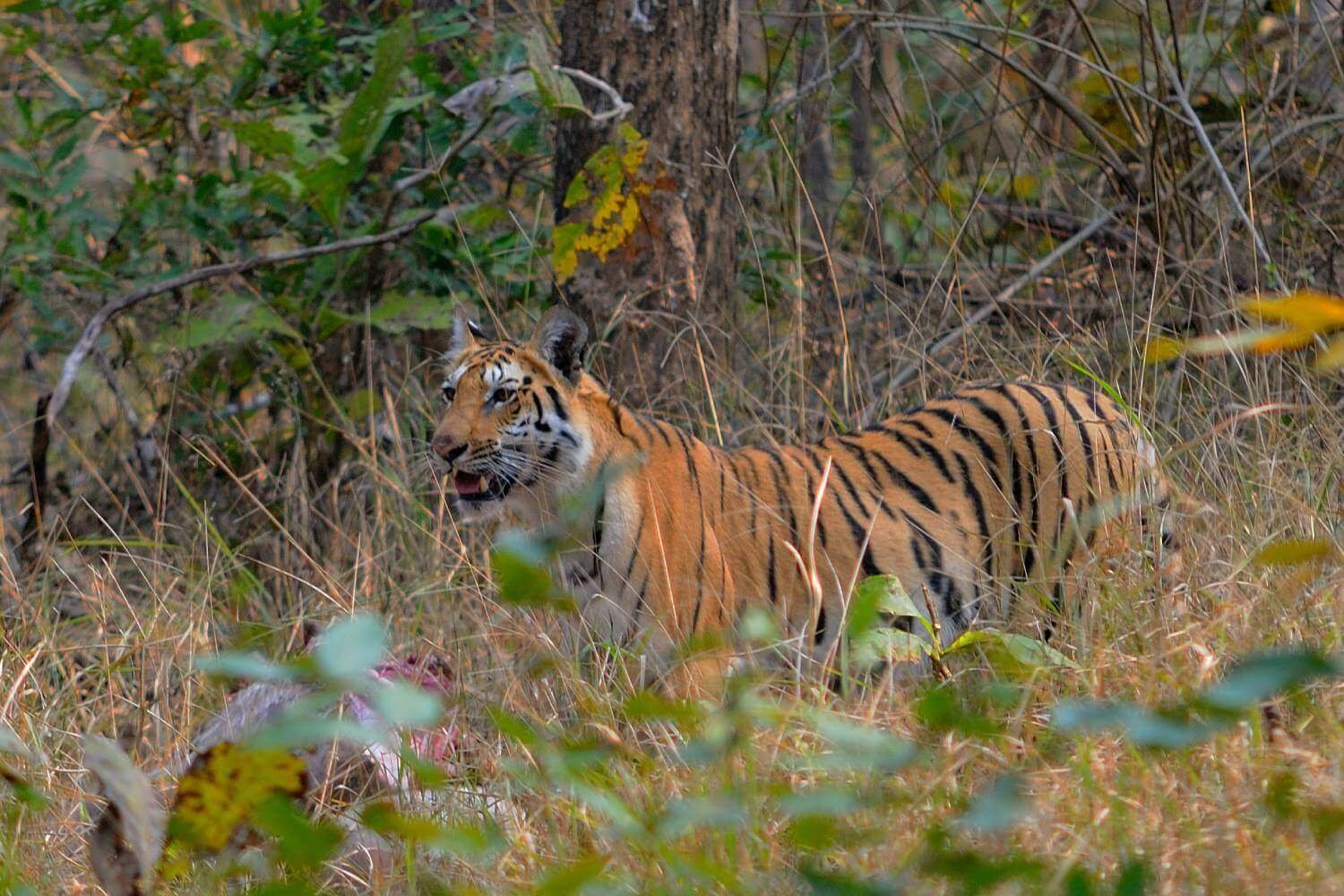 Pench National Park boasts a remarkable array of endangered species and exhibits incredible biodiversity. Within these abundant woodlands, approximately 25 tigers reign as the apex predators, hunting amidst a plethora of prey. Other fascinating predators that can be witnessed include Indian Wild Dogs, leopards, jackals, and jungle cats. The park also hosts a variety of prey species, such as Sambhar, chital, gaur, langurs, wild boars, and rhesus macaques. The sight of herds of deer is a common occurrence in the park, adding to its captivating wildlife encounters.
Notably, the park is a paradise for bird enthusiasts, as it is home to around 170 different species of birds. Among the avian residents, one can spot owls, crow pheasants, red-vented bulbuls, crimson-breasted barbets, magpie robins, lesser whistling teals, pintail ducks, shoveler ducks, herons, and many more.
Also Read: Panna National Park Travel Guide
Flora in Pench National Park: A Tapestry of Lush Beauty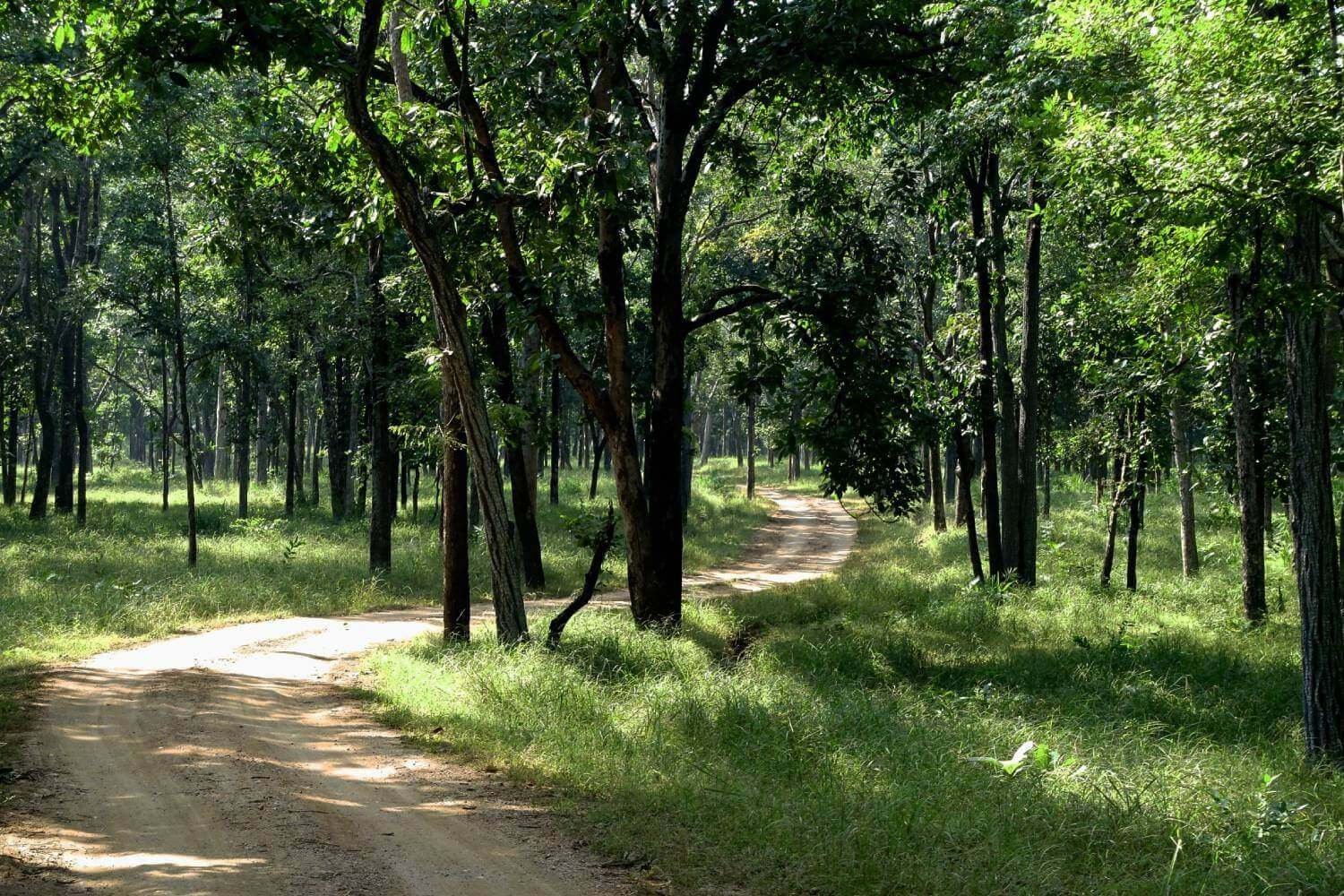 Pench National Park is blessed with rich and flourishing forests that extend across its entire expanse. Throughout the park, the landscape is adorned with a harmonious blend of southern tropical dry deciduous teak woods and tropical mixed forest vegetation, featuring an assortment of shrubs, majestic trees, and climbing plants. Dominant flora species in the park include Moyan, mahua, and mokhamo, adding to the park's botanical diversity.
Scattered sparsely in certain valleys, bamboo gracefully thrives, particularly along the banks of the streams. Moreover, Pench National Park is home to a remarkable array of rare and medicinal herbs, captivating the attention of scientists and doctors alike. Within the forested areas, solitary Kullu trees with their exquisite white flowers create a delightful contrast against the lush greens, enhancing the park's allure.
Also Read: Kanha National Park Travel Guide
Top Things to Do in Pench Tiger Reserve
Pench National Park is an enchanting haven of untamed wilderness. The extraordinary wildlife species that inhabit this remarkable natural masterpiece render it unfathomable to humankind. While we won't claim that you won't find a more peaceful sanctuary in nature, it is undeniably challenging to discover tranquil places in today's world. Unquestionably, Pench Tiger Reserve ranks among the top destinations for wildlife tourism in India. The reserve spans two regions, encompassing the southern half of Madhya Pradesh and the borders of Maharashtra, all nestled amidst the picturesque Satpura Hills. Now, let's explore the diverse range of options and activities that await you in this extraordinary park.
Birdwatching
Jungle Safari
Night Safari
Cycling Tour to Rukhad
Photography
Birdwatching in Pench Tiger Reserve: A Delight for Nature Enthusiasts
Embarking on a wildlife vacation, there is no finer way to immerse yourself in the wonders of nature than through the art of birdwatching. In Pench Tiger Reserve, you will have the opportunity to witness the magnificent array of 285 resident and migratory bird species that call this haven their home. An exhilarating birdwatching experience awaits as you venture to Khoka Lake, a sanctuary cherished by avid birdwatchers.
Transported in a vehicle, you will be guided to a realm of pure joy amidst the deep jungle surroundings, where the breathtaking sunset casts its warm glow upon the tranquil landscape. Serenaded by the sweet melodies of chirping birds, your senses will be enthralled by the harmonious symphony of nature. Among the diverse avian species gracing the skies, you may catch sight of Indian Pittas, Ospreys, and Grey-headed Fishing Eagles, their presence adding to the captivating ambiance of this pristine sanctuary.
Jungle Safari in Pench National Park: Immersing in the Splendors of Wildlife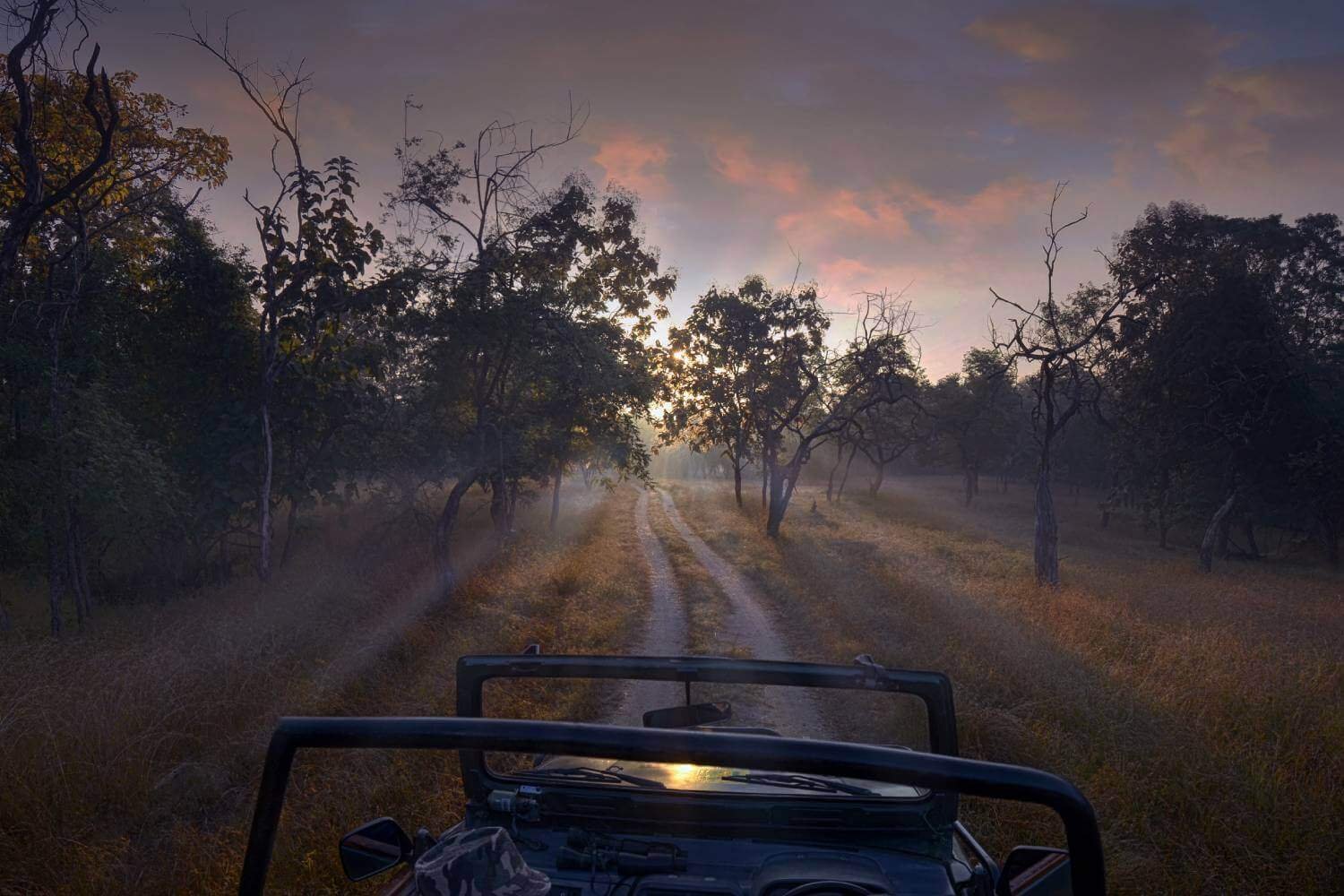 Embarking on a Fauna Jungle Safari is not only the best but also the only way to truly experience the incredible diversity of wildlife in Pench National Park. It undoubtedly stands among the top activities to partake in while exploring the wonders of Pench Tiger Reserve. A journey into the hereditary environment of wild animals promises an unforgettable adventure, where you can witness and hear them in their natural habitats.
As you traverse the park, be prepared to capture stunning images of the lush palm trees, vibrant hibiscus flowers, majestic araucaria, gentle rivulets, meandering streams, and thriving woodlands that surround you. Satisfying your thirst for wildlife exploration, the safari offers sightings of a wide variety of magnificent species. From the elusive tigers and nimble jackals to the impressive Indian bison, stealthy jungle cats, graceful leopards, nocturnal palm civets, elusive Indian civets, majestic nilgai, and elegant Sambar deer, the encounters will leave you in awe of the park's biodiversity.
Indulge in this exhilarating jungle safari, and let Pench National Park's captivating wildlife unravel before your very eyes.
Night Safari in Pench Tiger Reserve: A Thrilling Encounter with Nocturnal Wildlife
Nestled within the buffer zone of Pench National Park, an extraordinary opportunity awaits: the Night Safari. This unique adventure allows you to rent a Jeep and embark on an enchanting journey through the park's nocturnal realm, where a myriad of beautiful wild animals come to life under the moonlit sky. Wolves, jackals, nilgais, and spotted deer, among others, grace the landscape, creating a captivating spectacle that ranks among the finest activities in Pench National Park.
The highlight of the night safari lies in the wolf sanctuary, where a significant population of Indian Grey Wolves can be observed in their natural habitat. While the safari lasts for a couple of hours, the experience it bestows upon you will undoubtedly be one of the most memorable of your life. Immerse yourself in the nocturnal wonders of Pench Tiger Reserve as you venture through the sanctuary, guided by the enchanting calls of the wild.
Please note that the night safari can only be reserved in person, as it is not available for online booking. Embrace this thrilling opportunity to witness the wonders of the night and create unforgettable memories amidst the wildlife-rich terrain of Pench National Park.
Cycling Tour to Rukhad: Unforgettable Adventure Amidst Nature
Prepare for an incredible experience as you embark on a cycling tour that combines the thrill of pedaling through lush forests with up-close encounters with exotic animals. The enchanting Rukhad woodlands, serving as a buffer zone for Pench National Park, offer a gratifying sight with their ethereal wildlife, diverse floral species, and picturesque landscapes.
Setting off around 8 a.m., this guided cycling excursion culminates at the Sakata Forest Rest House. Covering a distance of 22 kilometers, the journey takes you through one of the most renowned ecotourism destinations, Pench National Park, teeming with exotic wildlife and abundant floral beauty. To make this adventure even more exciting and enjoyable, consider opting for a night camping experience, where you can immerse yourself in the tranquility of nature.
Savor the thrill of cycling amidst the scenic wonders of Rukhad, appreciating the captivating flora and fauna that surround you. This tour promises an unforgettable adventure that will leave you with cherished memories of this extraordinary natural paradise.
Photography in Pench National Park: Capturing Nature's Splendor
For photography enthusiasts, Pench National Park is a paradise that requires no introduction. Renowned worldwide for its breathtaking natural landscapes and rich wildlife, Pench offers a plethora of opportunities to capture stunning images, including those of endangered species such as the Bengal Tiger and Leopard.
As you explore the park, be prepared for dusty trails. It is highly recommended to carry a camera bag to protect your equipment when you're not shooting, as even a single trip can leave your camera covered in a reddish or brownish hue, depending on the color of the soil. Don't forget to bring your lens cleaning supplies to ensure crisp, clear shots. Additionally, using a bean bag can assist with stabilizing your camera for steady shots amidst the wilderness.
Given the unpredictable nature of electricity in the area, it is advisable to pack extra batteries to avoid any interruptions in your photography sessions. By coming prepared and taking advantage of the remarkable wildlife and scenic vistas that Pench National Park offers, you will have ample opportunities to capture the splendor of nature through your lens.
Most Popular Tourist Attractions in Pench National Park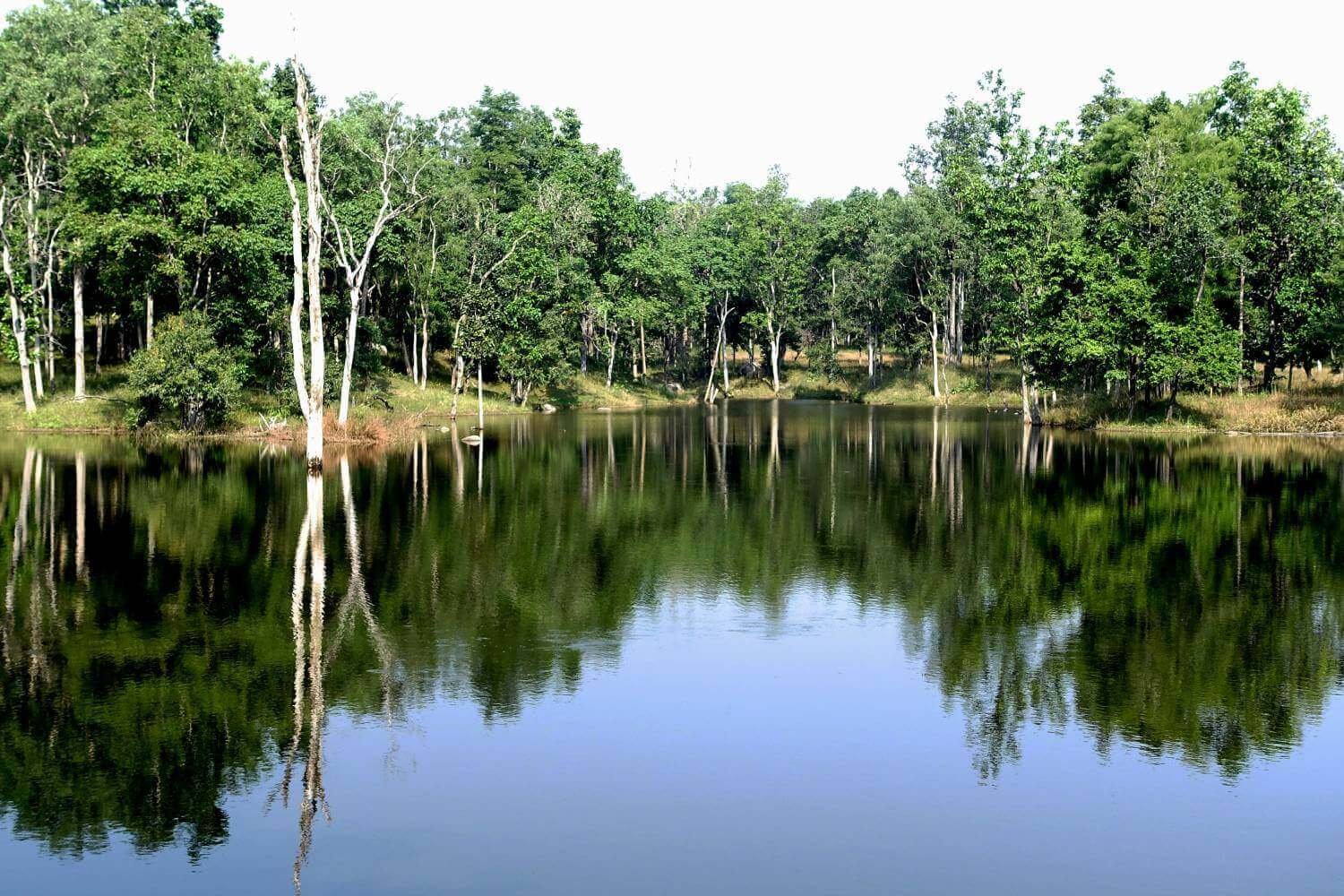 The sprawling expanse of Pench National Park encompasses seven safari zones, each boasting its own set of captivating tourist attractions. These must-visit destinations within the park are well-known to local guides, considered wildlife specialists, and can be easily accessed with any of the available safari tickets.
Kalapahad: A stunning mountain that marks the confluence of the Alikatta and Chhindimatta rivers, Kalapahad entices adventure seekers with its dense and formidable forested terrain. This mountainous region is a haven for langurs and leopards, which find refuge within the thick foliage, making it an intriguing location for wildlife enthusiasts.
Kohka Lake: Adding to the excitement and adventure of Pench National Park, Kohka Lake stands as one of its most picturesque attractions. Visitors can rent a jeep or opt for a cycling adventure to reach this serene lake, passing through the charming Touria village along the way. Kohka Lake is renowned for its diverse bird species, offering glimpses of rare and unusual birds. The mesmerizing sunset views at the lake make it an enchanting spot for nature lovers and photographers alike.
Sita Ghat: Nestled along the banks of the Pench River, Sita Ghat is an exotic locale adorned with rocky outcrops that enhance its natural beauty. This place holds particular charm, especially from January to March when the flowering trees create a remarkably photogenic setting. Visitors find themselves captivated by the picturesque surroundings, often taking multiple turns to preserve the memories of this scenic spot.
Totladoh Dam and Reservoir: Positioned on the Pench River, which flows through Pench National Park, the grand Totladoh Dam and Reservoir are unmissable attractions. This picturesque dam attracts almost all visitors to Pench National Park, offering a favorite spot for picnickers amidst lush forests. Nearby, a guest house and garden provide a stunning view of the dam, while the vast reservoir showcases a captivating array of aquatic animals and birds. People seeking respite from the busy city life find solace in this tranquil setting, immersing themselves in the beauty of nature.
Explore these renowned tourist attractions within Pench National Park and embrace the enchanting wonders that await you.
Best Time to Visit Pench National Park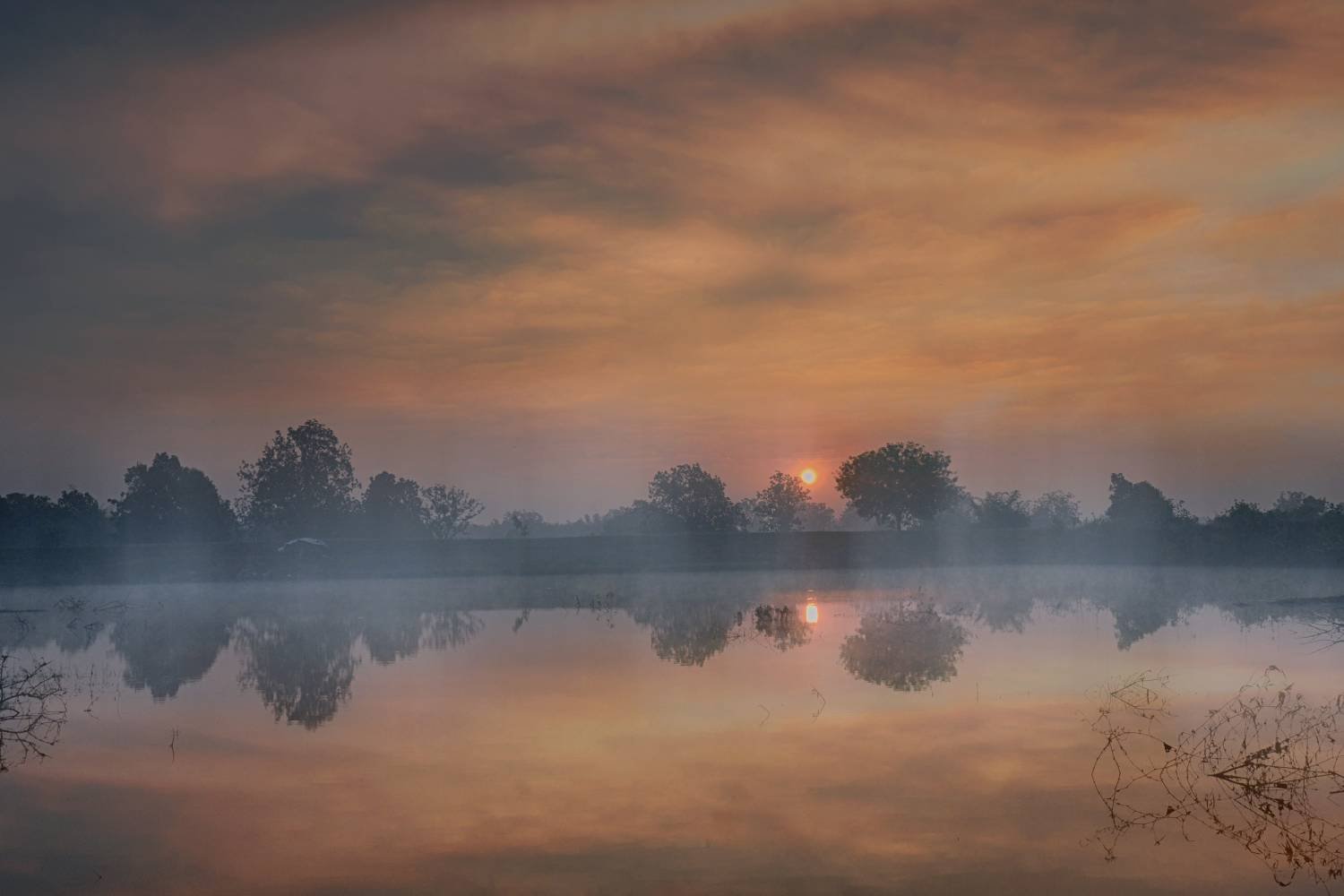 Pench National Park, like other parks in Madhya Pradesh, welcomes tourists from October to June. The month of October holds a special allure, as it showcases nature at its finest. Following the monsoon season, the park becomes a picturesque haven, adorned with lush vegetation and captivating scenery.
For wildlife enthusiasts and safari lovers, winter is the ideal time to visit Pench. From mid-November to January, the park offers the best opportunities to witness diverse wildlife and indulge in photography. The cool breeze adds to the thrill of embarking on a safari adventure, while the winter season provides optimal conditions for observing both nature and birdlife. The park reverberates with the melodious songs of resident and migratory birds during this time.
It is advisable to avoid visiting Pench National Park during the summer months due to the intense climate of the region. Madhya Pradesh experiences high temperatures during summer, making it less favorable for exploration. Unless you specifically wish to witness tigers and other animals emerging from their hiding places in search of water, it is recommended to plan your visit outside of the summer season.
By considering these factors and selecting the appropriate time to visit Pench National Park, you can fully immerse yourself in the beauty of the park's flora and fauna, creating memorable experiences in harmony with nature.
Like & follow us on our following official social media channels
Facebook | Twitter | Linkedin | Instagram | Youtube
Also Check Out: Popular India Tours | Tour Packages | India Tour Packages | International Tour Packages
International Trending Holiday Destinations – Nepal Tours | Bhutan Tours | Singapore Tour | Thailand Tours | Sri Lanka Tours | Maldives Tours | Dubai Tours | Indonesia Tours
Other Popular Trending Holiday Destinations in India – Kashmir Tour | Himachal Tour | Uttarakhand Tour | Rajasthan Tour | Gujarat Tour | Sikkim Tour | Kerala Tour | Andaman Tour | Madhya Pradesh Tour | North East Tours
Tour Packages by Interest – Adventure Packages | Wildlife Packages | Pilgrimage Packages | Heritage Packages | Hill Station Packages | Weekend Packages | Honeymoon Packages | Beach Packages | Chardham Packages | Trekking Packages
Other Interesting Wildlife Travel Guide Blogs to Read
Other Interesting India Travel Guide Blogs to Read
Other Interesting Destinations Travel Guide Blogs to Read
Other Interesting Uttarakhand Travel Guide Blogs to Read
Other Interesting South Travel Guide Blogs to Read
Other Interesting Adventure & Trekking Travel Guide Blogs to Read
Other Interesting Rajasthan Travel Guide Blogs to Read
Other Interesting Kerala Travel Guide Blogs to Read
Other Interesting International Travel Guide Blogs to Read