One of the most breathtaking places to visit in Asia is undoubtedly Krabi Province, which is situated in Southern Thailand and boasts the most stunning scenery. It is a must-visit location in Thailand, especially because of its stunning limestone cliffs rising majestically from the sea and land, serene waters of the Andaman Sea, dense mangrove forests, and astounding offshore islands.
A trip to Krabi offers a lot for everyone, whether you wish to enjoy the sunshine, relax on the stunning beaches, travel to adjacent islands, or participate in a variety of exciting adventure activities. Read through our comprehensive travel guides to Krabi before departing. They are loaded with expert tips that will make it easy for you to quickly plan your ideal Krabi itinerary.
Enjoy up to 30% off early bird discounts on Thailand Tour Packages with Bon Travel India! Contact us now via call or WhatsApp at +91-8802149265 for more information.
Must-Visit Places in Krabi: A Sightseeing Tour in Thailand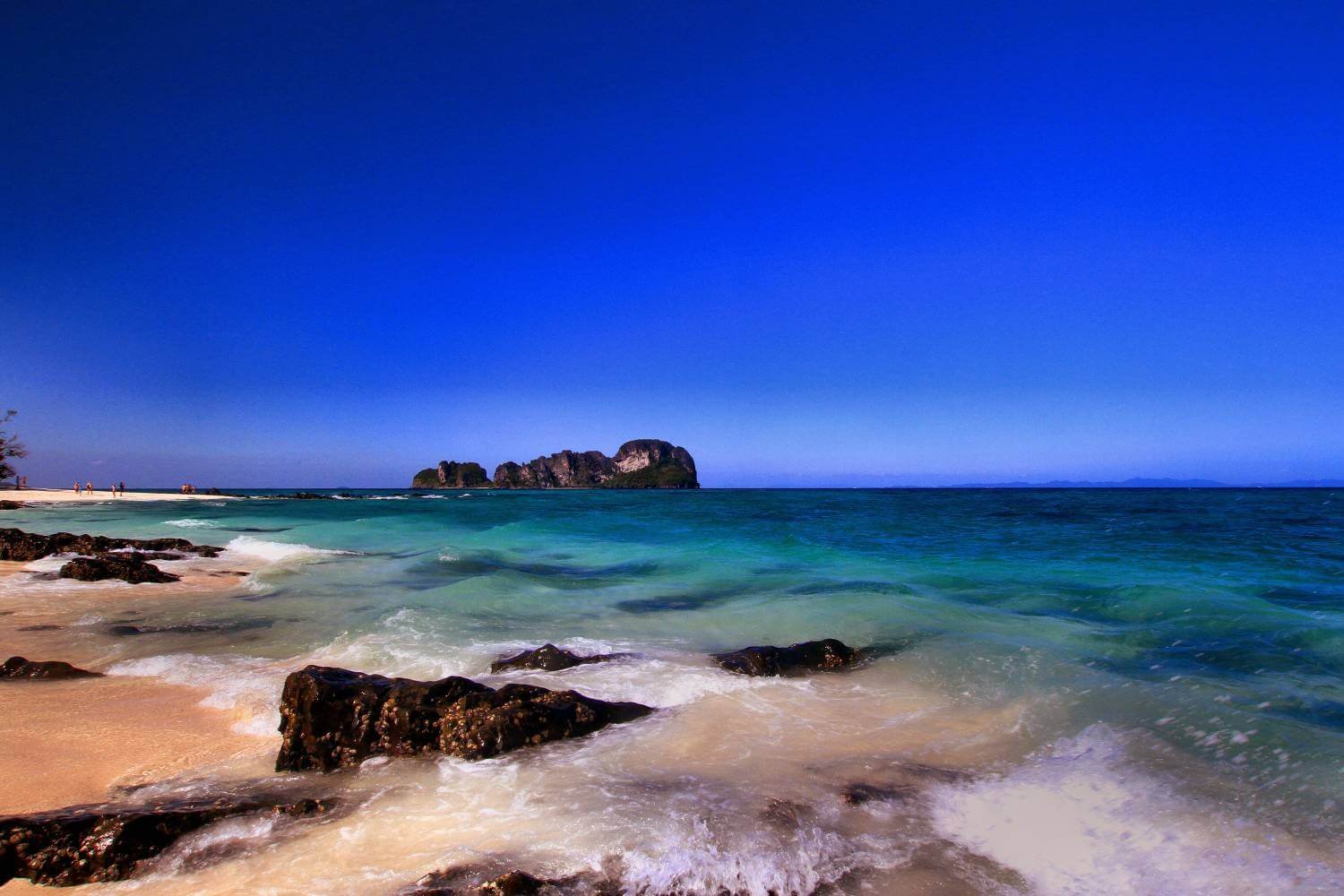 The spectacular limestone islands that dot the region's coastline are Krabi's striking calling card. You can take cruises to the most scenic areas, such as Koh Phi Phi and Koh Poda, which were formed by millennia of chemical erosion and boast gorgeous beaches. Additionally, these islands are home to some of the best rock-climbing locations in the world. There is no limit to the destinations in Krabi for a true traveler. Let's discuss some of the most visited and exotic places in Krabi.
Railay Beach
Koh Poda
The Emerald Pool
Mu Koh Hong
Tiger Cave Temple
Railay Beach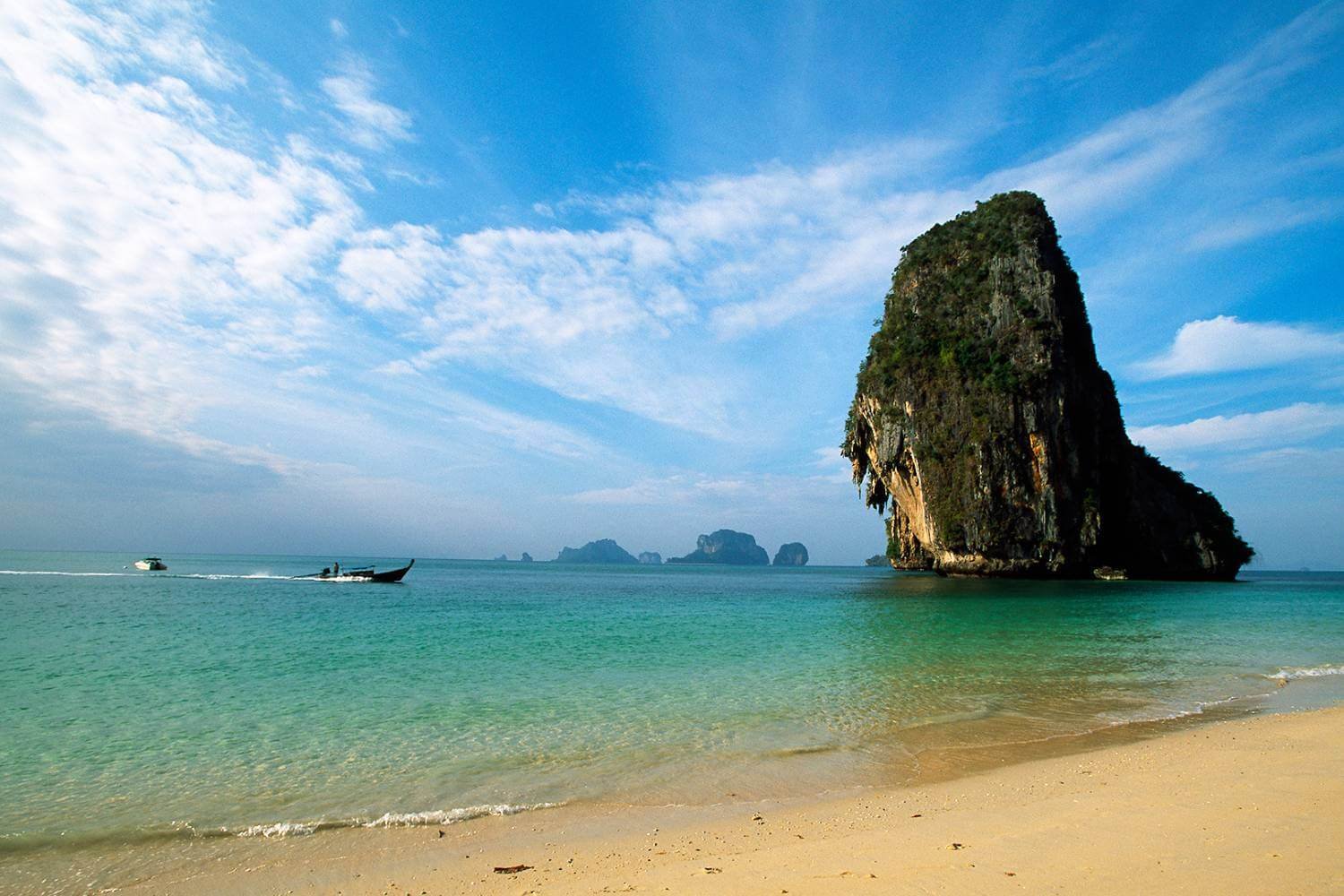 The majority of visitors travel to the Krabi region to escape the bustle of the city. The breathtaking seaside views, along with adventurous sports like rock climbing, make for a satisfying vacation. Due to the cliffs' rough surface, many tourists choose to try their hand at rock climbing at Railay Beach. The uneven terrain presents a challenge for beginners to hike up to the pond, which is hidden behind the limestone cliffs and can be accessed without significant hiking. At Railay Beach, you can participate in various activities. Travelers can engage in unique water pursuits such as snorkeling, offering a once-in-a-lifetime encounter with exotic marine life.
Highlight: Boats are the best means of transportation to the beach, providing a relaxing boating experience from the Krabi mainland to the beach.
Also Read: Best Places to Visit in Pattaya Thailand
Koh Poda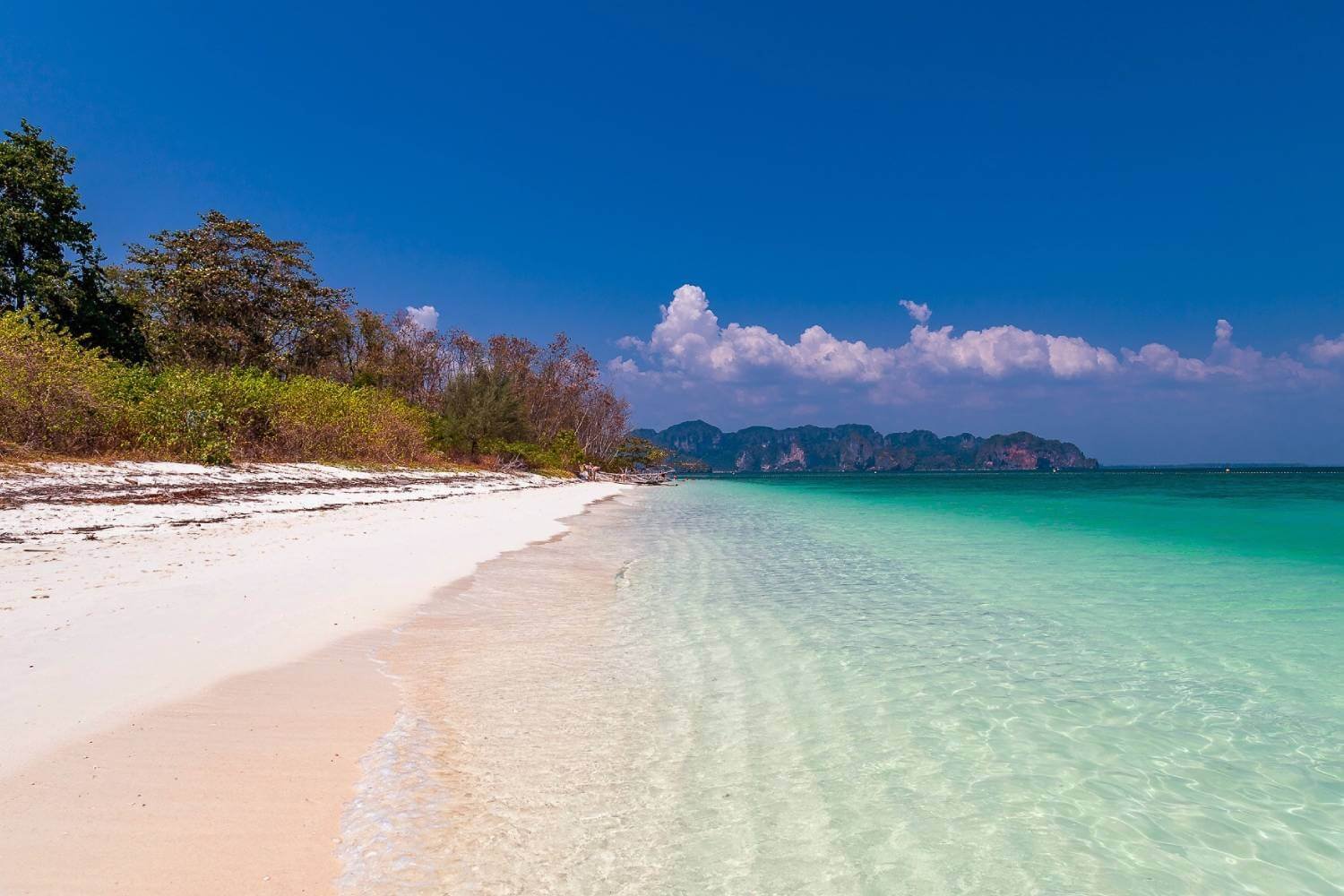 Koh Poda has become a popular tourist destination among travelers to Thailand despite its small size. It is owned by Hat Noppharatthara – Mu Koh Phi Phi National Park, and upon arrival on the island, visitors are required to pay a National Park entrance fee of about 400 baht per person.
The island is a paradise for outdoor enthusiasts, captivating them with its breathtaking views and idyllic landscape. While visiting the island, visitors can participate in various water sports such as swimming, snorkeling, and kayaking. The most prominent attraction of this location is the dramatic limestone cliff that rises on one end.
Travel Tip: Just twenty meters off the shore lies a stunning coral reef, making it an ideal spot for snorkeling and observing a variety of colorful fish in their natural habitat.
Also Read: Romantic Honeymoon Destinations in Thailand
The Emerald Pool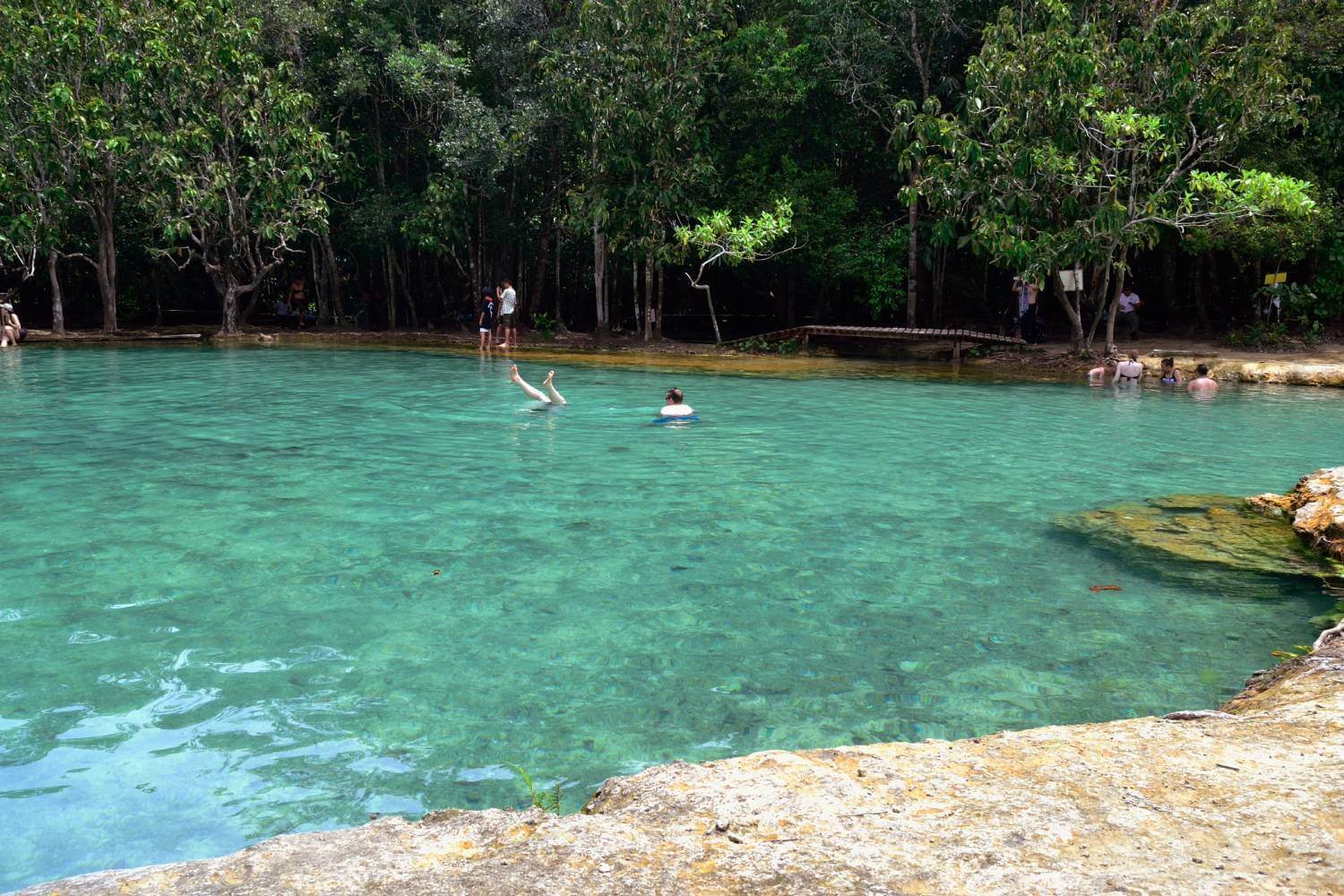 The Emerald Pool, also known as Sa Morakot, is a naturally occurring turquoise-blue pond filled with pure water from mountain streams. It is one of the top attractions in the area and is located in the Thai province of Krabi. The stunning Emerald Pool and the Blue Pool are two crystal-clear lakes situated in the heart of a magical wilderness. As you take a leisurely stroll through the forest, you can learn about the thriving ecology of the area. Many visitors are captivated by the unique atmosphere of the rainforest. If you wish, you are welcome to bring your bathing suit and enjoy a refreshing swim in this beautiful setting. It will be an experience you'll never forget!
Travel Tip: You can reach the pool by following a scenic trail through the natural forest, crossing clear streams, waterfalls, and other small ponds.
Mu Koh Hong
The popular islands such as Lao Riam Pakka, Lao or Sa Ka Lao La Ding, as well as the major southern island Lao Li Pe, are all part of the group of limestone islands that constitute Mu Koh Hong. The main attractions of these islands are their picturesque beauty, featuring white sand beaches, stunning coral reefs, fascinating surroundings, pleasant weather, and crystal-clear waters.
Adventure enthusiasts can indulge in plenty of entertainment at this destination, with options for activities like scuba diving and snorkeling. Fishing is also a popular hobby here, as the local seas are home to several unique fish species.
Tiger Cave Temple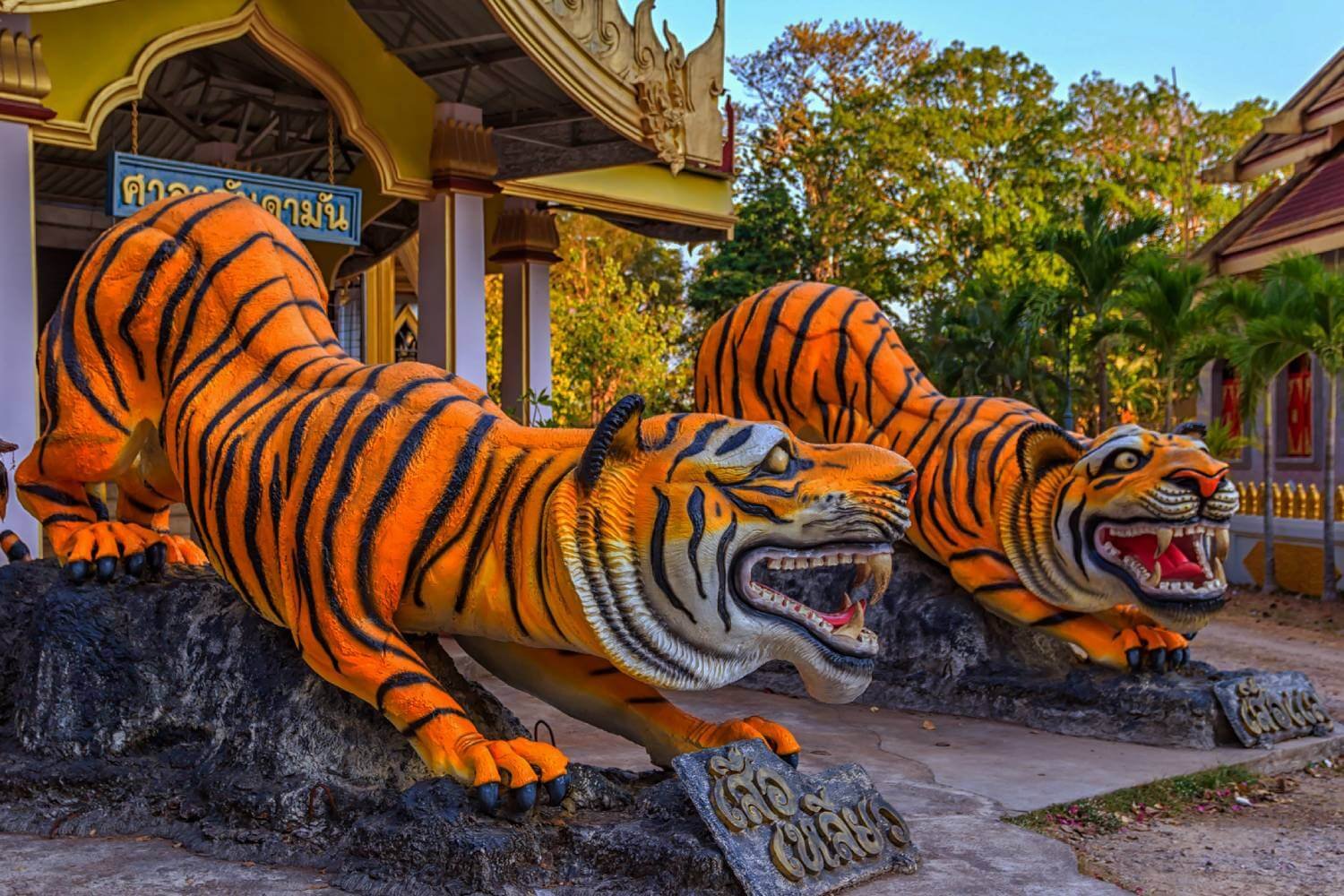 The Tiger Cave Temple is a revered Buddhist temple in Krabi. It is the kind of place that requires some effort to reach, but rewards visitors with beautiful sights. The temple gets its name from the prominent tiger paw impressions found inside the cave. A visit to the temple becomes even more fascinating due to the 1237-step staircase that must be climbed to reach the summit. From the top, you can enjoy a panoramic view of Krabi from every angle, which is a true visual treat. Overall, the Tiger Cave Temple is undoubtedly one of the top tourist destinations in Krabi.
In addition to the breathtaking views of Krabi and the tiger paw impressions, the site also features a giant statue of Lord Buddha.
There are many other places in Krabi that are equally awe-inspiring. Some of them include Ko Phi Phi, Tup Island, Ao Luk Mangroves, and some natural hot springs.
Top Things to Do on a Krabi Sightseeing Tour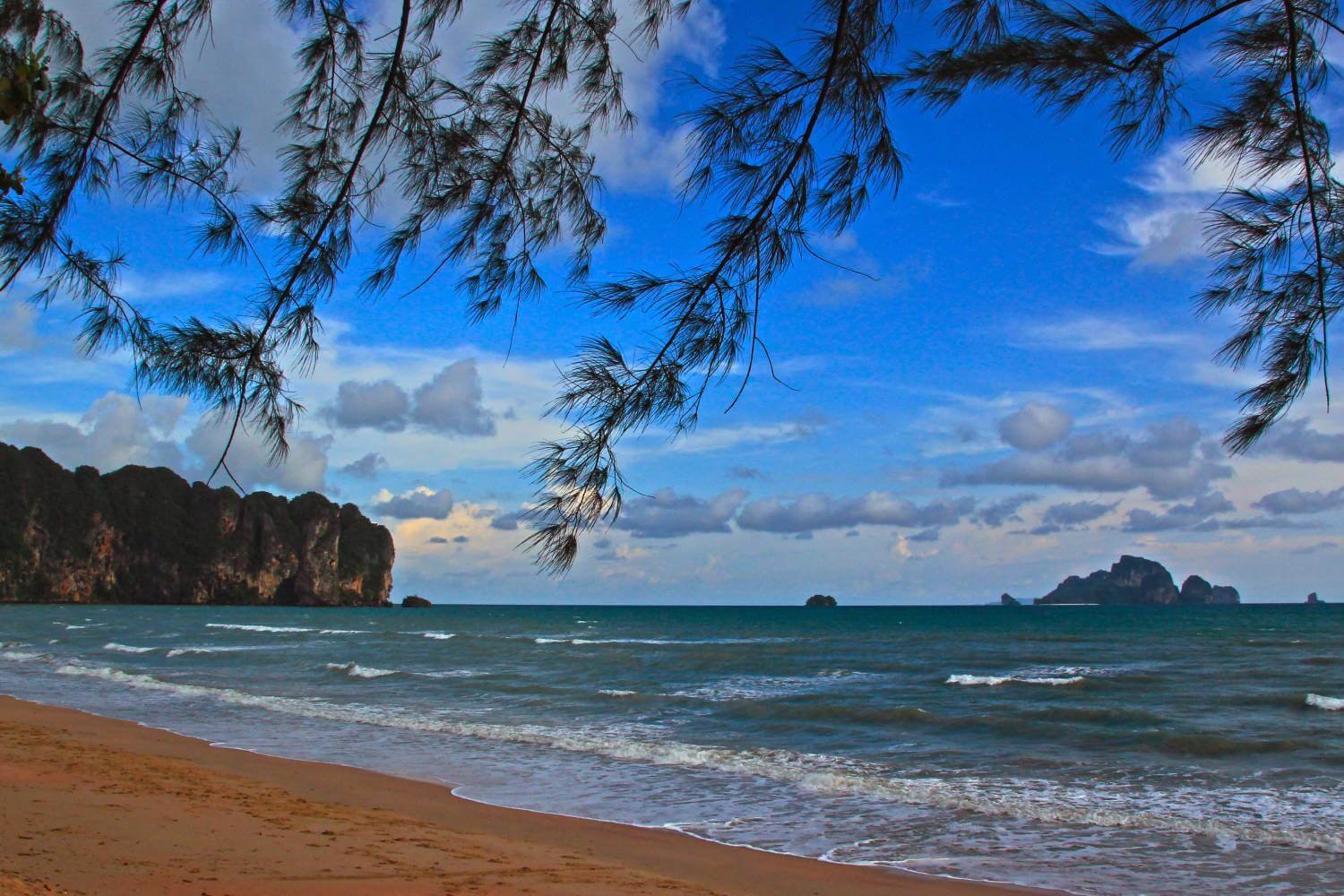 Relax and Rejuvenate: Experience the Tranquility of Krabi's Hot Springs
Nam Tok Rawn, Nature's unique hot tub jacuzzi, is located 70 km from the city center and near the Khao Phra Bang Khram Nature Reserve. Nestled in the dense jungle, this hidden gem offers naturally formed stone "bathtubs" that have been naturally hollowed out.
These hot spring tubs have become a popular tourist attraction in Krabi. They are filled to capacity with soothing pure spring water, flowing continuously at temperatures ranging from 35 to 42 degrees Celsius. The mineral-rich water possesses inherent healing and health-promoting properties.
Immerse yourself in the tranquility of Krabi with a soak in the hot springs. Feel your body's bottled fatigue wash away, leaving you refreshed for the next part of your tour. After enjoying a rejuvenating soak, take a leisurely plunge into the cool river flowing next to the natural tub, adding another layer of relaxation to your experience.
Savor the Flavors: Indulge in Delectable Local Delicacies
When it comes to skewers, there's no place that can compare to the local market in Koh Lanta Yai, that's for certain. Here, you'll find an abundance of grilled food, including skewered meats and uniquely shaped colorful fishes. Alongside the skewered delights, the market offers a plethora of mouthwatering local foods such as sushi rolls, milkshakes, enormous piles of cotton candy, chocolate-covered strawberries, and more.
Most of the time, the food is worth every penny. It is highly recommended to try various offerings from different stalls to truly indulge in the flavors. Doesn't it sound delicious?!
Dive into the Depths: Discover the Wonders of Deep-Water Exploration
Krabi's extensive coastline allows its residents to offer tailor-made water sports activities for sports enthusiasts. Whatever your preference, they have it all. You can choose from a wide range of exhilarating water sports, including speedboat tours, canoe and kayak excursions, snorkeling, fishing, cruising, island-hopping, and scuba diving.
If you're in Thailand for your honeymoon, don't miss out on these activities. They are particularly couple-friendly and perfect for creating unforgettable memories in Krabi.
How to Reach Krabi?
Reaching Krabi is easy and convenient, thanks to the excellent transportation services available.
By Air:
The majority of tourists traveling to Krabi choose to fly to Bangkok and then take a connecting flight to Krabi Airport (KBV). Upon arrival, you can take a Songthaew (open-backed taxi) for approximately 40 Baht or an air-conditioned shuttle bus to reach the main resorts for around 90 Baht. If you prefer self-driving during your visit, car rental companies like National offer practical solutions.
By Road:
For those renting a car at Krabi Airport, the fastest route to the coastal resorts is to drive north on Highway 4 for about five miles and then turn left towards the shore. This will take you to popular destinations such as Ao Nang and Krabi Town.
Bangkok's Southern Bus Terminal serves as a departure point for second-class, first-class, and VIP bus services that all travel to Krabi. The journey usually costs around 600 Baht, or 120 Baht if departing from Phuket.
Best Time to Visit Krabi
The ideal time to visit Krabi is during the peak travel season, which spans from November to March. During this period, the weather is pleasant, and it is the preferred time for most visitors to explore Krabi. On the other hand, from June to October, Krabi experiences heavy rainfall, which deters many tourists from visiting. To assist you in planning your trip, we have provided essential information about the climate conditions in Krabi.
December through mid-March: Following the rainy season, this period offers the coolest weather in Krabi. Naturally, it also attracts the highest number of tourists as the weather is perfect for beach lounging and engaging in water sports. Take advantage of the calm seas and spend your days relaxing on one of Krabi's stunning beaches.
Recommended Tips for Your Trip to Krabi
Krabi is generally a safe city, but it's important to be cautious as there may be a few con artists and petty thieves. Taking reasonable precautions will help ensure a smooth experience.
Transportation Risks – It's essential to be mindful of the state of transportation not only in Krabi but throughout Thailand. Motorbike accidents are a common cause of fatalities among tourists, particularly on the country's winding, steep, and narrow roads. It's advisable to avoid using public transportation as pickpockets may operate in such settings.
Beware of Scammers! – Keep in mind that some individuals in Krabi may try to deceive or overcharge you. Street vendors, individuals posing as police officers, and tuk-tuk drivers can all be potential con artists. Be cautious and aware of your surroundings. Additionally, be cautious when using ATMs as thieves may attempt to steal pin codes.
By staying vigilant and employing these tips, you can have a safe and enjoyable trip to Krabi.
Thailand is undoubtedly one of the most captivating vacation spots for any tourist. Alongside some of the world's finest beaches, Thailand is blessed with beautiful temples, breathtaking lagoons, and a wide range of adventure activities. Among the many stunning destinations in Thailand, Krabi stands out as one of the most beautiful, offering abundant attractions and experiences for travelers.
Explore Exquisite Tour Packages for Thailand
Like & follow us on our following official social media channels
Facebook | Twitter | Linkedin | Instagram | Youtube
Also Check Out: Popular India Tours | Tour Packages | India Tour Packages | International Tour Packages
International Trending Holiday Destinations – Nepal Tours | Bhutan Tours | Singapore Tour | Thailand Tours | Sri Lanka Tours | Maldives Tours | Dubai Tours | Indonesia Tours
Other Popular Trending Holiday Destinations in India – Kashmir Tour | Himachal Tour | Uttarakhand Tour | Rajasthan Tour | Gujarat Tour | Sikkim Tour | Kerala Tour | Andaman Tour | Madhya Pradesh Tour | North East Tours
Tour Packages by Interest – Adventure Packages | Wildlife Packages | Pilgrimage Packages | Heritage Packages | Hill Station Packages | Weekend Packages | Honeymoon Packages | Beach Packages | Chardham Packages | Trekking Packages
Other Interesting International Travel Guide Blogs to Read
Other Interesting Wildlife Travel Guide Blogs to Read
Other Interesting India Travel Guide Blogs to Read
Other Interesting Destinations Travel Guide Blogs to Read
Other Interesting Uttarakhand Travel Guide Blogs to Read
Other Interesting South Travel Guide Blogs to Read
Other Interesting Adventure & Trekking Travel Guide Blogs to Read
Other Interesting Rajasthan Travel Guide Blogs to Read
Other Interesting Kerala Travel Guide Blogs to Read