On the banks of the Narmada River in Madhya Pradesh, the historic city of Jabalpur stands tall. With its picturesque ghats, the awe-inspiring 98-foot-high Dhuandhar waterfall, magnificent marble sculptures, and an abundance of historical and cultural landmarks, Jabalpur has emerged as a prominent tourist destination in India. Formerly known as an industrial city, Jabalpur has now captured the attention of travelers far and wide. The iconic Dhuandhar Falls and the mesmerizing Bhedaghat-Marble Rocks hold the top spots among the city's renowned tourist attractions. Additionally, we highly recommend a visit to the famous Chausath Yogini Temple at Roopnath and the 17th-century Madan Mahal Fort, both located alongside the majestic Narmada River. Another must-see attraction in Jabalpur, Madhya Pradesh is the Balancing Rock. This vibrant city not only boasts contemporary amenities and a diverse working-class population but also showcases British-style buildings and breathtaking natural landscapes. Moreover, Jabalpur serves as an excellent starting point for exploring the nearby Kanha National Park and Bandhavgarh National Park, making it a perfect destination for nature enthusiasts and wildlife lovers alike.
A Glimpse into Some of the Most Exotic Places to Visit in Jabalpur
Prepare to be mesmerized by the splendor of this cultural city, where the seamless blend of contemporary and traditional values will leave you in awe. Jabalpur tourism offers a plethora of breathtaking destinations, such as the enchanting Dhuandhar Falls and serene Dumna Nature Park, providing a sanctuary for those seeking respite from the hustle and bustle of daily life. The sight of pristine white marble boulders adorning the banks of the Narmada River is sure to ignite your imagination. This Madhya Pradesh tourism gem is characterized by majestic mountains, crystal-clear rivers, magnificent waterfalls, and an abundance of historical sites.
But that's not all; Jabalpur tourism also offers captivating activities that will enhance your overall experience of the city. Let's delve into the array of enjoyable things to do in Jabalpur, ensuring you make the most of your visit by incorporating them into your itinerary.
Name of Place
Reasons to Visit
Dhuandhar Falls

Magnificent waterfall with a height of 30 meters
Breathtaking views of the Narmada River and marble-like rocks
Sighting platforms for optimal viewing and photography

Bhedaghat

Stunning Marble Rocks rising to a height of 100 feet
Spectacular confluence of the Narmada and Banganga rivers
Mesmerizing boat rides amidst the marble formations

Chausath Yogini Temple

Ancient circular temple dedicated to 64 yoginis and other gods
Intricate carvings and architectural beauty
Majestic surroundings and panoramic views

Balancing Rock Formation

Unique geological formation with balanced volcanic rocks
Endured powerful earthquakes and remained in balance
Picturesque location for photography and exploration

National Park of Fossils

Showcasing fossilized flora dating back millions of years
Rich collection of fossil remains discovered in the region
Insight into prehistoric species and geological history
Get up to a 30% early bird discount on our Madhya Pradesh Holiday Packages. For more details, call or WhatsApp us at +91-8802149265.
Let Nature's Splendor Enchant You: Dhuandhar Falls, Beauty Beyond Imagination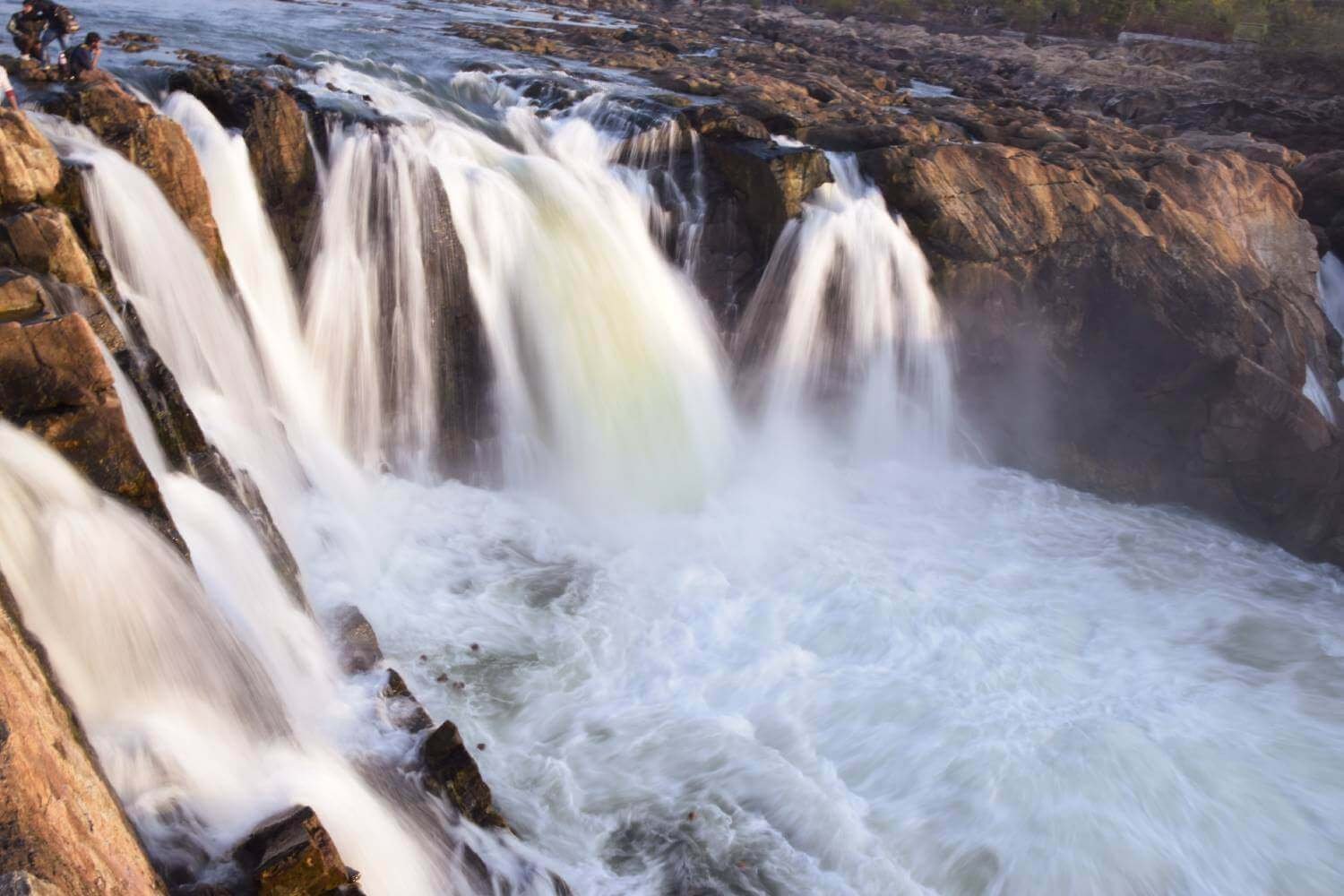 In the district of Jabalpur lies the magnificent Dhuandhar Falls, an immense attraction that draws countless tourists. These stunning falls cascade down a height of 30 meters, creating a breathtaking spectacle. The renowned Narmada River gracefully flows past the marble-like falls, narrowing and then plunging forcefully, giving birth to the majestic Dhuandhar Falls. Sighting platforms have been thoughtfully constructed along the side to offer optimal viewpoints, but it is important to heed the guardrails and not cross them. Beneath the water's surface lies a bed of white and grey marble rocks, intensifying the ethereal pale hue of the waterfall. The area is perpetually abuzz with visitors eager to witness this awe-inspiring marvel of nature, and the scenery undeniably leaves one in a state of astonishment.
We highly recommend embarking on a boat ride along the River Narmada to witness a magical transformation as the white marble turns golden, particularly during the enchanting hours after dusk. This unforgettable 6-kilometer journey takes you through narrow valleys embraced by cliffs soaring up to 100 feet in height. The boat rides are typically available from November to May, with a temporary suspension during the monsoon season due to substantial water influx.
The ambiance of this location is simply enchanting, with the soothing sound of water cascading being music to the ears. It serves as an idyllic setting for a delightful picnic. Just grab some delectable food, gather your loved ones or friends, and savor a memorable experience amidst the scenic splendor.
Also Read: Madhya Pradesh Tourism Information
Witness Nature's Masterpiece: Marble Rocks of Bhedaghat, Carved by the Passage of Time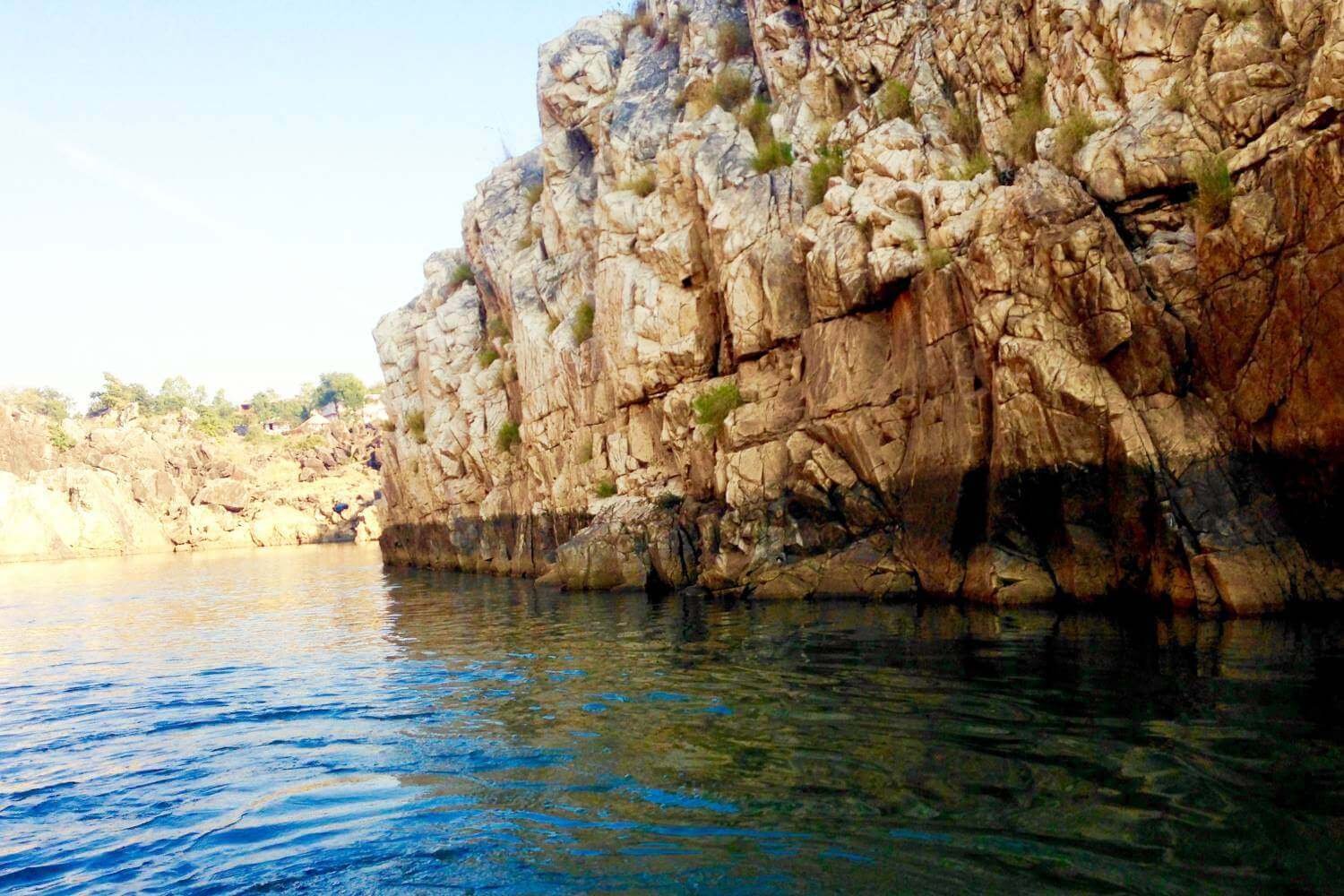 The quaint village of Bhedaghat is renowned for its sacred confluence, where the Banganga and Narmada rivers merge. The name "Bhedaghat" derives from the term "bheda," signifying the union at this holy site. For ages, Bhedaghat has been a revered destination for diverse rituals, serving as a sacred path and once known as Bhairava. Legend has it that the esteemed sage Bhrigu spent numerous years offering worship to Lord Shiva in this very place. Along both banks of the Narmada River, the Marble Rocks of Bhedaghat soar with captivating beauty, reaching heights of up to 100 feet. Amidst the resplendent whiteness, streaks of pink, blue, and azure occasionally intersect, adding to the mesmerizing spectacle.
Described as "the sinuous valley of white marble" in the Imperial Gazetteer, this area enchants all with its tranquil ambiance, where the river flows serenely amidst towering cliffs of magnesium limestone. The natural allure of this location touches the hearts of all who behold it, as the sunbathes the marble-white pinnacles in its radiance, casting dappled shadows on the crystal-clear waters below.
Also Read: Best Places to Visit Near Bandhavgarh
Step into Ancient Mysteries: Chausath Yogini Temple, Where Legends Echo
Before the construction of the Chausath Yogini Temple, a grand flight of stairs once led to the hilltop where the temple now stands. Surrounding the circular temple, which features an open-air section, are eighty-one auxiliary chapels that house statues of sixty-four yoginis and various other deities. The credit for its construction goes to Yuvarajadeva I, the Kalachuri ruler, who commissioned the temple in the tenth century.
Encircled by a massive circular wall, the temple stands as a testament to its grandeur and has become one of Jabalpur's most popular tourist attractions. With an outer circumference of 41 meters, it claims the title of the largest yogini temple in all of India. Exploring this expansive temple and marveling at its ancient beauty and intricate carvings is a delightful experience. A visit to the Chausath Yogini Temple is an absolute must during a sightseeing tour of Jabalpur, Madhya Pradesh.
Also Read: Top Wildlife Safari Destinations in Madhya Pradesh
Balancing Rock Formation – Marvel at Nature's Perseverance
The Balancing Rock formations in Jabalpur were primarily formed from disintegrated volcanic rocks, which have remarkably endured powerful earthquakes reaching magnitudes as high as 6.5. According to the locals, nothing can disturb the equilibrium of these rocks. Surrounded by picturesque hillocks, this region offers visitors a splendid natural retreat. In close proximity to the cliffs lies the Madan Mahal Fort in Dental, attracting people who capture stunning selfies against the backdrop of these remarkable rock formations. Located in the Jamtara hamlet, 17 kilometers east of Jabalpur, the Bhadbhada Waterfall is an awe-inspiring destination. It takes approximately 43 minutes to reach the waterfall, and the city of Bhopal is also easily accessible. The waterfall provides a magnificent setting for photography and filmography, making it a popular spot for visitors seeking breathtaking landscapes.
Kalchuri Residency is an excellent accommodation option for your stay, conveniently located around 10 kilometers from the waterfall. Renting a car from the property will allow you to easily reach the fall and explore its captivating beauty.
Preserving Ancient Secrets: Discovering the National Park of Fossils
Located in the Dindori area, 85 kilometers from Jabalpur, is the National Park of Fossils. This park was established by the Madhya Pradesh government in 1983 with the aim of showcasing and preserving fossils discovered during various excavations and research conducted in the state. Despite its small size, the park is a captivating destination near Jabalpur, renowned for its abundant floral fossils dating back approximately 40 to 150 million years. These fossils are scattered across seven communities within the park, located in the Mandla District, namely Ghuguwa, Umaria, Deorakhurd, Barbaspur, Chanti-hills, Chargaon, and Deori Kohani.
Also Read: Top Destinations to Visit in Madhya Pradesh
How to Reach Jabalpur in Madhya Pradesh
By Air
Dumna Airport, the nearest airport, is located 20 kilometers from Jabalpur city. Jabalpur enjoys excellent air connectivity with major cities such as Mumbai, Delhi, Pune, Nagpur, Bhopal, and Indore.
By Rail
Jabalpur is home to the notable West Central Railway station, which serves as a prominent railway hub in the region. Additionally, Jabalpur houses the DRM (Divisional Railway Manager) and General Manager Office. Traveling to Jabalpur by rail is convenient, with excellent connectivity from several major cities across the country.
By Road
Jabalpur boasts excellent road connectivity, with convenient access to major state and national roadways through the National Highway network. No matter where you are in Jabalpur, you can easily reach and traverse the well-connected roadways.
Travel Tip- For short distances, the most convenient mode of transportation is a cycle rickshaw. Taxis are readily available at the airport and train station, providing transportation to your accommodation and offering city tours to explore the rest of the city.
Also Read: Panna National Park Travel Guide
Best Time to Visit Jabalpur, Madhya Pradesh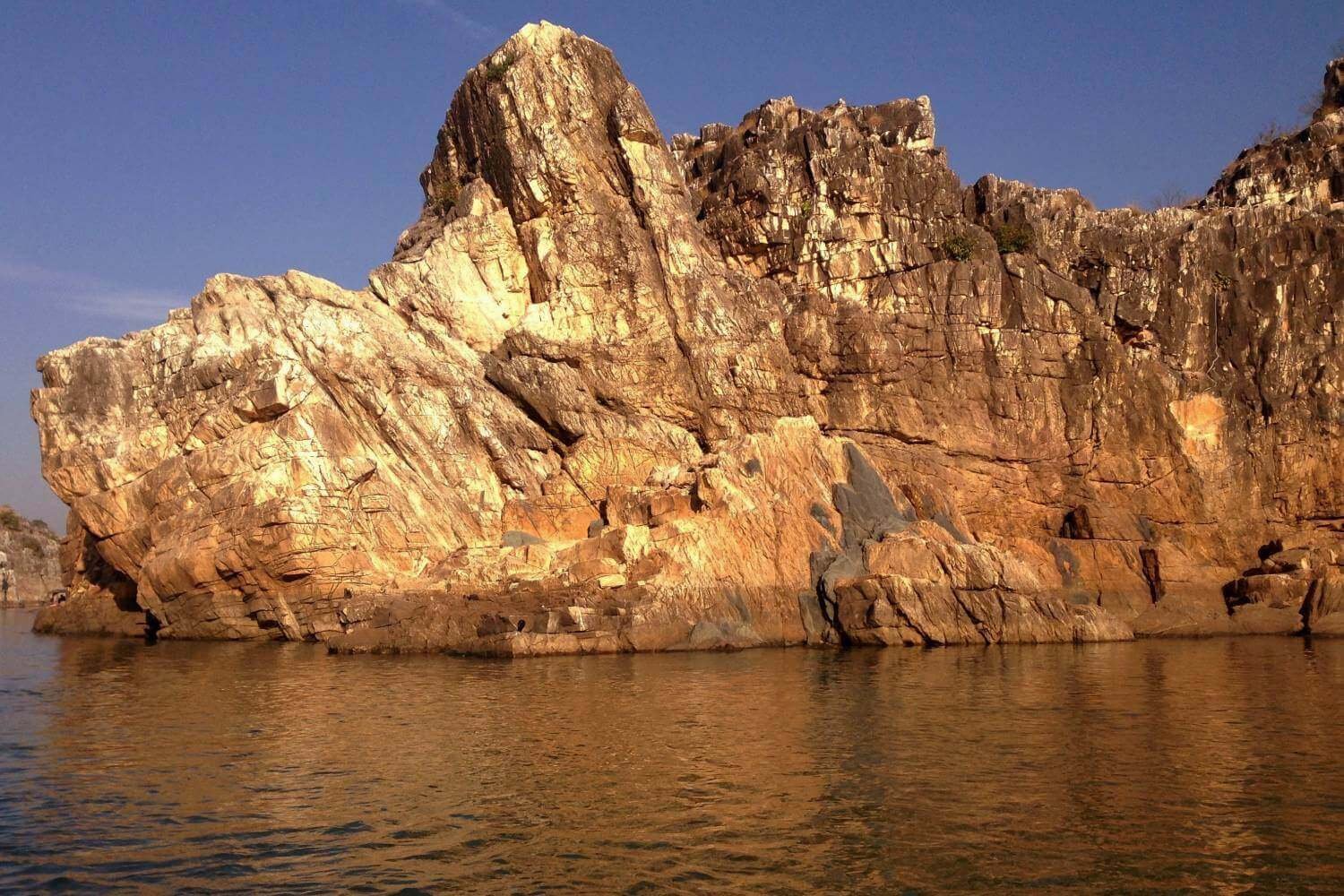 The ideal time to visit Jabalpur is from September to March, as this period offers the most favorable weather conditions. Jabalpur experiences a humid subtropical climate, typical of the Deccan region. The winter months are characterized by calm and pleasant weather, making it the recommended time to explore Jabalpur. During this season, prominent tourist destinations in Jabalpur, such as Marble Rocks, Madan Mahal Fort, Rani Durgavati Museum, and others, witness a significant increase in visitors. The Dhuandhar Falls and Chausatyogini Temples are also worthwhile stops during this time. It is advisable to avoid visiting during the summertime, as temperatures can soar as high as 45 degrees Celsius in the state.
Check out popular tour packages for Madhya Pradesh
Frequently Asked Questions
Who should visit Jabalpur?
Nature and history enthusiasts are frequent travelers to Jabalpur. The city appeals to visitors from all across India, and it is particularly popular among residents of Chhattisgarh, Madhya Pradesh, and Maharashtra as a favored vacation destination.
What are the best places to visit near Jabalpur?
The best nearby locations to visit from Jabalpur include Bhedaghat, which is 14 kilometers away, Kanha National Park, located 116 kilometers away, Bandhavgarh National Park, situated 124 kilometers away, Pench National Park, positioned 128 kilometers away, and Agra, which is approximately 486 kilometers away.
What is the most famous local food in Jabalpur?
You shouldn't miss the delectable dishes of Jabalpur, known for their rich flavors, aromatic spices, and famous street food that has gained popularity throughout the country. Indulge in regional cuisine, including bhels, Aloo Tikki, chaat, dosas, lassi, rabri, jalebi, and many other mouthwatering dishes. Additionally, we highly recommend trying the tantalizing "Indian-Chinese" cuisine that is served in Jabalpur.
Disclaimer: We have carefully researched and published this informative content. If you, as a reader, come across any information that you believe is inappropriate and needs correction, please kindly notify us at info@bontravelindia.com.
Like & follow us on our following official social media channels
Facebook | Twitter | Linkedin | Instagram | Youtube
Also Check Out: Popular India Tours | Tour Packages | India Tour Packages | International Tour Packages
International Trending Holiday Destinations – Nepal Tours | Bhutan Tours | Singapore Tour | Thailand Tours | Sri Lanka Tours | Maldives Tours | Dubai Tours | Indonesia Tours
Other Popular Trending Holiday Destinations in India – Kashmir Tour | Himachal Tour | Uttarakhand Tour | Rajasthan Tour | Gujarat Tour | Sikkim Tour | Kerala Tour | Andaman Tour | Madhya Pradesh Tour | North East Tours
Tour Packages by Interest – Adventure Packages | Wildlife Packages | Pilgrimage Packages | Heritage Packages | Hill Station Packages | Weekend Packages | Honeymoon Packages | Beach Packages | Chardham Packages | Trekking Packages
Other Interesting India Travel Guide Blogs to Read
Other Interesting Destinations Travel Guide Blogs to Read
Other Interesting Uttarakhand Travel Guide Blogs to Read
Other Interesting South Travel Guide Blogs to Read
Other Interesting Adventure & Trekking Travel Guide Blogs to Read
Other Interesting Rajasthan Travel Guide Blogs to Read
Other Interesting Wildlife Travel Guide Blogs to Read
Other Interesting Kerala Travel Guide Blogs to Read
Other Interesting International Travel Guide Blogs to Read