Paro, the mystical town in Bhutan might make you a philosopher who guides his/her soul by losing it every time; a hermit whose only purpose is to be lost in this dream land and a candle who burns and melts continuously to be lost in its mesmerizing mystical paradise. Even a single glimpse of Paro might make your visceral whistle and leaves an imprint of desire in your heart to know the map of this quaint town.
Paro is an indifferent canvas who needs a traveler to brighten its identity and a traveler on the other hand is like a wholesale dashing of colors upon this canvas.
On the town receding into the distance, the sides of the road began to be varied with beautiful farm houses; forested hillsides and sometimes, paddy fields.
You will never fall short of places to visit in Paro. Holidaying in Paro is a great opportunity for travelers to drink the drops of serenity away from the hustle bustle of city life.
Same yet unique at every level Paro wants you to add his name to your mesmerizing journey of knowing top tourist places. If you do, here is our list of Top 10 best places & attractions to visit in Paro, Bhutan-
Tiger's Nest Temple/Monastery
Weekend Market of Paro
Paa Chhu River
Kyichu Lhakhang
Chele La Pass
Paro Farm Houses
Dobji Dzong
Paro International Airport
Jangtsa Dumtseg Lhakhang
National Museum of Bhutan
Get upto 30% early bird discount on Bhutan Tour Packages. For booking Call or WhatsApp on +91-8802149265 / +91-7668130655
Tiger's Nest Temple – Seat of Mysticism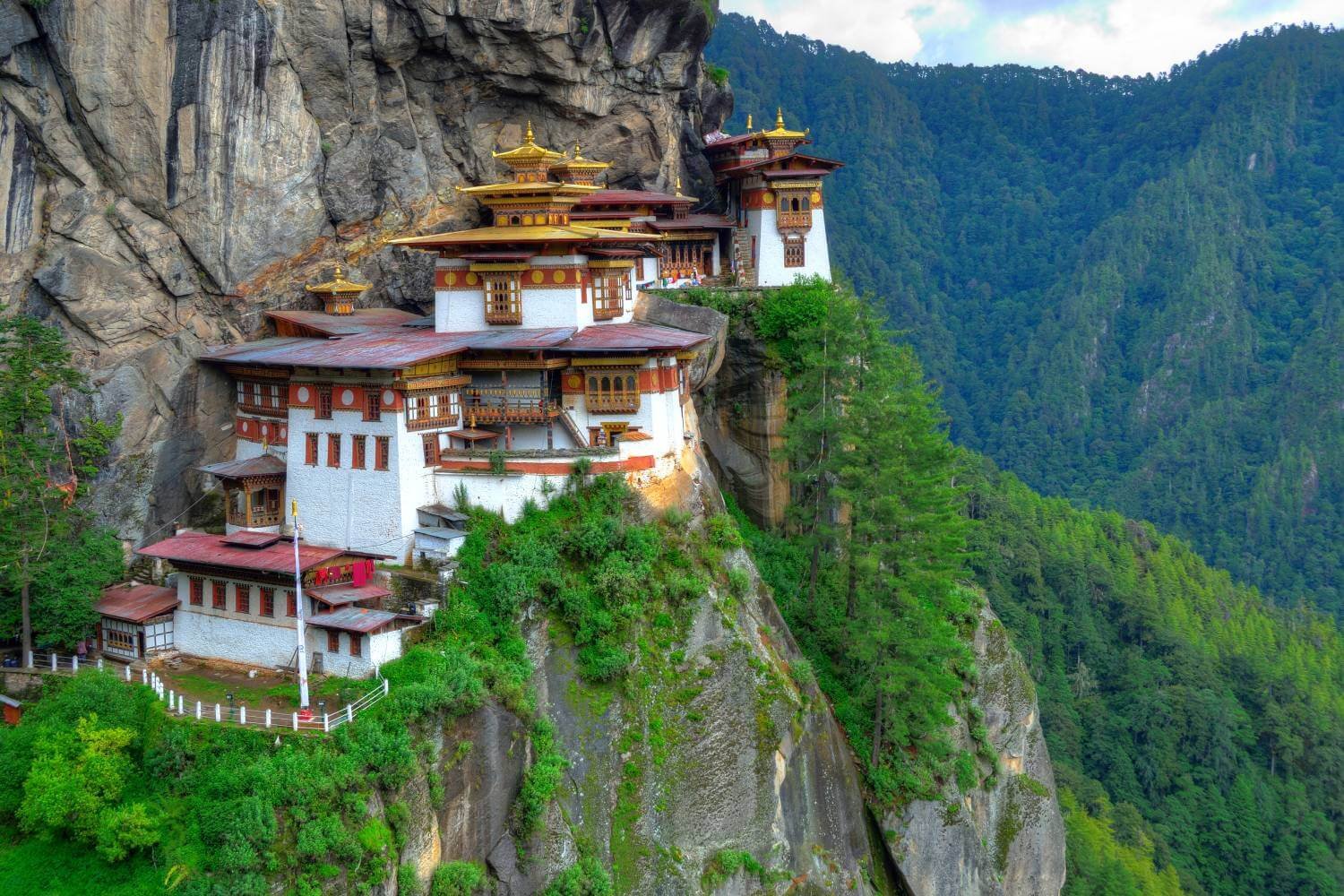 Picturesque and enchanted Paro is cradled high in beautiful and divine Buddhist Monasteries. One of them is Perched like a crown on a mountain cliff top- Tiger's Nest Temple, also known as Taktsang lhakhang. It is one of the most popular tourist attractions in Paro. It is located 900 meters above Paro Valley.
It has been one of the popular points of tourist interest in Paro.
Why?
Gravitating Backwards in History
This Land of Mystics built by Gyalse Tenzin Rabgye in 1692 where the Second Buddha Guru Rimpoche sowed the seeds of Buddhism.
Mystical Stories are set in Cave
The monastery still retains an aura of Guru Rimpoche who flew to this site on the back of a flying tigress and meditated in the cave for 3 years, 3 months, 3 days and 3 hours to destroy the evil demons resting within it.
Dawn and Dusk of Disaster:
This monastery was completely devastated by fire in 1998, later restored in 2005.
Taste the Serene drops of Spirituality
Tiger's Nest epitomises Mysticism, Picturesque landscapes, ancient culture and a useful insight to the history of Buddhism. One must consider Tiger's nest Monastery while travelling Paro.
Divinely inspired Travellers! Embrace the meditative sights on a hike to:
Tiger Nest Temple, as it is the best thing to do in Paro's 'Top things to do list'. Those who cannot hike for so long must hire a horse to reach the monastery.
Mystic quest to Blissful togetherness
It is also one of the best honeymoon destinations in Paro to enjoy the bliss of togetherness through adventure and thrill.
Sublime Beauty
On your way to this sublime mountain path; the exquisite mountain ranges; waterfall and beautiful forests will gaze into your eyes filled with curiosity. In winters, one can also see fog come like thin spirals like spirits in a churchyard thickened with the force of a genie from a bottle. This makes the sightseeing in Paro more interesting and fun filled.
Maze like network of Paths
Your first path in the trail is protected with Prayer banners which give positive energy to the travellers; the two other paths passing through the plateau of "Hundred Thousand Fairies". Also stairs will lead you up and down throughout the journey.
These scenic views will awaken the photographer in you. Tourists can also take a break in the cafeteria to enjoy some scrumptious refreshments.
It takes 5 to 7 hours depending on your speed to reach the monastery. In the main shrine, everyday at 4 am Temple monks rotate prayer wheel. This place is one of the top visiting places in Paro.
Best Time to Visit
The best time to visit Tiger Nest monastery is September to November. During winters the weather is quite clear and the atmosphere is cool.
Summers have a moderate temperature with clear sky.
However, those who want to visit the monastery in summer season must consider the month of March and April as a festival called Tsechu in the honour of Padmasambhava is also celebrated during that time. It is also the best time to visit in Paro with family.
Monsoon is not the best time to visit Tiger Trail Monastery as humidity and heavy rainfall can ruin your trip.
Rules are Rules
Photography is not allowed inside the monastery; you need to put all your personal belongings in a locker.
While entering the monastery complex, proper dress code should be followed (Covered dress – Long sleeve top / Sweater and Pants). Remove shoes and hats while visiting monasteries and temples.
Weekend Market of Paro – Chill and Grill Electric Vibes
Hugely tranquil, and in parts delightfully chaotic, Weekend Market of Paro bursts with life like few other places on Earth.It dances to its own unique rhythm and luring the tourists from across the world to experience its colour, contrast and vitality.
What you won't ever forget?
Here tradition echoes through regional artefacts, history speaks through Bhutanese stamps. With a string of what could be the best tourist place of Paro, Bhutan, Weekend market of Paro is no undiscovered escape, but the market bustles with tourists looking for regional and traditional treasures like hand- crafted Prayer wheels, Kira and Gho (Bhutanese Dress), Juniper incense etc.
Trail of a lifetime
It is not wrong to say that the market boasts of Bhutan's cultural heritage. It is also one of the popular points of tourist interest in Paro, Bhutan.
It is difficult to grasp the vibe of this market in totality as each and every item tells a story of the culture, history and local life of the people residing here.
Visiting Paro would be incomplete without a visit to the Weekend Market of Paro. For those who love shopping, it is one the best places to visit in Paro.
Things of Delight – Taste the traditional Bhutanese delicacies like Khoo (local snack), Patties of Daste from the local food stalls; unique local products like Tsirang Honey, Exotic ferns fermented moldy cheese called Zeodey, Datsi and Unique organic vegetables like Eazey (Salsa like chopped chillies).
Paa Chhu River – Taste the Serene Drops of Tranquillity
Ever fancied being a bird that flies above the Pa Chhu River? Moving rapidly with the river; flowing over the rocks; just for a moment, gazing tourists and refill their hearts with delight. One cannot stop imagining things in this mesmerizing ambiance of Pa Chhu River.
Paro, always in Season
It is one of the best Honeymoon destinations in Paro to spend sometime in the lap of nature with your loved one.
Amidst the serenity and Tranquility of Paro lays the delightfully mischievous Pa Chhu River. This exquisite, fabulous masterpiece is beating the heart of Paro Tourism.
Compelling Landscape, Hidden Wilderness and Sublime Nature
It is one of the most popular tourist attractions in Paro. This river provides the unique opportunities to tourists to wander through the town's hidden wilderness and scenic beauty.
Powered by Himalayan glaciers and swiftly falls down Southwards towards Punakha; unites with Mo Chhu River which is also known as Chhuzom (Joining of river).
What they believe in Paro?
Bhutanis believed that confluence of two rivers is inauspicious, hence Chorten (Buddhist Shrine) are built at the confluence of Pa Chhu and Mo Chhu River. The river finally ends its journey into the Brahmaputra River in southern Bhutan.
Solace to the Mind and Soul
Paro River passes through two magnificent Buddhist Monasteries – Paro Taktsang and Paro Dzong. Nyamai Zam is the step bridge built over the pa Chhu River that leads to Paro Dzong.
Tourists looking for a spiritual experience along with the thrill of adventure sports must consider Pa Chhu River for a mind-boggling experience.
Pristine water of Pa Chhu is makes sightseeing in Paro more soothing. It is also one of the best places in Paro to spend time with family and friends.
Quiet and Still but Adventurous
Many tour companies organize sports like kayaking and River Rafting which is great way for the tourists to get the blissful experience. Even beginners and intermediates can also enjoy the bliss of Kayaking in the small slopes. This is why even in a country of superlatives, there's nowhere quite like Paro. Hence, it is one of the most visited tourist destinations in Paro.
Kyichu Lhakhang – Historical and Spiritual Wonderland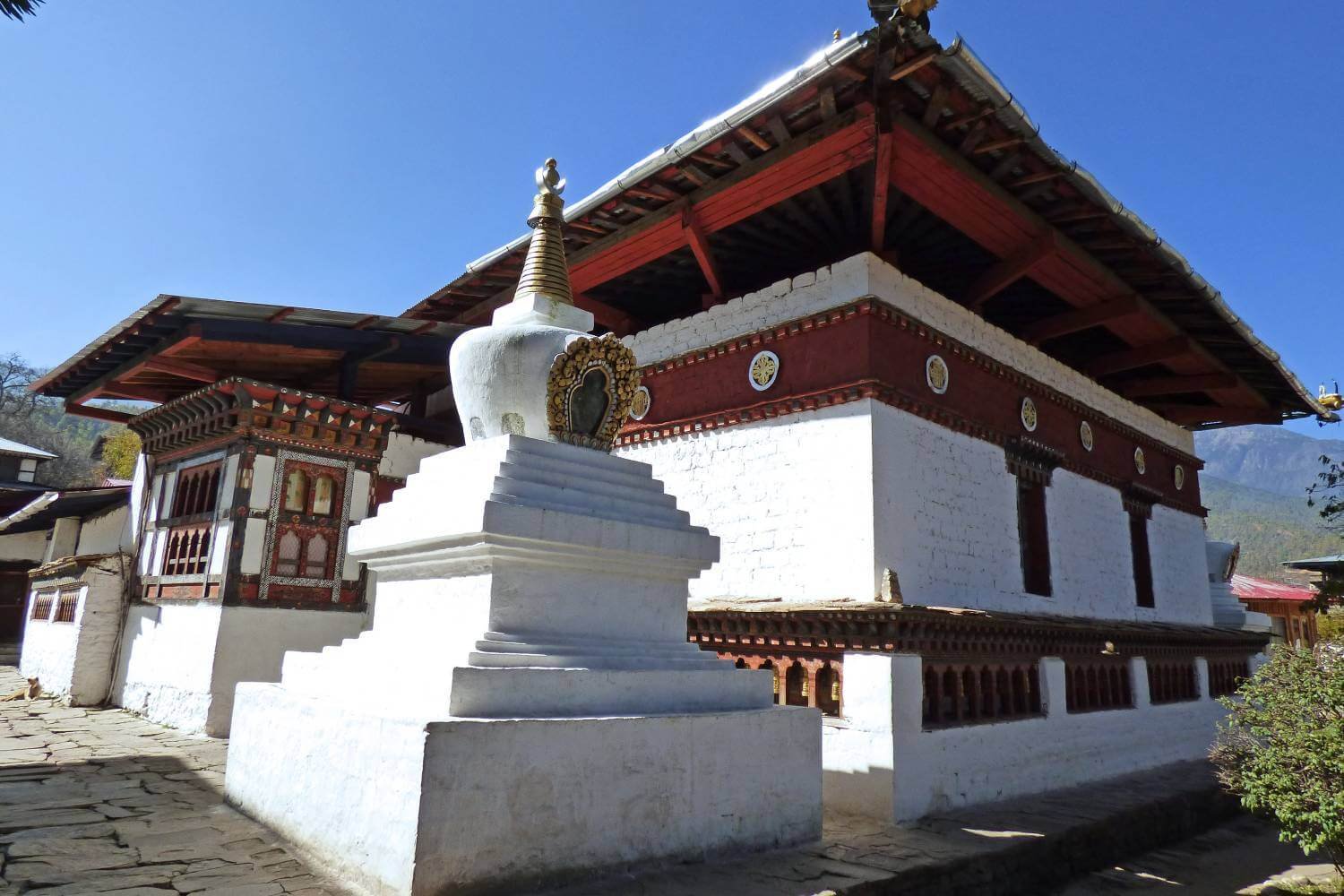 What else in the world could you start the day with the delightful and mysterious temple of Kyichu Lhakhang -One of the top things to do in Paro?
It is situated in the Lamgong Gewong village of Paro district. This towering temple is one of best tourist destinations of Bhutan.
Once Upon a Time
One of the most revered saints, Guru Rimpoche also known as Precious Jewel is said to have mediated in this sacred temple which makes this temple, one of the most important spiritual heritages of Buddhism.
The original founder of Kyichu Lhakhang is Songtsen Gampo (Powerful Tibetan King) who also introduced Buddhism for the first time in Bhutan in the 7th Century.
Interesting Fact
Guru Rimpoche (Saint Padmasambhava) reached Bhutan at the invitation of Sindhu Raja who was ruling the region of Bhumthang during that time to defeat the evil demons in the kingdom. With the arrival of Guru Rimpoche Buddhism began to spread its wings in Bhutan.
Walk Back in History
Legend has it that a colossal ogress was constantly hindering the spread of Buddhism with her evil force, as she lay across the land. To subdue her Songtsen Gampo built the 108 temples overnight in the Himalayas; Kyichu lhakhang Temple is one of them. Kyichu Lhakhang holds the left foot of the ogress.
In 1968, the queen mother Ashi Kesang Choden Wangchuck renovated the temple of Kyichu Lhakhang to match the grandeur of Guru Lhakhang, an adjacent chapel in which resides the statue of Padmasambhava, Red Tara (Lotus Deity).
Things of Delight – Though photography is not allowed inside the Monastery but you can perfectly capture the beauty of its mesmerizing, colorful interiors in your heart's chamber.
Interiors of the temple and Murals are mostly blue in color which will completely overpower you.
Blend in the Spiritual and Tranquil Vibes
Inside there is the most sacred sculpture of the region Jowo Lhakhang; Statue of Chenreizig who bears 11 heads and 1000 arms; Mural of King Gesar of Ling, who composed the longest epic poem in the world today and the statue of the great Songsten Gampo in the upper floor.
Beautiful Orange trees having orange fruits on them at the entrance of the temple make this monastery appealing.
Tourist looking for divine experience must consider the temple of Kyichu Lhakhang as it is one of the top visiting places in Paro.
Chele La Pass- One Cup of Bliss
The splendour of Chele la pass has been drawing tourists since ages. Tucked between Haa and Paro Valleys, this is the highest Motorable road Pass in Bhutan.
It has an elevation of 3988 meters. Chele la pass offers spectacular views Mt Jamolhari, which is known as the sacred peak in Bhutan, mesmerizing beauty of Tsherimgang Mountains and Jichu Drake (protective deity of Paro).
In Winters! Let it Snow
In winters, Chele la pass is decked with snow which makes the view stunning and exquisite. It is one of the top honeymoon places to ramp up the romance in blissful setting.
At last, Bliss has come so soon! Exquisite Natural beauty
Call it a treasure house of scenic landscapes; unique white poppy which cannot be found anywhere else in the world; mists that swirl over the mountains. It is a great spot for picnic and one of the best places to visit in Paro with family.
Spectacular, snowy peaks, plunging river valleys, sublime forests of rhododendrons (locally called etho-metho), hemlock, juniper gives way to icy passes and peaks and the grazing of Himalayan Yaks, rippling in the breeze beautiful wild flowers; colorful prayer flags bring you into a different world.
House of Spiritual Wonders
Spirituality is the ubiquitous thread in Bhutan's richly diverse tapestry. Why not feel the spiritual vibes of serene Lhakhang Karpo and Lhakhang Nagpo, Paro Taktsang and many other exquisite monasteries rising out of the foot hills.
Let the sound of Birds be the meditation to your mind
It is also the wonder house of bird species like Mountain finches, white- winged grosbeak, Monal, Blood Pheasant, Nut Craker, Magpie, and many others. This is the best chance to get away from the towns and enjoy in the serenity rising all around.
Adventure of a lifetime!
For serious mountain adventurers it's a paradise, as one day Chele la ridge hike or mountain biking can be a thrilling experience. Holidaying in Paro would be very blissful experience if you visit to Chele La Pass.
Best Time to Visit
In summers (March- June), the weather is quite pleasant. One can get the spectacular views of beautiful Rhodendron; Snow melts in the mountain passes and the patches of greenery appears beautiful.
One gets see the Haa festival held every year during the summer season. It is a traditional festival of Bhutanese people. Religious performances, Bhutanese cuisines give the blissful experience to the tourists. Which also make summers the best time to visit Paro. It is the perfect time for picnicking and camping.
During Monsoons, heavy rainfall can ruin your trip. However, winter (October to February) is the best time to visit Chele la pass for a memorable journey.
PARO FARM HOUSES – Delightful Combination of Simplicity and Beauty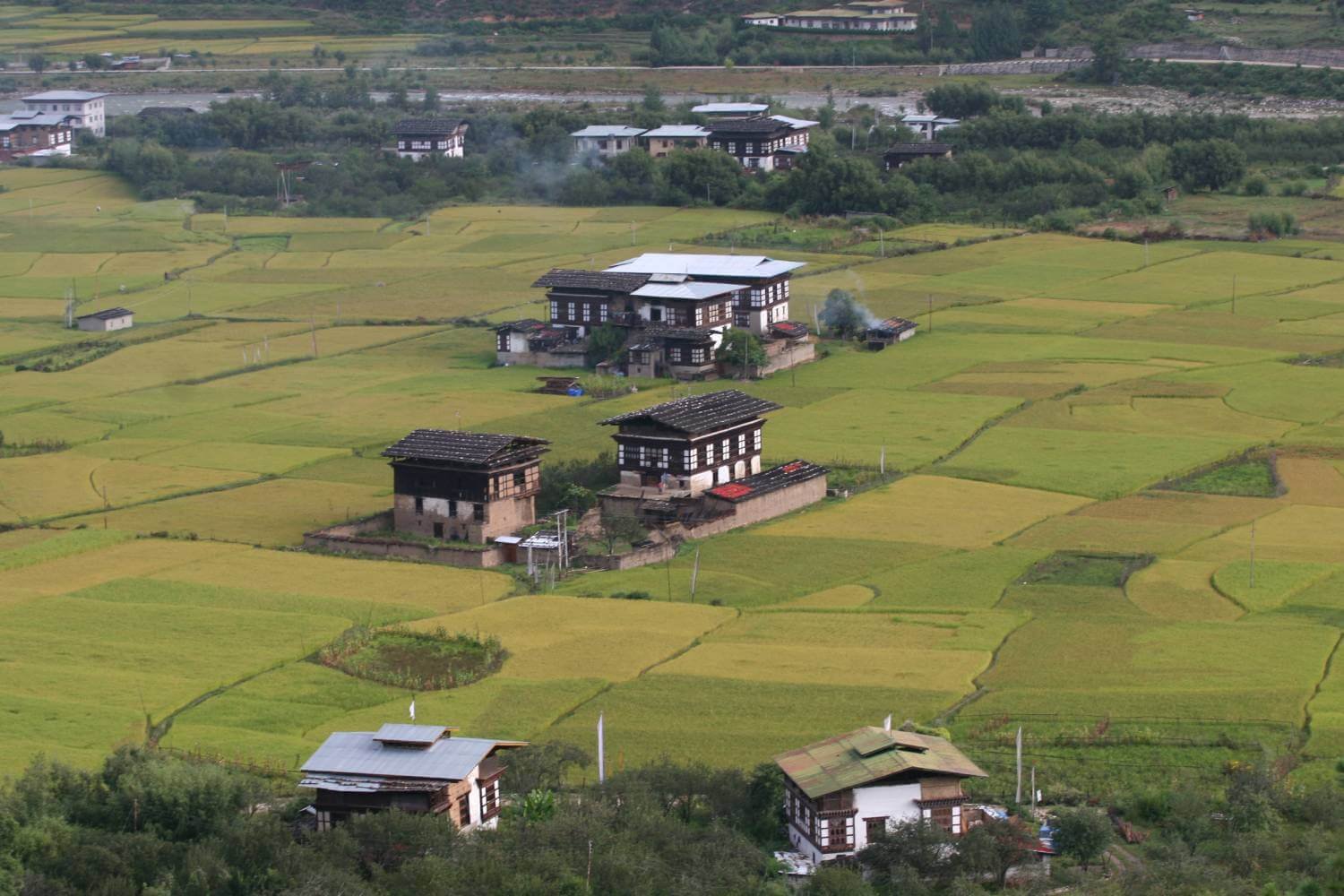 Paro Bhutanese farm houses resemble Buddhist Monasteries and Dzongs in architecture and design. The solid walls, carved window frames decked with beautiful paintings. This is why it is considered as one of the places to enjoy holidays in Paro.
These traditional houses are two or three storey high. The ground floor reserved as a storeroom and resting place for the animals.
The second floor is reserved for the family, consists of a kitchen, living room, prayer room and bed room.
The third floor is for the storage space for farm produce. Living in one of these farm houses is the perfect way to experience the culture and traditions of Bhutanese people.
It is one of the best accommodation facilities for tourists in Paro.
Visiting Paro and living in one of these farm houses will take your experience to a whole new level. Moreover, it is budget friendly and one of the best accommodation options in Paro
Swaying to the tune of Traditional Breeze
Enjoying the traditional Bhutanese delicacies; milking cows in the farm; relaxing hot-stone bath in the ancient hot tub of Bhutanese farm house; using ancient tools and household items in the traditional Bhutanese farmhouse and last but not the least, disappearing into the blissful surroundings of Apple orchards and rice fields is the best way to experience the cultural heritage of Bhutan.
It has a romance all of its own which makes this place one of the top honeymoon places in Paro.
It is not famous in terms of commercial tourism but if you are looking for some offbeat things to do in Paro Bhutan then visiting Paro Farm houses would be worth it.
Where to Stay?
If you are planning stay in one of these Farmhouses, here is the list of some of the best farmhouse to stay in Paro–
Tshering Farmhouse
Paro Penlop Dawa Penjor Haeritage Farmhouse
Ama Choeday's Farmstay
These farmhouses offers comfortable home like environment and is one of the best places under Budget to stay in Paro. Apart from these accommodation options, budget friendly Hotels and top-rated luxury hotels are also available to provide comfortable stay to the tourists for blissful experience.
Dobji Dzong – Hub of Tranquillity and Spirituality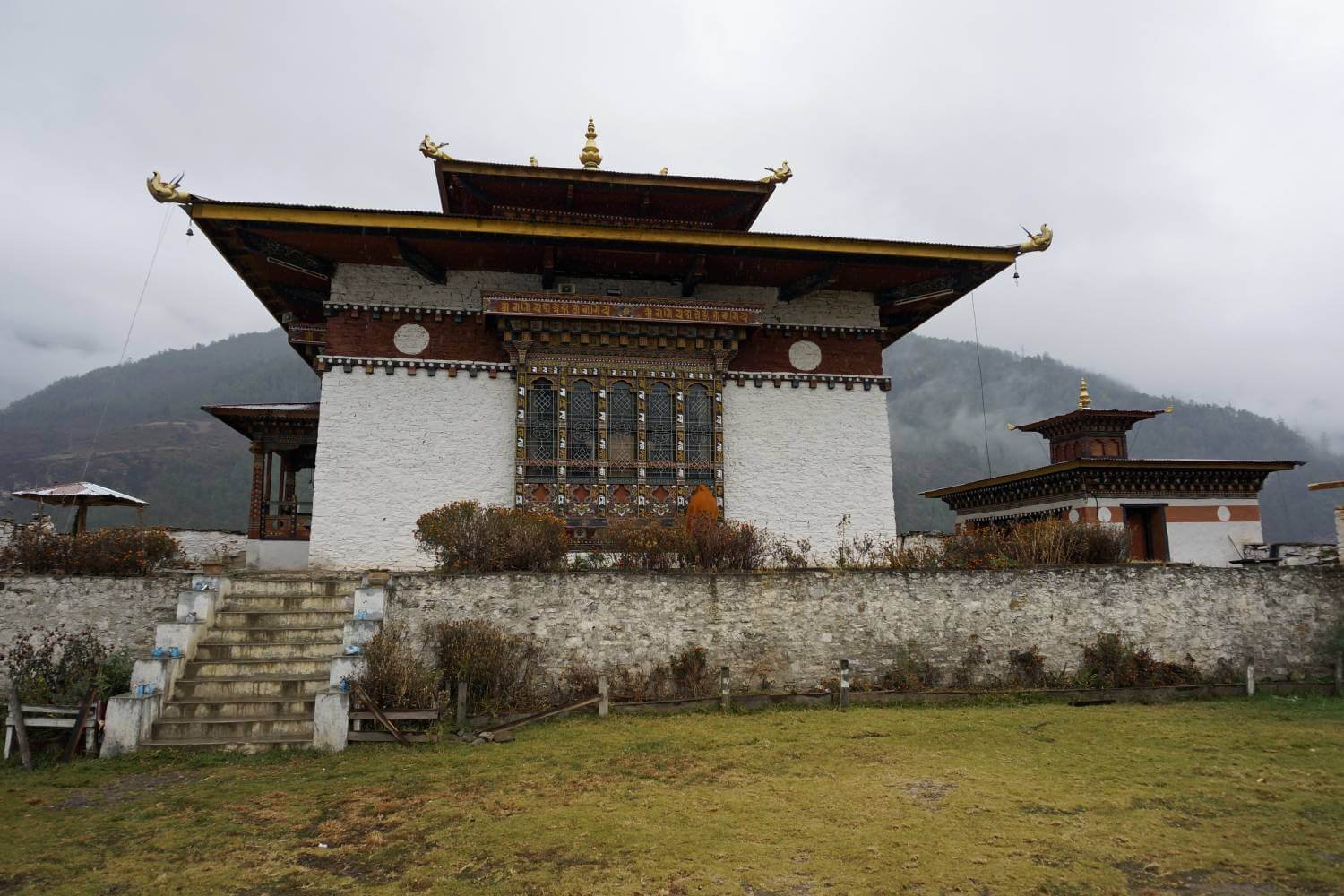 Once the main centers of Drukpa kagyud teachings, this faint yet grand Dobji Dzong is the site of the last stand of the Drukpa Kagyud.
Peer into an Abyss of Mythical Stories
This majestic Dzong was built in the year 1531 by Ngawang Chogyal, the brother of Choji Drukpa Kunley, also known as Divine Madman because of the many divine miracles he had performed in his lifetime.
It is believed that, in order to build Drukpa Kagyud centre in Bhutan, Ngawang Chogyal was searching for a convineant site. So, he followed the spring that emerged below the throne of Jetsun Milarepa (a great Tibetan yogi) and the source of that spring was the rock found Dobji Dzong. For this reason, Dobji Dzong is considered as one of the valuable religious landmarks. It is also one of the best tourist destinations in Bhutan.
What's in it for you?
Pilgrim's step into this spiritual whirlwind to fetch the holy water known as Drupchu which is believed to have a great spiritual power to liberate anyone from suffering.
It will take around 20 minutes to reach to the main water site and seek blessings but for public convenience water motor pump the holy water near the Dzong.
This is why it is one of the most popular points of tourist interest in Paro.
Time Ravaged but Spectacular
The buildings of the Dzong have renovated but the main Dzong still carries its age-old magnificence.
Inside the Dzong, one would come across valuable relics of religious significance like Goem- Chamdal Sum: Mahakala, Mahakali and the Raven crown; the statue of Jetsun Milarepa, Dungsay Dewa Zangpo, Ngawang Chogyal and Guru Langdarchen.
Despite suffering from tremendous earthquake, the central tower of the Dzong still stands in pride.
It was earlier converted into central prison but later it was dismissed and converted into a Buddhist School.
You can also give some donation to the monks for the maintenance of the Holy water spring.
Dobji Dzong is one of the most popular tourist attractions in Paro. For a peaceful escape, retreat to this divine Dzong where age old History levitates off the walls into dancing life.
Paro International Airport – Seat of Exalted Magnificence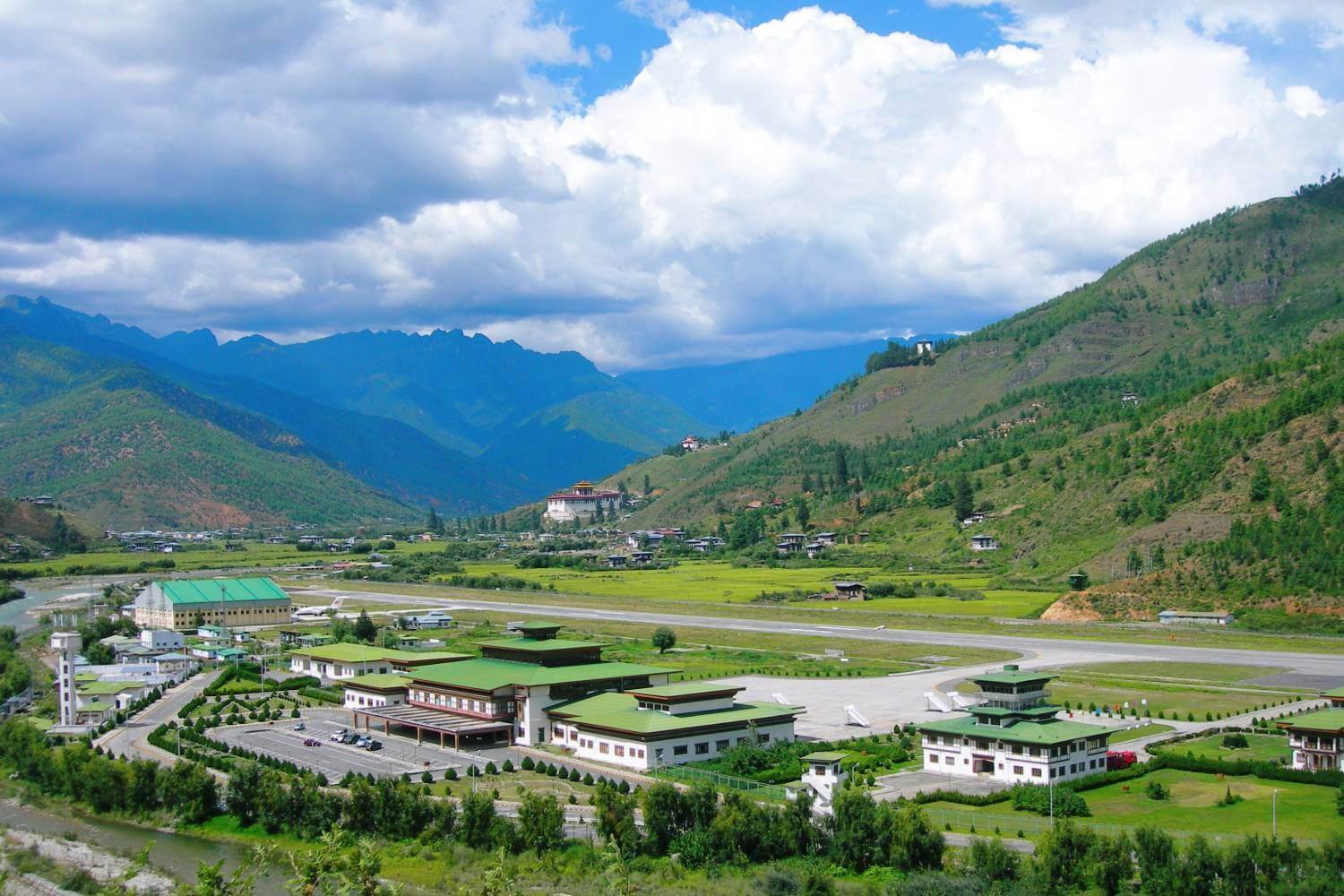 Enchanting and picturesque Paro houses the only international airport of Bhutan. It is considered as the most challenging airports of the world. And one of the popular points of tourist interests in Paro.The airport is surrounded by the spectacularly jagged mountain peaks as high as 18000 ft. Only a select number of Pilots are trained to be the certified pilot to land at the airport.
This marvelous wonder offers scenic views of mountain peaks and the vibrant green valley as it is 5 km from Paro, near the meandering river of Paa Chhu.
Flight journey is in itself a thrilling experience for tourists because it's one of the world's most challenging airports for takeoffs and landings.
One can get a fantastic view of the houses that are scattered across the snow brushed mountainside, set in the patches of striking greenery. This makes your Paro Bhutan sightseeing tour mind boggling.
The untouched charm of the valley; remarkable views of the surrounding bowl of mountains, gushing Sound of Paa Chu River makes sightseeing in Paro not only interesting but also thrilling.
Jangtsa Dumtseg Lhakhang- Visceral Yet Thoughtful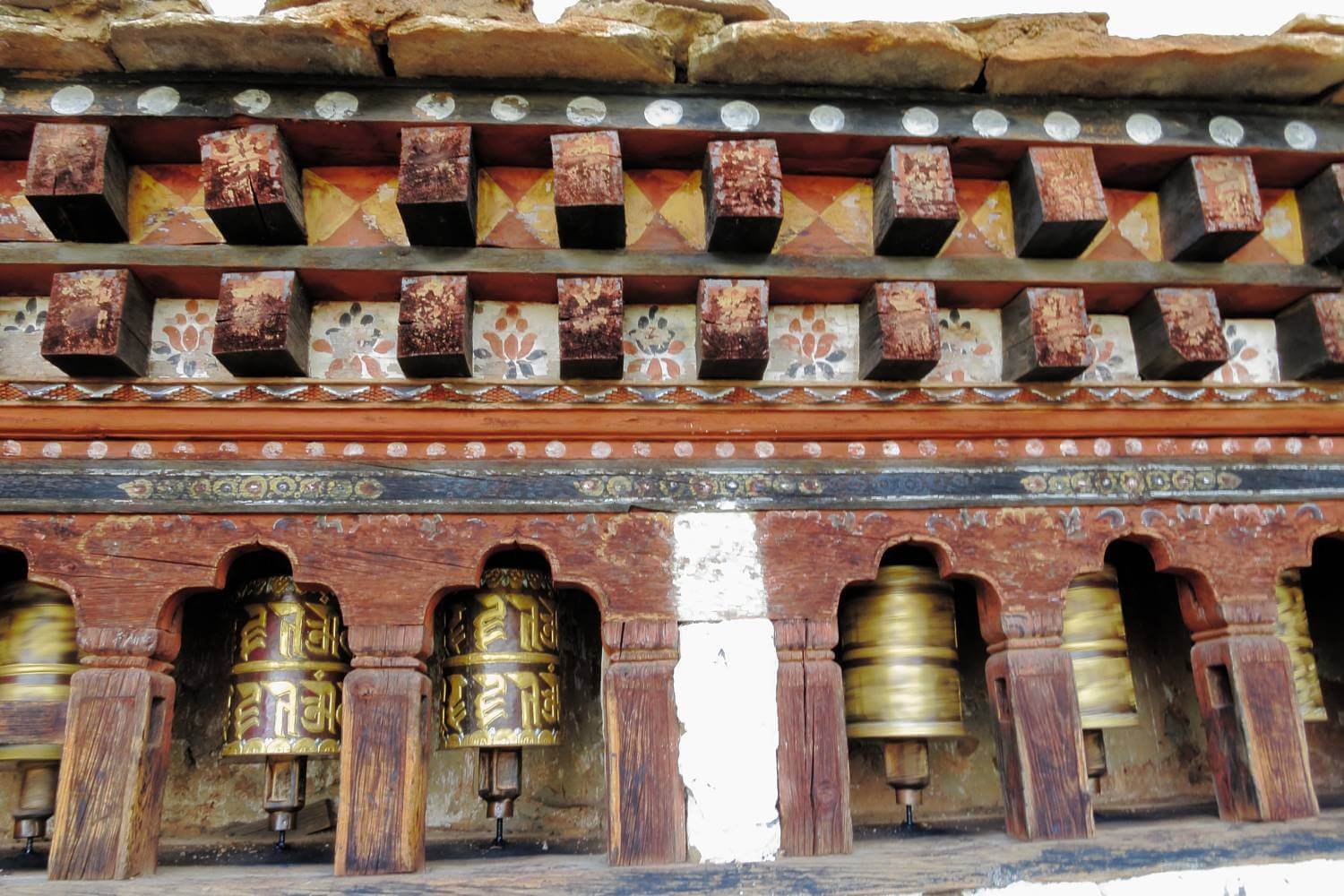 Jangtsa Dumtseg Lhakhang is tucked on a hill between Paro and Dopchari valley, across a bridge from Paro. This charming, shady setting retains refreshingly spiritual atmosphere and is one of the most popular sightseeing attractions in Paro.
The monastery is in a form of a Chorten (stupa which symbolizes Buddha's presence) which is very unique in Bhutan.
One wonder, too many Myths
Mystical and Mysterious aura surrounds the monastery as many folktales and local legends are associated with it. According to one of the local legends this monastery was built by Saint Thangtong Gyalpo to defeat an evil serpentine force.
Another popular legend says that this Lhakhang was built on the head of a Demoness. According to a Bhutanese folktale this temple was built on a frog shaped hill to subdue the powerful Sadag (Earth owning spirit) and Lunyen (Powerful Naga Spirit).
It is also believed that the hill is a black vicious snake moving downwards on which this Lhakhang is built.
What's in it for you?
Inside the main monastery complex there are huge collections of Buddhist paintings and iconography which is a great repository of Drukpa Kagyu School.
There are various prominent deities in the temple like Buddha, forms of Avilokiteshvara, Guru Rinpoche, Thangton Gyelpo, Tantric Deties like Hevajra, Mahamaya and many others to feel the spiritual bliss.
Holidaying in Paro would be incomplete without a visit to Jangtsa Dumtseg Lhakhang. It is also one of the top tourist destinations of Bhutan.
National Museum of Bhutan- Storehouse of Magic with Technology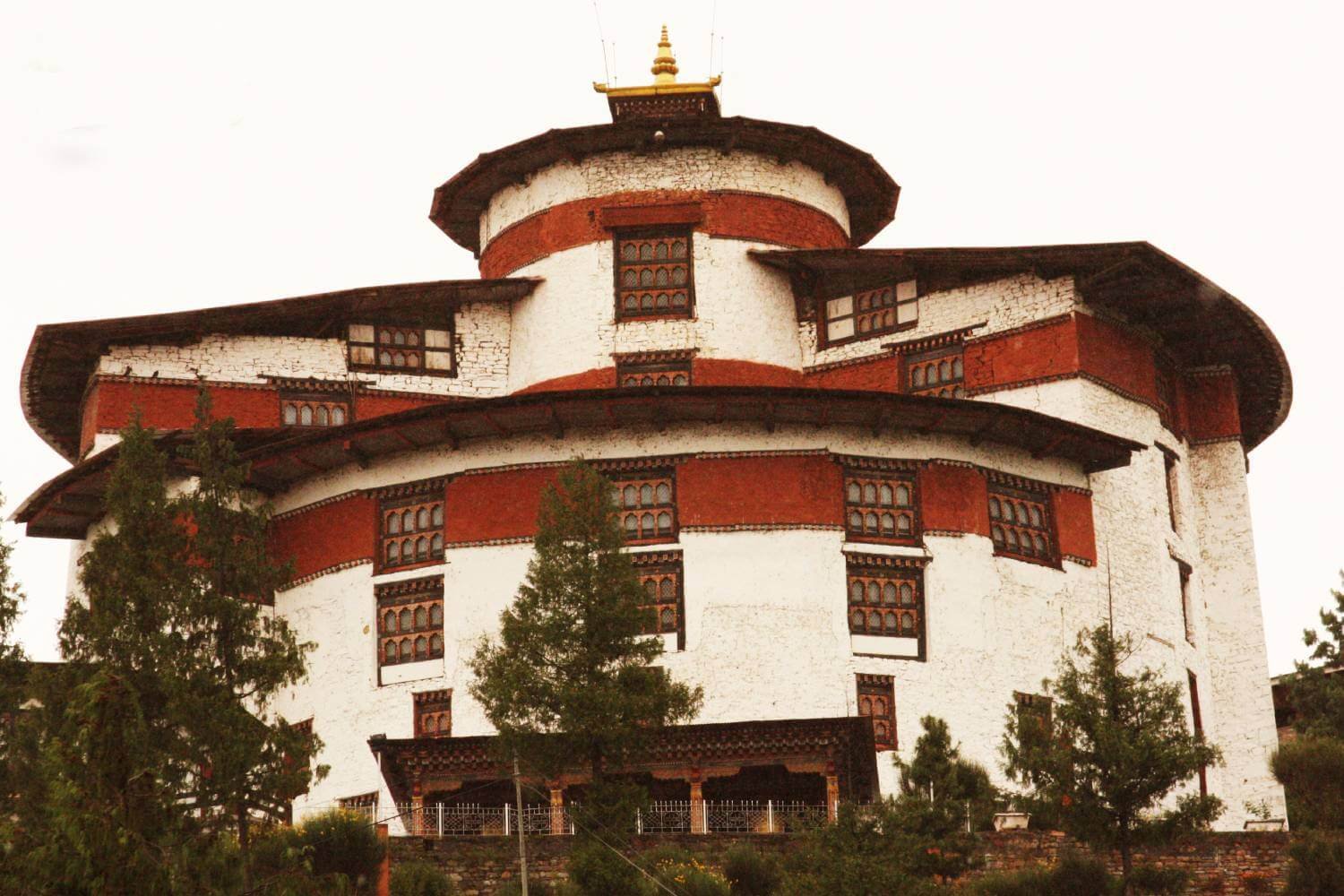 Best Timing – Summer (March – October) 9 a.m. to 5 p.m. (Ticket counter closes at 4.30 PM)
Winter (November – February) 9 a.m. to 4 p.m. (Ticket counter closes at 3.30 PM)
Housed above Paro Dzong, National Museum of Bhutan is one of the top visiting tourist places in Paro, Bhutan. The museum was an ancient watch tower built in 1649 to protect the Dzong but now shines a light on Bhutan's culture and heritage.The Ta Dzong was damaged in 2011 earthquake but it reopened in 2019 as Bhutan's National Museum.The national Museum of Bhutan was earlier named as 'Namsey Bangdzod.
Centuries old artifacts! Trace its depths.
This Conch shell shaped like grand old building hosts an eclectic array of specimens and trophies of animals such as Takin,Budorcastaxicolor, species to butterflies unique to Bhutan in the world. There is one souvenir shop in the ground floor, selling Bhutanese handicrafts to the tourists.
It provides very useful insight on Bhutan's ancient traditions and culture. This is why it is one of the top visiting places in Paro.
Contrast of Magic and Technology
This museum is well equipped with latest technologies for cultural and heritage conservation and restoration such as climate-controlled conservation laboratory.
It contains chemicals and essential storage for conservation materials keeping in mind the ancient nature of artifacts. This museum has six floors and each floor is decked with mind boggling historical artifacts.
Major attraction of this museum is the horse egg. It is said that in 1928, the horse belonged to a merchant named Tsongpen, gave birth to an oval shaped egg.
The merchant became very rich after possession of this object. One must visit this museum to get a complete understanding of the essence of Bhutanese culture and tradition.
Set your eyes on these wonderful age-old pieces
The museum houses various types of canon guns, match lock guns, ancient vessels for water storage made of copper and bronze, various Bhutanese household items like lamp, wine container made of (wood, bamboo horn), basket, trays, hat and many other things used during the olden days.These artifacts are the symbol of the rich culture and heritage of Bhutanese people.Bhutanese postal stamps, Jewelleries, Amulets, Bangles, Tea cattle at the second floor are a very enjoyable sight to look at.Moreover, the fifth floor is decked with beautiful collection of Thangka paintings.
Visiting the National Museum of Bhutan is one of the top things to do in Paro for a blissful experience for the tourists travelling Paro.
Get upto 30% early bird discount on our International Tour Packages. For booking Call or WhatsApp on +91-8802149265 / +91-7668130655