Ranthambore National Park, located in the arid highlands of northern India, is a fascinating mix of history and nature. The main attraction at Ranthambore is tigers, and the relatively high likelihood of seeing big cats, combined with its accessibility, makes it one of the best safari experiences in India. The park is named after the centuries-old fort that sits within its boundaries and is regarded as a historical monument in Rajasthan which makes it a major attraction of Ranthambore National Park. This park is so beautiful that even movie celebrities could not resist themselves to visit this enchanting piece of wilderness. Proper planning of a Ranthambore trip can make your holidays so delightful that you will remember all these moments throughout your life.
Planning a jungle safari trip to Ranthambore?
But planning is a really time-consuming task, it involves too much brainstorming about proper time, duration, things to do etc. In this blog we will help in eliminating this brainstorming process of proper planning and make your task easy. You just have to pack your bags to enjoy a wonderful Wildlife Safari at Ranthambore National Park.
When should you visit Ranthambore National Park?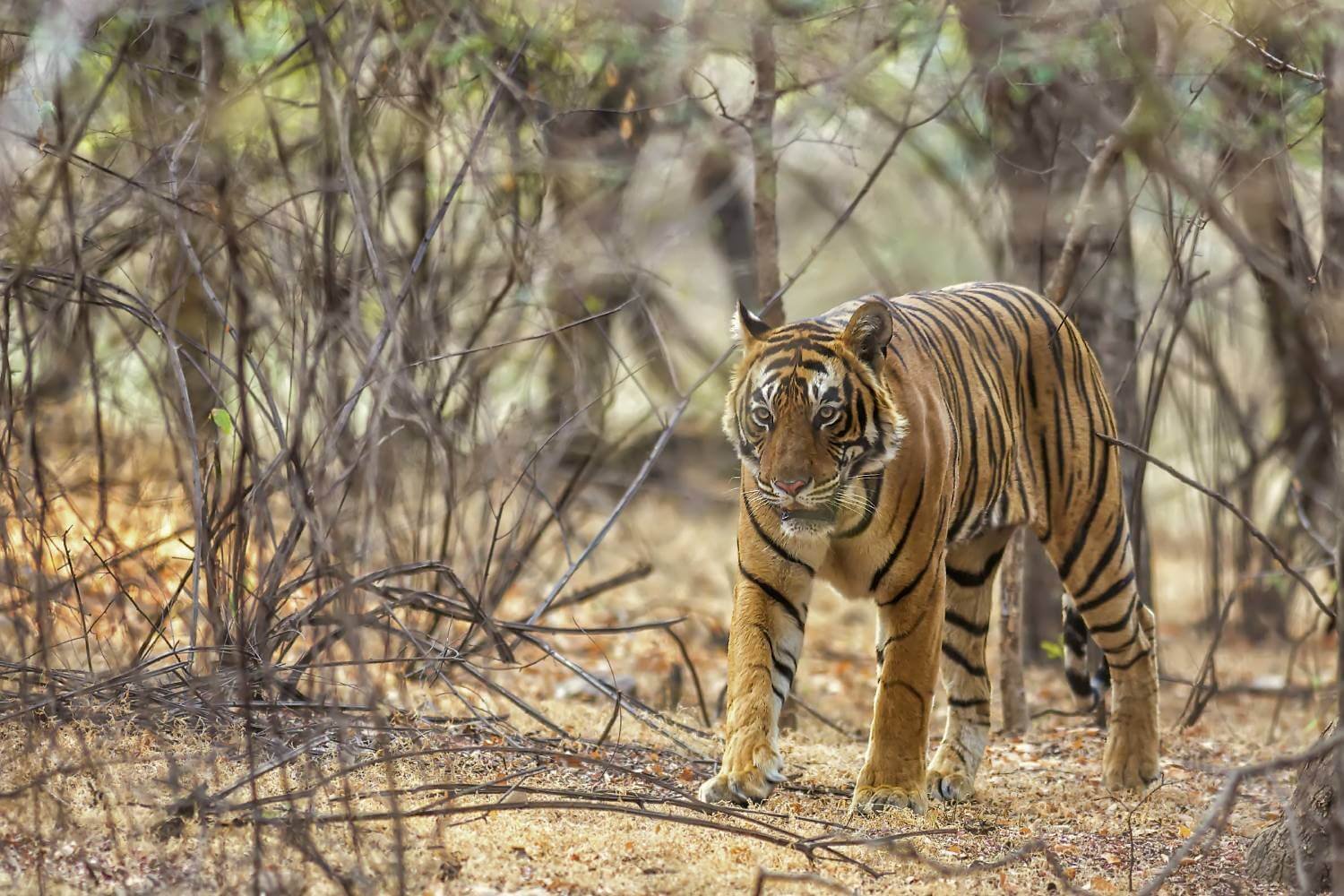 Timing is the most important thing when it comes to enjoying a wonderful wildlife Safari at Ranthambore. Whether you want to make a trip for weekends, summer, winter or Monsoon, it is very important to choose an ideal time for planning Ranthambore Wildlife Safari.
Who can plan a weekend trip to Ranthambore?
Those who are short on time, a weekend trip to Ranthambore is one of the best things to experience. Due to work stress or any other kind of priorities we hardly get time to relax and rejuvenate our spirits. Weekend trip to Ranthambore for a short time will keep you away from the chaotic hustle bustle of city life.
Top Things to Do on Your Short Weekend Jungle Safari Trip to Ranthambore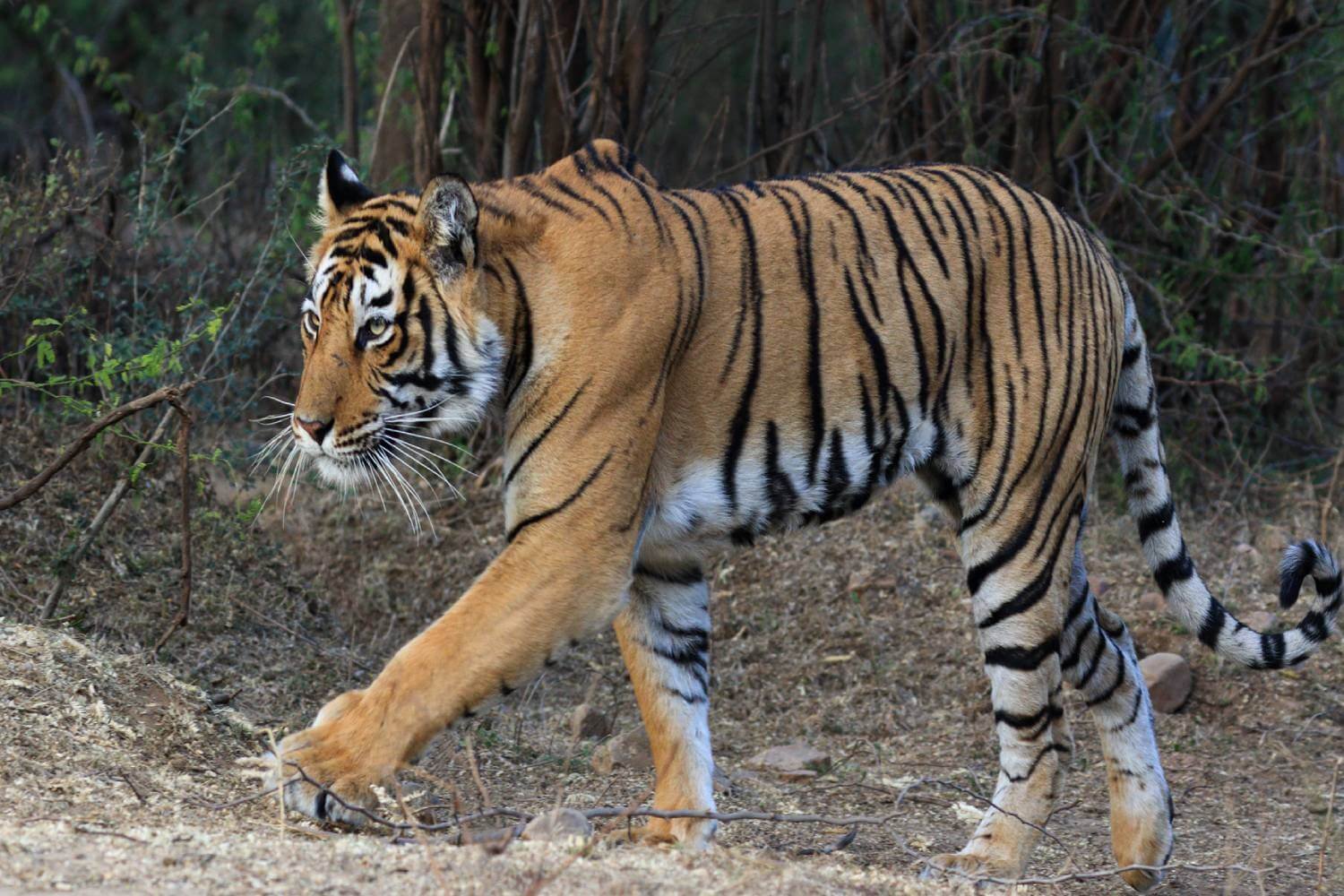 Jungle Safari at Ranthambore
Visit Trinetra Ganesh Temple
Explore Ranthambore Fort
Shopping for handicrafts at Village Women Craft
Crocodile Safari
Birdwatching
Enjoy at Wild Dragon Adventure Park with friends and family
Try Rajasthani cuisines
Summer Jungle Safari Trip to Ranthambore National Park
Depending on the season the weekends will have their own charm. In the summer season the opportunity to witness tigers in their natural habitat is more. In Ranthambore, the months of May and June are scorching hot. Nonetheless, now is an excellent time to see tigers.
Top Things to Do in Summers in Ranthambore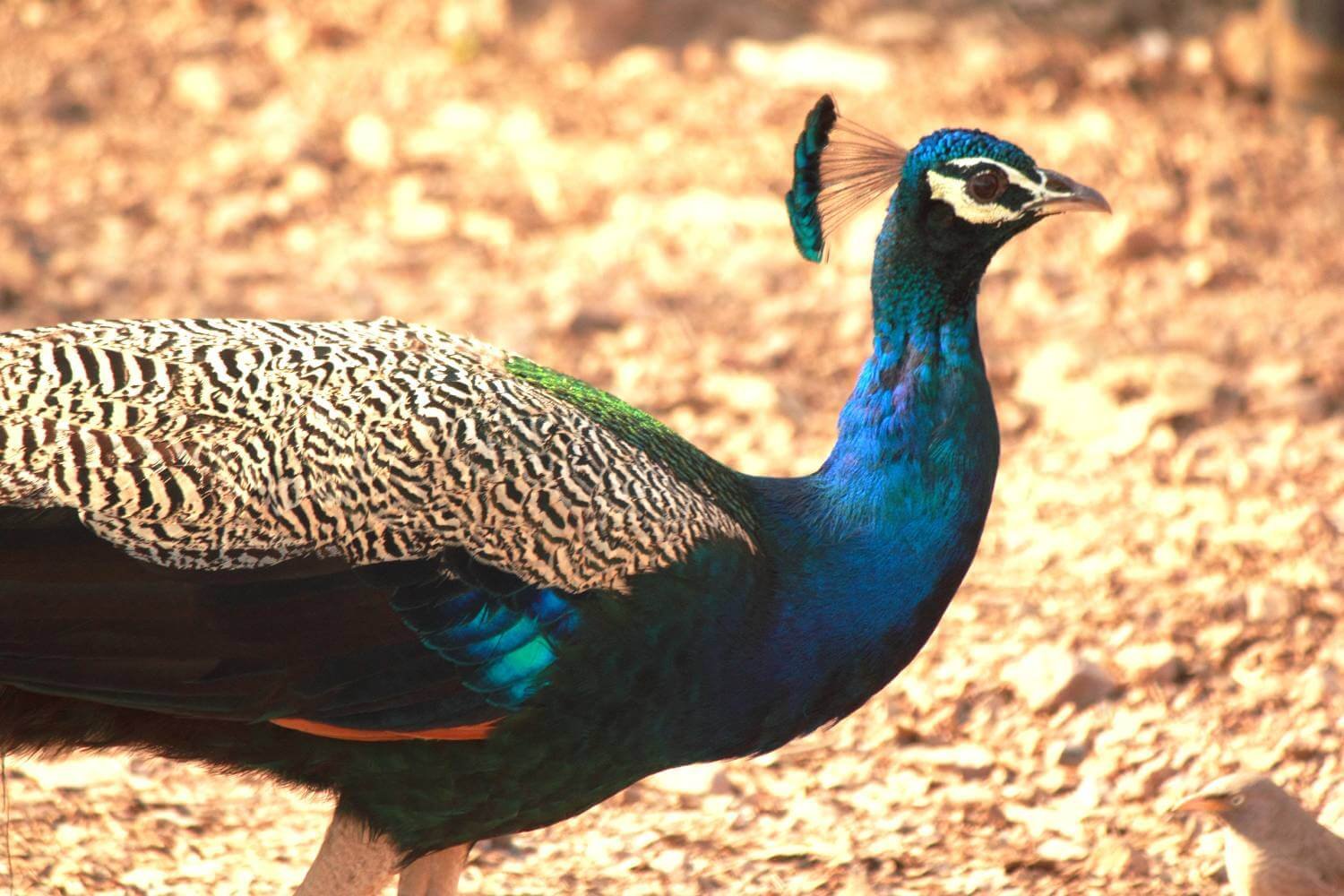 Wildlife Safari
Crocodile Safari
Hot Air Ballooning
Explore Padam Talao
Bird Watching
Visit Trinetra Ganesh Temple, Timings 6:00am to 6:00pm.
Explore Dastkar Ranthambore
Enjoying at Wild Dragon Adventure Park
Winter Jungle Safari Trip to Ranthambore Tiger Reserve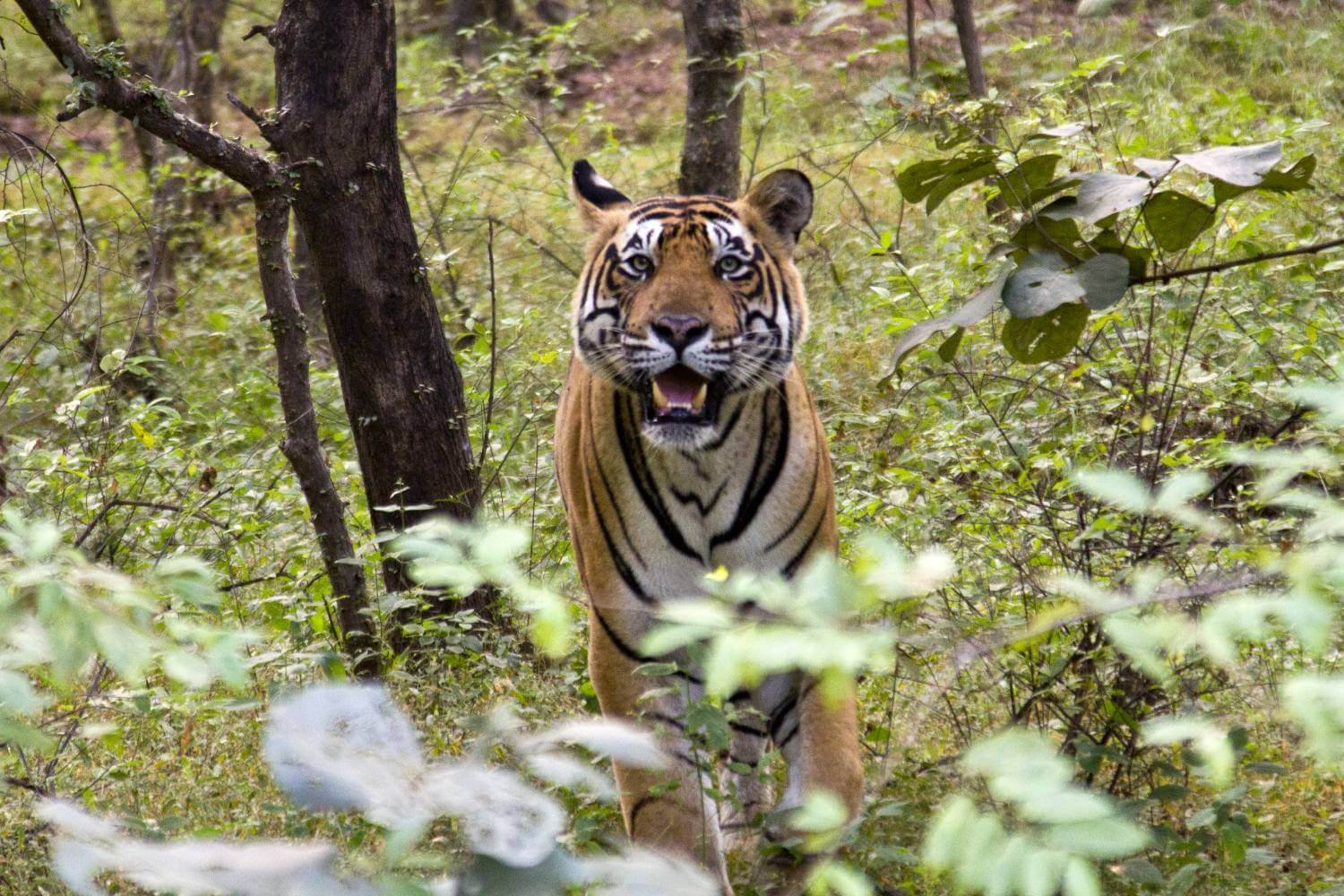 Between October and June, Ranthambore Tiger Reserve is open. Ranthambore is best visited during the winter season, which runs from October to March. Some of the most amazing benefits to travel in Winter is that you will get to see beautiful migratory birds like flamingos, flycatchers, waterfowl, sarus crane, grey hornbills, cormorant, serpent eagle, bronzed-winged jacana, painted spurfowl and nightjars etc in the park. The sightseeing of nature becomes more pleasant, the heat of the sun will not irritate you with its rays.
Tip – Also try crocodile Safari. Very few blogs mention it but it is worth your time. It would be the most exotic experience of your life. Exploring Crocodile Sanctuary via boat will add thrill to your journey. But proper headgear and life jacket is necessary when you are in a boat.
Top Things to Do in Winters in Ranthambore
Jungle Safari
Bird Watching
Exploring Jogi Mahal
Enjoying at Wild Dragon Adventure Park
Shopping for handicrafts at Village Women Craft
Hot air Ballooning
Crocodile Safari
Ranthambore Jungle Safari Trip in Monsoon Season
Many of the zones of Ranthambore National Park are closed to visitors during the monsoon season, which runs from July to September. This season, the buffer zone between Gates 6 and 10 remains open. It is not the favorable time for wildlife exploration but if you still want to visit one of the most beautiful things about this time is that the forest of Ranthambore is decked with abundance of greenery.
Family Jungle Safari Trip to Ranthambore National Park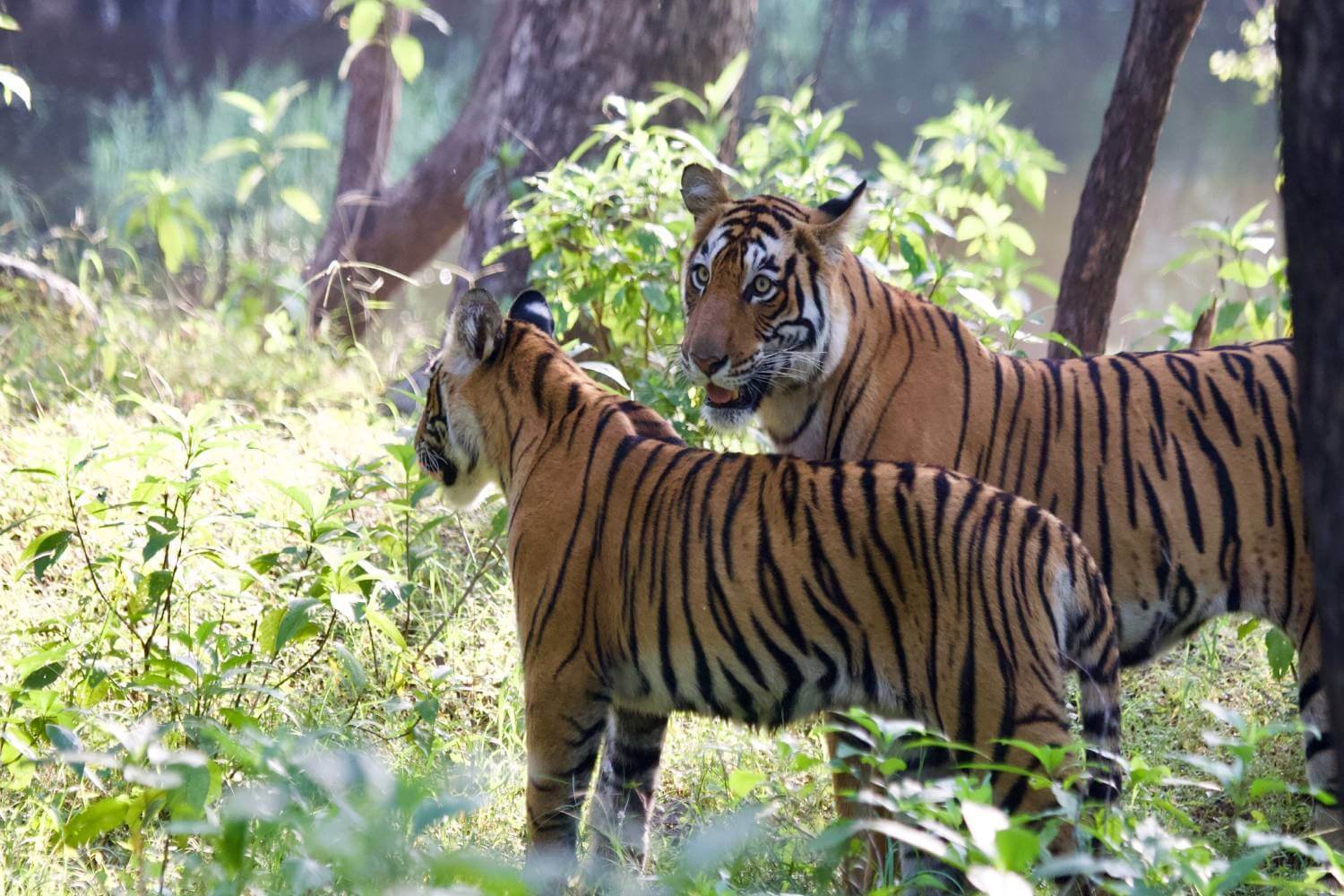 If you are planning a family trip to Ranthambore, it would give you a bunch of options to enjoy an amazing Wildlife Safari. Your kids would love to see wild animals roaming around. Apart from Wildlife exploration Wild Dragon adventure park, Surwal Lake and crocodile Sanctuary will amaze their curious mind.
Duration of Holiday Stay at Ranthambore National Reserve
The ideal duration of holiday stay at Ranthambore National Reserve is a minimum of 3 -4 days. In case you are planning to cover the places nearby then it could be extended for a week. Trust us, a weekend trip to Ranthambore would be one of the best decisions of your life. You can enjoy sightseeing of famous tourist attractions like Ranthambore Fort, Chand Bawri, Surwal Lake, Trinetra Ganesh Temple, Malik Talao, Padam Talao, Raj Bagh Talao etc.
But if you have only the weekends to spend in this beautiful wilderness you can follow this mini-Itinerary for 2-day trip to Ranthambore
From Jaipur it would take three and half hours to reach Ranthambore national Park. After checking in at the hotel, relax for a while and enjoy a delicious lunch at the dining Room. After lunch, get ready to enjoy an amazing sightseeing tour to Ranthambore Fort, an UNESCO World Heritage Site. Also visit Trinetra Ganesh Temple to take divine blessings. After returning from Ranthambore You can also enjoy tea and coffee in a hotel restaurant and see amazing cultural programs in the evening. Enjoy your dinner.
On day 2 after waking up early in the morning, have an awesome breakfast and get ready for the most thrilling Wildlife Safari of Ranthambore.
What Will You See?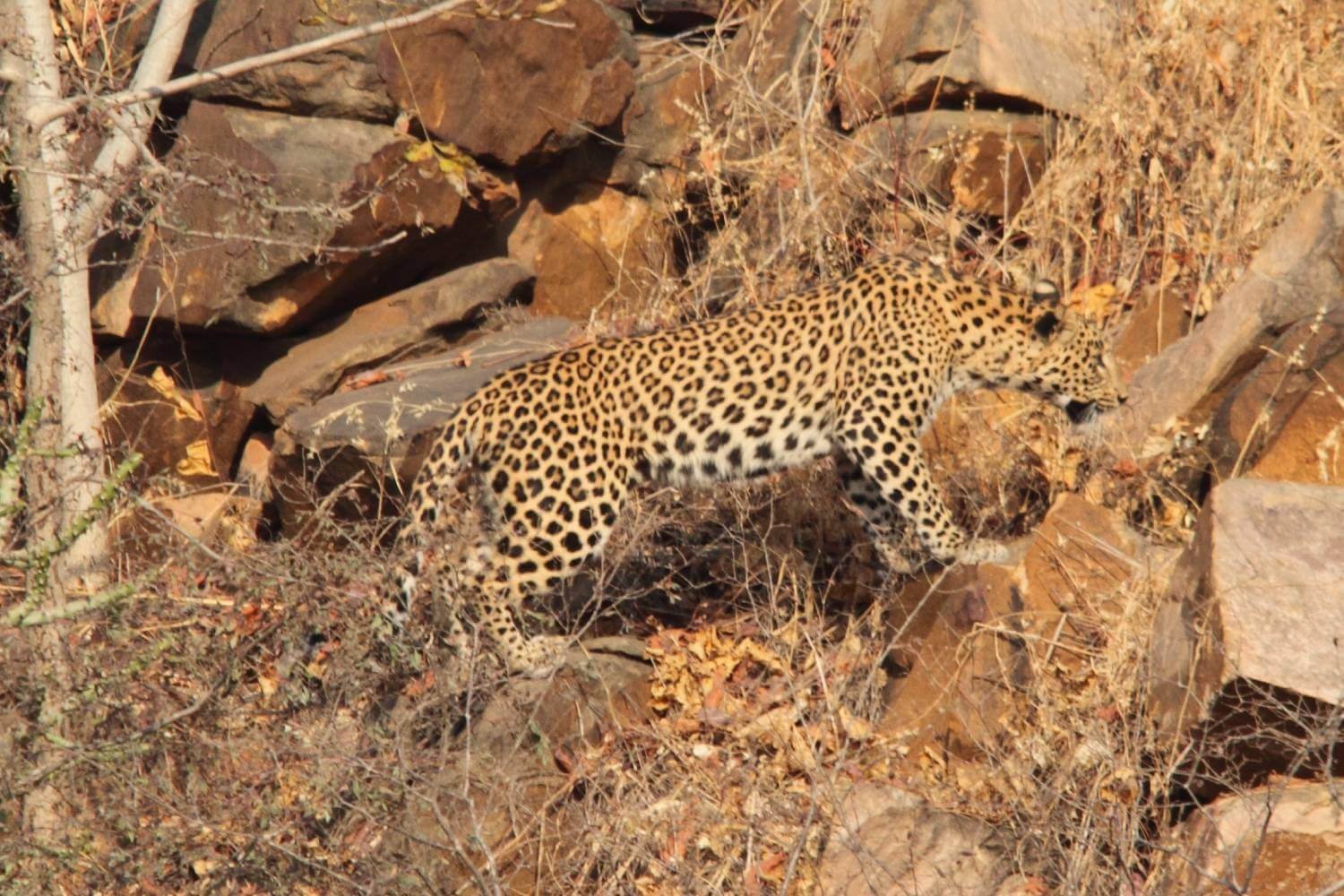 The Bengal tigers are the park's most famous residents. You will also see Leopards, sloth bears, langur monkeys, sambar deer, hyenas, and a variety of other creatures. And that's only the mammals.
From huge river crocodiles to fragile butterflies, there are many types of reptiles, birds, and insects. The flora is equally amazing, including one of the world's largest banyan trees, which is India's national tree and revered by many indigenous tribes.
The 10th-century Ranthambore Fort, which lends the park its name, is one of the most notable tourist attractions outside of the animal zones.
The fort, which was built over a thousand years ago and houses three Hindu temples as well as a Jain temple, is one of Rajasthan's most popular tourist attractions. It was designated as a UNESCO World Heritage Site in 2013.
Chand Bawri, Surwal Lake, Trinetra Ganesh Temple, Malik Talao, Padam Talao, Raj Bagh Talao etc. are some of the best tourist attractions for sightseeing at Ranthambore.
Budget Stay at Ranthambore Tiger Reserve
Wonderful accommodation is equally important to enjoy Wildlife Safari. It is equally a part of your tour. Comfortable accommodation with warm hospitality will not only give delightful vibes but also relaxes your soul. There is no accommodation within the park, but right outside in the city of Sawai Madhopur has various options from guesthouses to luxury villas, depending on what your budget is. Some of the best budget and luxury hotels you can book for you stay near Ranthambore Tiger Reserve are –
The Vantage Haveli
Hotel Park Resort
Regenta Resort Vanya Mahal
Ranthambore Forest Resort
Hotel Ranthambore Palace
Safari Timings and Zones of Ranthambore National Park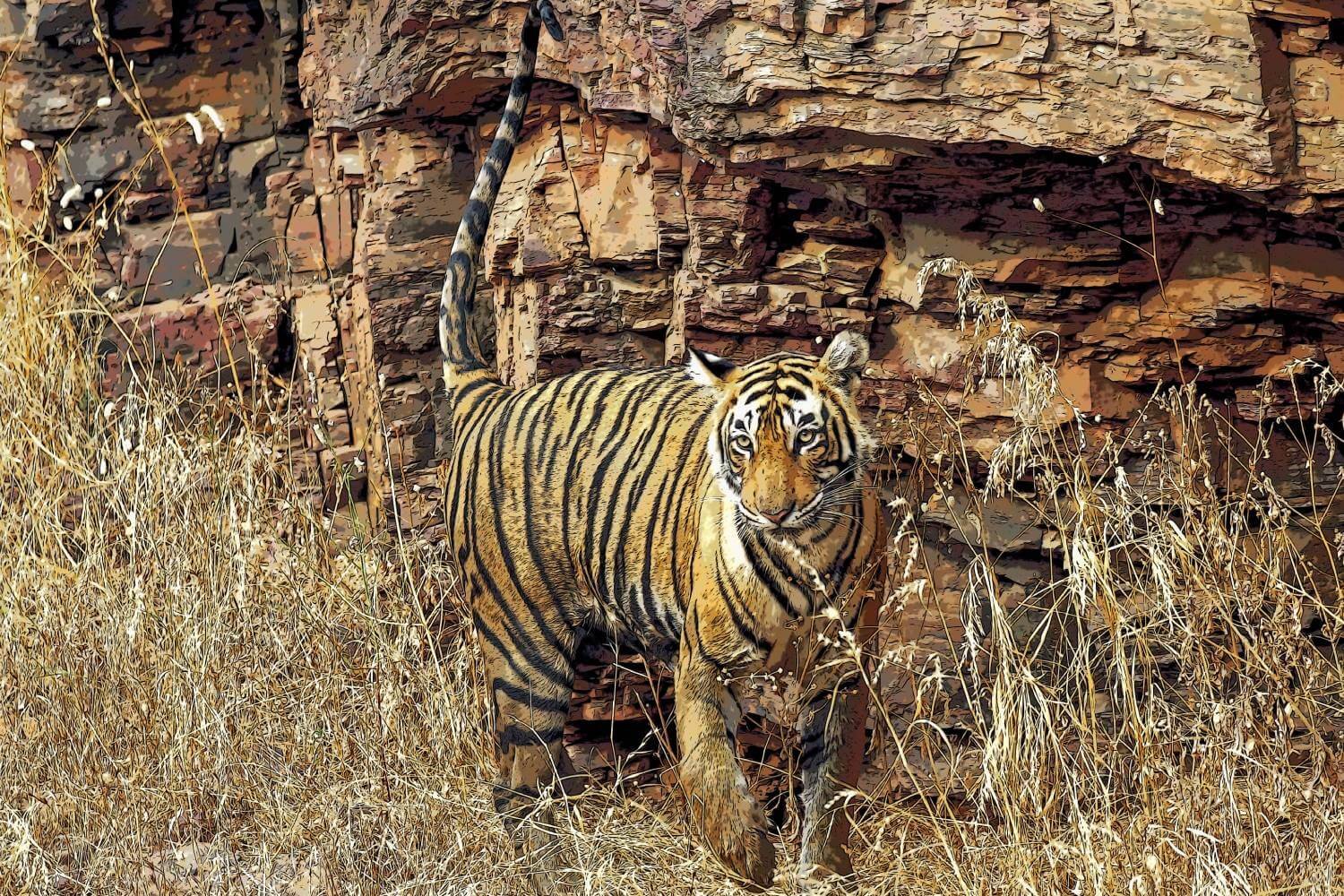 The timings for Ranthambore Jungle Safari will vary according to the timings of Sunrise and sunset.
| | | |
| --- | --- | --- |
| Month | Morning Safari | Evening Safari |
| 1st October to 31st October | 6.30 AM to 10.00 AM | 2.30 PM to 6.00 PM |
| 1st November to 31st January | 7.00 AM to 10.30 AM | 2.00 PM to 5.30 PM |
| 1st February to 31st March | 6.30 AM. to 10.00 AM | 2.30 PM to 6.00 PM |
| 1st April to 15th May | 6.00 AM to 9.30 AM | 3.00 PM to 6.30 PM |
| 15th May to 30th June | 6.00 AM to 9.30 AM | 3.30 PM to 7.00 PM |
Jungle Safari at Ranthambore National Park is one of the best places for Wilderness vacation in India.
Zones 1–5 are called the park's "core" and are the most popular safari destinations because they provide the best chances of encountering tigers. Zones 6–10 are known as "border zones," because they are less popular, however, tigers can still be found there. During the monsoon season, most of the park, including core zones 1–5, is closed from July through September.
Zone 1 – Zone 1 starts from The Singh Dwar. It is one of the best zones for Tiger sightings. You can easily spot tigers at Amreshwar Dang, Tuti ka Nalla, Sultanpur, Gada Dub, and Peela Pani.
Zone 2- This is the only zone with water holes which is the reason why it has a high chance for tiger sightings. You can spot tigers and leopards at Phuta Bandha, Jogi Mahal, Phuta Kot, Lahpur Tiraha, and Nal Ghati.
Zone 3- Raj Bagh, Padam Talab, Mandook, Jogi Mahal, and High Point are some of the best spots to spot tigers in this zone. It is one of the most popular Tiger sighting zones at Ranthambore.
Zone 4- The famous tigress Machli used to live in this zone but now she is dead. Some of the most famous tigers spotted here are T-28, T-64,T-19,T-41 etc. You can spot Tigers at Adidaant, Singh Dwar, Tamakhan, Lakkad Da, Lambi, Malik Talab, and Berda.
Zone 5– Jokha, Singh Dwar, Dhakda, Baghda, Anatpur, Bakola, and Kachida are some of the best spots for tiger sightings here.
Zone 6-This is one of the most beautiful zones of Ranthambore. You will witness beautiful grasslands, mountains and dense forests which is a perfect haunt for nature photographers. Its boundary is shared with Zone 1 so you will also be able to spot Tigress Noor with her cubs.
Zone 7- You can spot T-34 and T-8 here. Some Of the most famous spots for Tiger sightings are Chidikho,Jamoda,Rajbagh Naka and Kushalipura.
Zone 8- Balas, Kherai,Kali,Neemli Dang, Bhat,Mahakho are the major areas where you can spot wild creatures. It is one of the most popular buffer zones of Ranthambore park. You will spot leopards and amazing birds like Honey Buzzard, Indian Courser etc.
Zone 9- Serene banks of Chakal river adds to the beauty of this zone. This place is very popular for Caracal, sloth bear and aquatic birds. It is also home to tigress T-59, T-62.
Zone 10- This zone is a birdwatcher's paradise and also famous for Tiger, Leopard, Sloth bear, Antelope, Jackal sightings. This zone is a home to a male tiger T-42 aka Fateh, T-13 and her cubs.
A Mini Travel Experience Near Ranthambore National Park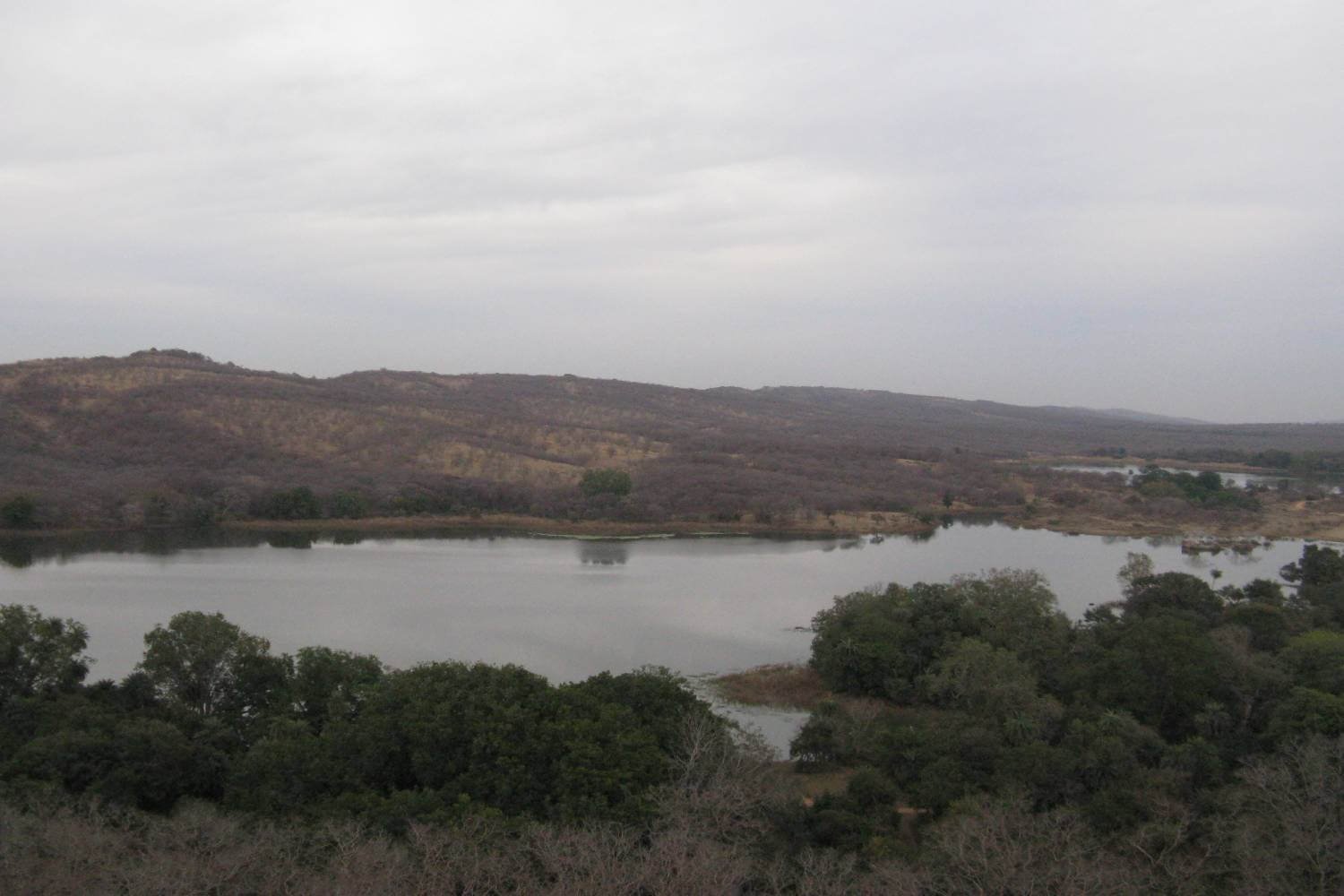 Enjoy your Ranthambore holidays to the fullest with your family and friends. Apart from enjoying Ranthambore Safari you can explore these popular tourist attractions for memorable moments.
Hike up to Ranthambore Fort
Visit to Kachida Valley
Visit Ranthambore Schools of Art
Enjoy incredible view of Padam lake
Pay visit at Trinetra Ganesha Temple
Learn history at Rajiv Gandhi Regional Museum of Natural History
What is the best way to get to Ranthambore National Park?
You can hire a taxi to get around Ranthambore and within the city. Taxis can be ordered directly from your hotel.
Shared automobiles, which are readily accessible, are a cost-effective way to move within Ranthambore.
Take a taxi to the Fort and the Chambal Crocodile Sanctuary on your trip to Ranthambore National Park. You can also use shared vehicles to get to and from local food places, cafes, and restaurants.
The Most Convenient Way to Enjoy Ranthambore Jungle Safari Tour
If you acquire a reservation, you'll be assigned a car and a guide at random. Leaving the planning to a tour organization or your hotel is a simpler way to enjoy exciting wildlife safaris. You'll pay more for the service, but you won't have to worry about booking the correct zone, dealing with a lousy tour guide, or getting to the park on time.
Essentials Tips Traveling to Ranthambore for Wildlife Safari
Ranthambore is one of the most popular wildlife tourist attractions due to which there will be rush. It is very important to book your accommodation a month in advance to avoid last minute hassle.
Carrying a tube of mosquito repellent and antiseptic cream during your safari trip is essential. Don't forget to carry any medicines you need with you at all times.
If you're planning to visit in October, keep a light jacket handy with you.
If you're visiting between November and February, then don't forget to keep warm jacket and woolen clothes that can be layered.
The weather between March and July ranges from warm to extremely hot, pack cotton t-shirts and trousers with you.
Ranthambore Jungle safari tour guide will have a significant impact on your trip, so choose wisely. When a large number of jeeps converge on a single location and people scream between cars, the resulting disruption is not optimal for observing animals, so read reviews before signing up for a trip.
Technical Equipments to Carry on Ranthambore Jungle safari
If you are carrying your cameras but there are few terms and conditions to consider.
Charges for Pcam (Movies 8 mm, 16 mm and video camera used by a mature photographer), DCam (Video camera and movie camera used by professional photographer for films other than feature films – filming by Indian company/agency), VCam (Video camera and movie camera used by professional photographer for other than feature film – filming by foreign company/agency), FCam (Movie and video camera used for feature film) as per Tourism/ Forest Department policy. However, there are no charges for Still Camera.
Carry Recorders
A pair of binoculars
Power Bank
Some Guidelines to Visit Ranthambore National Park
Bring sunscreen lotion, Mosquito repellent, sunglasses, a hat, and water bottles.
Follow the instructions given by Forest Officials related to Wildlife photography.
Don't throw polythene bags, tetra packs and other such materials here and there.
Respect nature and its harmony.
One must definitely visit Ranthambore National Park in their lifetime as there is nothing better than becoming one with the wild temptations of nature and making some wild friends to remember forever. We hope that this blog will help you in planning your Ranthambore Trip properly. If you have any query please share your views in the comment section of the blog.
Get upto 30℅ of early discount on all our Wildlife tour packages. Reach us for more details / bookings – +91-7668130655.
Frequently Asked Questions(FAQ)
How to book Ranthambore Jungle Safari Tour?
For an amazing Ranthambore Jungle Safari Tour contact us at +91-7668130655.
What are the Ranthambore Jungle Safari Timings?
The Timing depends on sunrise and sunset. It opens for the tourists half an hour after the sunrise and closes half an hour before the sunset. The timings are Morning Jungle Safari – 7:00am to 10:30pm and Evening Jungle Safari 2:30am to 6:00pm.
Is Summer a good time to plan a Jungle safari trip to Ranthambore?
October to June is the best time to Visit Ranthambore. So, it is the best time to plan an amazing Safari Tour. The most favorable months to enjoy Ranthambore Safari are May and June. Tigers and other wild creatures can easily be spotted near the water bodies. For Wildlife photographers these months are the best for wildlife photography.
How many days are needed to enjoy Ranthambore Tiger Safari?
The duration totally depends on you. You can enjoy a Tiger Safari at Ranthambore in one day but you can also take two to three days to enjoy 2 to 3 tiger safaris for an amazing wildlife experience.
Are there any hotels and resorts inside Ranthambore National Park?
There are no hotels and resorts to stay inside Ranthambore National Park but there are many accommodations to stay near the park.
Can we enjoy Elephant Safari at Ranthambore National Park?
No, Ranthambore National Park is not a habitat for wild elephants. You cannot enjoy Elephant Safari at Ranthambore National Park.
What are the top tourist attractions to visit in and around Ranthambore National Park?
Ranthambore Fort
Surwal Lake
Malik Talao
Trinetra Ganesha Temple
Padam Talao
Kachida Valley
Rajbagh Talao
Jogi Mahal
Dastkar Ranthambore
Wild Dragon Adventure Park
Rajbagh Ruins
Village of Women Craft
What are the best things to do in Ranthambore?
Ranthambore Jungle Safari
Visit Ranthambore School of Art
Enjoy the serenity of Padam Talao
Explore Ranthambore Fort
Enjoy Bird Watching at Ranthambore National Park
Spend fun moments with family and friends in Wild Dragon Adventure Park
Also Check Out: Popular India Tours | Tour Packages | International Tour Packages
Like & follow us on our following official social media channels
Facebook | Twitter | Linkedin | Instagram | Youtube
Other Popular Trending Holiday Destinations in India – Kashmir Tour | Himachal Tour | Uttarakhand Tour | Rajasthan Tour | Gujarat Tour | Sikkim Tour | Kerala Tour | Andaman Tour | Madhya Pradesh Tour
International Trending Holiday Destinations – Nepal Tours | Bhutan Tours | Singapore Tour | Thailand Tours | Sri Lanka Tours | Maldives Tours | Dubai Tours | Indonesia Tours
Tour Packages by Interest – Adventure Packages | Wildlife Packages | Pilgrimage Packages | Heritage Packages | Hill Station Packages | Weekend Packages | Honeymoon Packages | Beach Packages | Chardham Packages | Trekking Packages
Other Informative Wildlife Travel Guide Blogs to Read
Other Informative Travel Guide Blogs to Read