There are travelers who love sightseeing, who love visiting monuments, who love to explore shopping destinations, who love to try different cuisines – the list of different types of travelers is endless. But for some wanderers, adventure is a way of life. Not only they love to explore different destinations but also indulge in thrilling activities to completely blend with the aura of the place. India is blessed with amazing landscapes for such wanderers who love adventures. There is so much to do like water adventure sports, Wildlife exploration, trekking, mountaineering, rafting and so on – adventures in India are one of the most fascinating things to do for a traveler. The mind is always refreshed by new experiences and it just doesn't want to go back to feel the mundane things of life.
This blog is dedicated to the wanderers who love adventures and here is a list of the top 5 adventurous activities you must try in India –
River Rafting in Rishikesh
Skiing in Gulmarg
Trekking in the Himalayas
Paragliding in Bir- Billing
Scuba Diving in Andaman
Get upto 30℅ of early discount on our all Adventure Tour Packages. Reach us for more details / bookings – +91-7668130655.
River Rafting in Rishikesh, Uttarakhand
River Rafting escapades are always a source of thrill in India. Flowing like a wild wave in the rivers of India is one of the best things to do in adventure sports once in a lifetime. The water flows with rage invokes a sense of happiness; the blissful foams of the river delight the eyes; plenty of rapids and currents increases the excitement level; a raft full of friends ensures safety; a sense of thrill throughout the journey and in the end the roar of the river syncs with the rafter's laughter. In India, you can enjoy river rafting at many places but Rishikesh is one of the best river rafting places in India where the thrill is on another level.
From across the globe people visit Rishikesh to enjoy White water Rafting as it is one of the top adventure places to visit in India. The scenic waters of the holy river Ganga have all the thrill to offer to adventure enthusiasts. The breathtaking lofty mountains all around, azure sky, the gushing rapids of the river will absolutely make your day amazing. It is normal to enjoy sightseeing in different tourist places but only an adventurer can really enjoy the best of the destinations as not only the fun of sightseeing is there but also lots of memories from the thrill of adventures will be etched on his/her heart for a long- long time. Rafting in Rishikesh will give you such memories so that even when you leave its shores, the memories of rafting will shine bright on your mind.
Rapids in Rishikesh – There are five rapids in Rishikesh, there is no risk involved in the first two rapids but from Grade 3 to Grade 5 it requires good judgement, good swimming skills and a strong heart as the rapids are strong enough to turn your raft.
Note- From novice to expert anyone can take part in Rafting in Rishikesh but you always have to take precautions.
Major Stretches in Rishikesh – The major stretches in Rishikesh are Marine Drive to Rishikesh (Moderate Level), Kaudiyala to Rishikesh (Expert Level), Shivpuri to Rishikesh (Moderate Level) and Brahmpuri to Rishikesh (Easy Level).
Major Rapids to Enjoy in Rishikesh
Black Money (Grade1)
Body Surfing (Grade1)
Shivpuri Rapid (Grade2)
Terminator (Grade2)
Three Blind Mice (Grade3)
Cross Fire (Grade3)
The Great Wall (Grade 4+)
Skiing in Gulmarg, Jammu & Kashmir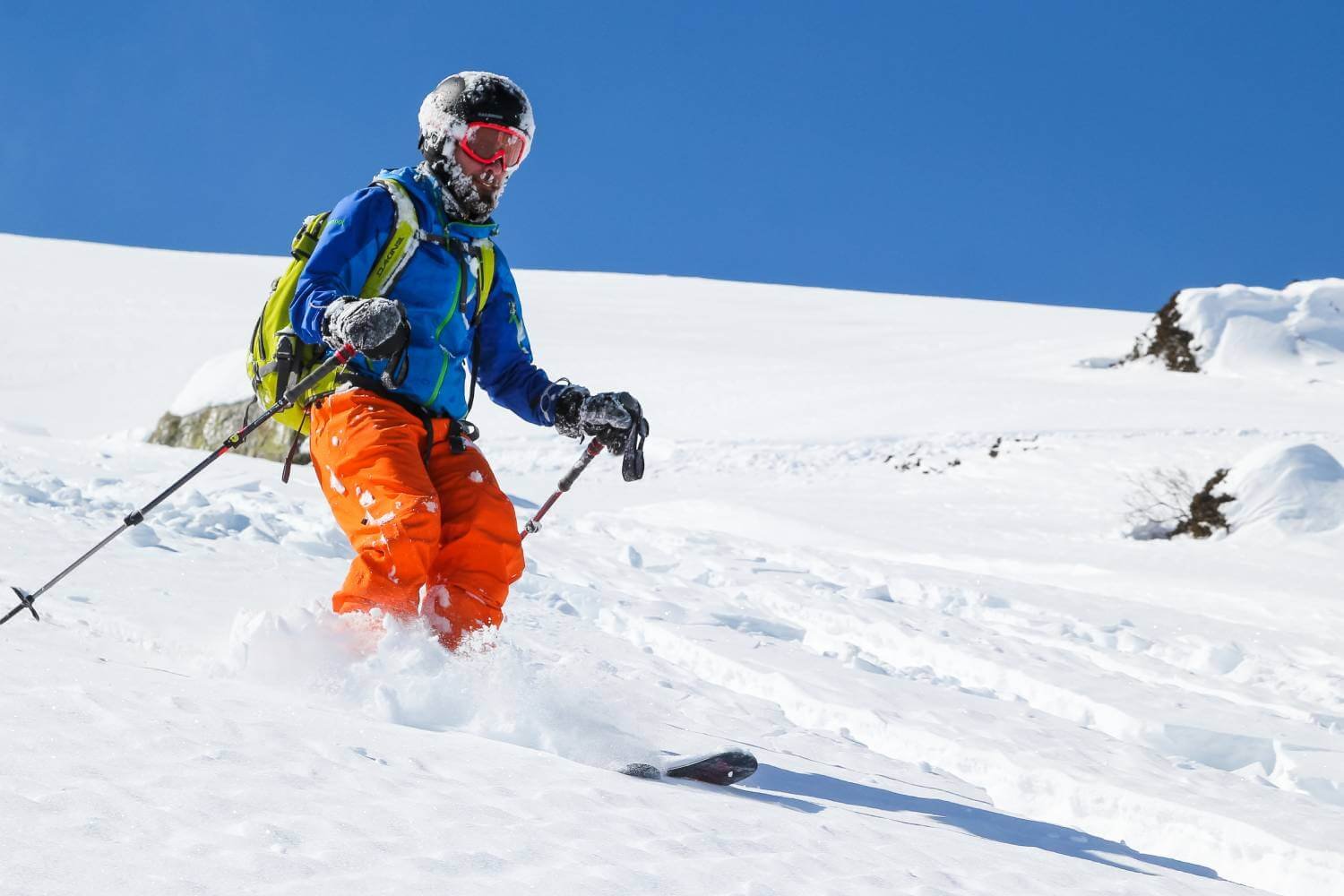 Your thrill of adventure tourism in India will elevate to a blissful level if you try Skiing in India. It is one of the most popular adventure activities to enjoy in India. The real pleasure of outdoor fun can really be enjoyed through skiing. Nothing is better than gliding through snow-capped mountains, icy glaciers, snowy forests and scenic mountain passes. On your skiing journey you will behold breathtaking vistas to capture in your lens. Passing through new enchanting paths will take your breath away; every rise and dip, nooks and corners will be full of surprises. The flutter of snowflakes amidst the snowy fairytale land is the guide to reach the final destination in a state of bliss.
North India is the best region to ski in India. It is decked with gorgeous mountain passes, lofty Himalayan mountains, pristine alpine lakes and snowy meadows. Skiing in India is like a meditation as the adventure enthusiast will get lost in the trance of snowy paths.
When it comes to Skiing, Gulmarg in Jammu& Kashmir comes in the list of top Ski adventure places in India. In winters the entire landscape is covered in snow making it the most picture-perfect destination to visit for honeymoon couples and enjoy skiing. The snow-clad mountains of Pir Panjal Range, deep ravines, snowy pine forested hills have been luring tourists for ages. Gulmarg has been an inspiration to many artists and poets due to its breathtaking beauty. Sitting at an altitude of 2,730m above the sea level, the climate is extremely cold here. The mist, clouds and the enchanting snow all around makes Gulmarg worthy to be considered as the best snow destination in India. The picturesque slopes of Gulmarg is considered as the 7th best place for skiing in India. You can enjoy Off-Piste Skiing, snowboarding, Heli-Skiing and sledging etc to add more delight to your trip in Gulmarg.
Origin of Skiing in Gulmarg – Skiing was introduced by Britishers in Gulmarg in the year 1927. They established the Ski Club of India.
Best Time to Enjoy Skiing in Gulmarg- December to February is the best time to try Skiing in Gulmarg. Temperature will be less than -4 degrees. Don't forget to try Gulmarg Gondola Cable Car Ride for amazing snowy views of the entire landscape.
Where to Ski in Gulmarg?
The upper reaches of Apharwat – Intermediate and Expert Skiers
Base of Apharwat – Beginners
Mary Shoulder- Intermediate Skiers
Monkey Hill, Jamiah Gulley, Sunset Peak and Sunrise Peak – Experienced Skiers
Trekking in the Himalayas
Around 73% of the Himalayas are in India, so no doubt, India is one of the best destinations for Trekking. Trekking in the Himalayas is the most beautiful adventure experience that one should have in the list of their delightful memories at least once. Every trek in the Himalayas is mind-boggling in its own way.
The majestic and mighty mountain Peaks and ranges of Himalayas are one of a kind. Snowy Glaciers, flowery meadows, enchanting forests, ancient Himalayan villages, snow-capped mountains teeming with rich wildlife and gorgeous hill stations, pristine lakes and waterfalls, awe inspiring mountain passes, Himalayas is a surreal and sublime destination for trekking in India.
A sense of fear and excitement is always there as you will cross gigantic mountain ranges and a lot of snow on the paths makes the journey more delightful. From Alpine meadows, rugged terrains, enchanting summits, beautiful forests of Rhododendrons, Oak, Pine, and Fir, Tranquil meadows to scenic lake campsites, Himalayas is full of wonder, its beauty never ceases.
In fact, with each passing day, you will witness something new in nature. If you love photography and adventure, you must try Trekking in the Himalayas for amazing adventure holidays.
Top Treks for Beginners in Himalayas
Brahmatal Trek
Valley of flowers Trek
Tarsar Marsar Trek
Hampta Pass Trek
Kedarkantha Trek
Dayara Bugyal trek
Deoria Tal Trek
Har Ki Dun Trek
Top Difficult Treks for experts in Himalayas
Kedartal Trek
Everest Base Camp Trek
Pin Bhaba Pass Trek
Rupin Pass Trek
Goechala Trek
Kashmir Great Lakes Trek
Buran Ghati Trek
Best Time for Trekking in the Himalayas
Each season in the Himalayas reveals bliss. For summers you can try Phulara Ridge, Dayara Bugyal, Har Ki dun, Buran Ghati treks etc. Safe amount of snow will make the trekking pleasant. Even in monsoon you can enjoy Hampta Pass, Valley of Flowers, Kashmir Great Lakes and Tarsar Marsar Trek, the lush greenery and refreshing vibes will mesmerize your mind. For winters there are plenty of treks to enjoy like Kuari Pass, Kedarkantha, Brahmatal Trek, Chadar Trek etc. There is no specific time for trekking in the Himalayas. It depends on which season you want to enjoy trekking. Every season in the Himalayas offers nice trekking opportunities.
Get upto 30℅ of early discount on our Himalayas Trekkingh Tour Packages. Reach us for more details / bookings – +91-7668130655.
Paragliding in Bir- Billing, Himachal Pradesh
Paragliding will make you feel like a wild bird who flies freely in the sky. It is one of the thrilling adventure activities to do in India. Going with the flow of the wind is an experience which is quite difficult to express in words. Through paragliding, you will be able to witness those enchanting scenes of nature which are very difficult to capture through a lens. Sometimes hovering above the trees, sometimes above the plain grassland, sometimes above the golden desert and sometimes above the snow-capped mountains, Paragliding is like flying a plane. You will definitely get hypnotized at what you see. The twists and turns with the breeze; soul soothing landscapes from above the sky, sharing the laughter with the winged creatures, dancing with the clouds – Isn't it the most amazing adventure experience for someone to have?
Paragliding in Bir Billing is one of the most popular adventurous sports in India. Yes, this small village of Himachal Pradesh is one of the best adventurous activities in India. Tourists from all over the world come here to enjoy the thrill of paragliding in Bir – Billing. It is a worldwide popular adventure activity. In 2015, it hosted the first ever World Cup Championship of paragliding in the world. Bir- Billing is blessed with favorable winds which enables smooth landing and easy take-off. The threat of accidents is very less.
Best Flying Season in Bir- Billing – March to May, September to October and November
Scuba Diving in Andaman
Scuba Diving is one of the best water adventure sports in India. It will teleport you into the magical world of aquatic creatures. Scenes of lush coral gardens, shipwrecks, colorful reefs, aquatic creatures, sea anemones, hydroids, colored beautiful shells, seahorses and many more mysterious and enchanting items makes Scuba Diving the most fun-filled, knowledge inducing adventure sports in India. Water is a place which is most untouched by human activity and it evokes a sense of thrill to tread into the unknown world of marine creatures. You will behold fishes that can touch your palm, sparkling white sand on the ocean floor; everything under water just flickers with mystery. The world under water is another Incredible India that you must witness for an adventurous holiday.
Dotted in the eastern part of Bay of Bengal, Andaman and Nicobar Islands is one of the top adventure destinations to visit in India. Group of scenic Islands, plenty of beaches here offers amazing opportunities for Scuba Diving. Enchanting marine life, amazing coral reefs, large sea fans, sponges and sloping coral ridges, Vibrant fishes will blow your heart away.
The Best Places for Scuba Diving in Andaman are Havelock, North bay, Neil and Port Blair Island. The diving is absolutely safe due to low water currents.
Best time for Scuba Diving in Andaman – December to May
If you are planning a great adventure escape in India then these top 5 adventurous sports will definitely provide an adequate adrenaline rush to your soul. Your excitement level will know no bounds.
Email OR call us for enjoying a thrilling adventure journey in India.
Other Important Adventure Tourism Activities Quick Information
Best Region for Trekking in India – Northern India
Bamboo Rafting is Famous in– Southern India
Best Destinations for Water Adventure Sports- Goa, Lakshadweep, West Bengal, Odisha, Andaman and Nicobar Islands, Rishikesh, Kerala
Best Wildlife Destinations in India- Uttarakhand, Madhya Pradesh, Rajasthan, Andaman and Nicobar Islands, Goa, Kerala, Assam, West Bengal, Odisha, Gujarat, Sikkim and Maharashtra etc.
Best Snow Adventure Destinations in India – Kashmir, Sikkim, Gulmarg, Auli, Nainital, Ladakh, Himachal Pradesh, Uttarakhand, Arunachal Pradesh etc
Get upto 30℅ of early discount on our India Holiday Packages. Reach us for more details / bookings – +91-7668130655.
Frequently Asked Questions(FAQ)
What is the best destination to visit an adventure family vacation in India?
Some best places for adventure holidays with family in India are:
Rishikesh
Ladakh
Gulmarg
Bir-Billing
Andaman and Nicobar Islands
Goa
Shillong
Sikkim
Meghalaya
Gujarat
Rajasthan
Uttarakhand
Mysore
What are the best destinations for river rafting adventure in India?
Some of the best destinations for river rafting adventure in India are:
Rishikesh, in Uttarakhand
Kullu Manali in Himachal Pradesh
Zanskar in Ladakh
Brahmaputra in Arunachal Pradesh
Teesta River Rafting in West Bengal
What are the top adventure tourism sports one can do in India?
Some of the popular adventure sports tourism activities for tourists in India are:
Trekking
Paragliding
Scuba Diving
Rafting
Mountain Climbing
Skiing
Snorkeling
Caving
Rappelling
Zorbing
Camping
Rock Climbing
Zip Lining
Bungee Jumping
Wildlife Safari
Camel Safari
Surfing
What are the best places for trekking adventure in India?
Sikkim
Himachal
Ladakh
Arunachal Pradesh
Uttarakhand
Jammu and Kashmir
Kerala
Leh
Karnataka
Gokarna
West Bengal
Meghalaya
Andhra Pradesh
Also Check Out: Popular India Tours | Tour Packages | International Tour Packages
Explore Popular Destination Tourism Packages
Other Informative Blogs to Read
Summer Travel Related Blogs to Read
Winter Travel Related Blogs to Read
Wildlife Travel Blogs to Read
Other Informative Trekking Travel Blogs to Read