From the one horned rhinoceros to wild water buffalo & a rich flora, a wildlife safari in Kaziranga National Park will surprise you with its vastness, richness & diversity!
Kaziranga National Park will never cease to surprise visitors, wildlife lovers, ornithologists and naturalists with its vastness, richness and unbelievable diversity, both in its landscape and wildlife. A UNESCO World Heritage Site, Kaziranga National Park stretches across the districts of Golaghat, Karbi Anglong and Nagaon in Assam. The Park is also criss crossed by four major rivers which are the Brahmaputra, Mora Diphlu, Diphlu and Mora Dhansiri.
Kaziranga is one of the few wild breeding areas outside Africa, which are home to multiple species of large cats like leopards and Royal Bengal Tigers. However, it is most famous for the gigantic and endangered one horned rhinoceros, whose present population in the park is around 2,413. It houses two thirds of the total world population of one horned rhinoceros. The Park also boasts the highest density of Royal Bengal Tigers among protected areas in the world and was declared Kaziranga Tiger Reserve in 2006. It has also been recognised as an Important Bird Area (IBA) by Birdlife International for the conservation and protection of various avifaunal species.
The history of Kaziranga has it that in 1904, Lord Curzon, the Viceroy of India, and his wife, Mary Curzon, embarked on an excursion to this very region. Mary however, was disappointed at not sighting any rhinos. She persuaded her husband to take measures for their protection. Thus, in 1905, almost 232 square kilometers of Kaziranga was declared a Proposed Reserve Forest. 152 square kilometers were added in 1908, whereby it was declared a Reserve Forest. In 1916, Kaziranga was renamed Kaziranga Game Sanctuary & in 1950 as Kaziranga Wildlife Sanctuary. It was in 1968 that it was declared a national park by adding 430 square kilometers to its total size. In 1985, UNESCO recognised it as a world heritage site.
Some Quick Important Information About Kaziranga National Park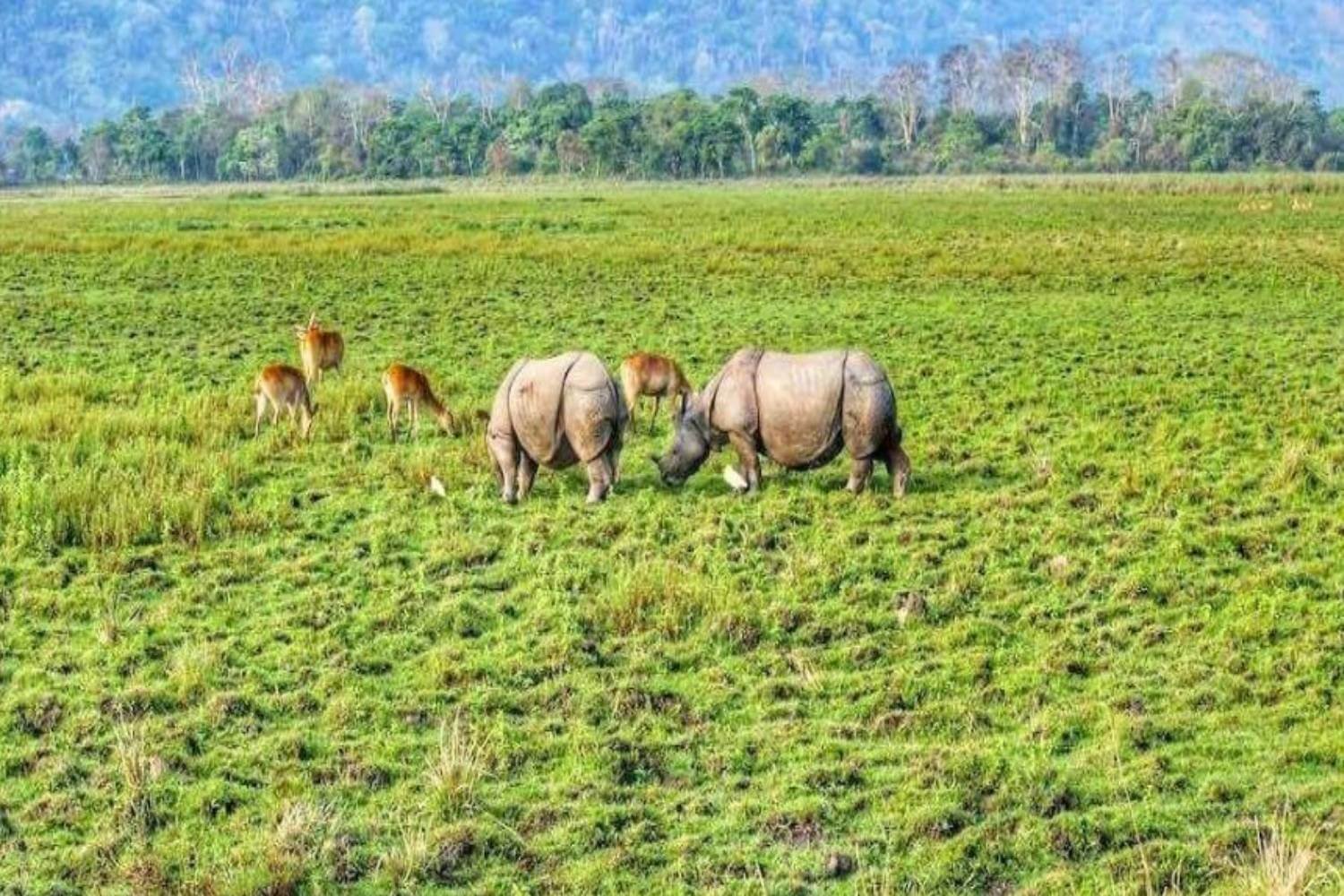 | | |
| --- | --- |
| Location | Assam, India |
| Established | 1905 |
| National Park Declared | 1968 |
| UNESCO World Heritage Site Declared | 1985 |
| Biodiversity | Home to two-thirds of the world's Great One-horned Rhinoceroses, as well as other endangered species such as Bengal tigers, Asian elephants, and Hoolock gibbons |
| Vegetation | Grasslands, wetlands, and forests |
| Rivers | The Brahmaputra River flows through the park |
| Climate of Kaziranga | Subtropical monsoon climate with hot and humid summers and cool winters |
| Altitude | 40-80 meters above sea level |
| Popular Bird Species in Kaziranga Park | Over 500 bird species, including the endangered Bengal Florican, Greater Adjutant Stork, and Black-necked Stork |
| Popular Reptile Species in Kaziranga | Over 40 species, including the Indian Rock Python, King Cobra, and Bengal Monitor |
| Mammal Species in Kaziranga | Over 35 species, including the Water Buffalo, Swamp Deer, and Sloth Bear |
| Best Time to Visit Kaziranga | November to April |
| Kaziranga Park Access | The park is accessible by road, rail, and air, with the nearest airport in Jorhat and the nearest railway station in Furkating |
| Safari Options at Kaziranga Park | Elephant safaris and jeep safaris are available for visitors to explore the park |
Get upto 30℅ of early discount on our Kaziranga Wildlife Tour Packages. Reach us for more details / bookings – +91-7668130655.
Flora in the Kaziranga National Park
The rich wildlife in Kaziranga National Park comprises mammals, birds, fishes and reptiles. There is a group of mammals known as the Big 5, which every tourist visiting the park wants to catch a glimpse of. The Big 5 are the one horned rhinoceros, Royal Bengal Tiger, Asian Elephant, wild water buffalo & swamp deer. About 57% of the population of wild water buffalo in the world is found here. Other large mammals found are gaur and sambar.
The Park also houses a significant breeding population of 35 mammalian species, out of which 15 are threatened, as per the IUCN Red List. Since it's also a Kaziranga Tiger Reserve, it has the highest density of tigers in the world, with their total numbers being 121. The prime attraction and for which Kaziranga is famous, the one horned rhinoceros, are almost 2,400 in number.
Since Kaziranga is also an Important Bird Area, or IBA, there are various species of birds including migratory birds, water birds, predators, scavengers and game birds. It is a haven for bird watchers and ornithologists. During the winters, birds from Central Asia like lesser white fronted goose, blacked necked stork, greater adjutant and Asian Openbill Stork migrate to the park. Three vulture species, namely, Indian Vulture, slender billed vulture and white rumped vulture have survived. Birds of prey like Pallas's Fish Eagle, grey headed fish eagle & lesser kestrel along with riverine birds like white bellied heron, Dalmatian Pelican, spot billed pelican and black bellied tern, can also be spotted inside the park.
Two of the largest snakes in the world, the reticulated python & rock python, are found in the park. The longest venomous snake, the King Cobra, is also found here. Other reptiles include the fifteen species of turtles like Assam roofed turtle and brown tortoise.
Kaziranga National Park also has a rich aquatic life which resides in its water bodies. Almost 42 species of fish are found inside the park, including speciality species like freshwater pufferfish.
Fauna in Kaziranga National Park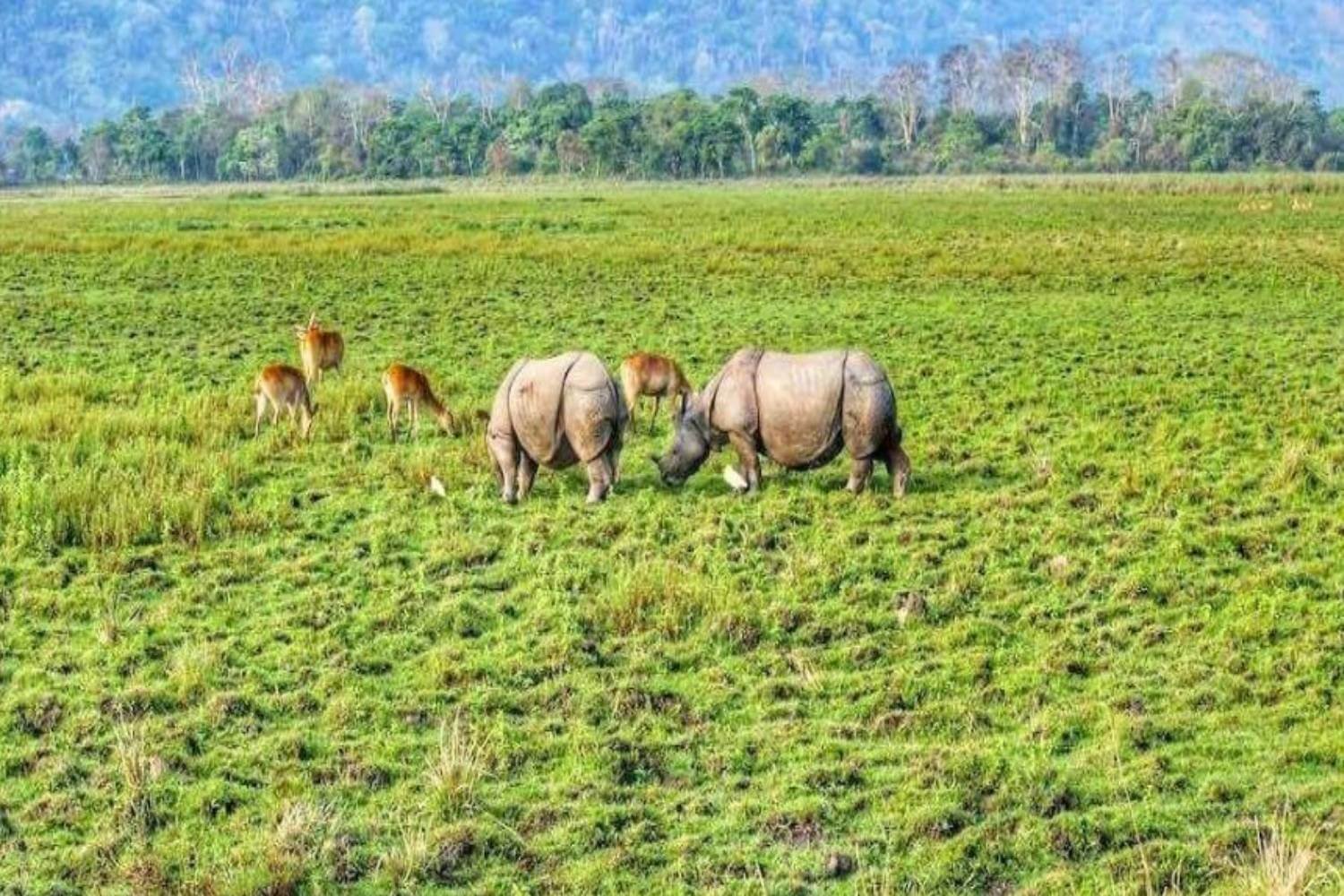 Four main types of vegetation are found inside the Kaziranga National Park. These are alluvial inundated grasslands, alluvial savanna woodlands, tropical moist mixed deciduous forests and tropical semi evergreen forests. There is also an altitudinal difference in the eastern and western areas of the park. The western areas are dominated by grasslands.
Tall elephant grass is found on higher grounds, while the lower grounds are dominated by short grasses. The common tall grasses which are found are sugarcanes, spear grass, elephant grass and common reed. Several types of aquatic floras are found in the ponds and lakes including lotuses and water lilies.
Book Kaziranga Tour Packages with Bon Travel India
Bon Travel India offers you a wide range of Kaziranga wildlife tour packages which promises to make your tour to Kaziranga National Park filled with thrilling and enjoyable moments. We will arrange every part of your journey, right from receiving you to assisted transfers to a pre booked accommodation, meals and other travel necessities.
We will also take care of all your safari bookings, wildlife tour requirements including providing you with expert driver and wildlife safari tour guide. Browse our Kaziranga tour packages which also comes with exciting deals and discounts!
Frequently Asked Questions (FAQ)
Q. What is the best time to visit Kaziranga National Park?
The best time to visit Kaziranga National Park is from November to April. During the monsoons, which start from June and lasts till September, much of the park is flooded by the River Brahmaputra, making it inaccessible to tourists. The winter season, which begins in November and ends in April, is the best time to visit the Kaziranga National Park.
Q. When does Kaziranga National Park open for wildlife safari?
A wildlife safari in Kaziranga National Park can be enjoyed with a jeep safari from 1st November to 30th April and from the months of May and October.
Q. How to book Kaziranga online safari booking?
Choose Bon Travel India to make your safari bookings an easy and smooth process, without any unnecessary hassles. We will ensure that your Kaziranga tour is a satisfying, enjoyable and adventurous one, both for you & your family. You can choose between canter safari and jeep safari. You will also be provided with an expert driver and wildlife tour guide, who will make sure that you have the maximum possibilities of spotting the rich wildlife and having an enjoyable time.
Q. What are the popular safari zones in Kaziranga National Park?
Kaziranga National Park, spread across an area of almost 430 square kilometers, has four safari zones. These are Central Safari Zone, Western Safari Zone in Bagori Kaziranga, Eastern Safari Zone in Agaratoli Kaziranga and Burapahar Safari Zone in Kaziranga.
The entry gate to the Central Safari Zone in Kaziranga is located in Kohora, a small town located about 2 kilometers from the National Highway. Jeep safaris are organised from Mihimukh riding tower in this zone. Jeep safari at the Western Safari Zone is organised from a place called Bagori. In the Eastern Safari Zone, jeep safaris are organised from the small town of Agaratoli. The Rhinoland Park is the starting point of jeep safari at Burapahar Safari Zone.
Burapahar Zone is located in the village of Ghorakati.
Q. Where to stay in Kaziranga National Park?
There are a variety of accommodation options in Kaziranga National Park where you can stay during your Kaziranga tour. These range from luxury resorts to rest houses to dormitories. The hotels around Kaziranga are available in the range of luxury to budget accommodations. If you are travelling during the peak season, it would be advisable to make your wildlife safari bookings in advance.
Other Interesting Wildlife Travel Guide Blogs to Read
Like & follow us on our following official social media channels
Facebook | Twitter | Linkedin | Instagram | Youtube
Also Check Out: Popular India Tours | Tour Packages | India Tour Packages | International Tour Packages
International Trending Holiday Destinations – Nepal Tours | Bhutan Tours | Singapore Tour | Thailand Tours | Sri Lanka Tours | Maldives Tours | Dubai Tours | Indonesia Tours
Other Popular Trending Holiday Destinations in India – Kashmir Tour | Himachal Tour | Uttarakhand Tour | Rajasthan Tour | Gujarat Tour | Sikkim Tour | Kerala Tour | Andaman Tour | Madhya Pradesh Tour | North East Tours
Tour Packages by Interest – Adventure Packages | Wildlife Packages | Pilgrimage Packages | Heritage Packages | Hill Station Packages | Weekend Packages | Honeymoon Packages | Beach Packages | Chardham Packages | Trekking Packages
Other Interesting Destinations Travel Guide Blogs to Read
Other Interesting India Travel Guide Blogs to Read
Other Interesting Rajasthan Travel Guide Blogs to Read
Other Interesting Adventure & Trekking Travel Guide Blogs to Read
Other Interesting Uttarakhand Travel Guide Blogs to Read
Other Interesting International Travel Guide Blogs to Read