In the blissful Sirohi district of Rajasthan lies the beautiful Hill station of Mount Abu. Majestic views of mountain, scenic beauty and wildlife have been luring tourists for ages. Due to its cool climate and blissful natural beauty, it is one of the best summer destinations in India. Some of the most popular tourist attractions to visit in Mount Abu are- Dilwara Jain Temples, Ecotourism sites, Adhar Devi Temple, Doodh Baori, honeymoon point and Trevor's tank.
Mount Abu is the only hill station in the desert state of Rajasthan. It used to be the royal's summer retreat for its pleasant weather. The Nakki Lake is known for being the highest artificial lake in India. Its history can be traced back to centuries as it is believed to be the abode of great saints. Mount Abu is considered to be the birthplace of four fiery Rajput clans. It is a perfect getaway for families, honeymooners and backpackers.
Best Places to Visit & Top Things to Do in Mount Abu
Visit the exquisite Dilwara Jain Temple for its intricate marble carving and magnificent architecture
Boating on the pristine water of Lake Nakki, the highest artificial lake in India
Visit the gatekeeper of Rajputana glory, Achalgarh Fort
Trek to the highest peak of Mount Abu, Guru Shikhar for a panoramic view of the hill town
Climb seven-hundred steps to reach the Gaumukh Temple for peace and spirituality
Visit Adhar Devi Temple, which is dedicated to the Hindu goddess Durga.
Visit Brahma Kumari World Spiritual University
Get upto 30℅ of early bird discount on our Rajasthan Tour Packages. Reach us for more details / bookings – +91-7668130655/+91-8802149265
Mount Abu Weather Information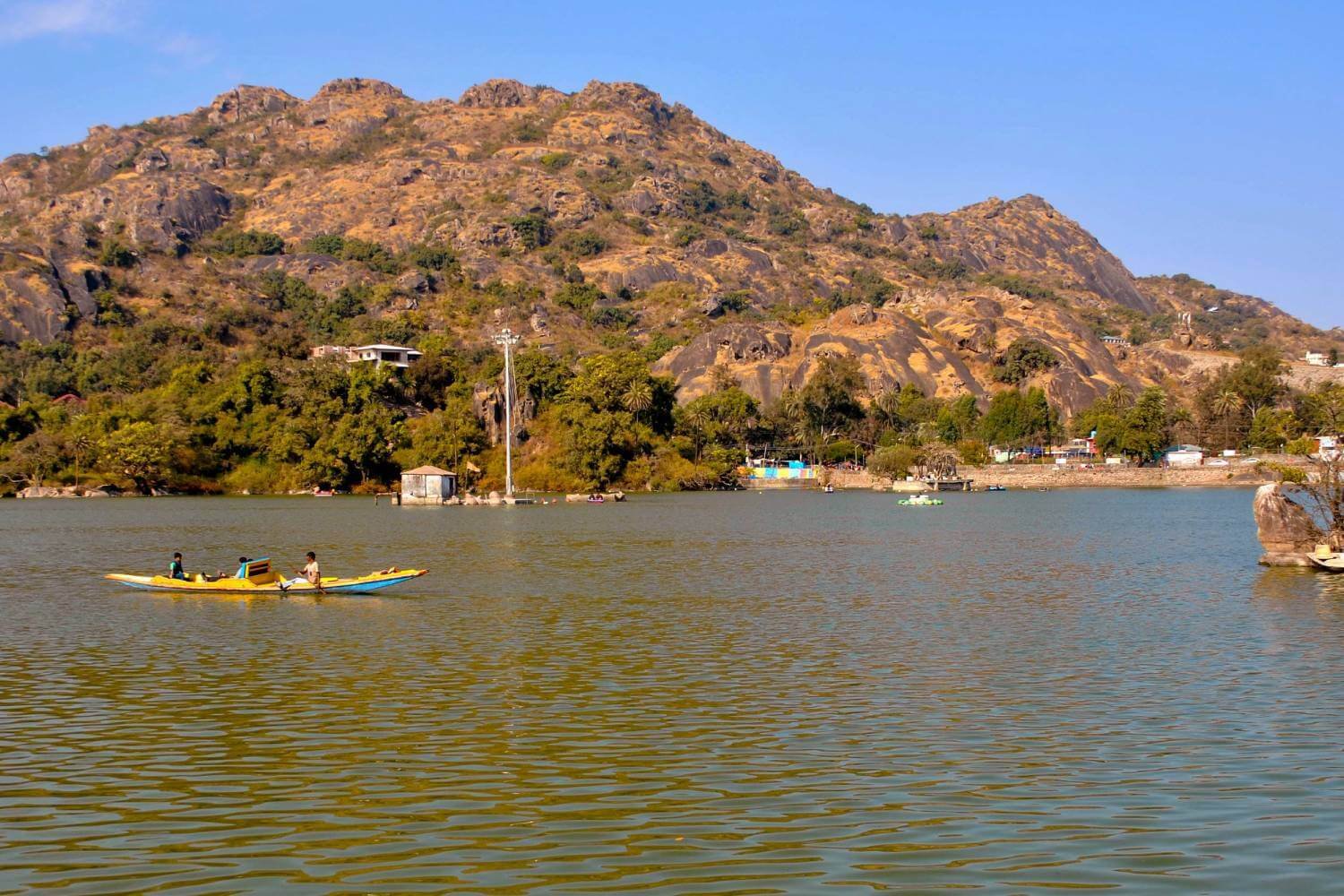 Summer Weather in Mount Abu
The summer season begins in the month of April and ends in June. While the rest of Rajasthan burns in the smoldering heat, Mount Abu relishes a cool climate with temperatures ranging from 31-34 degree celsius.
Monsoon Weather in Mount Abu
Mount Abu receives the highest amount of rainfall in Rajasthan. Monsoon lasts from August till September. The hill station turns lush-green with green woods, waterfalls and rich wildlife. The temperature ranges between 28 and 34°C.
Winter Weather in Mount Abu
The winter season is also the best time to visit Mount Abu with temperatures ranging from    16 – 22°C. The weather is cool and pleasant. At night, temperature can go as low as 10°C. Winters begin in November and end in February.
Also Read: Best Places to Visit in Rajasthan
How to Reach Mount Abu?
Mount Abu is a popular tourist destination in India and is easily accessible by road and rail from major cities in Rajasthan and Gujarat.
By Air
The nearest airport from Mount Abu is Maharana Pratap Airport Udaipur. It is located at a distance of 185 km from Udaipur.
By Rail
Mount Abu has its own railhead known as Abu Road Railway Station, located at a distance of 29 km. Tourists can easily avail bus or taxi services from the station.
By Road
Mount Abu is extensively connected to other major cities of India through an efficient roadway network. Various bus and taxi services are readily available for easier accessibility to tourists.
Like & follow us on our following official social media channels
Facebook | Twitter | Linkedin | Instagram | Youtube
Also Check Out: Popular India Tours | Tour Packages | India Tour Packages | International Tour Packages
Other Popular Trending Holiday Destinations in India – Kashmir Tour | Himachal Tour | Uttarakhand Tour | Rajasthan Tour | Gujarat Tour | Sikkim Tour | Kerala Tour | Andaman Tour | Madhya Pradesh Tour | North East Tours
International Trending Holiday Destinations – Nepal Tours | Bhutan Tours | Singapore Tour | Thailand Tours | Sri Lanka Tours | Maldives Tours | Dubai Tours | Indonesia Tours
Tour Packages by Interest – Adventure Packages | Wildlife Packages | Pilgrimage Packages | Heritage Packages | Hill Station Packages | Weekend Packages | Honeymoon Packages | Beach Packages | Chardham Packages | Trekking Packages
Other Interesting Rajasthan Travel Guide Blogs to Read
Other Interesting Destinations Travel Guide Blogs to Read
Other Interesting India Travel Guide Blogs to Read
Other Interesting Uttarakhand Travel Guide Blogs to Read
Other Interesting Adventure & Trekking Travel Guide Blogs to Read
Other Interesting Wildlife Travel Guide Blogs to Read