Welcome to Rajasthan!  A land where the tales of India's historic past come alive. It's a symphony of everything beautiful and grand. From palaces, royal forts, colorful markets, delicious cuisines, fairs and festivals, dance, art and craft have a story to tell. The stories will introduce you to the rich heritage and culture of India. Sights and sounds of melodious folk songs, magical dance performances, artworks to seduce your artistic senses, food that flirts with your palette – Rajasthan is a place equivalent to heaven on earth. If you are searching for a color to represent life then Rajasthan will soothe your heart with all its glory.
Couples often visit Rajasthan to cherish romantic moments, families prefer this place to enjoy the royal and regal lifestyle, to enjoy some fun time with their kids and loved ones in the colorful bazaars, relish some delicious cuisines and amazing photo sessions in palaces and forts. Adventurers head for soul seducing camel rides, dune bashing etc. and there is a special mention for those wanderers who visit Rajasthan to enjoy the fun of festivals and embrace the divine wisdom from temples. Isn't it a place for all to have fun?
17 Most Visited Tourist Destinations of Rajasthan
Jaipur
Udaipur
Jodhpur
Jaisalmer
Pushkar
Bikaner
Bharatpur
Ajmer
Alwar
Bundi
Chittorgarh
Jhalawar
Mount Abu
Dungarpur
Ranakpur
Shekhawati
Kota
Quick Travel Information About Rajasthan Tourism
| | |
| --- | --- |
| Rajasthan is Known as | Land of Kings |
| Best Time to Visit Rajasthan | October to March |
| Best Heritage Destinations of Rajasthan | Alwar, Bundi, Jaipur, Jodhpur, Udaipur, Ajmer, Chittorgarh, Shekhawati, Bkaner, Jhalawar, Dungarpur |
| Hill Station of Rajasthan | Mount Abu |
| Romantic Destinations of Rajasthan | Bundi, Udaipur, Jodhpur, Jaipur, Jaisalmer, Mount Abu, Shekhawati, Bikaner |
| Upcoming Festivals of Rajasthan in Winter | Pushkar Fair, kolayat Fair, Chandrabhaga Fair, Winter Festival Mount Abu, Kumbhalgarh Festival and Desert Festival |
| Upcoming Summer Festival of Rajasthan | Baneshwar Fair, Jaipur LiteratureFest, Rajasthan Festival,Summer Festival of Mount Abu and Dhulandi Festival |
| Adventure Activities to Enjoy in Rajasthan | Hot Air Ballooning, Camping, Paragliding, Cycling, Desert Safari, Camel Safari, Jungle Safari, Helicopter Joy Rides and Parasailing. |
Get upto 30℅ of early bird discount on our Rajasthan Tour Packages. Reach us for more details / bookings – +91-8802149265.
1. Udaipur Venice of the East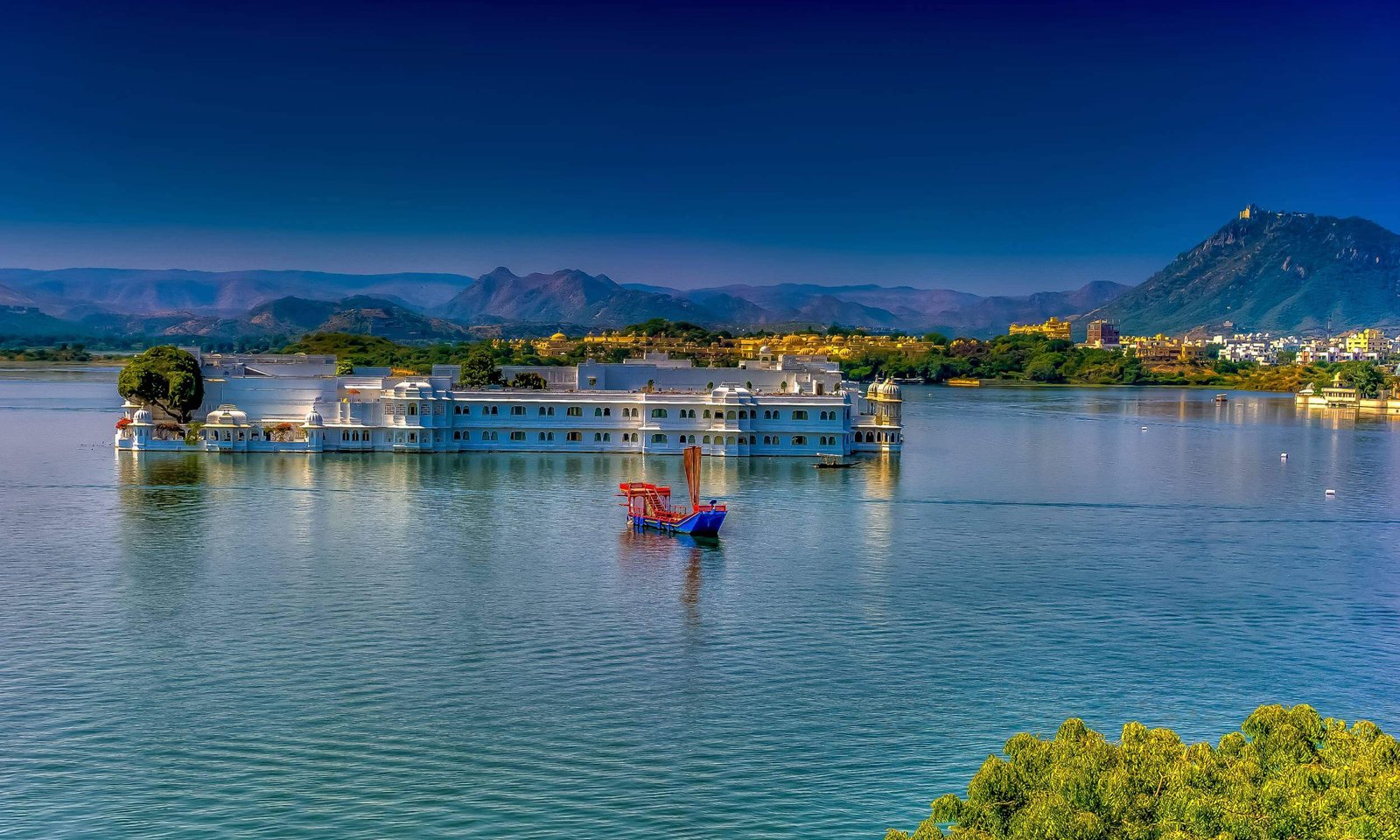 Well, who knew the city which was founded by Maharaja Udai Singh II in 1559 would delight the souls of travelers for a decade. Udaipur is one of the top visited tourist destinations of Rajasthan. Known as "the Venice of the East" it is decked with serene and beautiful lakes. Udaipur Tourism is mesmerizing. Dotted with the dense forests and craggy hills all around, this lakeside view, Udaipur's vibe sync with the heart of romantic souls. Romantic honeymoon couples in the setting of serene lakes and royal palaces should spend romantic time with their loved ones.
The beautiful lakeside of Udaipur is a perfect place to say "Loved you yesterday, love you still, always have, always will" to your loved ones. In the perfect romantic lake setting your love will blossom and find its true meaning.
July to September is the best time to visit Udaipur to enjoy the wonderful landscapes rejuvenated by the serene drops of rain in monsoon. It's a place to experience the magical monsoon of Rajasthan.
Must Visit Tourist Places in Udaipur, Rajasthan
Jaisamand Lake
Monsoon Palace
Fateh Sagar Lake
Lake City Palace
Udaipur Cipratap Memorial
Jag Mandir
Ahar Museum
Jagdish Temple
Lake Pichola
Shaeliyon Ki Bari
Gulab Bagh and Zoo
Sukhandia Circle
Bharatiya Lok Kala Mandal
Bagore ki Haveli
Shilpgram
Udai Sagar Lake
Doodh Talai Lake
Navalakha Mahal
Wax Museum
Udaipur Fish Aquarium
Vintage Car Collection
The Crystal Gallery
Nagda
Badi Lake
Sajjangarh Biological Park
Sahastra Bahut Temple
Pratap Gaurav Kendra
Top Things to Do in Udaipur
There are many awesome things to do in Udaipur such as a romantic boat ride at Lake Pichola, shopping at art and curio stalls, a visit to Jaismand lake which is the second largest sweet water lake in Asia, for art and craft lovers the 10-day Shilpgram festival in December, jaw-dropping beauty of City Palace which is also one of the best Udaipur sightseeing places to explore and soothing Rajasthani folk music and dance performances will make your day memorable for a lifetime.
2.Pushkar- Lord Brahma's Sole Sanctum Sanctorum
For quiet and calm spirits Pushkar's visual delight and charm will never fade from memory. It comes in the list of top 5 places to visit in Rajasthan. Its ambiance has peace and spiritual bliss. Thousands of devotees come here to take divine blessings of Lord Brahma in Brahma Temple which is the only Brahma Temple in India. Apart from the soothing serenity, the dramatic landscapes of Pushkar have variety. Soulful views of mesmerizing sand dunes, beautiful hills, lakes, Ghats and bazaars and forests make Pushkar an attraction in Rajasthan that you can't miss if you truly want to enjoy the best of Rajasthan Tourism.
Must See Tourist Places in Pushkar Rajasthan
Pushkar Lake
Brahma Temple
Gurudwara Singh Sabha
Varaha Temple
Savitri TEmple
Rangji Temple
Atmateshwar Temple
Man Mahal
Top Things to Do in Pushkar
Visit Lord Brahma Temple and Pushkar Lake for spiritual upliftment. The sacred Pushkar Lake is also known as Tirth Raj, a dip in its serene and sacred waters that has religious significance. Your pilgrimage journey to Lord Brahma temple will be incomplete without a holy dip in Pushkar Lake.
The Rajasthani architecture of Man Mahal in Pushkar is a pure visual spectacle. It's one of the most popular tourist spots to visit in Pushkar for heritage destination lovers.
Located in the Northern side of Pushkar is the sacred Pap Mochini Temple. You will be free from cardinal sins if you visit here as per the mythology.
Savitri Temple of Pushkar is located on a hillock which offers extremely beautiful views of the entire city. The temple is dedicated to Lord Brahma's first Wife Goddess Savitri.
A combination of beautiful architecture style of South India, Rajput and Mughal Style – Rangji Temple is an awesome architectural marvel and a wonderful spiritual hub dedicated to the incarnation of Lord Vishnu. It is one of the most popular tourist attractions to visit in Pushkar
3. Jaipur- Most Visited and Loved Travel Paradise
Having the honor of being the first planned city of India, Jaipur is a worldwide famous tourist destination of India. Jaipur's Tourism is Rajasthan's crowning glory.  Jaipur is the capital city of Rajasthan known for its alluring forts and havelis, spectacular spacious gardens, history and culture and bustling bazaars. There is an interesting story behind its name as a Pink City of India. In 1876 Prince of Wales visited India on tour and the color pink is a symbol of hospitality. To welcome him with warm hospitality, Maharaja Ram Singh of Jaipur painted the entire city of Jaipur in Pink color. Jaipur city is also an UNESCO World heritage site as its city planning and architecture marvels are of great universal value and exceptional quality. Jaipur is one of the three corners of the Golden Triangle Tourist circuits. The other two are Delhi and Agra.
Must Visit Attractions in Jaipur Rajasthan
Amber Palace
City Palace
Jantar Mantar
Hawa Mahal
Albert Hall Museum
Nahargarh Fort
Samode
Light & Sound Show at Jainiwas Udhyan
Jaigarh Fort
Birla Temple
Jal Mahal
Gaitore
Sisodia Rani Palace and Garden
Vidyadhar Garden
Central Park
Anokhi Museum of Hand Printing
Govind Devji Temple
Moti Doongri Ganesh TEmple
Digamber Jain Mandi
Galtaji
Statue Circle
Ram Niwas Garden
Kanak Vridavan
Ishwar Lat
Amar Jawan Jyoti
Maharani Ki Chhatri
Nahargarh Biological Park
Jaipur Wax Museum
Jawahar Kala Kendra
Raj Mandir
Sambhar Lake
Madhvendra Palace
Akshardham TEmple
Jagat Shiromani Temple
Museum of Gem and Jewellery
Jhalna Safari Park
Amrapali Museum
Top Things to Do in Jaipur
The light and sound show of Janiwas Udhyan is one of a kind. It is one of the first 3-D projection mapping-based light & sound shows in Rajasthan.
The beauty of Amber Palace is hard to resist. The Maota Lake in its front adds to the beauty and magnificence of Amber Palace. Fusion of Rajput and Mughal architecture, the great City Palace needs no introduction. It's one of the best Jaipur sightseeing places to explore here. Don't forget to see Jantar Mantar and Hawa Mahal. Jaipur. The Hindu and Islamic architecture of Hawa Mahal and the pink sandstone is a visual spectacle. Jantar Mantar is a UNESCO World Heritage Site. It's the largest astronomical observatory out of five built by Maharaja Sawai Jaisingh II.
Birla Temple dedicated to Lord Vishnu is full of exquisite carvings and sculptures based on mythology. Get the divine blessings of Narayana. Also visit Moti Doongri Ganesh Temple which is dedicated to Lord Ganesha, it's one of the most popular and a must not miss religious sightseeing destination in Jaipur.
4. Mount Abu- One and the Only Hill Station Destination of Rajasthan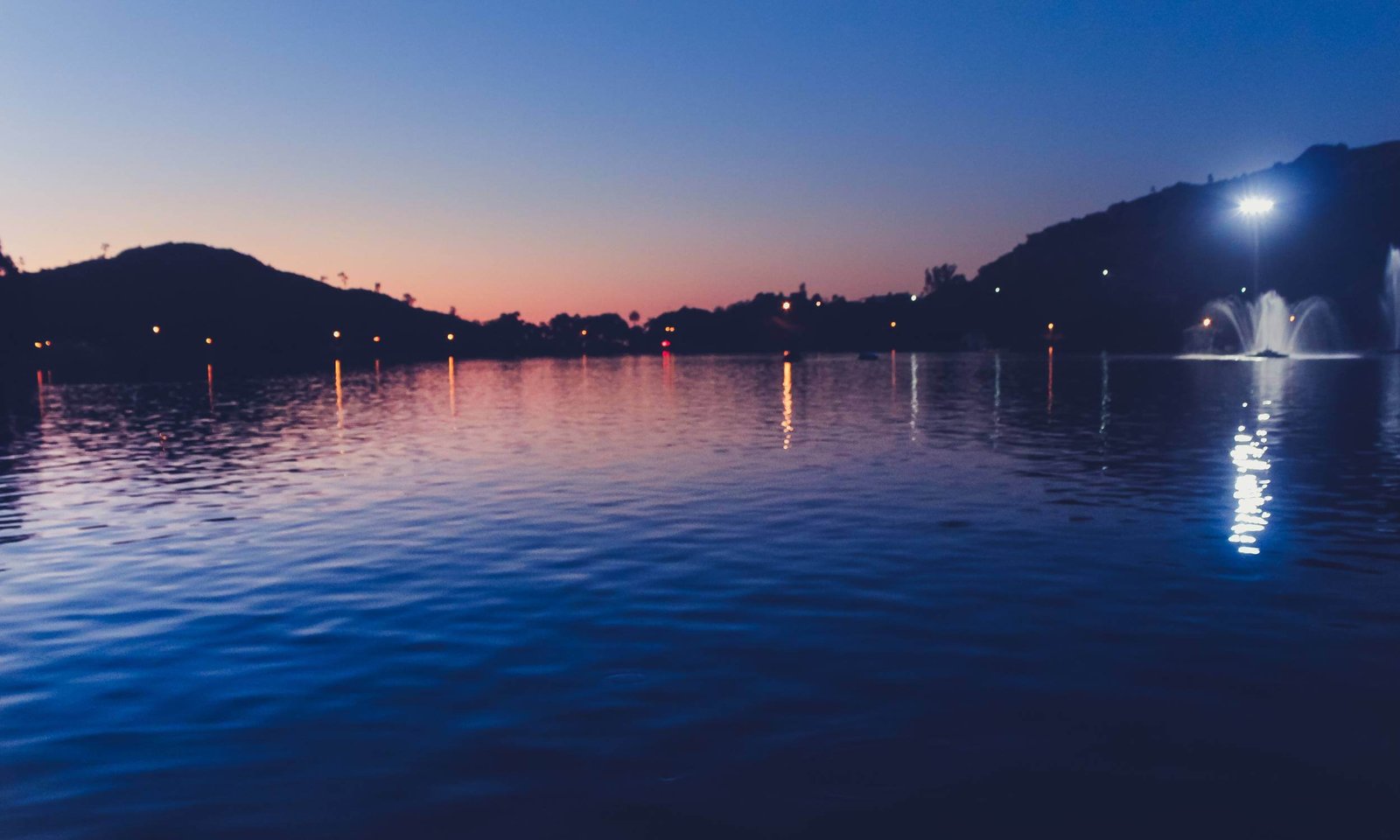 Rajasthan's only Hill Station Mount Abu comes under the list of top 10 tourism places of Rajasthan. Paradise of lakes, kissed by the hills of Aravalli, decorated with the vast stretches of dense forests, gorgeous waterfalls and Jain temples makes this tourist attraction a best sport for family holidays in Rajasthan. Moreover, you can also enjoy a thrilling wildlife Safari at Mount Abu Wildlife Sanctuary. Soothing weather, religious spots, nature's views and great architectural marvels are some of the reasons why Mount Abu is one of the best places to visit in Rajasthan. Its vibe is so beautiful that even romantic honeymoon couples come here for romantic staycation. Why not? There is so much greenery, lakes, waterfalls, wildlife, mountain views, serene temples – Mount Abu has awesome locations to cherish lovely moments with your loved ones.
Must Visit Attractions in Mount Abu Rajasthan
Guru Shikhar
Toad Rock View Point
Dilwara Jain Temple
Mount Abu Sanctuary
Peace Park Mount Abu
Lal Mandir Mount Abu
Trevors Tank
Achleshwar Mahadev Temple
Achalgarh Fort
Things to Do in Mount Abu
What's more delightful to the eye than the gorgeous Nakki Lake surrounded by hills and Toad Rock, unique rock formations. A day with your loved ones here will be awesome if you go boating.
The highest point in the Aravalli Mountain range is Guru Shikhar. Get the divine blessings of the divine trinity (Brahma, Vishnu and Shiva) at Guru Dattatreya temple. The views are awesome here.
"Temples of white marble looked so bright that I would never go back from here. Its beauty is mesmerizing" – You will say this to yourself in Dilwara Jain Temple.
Exotic species of wild animals are waiting for you for some amazing adventures at Mount Wildlife Sanctuary.
5. Jaisalmer – Golden Beauty
Land of golden desert Jaisalmer is an absolute wonder for adventure lovers. Set in the heart of mesmerizing Thar desert, Jaisalmer is a complete visual seduction storm. It is one of the must visit places in Rajasthan for every traveler.  Jaisalmer Fort, Sonar Quila is the landmark destination and a lifeline of Jaisalmer tourism which will take you to the world of valor and royalty. It's more than a tourist destination as it houses shops, hotels, and magnificent havellies. Your day will never be dull if you try a thrilling camel safari, shop at colorful bazaars, enjoy the world famous Gair and fire dance in the middle of desert and the best from the rest, awesome Jaisalmer Desert Festival which is the most colorful event of Jaisalmer. This will surely delight your soul.
Must Visit Tourist Attractions in Jaisalmer Rajasthan
Gadisar Lake
Jaisalmer Fort
Jaisalmer Government Museum
Nathmal Ji Ki Haveli
Salim Singh Ki Haveli
Patwon Ki Haveli
Mandir Palace
Jain Temples of Jaisalmer
Bada Bagh
Desert National Park
Kuldhara
Tanot Mata Temple
Ramdevra Temple
Jaisalmer War Muesum
Laungewala War Memorial
Akal Wood Fossil Park
Vyas Chhatri
Amar Sagar Lake
Top Things to Do in Jaisalmer
Know the wonderful story of the founders of the Jaisalmer city through the Laser Water Show at Gadisar Lake.
The beauty of the setting sun, grandeur of the royal havellies, delightfully chaotic shops and comfort hotels – the majestic Sonar Quila- Jaisalmer Fort 's has wonders you will not forget for a long time.
Miniature style paintings and Tuskers of yellow sandstone of Nathmal Ki Haveli look absolutely fascinating. It's one of the top Jaisalmer sightseeing places to explore here.
Patwon ki Haveli is one of the most beautifully carved havelis of Jaisalmer. The exploration of the mirror work art of Patwon ki Haveli is worth your time.
Explore the unique ecosystem of desert in Desert National Park. You will find some rare wildlife species such as the most endangered Great Indian Bustard. Also spot black buck, chinkara and desert fox etc.
Kuldhara Village- Famous for the mysterious story of a beautiful daughter, an unscrupulous minister, scared villagers and their escape in the middle of the night.
Are you not curious to know about the vanished villagers?
Tanot Mata Temple – A must visit spiritual hub in Jaisalmer dedicated to Goddess Hinglaj.
Akal Wood Fossil Park has remains which date back to prehistoric times, you will be spellbound to see unique historical artifacts.
6. Jodhpur – Alluring Blue Paradise
Jodhpur is the best decision if you are planning family holidays in Rajasthan. The sapphire blue painted houses all around have earned it the name of Blue City of India. Famous for its stunning Pichwai paintings, bandhani sarees, spectacular forts and palaces and scenic country sides are the visual spectacle you must not miss. It is also a wonderful honeymoon tourist attraction.  There are some beautiful locations which would definitely sync with the heart of romantic souls. One more interesting thing- Jodhpur is also very popular for a rare breed of horses known as Malani which is only found here.
Must Visit Palaces in Jodhpur Rajasthan
Mehrangarh Fort
Khejarla Fort
Umaid Bhawan Palace
Moti Mahal
Sheesh Mahal
Phool Mahal
Chamunda Mata Ji Temple
Ranisar Padamsar
Jodhpur Government Museum
Jaswant Thada
Ghanta Ghar
Mahamandr Temple
Mandaleshwar Mahadev
Sardar Samand Lake and Palace
Masuria Hills
Shastri Circle
Mandore
Kailana Lake
Machiya Safari Park
Somnath Temple
Balsamand Lake
Guda Village
Chokhelao Bagh
Top Things to Do in Jodhpur
Explore the rich heritage and culture of Rajasthan through its magnificent forts and palaces. There are so many heritage attractions to explore in Jodhpur such as Mehrangarh Fort, Khejarla fort, Moti Mahal, Umaid Bhawan Palace, Sheesh Mahal and Phool Mahal etc.
There are absolutely uplifting and remarkable religious places to explore in Jodhpur such as Somnath Temple, Mandaleshwar Mahadev, Mahamandir Temple and Chamunda Mataji etc.
Of course, Jodhpur is also one of the best places for adventure lovers. You can try paragliding, flying fox and desert safari at various locations in Jodhpur.
7. Bikaner- Offbeat Gem of Rajasthan
Delightful and bustling city of Bikaner is the desert bliss of Rajasthan. Being an offbeat tourist attraction, this city is not much explored but if you really want to experience something from the mainstream in your Rajasthan Tour then a visit to Bikaner is a good idea. It's quite the perfect destination for couples as they can spend some peaceful moments with their beloved. The exquisite forts and palaces, lip smacking snacks of Bhujia, bustling bazaars where you will find mojris, Bikaneri shawls, blankets, carpets, and candy. A thrilling camel safari ride will give you a wonderful opportunity to explore the golden sand dunes and countryside. The views you will find on your way are worth capturing.
Must Visit Places in Bikaner Rajasthan
Junagarh Fort
National Research Centre on Camel
Lalgarh Palace and Museum
Rampuria Haveli
Ganga Government Museum
Laxmi Niwas Palace
Prachina Museum
Deshnok Karni Mata Temple
Jain Temple Bhandasar
Kodamdesar Temple and Lake
Shri Laxminath Temple
Shiv Bari Temple
Gajner Palace and Lake
Gajner Wildlife Sanctuary
Devi Kund
Rajasthan State Archives
Kolayat
Katariasar Village
Jorbeed
Top Things to Do in Bikaner
Explore the rich historical past of Rajasthan through its magnificent forts, Havelis and palaces such as Junagarh fort, Lalgarh Palace and Museum, Rampura Haveli, Laxmi Niwas Palace, Gajner Palace and Lake etc.
Indulge in an adventurous fun at Raisar Dunes. Try desert safari, camel safari, camel cart ride, jeep safari and night camping to enjoy the best holidays in Rajasthan.
Epitome of faith and keeper of solace, the spiritual places of Bikaner are one of a kind. Explore Laxminath Temple, Shiv Bari Temple, Kodamdesar Temple, Jain Temple Bhandasar and Deshnok Karni Mata Temple etc.
8. Bharatpur- Bird Watcher's Paradise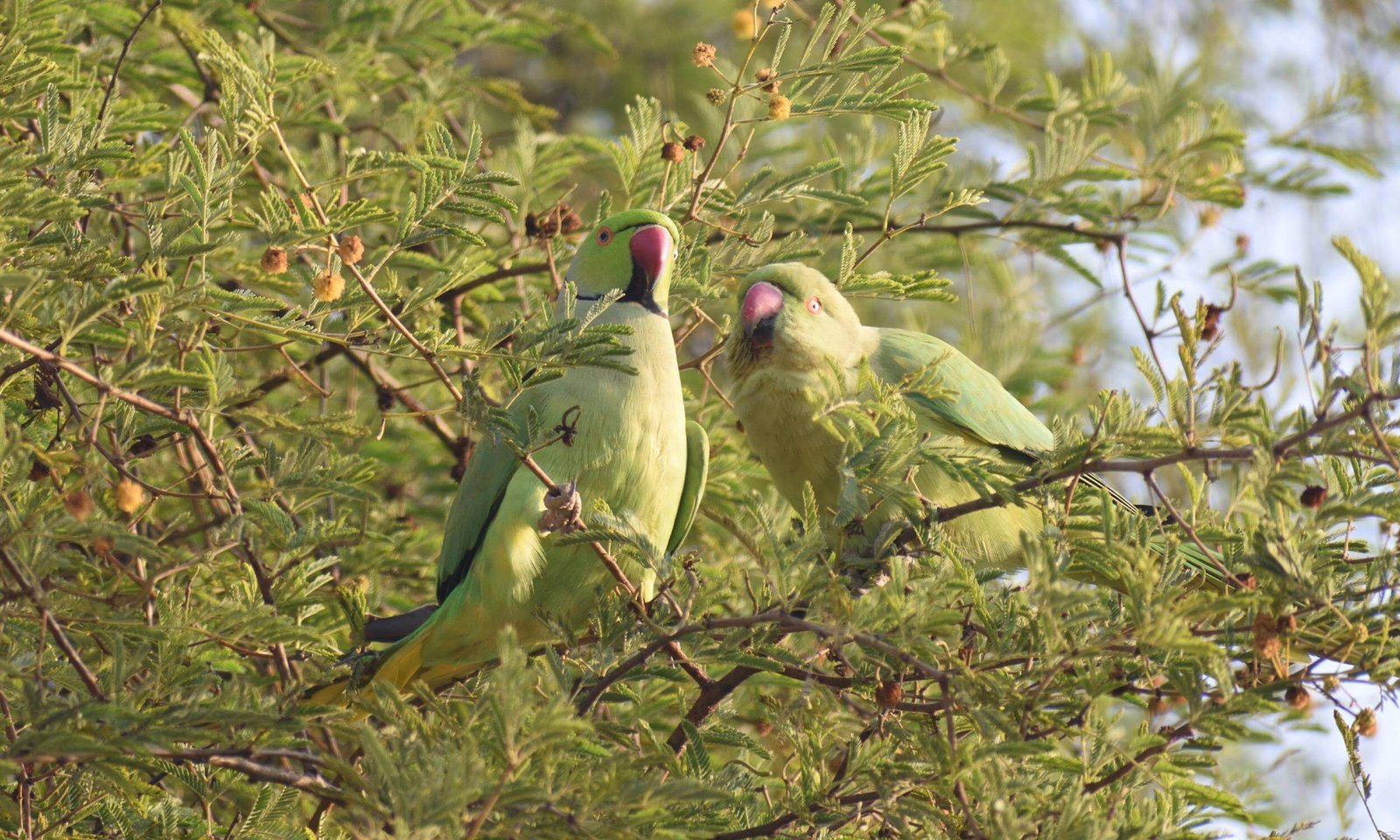 Bharatpur is an enchanting travel destination in Rajasthan which will tell you the tale of the mighty Matsyas of Matsya Kingdom which flourished in the 5th century BC. They were the supporters of Pandavas in the war of Mahabharata. It is one of the best places to visit in Rajasthan. The Fort of Bharatpur is an exquisite landmark destination of Bharatpur. It is also world famous for bird watching activity.  Keoladeo Ghana National Park is the top tourist attraction of Bharatpur. You will find many beautiful migratory bird species here such as Siberian Cranes, ducks, geese, waders, raptors, flycatchers. It is also a UNESCO World Heritage Site. Decked with many heritage attractions and wildlife spots, Bharatpur is a very famous tourist destination among the heritage and adventure loving souls.
Must Visit Places in Bharatpur Rajasthan
Bharatpur Palace and Museum
Ganga Mandir
Lakshman Temple
Keoladeo Ghana National Park
Lohagarh Fort
Deeg
Band Baretha
Kaman
Top Things to Do in Bharatpur
Explore Bharatpur Palace and Museum – A keeper of the history of cultural aspects of Bharatpur.
Visit Laxman Mandir which is dedicated to Laxman, brother of Lord Rama. It's a beautiful spot of typical Rajasthani style of architecture and beautiful pink stonework. The sight is delightful to behold.
Keoladeo Ghana National Park – Must visit bird watching destinations. A UNESCO World Heritage site. You will see a variety of migratory bird species here such as Siberian Cranes, ducks, geese, waders, raptors, flycatchers.
Deeg is a beautiful garden and is a popular scenic attraction. The center of attraction here is a fort surrounded by moats and gateways.
9. Ajmer- Solace Paradise of Rajasthan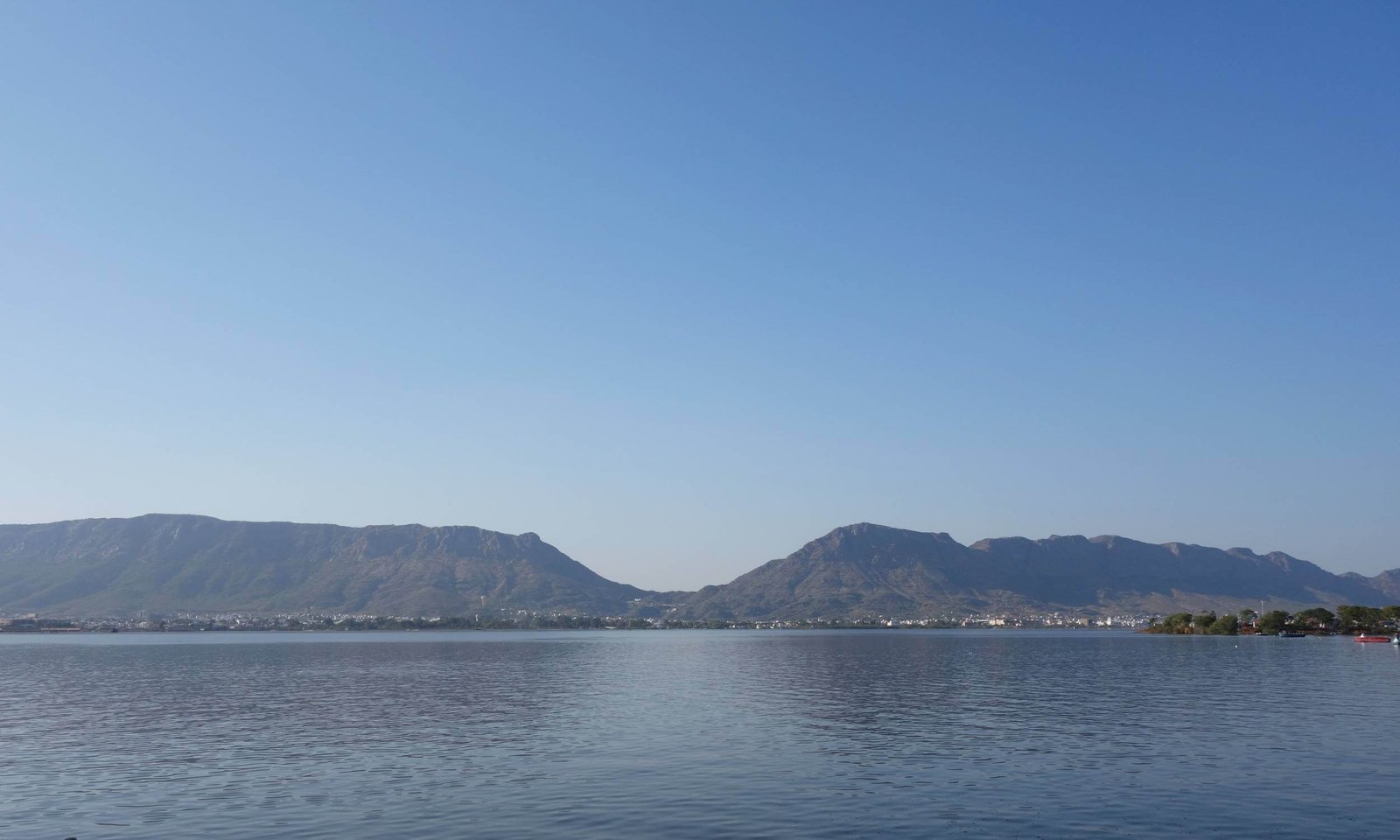 Ajmer is a beautiful tourist spot where you will see the beauty of craggy Aravalli hills increasing the charm of Ana Sagar Lake. It's a popular spiritual tourist attraction to visit in Rajasthan. A perfect blend of religion, culture and diverse community exists here in perfect harmony. Favorite of both Hindus and Muslims, Ajmer is one of the top visited tourist destinations of Rajasthan. Ajmer Sharif Dargah is the landmark destination of Ajmer where people come to seek blessings from the shrine of Khawaja Muin-ud-din Chishti. Apart from the grand forts, serene temples and blissful lakes offers mind-boggling views.
Must Visit Attractions in Ajmer Rajasthan
Ajmer Sharif Dargah
Adhai Din Ka Jhonpda
Mayo College
Anasagar Lake
Soniji Nasiyan
Lake Foy Sagar
Nareli Jain Temple
Sai Baba Temple
Ajmer Government Museum
Gate of Taragarh Fort
Kishangar Fort
Pragya Shikhar Todgarh
Victoria Clock Tower
Prithvi Raj Smarak
Anasagar Baradari
Shahid Smarak Ajmer
Top Things to Do in Ajmer
Ajmer has many spiritual hubs and heritage attractions. The most popular landmark destination of Ajmer is Ajmer Sharif Dargah. Devotees from all over the world come here to seek blessings from Saint Khawaja Moinuddin Chishti. Apart from that visit Adhai Din Ka Jhonpra, it's a beautiful architectural marvel built in Indo- Islamic architecture style. The scenic artificial lake of Anasagar will also add bliss to your Rajasthan Tour. Soniji ki Nasiyan, also known as the Ajmer Jain Temple is another spiritual charm of Ajmer dedicated to the Rishab of Adinath. The gold-plated wooden figures in the walls of this temple is a center of attraction.
10. Alwar- Tranquil, Scenic and Rich in History
Green hills of Aravalli range, magnificent forts and palaces, ancient temples, wildlife spots adorn the land of Alwar. The history of Alwar is traced back to 1500 BC. Today this city is a great tourist attraction for family holidays in Rajasthan. The captivating architecture of the magnificent forts and palaces such as City Palace and Bala Quila is a visual charm. Columned pavilions and domed arches of moosi Maharani Chhatri is another bliss to behold, a wonderful recreation spot for nature lovers such as Purjan Vihar and beautiful cascading Garbhaji waterfalls are the stunning jewels to add to the tourism crown of Alwar. It's a must not miss tourist destination to visit in Rajasthan if you love heritage attractions.
Popular Tourist Attractions in Alwar Rajasthan
Bala Qila
Alwar City Palace
Govt Museum
Moosi Maharani Chhatri
Fateh Jung Gumbad
Purjan Vihar
Bhangarh
Garbhaji Waterfalls
Hill Fort Kesroli
Pandu Pol
Neemrana Fort
Silliserh Lake
Sariska Tiger Reserve
Tijara Jain Temple
Moti Doongri
Talvrakash
Bhartrihari Temple
Naraini Mata
Neelkanth
Naldeshwar Shrine
Neemrana Baori
Lal Masjid Tijara
Raja Bhartrihari Panorama
Top Things to Do in Alwar
Explore GarbhaJi waterfalls. It's an amazing spot for photographers and nature lovers. A pleasant sight for recreation with family and friends in Rajasthan. A solace and silence of nature can be best experienced in the most loving spot of Alwar – Purjan Vihar. Dedicated to Fateh Jung who was one of the best ministers of Shah Jahan, the tomb of Fateh Jung Gumbad is a popular tourist attraction of Alwar. The Hindu and Muslim architecture style will leave you awe struck. Columned pavilions and domed arches of moosi Maharani Chhatri is a sight of pleasure in Alwar. The royal charm of Bala Quila and City Palace are also a must not miss if you are in Alwar.
11. Bundi- To the World of Alluring Nature and Stepwells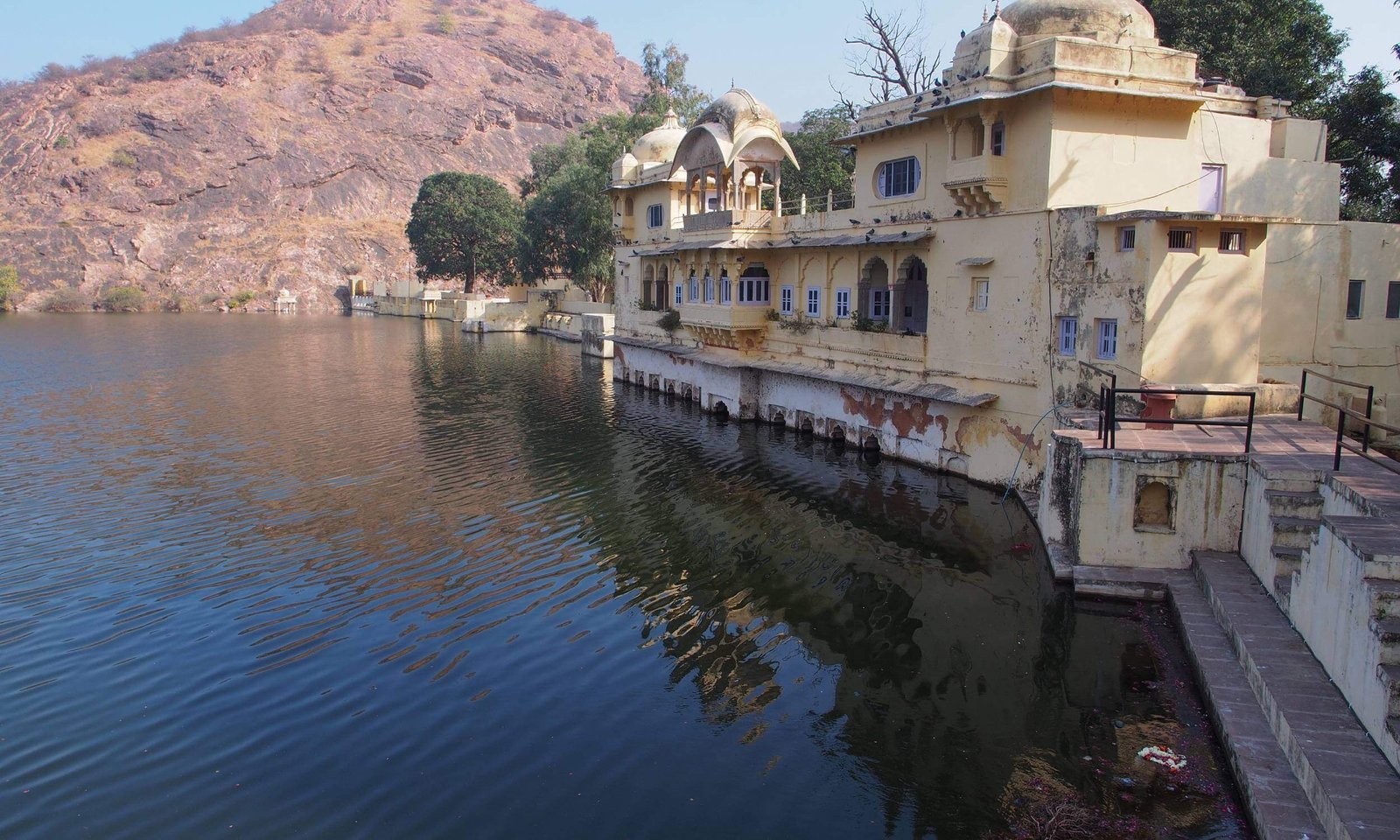 The fairy tale charm of Bundi will surely delight your wandering soul in Rajasthan. It is one of the most popular places to visit in Rajasthan. The absolutely gorgeous rural setting of Bundi is a pleasure sight to behold. It is a recommended destination for nature lovers and honeymoon couples in Rajasthan. Captivating orange orchards, mango and guava trees, mesmerizing views of Aravalli hills and serene rivers, wheat, barley and cotton fields make Bundi a treasure trove for solace seekers. It looks like great artwork by an artist.
Must Visit Places in Bundi Rajasthan
Sukh Mahal
Kshar Bag
Raniji Ki Baori
Dabhai Kund
Nagar Sagar Kund
Taragarh Fort
84 Pilllared Cenotaph
Lake Jait Sagar
Lake Nawal Sagar
Lake Kanak Sagar Durgari
Ramgarh Vishdhari Sanctuary
Phool Sagar
Garh Palace Bundi
Badal Mahal
Hathi Pole
Chhatr Palace
Shikar Burj
Top Things to Do in Bundi
Sukh Mahal – it's a beautiful tourist attraction of Bundi. Inspired by the beauty of this place a famous British author Rudyard Kipling wrote his famous work called 'Kim' at this place. Is it so beautiful? Why did he choose only this place? Visit here to explore and know more.
Explore the royal cenotaphs of the royal family of Bundi at Kshar Bagh. It's a wonderful scenic spectacle of Bundi.
Raniji ki Baori- It's one of the best tourist places to visit in Bundi. This multi-storied stepwell is an extremely beautiful tourist attraction. It showcases beautiful carvings of Gajraj with his trunk turned inwards, which gives the impression of having drunk from the Baori on its pillars.
Embrace the beauty of the most beautiful artificial lake, Lake Nawal Sagar in Bundi. Extremely gorgeous Taragarh Fort is also located near it.
12. Chittorgarh- Rajputana's Pride
Where will you get to know about the stories of Rajputana bravery, pride and passion? Of course, it's the one and only Chittorgarh of Rajasthan if you love to know about the heritage and culture of Rajasthan.  Every child and adult in the city sing the song of Rajputana bravery.  Named after the Royal Chittorgarh Fort which is located on a 180-meter-high hill and is spread across 700 acres, nothing in the world can match the unparalleled beauty of this marvelous structure. It is definitely one of the top places to visit in Rajasthan.
Chittorgarh Fort has had a violent past. This royal fort of Chittorgarh has been attacked thrice in its entire history. The first attack came from the Sultan of Delhi in 1303, Ala-ud-din Khilji, who was captivated by the beauty of Queen Padmini. So, he launched an attack to abduct her. In 1533, Bahadur Shah, the Sultan of Gujarat attacked this fort. In 1568, Mughal Emperor Akbar captured the fort. It was only in 1616, Mughal Emperor Jahangir returned the fort to the Rajputs.
Must See Places in Chittorgarh Rajasthan
Chittorgarh Fort Light & Sound Show
Rani Padmini Palace
Vijay Stambh
Kirti Stambh
Fateh Prakash Palace
Jain Temples
Kalika Mata Temple
Tulja Bhavani Temple
Gaumukh Reservoir
Ratan Singh Palace
Rana Kumbha Palace
Kumbha Shyam Temple
Meerabai Temple
Menal Temple & Waterfall
Nagari
Bhainsrorgarh Fort
Baroli Temples
Jaimal and Patta's Palace
Bhamashah Ki Haveli
Sanwaliya Ji Temple
Bassi Village
Samidheshwar Temple
Top Things to Do in Chittorgarh
The light and sound show of Chittorgarh Fort will mesmerize your mind and soul. If you are curious to know about the complete history of Fort then you must watch this show. It is one of the best things to do in Chittorgarh. The alluring attractions of Chittorgarh Fort will truly take your soul away. It has many architectural marvels which attracts heritage lovers. The fort has massive palaces and temples worth capturing on your lens.
Dedicated to Adinath Ji, the First Tirthankara, Kirti Stambh, is a beautiful tourist attraction of Chittorgarh. Various figures of Jain tirthankaras and digambaras are adorned in it.
Visit Kalika Mata Temple which is dedicated to goddess Kali. It was built in the 14th century. The temple was initially constructed to worship Surya Dev (Sun God) but later it was dedicated to goddess Kali.
Meerabai Temple is a beautiful spiritual hub dedicated to Meerabai, an ardent devotee of Lord Krishna.
The magnificent Jaimal and Patta's palace in Chittorgarh Fort will tell you the story of bravery of Rajput rulers.
13. Jhalawar- Treasure Trove of Historical Attractions
Blessed with the collection of exquisite and vibrant floral and faunal species – Jhalawar is a nature paradise of Rajasthan. It is very popular for the abundance of citrus fruits. There are many magnificent forts and palaces belonging to Rajput and Mughal Period. The architectural marvels and religious shrines will take you back to the Rajputana era. You will know a lot about the history of the Rajputana region. It's a delightful destination for heritage tourism in Rajasthan. It is also a perfect place for photography because of the abundance of absolutely scenic and royal locations.
Must See Places in Jhalawar Rajasthan
Jhalawar Fort
Jhalawar Government Museum
Bhawani Natyashala
Gagron Fort
Chandrabhaga Temple
Sun Temple
Herbal Garden
Dwaradheesh Temple
Chandkheri Adinath Jain Temple
Dalhanpur
Unhel Jain Temple
Buddhist Caves and Stupas
Top Things to Do in Jhalawar
A visit to Jhalawar Fort is a must, it's an exquisite architectural monument. Curious about art and theater? Then visit Bhawani Natyashala. This beautiful architectural marvel will give you amazing insights on art and theater.
Gagron Fort – A UNESCO World Heritage site. Surrounded by the blissful sight of the waters of Ahu, Kali and Sindh rivers on three sides, it's a beautiful visual marvel.
On the banks of Chandrabhaga River lies the solace-inducing Chandrabhaga Temple. Seek divine blessings.
Dwarkadheesh Temple dedicated to lord Krishna built by Jhala Zalim Singh in 1796 AD. The idol of Lord Krishna was installed here in the year 1806 AD. It's a beautiful religious attraction in Jhalawar.
14. Dungarpur- The City of Hills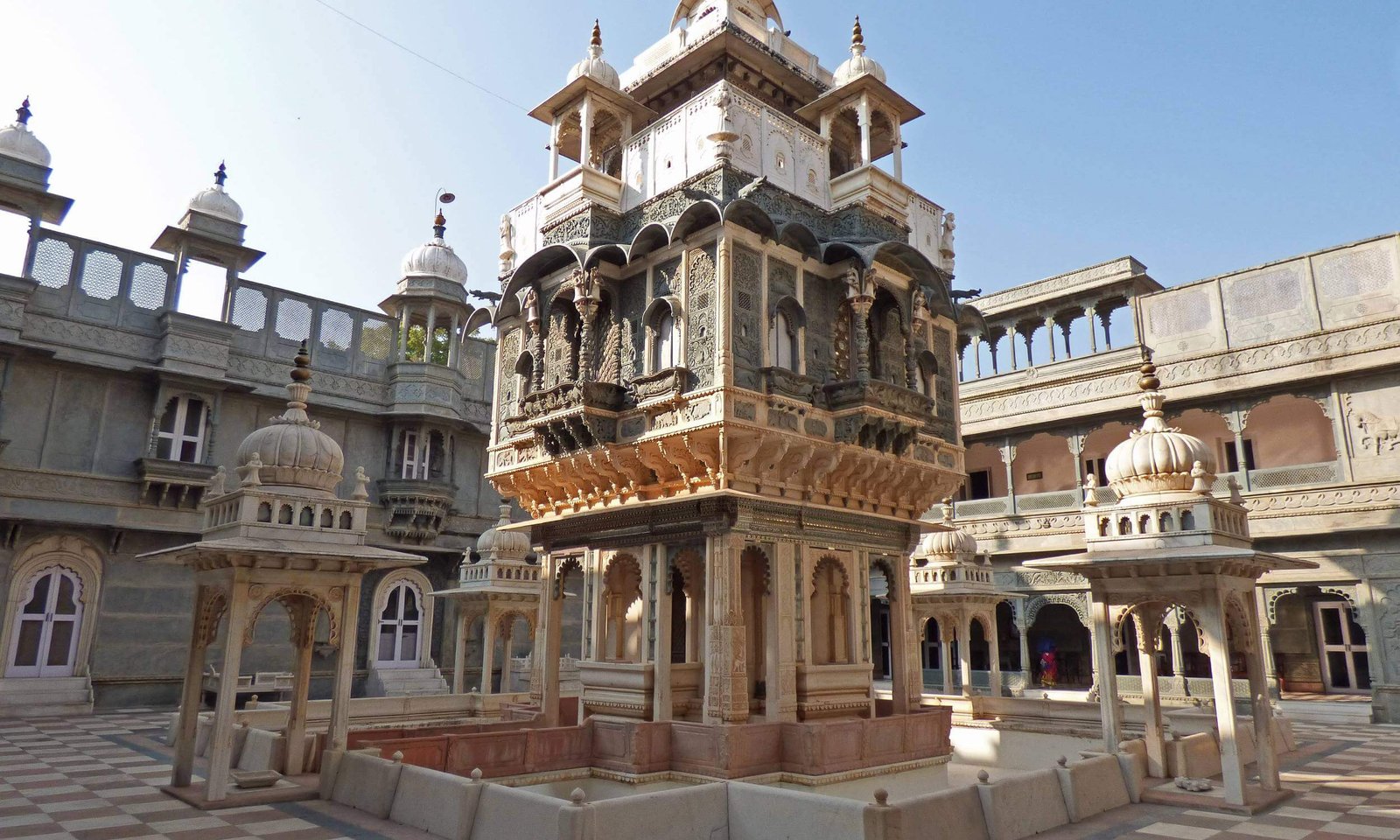 The foothills of Aravalli range are a pleasure sight to behold as the beautiful Dungarpur has been attracting the tourists from all over India for a decade. Irrigated by the two beautiful rivers Mahi and Son, there are abundance of rich and vibrant floral and faunal species to explore. Forever enchanting Udai Bilaspur Palace is a sight of extreme beauty. Also, the captivating yellow stone of Juna Mahal will tickle your senses. Extremely pleasurable sight is the Gaib Sagar lake, the banks of which are decked with the serene spiritual sight of The Vijay Raj Rajeshwar Temple and Badal Mahal. Apart from that Fateh Garhi is a wonderful spot to explore the panoramic views of the town. It is one of the best tourist destinations to visit in Rajasthan for family holidays.
Must Visit Places in Dungarpur Rajasthan
Udai Bilas Palace
Juna Mahal
Gaib Sagar Lake
Fateh Garhi
Government Archaeological Museum
Badal Mahal
Baneshwar Temple
Bhuvaneshwar
Surpur Temple
Vijay Raj Rajeshwer Temple
Shrinathji Temple
Nagfanji
Galiakot
Deo Somnath
Boreshwar
Kshetrapal Temple
Top Things to Do in Dungarpur
Detailed balconies, arches and windows, the beauty of Udai Bilaspur Palace is a thing of beauty and joy forever.
Juna Mahal will showcase the stunning murals, miniature paintings and delicate glass and mirror work of the 13th century.
Gaib Sagar Lake is a marvelous spot for heritage lovers and spiritual pursuits. The exquisite Vijay Rajarajeshwar Temple shows the craftsmanship of the sculptors of Dungarpur.  The temple is dedicated to Lord Shiva. Also explore Badal Mahal located on its bank.
Famous for its Jain shrines, Nagfanji is a beautiful tourist attraction for sightseeing and spiritual pursuits in Dungarpur. Also visit Nagfanji Shivalaya which is located near this temple.
Located on the banks of Som River, Boreshwar is another spiritual hub of Lord Shiva to uplift your spiritual soul.
Enjoy the scenic views of the town of Dungarpur from Fateh Garhi.
15. Ranakpur- Serene Spiritual Hub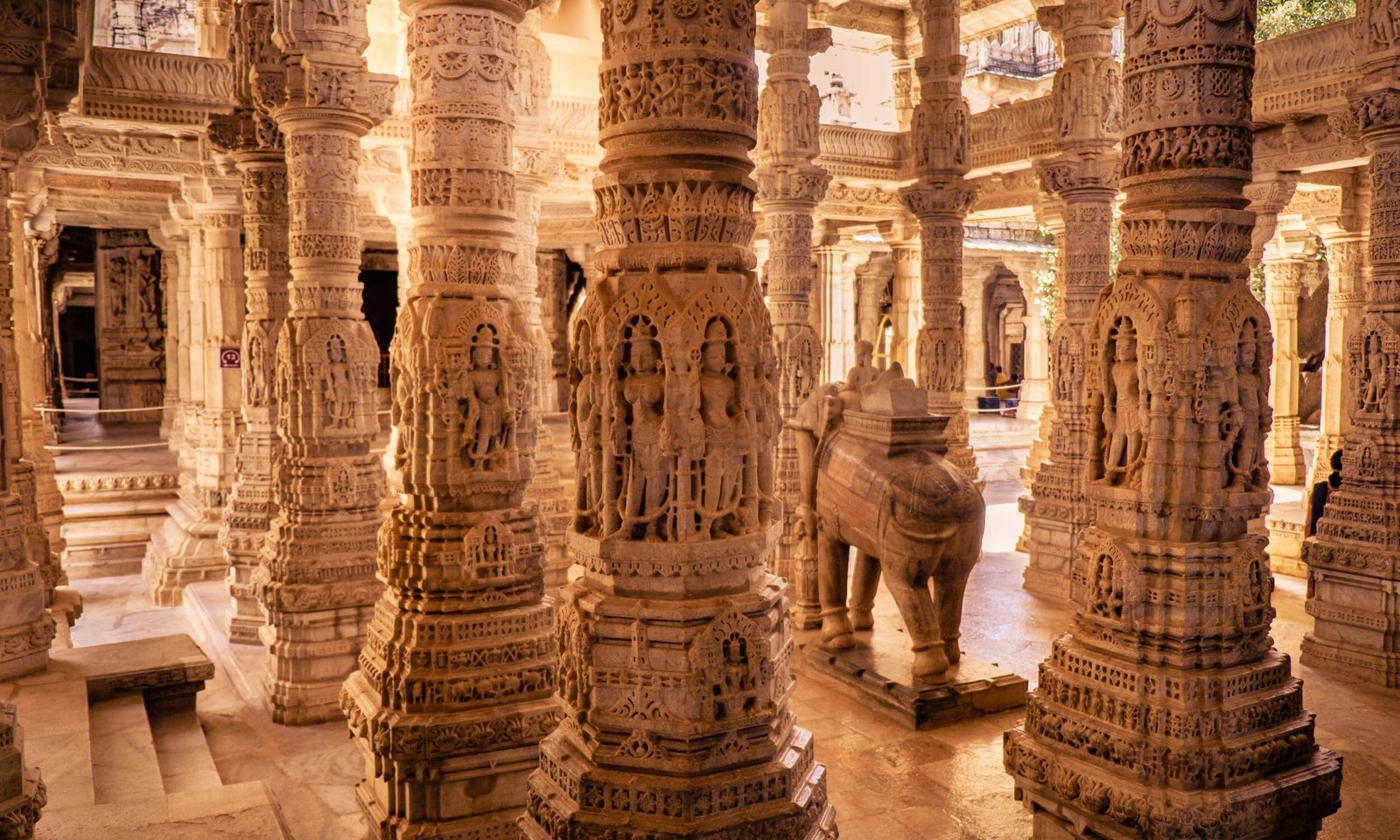 Those who are more spiritually inclined must visit Ranakpur once in a lifetime. The vibe of this destination is something else. Ideal for a day trip Ranakpur is a gorgeous tourist attraction in Rajasthan for the best natural views. The backdrop of the beautiful Aravalli hills is worth capturing in your lens. Ranakpur is very popular for Chaumukha Mandir which is dedicated to Adinath who was the first Jain tirthankara. This is the reason why it's a popular Jain pilgrimage attraction in India. The temple which is entirely built of captivating white marble is a pleasurable sight to behold. If you are seeking solace and spiritual wisdom the humble yet grand attraction of Ranakpur will definitely take your heart away.
Top Things to Do in Ranakpur
Apart from the Chaumukha Mandir of Ranakpur. You can also visit two other Jain temples dedicated to Neminath (the 22nd tirthankara) and Parshwanath (the 23rd tirthankara), within the complex. Also visit the hub of tranquility Sun Temple and Amba Mata Temple in Ranakpur for delightful and peaceful moments.
16. Shekhawati- Keeper of the Delightful Historical Past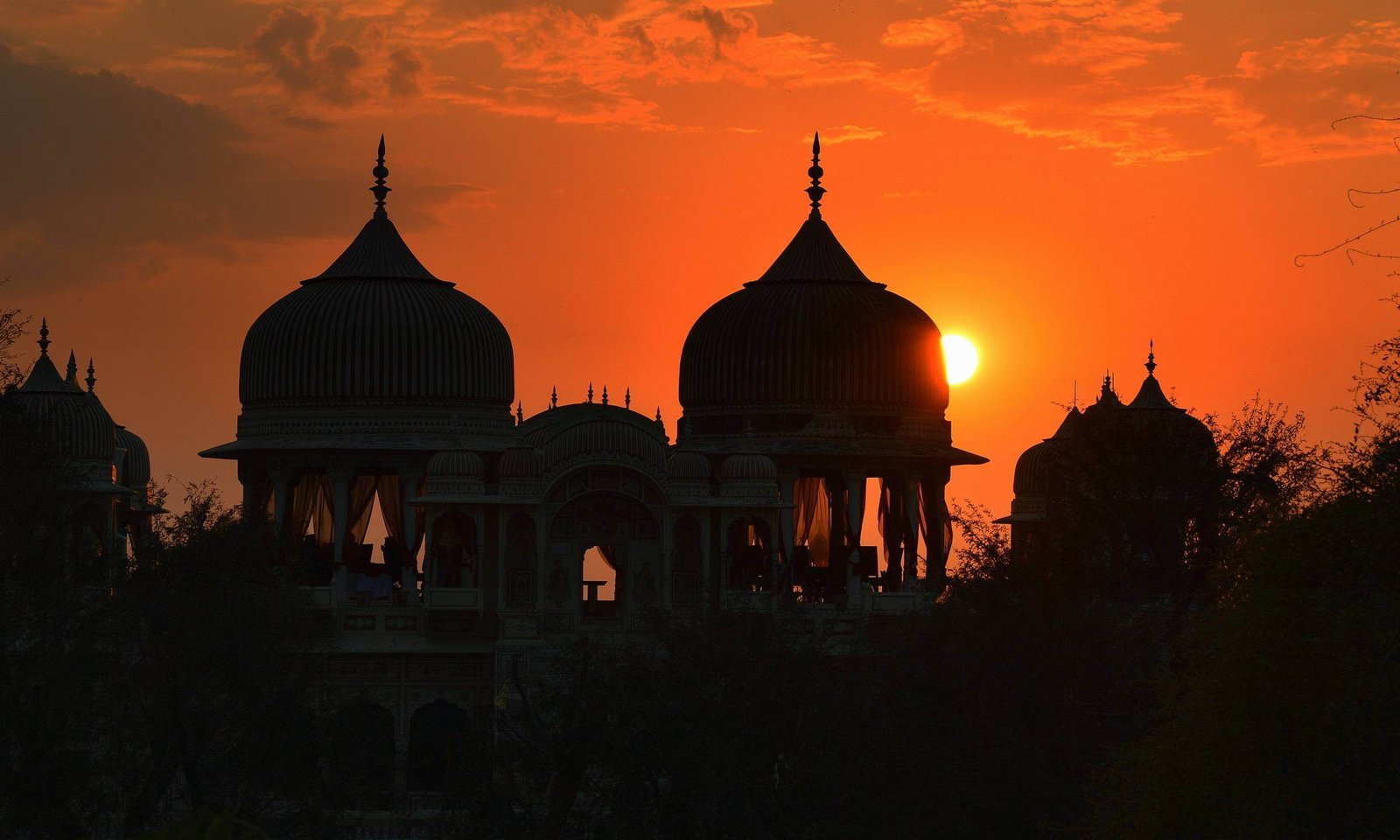 The sight of lovely havelis reflecting the rich historical past of Rajasthan defines the beauty of Shekhawati. It is a region which comprises – a of Sikar, Jhunjhunu and Churu. It is one of the best travel destinations of Rajasthan. Once the bastion of Rao Shekha, this beautiful attraction got its name from him. Dotted with magnificent havelis, you will get mind-boggling views for photography here. Vibrant landscapes, exquisite art and architecture of this place will delight your soul.  When you see the mansions of Shekhawati region you will learn about many enchanting tales of lord Rama and Lord Krishna. Forts, baoris, and sacred shrines also add to the colorful palette of Shekhawati region making it one of the top tourist places in Rajasthan.
Must Visit Places in Shekhawati Rajasthan
Sethani Ka Johara
Kanhaiyalal Bagla Haveli
Aath Kambh Chhatri
Ratangarh Fort
Lakshman Temple
Digambar Jain Temple
Tal Chhapar Sanctuary
Laxamangarh Fort
Mansa Devi Temple
Raghunathji Mandir
Fatehpur
Ramgarh
Khetri Mahal
Sunset Point Moda Pahar
Rani Sati Mandir
Hazrat Qamruddin Shah Dargah
Panchdev Mandir
Bande ka Balaji Temple
Mandawa
Dundlod
Alsisar
Bissau
Nawalgarh
Jeenmata Temple
Khatu Shyam Temple
Top things to do in Shekhawati
Paradise for bird watchers, Sethani Ka Johara is an attractive tourist attraction of Shekhawati region.
Full of beautiful murals and stone carved paintings, the stunning Aath Kambh Chhatri is an eight pillared dome. What a scenic sight!
Ratangarh Fort, this historical marvel is a beautiful tourist attraction with imposing gateways and attractive Ghantaghar (clock tower). Some of the monuments couldn't endure the test of time. Also discover some beautiful ethnic villages around this fort.
Culture capital of Shekhawati, Fatehpur is a must visit destination in Shekhawati region of Rajasthan. There are many beautiful heritage tourist attractions to explore here such as Dwarkadheesh Mandir, Singhania Haveli, Nadine Le Prince Cultural Center and Fatehchand Ki Haveli etc.
The wind palace of Jhunjhunu – Khetri Mahal is another spectacular sight to behold in Shekhawati.
17. Kota- Humble and Grand Tourist Attraction
Kota is one of the popular tourist destinations of Rajasthan. It lies on the banks of the Chambal River. The specialty of Kota is its unique style of paintings. The beauty of palaces, parks, museums and sacred shrines are other scenic delights to behold. Apart from that Kota is very famous for gold jewelry, Doria sarees, silk sarees and the famous Kota stone.
Today you will be spellbound to see the peaceful ambiance of this small city but once upon a time Kota used to be the hot bed of wars and invasions. From Mughals, Marathas to the Maharajas of Jaipur, it was raided by various rulers. If you love heritage attractions and a great history buff Kota is a place for you to explore in Rajasthan.
Must Visit Places in Kota Rajasthan
Garh Palace
Jagmandir Palace
Maharao Madho Singh Museum
Abheda Mahal
Abheda Biological Park
Dad Devi Temple
Charan Chauki
Kota Barrage
Chambal Garden
Seven Wonder Park
Khade Ganesh Ji Temple
Karneshwar Temple
Godawari Dham
Alnia Dam
Mukundara Tiger Reserve
Garadia Mahadev Temple
Kansua Temple
Mathuradheesh Mandir
Gaiparnath Temple
Kaithoon
Government Museum of Kota
Kishorsagar Lake
Top Things to Do in Kota
Rajput Style architecture and rich historical past – The Garh Palace of Kota is a must not miss tourist attraction.
Rajput miniature paintings of the Kota school, ARMS, sculptures and amazing antiques – Maharao Madho Singh Museum is a place to amaze your curious mind.
Abheda Mahal and Abheda Biological Park – A place for nature and wildlife lovers.
Kota Barrage – Constructed over the Chambal River, it is a beautiful water reservoir in Kota. It's a scenic tourist attraction.
Visit Kansua Temple of lord Shiva which houses a rare four faced shiva lingam. It's a unique visual spectacle.
When to Plan a Trip to Rajasthan?
Confused about planning an awesome trip to Rajasthan?  Don't worry! This is the reason why we are here. First of all, you must know about the variety of tourist places Rajasthan has to offer. Every place has a different vibe and charm. It totally depends on you what kind of places you want to see, activities you want to enjoy and experiences you want to have.
The forts and palaces, food, cultural performances and adventures will mesmerize the senses of wanderers in Rajasthan. So first you have to decide what you want to do. You might want to explore palaces and forts or enjoy cultural performances or the bliss of wildlife and nature sightseeing will please your soul more. Some of you might want to explore spiritual destinations or want to have all the fun and excitement in life by doing adventure activities. Make a list of the things you want to do and then plan a trip.
The best time to plan a trip in Rajasthan is the season of Winter. The temperature ranges up to 10°C – 30°C for most places. It's the best time of the year to enjoy sightseeing and embracing the bliss of cultural fairs and festivals. You will enjoy the Jaipur Literature Festival, Udaipur World Music Festival, Camel Fair, Pushkar Fair etc. The climate of Rajasthan is extremely hot during summer so the pleasant weather is absolutely favorable to enjoy the adventure activities as well as wildlife also.
Where to Stay in Rajasthan – Have a Grand and Comfortable Stay!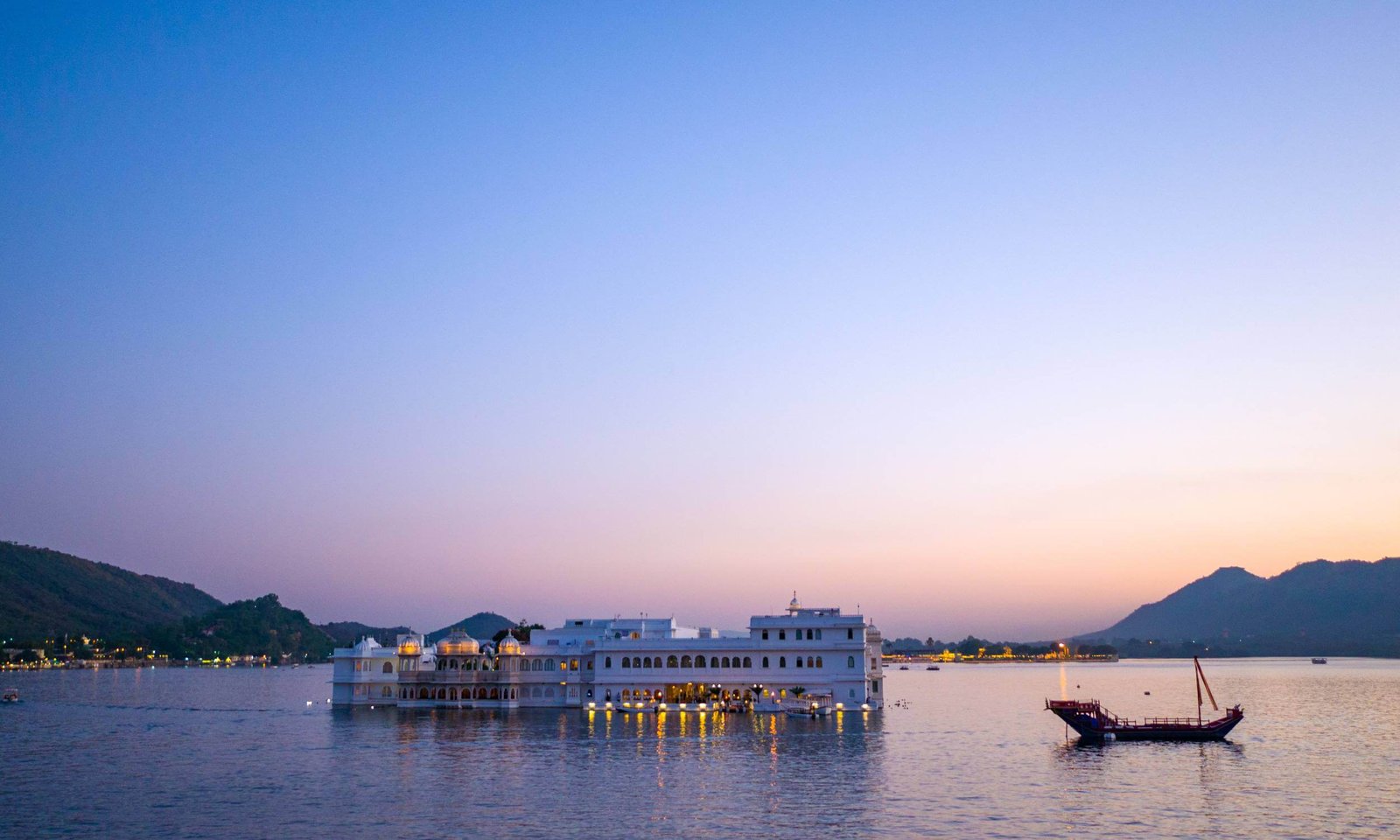 Rajasthan is a place of unparalleled beauty so no doubt it also has some of the magnificent, comfortable and beautiful stay options for wanderers who are here to enjoy an awesome holiday. You don't need to worry about anything. Depending on your budget and preferences you will get the best accommodation options. Be it budget, luxury 5 star hotels, boutiques and resorts, moderate kind of guest houses and jungle camps and tents. Your soul will enjoy every comfort with warm hospitality here and get to experience the grand heritage and culture of Rajasthan.
Weather of Rajasthan – Summer (April to June)
Summertime in Rajasthan is very hot and humid for sightseeing. The temperature ranges up to 49-degree Celsius. Roaming around the streets of Rajasthan is the biggest challenge in day time and the hot climate will irritate your senses. However, there are still some places which enjoy pleasant weather compared to other cities of Rajasthan where you can spend an amazing holiday i.e. Mount Abu, Kumbhalgarh and Ranakpur.
Weather in Rajasthan – Winter – (October to March)
This time of the year is the best time to plan your trip in Rajasthan. Rajasthan is very rich in terms of tourist places and adventure activities but what is the fun if you are not able to enjoy a proper sightseeing here and miss the bliss of adventure activities. Summer's climate will make you uncomfortable in enjoying the best delights of Rajasthan but Winter is a perfect time for sightseeing, wildlife exploration, adventure activities and cultural fairs and festivities etc.
Weather of Rajasthan – Monsoon- (July to September)
The land of Rajasthan will amaze you with its beautiful greenery this time. You wouldn't want to miss the eastern and south eastern parts of Rajasthan which are greener and more fertile in monsoon as compared to North and South west regions. Travel to the Shekhawati region this time and you will find bliss.
The Best Way to Reach Rajasthan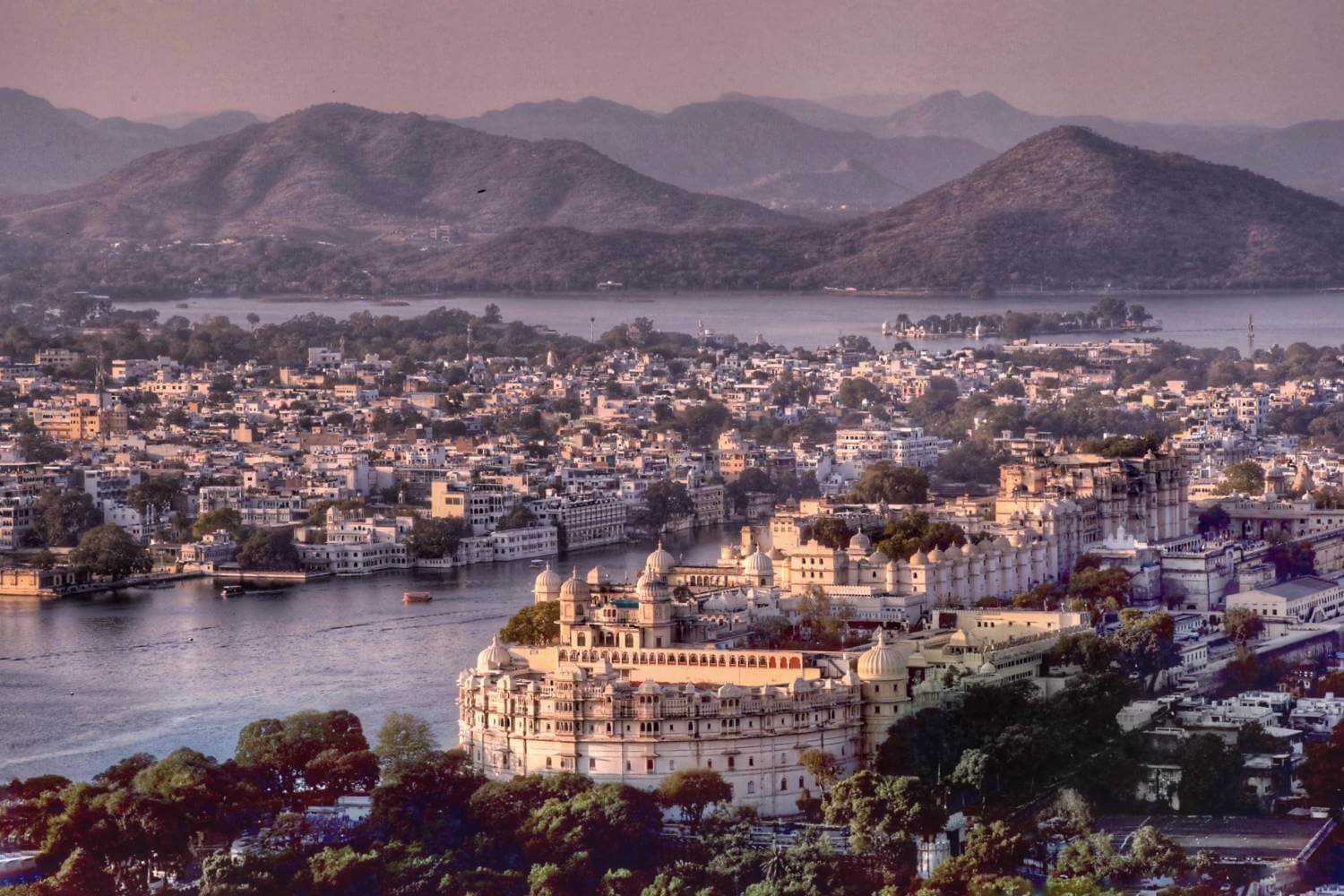 By Air – Rajasthan is one of the top visited tourist destinations in India. It is well connected by Air. There are three main airports in Rajasthan 1. Sanganer International Airport in Jaipur 2. Jodhpur Airport 3. Dabok Airport in Udaipur. Sanganer is a domestic as well as International Airport while Jodhpur and Dabok are domestic airports. All are well connected to the major cities of India.
By Train- Train is one of the most economical ways to travel to Rajasthan. The railway stations of Rajasthan are well connected to all the major cities of India. The major railway stations of Rajasthan are Jaipur, Kota, which connects Rajasthan to the major cities of India.
By Road- Rajasthan State Road Transport Corporation is the best medium to get buses if you prefer buses as a way to travel to Rajasthan. On the other hand, NH 8 is the busiest National highway in Rajasthan which will take you to Ajmer, Jaipur, Udaipur and Chittorgarh. Apart from that there are 20 National Highways passing through the state.
Traveling to Rajasthan will never disappoint any tourist as this place is a wonderful tourist hub suitable for every kind of traveler. Whether it's a romantic couple, heritage lovers, adventurer, solo traveler, families and spirituality seekers. Choose your own bliss and plan all the wonders you want to see, carry all the delightful memories which you will make with your loved ones and enjoy all the adventures to tickle your senses. Have an absolutely pleasurable trip to Rajasthan this year!
Like & follow us on our following official social media channels
Facebook | Twitter | Linkedin | Instagram | Youtube
Also Check Out: Popular India Tours | Tour Packages | International Tour Packages
Other Popular Trending Holiday Destinations in India – Kashmir Tour | Himachal Tour | Uttarakhand Tour | Rajasthan Tour | Gujarat Tour | Sikkim Tour | Kerala Tour | Andaman Tour | Madhya Pradesh Tour | North East Tours
International Trending Holiday Destinations – Nepal Tours | Bhutan Tours | Singapore Tour | Thailand Tours | Sri Lanka Tours | Maldives Tours | Dubai Tours | Indonesia Tours
Tour Packages by Interest – Adventure Packages | Wildlife Packages | Pilgrimage Packages | Heritage Packages | Hill Station Packages | Weekend Packages | Honeymoon Packages | Beach Packages | Chardham Packages | Trekking Packages
Other Informative India Travel Guide Blogs to Read
Other Informative Wildlife Travel Guide Blogs to Read
Informative Karnataka Tourism Travel Guide Blogs to Read
Informative Uttarakhand Tourism Travel Guide Blogs to Read
Other Informative Trekking Guides Blogs