A little hamlet in the Bundelkhand region of Madhya Pradesh, known as Khajuraho, is well-known for its clusters of Hindu and Jain temples. These temples, with their delicate and sensual rock sculptures, are listed as UNESCO World Heritage Sites. The stunning backdrop of the Vindhya range of mountains adds to the charm of Khajuraho, making it a fascinating place to visit.
The art in Khajuraho reflects the core principles of Indian aesthetics. It is home to the world's only erotic sculptures depicting the Kama Sutra. Ironically, in the region of the Kama Sutra, these sculptures of Indo-Aryan architecture freeze in stone, serving as a lyrical ode to love and desire and depicting the devotion and profound enthusiasm of the Chandela dynasty for the forbidden art. These temples also house some of Hinduism's most respected gods, making it impossible to dismiss them as mere sensual artworks.
Here's some important information about Khajuraho-
| | |
| --- | --- |
| Location | Madhya Pradesh, India |
| Region | Bundelkhand |
| Famous For | Khajuraho Group of Temples (UNESCO Heritage Site) |
| Temple Complex | Western Group of Temples |
| Main Religion | Hinduism |
| Best Time to Visit | September to March |
| Connectivity | Well-connected by road, rail, and air transport |
| Nearest Airport | Khajuraho Airport (HJR) |
| Nearest Railway | Khajuraho Railway Station |
| Other Tourist Attractions | Panna National Park, Ajaigarh Fort, Tribal Museum |
Get up to a 30% early bird discount on your Khajuraho tour package booking with Bon Travel India. For more details, please call or WhatsApp us at +91-8802149265.
Best Places to Visit & Top Things to Do in & around Khajuraho-
Nestled in the heart of Madhya Pradesh, Khajuraho stands as one of the most sought-after tourist destinations in the region. This enchanting city offers a plethora of captivating experiences, ensuring that every visitor leaves with cherished memories. From exploring awe-inspiring heritage sites and magnificent temples to encountering diverse wildlife and immersing in vibrant cultural traditions, Khajuraho never fails to delight the vacationers who flock here.
Explore the Enchanting Khajuraho Group of Temples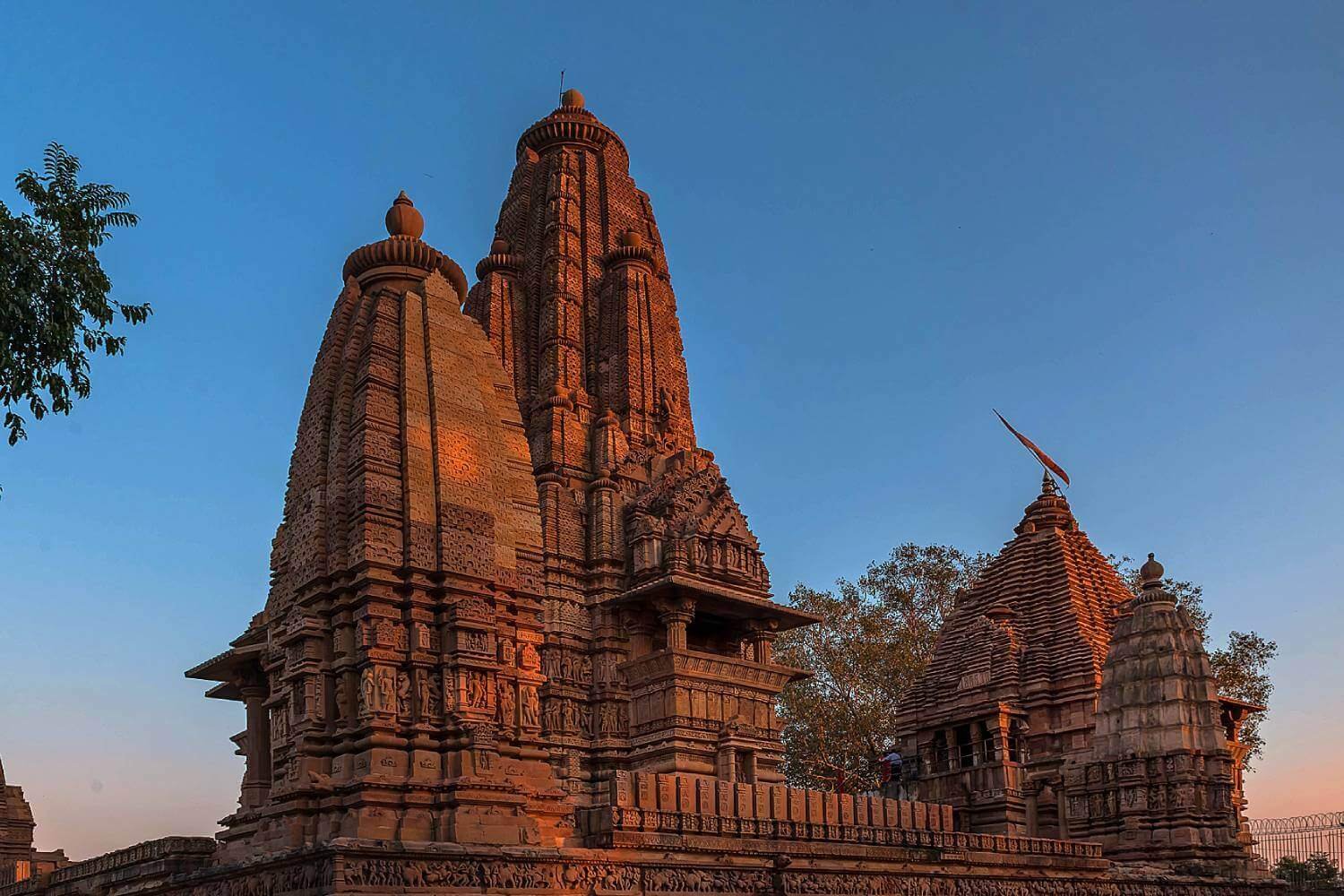 Khajuraho is renowned for being home to some of the oldest temples in the world, boasting a rich historical appeal. The Khajuraho Group of Temples comprises Hindu, Jain, and Buddhist shrines, known for their captivating nagara-style architecture and intricate sculptures depicting various aspects of human sexuality. With some temples dating back to the ninth and tenth centuries, they have witnessed the rise and fall of numerous dynasties, including the Chandela dynasty. Undoubtedly, one of the most popular activities in Khajuraho is temple touring.
The highlights of this experience include breathtaking Nagara-style architecture and exquisite sexual sculptures. For a spiritually enlightening vacation, we highly recommend visiting temples such as Ghantai, Matangeshwar, Vamana, Brahma, Jagdambi, Kandariya Mahadev, Adinath, and many others.
Indulge in the Mesmerizing Sound and Light Show
The exotic music and spectacular light of the Western Group of Temples make it undeniably one of the most popular attractions in Khajuraho. This captivating event guarantees to satiate visitors' insatiable curiosity as it illuminates the diverse historical, theological, and cultural truths and practices of the ancient world. While the temples themselves are stunning, the sound and light display provides a fresh and mesmerizing perspective.
Highlights of the show include the program being presented in both Hindi and English, allowing visitors to fully immerse themselves in the experience. Delve deeper into the intricate sculptures, exquisite artwork, and fascinating legends associated with the temples, gaining a comprehensive understanding of their significance.
Don't miss the opportunity to witness the enchanting sound and light show at the Western Group of Temples, a captivating experience that will leave you awe-inspired and enriched with a deeper appreciation for the ancient world's history and culture.
Also Read: Complete Madhya Pradesh Tourism Guide
Embark on an Adventurous Jungle Safari at Panna National Park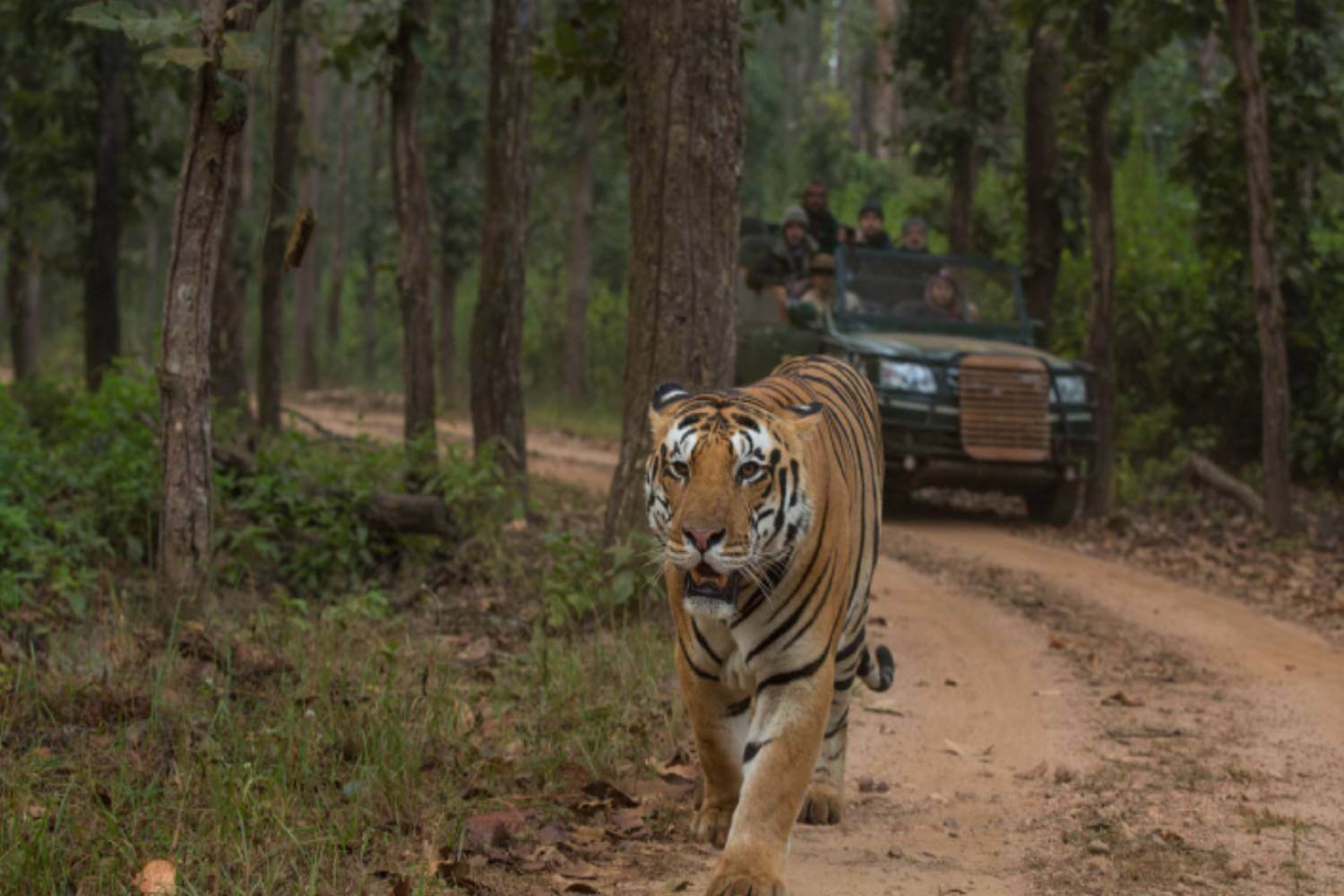 Panna National Park, located in the Chhatarpur district of Madhya Pradesh, is the fifth tiger reserve in the state and ranks 22nd in the world. This national park is a haven for diverse wildlife species, including cheetahs, langurs, jackals, chinkaras, and wild boars. It also provides a protective habitat for various bird species such as Honey Buzzards, King Vultures, Indian Vultures, Hawk-Eagles, and many others. The lush green surroundings create a picturesque setting, enhancing the park's charm.
Panna National Park offers splendid safari rides amidst the breathtaking backdrop of the Vindhya Hills. For accommodation, visitors can choose from Forest Rest Houses and Jungle Cottages, providing a comfortable stay amidst nature. For those with a deep appreciation for the wilderness of nature, we highly recommend a visit to Panna National Park.
Highlights of the park include the opportunity to witness unusual fauna and a wide variety of bird species. As you explore the park, you may come across magnificent villas nestled amidst green bushes, adding to the scenic beauty of the surroundings. Embrace the tranquility and the captivating beauty that this park has to offer, immersing yourself in the wonders of nature.
Also Read: Best Jungle Safari Destinations in Madhya Pradesh
Enjoy the Khajuraho Dance Festival 
As the severe winter gives way to the joyous season of spring, the village of Khajuraho comes alive with the splendor of the magnificent Khajuraho Dance Festival. Celebrated in the final weeks of February, this festival offers a captivating sight as the exquisitely lit Khajuraho Temples serve as the backdrop. The festival showcases renowned Indian classical dance styles such as Kathak, Odissi, Kathakali, Kuchipudi, and Bharatanatyam, while also incorporating more contemporary dance styles. The Khajuraho Dance Festival is undoubtedly one of the most exhilarating events in the city, making it a must-see experience.
Highlights of the festival include witnessing the mystical fusion of various Indian traditional dance genres, a spectacle that has never been seen before. The festival attracts and features a large number of well-known artists, adding to its grandeur. The stunning Chitragupta Temple, located nearby, further enhances the joyous and vibrant atmosphere of the night.
Don't miss the opportunity to be a part of the Khajuraho Dance Festival, immersing yourself in the enchanting performances and embracing the celebration of Indian classical and contemporary dance forms. It is an experience that will leave you enthralled and inspired.
Also Read: Top Places to Visit Near Bandhavgarh in MP
The State Museum of Tribal and Folk Art: Unveiling History and Culture
Nestled within the Chandela Cultural Complex in Khajuraho, the State Museum of Tribal and Folk Art houses a vast collection of historic antiques and relics. As you step into the museum, your attention will be immediately captivated by the exquisite tribal artifacts crafted by skilled artists. Drawing inquisitive tourists and enthusiasts of history, folklore, and culture, the State Museum of Tribal and Folk Art offers insightful answers to the questions that linger in your mind.
Highlights of the museum include a display of creations by numerous tribal craftspeople and artists. It serves as a meeting place for ancient cultures, traditions, and religions, with its array of used artifacts, relics, and other items. Step into this wonderful gallery that showcases the artistic styles of bygone eras, immersing yourself in the rich heritage of old-fashioned craftsmanship.
Visit the State Museum of Tribal and Folk Art, where history comes alive, and the beauty of diverse cultures is celebrated. Allow yourself to be transported to a bygone era as you explore the remarkable artifacts that tell stories of tradition, creativity, and the fascinating tapestry of human experience.
Take A Visit to Ajaigarh Fort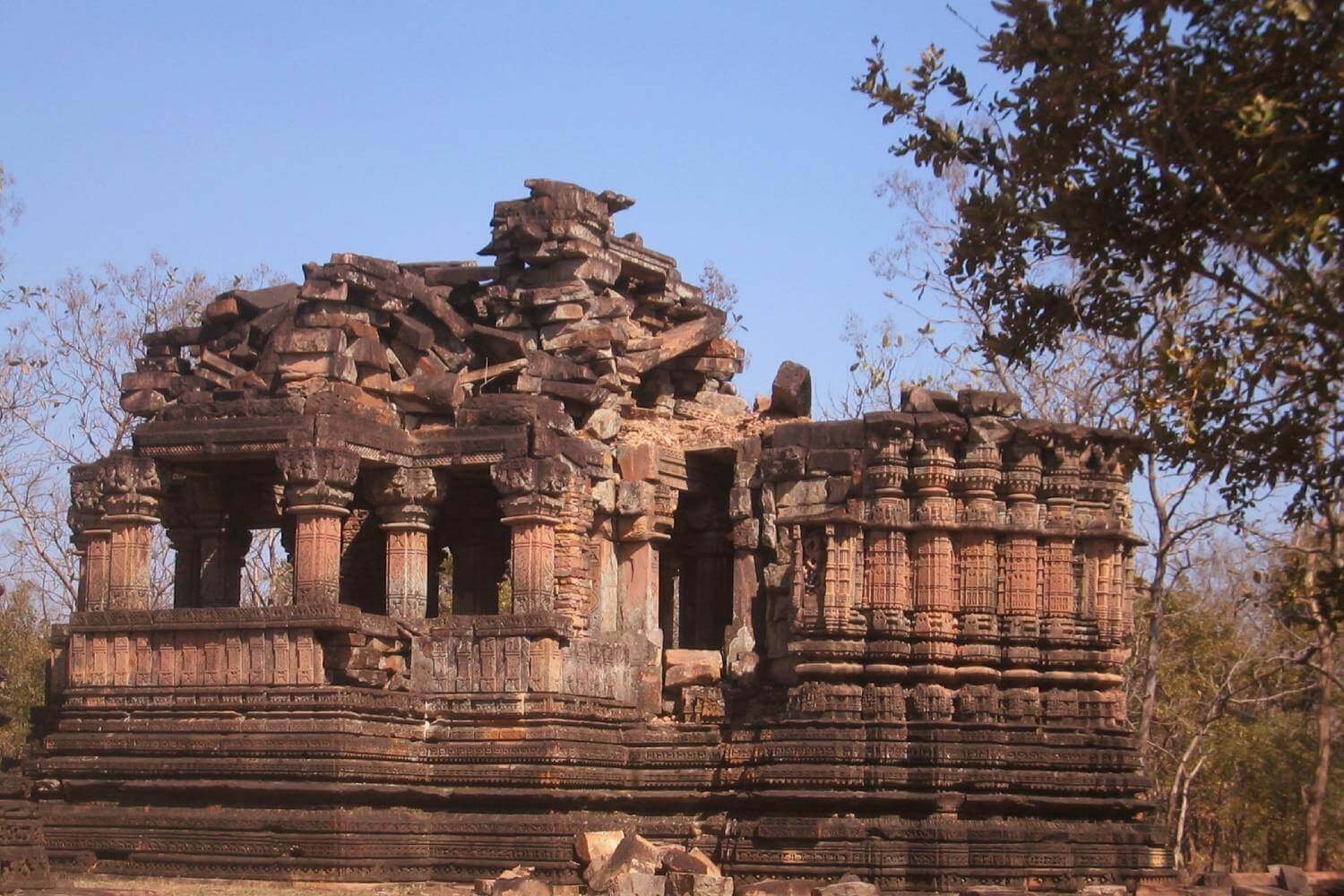 Located 80 kilometers away from Khajuraho, the serene Ajaigarh Fort proudly stands at a height of 688 meters on a glamorous hill. This fort served as a strategic defense for the Chandela Kings and is considered one of the most significant structures in their illustrious and well-documented history. The panoramic views of the vast countryside from the magnificent Vindhya Ranges, which embrace the fort, are simply breathtaking. These forts, believed to have been the Chandela Kings' stronghold, played a crucial role in their reign and dominance.
Also Read: Top Tourist Destinations of Madhya Pradesh
Delight Your Taste Buds with Exquisite Street Food
Cuisine holds a significant place in every area, community, and region, and when it comes to highlighting the delightful aspects of Khajuraho, we cannot overlook its delectable street food. The city is brimming with an array of mouthwatering street delicacies that are simply irresistible. Nestled not too far from the serene temple complexes, Khajuraho's streets are adorned with enticing food stalls, offering a tempting variety of treats. From tantalizing chaats, tikkas, samosas, dal bafla to crispy bhajiyas, you'll find a diverse range of readily available Indian delights.
Highlights of this culinary experience include indulging in the flavors of numerous local street foods. Treat yourself to the scrumptious delights of samosas, pakoras, jalebis, and an assortment of other tasty food items that await you in Khajuraho. Immerse yourself in the vibrant street food culture, where each bite carries the essence of the city's culinary traditions.
Embark on a gastronomic adventure through Khajuraho's streets, where the fusion of flavors, aromas, and textures will tantalize your taste buds. Delight in the rich and diverse street food offerings, creating memories that will linger long after your visit.
Understanding the Climate Conditions of Khajuraho
The climate in Khajuraho is characterized by distinct temperature variations between day and night and limited rainfall. Winters bring comfortable temperatures of around 27°C, while summers can be scorching with temperatures reaching 45°C. The region receives an average annual rainfall of 14 cm.
Winter is an ideal season to visit Khajuraho, as summers can be extremely hot. Additionally, the annual Dance Festival takes place in March, adding to the charm of visiting during this time. Therefore, the optimal period to explore Khajuraho is from September to March.
How to Reach Khajuraho?
It is convenient to reach Khajuraho at any time of the year due to its well-connected road, rail, and air transportation options.
By Air: Khajuraho has a domestic airport that operates numerous flights to and from destinations such as Varanasi, Delhi, Mumbai, and Bhopal, among others. The airport is located two kilometers south of Khajuraho. Upon arrival, passengers can easily hire taxis or local cabs to reach their hotel or any other location in Khajuraho.
By Train: Although Khajuraho has its own railway station, it is not served by many trains. However, there is a direct train connection from Delhi. The main railhead, Mahoba, is approximately 63 kilometers away from Khajuraho. Mahoba station is well-connected to major cities in India, including Mumbai, Delhi, Varanasi, Gwalior, Kolkata, Jabalpur, and more. Passengers can avail of taxis or private vehicles outside the station to travel to any part of Khajuraho.
By Road: Khajuraho is easily accessible by road, with regular bus services connecting it to nearby cities such as Jhansi, Satna, Chhatarpur, Mahoba, Jabalpur, Bhopal, Indore, Gwalior, Panna, Agra, Allahabad, and Varanasi. Both non-AC and AC buses are available on this route, offering flexibility and convenience for travelers.
Whether you choose to travel by air, train, or road, Khajuraho welcomes visitors with its convenient transportation options, ensuring a hassle-free journey to this enchanting destination.
Also, check out the most popular tour packages for Madhya Pradesh-
Frequently Asked Questions 
What is the one most exotic thing about Khajuraho?
It is well regarded for being among the best and most well-liked tourist attractions. It is well-known for its erotic sculptures and includes several medieval Hindu and Jain temples. In addition to being a UNESCO World Heritage Site, it is also regarded as one of India's Seven Wonders.
Is visiting Khajuraho expensive?
There are a fraction of locations in Khajuraho that are regarded as top tourist attractions, but the number of places is affordable, some are even free, and a smaller number may be expensive in comparison. If we simply put it, travellers can organize their trip sensibly, taking into account their time and financial constraints.
Can minors travel to Khajuraho?
Yes, without a doubt, as Khajuraho offers some great locations that people with families may undoubtedly explore.
In what region is Khajuraho located?
In the gorgeous Chhatarpur District in the Indian state of Madhya Pradesh, there is a magnificent town called Khajuraho.
Like & follow us on our following official social media channels
Facebook | Twitter | Linkedin | Instagram | Youtube
Also Check Out: Popular India Tours | Tour Packages | India Tour Packages | International Tour Packages
International Trending Holiday Destinations – Nepal Tours | Bhutan Tours | Singapore Tour | Thailand Tours | Sri Lanka Tours | Maldives Tours | Dubai Tours | Indonesia Tours
Other Popular Trending Holiday Destinations in India – Kashmir Tour | Himachal Tour | Uttarakhand Tour | Rajasthan Tour | Gujarat Tour | Sikkim Tour | Kerala Tour | Andaman Tour | Madhya Pradesh Tour | North East Tours
Tour Packages by Interest – Adventure Packages | Wildlife Packages | Pilgrimage Packages | Heritage Packages | Hill Station Packages | Weekend Packages | Honeymoon Packages | Beach Packages | Chardham Packages | Trekking Packages
Other Interesting India Travel Guide Blogs to Read
Other Interesting Destinations Travel Guide Blogs to Read
Other Interesting Uttarakhand Travel Guide Blogs to Read
Other Interesting South Travel Guide Blogs to Read
Other Interesting Adventure & Trekking Travel Guide Blogs to Read
Other Interesting Rajasthan Travel Guide Blogs to Read
Other Interesting Wildlife Travel Guide Blogs to Read
Other Interesting Kerala Travel Guide Blogs to Read
Other Interesting International Travel Guide Blogs to Read