India's cultural heritage, culinary arts, mesmerizing landscapes, and architectural wonders always attract tourists from all across the globe. India is a beautiful fusion of old and new traditions, cultures, and festivals, which fill the air with a sense of perpetual discovery. From the snowy landscapes of the Himalayas to the serene beaches, delightful bustling cities, ancient temples, and emerald forests, it leaves travelers awe-inspired and captivated all the time. With vibrant festivals and amazing cuisines, the wonders of India at every step lead you to a new India you have never seen before.
India has amazing travel destinations to showcase to the world. A country steeped in history, culture, and fantastic natural splendors, every moment here is an unforgettable memory. In India, each region, each city, and each village has its own story to tell, inviting you to be a part of its culture and create your own unforgettable tale. This is also the reason why India can't be confined to definitions. Whoever comes to India takes a new version of India with them.
Here is the list of the top 25 tourist places in India that every traveler must visit at least once in their life, whether they are national or international travelers.
Agra, Uttar Pradesh
Jaipur, Rajasthan
Varanasi, Uttar Pradesh
Alleppey, Kerala
Goa
Amritsar, Punjab
Tawang, Arunachal Pradesh
Kaziranga National Park, Assam
Khajjiar, Himachal
Jodhpur, Rajasthan
Andaman
Pondicherry
Ladakh
Shimla, Himachal
Khajuraho, Madhya Pradesh
Gangtok, Sikkim
Mysore, Karnataka
Darjeeling, West Bengal
Hampi, Karnataka
Munnar, Kerala
Ranthambore, Rajasthan
Udaipur, Rajasthan
Jaisalmer, Rajasthan
Rishikesh, Uttarakhand
Delhi
Top Recommended Tour Packages
Agra – The Love Paradise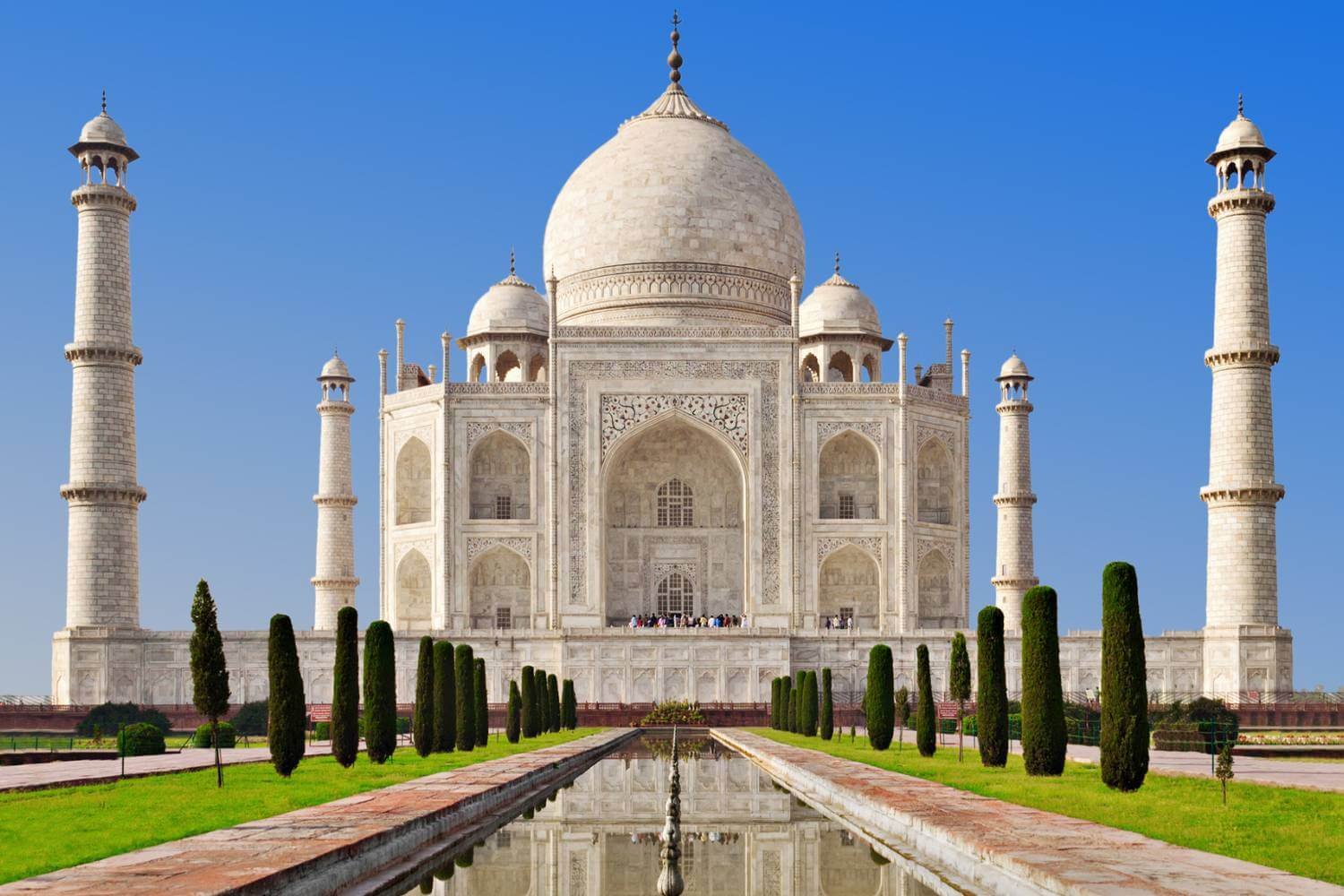 Agra, this beautiful city, unfolds timeless marvels and India's rich cultural heritage. It stands as one of the most visited heritage tourist destinations in India and is, in fact, the top choice among international travelers exploring the country.
Steeped in history, the ancient city of Agra reveals captivating tales of the Mughal empire. The city also finds mention in the Mahabharata as Agraban, an important place in Brijbhumi (the land of Lord Krishna). At the heart of Agra lies its crowning jewel, the magnificent Taj Mahal, the most iconic tourist attraction in India and one of the Seven Wonders of the World. The Agra Fort, a UNESCO World Heritage Site, stands as a formidable symbol of power and resilience, boasting majestic palaces and intricate marble inlays. The bustling bazaars, aroma of spices, colorful handicrafts, marble and stone inlay work products, and authentic Mughal cuisine will become cherished memories to carry with you forever.
Highlights of Agra Tourism:
Taj Mahal – The world's most iconic symbol of love.
Agra Fort – Where the walls whisper tales of Mughal Emperors.
Mehtab Bagh: A Photographer's Paradise at Sunset!
Kinari Bazaar – Shop, Stroll, and Feel the heartbeat of Agra.
Local Cuisine – Delectable Mughlai cuisine and Indian street food.
Fatehpur Sikri – Once the capital of the Mughal Empire, now a UNESCO World Heritage Site.
Chini Ka Rauza – A beautiful fusion of Indian and Persian architecture.
Sikandra – Tomb of Mughal Emperor Akbar.
Jaipur – Realm of Royalty
The land of magnificent palaces and forts, the Pink City of Jaipur beckons you into a world of bliss. It stands as one of the most popular tourist destinations in India for a family vacation. You will be amazed by the immense beauty of the royal gardens built by the Rajput kings, palaces and forts showcasing majestic Rajput and Mughal styles, fun-filled parks perfect for family picnics, delightful eateries, and movie theaters as you delve deeper into the heart of Jaipur. Jaipur's heritage sites, art and crafts, culinary traditions, bazaars, and folk performances will leave you enchanted forever.
Highlights of Jaipur Tourism
Hawa Mahal – The Palace of Winds.
Amer Fort – Timeless fortresses of Rajput royalty and a UNESCO World Heritage Site.
City Palace – A legacy of Rajput Kings and Queens.
Jantar Mantar – The world's largest stone observatory.
Chokhi Dhani – Embrace the cultural heritage of Rajasthan.
Gaitore – Tomb of Jaipur Kings.
Elephant Safari at Amer Fort – Ride on an elegant elephant up to the majestic Amer Fort.
Puppet Shows – Enjoy colorful puppets depicting Rajasthan's rich cultural heritage.
Hot Air Balloon Ride – Soar high and embrace Jaipur's aerial charm.
Also Read: Top Tourist Places in Rajasthan
Varanasi – Spiritual Soul of India
The soul of India, Varanasi, situated on the holy banks of the Ganges, suspends time for tourists. It ranks among the top religious travel destinations in North India, offering solace amidst the divine confluence of life and death. The Ganges River serves as the lifeline of this ancient city, bestowing upon it a unique sanctity that is said to be the abode of Lord Shiva. In Varanasi, Lord Shiva channeled the holy waters of the Ganges to the Earth. The mystical charm and ethereal beauty of Varanasi are evident through its ghats, the wholesome Ganga Aarti, melodious chants, and fervent prayers.
Drifting along the tranquil waters in a boat, you will be delighted to witness pilgrims offering prayers and taking a holy dip in the Ganges. The Ganges River draws nourishing energy from the sun, evident in its blissful rapids that respond to the sun's first rays on the river surface. The river comes alive, shimmering like a thousand diamonds, and blesses the devotees with its essence. Varanasi is a place to discover your soul, regain your peace, and become one with God.
Highlights of Varanasi Tourism
Ganga Aarti at the Ghats of Varanasi – A soul-stirring experience, a divine spectacle.
Boat Ride at Sunrise – Sail into Serenity: Embrace the Mystical Dawn.
Sarnath – A place where Lord Buddha delivered his first sermon.
Ghat-side Yoga and Meditation – Embrace tranquility and rejuvenation with riverside yoga and meditation sessions.
Ramnagar Fort – Treasures of Varanasi's past.
Vishwanath Temple – The Holy Abode of Lord Shiva.
Varanasi Street Food – A culinary journey celebrating the heritage of Varanasi.
Shopping at Varanasi Markets – Exquisite Silk Sarees, textiles, and handicrafts.
Also Read: Best Religious Places to Visit in India
Alleppey – Magical Backwaters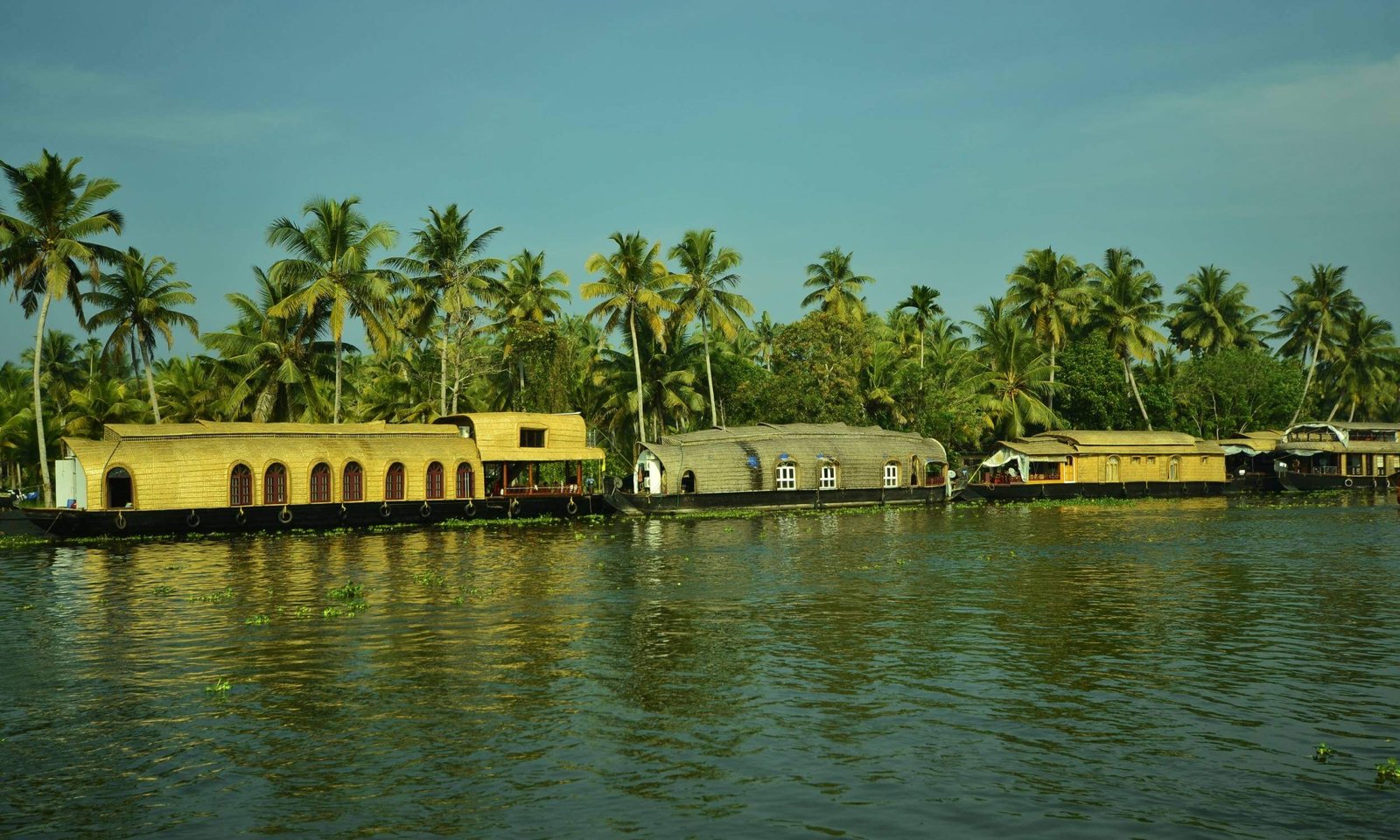 Alleppey is one of the most enchanting travel destinations to explore in South India. It's a beautiful paradise of tranquil backwaters, awe-inspiring beaches, and lip-smacking seafood. Whether you're seeking a place to relax your soul on the beaches or looking forward to spending peaceful moments on amazing houseboats, Alleppey is undoubtedly the best choice for a family vacation in India. Nestled along the emerald waters of Vembanad Lake, it opens its arms to showcase the timeless charm of Kerala's backwaters.
A houseboat tour would be the best way to explore lush green landscapes, quaint villages, paddy fields, and narrow canals lined with beautiful palm trees. Also, behold the beautiful beaches kissing the shores with tender affection. The simplicity and beauty of life define Alleppey Tourism in the best way.
Highlights of Alleppey Tourism
Backwater Cruise – Alleppey's backwater magic.
Alleppey Beach – Sun, Sand, and Solace.
Kumarakom Bird Sanctuary – Nature's Winged Treasures.
Vembanad Lake – Enchant your Soul.
Ayurvedic Spa – Ayurveda's nourishment.
Kuttanad Paddy Fields – Magical Lush Greenery.
Alleppey Cuisine – Coastal Delights.
Also Read: Best Hill Stations to Explore in Kerala
Goa – Soul's Refreshing Haven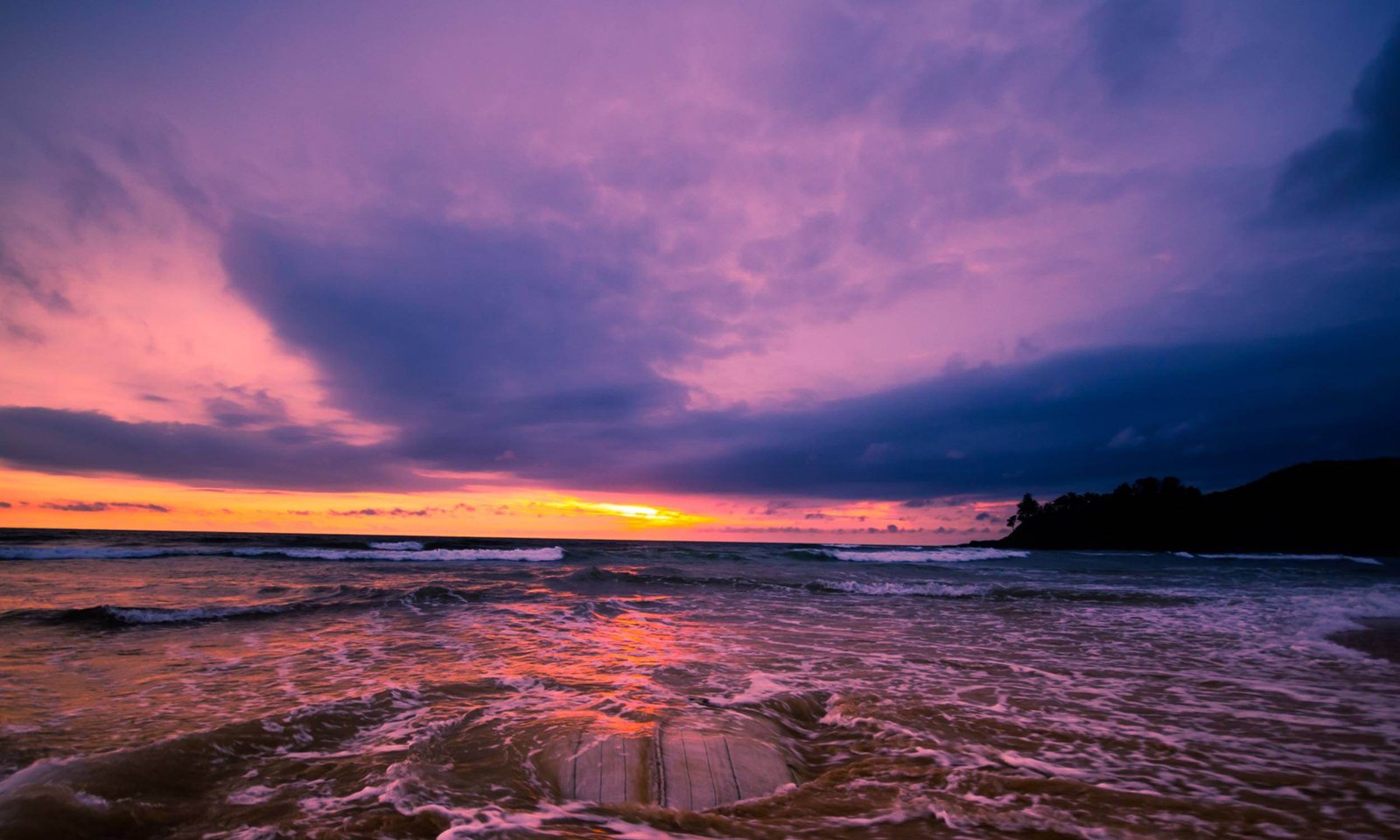 The sun-kissed shores of Goa are among the most beautiful and top-rated travel destinations to visit in India. It is the smallest state of India in terms of area, but this pocket-sized paradise holds magic in its soul. As you set foot on this coastal haven, the soothing waves, beautiful sunrise and sunset views, vibrant nightlife, seafood, and balmy weather wash away all your worries.
Perfect for a laid-back family vacation, Goa is absolutely worth visiting when it comes to relaxation and the rejuvenation of mind, body, and soul. You will also behold UNESCO-listed majestic old sites like churches and cathedrals, serving as symbols of its colonial past. Vibrant local markets offer a place to buy traditional handicrafts, jewelry, beachwear, and home decor. Goa is a fun place to experience exciting water adventure activities, such as jet skiing, parasailing, and swimming, adding delight to your adventure trip.
Highlights of Goa Tourism
Goa's Spa and Wellness Retreats – Reconnect with your mind, body, and soul.
Goa Beaches – Endless Fun and Water Adventures.
Dudhsagar Falls – Beautiful Milky Cascades.
Old Goa – Goa's Rich Historical Heritage.
Anjuna Flea Market – Goa's Bohemian Bazaar.
Nightlife of Goa – Party All Night.
Cruise on Mandovi River – Sail through Goa's serenity.
Spice Plantations – Embrace Goa's aromatic spice plantations.
Also Read: Baga Beach Travel Guide Goa
Amritsar – Divine Nourishment
Amritsar, a city that resonates with the soul of India, stands as a testament to the nation's rich cultural heritage, spiritual significance, and timeless love. It is one of the best travel destinations to visit in North India. There is a profound sense of spirituality that lies in the ambiance of this beautiful town.
Amritsar, with its blend of spirituality, heritage, and love, casts an enchanting spell on all who venture into its embrace. It's a city of eternal bliss that leaves an indelible mark on the hearts of wanderers. As the sun sets over the horizon, Amritsar's divine aura lingers, weaving a melody of memories that will be cherished for a lifetime.
Highlights of Amritsar Tourism
Golden Temple: Divine Serenity at India's Holiest Shrine!
Jallianwala Bagh: Remembering Sacrifice on Hallowed Grounds!
Wagah Border Ceremony: Patriotic Bliss.
Amritsari Kulcha: Spicy Delights of Punjab!
Guru ka Langar: Nourishment of Equality and Love!
Durgiana Temple: An Awe-Inspiring Spiritual Haven!
Hall Bazaar Shopping: Shopper's Delight, Treasures Unfold!
Partition Museum: Tales of Tragedy and Resilience!
Maharaja Ranjit Singh Museum: Punjab's Royal Legacy!
Harike Wetland: Birdwatcher's Paradise.
Tawang – Himalayan Gem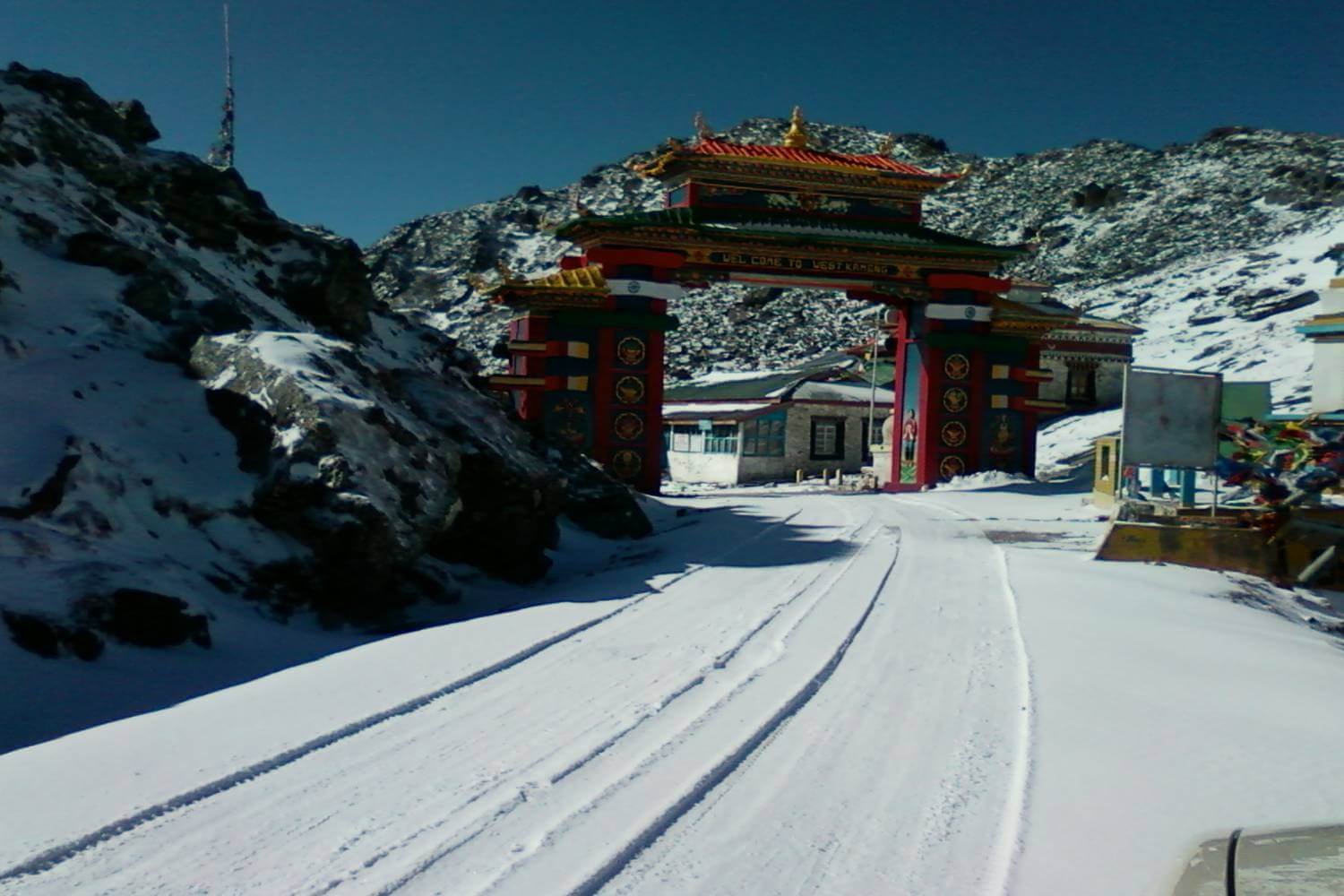 Tawang brings forth the bliss of the remote reaches of Arunachal Pradesh. Renowned for its breathtaking landscapes, beautiful historical attractions, and deep-rooted spiritual heritage, Tawang has been captivating the souls of travelers for ages. It ranks among the most beautiful tourist destinations to visit in India for Himalayan holidays. Surrounded by stunning snow-capped peaks, frozen lakes, picturesque Buddhist monasteries, serene landscapes, delightful markets, and winding mountain passes, Tawang's natural treasures offer beautiful retreats for solace seekers, solo backpackers, honeymoon couples, and families.
It is a perfect travel destination for a soothing mountain holiday. The ambiance of Tawang exudes a sense of serenity. Everything here is pleasing to the senses. Moreover, it also offers rewarding trails for adventure seekers. The Tawang Chu River and its surrounding valleys provide picturesque routes for trekking and camping, allowing you to immerse yourself in the unspoiled beauty of the Himalayas. Indeed, Tawang's natural wonders never cease to impress wanderers. One must visit Tawang for the best Himalayan holidays in India.
Highlights of Tawang Tourism
Tawang Monastery: Spiritual Serenity in the Himalayas!
Sela Pass: A Majestic Mountain Passage!
Madhuri Lake: A Bollywood Star's Reflection!
Tawang War Memorial: Saluting the Bravehearts!
Nuranang Waterfall: Nature's Cascading Beauty!
Gorichen Peak Trek: Conquer the Himalayan Heights!
Tawang Craft Centre: Traditional Artisan's Haven!
Pankang Teng Tso Lake: A Tranquil Alpine Gem!
Also Read: Best Places to Visit in Northeast India Tour
Kaziranga National Park – Thrilling Wilderness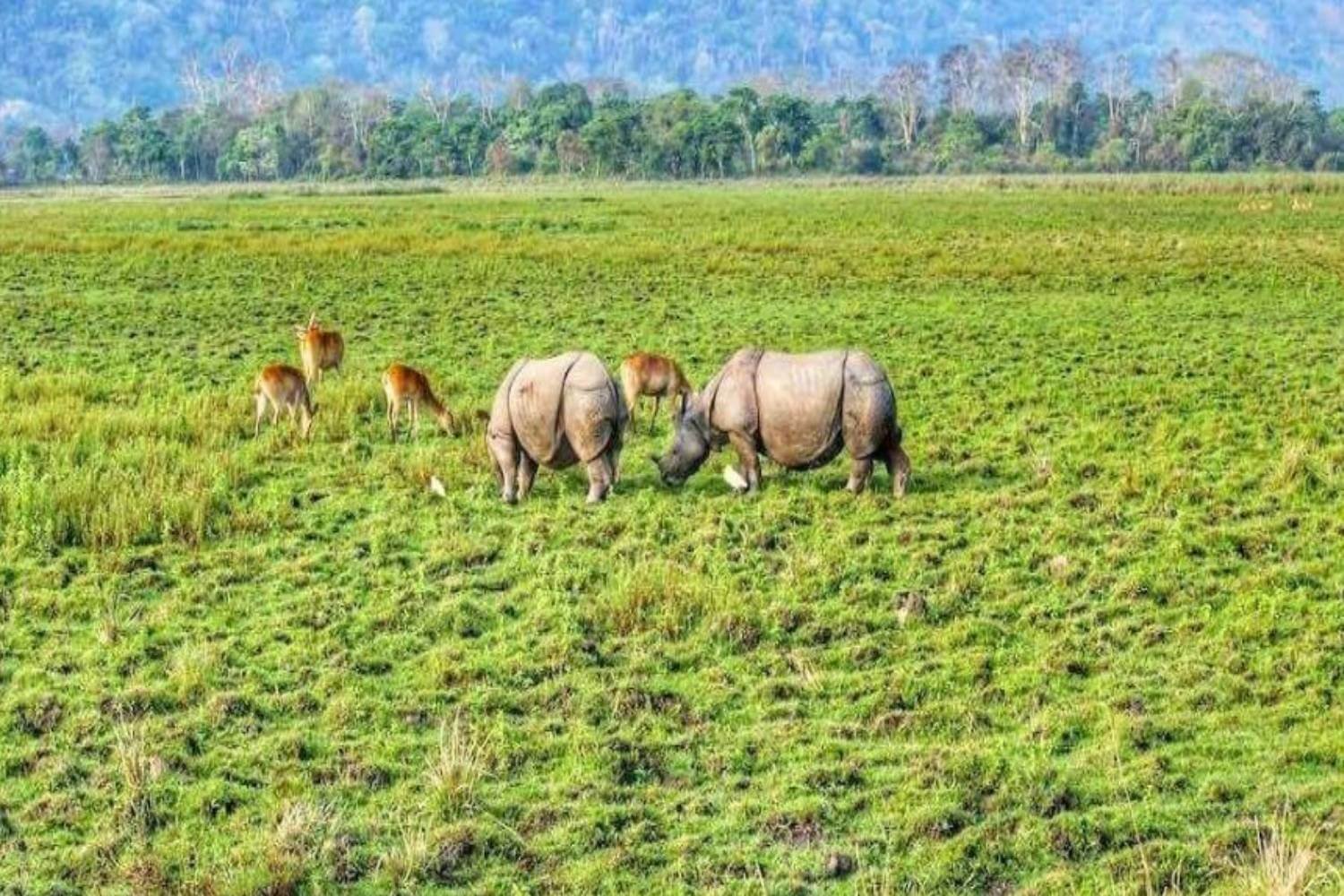 Kaziranga offers a window to discover the soul of India's wild realm. It is among the best travel destinations to visit in India for nature and wildlife enthusiasts. The landscapes of Kaziranga will captivate your heart. The Brahmaputra River flows majestically through the outskirts of Kaziranga, adding a touch of serenity and beauty to the landscape. A peaceful boat cruise on the river will showcase the finest spectacle of nature's beauty. You will also spot various aquatic species, including river dolphins and migratory birds. Sunset views from the riverbanks enchant and fine-tune the spirit of a traveler.
Kaziranga National Park is a landmark destination you must visit at least once in your lifetime. It's a wonderful UNESCO World Heritage site and a true wildlife wonderland in the heart of Assam. It serves as a beautiful shelter for the world's largest population of the endangered one-horned rhinoceros. The thrilling jeep safaris or elephant rides will reveal the park's lovely wilderness, where you may encounter not only rhinos but also majestic Asian elephants, swamp deer, water buffaloes, and the elusive Royal Bengal tiger. Kaziranga's extraordinary biodiversity and mesmerizing natural vistas make it an amazing wildlife destination to explore in India.
Highlights of Kaziranga Tourism
Kaziranga National Park: Where the Wild Roams Free!
One-Horned Rhinos: Home of the Majestic Rhinoceros!
Jeep Safari Adventure: Into the Heart of the Jungle!
Elephant Safari: A Regal Ride through Wildlife's Kingdom!
Birdwatcher's Paradise: Feathers, Flights, and Fascination!
Breathtaking Landscapes: Nature's Canvas Unfolds!
Orchid Park: A Symphony of Rare Blooms!
Biodiversity Hotspot: Unveiling Mother Nature's Treasures!
River Cruises on Brahmaputra: Serenade Along India's Mighty River!
Kaziranga's Tribal Culture: Traditions Preserved in Time!
Khajjiar – Nature's Blessings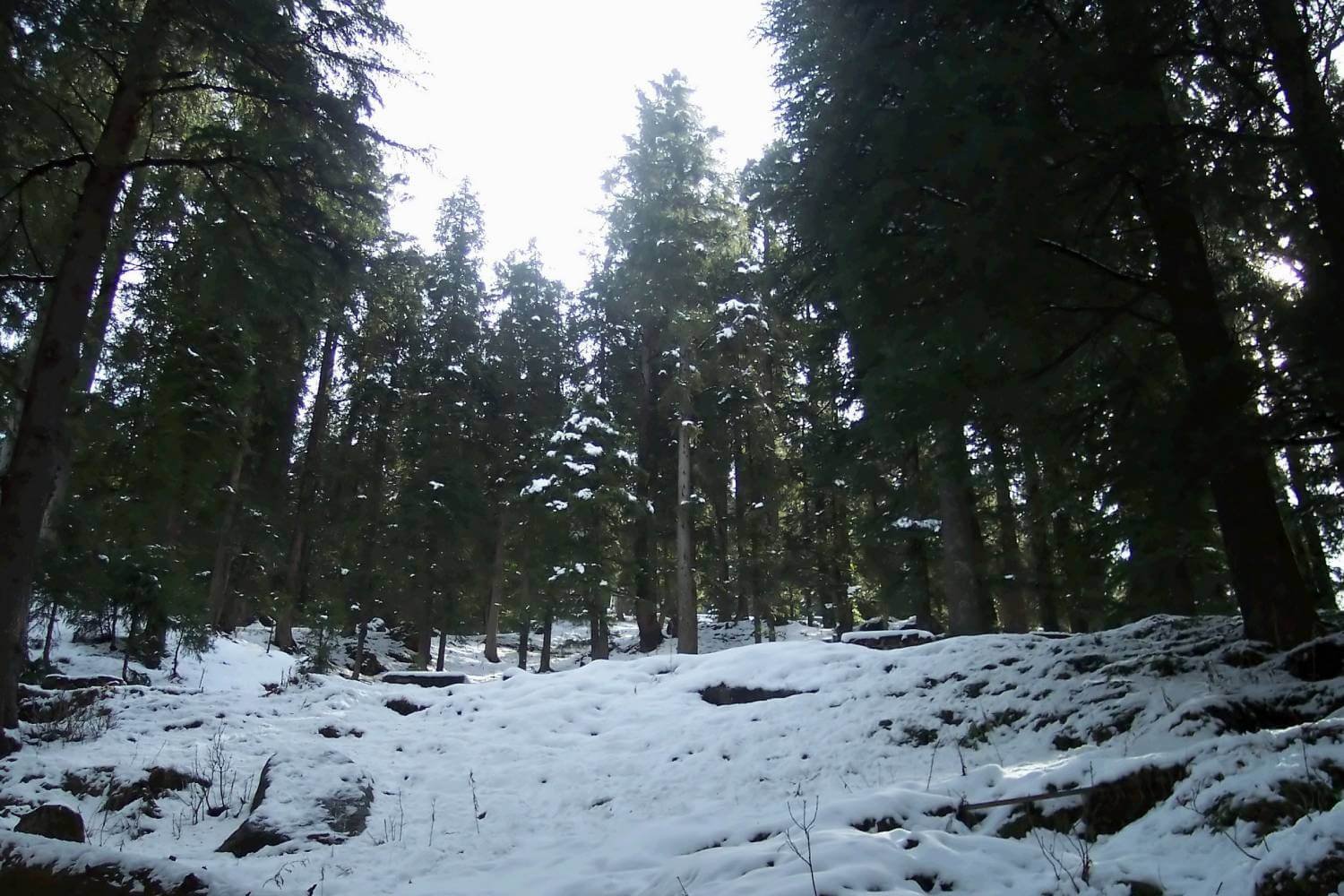 With the incredible charm of the Dhauladhar Mountain range, Khajjiar stands as a beautiful nature paradise to visit in India. Situated at an altitude of 6500 ft, Khajjiar's lush green meadows, dense pine and deodar forests, serene Khajjiar Lake, and Chamera Lake welcome you with a sense of tranquility and enchantment. In Khajjiar, you will also discover a beautiful wildflower known as Vacha.
The crisp mountain air and beautiful meadows create a postcard-perfect setting. If you are seeking wonderful romantic places, then Khajjiar is one of the best destinations for honeymoon couples in India. Beyond its scenic beauty, Khajjiar is also revered as a place of spiritual significance. The Khajji Nag Temple, dedicated to the serpent god Khajji Nag, is an ancient wooden temple located amidst the forest, adding an aura of mystique to the landscape. Surrounding the temple, the dense forest's ethereal charm rejuvenates the soul. Khajjiar offers amazing adventure activities. A thrilling paragliding session, horse riding, and zorbing make a Khajjiar trip an unforgettable experience amidst the scenic beauty of the Himalayas.
Highlights of Khajjiar Tourism
Khajjiar Lake: The Mini Switzerland of India!
Kalatop Wildlife Sanctuary: Wild Encounters in Nature's Sanctuary!
Khajji Nag Temple: Divinity amidst Tranquil Meadows!
Adventure Sports Hub: Adrenaline in the Hills!
Panch Pandav Tree: Legend of the Five Brothers!
Khajjiar Ground: Picnic Paradise in the Lap of Hills!
Dainkund Peak: Touch the Sky at Khajjiar's Highest Point!
Photography Delight: Frames of Beauty Everywhere!
Khajjiar Meadows: A Green Carpet Unfolds Before You!
Chamera Lake: Boating Bliss Surrounded by Scenic Beauty!
Also Read: Top Tourist Places in Himachal Pradesh
Jodhpur – The Lovely Blue City
The city of Jodhpur in Rajasthan is one of the most visited travel destinations in India. It's one of the most beautiful places with its azure blue buildings, mesmerizing forts, bustling markets, and amazing culinary experiences.
Jodhpur offers a gateway to the Thar Desert, where an adventure into the heart of the desert awaits. Thrilling camel safaris through the sand dunes and a night's stay under the stars at the desert camp, where traditional music and dance performances bring alive the rich cultural heritage of Rajasthan, offer a unique escape from the hustle and bustle of city life. It provides a chance to connect with nature and the mystique of the desert. The royal grandeur of the Marwar dynasty is seen in the beauty of majestic forts. The bustling bazaars showcase the city's rich culture and heritage. Jodhpur is a wonderful travel destination in India where the lively spirit and warm hospitality of the people, along with enduring traditions, offer a great opportunity to dive deep into Rajasthan's joyful ambiance and vibrancy.
Highlights of Jodhpur Tourism
Mehrangarh Fort: Rising Majesty Amidst Blue Hues!
Umaid Bhawan Palace: Regal Grandeur Preserved in Time!
Blue City Charm: Lost in the Enchanting Blue Labyrinth!
Jaswant Thada: Whispers of Marble Elegance!
Bazaars and Bazaars: Shop, Bargain, and Savor Jodhpur's Essence!
Desert Safari: Magical Dunes and Tales of the Thar!
Clock Tower Market: A Beautiful Fusion of Colors and Cultures!
Mandore Gardens: History's Blossoming Retreat!
Zip Lining at Mehrangarh: A Royal Adventure!
Osian Temples: Divine Vibes in the Desert Sands!
Andaman Islands – A Wealth of Water Adventures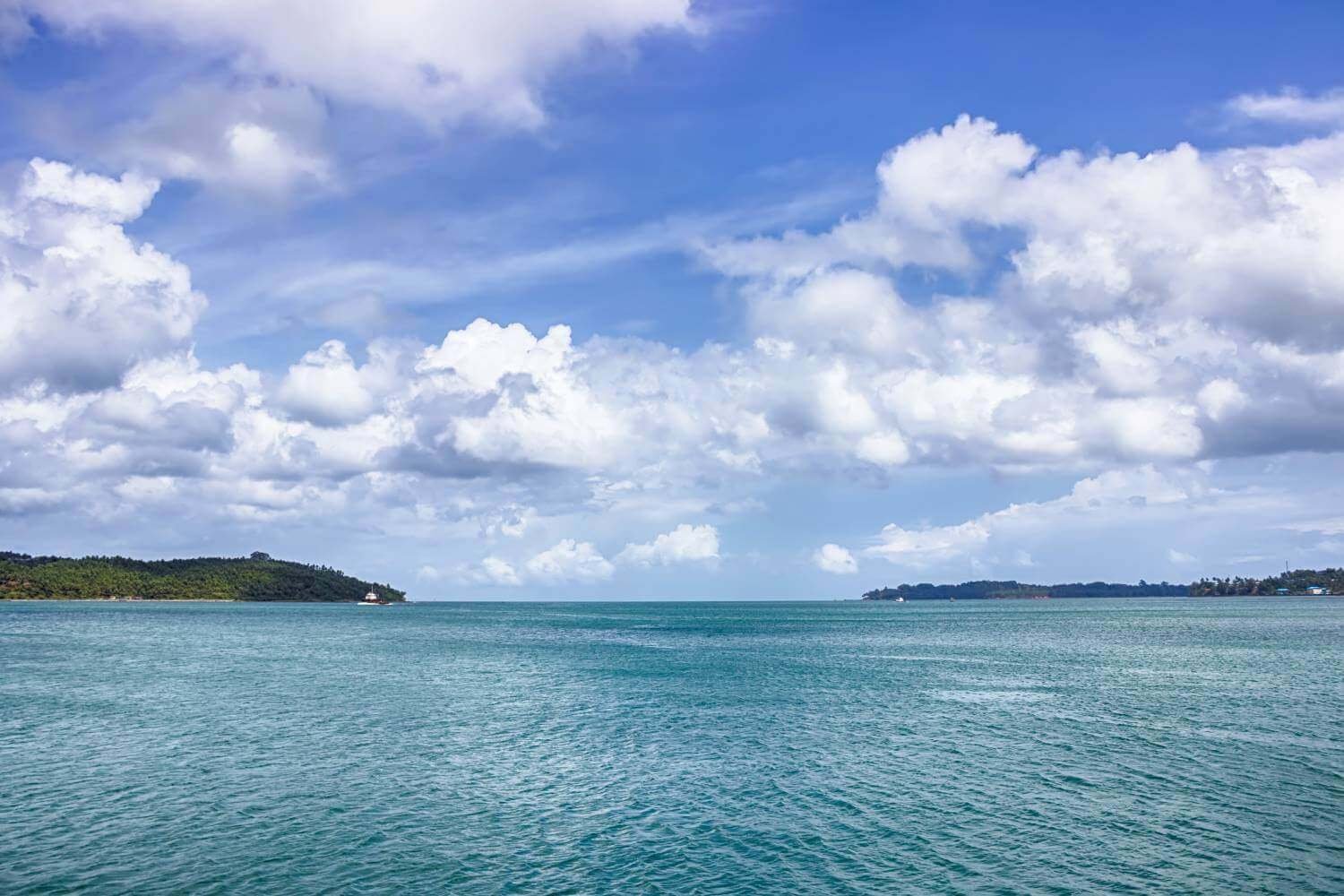 Andaman is a wonderful tropical paradise in the heart of the Bay of Bengal. If you love beaches and are seeking a laid-back vacation with family and friends, then the Andaman Islands are the best place to explore in India.
Turquoise waters, palm-fringed beaches, and lush greenery delight the senses. Here, stunning sunsets paint the sky with beautiful hues of orange and pink, providing treasure-worthy views for photographers. The island boasts some of the best adventure opportunities in India.
It offers some of the finest scuba diving sites and snorkeling opportunities, making it a dream destination for water enthusiasts and nature lovers alike. The Andaman Islands also provide travelers with an amazing opportunity to embrace the rich tribal culture and history of the region. The Anthropological Museum showcases the culture and lifestyle of the indigenous tribes, such as the Jarawas and Sentinelese, preserving the island's unique heritage. The picture-perfect setting of the Andaman Islands offers a blissful escape that promises cherished memories for soulful wanderers. If you are a beach lover, then it must undoubtedly be included in your India travel bucket list.
Highlights of Andaman Tourism
Radhanagar Beach: Asia's Best Beach: A Tropical Paradise!
Cellular Jail: Witness the Saga of India's Freedom Struggle!
Scuba Diving in Havelock: Discover the Hidden Underwater Wonderland!
Ross Island: A Hauntingly Beautiful Abandoned Settlement!
Elephant Beach: Snorkel with Colorful Marine Life!
Barren Island Volcano: India's Only Active Volcano!
Neil Island: Tranquil Retreat with Delightful Sunsets!
Mangrove Kayaking: Paddle through Nature's Mystique!
Limestone Caves in Baratang: A Journey into Earth's Depths!
Chidiya Tapu: Birdwatcher's Delight at Andaman's Sunset Point!
Also Read: Best Places to Visit in South India
Pondicherry – A Relaxing Getaway
Pondicherry stands as a top travel destination in India that leaves a lasting impression on every wanderer with its laid-back charm, colonial architecture, and culinary offerings. It is home to many serene beaches that provide an escape from the chaos of the world. The sea breeze caresses your skin, and the waves gently kiss the shore, while picturesque streets, quaint cafes, and boutique stores offer delightful experiences in Pondicherry. The colonial-era architecture, tree-lined boulevards, and pastel-colored buildings give Pondicherry an old-world European feel.
The serene ambiance of Auroville would captivate your senses. It is an experimental community devoted to unity, peace, and spiritual harmony. Auroville is also a meditation center that represents the town's spiritual core. Pondicherry's tranquil atmosphere and cultural fusion make it a captivating destination for travelers of all kinds. In Pondicherry, every meal is a celebration of cultural diversity and culinary artistry. Indeed, Pondicherry's unique blend of cultures and serene atmosphere makes it one of the top travel destinations to explore in South India.
Highlights of Pondicherry Tourism
Auroville: Spiritual Nourishment
Promenade Beach: Serene Bliss
French Quarter Walk: France in India's Heart
Paradise Beach: Solace-Seeking Paradise
Scuba Diving: Underwater Wonders
Matrimandir: Peaceful Delight
Arikamedu: Revel in the Charms of Ancient History
Pondicherry Botanical Garden: Nature's Colorful Treasures
French Cuisine Delights: Savor Culinary Magic from Across the Globe
Ladakh – A Lovely Dreamscape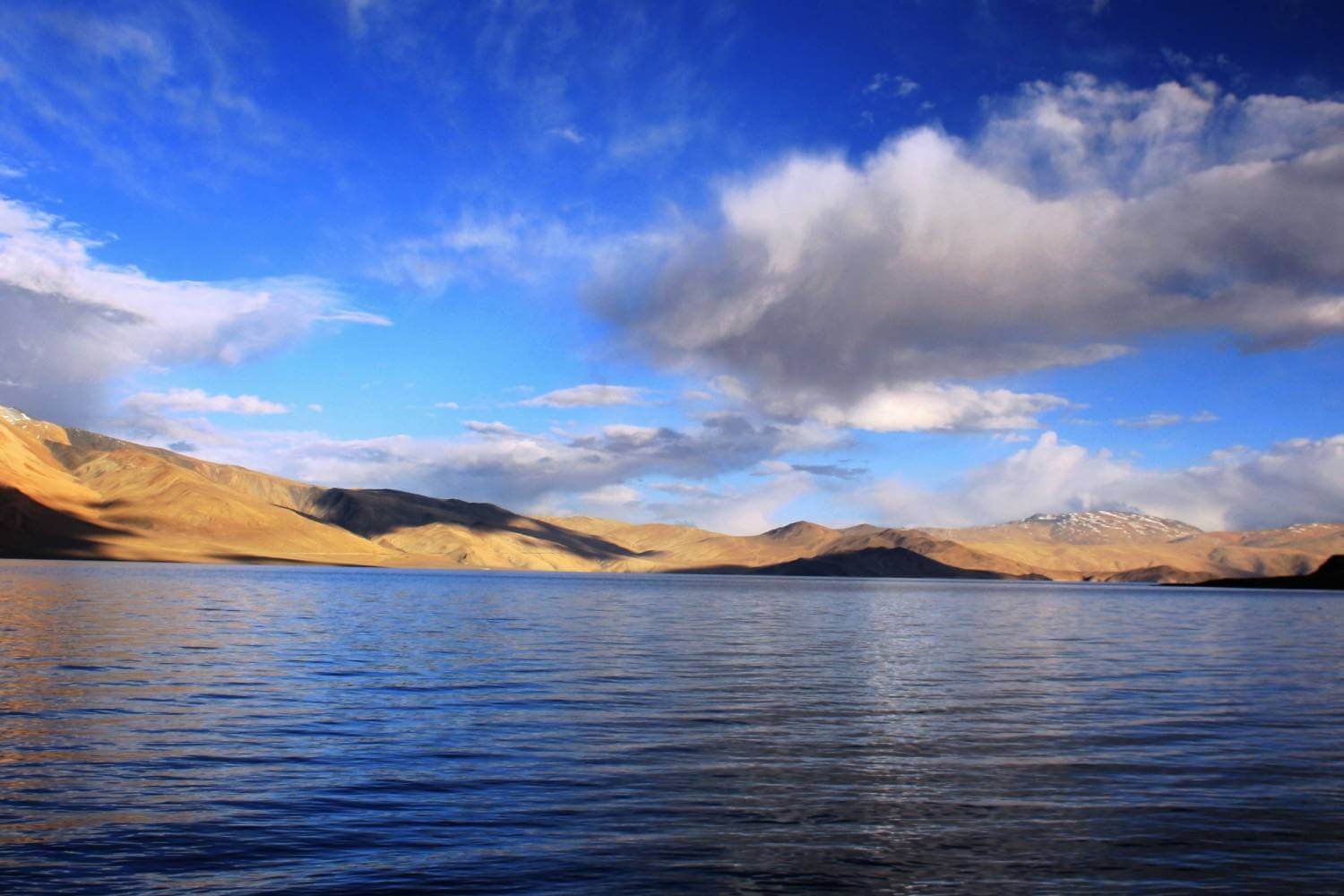 Ladakh, known as the "Land of High Passes," tops the list of India's top tourist destinations with its breathtaking landscapes and rugged terrains. It's a dream destination for every wanderer. Nestled in the Himalayas, the snow-capped mountains, crystal-clear lakes such as Pangong Tso and Tso Moriri, ancient monasteries, rocky cliffs, and beautiful cold deserts soothe one's soul. At night, Ladakh transforms into an enchanting spectacle, as the clear skies allow for stargazing like nowhere else. Ladakh's spiritual heritage beckons wanderers who seek divine grace and inner tranquility. The monasteries, adorned with colorful prayer flags and ancient murals, exude a sense of reverence. For adventure seekers, Ladakh presents a thrilling playground for activities like trekking, river rafting, and mountain biking. The warm hospitality of the locals and Ladakh's stunning landscapes captivate the hearts of travelers from all over the world.
Highlights of Ladakh Tourism
Pangong Lake: Reflecting Heaven's Blue in Earth's Highest Realm!
Nubra Valley: A Beautiful Desert Oasis
Magnetic Hill: Gravity's Mystique!
Hemis Monastery: Buddhist Spirituality in a Tranquil Abode!
Khardung La Pass: Gateway to Nubra and Shyok!
Tso Moriri Lake: A Gem Hidden in the Himalayas!
Spituk Gompa: A Glimpse into Ladakh's Ancient Culture!"
River Rafting on Zanskar River: Thrills Amidst Gorgeous Landscapes!
Shanti Stupa: A Symbol of Peace and Harmony!
Chadar Trek: Walking on Frozen Dreams!
Also Read: Best Trekking Destinations in Ladakh
Shimla – Hilly Bliss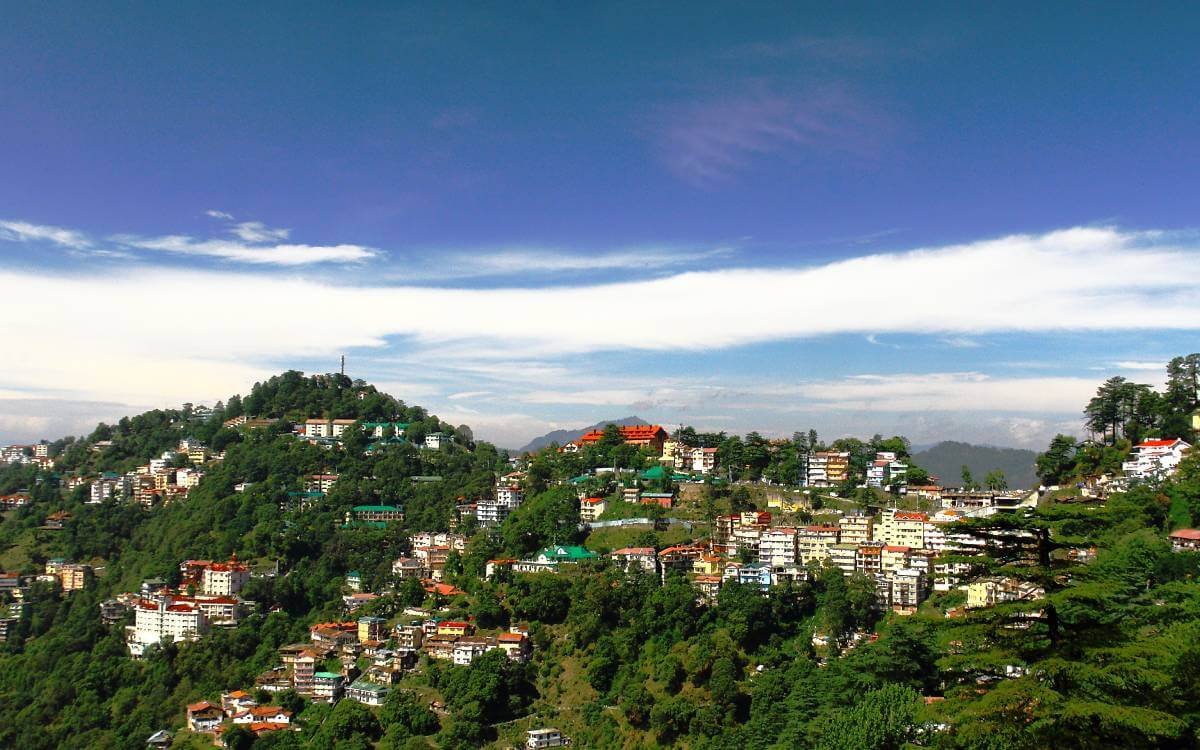 The 'Queen of Hill Stations,' Shimla, stands as one of the most iconic hill station destinations to explore in North India. Shimla's picturesque beauty and its nostalgic connection to the past make it a delightful destination for tourists. You will be spellbound by the charming buildings, such as the iconic Viceregal Lodge, once the summer residence of British viceroys, the stunning Mall Road lined with quaint shops and cafes, and the cool mountain breeze that rejuvenates your senses. Shimla's mesmerizing ambiance makes it one of the best choices for mountain holidays in India.
For nature lovers and adventure seekers, Shimla offers wonderful and thrilling experiences. Adventure activities like paragliding, river rafting, and zip-lining will definitely make your day. Trekking is also one of the best adventure activities to enjoy in Shimla, offering beautiful trails to rejuvenate the senses. The Toy Train ride provides an amazing chance to witness the pristine beauty of Shimla's surroundings and experience the romance of old-world train travel. The city's beautiful combination of history, nature, and thrilling experiences make it a sought-after destination for travelers seeking a peaceful and memorable family vacation in India.
Highlights of Shimla Tourism
Mall Road: Shimla's Lifeline!
Kufri: Winter Wonderland!
The Ridge: Festive Vibes!
Jakhu Temple: Seek Divine Blessings!
Toy Train Ride: Shimla's Heritage Track!
Annandale: Sports and Picnics Amidst Nature's Beauty!
Chadwick Falls: Nature's Cascade!
Viceregal Lodge: Stepping into Colonial Elegance!
Scandal Point: Where Shimla's Tales Whisper in the Air!
Ice Skating at Circular Road: Frozen Delights!
Khajuraho – Tales of Passion and Art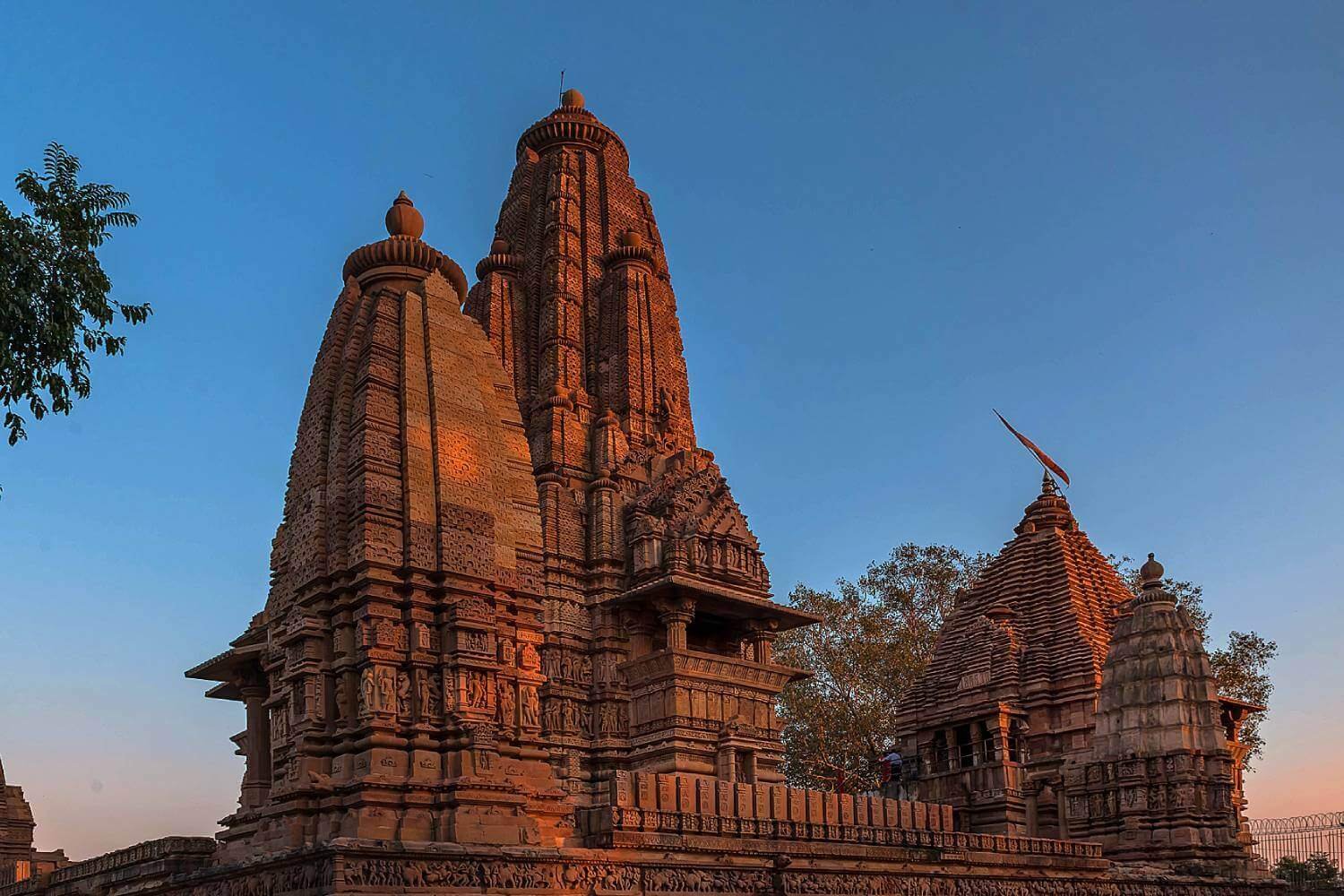 Khajuraho is a beautiful realm of enchantment that allows you to witness the mesmerizing fusion of ancient temples and exquisite sculptures. The Khajuraho group of temples intrigues and captivates visitors from around the world. It is one of the top heritage travel destinations to visit in India. A UNESCO World Heritage site, it astounds travelers with captivating carvings depicting tales of love, devotion, and spirituality. Out of the original 85 temples, only 22 have survived the test of time. The skillfully crafted sculptures transport you to a bygone era. Apart from its architectural wonders, Khajuraho is also famous for its annual dance festival, which celebrates India's classical dance forms. Khajuraho's dance festival is a treat for art lovers and cultural enthusiasts, making it an ideal time to experience the city's vibrancy and artistic flair. Travelers from across the globe come to Khajuraho to understand India's diverse cultural heritage.
Highlights of Khajuraho Tourism
Khajuraho Temples: Spectacular Architectural Marvels Carved in Stone!
Light and Sound Show: History through Illumination!
Kandariya Mahadev Temple: Where Sculptures Dance in Stone!
Panna National Park: Exciting Wildlife Encounters!
Western Group of Temples: A Journey into Intricate Artistry!
Raneh Falls: Cascading Beauty of Nature's Masterpiece!
Eastern Group of Temples: Spiritual Oasis in Khajuraho's Heart!
Panna Diamond Mines: Exploring India's Glittering Legacy!
Ajaigarh Fort: Unraveling Tales of Ancient Grandeur!
Beni Sagar Dam: Tranquility and Serenity by the Water!
Also Read: Madhya Pradesh Tourism & Travel Information
Gangtok – Enchanting Himalayan Shangri-La
Gangtok is not only a beautiful hill station; it's also an amazing cultural center that celebrates the essence of Buddhism. Its tranquil beauty and charming ambiance make Gangtok a rejuvenating escape for wanderers of all kinds. Gangtok has a lovely vibe, making it one of the best hill station destinations to visit in India for a refreshing mountain vacation. The fresh mountain air and warm smiles of the locals instantly make you feel at home.
Immerse yourself in the breathtaking vistas of lush valleys and verdant landscapes that stretch as far as the eye can see. Gangtok offers a unique journey into the heart of Buddhism. Monasteries such as The Enchey Monastery and Do Drul Chorten provide an opportunity to witness the rich Buddhist traditions of the region.
Gangtok's spiritual heritage offers unique opportunities to experience different cultural traditions. Beyond the serene and spiritual charm, Gangtok is a wonderful playground for adventure enthusiasts. It has something for every type of adventurer. From novices to seasoned adventurers, the thrill of river rafting in the icy waters of the Teesta River and paragliding over the mountains and valleys would definitely be an exhilarating experience. The pristine lakes, rugged terrains, and delightful weather make holidays in Gangtok refreshing to the core.
Highlights of Gangtok Tourism
Tsomgo Lake: A Serene Jewel of Sikkim's Beauty!
Nathu La Pass: A Gateway to Himalayan Beauty!
MG Marg: Embrace Gangtok's Charm!
Hanuman Tok: Spiritual Serenity!
Tashi Viewpoint: A Himalayan Panorama!
Ganesh Tok: Seek Blessings with a Mesmerizing View!
Enchey Monastery: Divinity Meets Majestic Peaks!
White Water Rafting in Teesta River: Adventure in Nature's Rapids!
Banjhakri Falls: Nature's Rhythm
Also Read: Top Tourist Places in Sikkim
Mysore – Realm of Colors and Traditions
Mysore is steeped in history and grandeur. It's a beautiful city of vibrant culture and amazing hospitality in tourism. It is one of the best family-friendly travel destinations in India.
Surrounded by the picturesque Chamundi hills, Mysore is a wholesome destination that has been captivating tourists with its magnificent palaces, shopping malls, churches, mosques, and lovely nature parks. If you are a city traveler, Mysore must be on your India travel bucket list. Not only will you see the city's rich heritage, but you'll also experience the lively festivals that add an amazing dimension to Mysore's tourism.
Mysore hosts a 10-day-long Dussehra festival. The city adorns itself with decorative lights, and processions showcasing the city's rich heritage captivate spectators. You will also get to experience the amazing cultural legacy of Karnataka at the Folklore Museum, which showcases an array of folk art, musical instruments, and traditional attire of Karnataka.
Apart from the cultural scene, Mysore is also renowned for its intricate silk weaving, producing exquisite Mysore silk sarees and textiles that reflect the city's artistic finesse. Mysore's artistic and cultural heritage leaves a lasting impression in the minds of travelers.
Highlights of Mysore Tourism
Mysore Palace: Timeless Royal Charm!
Chamundi Hill: Breathtaking Views!
Brindavan Gardens: Dancing Fountains!
Philomena's Church: Gothic Marvel in the Heart of Mysore!
Mysore Zoo: Mesmerizing Encounter with Wildlife!
Karanji Lake: Avian Haven!
Devaraja Market: Shopping Time!
Tipu Sultan's Summer Palace: Mysore's Historical Tales
Jayalakshmi Vilas Mansion: Timeless Elegance!
Mysore Rail Museum: World of Trains!
Also Read: Popular Waterfalls in Karnataka
Darjeeling – Where Mountains Gaze with a Smile
Nestled in the lap of the beautiful eastern Himalayas, Darjeeling is a breathtaking hill station to visit in India for a wholesome vacation with family and friends. If you are fond of traveling to mountain destinations, then in Darjeeling, you will witness the most awesome sunrise and sunset views over the snow-capped peaks of Kanchenjunga.
Darjeeling is also a pilgrimage to the world's finest tea plantations. The aroma of freshly plucked tea leaves delights the soul. Darjeeling's culinary scene offers a variety of delectable Tibetan, Nepali, and Bengali dishes that showcase the celebration of nature's abundance.
The diverse cultural experience makes the Darjeeling tour a wholesome experience. The monasteries offer a sense of solace and spiritual connection. Don't forget to ride the iconic Darjeeling Himalayan Railway, a UNESCO World Heritage site, that chugs its way through emerald tea gardens and quaint villages, offering picturesque views at every turn. The welcoming locals make the ambiance of Darjeeling very delightful.
Highlights of Darjeeling Tourism:
Darjeeling Himalayan Railway: Chugging Through the Misty Mountains!
Tiger Hill: Beauty of Sunrise over the Himalayas!
Tea Garden Tours: Sip Serenity!
Peace Pagoda: For Panoramic Views!
Batasia Loop: Engineering Marvel with Scenic Beauty!
Darjeeling Ropeway: Aerial Adventure with Stunning Vistas!
Rock Garden: Nature's Artistry Carved in Stone!
Observatory Hill: Ancient Legends and City Views Unite!
Singalila National Park: Wilderness Adventure on the Edge of the World!
Also Read: Top Summer Destinations in Northeast India
Hampi – Ancient Ruins of Glory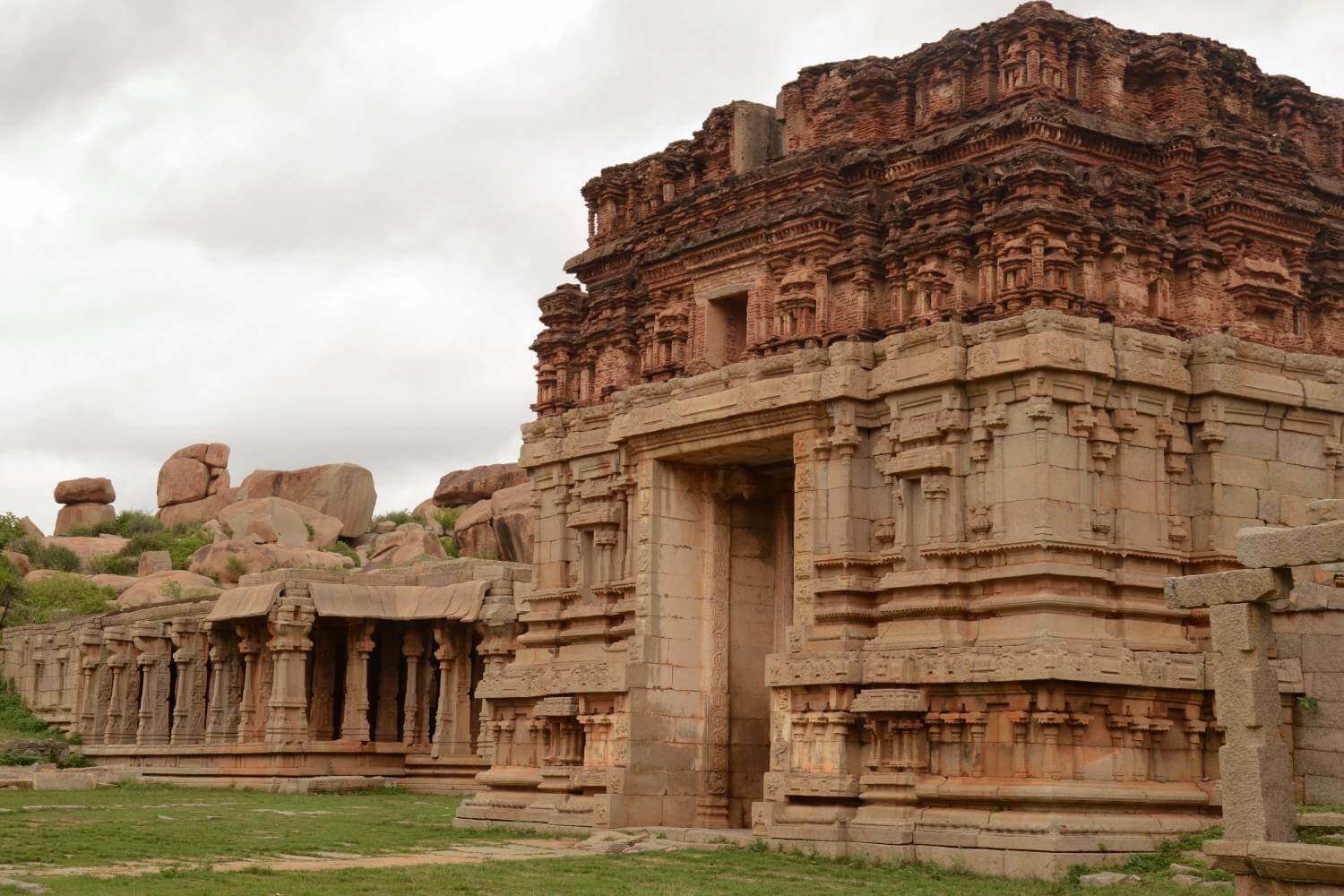 A city of beautiful architectural marvels, Hampi will take your breath away if you are fond of historical travel destinations in India. Hampi is a treasure trove of ancient ruins, temples, and palaces that once stood as a testimony to the opulence of the Vijayanagara Empire. It's a mind-boggling UNESCO World Heritage Site. Situated on the banks of the Tungabhadra River, Hampi's temples transport you to a bygone era. As you explore Hampi's rocky landscapes, you'll discover hidden caves, tranquil ponds, and ancient carvings etched into the rocks, showcasing the harmonious blend of art and nature that defines this extraordinary place. Indeed, one must visit Hampi to explore and embrace the rich heritage and culture of India.
Highlights of Hampi Tourism
Virupaksha Temple: Where History's Spirituality Soars!
Hampi Bazaar: Step into the Bustling Heart of the Past!
Vittala Temple Complex: Divine Spectacle!
Matanga Hill: Sunrise Bliss with a Panoramic View!
Elephant Stables: Regal Remnants of Royal Times!
Coracle Ride on the Tungabhadra River: A Tranquil Float in Time!
Hampi's Rock Climbing: Beautiful Boulders Amidst Ruins!
Queen's Bath: Luxury's Echoes in Timeless Architecture!
Lotus Mahal: Hampi's Floral Gem!
Sunset at Hemakuta Hill: Delightful Glow!
Munnar – Misty Hills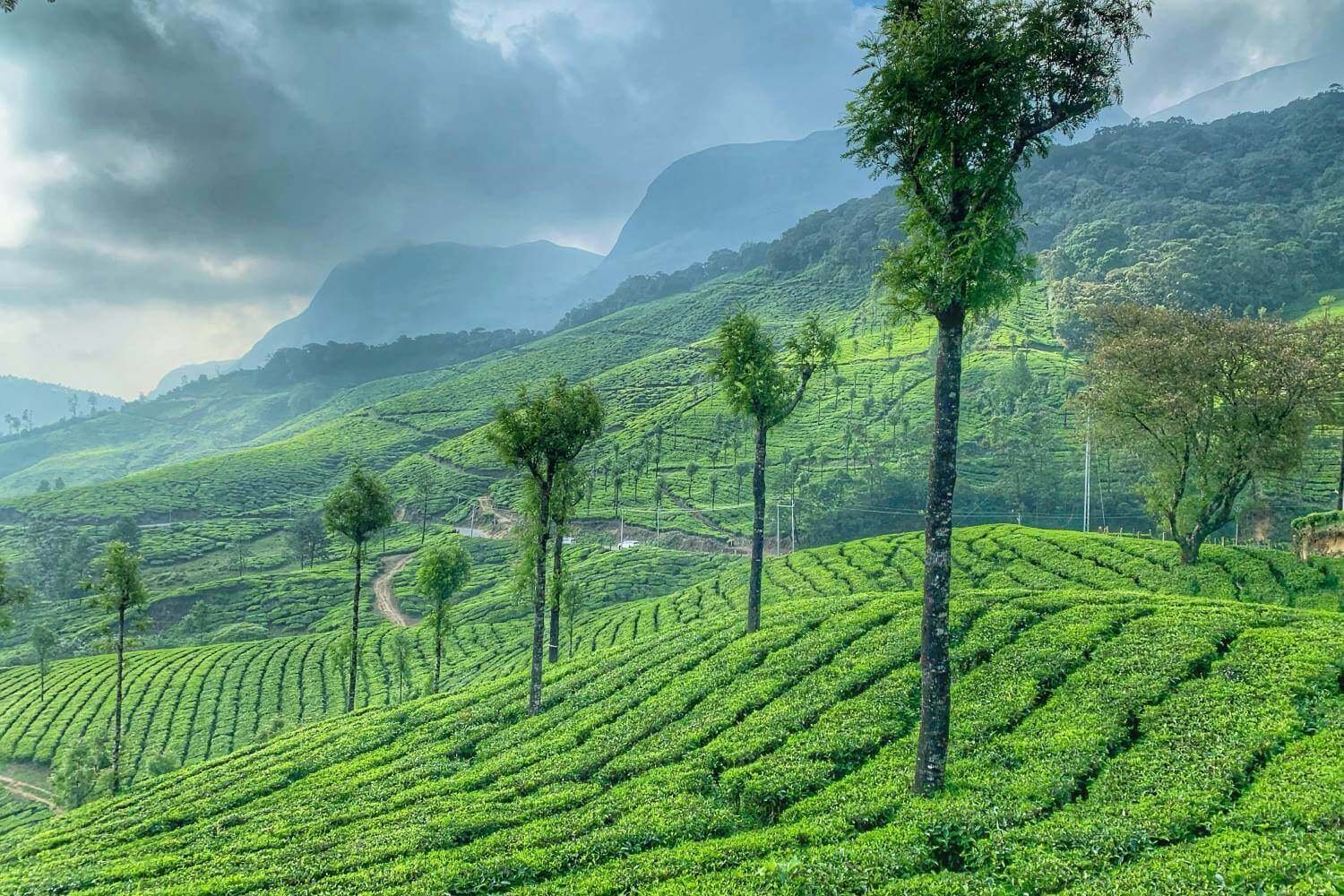 Nestled in the bliss of the gorgeous Western Ghats, Munnar is a breathtaking escape into nature's serene embrace. It is one of the top travel destinations for nature lovers in India. Emerald tea plantations adorn the landscape, creating a mesmerizing canvas of greenery as far as the eye can see. Stroll through the aromatic tea gardens and indulge in the tranquil ambiance that envelops you. Serene waterfalls, pristine rivers, and the most beautiful Neelakurinji flower, which blooms every 12 years, delight the soul. Also, discover the enchanting beauty of Eravikulam National Park, home to the endangered Nilgiri Tahr, and let the rhythmic flow of the cascading waterfalls, such as Attukal and Lakkam, rejuvenate your senses. Munnar is a place of rejuvenation and serenity, where nature's wonders weave an unforgettable scene of tranquility. No matter the season, Munnar is always blissful to behold. You must plan a long family vacation to enjoy the breathtaking beauty of Munnar.
Highlights of Munnar Tourism
Eravikulam National Park: Rich Biodiversity of Munnar
Tea Plantation Tours: Mesmerizing Tea Gardens
Mattupetty Dam: Enjoy Boating Amidst Scenic Beauty
Top Station: Enjoy Panoramic Vistas of the Western Ghats
Echo Point: Shout Your Heart Out and Hear Your Voice Reverberate Amidst the Natural World
Anamudi Peak: Trek to South India's Highest Peak
Kundala Lake: Relax by the Serene Lake with Your Loved Ones
Attukal Waterfalls: Embrace the Stunning Cascades
Blossom Park: Unwind in the Beautifully Landscaped Garden, Perfect for Picnics and Nature Walks
Photo Point: Capture Picture-Perfect Memories
Also Read: Top Things to Do in Kerala
Ranthambore – Paradise for Amazing Wildlife Adventures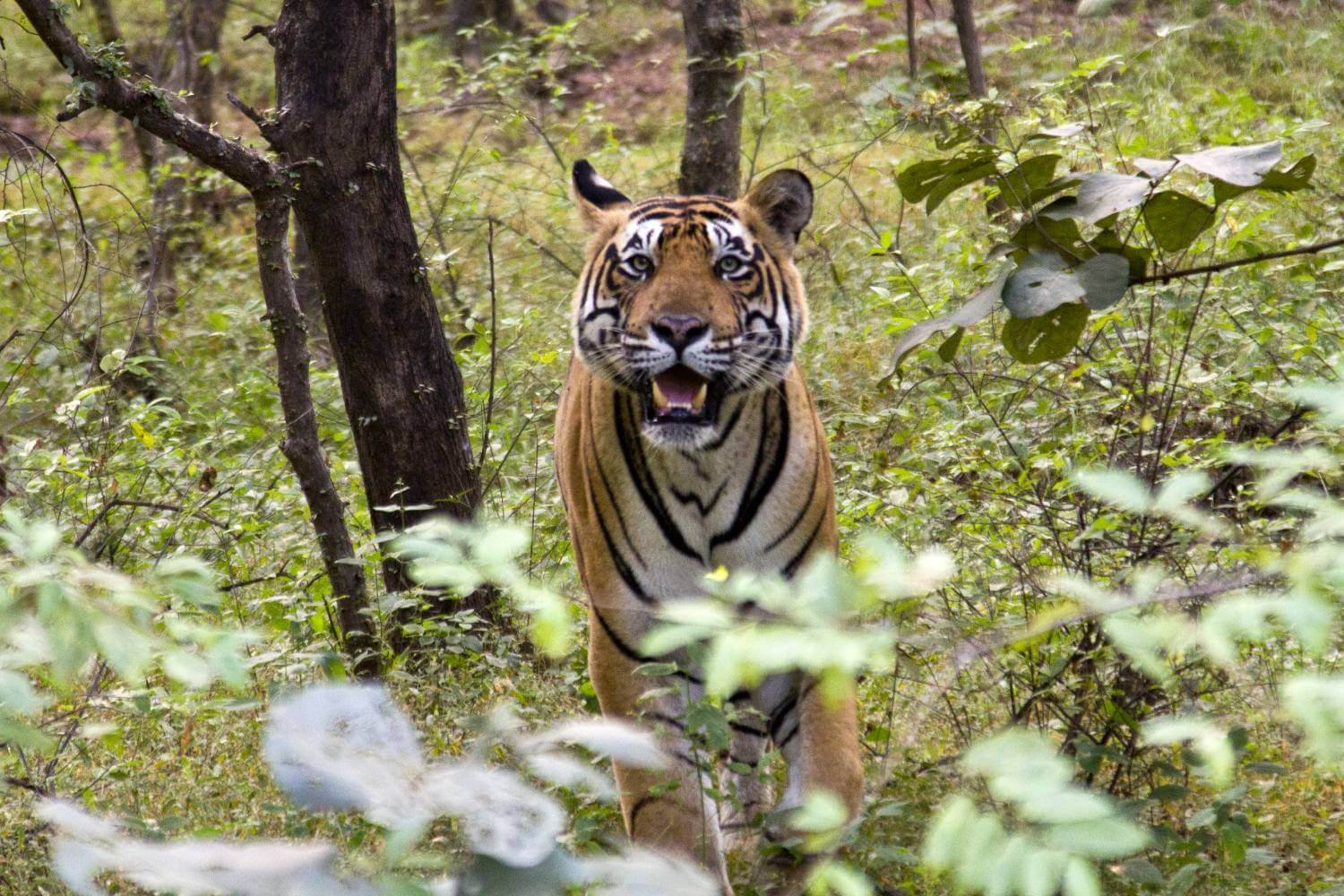 Nestled in the heart of Rajasthan lies Ranthambore, a top travel destination for wildlife enthusiasts in India. This national park is a paradise for elusive Bengal tigers, where they roam freely in their natural habitat, adding an aura of mystery and excitement to every safari. The thrilling jeep safaris through the dense forests and open grasslands will show you the most beautiful scenes from nature and glimpses of majestic creatures in their regal splendor. Beyond the tigers, Ranthambore teems with a diverse array of wildlife, including leopards, sloth bears, and a plethora of avian species.
For nature lovers, the ambiance of Ranthambore National Park is a source of rejuvenation. The sight of the setting sun casting a golden glow on the ancient Ranthambore Fort, set amidst the verdant landscape, is an awe-inspiring sight that will leave you spellbound.
For photographers, Ranthambore is a living canvas of raw beauty and untamed wilderness, presenting endless opportunities to capture breathtaking moments. Capture the raw emotions of wildlife as they go about their daily routines – from the graceful movements of deer grazing in the meadows to the intense gaze of a tiger protecting its territory and the cheerful sights and sounds of beautiful bird species. Visiting Ranthambore National Park would definitely be the best choice if you love nature and wildlife. Indeed, it will give you the most thrilling experiences of wildlife tourism in India.
Highlights of Ranthambore Tourism
Ranthambore National Park: A Land Where Tigers Roam Free in the Wild!
Safari Adventure: Thrilling Memories!
Ranthambore Fort: Beauty with Wilderness!
Padam Talab: Scenic Beauty to Seek Solace
Kachida Valley: A Photographic Paradise!
Surwal Lake: Birdwatcher's Haven in Ranthambore!
Raj Bagh Ruins: Ancient Relics Amidst Greenery!
Jogi Mahal: Lakeside Serenity with Elephant Encounters!
Malik Talao: Tranquil Vibes
Bakaula: Spectacular Sunsets of the Jungle
Also Read: Ranthambore Jungle Safari Trip- Travel Guide
Udaipur – The Venice of the East
The delightful and vibrant cultural canvas of Udaipur lures travelers from all across the globe to India. Udaipur has been ranked second by Travel and Leisure readers among the top 25 favorite cities in the world in the 2023 list. It has something for everyone: couples, families, backpackers, women travelers – everyone takes something special with them when they leave Udaipur's lovely shores. Udaipur celebrates art and crafts in all their glory. The bustling market is a playground to showcase local artisans and their colorful creations. From intricately designed handicrafts to exquisite textiles and miniature paintings, the artistic heritage of Udaipur will captivate your heart. Renowned as the 'City of Lakes', Udaipur shines brightly in the eyes of honeymoon couples. Nearly every rooftop in Udaipur will offer you beautiful views of majestic palaces, lakes, havelis, and colorful bazaars. Mouth-watering Rajasthani cuisines will definitely satisfy your taste buds and nourish your soul. The mesmerizing performances of traditional Rajasthani folk dancers and musicians at cultural events and festivals bring alive the rich heritage of the region. Udaipur's artistic soul will culturally enrich your senses.
Highlights of Udaipur Tourism
City Palace: Royal Beauty amidst Udaipur's Lakeside!
Lake Pichola Boat Ride: Sail into the Realm of Romantic Sunsets!
Jag Mandir: Azure Waters!
Jagdish Temple: Delightful Intricate Carvings!
Fateh Sagar Lake: Tranquil Escape with a Loved One
Saheliyon Ki Bari: Garden of Maidens: A Royal Retreat!
Vintage Car Museum: History's Classic Wheels!
Monsoon Palace: Sunset Views Above Udaipur's Hills!
Bagore Ki Haveli: Cultural Heritage!
Shilpgram Crafts Fair: Craftsmanship and Diversity in Artisans' Haven!
Jaisalmer – Timeless Beauty of the Sand
Jaisalmer is a wonderful heritage travel attraction to visit in India. Here, you will discover the beauty of honey-hued sand dunes, majestic havelis, palaces, and beautiful temples. One of the most iconic landmarks of the town is Jaisalmer Fort. It is the heartbeat of Jaisalmer. The beautiful fort of yellow sandstone still stands in pride atop Trikuta Hill and is also one of the UNESCO World Heritage sites. Tourists from all over the world come to see the captivating castle of Jaisalmer and the rugged beauty of Thar. It's also a wonderful place to see fossils belonging to the early Jurassic period.
Jaisalmer offers a thrilling gateway to the vast and mystical Thar Desert. An amazing camel safari will make your day awesome. It takes you into the heart of the golden dunes, where the silence of the desert is only interrupted by the rhythmic footsteps of your trusted camel companion. Jaisalmer's desert adventures promise a once-in-a-lifetime encounter with nature's wonders, leaving you with unforgettable memories etched in the sands of time.
Highlights of Jaisalmer Tourism
Jaisalmer Fort: Gold Rising from the Sands!
Camel Safari in the Thar Desert: Adventure in the Dunes!
Patwon Ki Haveli: Intricate Marvels of Sandstone Architecture!
Sam Sand Dunes: Delights in the Desert!
Jain Temples: Spiritual Serenity!
Gadisar Lake: Tranquility Redefined!
Desert Cultural Centre: Rajasthan's Rich Heritage!
Kuldhara Ghost Village: Legends of the Abandoned!
Bada Bagh: Royal Resting Grounds!
Jaisalmer Folklore Museum: Rajasthan's Heritage
Rishikesh – Ganges Bliss
Nestled in the foothills of the majestic Himalayas, Rishikesh is a spiritual haven for solace seekers. The tranquil aura and profound spirituality of Rishikesh never fail to amaze the senses. Known as the Yoga Capital of the World, this enchanting town offers a serene escape from the chaos of modern life. As you practice yoga and meditation on the banks of the holy Ganges River, the melodious chants of mantras refresh your soul. Numerous ashrams and temples dot the landscape, each exuding a sense of ancient wisdom and peace.
Rishikesh is also an adventurer's paradise, filled with heart-pumping activities that cater to every thrill-seeker. Try white-water rafting through the roaring rapids of the Ganges, zip-line over lush forests, and gain a bird's-eye view of this picturesque town. For the daring souls, bungee jumping would be an unforgettable experience that leaves you breathless in more ways than one.
Indeed, Rishikesh's magnetic vibe lies in its ability to help you connect with your inner self, leaving you rejuvenated and spiritually enriched. Adventurers in Rishikesh know no bounds. You will definitely enjoy every moment.
Highlights of Rishikesh Tourism
Ganga Aarti at Triveni Ghat: Divine Holy Ganges!
River Rafting: Embrace the Rapids of Ganga!
Laxman Jhula: Suspension Bridge Connecting Serenity!
Beatles Ashram (Chaurasi Kutia): Peaceful Remnants of Musical History!
Neelkanth Mahadev Temple: Pilgrimage to Lord Shiva's Abode!
Yoga and Meditation Retreats: Nourishing Mind, Body, and Soul!
Rajaji National Park: Wildlife Exploration in Nature's Lap!
Jumping Heights: Bungee Jumping Thrills in Rishikesh!
Parmarth Niketan: For Solace Seekers!
Neer Garh Waterfall: Best Views of Nature
Delhi – Timeless Heritage, Cuisine, and Urban Delights
The enchanting city of Delhi is a beautiful world where ancient history seamlessly blends with modern marvels. It is a must-visit travel destination to explore in India. The capital of India, Delhi, captivates its visitors with its magnificent architectural marvels, bustling markets, street food, and vibrant neighborhoods.
Delhi is a culinary melting pot that seduces the taste buds with an explosion of flavors that will leave you craving for more. The narrow alleys of Chandni Chowk are a wholesome place for spicy kebabs, Parathas, and savory chaats. The memory of the buttery goodness of traditional Mughlai cuisine and the delectable sweets from the famous sweet shops of Old Delhi will never leave your mind. Witness the grandeur of the Red Fort, a UNESCO World Heritage site, as it stands proudly against the test of time. The mesmerizing Qutub Minar narrates tales of bygone eras, the serene Lotus Temple offers a tranquil escape from the crowd, and the historic Jama Masjid beckons with its spiritual serenity. If you are a city traveler, Delhi's delightful chaos will always delight your mind.
Highlights of Delhi Tourism
India Gate: Iconic Arch of Patriotism!
Qutub Minar: Ancient Marvel Touching the Skies!
Red Fort: Mughal Majesty Preserved in History!
Jama Masjid: Spiritual Serenity!
Akshardham Temple: Artistic Splendor!
Humayun's Tomb: Architectural Inspiration for the Taj Mahal!
Lotus Temple: Universal Harmony and Symbol of Solace!
Chandni Chowk: Delightfully Chaotic: Delhi's Bustling Bazaar!
National Museum: Treasures of India's Past!
Lodhi Gardens: Historical Relics!
Also Read: Famous Temples in India
Certainly, India's richness lies not only in its natural splendors but also in the warmth and hospitality of its people. Every place in India welcomes travelers with open arms and promises a journey of a lifetime. So, you should not wait for the right time. India is beautiful in all seasons. Choose amazing places from the list and enjoy a wonderful vacation in Incredible India.
Other Quick Information About Tourist Places in India
| | |
| --- | --- |
| India's Best Weekend Getaways | Lansdowne, Nainital, Shimla, Bir Billing, Ziro Valley, Dhanaulti, Ranikhet, Rishikesh, Pushkar, jaipur, Goa |
| India's Best Romantic Destinations | Jaipur, Udaipur, Munnar, Coonoor, Shimla, Dalhousie, Mussoorie, Kashmir, Ladakh, goa, Andaman Islands |
| India's Best Family Friendly Destinations | Rishikesh, Haridwar, Varanasi, Shimla, Nainital, Pondicherry, Puri, Manali, Jaipur, Udaipur, Hampi, Mahabaleshwar, Goa, Andaman Islands, Lakshadweep. |
| India's Best Spiritual Getaways | Varanasi, Hampi, Rishikesh, Kedarnath, Dwarka, Somnath, Haridwar, Dahramshala, Sarnath, Bodhgaya, Udupi, Badrinath, Jammu & Kashmir, Sikkim |
| India's Best Adventure Getaways | Rishikesh, Goa, Munnar, Kodaikanal, Sikkim, Andaman Islands, Lakshadweep, Ladakh, Manali, Auli, Spiti Valley, Gulmarg, Bir- Billing, Zanskar Valley. |
Embark on your dream getaway with up to 30% early bird discount on Bon Travel India's holiday packages. Contact us at +91-9310109466 via call or WhatsApp to learn more.
Like & follow us on our following official social media channels
Facebook | Twitter | Linkedin | Instagram | Youtube
Also Check Out: Popular India Tours | Tour Packages | India Tour Packages | International Tour Packages
International Trending Holiday Destinations – Nepal Tours | Bhutan Tours | Singapore Tour | Thailand Tours | Sri Lanka Tours | Maldives Tours | Dubai Tours | Indonesia Tours
Other Popular Trending Holiday Destinations in India – Kashmir Tour | Himachal Tour | Uttarakhand Tour | Rajasthan Tour | Gujarat Tour | Sikkim Tour | Kerala Tour | Andaman Tour | Madhya Pradesh Tour | North East Tours
Tour Packages by Interest – Adventure Packages | Wildlife Packages | Pilgrimage Packages | Heritage Packages | Hill Station Packages | Weekend Packages | Honeymoon Packages | Beach Packages | Chardham Packages | Trekking Packages
Other Interesting India Travel Guide Blogs to Read
Other Interesting Destinations Travel Guide Blogs to Read
Other Interesting Rajasthan Travel Guide Blogs to Read
Other Interesting Uttarakhand Travel Guide Blogs to Read
Other Interesting Wildlife Travel Guide Blogs to Read
Other Interesting South Travel Guide Blogs to Read
Other Interesting Adventure & Trekking Travel Guide Blogs to Read
Other Interesting Kerala Travel Guide Blogs to Read
Other Interesting International Travel Guide Blogs to Read