India, the land of spirituality and diverse cultural heritage, boasts a myriad of religious destinations that draw pilgrims and travelers from all over the world. From ancient temples to serene ghats and vibrant rituals, these places offer a unique blend of spiritual enlightenment, cultural exploration, and religious tourism in India.
India's religious places offer a diverse array of experiences that cater to both the spiritual seeker and the cultural explorer. From the ancient city of Varanasi to the serene Himalayan haven of Rishikesh, the birthplaces of Lord Rama and Krishna in Ayodhya, Mathura, and Vrindavan, and the coastal city of Dwarka, each destination holds a unique charm and significance. These places are not just points on a map; they are invitations to embark on a journey of exploration, devotion, and self-discovery.
If you are looking for perfect religious or pilgrimage getaways to spend quality and peaceful time in the divine atmosphere, here we are recommending exploring these top 6 religious destinations in India that are the current top trending destinations and a must-visit for anyone seeking a deep connection with their spiritual side and an understanding of the country's rich religious heritage.
Varanasi
Rishikesh
Dwarka
Ayodhya
Mathura
Vrindavan
Top Recommended Religious Tour Packages
1. Varanasi: The Eternal City of Spirituality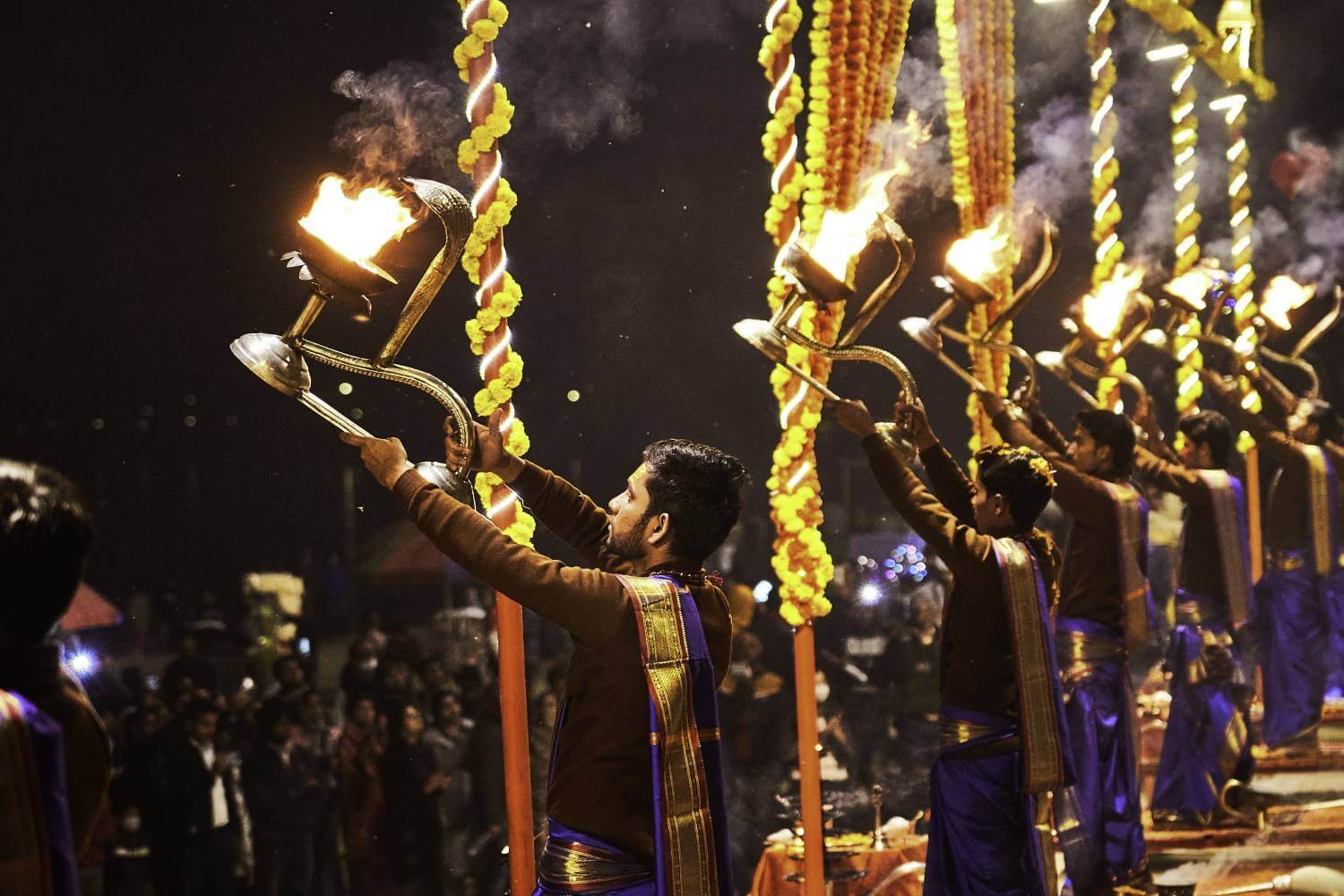 Located on the banks of the sacred River Ganges, Varanasi is undoubtedly one of the most popular religious destinations in India. This ancient city holds a special place in the hearts of Hindus and is considered one of the holiest places in the world. The ghats along the Ganges witness mesmerizing rituals, including the Ganga Aarti, a soul-stirring ceremony that attracts thousands of devotees and tourists every day. The Kashi Vishwanath Temple, dedicated to Lord Shiva, is another iconic attraction in Varanasi.
Exploring the narrow lanes, taking a boat ride along the river, and witnessing the circle of life and death at the cremation ghats are experiences that make Varanasi a must-visit destination for a religious and spiritual tour. With the opening of the Kashi Vishwanath temple corridor, religious tourism activities have suddenly increased in Varanasi, and thousands of pilgrims from all over the world are visiting Varanasi every day.
Apart from Hindu temples, Varanasi is also famous for Buddhism. Sarnath is one of the major attractions for Buddhist tourists in Varanasi.
Also Read: Famous Temples in India
2. Rishikesh: Gateway to the Himalayan Spirituality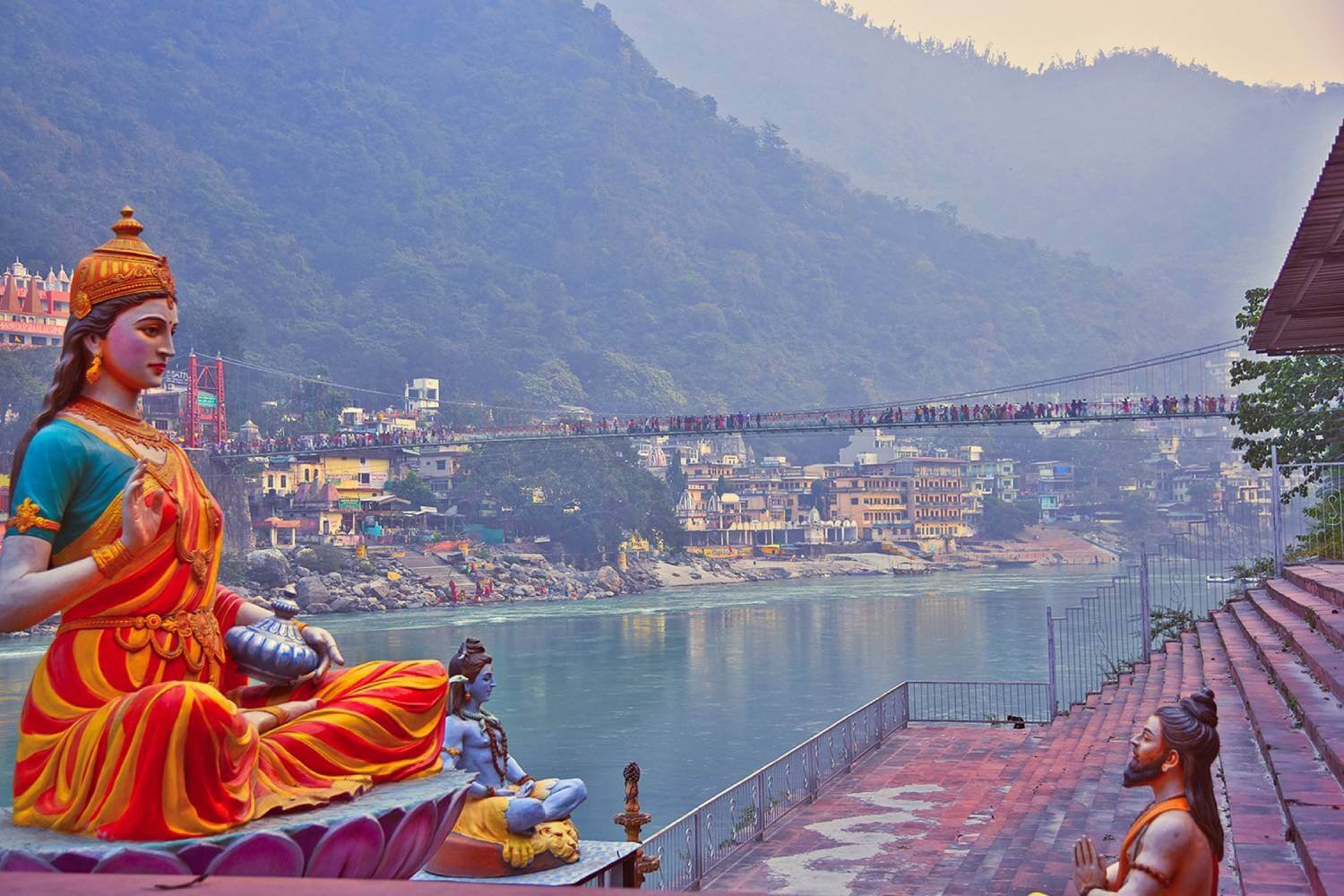 Nestled in the foothills of the Himalayas, Rishikesh is renowned as a hub of spiritual learning and yoga. This serene town is where the Ganges emerges from the mountains, and its tranquil ambiance makes it an ideal place for meditation and self-discovery. Rishikesh is dotted with ashrams and yoga centers that offer various courses and retreats for seekers of spiritual enlightenment.
But Rishikesh offers more than just spiritual experiences; it's also a paradise for adventure enthusiasts and nature lovers. The surrounding landscape is a playground for outdoor activities, and the fast-flowing Ganges River provides an opportunity for thrilling river rafting adventures. The rapids here offer different levels of challenges, making it an exciting experience for both beginners and seasoned rafters.
The Laxman Jhula and Ram Jhula suspension bridges are iconic landmarks, and the evening Ganga Aarti here is a sight to behold, casting a sense of mysticism over the flowing waters of the Ganges. Rishikesh is not just a pilgrimage destination; it's a spiritual journey that connects you with nature, your inner self, and the thrill of adventure. Whether you're seeking inner peace or an adrenaline rush, Rishikesh offers a diverse and fulfilling experience for every kind of traveler.
Also Read: Chardham Yatra Travel Guide
3. Dwarka: City of Lord Krishna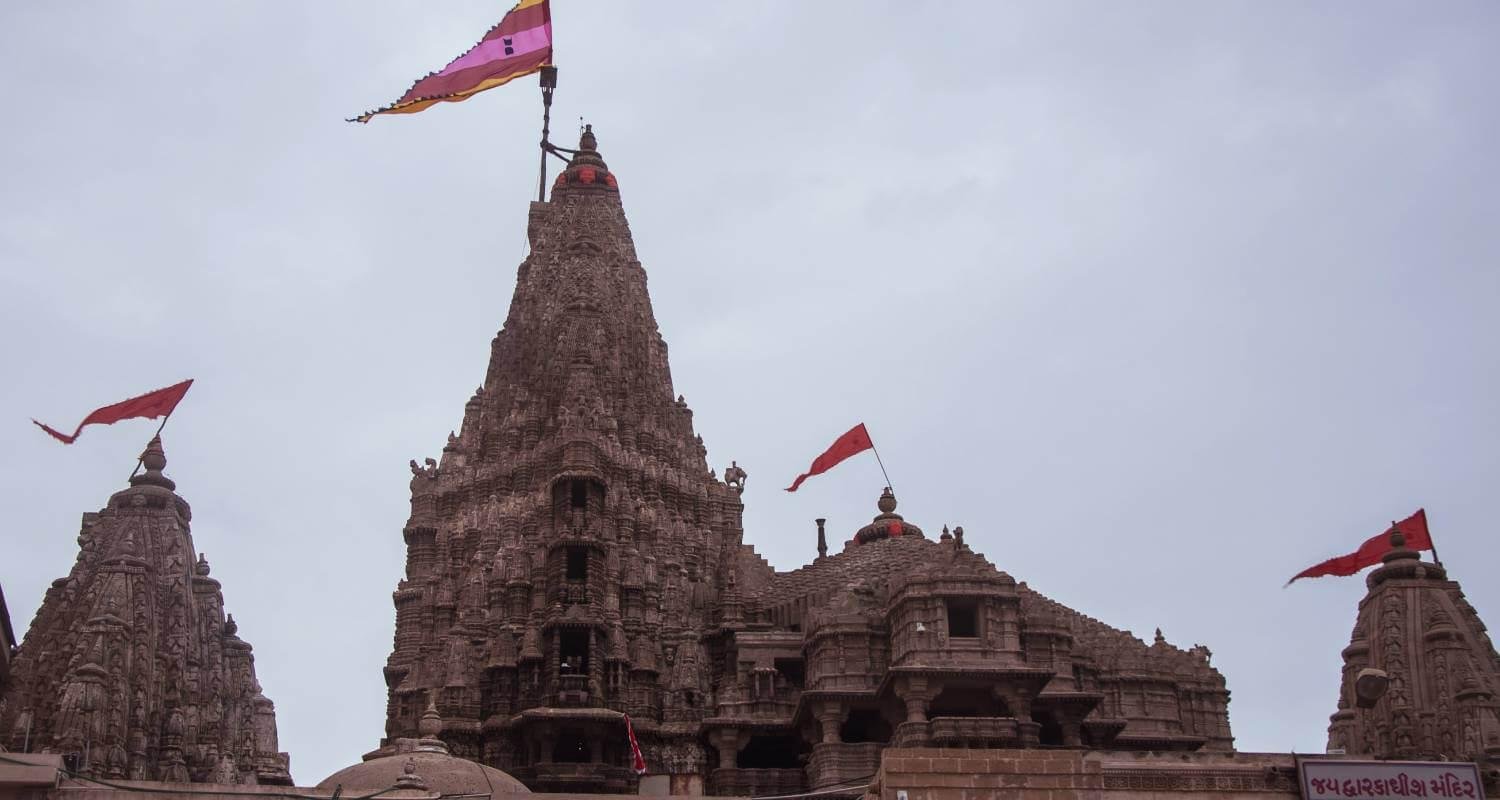 Dwarka, situated on the western coast of India, is believed to be the legendary kingdom of Lord Krishna, making it a popular pilgrimage destination in Gujarat. The Dwarkadhish Temple, dedicated to Krishna, is the main attraction here, showcasing intricate architecture and carvings that are a testament to the region's rich cultural heritage. The city's connection to Krishna's life and legends adds a layer of devotion and intrigue for visitors, making it a significant stop on any Gujarat pilgrimage tour. Dwarka is not just a pilgrimage site; it's a spiritual voyage that allows you to delve deep into the stories of Krishna and experience the divine energy that permeates the air.
If you are planning a visit to a pilgrimage getaway in India, then Dwarka is a must-included place in your travel bucket list.
Also Read: Top Places to Visit in Gujarat
4. Ayodhya: The Birthplace of Lord Rama
Ayodhya, a city steeped in the epic Ramayana, holds immense significance for Hindus as the birthplace of Lord Rama. The city's landscape is adorned with temples, each narrating a part of Rama's story. Ayodhya's cultural and religious heritage is reflected in its temples, ghats, and festivals. Exploring Ayodhya is like embarking on a historical and spiritual journey that connects the past with the present.
It is expected that the long-awaited under-construction Lord Rama temple will be completed by the end of this year and will be inaugurated in January 2024. It is anticipated that more than 2 million devotees will visit Shri Ayodhya Ram Janm Bhumi to witness the grand opening of the temple and catch a glimpse of Lord Rama and seek his blessings.
So, if you are also planning a religious trip in India, make sure to include Ayodhya in your upcoming travel itinerary.
Also Read: Pilgrimage Tourism in India
5. Mathura: Immerse in Krishna's Leela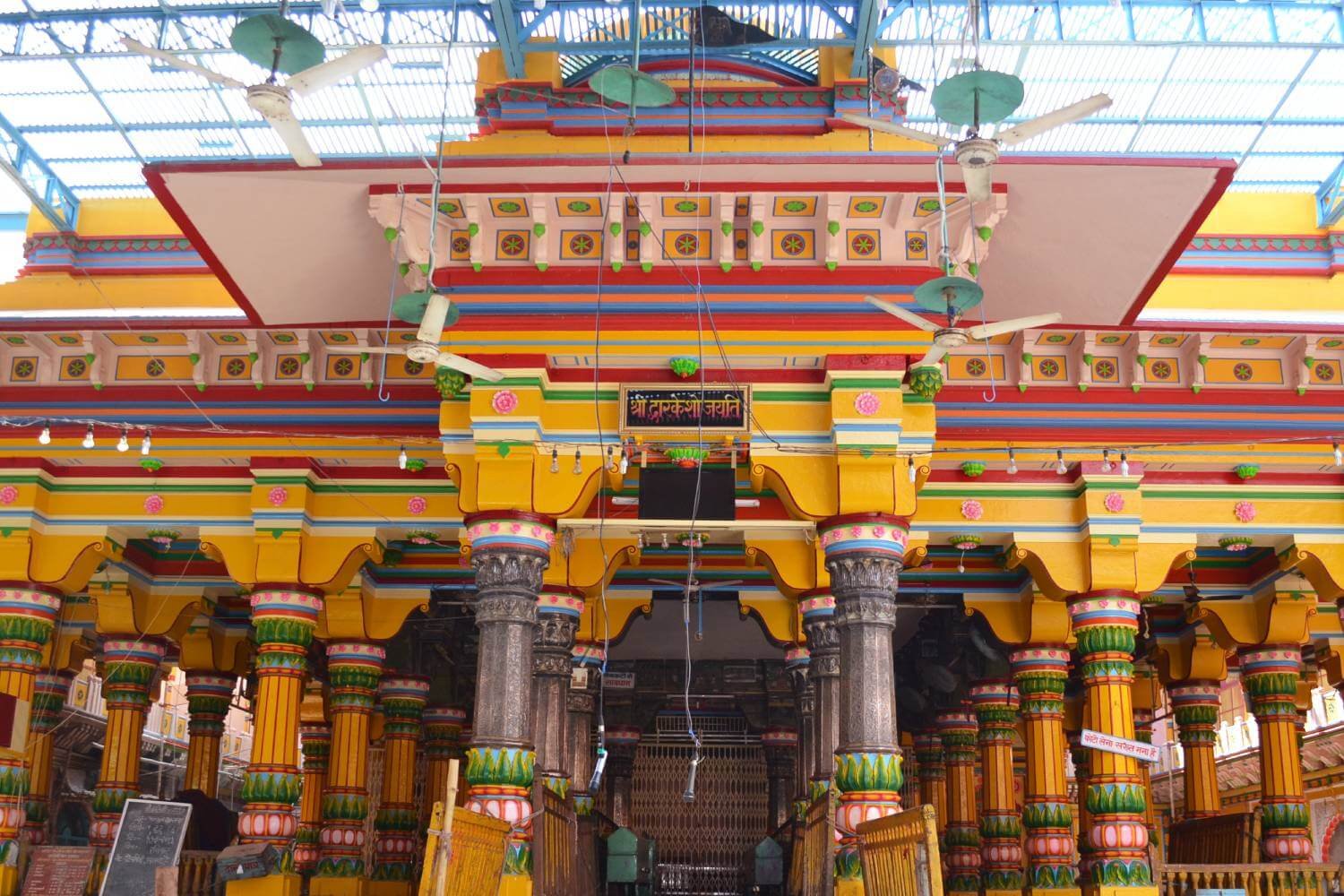 Mathura, synonymous with the playful antics of Lord Krishna, is a vibrant city that exudes devotion and charm. As the birthplace of Krishna, Mathura is dotted with temples that depict various stages of Krishna's life. The Krishna Janmabhoomi Temple is a major attraction, and the lively celebrations during Janmashtami, Krishna's birthday, are a sight to behold. The city's bustling markets offer a chance to take home souvenirs that celebrate Krishna's leela (divine play). Mathura's ambiance is a perfect blend of spirituality and cultural exploration.
Also Read: Badrinath Kedarnath Yatra Travel Guide
6. Vrindavan: Where Krishna's Love Blossomed
Adjacent to Mathura, Vrindavan is where Lord Krishna spent his youthful days, enthralling everyone with his divine love. The city is dotted with temples, each dedicated to a specific incident from Krishna's life. The Banke Bihari Temple, known for its unique devotional practices, and the ISKCON temple are among the most popular ones. Vrindavan's rustic charm, colorful celebrations, and the spirit of devotion that permeates the air make it a must-visit for anyone seeking to connect with Krishna's love and spirituality.
Also Read: Kedarnath Pilgrimage Information
A religious tour to these top 6 destinations in India promises to be a transformative experience, weaving together the threads of spirituality, culture, and history into a rich tapestry of human experience.
Enjoy up to a 30% early bird discount on religious tour packages provided by Bon Travel India. For further inquiries, please call or message us on WhatsApp at +91-9310109466.
Like & follow us on our following official social media channels
Facebook | Twitter | Linkedin | Instagram | Youtube
Also Check Out: Popular India Tours | Tour Packages | India Tour Packages | International Tour Packages
International Trending Holiday Destinations – Nepal Tours | Bhutan Tours | Singapore Tour | Thailand Tours | Sri Lanka Tours | Maldives Tours | Dubai Tours | Indonesia Tours
Other Popular Trending Holiday Destinations in India – Kashmir Tour | Himachal Tour | Uttarakhand Tour | Rajasthan Tour | Gujarat Tour | Sikkim Tour | Kerala Tour | Andaman Tour | Madhya Pradesh Tour | North East Tours
Tour Packages by Interest – Adventure Packages | Wildlife Packages | Pilgrimage Packages | Heritage Packages | Hill Station Packages | Weekend Packages | Honeymoon Packages | Beach Packages | Chardham Packages | Trekking Packages
Other Interesting India Travel Guide Blogs to Read
Other Interesting Destinations Travel Guide Blogs to Read
Other Interesting Rajasthan Travel Guide Blogs to Read
Other Interesting Uttarakhand Travel Guide Blogs to Read
Other Interesting Wildlife Travel Guide Blogs to Read
Other Interesting South Travel Guide Blogs to Read
Other Interesting Adventure & Trekking Travel Guide Blogs to Read
Other Interesting Kerala Travel Guide Blogs to Read
Other Interesting International Travel Guide Blogs to Read