Spending holidays in the lap of nature gives one a unique experience that can never be explained in words. If you are looking for the best hill station getaways for the upcoming vacation, then what could be better than Kerala? Kerala, with its captivating hill stations, has rightfully earned its place as one of the top destinations in South India for a memorable vacation. Whether you are a nature lover, an adventure enthusiast, a honeymooner, or simply seeking solace, the hill stations of Kerala offer a diverse range of experiences to suit every traveler's preferences. The breathtaking hill stations of Kerala offer a perfect escape from the hustle and bustle of city life. With cool and cozy weather, stunning vistas, and a tranquil ambiance, the hill stations of Kerala have become trending holiday destinations in India for tourists, families, and honeymooners alike.
Here is a travel guide of the top 6 hill stations to explore in Kerala that should be on your bucket travel list when planning a trip to Kerala.
Munnar
Vagamon
Idukki
Athirapally
Vythiri
Ponmudi
Plan Your Dream Kerala Getaway! Get up to 30% Early Bird Discount on Kerala Tour Packages from Bon Travel India. Call/WhatsApp: +91-9310109466.
Munnar – The Enchanting Gateway to Paradise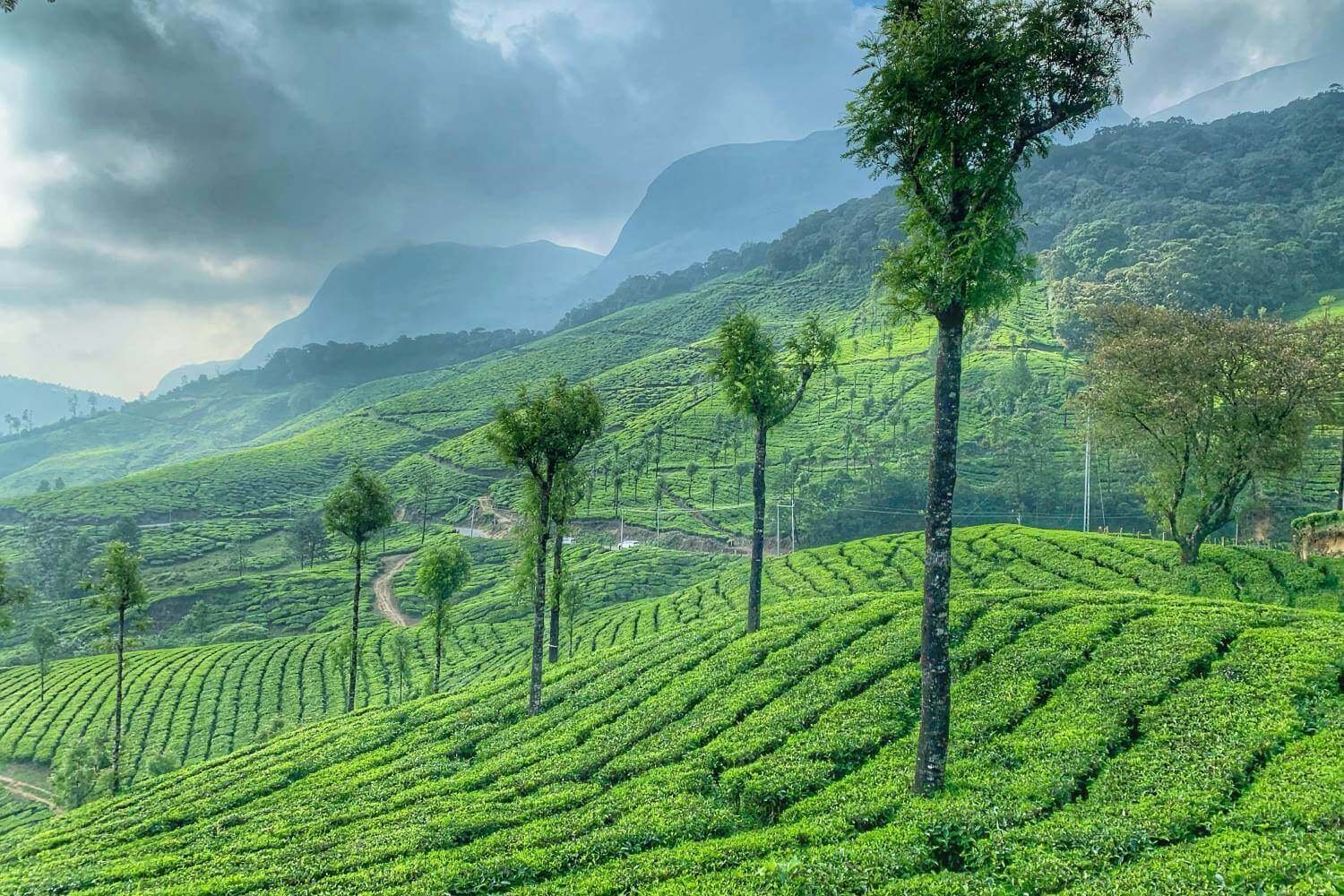 Munnar, often hailed as the "Kashmir of South India," tops the list of the best hill stations to visit in Kerala. Situated at the confluence of three mountain streams, this picturesque destination boasts rolling hills covered with emerald tea plantations, mist-laden valleys, and enchanting waterfalls. The cool climate and refreshing aroma of tea leaves in the air make it an ideal hill spot for a rejuvenating vacation.
Top Things to Do in Munnar
Visit the Eravikulam National Park to catch a glimpse of the endangered Nilgiri Tahr.
Explore the lush tea estates and learn about the tea-making process at the Tata Tea Museum.
Admire the beauty of Mattupetty Dam and enjoy a boat ride in its serene waters.
Trek to Anamudi, the highest peak in South India, for a thrilling experience.
Witness the breathtaking panoramic views from the Echo Point.
Also Read: Top Things to Do in Kerala
Vagamon – A Hidden Gem Amidst Meadows and Hills
Vagamon, a relatively lesser-known hill station in Kerala, is a perfect hideaway for those seeking tranquility amidst nature's bounty. Surrounded by lush green meadows, pine forests, and cascading waterfalls, Vagamon offers a serene environment that is ideal for meditation and introspection. The pleasant climate throughout the year adds to the charm of this offbeat destination.
Top Things to Do in Vagamon
Take a stroll through the picturesque Pine Valley for a rejuvenating experience.
Experience the thrill of paragliding and witness the breathtaking aerial views of the landscape.
Visit the enchanting Vagamon Kurisumala, a Christian pilgrimage center with stunning views.
Trek to the top of Thangal Hill, an important religious site for Muslims, to enjoy the panoramic vista.
Relax by the tranquil Vagamon Lake and enjoy a boat ride.
Also Read: Best Places to Visit in Alleppey Kerala
Idukki – The Land of Dams and Wildlife Sanctuaries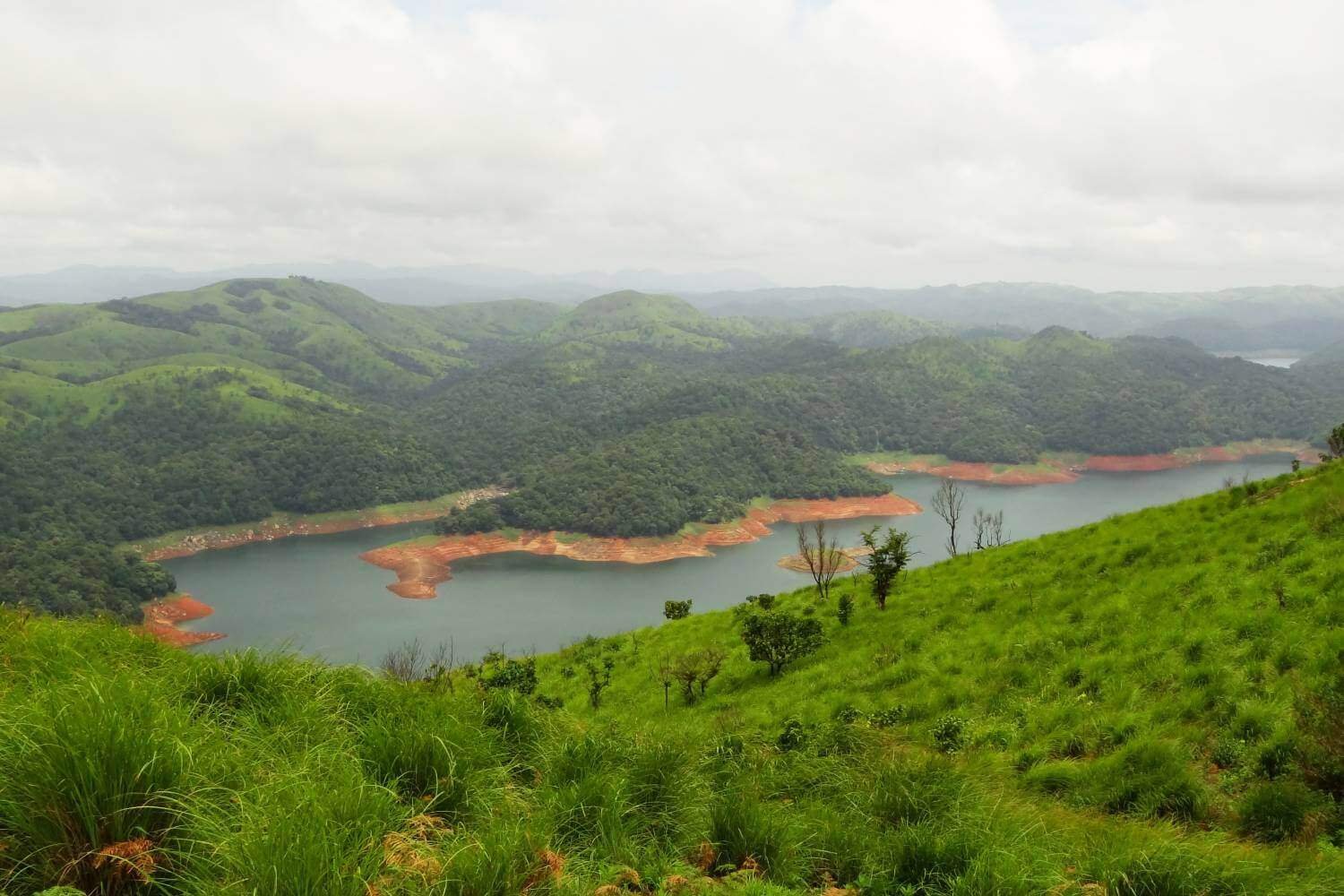 Idukki, the second-largest district in Kerala, is a nature lover's paradise. The region boasts a diverse landscape with dense forests, misty mountains, and glistening rivers. Idukki is famous for its numerous dams, including the Idukki Arch Dam, one of the largest arch dams in Asia. Besides, it houses several wildlife sanctuaries, making it a must-visit destination for nature enthusiasts.
Top Things to Do in Idukki
Explore the Idukki Wildlife Sanctuary and spot various wildlife species in their natural habitat.
Visit the Hill View Park for panoramic views of Idukki Dam and the surrounding hills.
Trek to Ramakkalmedu, known for its picturesque landscapes and the gigantic windmills.
Enjoy a boat cruise in the serene Periyar Lake at Thekkady.
Pay a visit to the Kurinjimala Sanctuary, famous for its blossoming of Neelakurinji flowers once every 12 years.
Also Read: Best Places to Visit in Kovalam Kerala
Athirapally – Where Nature Unleashes Its Majesty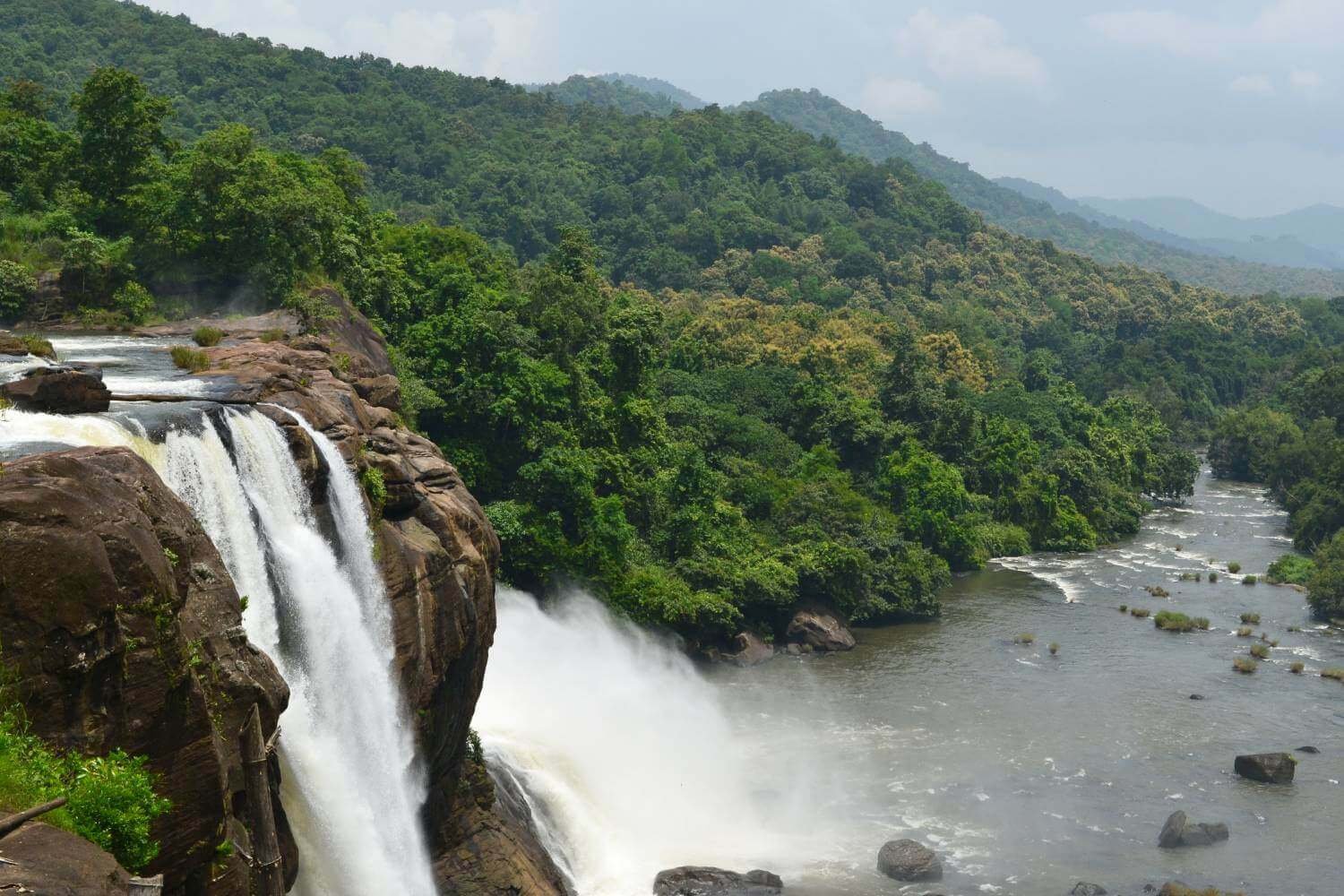 The cascading Athirapally Waterfalls, often referred to as the "Niagara of India," is the highlight of this captivating hill station in Kerala. Situated amidst lush Sholayar forests, the waterfalls create a breathtaking spectacle that attracts visitors from far and wide. The surrounding landscapes offer plenty of opportunities for nature walks and trekking, making Athirapally an ideal destination for nature enthusiasts.
Top Things to Do in Athirapally
Witness the grandeur of Athirapally Waterfalls and Vazhachal Waterfalls in their full glory.
Embark on a thrilling trek to the nearby Sholayar forests and explore the diverse flora and fauna.
Take a boat ride in the tranquil waters of the Chalakudy River.
Visit the Thumboormuzhi Dam and Butterfly Garden for a serene experience.
Explore the picturesque surroundings of Charpa Falls and its nearby tea gardens.
Also Read: Top Tourist Destinations of Kerala
Vythiri – A Serene Haven in Wayanad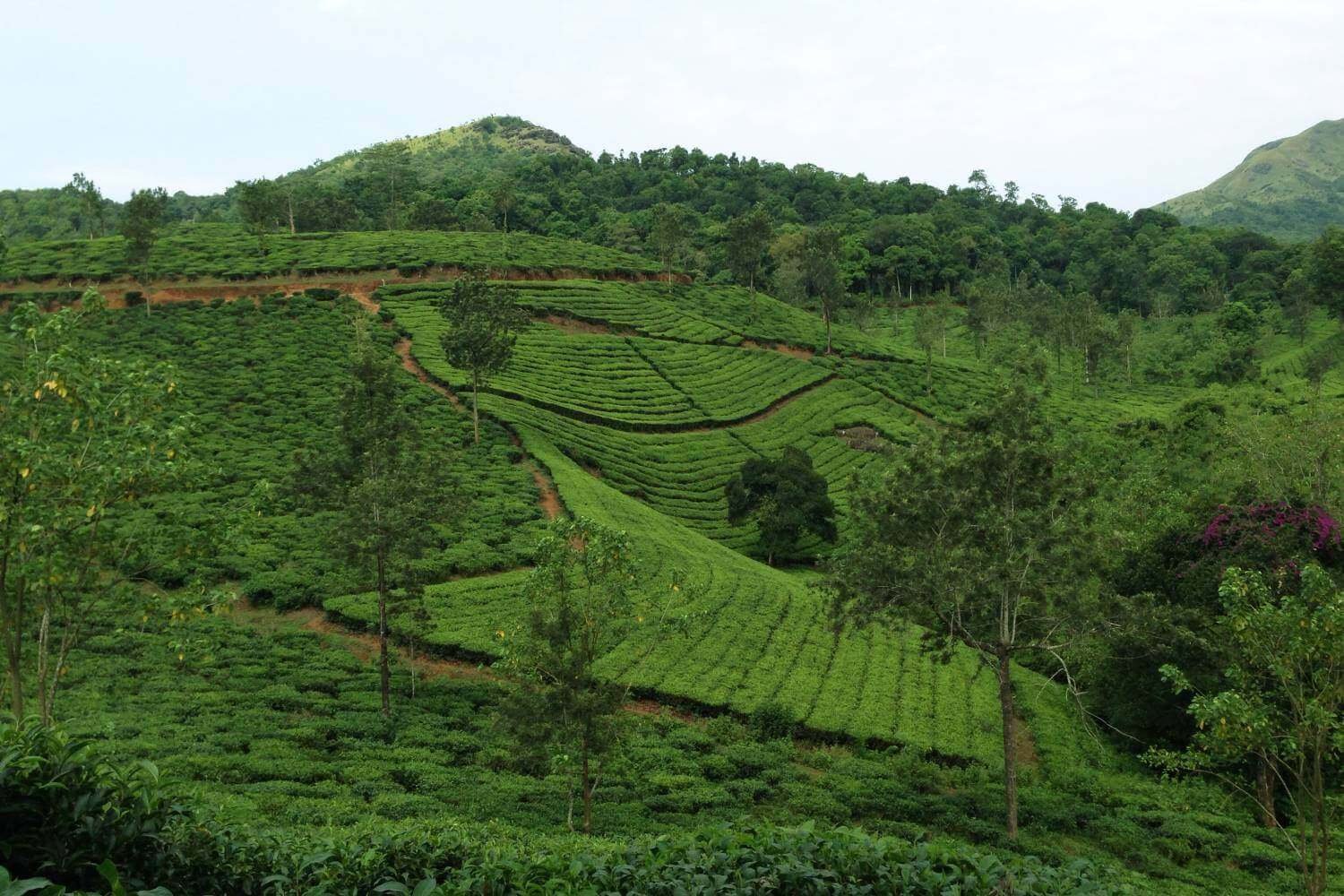 Perched at an altitude of 700 meters above sea level, Vythiri is a charming hill station tucked away in the Wayanad district of Kerala. Surrounded by thick forests and coffee plantations, this destination offers a perfect blend of tranquility and adventure. The pleasant weather and breathtaking landscapes make Vythiri an ideal spot for a family vacation or a romantic honeymoon in Kerala.
Top Things to Do in Vythiri
Explore the Wayanad Wildlife Sanctuary and spot various exotic wildlife species.
Take a dip in the natural pools at Pookode Lake and enjoy boating in its serene waters.
Visit the Lakkidi Viewpoint and marvel at the scenic beauty of the surrounding hills and valleys.
Engage in adventurous activities like zip-lining, rock climbing, and trekking.
Discover the ancient Edakkal Caves and their fascinating rock carvings.
Ponmudi – The Golden Peak of Kerala
Ponmudi, located just a short drive away from Thiruvananthapuram, is a lesser-known yet enchanting hill station that is sure to captivate your senses. The golden rays of the rising sun add a magical touch to the misty hills of Ponmudi, making it a favorite spot for photographers and nature enthusiasts. With winding pathways, lush green landscapes, and tea gardens, Ponmudi offers an idyllic retreat for travelers seeking a quiet escape.
Top Things to Do in Ponmudi
Trek to Agasthyakoodam, one of the highest peaks in the Western Ghats, for an exhilarating experience.
Visit the Golden Valley to witness the picturesque beauty of meadows and water streams.
Enjoy a leisurely walk along the beautiful Meenmutty Falls.
Discover the rich flora and fauna of Peppara Wildlife Sanctuary.
Take a scenic drive through the mesmerizing tea gardens of Ponmudi.
Also Read: Top Summer Hill Stations of India
Embrace the beauty of Kerala's hill stations and create unforgettable memories that will stay etched in your heart forever. So, pack your bags and embark on a journey to explore the stunning hill stations of Kerala – a land that promises a getaway like no other.
Explore Popular Kerala Tour Packages
Like & follow us on our following official social media channels
Facebook | Twitter | Linkedin | Instagram | Youtube
Also Check Out: Popular India Tours | Tour Packages | India Tour Packages | International Tour Packages
International Trending Holiday Destinations – Nepal Tours | Bhutan Tours | Singapore Tour | Thailand Tours | Sri Lanka Tours | Maldives Tours | Dubai Tours | Indonesia Tours
Other Popular Trending Holiday Destinations in India – Kashmir Tour | Himachal Tour | Uttarakhand Tour | Rajasthan Tour | Gujarat Tour | Sikkim Tour | Kerala Tour | Andaman Tour | Madhya Pradesh Tour | North East Tours
Tour Packages by Interest – Adventure Packages | Wildlife Packages | Pilgrimage Packages | Heritage Packages | Hill Station Packages | Weekend Packages | Honeymoon Packages | Beach Packages | Chardham Packages | Trekking Packages
Other Interesting India Travel Guide Blogs to Read
Other Interesting Destinations Travel Guide Blogs to Read
Other Interesting Rajasthan Travel Guide Blogs to Read
Other Interesting Uttarakhand Travel Guide Blogs to Read
Other Interesting Wildlife Travel Guide Blogs to Read
Other Interesting South Travel Guide Blogs to Read
Other Interesting Adventure & Trekking Travel Guide Blogs to Read
Other Interesting Kerala Travel Guide Blogs to Read
Other Interesting International Travel Guide Blogs to Read