Uttarakhand is undoubtedly one of the most exotic states in India, offering snow-capped mountains and lush green woods that will leave you dazed with their beauty. When it comes to waterfalls, Uttarakhand serves some of the best gems on its plate for us. If you are someone who wants to rejuvenate your mind and soul away from busy cities, then this place was made for you. With so many beautiful waterfalls in Uttarakhand, it would be unfair for you to miss such an opportunity.
In this article, we will discuss some of the hidden but breathtaking secrets of Uttarakhand. If you are someone who wants to enjoy all those cascading water sparks, then scroll down to get the best out of your next trip. So, without further ado, let's get started.
Kempty Waterfalls, Mussoorie
Vasudhara Falls, Mana
Tiger Waterfalls, Chakrata
Sahastradhara Waterfalls, Dehradun
Corbett Waterfalls, Corbett
Birthi Falls, Munsiyari
Bhatta Falls, Mussoorie
Mossy Fall, Mussoorie
Moigad Waterfalls, Chakrata
Garud Chatti Waterfall, Rishikesh
Neer Gaddu Waterfall, Rishikesh
Padampuri Waterfall
Unlock Up to 30% Early Bird Discount on Uttarakhand Holiday Packages! Book now with Bon Travel India. For more details, call or WhatsApp at +91-9310109466.
Kempty Waterfalls
Kempty Waterfalls, also known for its milky water, were first established for tea parties. Located in the laps of Mussoorie valleys, these falls have become an ideal destination for enjoying picnics. This waterfall is one of the must-visit tourist destinations in Uttarakhand. There's also a man-made pond nearby where you can enjoy a good time boating in isolation. If you are a good swimmer, we would highly recommend you take a bath in these milky falls.
Location: Lakehead, Kempty, Mussoorie, Uttarakhand
Height: 4500 ft
Also Read: Top Places to Visit in Uttarakhand
Tiger Waterfalls
Tiger Falls is one of the most fun places to explore in Uttarakhand. Located in Chakrata, it offers visitors a long and rejuvenating bath. This waterfall converges into a small pond surrounded by woods and valleys, giving the most Disney fairytale vibes. Though you might find it isolated from tourism, if you are a peace lover, these falls will quench your thirst for tranquility. There is a trek route to the falls where you get to experience all those scenic views and click some good pictures with your peers.
Location: Kanaser Range, Chakrata, Uttarakhand
Height: 312 ft
Also Read: Badrinath Kedarnath Yatra Travel Guide
Sahastradhara Waterfalls
This beautiful and exotic waterfall is located 11 km away from Dehradun. If you are looking for a herbal bath, then these falls which contain sulfur can be your ideal destination! This waterfall offers the best sight of the Baldi river and the caves surrounding it. Being the gateway to Dehradun, the place is always filled with picnic lovers. It is recommended to visit during monsoon season when the river is at its peak.
Location: Dehradun, Uttarakhand
Height: 32 ft
Corbett Waterfalls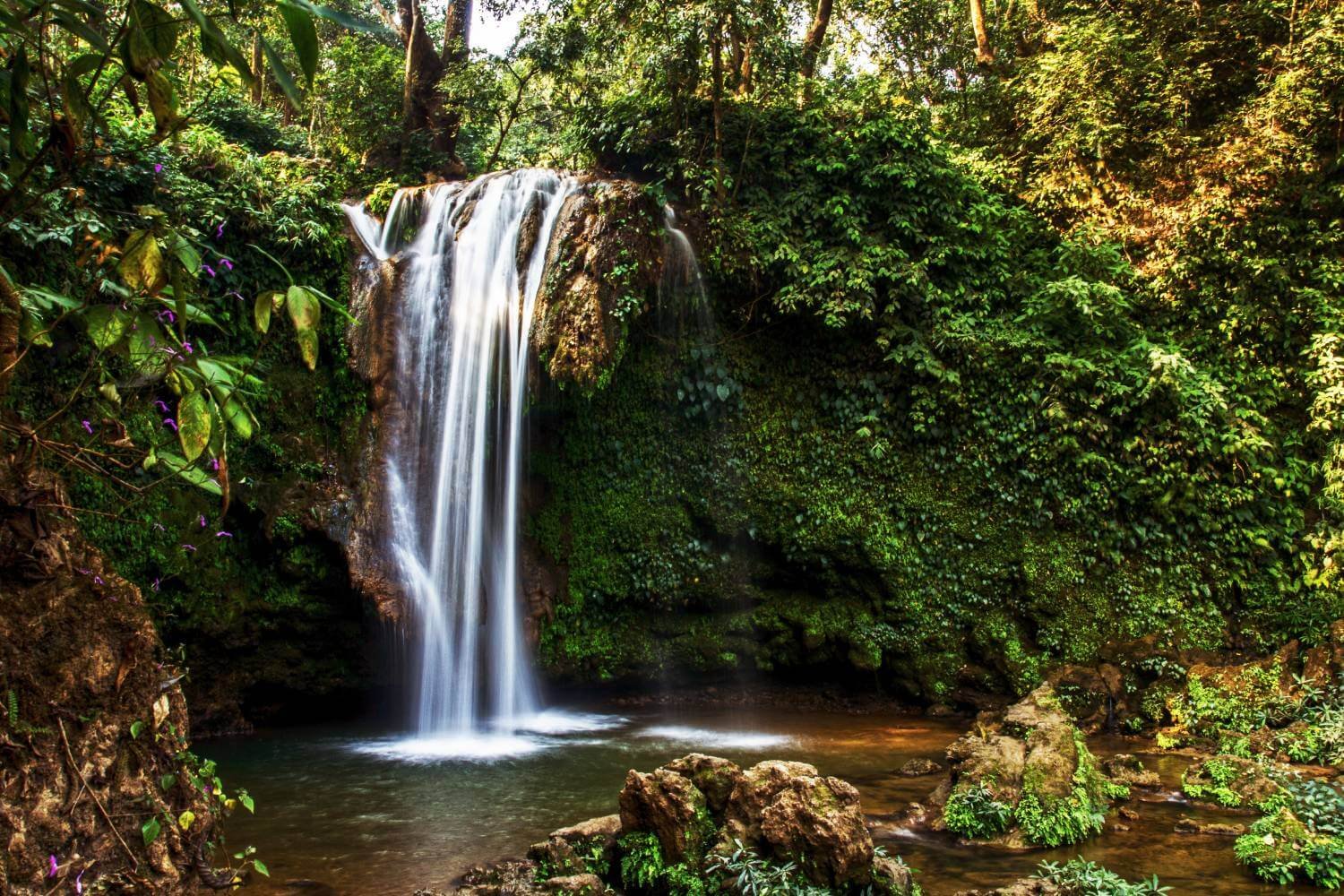 Corbett Waterfalls are famous among camping enthusiasts. You can spend quality time with your peers by taking the nature sighting tour near these peaceful falls. The waterfall is surrounded by deep forests or woodlands, giving it a scenic view. The forest department has provided all the necessities you need for camping or hiking. And if you are done with your hiking, you can always visit the temples and museums nearby.
Location: Nainital Rd, Nayagaon Julfikar, Uttarakhand
Height: 66 ft
Birthi Waterfalls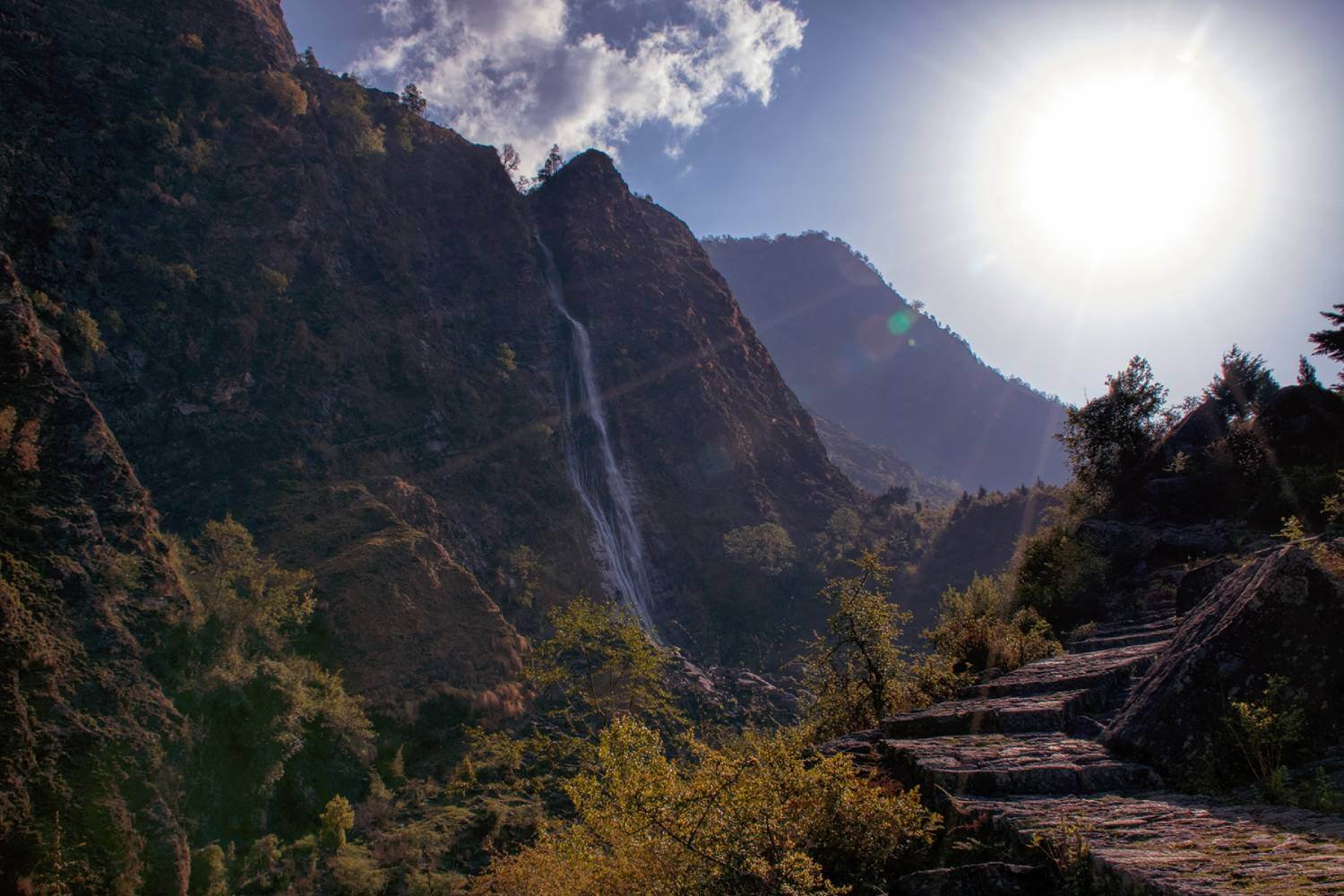 Birthi Waterfalls are perfect for someone who wants to take pictures while bathing in a waterfall with the breathtaking beauty of the Himalayas in the background. Many people from other countries come to enjoy the colossal water of this beautiful waterfall. The falls have become one of the top sightseeing places in Uttarakhand. We would suggest visiting between September to June.
Location: Munsiyari Road, Uttarakhand
Height: 400 ft
Also Read: Best Places to Visit in Almora Hill Station
Vashudhra Waterfalls
Vasudhara Waterfalls is a must-add to your tour list if you are a nature addict. The captivating beauty and the adventurous trek these falls provide make them one of the most visited tourist destinations. We would recommend you carry water bottles and all small necessities with you, as there are no shops on the trek route. You will be able to catch glimpses of many magnificent mountain ranges like Chaukhamba, Nilkantha, and Balakun peaks.
Location: 6 km from Mana Village, Uttrakhand
Height: 400 ft
Also Read: Auli Hill Station Travel Guide
Bhatta Waterfalls
Bhatta Falls has become a major hangout spot in Mussoorie. The sight is breathtaking, and one can go to the pond nearby for a refreshing bath. The mainstream is filled with algae, so it is always recommended to take your kids to the nearby pond. With all those exhilarating slopes and swings, the place is heaven for kids. There is a ropeway from Bhatta Village connecting to the falls. If you want some adventure, you can trek there for an exquisite experience.
Location: Mussoorie Rd, Bhatta Gaon, Mussoorie, Uttarakhand
Height: 30 ft
Mossy Waterfalls
Mossy Waterfalls are located in the lap of magnificent mountain ranges and exotic woodlands. The mossy waterfall is a little hidden secret of Uttarakhand, offering a sense of euphoria, taking you away from your busy city lives. You will be able to witness an exquisite sight of Shivalinga continuously drenching under the flowing water. If you are okay with a little more adventure, you can hike the rough terrain to Mossy Lake. We would recommend taking your cameras with you as the sight is breathtaking at the lake.
Location: Barlow Ganj, Mussoorie, Uttarakhand
Height: 145 ft
Also Read: Top Hill Stations to Explore in Uttarakhand
Moigad Waterfalls
Moigad Waterfalls, with its milky water, attracts several tourists from all over the world. The waterfall is famous for its scenic views and picnic sites. These relaxing and quaint falls offer tranquil and rejuvenating baths. We would recommend avoiding the monsoon and winter seasons because the roads get worse during the rain. Winters can be too cold to enjoy this waterfall.
Location: Chakrata, Uttarakhand
Garud Chatti Waterfalls
You will fall in love with Garud Chatti Waterfalls at first sight. Located in Rishikesh and surrounded by woods and pine trees, it is very small in comparison to other waterfalls, but the water cascading in the form of seven different streams and a natural pool is very attractive. The falls are named after Garud Temple near the highway. We recommend you take your cameras on this trip because of the exhilarating landscape it offers.
Location: Rishikesh, Uttarakhand
Also Read: Char Dham Yatra Travel Guide
Neer Gaddu Waterfalls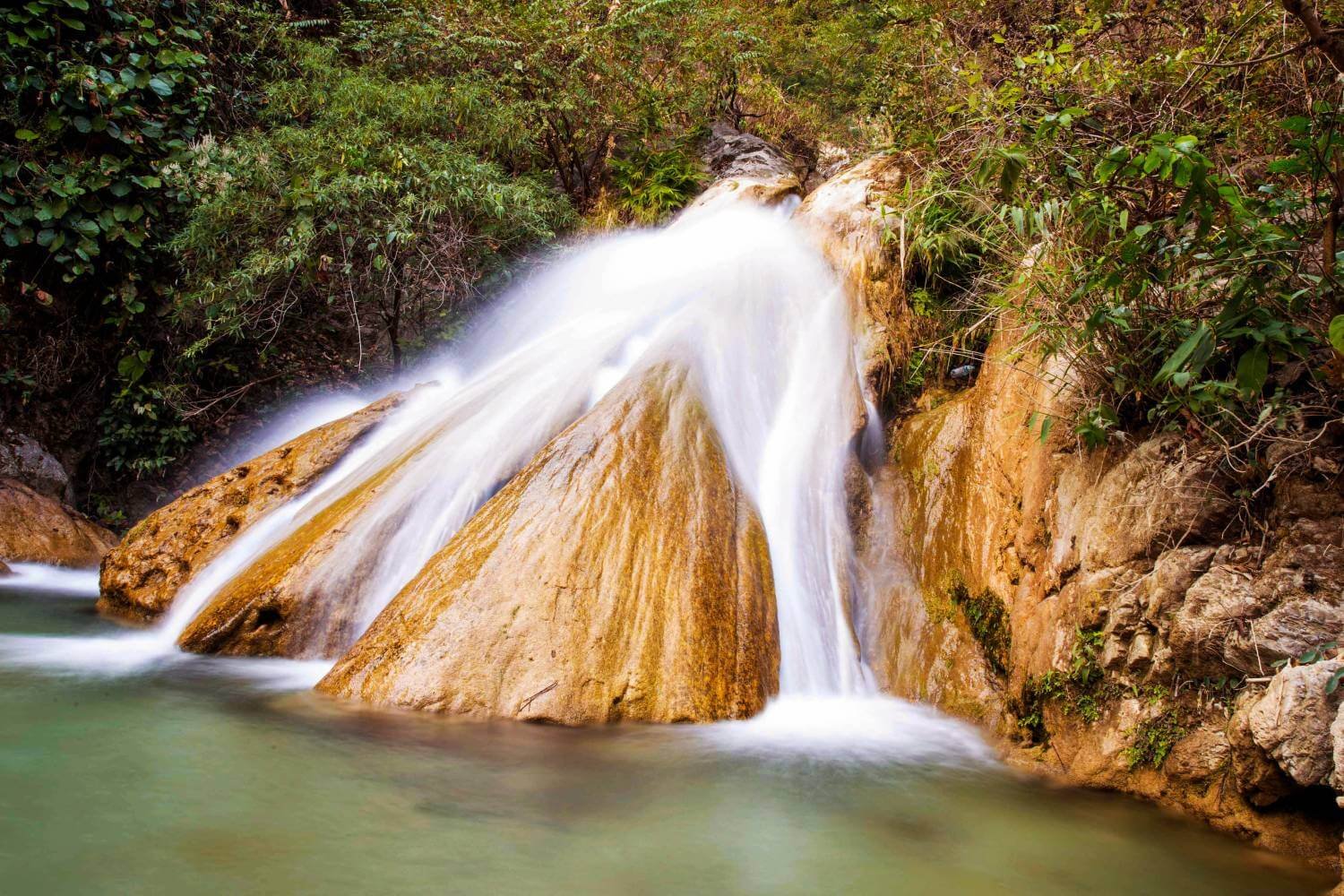 Neer Gaddu Waterfalls, a two-tier waterfall, is blessed with two unique ponds where you can take your time bathing in the milky water. And if you find these falls too crowded for you, you can always trek one kilometer to a smaller pond situated in the village nearby. There, you can bathe, dip your feet in the chilled water, and watch many butterflies fluttering around wildflowers. We would recommend planning your trip after the monsoon, as you will get to take in the views of this enormous waterfall cascading from the verdant hill.
Location: Neer Garh Waterfall Rd, Rishikesh, Uttarakhand
Height: 25 ft
Also Read: Best Places to Visit in Mussoorie
Padampuri/ Bhalu Gaad Waterfalls
Padampuri/ Bhalu Gaad Waterfalls are famous for their exotic beauty and bird watching. This waterfall is named 'Bhalu,' which means 'bear,' because of the frequent sightings of bears in the area. This crystal-clear stream converges into a big pond, where many tourists enjoy and play in the water. This unexplored waterfall is a hidden treasure situated near Mukteshwar in Nainital. We would highly recommend bringing some extra pairs of clothes so you can have fun bathing in the freshwater.
Location: Dhari Village, Padampuri
Height: 55 ft
Also Read: Top Things to Do in Uttarakhand
These are some of the most beautiful waterfalls in Uttarakhand to visit with your peers. However, if you are planning a trip during peak seasons, then it is critical to book hotels online before departure. We would suggest renting a knowledgeable and flexible travel guide who can make sure that you do not miss any must-visit falls. The trip was exhilarating for us, and we wish you good luck on your journey too!
Embark on Unforgettable Journeys: Discover Top Tour Packages for Uttarakhand
Most Frequently Asked Questions
How many waterfalls are in Uttarakhand?
There are around 17 popular waterfalls in Uttarakhand.
Which are the best waterfalls to visit near Dehradun?
There are 9 scenic waterfalls in Dehradun District.
Neer Garh Waterfall
Kempty Waterfall
Tiger Falls
Bhatta Falls
Patna Waterfall
Jharipani Falls
Mossy Falls
Shikhar Falls
Maldevta Waterfalls
Which are the best waterfalls to visit near Rishikesh?
There are 10 top waterfalls near Rishikesh-
Garud Chatti Waterfall
Patna Waterfall
Neer Garh Waterfall
Phool Chatti Waterfall
Himshail Waterfall
Bhatta Falls
Kempty Falls
Tiger Falls
Corbett Falls
Vasudhara Falls
Like & follow us on our following official social media channels
Facebook | Twitter | Linkedin | Instagram | Youtube
Also Check Out: Popular India Tours | Tour Packages | India Tour Packages | International Tour Packages
International Trending Holiday Destinations – Nepal Tours | Bhutan Tours | Singapore Tour | Thailand Tours | Sri Lanka Tours | Maldives Tours | Dubai Tours | Indonesia Tours
Other Popular Trending Holiday Destinations in India – Kashmir Tour | Himachal Tour | Uttarakhand Tour | Rajasthan Tour | Gujarat Tour | Sikkim Tour | Kerala Tour | Andaman Tour | Madhya Pradesh Tour | North East Tours
Tour Packages by Interest – Adventure Packages | Wildlife Packages | Pilgrimage Packages | Heritage Packages | Hill Station Packages | Weekend Packages | Honeymoon Packages | Beach Packages | Chardham Packages | Trekking Packages
Other Interesting India Travel Guide Blogs to Read
Other Interesting Destinations Travel Guide Blogs to Read
Other Interesting Rajasthan Travel Guide Blogs to Read
Other Interesting Uttarakhand Travel Guide Blogs to Read
Other Interesting Wildlife Travel Guide Blogs to Read
Other Interesting South Travel Guide Blogs to Read
Other Interesting Adventure & Trekking Travel Guide Blogs to Read
Other Interesting Kerala Travel Guide Blogs to Read
Other Interesting International Travel Guide Blogs to Read