Jaipur, also known as the Pink City, the capital of the Royal State of India, Rajasthan, is a city steeped in history, brimming with culture, and alive with color. Jaipur is a traveler's paradise, offering a plethora of experiences that are bound to enchant and fascinate everyone for ages. From majestic palaces and forts to bustling markets and vibrant streets, Jaipur should be on your bucket list at least once. The old-world charm, along with the colorful sights, will undoubtedly make your holidays special. Even if you don't visit any tourist spots, just sitting in a corner and observing people and their activities throughout the day, you will realize how the city and its people captivate travelers with their beauty. In this blog, we'll take you on a journey through the best places to visit in Jaipur so that you can plan your itinerary whenever you visit this Royal City!
List of 12 Best Places to Visit in Jaipur, Rajasthan
Amer Fort
City Palace
Hawa Mahal
Jantar Mantar
Albert Hall Museum
Ram Niwas Garden
Nahargarh Fort
Jaigarh Fort
Birla Temple
Jal Mahal
Galtaji Temple
Sisodia Rani Garden
Discover the Royal Heritage of Rajasthan with Exclusive Early Bird Discounts by Bon Travel India! Call or WhatsApp now at +91-9310109466 for Unforgettable Rajasthan Tour Packages!
Amer Fort – Unveiling the Mysteries of Time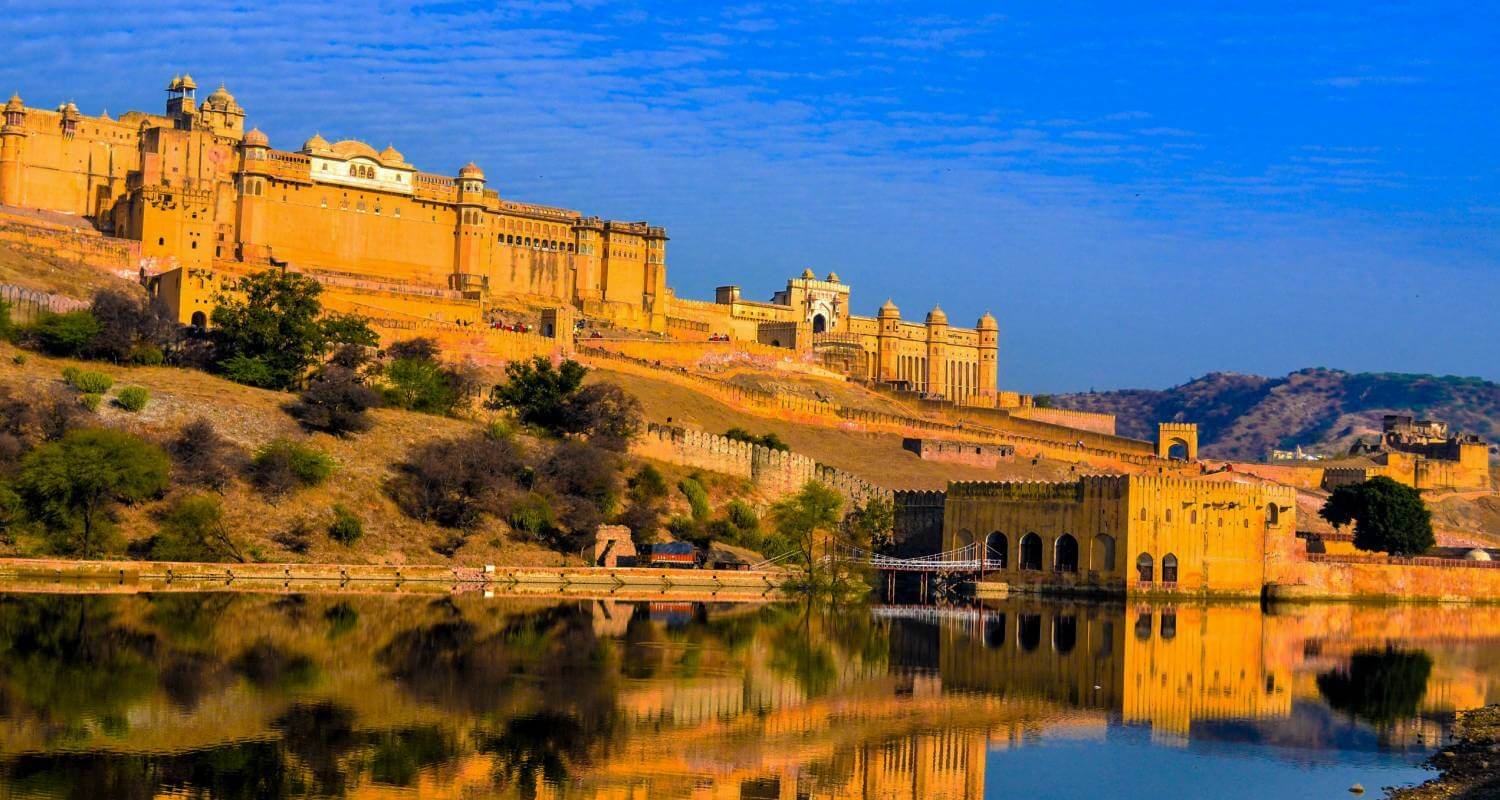 The must-visit place in Jaipur, the vibrant city is the magnificent Amer Fort or Amber Fort, a captivating testament to India's rich cultural heritage. Perched atop a rugged hill, this imposing structure showcases a seamless blend of Rajput and Mughal architectural styles. The fort's ochre-coloured sandstone walls seem to rise effortlessly from the surrounding landscape, casting a mesmerising reflection in Maota Lake below. Its regal architecture, intricate artwork, and captivating surroundings offer a glimpse into the opulent lives of the past. Whether you're a history enthusiast, an architecture aficionado, or simply a curious traveller, this majestic fortress will leave an indelible mark on your heart.
Highlights
Amer Fort remains open everyday from 8:00 AM to 5:30 PM and 6:30 PM to 9:15 PM.
Some of the main highlights of the fort are Suraj Pol, Jaleb Chowk, Sila Devi Temple, Ganesh Pol, Diwan-i-Aam, Jai Mandir, Sheesh Mahal, Jas Mandir, Tripolia Gate, Lion Gate and more.
Also Read: Mount Abu Hill Station Rajasthan
City Palace – Magnificence of Jaipur
One of the must-see heritage tourist attractions, the City Palace, situated in the heart of Jaipur, was built by Maharaja Sawai Jai Singh II, the founder of Jaipur, in the early 18th century. Over the years, subsequent rulers made additions to the palace complex, resulting in a unique blend of Rajput, Mughal, and European architectural styles. The palace served as the seat of the royal family and continues to be their residence to this day. A visit to the City Palace is like stepping into a bygone era of splendour and magnificence. From its awe-inspiring architecture to its well-preserved artefacts, every nook and corner of the palace tells a story of Jaipur's royal heritage.
Highlights
City Palace, Jaipur remains open to visit everyday from 9:30 AM to 7:00 PM.
The main places to see inside the City Palace complex are Chandra Mahal, Govind Dev Ji Temple, Mubarak Mahal, City Palace Museum, and the entrance gates, such as Udai Pol, Virendra Pol and Tripolia.
Also Read: Best Places to Visit in Udaipur Rajasthan
Hawa Mahal – The Palace of Winds
Built in 1799 by Maharaja Sawai Pratap Singh, standing tall and proud, Hawa Mahal, the enchanting structure is one of the most iconic landmarks of Jaipur and a must-visit for every traveller seeking to immerse themselves in the city's rich history and cultural heritage. One of the best places to explore in Jaipur, Hawa Mahal is a unique five-story palace, with its most distinctive feature being the intricately designed facade adorned with countless small windows, called "jharokhas." These jharokhas are not merely decorative elements but serve a practical purpose. The lattice-like windows allow cool breezes to pass through, providing a natural air conditioning system for the palace, hence its name, "Palace of Winds."
Highlights
The timings for Hawa Mahal are from 9:00 AM to 4:30 PM.
Hawa Mahal was designed by Lal Chand Ustad under the command of Maharaja Sawai Pratap Singh, who was the grandson of Sawai Jai Singh.
The architecture has the influence of Khetri Mahal, which is located in Jhunjhunu and also known as the Wind Palace.
Also Read: Top Places to Visit in Rajasthan
Jantar Mantar – A Heritage Astronomical Observatory
One of the popular tourist attractions in Jaipur, located near City Palace and Hawa Mahal is Jantar Mantar, a fascinating astronomical observatory and one of the most significant heritage sites in India. Built in 1734, by Maharaja Jai Singh II, it is a collection of 19 architectural structures designed to measure time, track celestial movements, and study astronomical phenomena. These instruments, including massive sundials, precision-designed geometric structures and giant astronomical instruments, were ingeniously crafted using stone, brass, and other materials to ensure accuracy in astronomical observations. Jantar Mantar has been recognized as a UNESCO World Heritage Site and continues to attract scientists, researchers, and tourists alike, offering a glimpse into the rich astronomical traditions of ancient India.
Highlights
Jantar Mantar remains open from 9:00 AM to 4:30 PM.
It is recommended to take a guided tour of the place to learn about the history and instruments properly.
The names of the 19 instruments in Jantar Mantar are Chakra Yantra, Dakshin Bhitti Yantra, Digamsha Yantra, Disha Yantra, Dhruva Darshak Pattika, Jai Prakash Yantra, Kapali Yantra, Kanali Yantra, Kranti Vritta Yantra, Laghu Samrat Yantra, Misra Yantra, Nadi Valaya Yantra, Palbha Yantra, Rama Yantra, Rashi Valaya Yantra, Shastansh Yantra, Unnatamsa Yantra, Vrihat Samrat Yantra and Yantra Raj Yantra.
Also Read: Best Places to Visit in Pushkar Rajasthan
Albert Hall Museum – A Place to Explore Royal History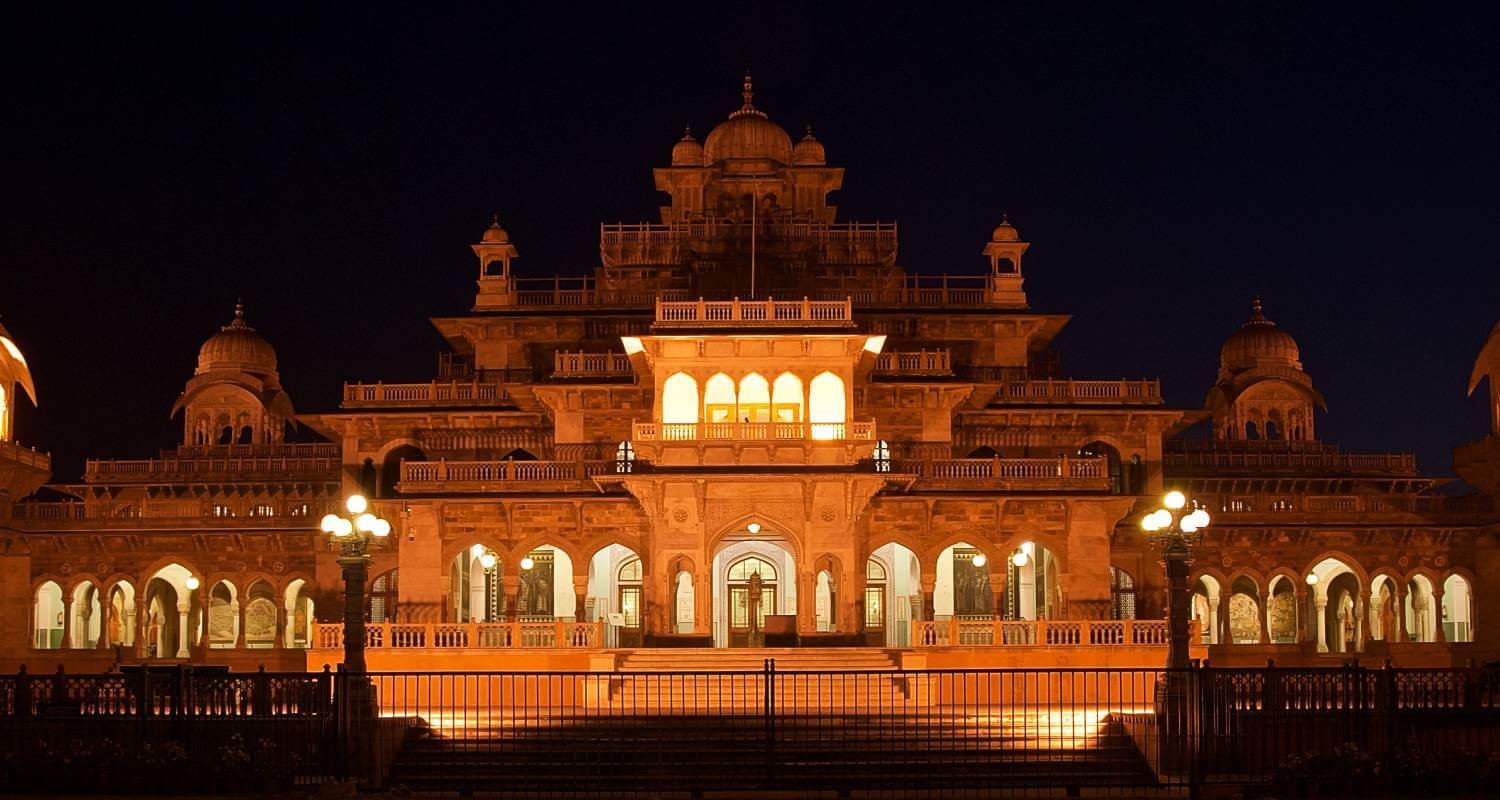 Another must-be-added place to complete Jaipur Rajasthan tour itinerary, also known as the Government Central Museum, Albert Hall Museum is the oldest museum in Rajasthan and for its variety of collections, it is referred to as one of the finest 19th-century museums. It stands as a testament to the grandeur of Indo-Saracenic architecture. Built-in 1876, this architectural marvel was designed by Sir Samuel Swinton Jacob, who ingeniously blended elements of Rajput, Mughal, and European styles, resulting in a truly awe-inspiring structure. The Albert Hall Museum houses an extensive collection of artefacts that offer a glimpse into the rich cultural heritage of Rajasthan and beyond. The galleries are home to an incredible array of exhibits, including ancient sculptures, exquisite miniature paintings, traditional Rajasthani textiles, delicate ceramics, and intricate ivory work. Visitors can marvel at rare manuscripts, archaeological finds, and even an Egyptian mummy, which adds an intriguing touch of mystery to the museum.
Highlights
Albert Hall Museum remains open from 9:00 AM to 5:00 PM and 7:00 PM to 10:00 PM.
The entry fee for Indian visitors is INR 40 and for foreign visitors is INR 300.
Also Read: Best Places to Visit in Jaisalmer Rajasthan
Ram Niwas Garden – An Ideal Place for Picnickers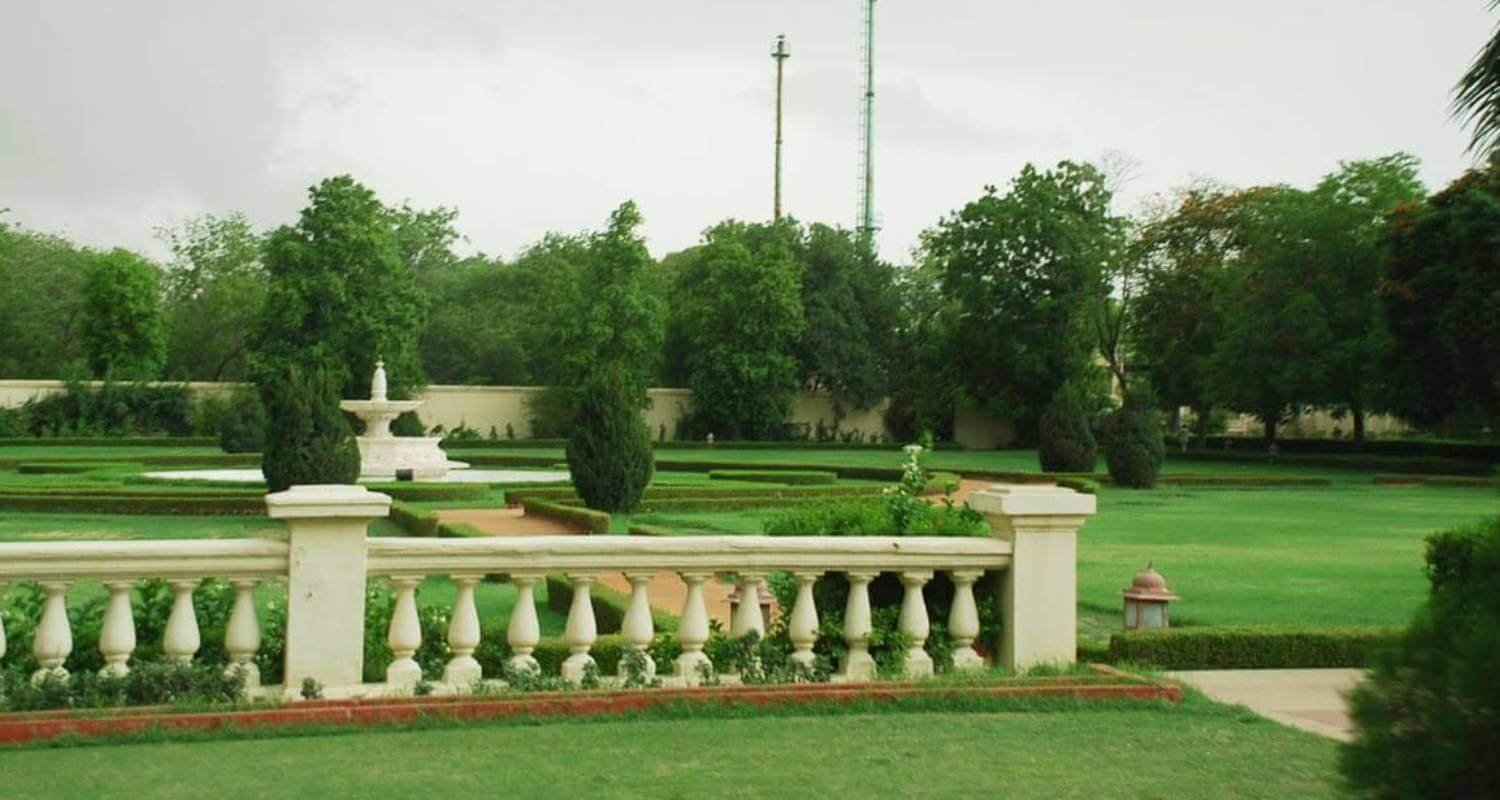 Ram Niwas Garden, located in the enchanting city of Jaipur, is a true oasis of natural beauty and serenity. As you step into this Jaipur sightseeing attraction, you are instantly greeted by a symphony of vibrant colours, fragrant blooms, and lush greenery that transport you into a world of tranquillity. The garden's impeccable landscaping showcases a harmonious blend of indigenous flora and meticulously manicured lawns, creating a mesmerising visual spectacle at every turn. Ram Niwas Garden also houses the iconic Albert Hall Museum, a magnificent architectural marvel that stands as a testament to the city's rich heritage. The garden is an ideal place for having a picnic with friends and family members as well as to rejuvenate yourself amidst nature in a city like Jaipur.
Highlights
Tourists can visit Ram Niwas Garden from 9:00 AM to 5:00 PM in winters and from 8:30 AM to 5:30 PM in summers.
The place remains closed on every Tuesday.
Some of the nearby attractions to visit are Zoological Garden, Ravindra Rang Manch Theatre, Art Gallery and Albert Hall Museum.
One of the top things to do in Jaipur is to take horse rides here, in Ram Niwas Garden which will give tourists a ride around the garden.
Also Read: Best Places to Visit in Jodhpur Rajasthan
Nahargarh Fort – Panoramic Views of Jaipur City
Nahargarh Fort is a captivating tourist destination that offers a rich blend of history, stunning architecture, and breathtaking panoramic views. Perched on the rugged Aravalli Hills, this majestic fort stands as a testament to the opulence and grandeur of Rajasthan's royal past. Built in 1734 by Maharaja Sawai Jai Singh II, Nahargarh Fort served as a formidable defence outpost protecting the city of Jaipur. Originally named as Sudershangarh, the fort is now known as "Nahargarh," which translates to "Abode of Tigers,". Legend has it that the fort was named after the spirit of Nahar Singh Bhomia, a Rathore prince who was believed to haunt the place and hinder the fort's construction until his spirit was pacified. An enchanting aspect of Nahargarh Fort is its sprawling terrace that offers panoramic views of Jaipur's scenic landscape. From here, you can admire the breathtaking sight of the Pink City, with its bustling streets, grand palaces, and iconic structures such as the Hawa Mahal and the City Palace.
Highlights
The fort remains open from 10:00 AM to 10:00 PM.
The entry fee for Indians is INR 50 and for foreigners, it is INR 200.
Some other nearby attractions are Jantar Mantar, Amer Fort, Jaigarh Fort, Kanak Vrindavan, City Palace, Jal Mahal and Hawa Mahal.
Jaigarh Fort – The Victory Fort
Built in 1726 by Maharaja Sawai Jai Singh II, Jaigarh Fort was primarily constructed as a defensive fortress to protect the Amer Fort and the city of Jaipur. This imposing structure spans over an expansive area, and its sturdy walls, watchtowers, and cannon foundry reflect its strategic significance during ancient times. The key highlight of Jaigarh Fort is its impressive weaponry collection, including the world's largest cannon on wheels, "Jaivana." Weighing over 50 tons, this colossal cannon is a marvel of engineering and offers a fascinating insight into the military prowess of the Rajput rulers. Visitors can explore the museum within the fort premises, which houses an array of ancient arms, armors, photographs, and other artefacts.
Highlights
The visiting hour of this fort is from 9:00 AM to 4:30 PM.
The entry fee is INR 35 for Indians and INR 85 for foreigners.
Also Read: Ranthambore National Park Tourism
Birla Temple – Lakshmi Narayan Temple
The Birla Temple, also known as the Lakshmi Narayan Temple, is a magnificent Hindu temple located in Jaipur, Jawahar Lal Nehru Marg, Tilak Nagar. It is one of the most renowned temples in the city and attracts numerous visitors with its stunning architecture and spiritual significance. As you enter the temple complex, you are greeted by beautifully manicured gardens and fountains, adding to the serene ambiance. The temple structure consists of three domes, each representing different aspects of the Hindu faith. Inside the temple, the walls are adorned with ornate carvings, depicting scenes from Hindu mythology and scriptures. The marble idols of Lord Vishnu and Goddess Lakshmi are the main deities worshipped here.
Highlights
Birla Temple in Jaipur remains open from 8:00 AM to 12:00 PM and 4:00 PM to 9:00 PM.
There is no entry fee to visit this temple.
Jal Mahal – Water Palace Located in Man Sagar Lake
Jal Mahal, also known as the "Water Palace," is situated in the middle of the Man Sagar Lake, about six kilometres north of Jaipur city centre. Jal Mahal is famous among tourists for its stunning architecture and unique setting. The palace was built in 1750 by Maharaja Madho Singh I of Jaipur and later renovated by Maharaja Jai Singh II. The palace's architectural style combines Rajput and Mughal influences, showcasing a blend of red sandstone and white marble. The palace is surrounded by the picturesque Aravalli hills and offers breathtaking views of the tranquil Man Sagar Lake. It becomes a birdwatcher's paradise in winters as several migratory and local birds find home here.
Highlights
The entry is restricted to Jal Mahal but a boat ride around the palace is the best thing to do here.
The structure is actually a five-storey building while one appears above the water and other four submerged under the water level.
Jal Mahal looks mesmerising in the evening when it lights up and offers a reflection in the lake.
Galtaji Temple – Enchanting Pilgrimage and Spiritual Haven
Located amidst the picturesque Aravalli Hills, Galtaji Temple is surrounded by lush greenery and offers breathtaking vistas of the Jaipur cityscape. This awe-inspiring architectural marvel stands as a testament to Rajasthan's rich cultural heritage, offering a serene and spiritual haven for seekers of tranquillity. One of the most alluring features of Galtaji Temple is its natural water springs, lovingly referred to as "kunds." Devotees from far and wide come to take a dip in these sacred waters, seeking spiritual purification and solace.
Highlights
One of the best things to do in Jaipur is to take a dip in the kund in January during the time of Makar Sankranti.
Among the seven kund or natural springs, Galta Kund is believed to be the most sacred one.
Sisodia Rani Garden – A Pit Stop on Jaipur – Agra Highway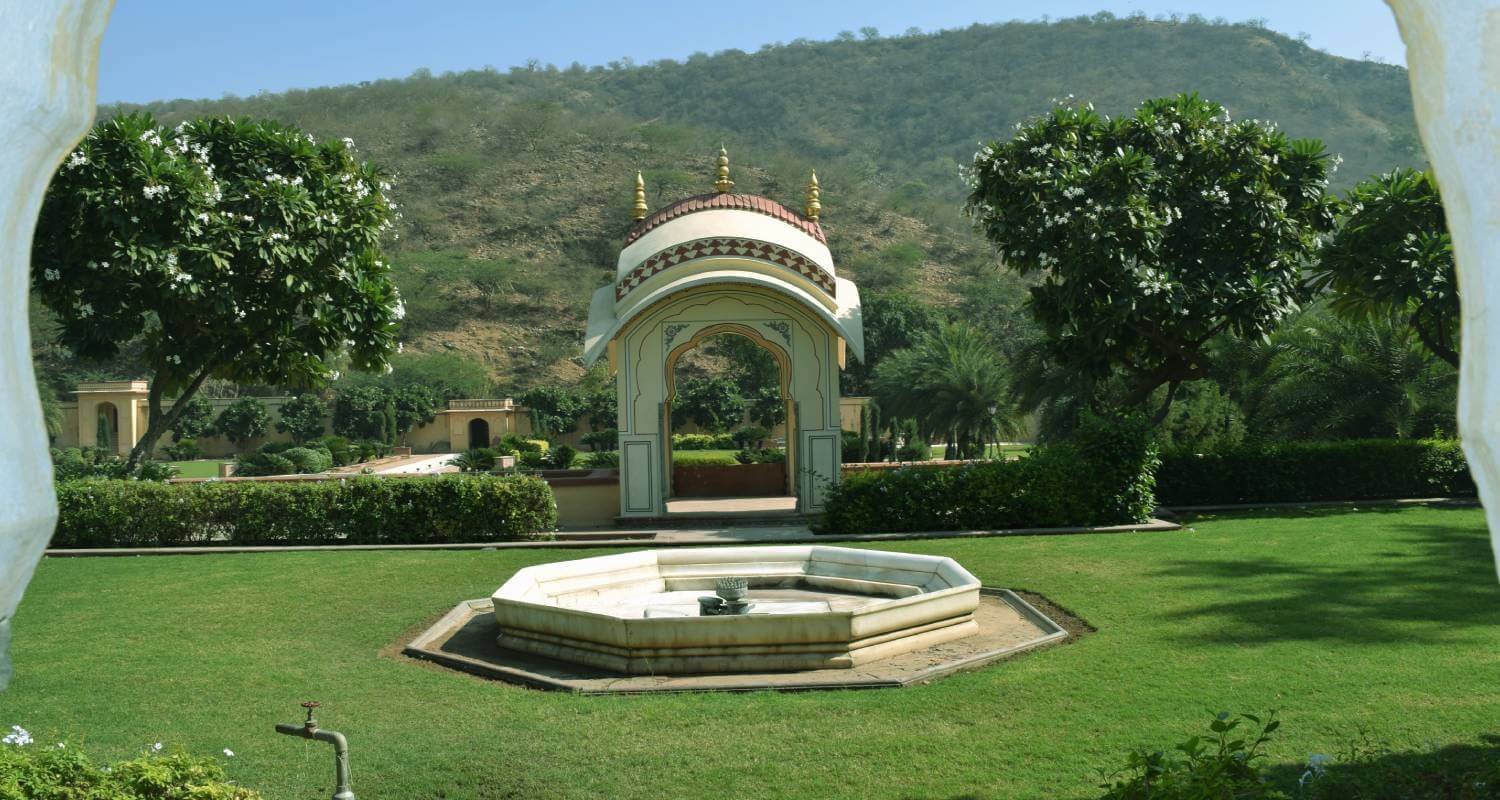 A famous pit stop on Jaipur-Agra Highway and a cool place to visit in the evening, Sisodia Rani Garden is a picturesque garden holds historical and cultural significance and is one of the top tourist places in Jaipur for both locals and visitors alike. Sisodia Rani Garden was built in 1728 by Maharaja Sawai Jai Singh II, the founder of Jaipur, as a token of love for his queen, Rani Sisodia Jai Singh. The garden was designed as a retreat and a place of leisure for the queen reflecting a rich combination of Mughal and Rajput architecture. The sprawling garden is adorned with elegant pavilions, kiosks, and fountains. The intricate frescoes and murals on the walls depict scenes from the life of Lord Krishna, as the garden holds a special connection with the love story of Radha and Krishna.
Highlights
The timings for Sisodia Rani Garden are from 8:00 AM to 7:30 PM.
The best time to visit this heritage garden is in the morning or evening.
Some of the nearby attractions are Moti Dungri Temple, Rusi Rani Village and Bapu Bazaar.
As you already know now, Jaipur is a city that boasts of rich history, vibrant culture, and breathtaking architecture. The city's hospitality, warmth, and charm will leave a lasting impression on any visitor. It's no wonder that Jaipur is known as the Pink City and has become a popular destination for tourists from all around the world. This is our list of 12 popular points of tourist interest in Jaipur which must be added to your itinerary for your upcoming Jaipur trip. If you have already visited Jaipur and want to add the places of your choices, you can write them below in the comment section. You can also contact us for every kind of arrangement for a memorable Jaipur trip or explore our Jaipur tourism packages to know more about tour details.
Explore Popular Tour Packages for Rajasthan
Frequently Asked Questions
What are the top places to visit in Jaipur?
The top tourist destinations in Jaipur are the City Palace, Hawa Mahal, Amer Fort, Jal Mahal, Jantar Mantar, Albert Hall Museum, and Nahargarh Fort.
What is the best time to visit Jaipur?
The best time to visit Jaipur is from October to March when the weather is pleasant and suitable for outdoor activities.
How many days are required to explore Jaipur?
It is recommended to spend at least 3-4 days to explore the popular tourist attractions in Jaipur and get a glimpse of the city's rich cultural heritage.
What is the best way to travel around Jaipur?
The best way to travel around Jaipur is by hiring a private cab, auto-rickshaw or taking a tour bus. Visitors can also opt for the popular cycle-rickshaws or take a guided walking tour of the city.
What are the popular markets in Jaipur for shopping?
The popular markets in Jaipur for shopping include Johari Bazaar, Bapu Bazaar, Tripolia Bazaar, and Chandpole Bazaar. These markets offer a range of traditional handicrafts, textiles, jewellery, and souvenirs.
Is it safe for solo travellers to visit Jaipur?
Yes, Jaipur is generally considered safe for solo travellers, but it is advisable to take necessary precautions and avoid venturing out alone late at night.
What are the top food dishes to try in Jaipur?
The top food dishes to try in Jaipur include dal-bati-churma, ghevar, laal maas, pyaaz kachori, and mirchi vada. Visitors can also try the famous Rajasthani thali, which includes a variety of dishes.
Like & follow us on our following official social media channels
Facebook | Twitter | Linkedin | Instagram | Youtube
Also Check Out: Popular India Tours | Tour Packages | India Tour Packages | International Tour Packages
International Trending Holiday Destinations – Nepal Tours | Bhutan Tours | Singapore Tour | Thailand Tours | Sri Lanka Tours | Maldives Tours | Dubai Tours | Indonesia Tours
Other Popular Trending Holiday Destinations in India – Kashmir Tour | Himachal Tour | Uttarakhand Tour | Rajasthan Tour | Gujarat Tour | Sikkim Tour | Kerala Tour | Andaman Tour | Madhya Pradesh Tour | North East Tours
Tour Packages by Interest – Adventure Packages | Wildlife Packages | Pilgrimage Packages | Heritage Packages | Hill Station Packages | Weekend Packages | Honeymoon Packages | Beach Packages | Chardham Packages | Trekking Packages
Other Interesting Rajasthan Travel Guide Blogs to Read
Other Interesting Wildlife Travel Guide Blogs to Read
Other Interesting India Travel Guide Blogs to Read
Other Interesting Destinations Travel Guide Blogs to Read
Other Interesting Uttarakhand Travel Guide Blogs to Read
Other Interesting South Travel Guide Blogs to Read
Other Interesting Adventure & Trekking Travel Guide Blogs to Read
Other Interesting Kerala Travel Guide Blogs to Read
Other Interesting International Travel Guide Blogs to Read