India, with its diverse landscapes and vibrant culture, offers an array of travel experiences throughout the year. However, when October rolls around, it brings a unique charm to many destinations across the country. As the monsoon retreats and the weather starts to cool down, October is one of the best months to explore India's beauty.
Whether you're seeking wildlife adventures, serene hill stations, or cultural immersion, discover these top 6 places to visit in India in October 2023, each offering something special.
Ranthambore National Park, Rajasthan
Kodaikanal, Tamil Nadu
Kolkata, West Bengal
Srinagar, Jammu and Kashmir
Nainital, Uttarakhand
Udaipur, Rajasthan
Enjoy Exclusive Early Bird Discounts of up to 30% on Holiday Packages from Bon Travel India. Call or WhatsApp now at +91-9310109466 for the latest unbeatable deals!
1. Ranthambore National Park, Rajasthan
Best Places to Visit in October in India for Wildlife Enthusiasts
For wildlife enthusiasts and nature lovers, Ranthambore National Park in Rajasthan is a top choice for an October getaway. This iconic national park is famous for its thriving population of Bengal tigers, and October is one of the best times to spot these majestic creatures in their natural habitat.
Why Ranthambore in October?
Pleasant Weather: October marks the beginning of the post-monsoon season, offering pleasant weather with cooler temperatures. The comfortable climate makes it ideal for safaris and wildlife sightings.
Tiger Spotting: The dwindling monsoon ensures that the water sources in the park are still abundant, making it easier to spot tigers and other wildlife as they gather around these waterholes.
Bird Watching: Ranthambore is not just about tigers; it's also a haven for birdwatchers. October sees the arrival of migratory birds, adding to the park's avian diversity.
Photography Opportunities: With lush greenery and vibrant landscapes, October provides excellent photography opportunities.
To make the most of your visit to Ranthambore in October, book safari permits well in advance and consider staying in one of the charming wildlife resorts nearby. The combination of thrilling safaris and the chance to witness tigers in their natural habitat makes Ranthambore a top destination for wildlife enthusiasts in October.
2. Kodaikanal, Tamil Nadu
Best Holiday Destination for October in India for Nature Lovers
If you're seeking a serene hill station getaway in October, look no further than Kodaikanal in Tamil Nadu. Known as the "Princess of Hill Stations," Kodaikanal is a paradise of misty mountains, lush forests, and pristine lakes.
Why Kodaikanal in October?
Pleasant Climate: October in Kodaikanal offers a pleasant climate with crisp mornings and cool evenings. The weather is perfect for leisurely walks, trekking, and outdoor activities.
Breathtaking Scenery: The hills are covered with colorful flowers, and the landscapes are at their scenic best during this time. The view from Coaker's Walk and Green Valley View is simply breathtaking.
Boating on the Lake: The star-shaped Kodaikanal Lake is a must-visit. You can hire rowboats, pedal boats, or go for a peaceful stroll around the lake.
Nature Trails: Explore the lush greenery of the Pine Forest and the enchanting Fairy Falls. Kodaikanal has a plethora of nature trails that are perfect for October adventures.
Cultural Experience: Don't miss the opportunity to visit the Kurinji Andavar Temple, which is dedicated to Lord Murugan and is famous for its Kurinji flower, which blooms once every twelve years.
Kodaikanal is an ideal destination for couples, families, and solo travelers looking to unwind in the lap of nature. The soothing atmosphere and natural beauty of this hill station make it one of the best places to visit in October for a peaceful holiday.
Also Read: Best Places to Visit in South India
3. Kolkata, West Bengal
Where to Go in India This October for Cultural Exploration? The only one answer is to visit Kolkata for a Durga Puja experience.
Kolkata, the cultural capital of India, comes alive in October with its grand festivities and artistic fervor. If you're looking for a cultural immersion, there's no better place to be during Durga Puja, one of the most celebrated festivals in West Bengal.
Why Kolkata in October?
Durga Puja: Kolkata is known for its extravagant Durga Puja celebrations. During this festival, the city transforms into a vibrant and artistic wonderland, with elaborately crafted idols, grand processions, and cultural performances.
Delicious Street Food: Savor the mouthwatering street food Kolkata is famous for, including sweets like rasgulla, sandesh, and street snacks like phuchka (pani puri) and kathi rolls.
Cultural Heritage: Explore historic sites like Victoria Memorial, Howrah Bridge, and the Indian Museum. Kolkata is a city steeped in history and has much to offer in terms of architecture and heritage.
Literary Heritage: Pay a visit to the iconic Coffee House, a hub for intellectuals and artists for decades. Kolkata has a rich literary heritage, and you can immerse yourself in the world of Rabindranath Tagore and other literary giants.
Art Galleries and Performances: Kolkata has a thriving art scene, with numerous galleries and theaters showcasing contemporary and classical arts.
Visiting Kolkata in October provides a unique opportunity to witness the city at its cultural zenith. The vibrancy and enthusiasm of the locals during Durga Puja are truly infectious, making it one of the best places in India to explore in October.
Also Read: Best Places to Visit in Eastern India
4. Srinagar, Jammu and Kashmir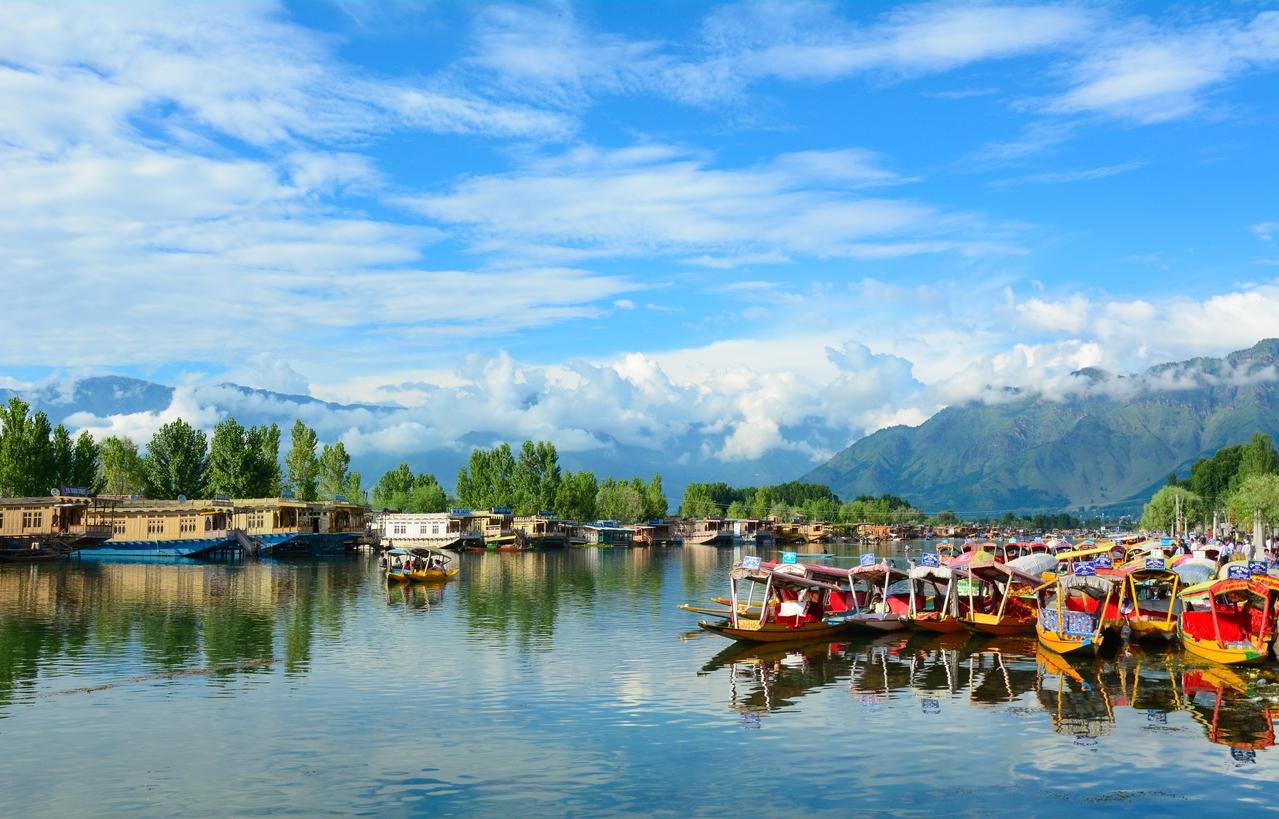 The Best Place in India to Explore in October for Scenic Beauty
Srinagar, the summer capital of Jammu and Kashmir, is a breathtaking destination that comes alive in October with the golden hues of autumn. If you're in search of tranquil lakes, majestic mountains, and a touch of luxury, Srinagar should be your top choice.
Why Srinagar in October?
Autumn Bliss: October marks the onset of autumn in Srinagar, and the landscape transforms into a mesmerizing tapestry of colors. The Chinar trees turn a brilliant shade of orange and gold, creating a picturesque setting.
Shikara Rides: Enjoy a peaceful Shikara ride on Dal Lake, where you can stay in a houseboat amidst the serene waters and enjoy stunning views of the Zabarwan Range.
Gulmarg Excursion: A day trip to Gulmarg, just a couple of hours from Srinagar, offers the chance to see the meadows and take the Gondola ride to the top of Apharwat Peak for panoramic views.
Shopping for Handicrafts: Srinagar is famous for its handicrafts, including exquisite pashmina shawls, rugs, and traditional Kashmiri attire. October is a great time for shopping as the markets are bustling with activity.
Cuisine: Savor the delectable Kashmiri cuisine, including dishes like Rogan Josh, Yakhni, and Kashmiri Pulao.
Srinagar in October is a paradise for nature lovers and those seeking tranquility in the lap of the Himalayas. The cool weather and stunning vistas make it one of the most scenic places to visit in October.
Also Read: Best Places to Visit in Gulmarg Kashmir
4. Nainital, Uttarakhand
A Top Destination for Visiting in October in the Himalayas, Perfect for a Family Holiday
Nainital, nestled in the Kumaon region of Uttarakhand, is a popular hill station known for its emerald lakes, lush forests, and panoramic views of the surrounding hills. October is an ideal time to visit for a refreshing holiday experience.
Why Nainital in October?
Boat Ride on Naini Lake: Nainital's centerpiece is Naini Lake, where you can enjoy a leisurely boat ride while gazing at the surrounding hills and the Naina Devi Temple.
Scenic Treks: Embark on scenic treks to places like Tiffin Top, Snow View Point, and Naina Peak, which offer breathtaking views of the Himalayan peaks.
Pangot Bird Sanctuary: For bird enthusiasts, nearby Pangot is a haven with a rich variety of bird species. October is a great time for birdwatching.
Shopping and Dining: Explore the Mall Road for shopping and try local delicacies at the numerous cafes and restaurants.
Pleasant Weather: October offers pleasant weather with cool days and chilly nights, making it perfect for outdoor activities.
Nainital is a family-friendly destination and one of the best places in India to explore in October for a relaxing holiday amidst the beauty of the Himalayas.
5. Udaipur, Rajasthan
Best Places in India to Explore in October with a Royal Touch
Udaipur, often referred to as the "City of Lakes" and the "Venice of the East," is a city that exudes regal charm and architectural splendor. October is an excellent time to visit this royal city in Rajasthan.
Why Udaipur in October?
Lake Pichola: Take a boat ride on Lake Pichola to admire the stunning palaces and enjoy the serene ambiance. The City Palace complex on the eastern bank is a must-visit.
City Palace: Explore the grand City Palace, which houses a museum and offers panoramic views of the city and the Aravalli Hills.
Jag Mandir: Visit Jag Mandir, an island palace on Lake Pichola, often referred to as the "Lake Garden Palace."
Saheliyon Ki Bari: Enjoy the tranquility of Saheliyon Ki Bari, a historic garden adorned with fountains, lotus pools, and marble pavilions.
Cultural Evening: Attend a traditional Rajasthani cultural performance in the evening to experience the vibrant folk music and dance of the region.
Udaipur's palaces, lakes, and cultural richness make it one of the top places to visit in October that are perfect for those who want to immerse themselves in the grandeur of Rajasthan.
Also Read: Best Places to Visit in Rajasthan
In October, India offers a diverse range of travel experiences, from thrilling wildlife encounters in Ranthambore National Park to serene hill station getaways in Kodaikanal. Kolkata comes alive with cultural celebrations during Durga Puja, while Srinagar and Nainital provide breathtaking natural beauty.
Udaipur, with its royal heritage, offers a touch of regal elegance. So, whether you're a wildlife enthusiast, a nature lover, a culture seeker, or someone who just wants to unwind, bookmark these destinations in India to visit in October for a memorable holiday experience.
Plan your trip and make the most of the pleasant weather and scenic beauty that this month has to offer.
Also Read:  Top Places to Visit in September in India
Explore Top Recommended Tour Packages
Like & follow us on our following official social media channels
Facebook | Twitter | Linkedin | Instagram | Youtube
Also Check Out: Popular India Tours | Tour Packages | India Tour Packages | International Tour Packages
International Trending Holiday Destinations – Nepal Tours | Bhutan Tours | Singapore Tour | Thailand Tours | Sri Lanka Tours | Maldives Tours | Dubai Tours | Indonesia Tours
Other Popular Trending Holiday Destinations in India – Kashmir Tour | Himachal Tour | Uttarakhand Tour | Rajasthan Tour | Gujarat Tour | Sikkim Tour | Kerala Tour | Andaman Tour | Madhya Pradesh Tour | North East Tours
Tour Packages by Interest – Adventure Packages | Wildlife Packages | Pilgrimage Packages | Heritage Packages | Hill Station Packages | Weekend Packages | Honeymoon Packages | Beach Packages | Chardham Packages | Trekking Packages
Other Interesting Kerala Travel Guide Blogs to Read
Other Interesting India Travel Guide Blogs to Read
Other Interesting Destinations Travel Guide Blogs to Read
Other Interesting Rajasthan Travel Guide Blogs to Read
Other Interesting Uttarakhand Travel Guide Blogs to Read
Other Interesting Wildlife Travel Guide Blogs to Read
Other Interesting South Travel Guide Blogs to Read
Other Interesting International Travel Guide Blogs to Read
Other Interesting Adventure & Trekking Travel Guide Blogs to Read