Treasure trove of natural wonders and cultural diversity, the Andaman Islands are a wonderful tourist destination to visit in India for your next beach island vacation. The enchantment of the Andaman Islands never ceases to attract wanderers from different parts of the world. Sun-kissed shores, exotic floral and faunal species, invigorating salty sea air, and a blissful ambiance would compel you to surrender to its serenity. The Andaman Islands boast an awe-inspiring world of colors, where serene azure waters merge seamlessly with the azure sky. The beauty of the Andaman Islands is difficult to express in words.
If you dip your toes into the warm, inviting ocean and marvel at the kaleidoscope of vibrant coral reefs, it would be one of the best moments of your life. Listening to the soothing melody of crashing waves and losing yourself in the rhythm of the island would leave a lasting imprint on your senses. In Andaman, the stillness of the night is punctuated only by the melodious sound of soothing waves, as stars twinkle above, painting a breathtaking celestial canvas. Deep within the heart of the Andaman Islands, where emerald jungles whisper tales of adventure, you will lose yourself to the embrace of nature's healing touch.
Indeed, the Andaman Islands are a mesmerizing place for solace seekers, honeymooners, and families who love the symphony of beauty, serenity, and adventure, which will leave them spellbound forever.
The Best of Andaman Tourism: Here's a List of the Top 15 Places to Visit in Andaman
Havelock Island
Neil Island
Ross Island
North Bay Island
Cellular Jail National Memorial
Baratang Island
Jolly Buoy Island
Cinque Island
Mount Manipur National Park
Limestone Caves
Radhanagar Beach
Chidiya Tapu
Wandoor Beach
Red Skin Island
Viper Island
Enjoy up to 30% Early Bird Discounts on Andaman Tour Packages with Bon Travel India. Call OR WhatsApp us at 91-9310109466 for Exclusive Deals!
Havelock Island- Tranquil Delights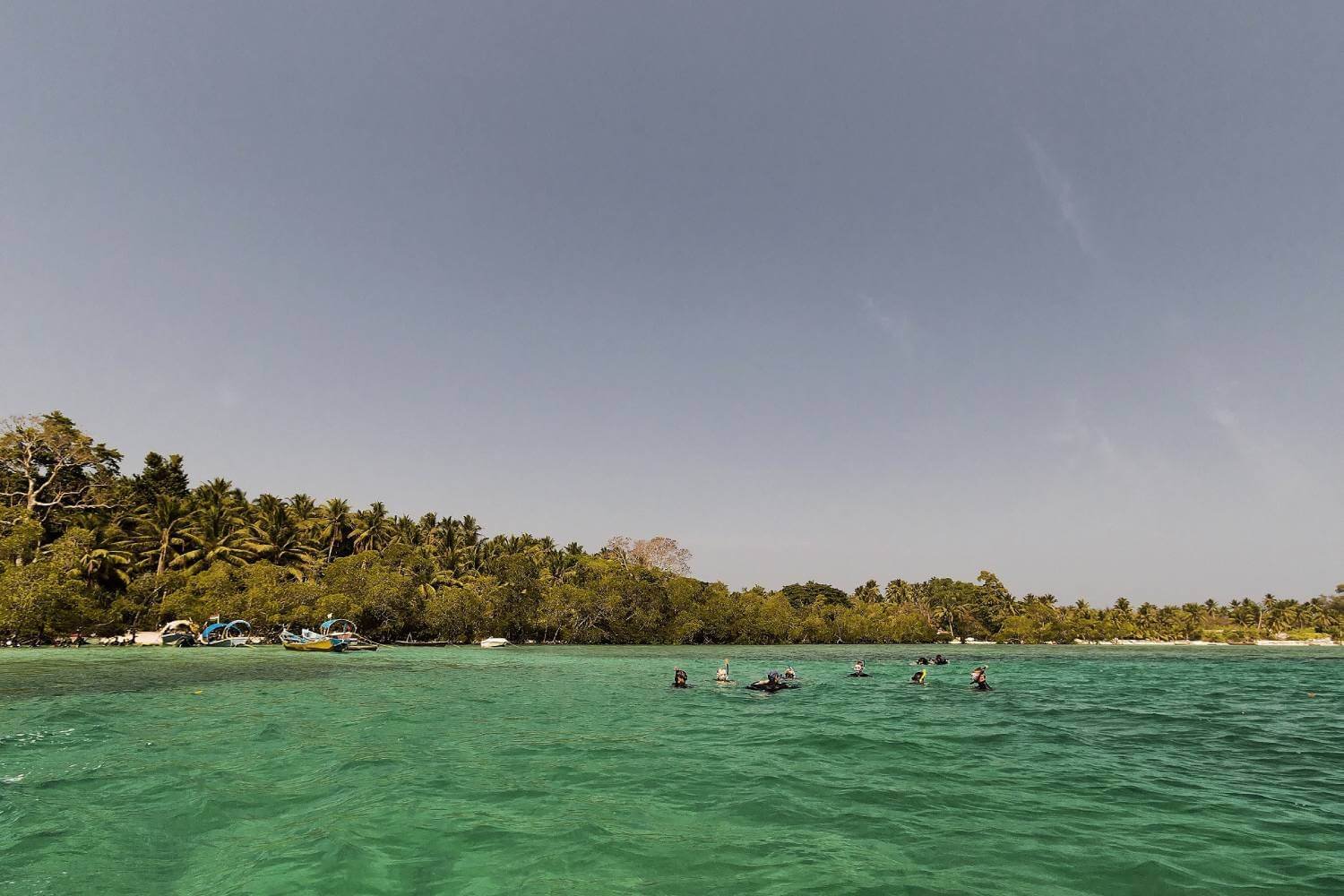 Havelock Island is one of the most popular Island places to explore in the Andaman group. Its ambiance is so soothing that you would be compelled to stay here forever. Dive into the depth of its beauty and you will find many blissful settings to cherish lovely moments with your friends and family. Palm-fringed beaches, mesmerizing aquatic life, colorful reefs, lush greenery – Every mile of Havelock Island exudes tranquility and natural beauty. Havelock Island's jungles will captivate your senses. The lush canopy of greens envelops you; serene hidden trails and exotic flora and fauna delights the soul. If you are newly married then what are you waiting for? Don't you know Havelock Island is one of the best destinations in Andaman Island for Honeymooners. The sights and sounds of nature are at its peak here.
Must Visit Places in Havelock Island –
Sitapur Beach- Serene Sunrise Beach
Radhanagar Beach – Solace Redefined
Vijaynagar Beach – Dreamy nature's secluded retreat
Elephant Beach –Adventure Paradise
Neil Island- Turquoise Tranquility
Kalpathar Village and Beach – Unveiling Local Charms
Neil Island- Gateway to Inner Peace
Neil Island is a hidden gem that promises an unforgettable vacation experience in Andaman Islands. Its untouched beaches, mesmerizing natural beauty, and vibrant marine life create a harmonious world of tranquility and adventure.
It's a treasure of Dense jungles which has provided shelter to lots of exotic birds and animals. You will also see amazing sunsets emerging over the horizon. The entire world of Neil Island is painted with hidden natural realms, quaint village markets and untouched serene beaches.
Whether you seek relaxation on pristine shores, immersive nature exploration, or a glimpse into the island's rich culture, Neils Island's tourism in Andaman Island is one of a kind.
Must Visit Places in Neil Island –
Howrah Bridge- Mystical Nature's Marvel
Bharatpur Beach-Beach Haven
Laxmanpur Beach- Tranquil Settings
Ram Nagar Beach-Whispers of Solitude
Sitapur Beach- For Beautiful Sunrises
Natural bridge– Nature's beautiful Art
Sir Hugh Rose Island- Sanctuary of the Wild
Ross Island- History and Nature's Embrace
Less than a kilometer in size, Ross Island is one of the best places to visit in Andaman and Nicobar Islands. Holding the remnants of colonial settlement, this tiny Island sings the songs of a bygone era. The ambiance of Ross Island will take you back in time.
It's a place where you will Discover the ruins of the old British administrative buildings, standing as silent witnesses to the island's past glory. The Island is a beautiful keeper of nature's best glory- Soul Seducing Beaches!
Here hidden beaches and breathtaking viewpoints offer panoramic vistas of the turquoise waters and neighboring Islands. You'll encounter dilapidated structures adorned with vibrant foliage, creating a surreal blend of man-made architecture and natural beauty. Ross Island is also a very beautiful wildlife Habitat. The island's rich biodiversity extends to its marine life, with colorful coral reefs and playful fish inhabiting the surrounding waters. Exploring Ross Island would feel as if time is losing its grip and you are in heaven.
Must Visit Places to in Ross Island-
The Grand Ballroom: Where Elegance Dances Through Time
Chief Commissioner's House: Stepping into History's Stately Residence
Ross Island Jetty: Gateway to Tranquility and Adventure
Japanese Bunkers: Echoes of War and Resilience
The Bakery: A Taste of Ross Island's Delicious Past
Officers' Quarters: A Glimpse into British Heritage on Ross Island
The Water Sports Complex: Dive into Excitement and Coastal Bliss
The Light and Sound Show: Illuminating Ross Island's Stories After Dark
Ross Island Museum: Unveiling the Treasures of the Past
The British Club: Reliving the Glamour of Ross Island's Elite Society
North Bay Island- Nature's Aquatic Joy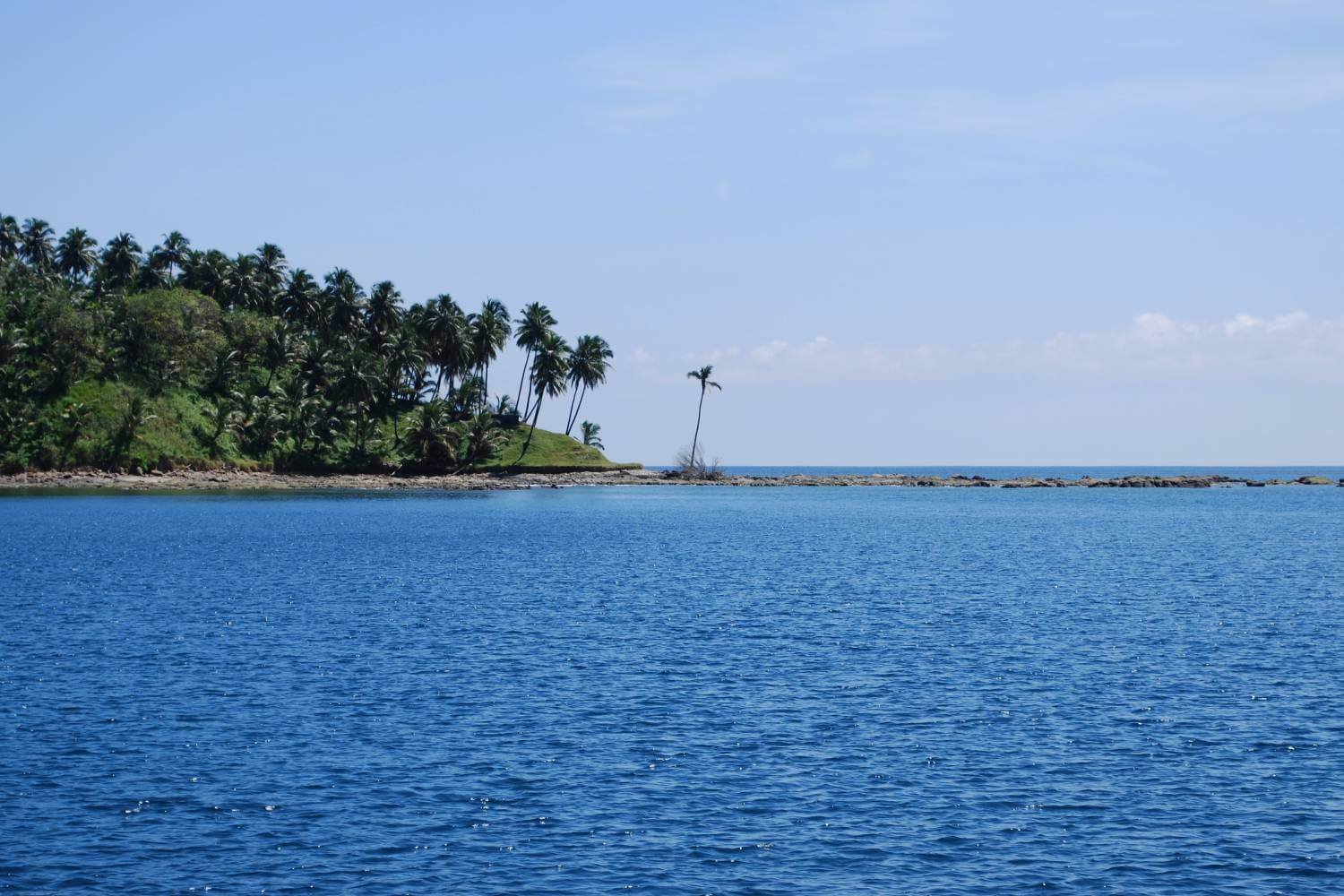 North Bay Island is one of the most enchanting Islands to visit in India for a scenic holiday. North Bay Island offers the perfect harmony of adventure and solace, where you can immerse yourself in thrilling activities and then find serenity in the island's natural beauty. Leisurely strolling along the coastline, soothing ocean breeze and gentle lapping of the beautiful waves creates a wonderful setting for relaxation and recreation with your loved ones. From the vibrant coral reefs to the stunning sunsets, every aspect of this island leaves an indelible impression on a wanderer's heart.
It is one of the most beautiful places for family vacations in India with family. The island's serene ambiance invites you to relax, unwind, and revel in the simple pleasures of life. For adventure lovers, there are many exciting water adventure activities such as scuba Diving, swimming, snorkeling etc. the captivating beauty of marine life also awaits your arrival. North Bay Island is a delightful travel destination for tourists in Andaman and Nicobar Islands.  One must include this bliss to their itinerary of Andaman Tour.
Best Things to Do in North Bay Island
Sea Walking – Walk Amongst Marine Marvels in the Crystal-Clear Waters
Scuba Diving Sites: Dive into Adventure and Unveil the Hidden Depths
Coastal Trekking Trails: Traverse Nature's Pathways and Uncover North Bay's Natural Delights.
Snorkeling Point: Immerse Yourself in the Underwater Paradise of North Bay
Cellular Jail National Memorial – Symbol of Resilience and Freedom
Constructed by Britishers in 1906, The Cellular Jail National Memorial is a historic site which holds the echoes of Freedom Fighters of India. It is one of the most popular historical places of Andaman. The building witnessed the terrors of the British atrocities on Indian freedom fighters. Cellular Jail was used for the exile and confinement of political prisoners. If you visit Cellular Jail, you will surely understand the gloomy atmosphere and haunting silence enveloping the surroundings, creating a sense of gratitude for the sacrifices made within these walls.
Within the complex, a museum awaits, inviting visitors to dive deeper into the rich history of the Indian freedom struggle. There are many Photographs, artifacts, and interactive displays that breathe life into the narratives of the brave men and women who fought for their motherland. Cellular Jail National Memorial is a living testament to the enduring power of the human spirit. You must visit this fascinating place to know about India's story of Resilience.
Timings– 00 AM to 12 Noon and 2.00 PM to 5.00 PM.
Monday – Closed
Baratang Island- Where Beauty Meets Captivating Wonder
A must Visit Island in Andaman, Baratang Island is a beautiful place to relax your mind and body. Whether exploring the mystical caves, witnessing the awe-inspiring mud volcanoes, or cruising through the mangrove creeks, Baratang Island offers an unforgettable adventure to the tourists.
It is a beautiful retreat for nature lovers, seeking serenity and bliss, and those yearning to uncover the secrets of the Earth. It would be one of the best travel experiences of your life if you travel through the dense forests, guided by experienced locals, and venture into the heart of the island where these captivating natural formations await.
Also Witness as the earth's molten mud bubbles and erupts, which creates small volcanic landscapes. It showcases the powerful forces which gave a unique shape to our planet. It is also a testament to the island's geologic wonders. Baratang Island is also a beautiful cultural paradise. The indigenous tribes that call the island home offer a glimpse into their rich heritage. Engage with the locals, listen to their stories, and appreciate their traditional art forms and crafts. Indeed, for exotic holidays in Andaman, you must pack your bags for Baratang Island.
So, Discover the hidden treasures of Baratang Island and let its untamed beauty leave an indelible mark on your soul.
 Must Visit Places in Baratang Island
Limestone Caves: Unveil Nature's Subterranean Masterpiece
Mangrove Creeks: Journey Through Nature's Green Labyrinth
Mud Volcano: Witness Earth's Mysterious Eruptions
Parrot Island: Where a Rainbow of Parakeets Takes Flight
Baludera Beach: Relax and Rejuvenate on Nature's Golden Sands
Jolly Buoy Island- Magical Relaxing Paradise
Beauty, serenity and Natural harmony, Jolly Buoy Island is one of the best locations to explore in Andaman and Nicobar Islands.  It's a realm where time slows down, nature sings and worries fade away.  If you are looking for romantic settings then it is one of the best attractions for honeymooners in Andaman and Nicobar Islands.
Crystal clear waters, Sun's warm embrace, fun-filled water adventures, fascinating Island trails and lush greenery will seduce your senses. A sense of tranquility instantly washes over you in Jolly Buoy Island.
Best Things to Do in Jolly Buoy Island
Jolly Buoy Beach: Unveiling the Secrets of the Underwater Wonderland
Bird Watching at Jolly Buoy: A Symphony of Feathers in Paradise
Beach Picnic at Jolly Buoy: A Secluded Retreat for Serene Delights
Snorkeling Adventure: Unleash Your Inner Explorer in the Aquatic Wonderland
Coral Garden Exploration: Diving into a Kaleidoscope of Colors
Cinque Island- Untouched Oasis of Bliss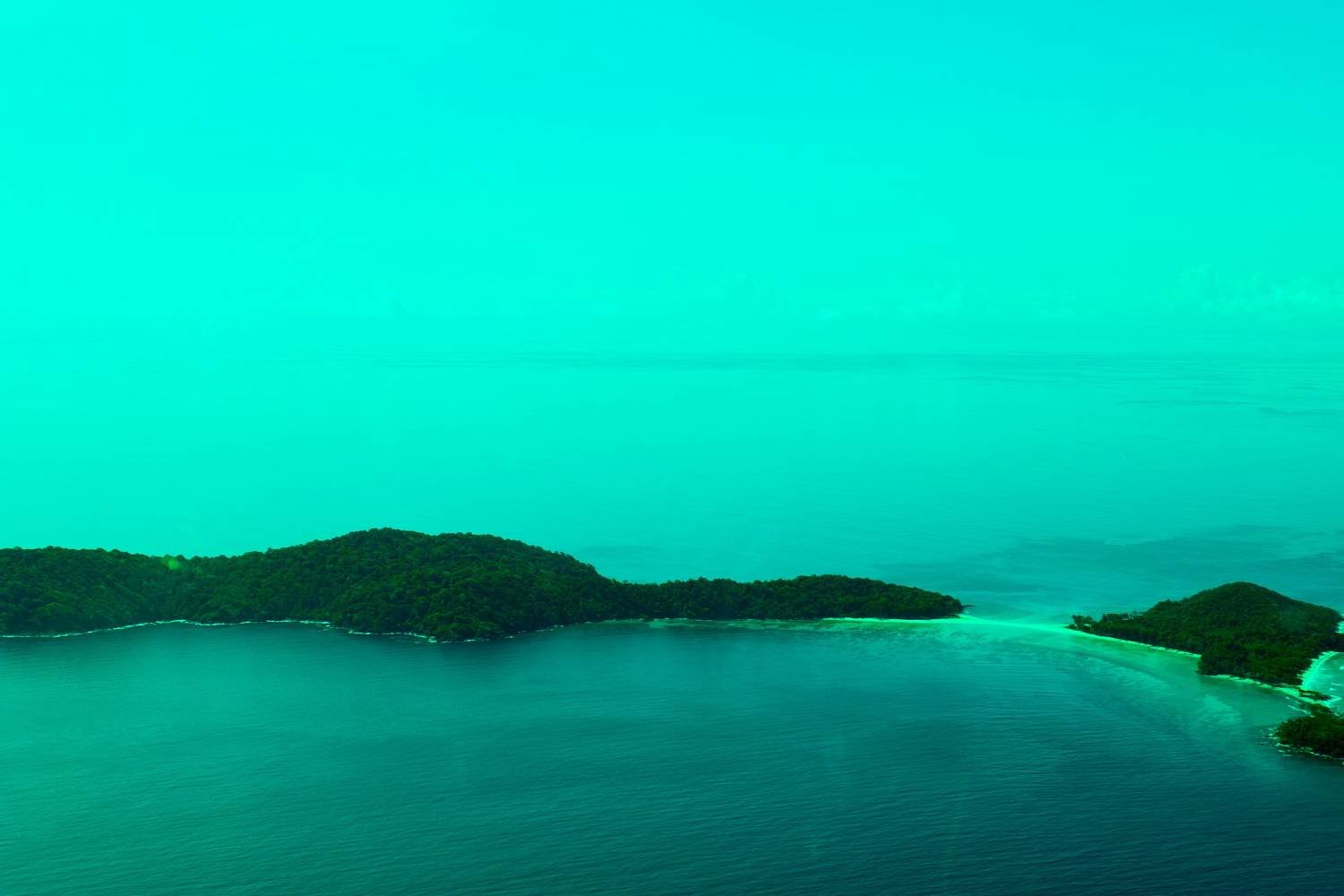 Cinque Island is a breathtaking panorama of untouched beauty in the blissful Andaman and Nicobar Islands. It is one of the must visit tourist destinations in your Andaman Island sightseeing tour.
Verdant vegetation, mesmerizing beaches and melodious sounds of azure waters will blow your heart away. A whole new world opens before you – Golden beaches, vibrant coral reefs, lush greenery, and delightful cuisines will allow you to sync your soul with the refreshing nature.
Cinque Island offers thrilling water sports activities. Embark on an exciting kayaking expedition around the island's coastline, navigating through hidden coves and pristine lagoons. Feel the rush of adrenaline as you try your hand at paddle boarding or jet skiing, gliding across the sparkling waters with the wind in your hair. Everything is euphoric here.
Best Things to Do in Cinque Island
Coral Reefs: Blissful Underwater Colors
Bird Watching Spot: A Symphony of Feathers Amidst Nature's Chorus
Beach Picnic Area: Soothing sounds of Azure Waters
Coral Viewpoint: A Window to the Submerged Wonderland Below
Note: A special permit from the Forest Department is required for visiting Cinque Island in Andaman.
Mount Manipur National Park- Embrace the Wilderness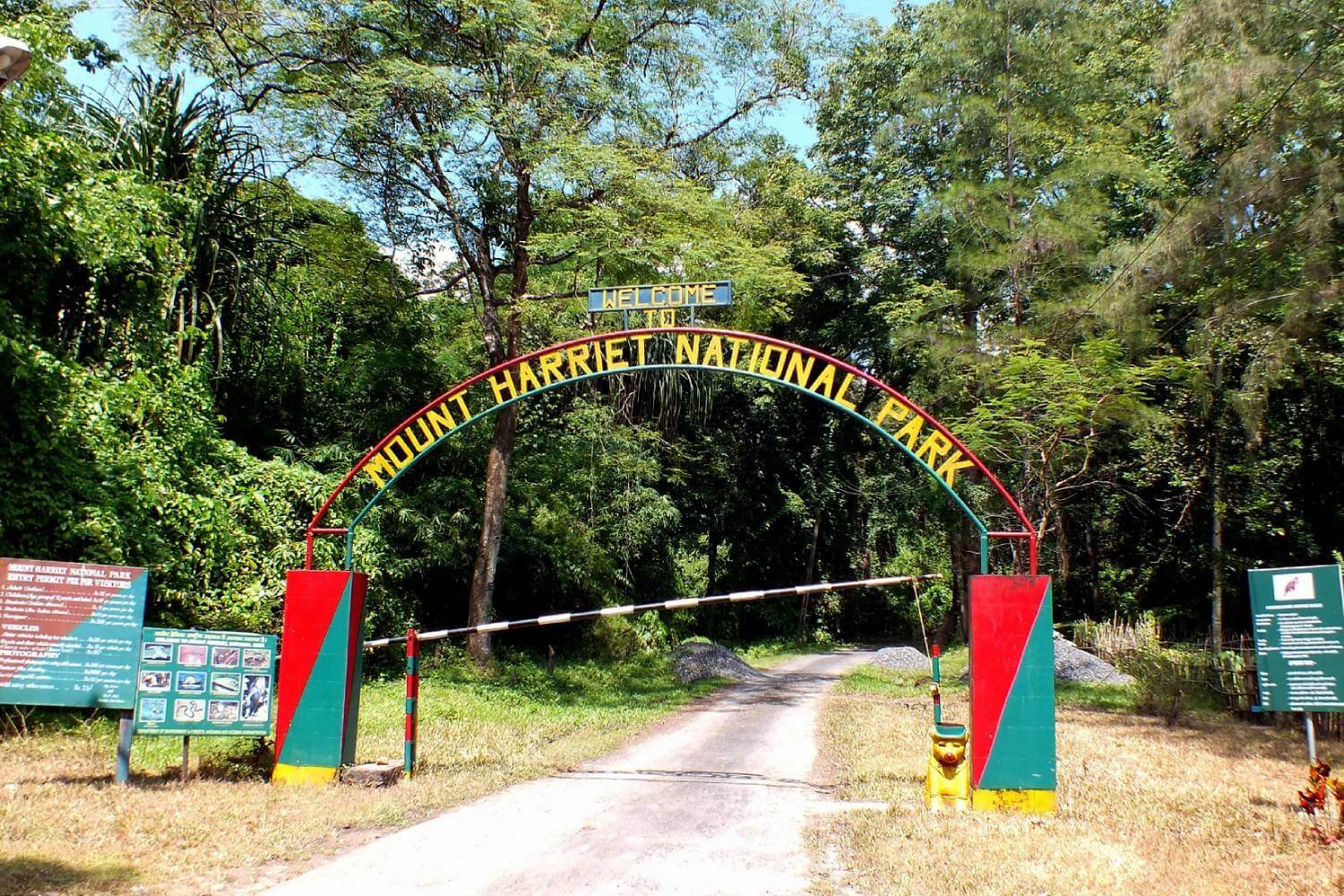 Also known as Mount Harriet National Park, Mount Manipur National Park is one of the best places to visit in Andaman for wildlife enthusiasts. A visit to Mount Harriet National Park is a pilgrimage into the heart of nature's grandeur. You will get an awesome chance to disconnect from the hustle and bustle of everyday life and reconnect with the beauty and tranquility of the serene nature.
It's a beautiful world of a variety of bird species, including colorful parakeets, endemic Andaman crakes, and majestic eagles. Lucky visitors may also spot other inhabitants of the park, such as saltwater crocodiles, robber crabs, turtles, and wild pigs. The park is a haven for nature photographers and birdwatching enthusiasts, offering countless opportunities to capture the beauty of the avian and terrestrial life.
So, lace up your hiking boots, embrace the spirit of adventure, and let Mount Harriet National Park weave its spell of enchantment upon you.
Best Time to Visit – November and May
Limestone Caves, Diglipur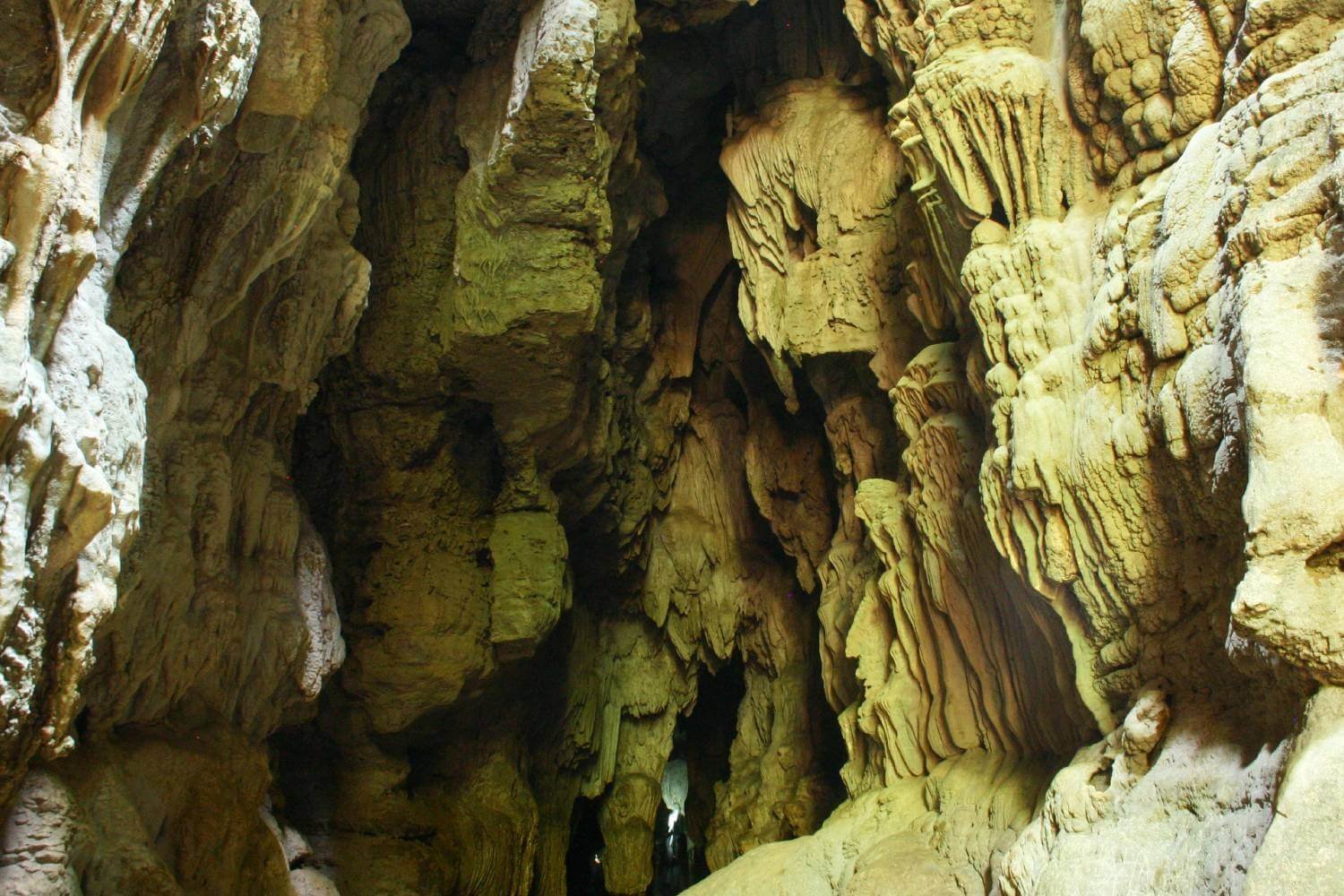 Limestone cave is a true artistry of nature. It is one of the must-see destinations in Andaman, Diglipur. Exploring Limestone caves is a thrilling experience. The rugged limestone formations, shaped by the relentless forces of nature, create an otherworldly atmosphere that evokes a sense of awe and wonder. If you love adventures then the Limestone caves of Diglipur should be at the top of the list of the places you want to visit in Andaman.
Venturing deeper into the caves, you'll encounter vast chambers with towering limestone columns that seem to defy gravity. Traveling to Limestone caves will give you a wonderful chance to appreciate the beauty that lies beneath its surface.
Best Things to Do in Limestone Caves
Cave Exploration: Explore the winding passages and spacious chambers, marveling at the intricate formations and the geological wonders that adorn the cave walls.
Photography: Capture the ethereal beauty of the Limestone Caves through your lens.
Radhanagar Beach – Soul Seducing Charm
Whether you're seeking a romantic getaway, a family vacation, or a moment of introspection, Radhanagar Beach would delight every soul looking for recreation and relaxation amidst the serene nature. It's a place where the sounds of crashing waves, the caress of soft sands, and the warmth of the sun creates magic.
Indeed, if you are on the Andaman Tour, Radhanagar Beach is one of the best places for holidays. From beachside shacks serving lip-smacking seafood and refreshing drinks to soul pleasing resorts offering comfortable accommodations, every need is catered to, ensuring a memorable and convenient beach holiday experience.
The vibe of Radhanagar Beach is something else. It is a haven for nature photographers. The pristine shoreline, fringed by swaying palm trees, presents an idyllic setting for capturing breathtaking moments. If you love beach vacation then pack your bags to enjoy the bliss of Radhanagar Beach for sure.
Best Things to Do in Radhanagar Beach
Witness Nature's Masterpiece: Marvel at the Majestic Sunsets of Radhanagar Beach.
A Serene Paradise: Take Leisurely Strolls along the Pristine Shores of Radhanagar Beach.
Dive into Crystal-clear Waters: Swim and Snorkel in the Vibrant Underwater World of Radhanagar Beach.
Picnic in Paradise: Indulge in Delightful Meals amidst the Scenic Beauty of Radhanagar Beach.
Capture Moments of Enchantment: Photography Bliss on the Sweeping Coastline of Radhanagar Beach.
Find Inner Harmony: Practice Yoga and Meditation on the Tranquil Shores of Radhanagar Beach.
Chidiya Tapu- Bird Heaven
Chidiya Tapu is one of the best highlights of Andaman Tourism. Chidiya Tapu is not just a destination for nature lovers; it is a sanctuary for the soul. Its tranquil ambiance, untouched beauty, and abundant wildlife are the best highlights which captivates the souls of tourists and they pack their bags to visit this blissful place every year. The island's untouched landscapes, teeming with life, provide a gentle reminder of the importance of preserving and cherishing our planet.
A leisurely stroll through the park's well-maintained trails will reveal its charming landscapes and you will encounter unique species of plants and animals. The island is a haven for bird watchers, as it is home to a rich variety of bird species. The graceful flight of colorful parakeets, the majestic soar of eagles, and the playful antics of rare migratory birds, beautiful sunsets, stunning beaches, and water adventures makes Chidiya Tapu a mesmerizing place for bird watchers and nature lovers.
Must Visit Places in Chidiya Tapu
Munda Pahar Beach: Tranquil Paradise
Chidiya Tapu Biological Park: Nature's Abode Unveiled
Munda Pahar Viewpoint: Panoramic Vistas Unleashed
Chidiya Tapu Forest Reserve: A Walk Amongst Nature's Secrets
Chidiya Tapu Beach: Sandy Serenity
Wandoor Beach – Rekindle the Joys of Life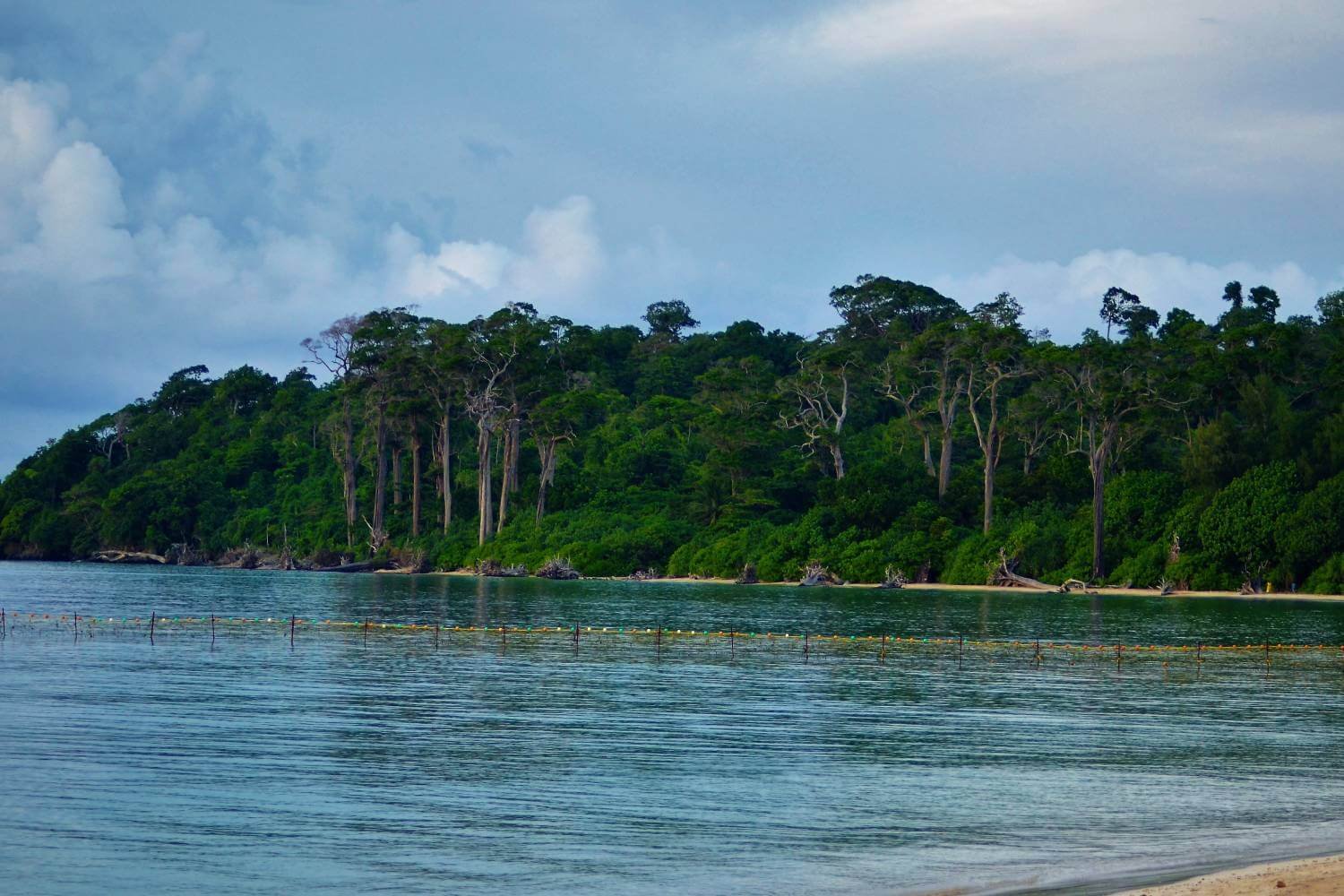 Wandoor Beach offers a spectacle that is truly awe-inspiring – the sunset. If you love nature then Wandoor Beach is one of the best places to visit in Andaman and Nicobar Islands. Watching the sun descend towards the horizon, painting the sky in a breathtaking palette of oranges, pinks, and purples is every nature lover's dream. Wandoor Beach fulfills this fantasy.
The tranquil waters that reflect the vibrant colors, creates a scene of unparalleled beauty. It is a sanctuary where you can rejuvenate your spirit, immerse yourself in the beauty of the Andaman Islands, and create memories that will last a lifetime.
Best Things to Do in Wandoor Beach
Snorkeling Adventure: Dive into Underwater Beauty.
Glass Bottom Boat Ride: Discover the Hidden Depths.
Sunbathing and Relaxation: Embrace Tropical Tranquility.
Picnic Delight: Unwind Amidst Nature's Beauty.
Nature Photography: Capture Coastal Charms.
Birdwatching Paradise: Wings in Flight.
Beach Walks: Stroll Along Pristine Shores.
Red Skin Island- Pure Bliss
Red Skin Island is a sanctuary where nature reigns supreme and where the wonders of the underwater world come to life. Whether you're an avid snorkeler, a curious explorer, or simply seeking a serene escape, this idyllic beach will leave you enchanted forever. It is one of the most enchanting Islands for a blissful summer vacation with family in Andaman.
When you take a moment to relax and rejuvenate on the island's pristine beaches and Bask in the soft golden sunlight, the tranquility of the surroundings envelopes you, your tiredness goes away and you teleport into the world of pure bliss. A family holiday on this serene beach will let you unleash your fun side and enable you to make everlasting memories with your loved ones.
Best Things to Do in Red Skin Island
Red Skin Beach: Discover the pristine beauty of the island's main beach, with its soft white sand and crystal-clear waters.
Snorkeling and Scuba Diving: Delve into Underwater Wonders
Relaxing on the Beach: Unwind under the warm sun.
Viper Island – Solace Paradise
Viper Island may be small, it leaves a lasting impression on all who visit. Its historical significance, combined with its stunning landscapes and adventurous spirit, make it a wonderful destination for beach lovers in Andaman. Viper Island is named after the infamous British colonial jail that once stood on its shores. Today, remnants of the old jail, including a crumbling central tower, serve as a poignant reminder of the island's dark past.
Whether you're exploring the remnants of the old jail, lounging on the tranquil beaches, or diving into the vibrant marine world, Viper Island's ambiance will leave you spellbound forever.
It also opens the realm of adventure to you. Diving into the crystalline waters and exploring the vibrant coral reefs and snorkeling to encounter fascinating underwater creatures, the island will caress your soul with love and care.
Must Visit Places in Viper Island
Viper Island Jetty: Explore the remnants of the old colonial jail and witness the echoes of the past.
Viper Island Beach: Unwind on the serene shores, surrounded by breathtaking natural beauty and crystal-clear waters.
The Central Tower Ruins: Marvel at the ancient structure that stood witness to the hardships and struggles of prisoners long ago.
Top 10 Amazing Things to Do in Andaman
Discover a world of adventure and beauty in Andaman's top tourist activities.
Scuba Diving: Explore the serene depths of Ocean
With expert guidance, both beginners and experienced divers can delve into this thrilling adventure. Scuba diving is one of the top adventure activities to do in the Andaman Islands. Immerse yourself in the beauty and tranquility of the underwater realm, creating unforgettable memories that will last a lifetime.
Snorkeling: Explore the Marine Marvels
If you are in the Andaman Islands, you must try Snorkeling. It is one of the best adventure activities for tourists in the Andaman Islands. Snorkel alongside schools of colorful fish, spot majestic rays gliding beneath you, and marvel at the intricate formations of coral reefs. Whether you're a novice or an experienced snorkeler, Andaman offers a wonderful experience for all types of tourists.
Sea Walking: Walk with the Marine Life
Get ready for the unique sea adventures in Andaman Islands. You must not miss the chance to try Sea walking. Enjoy the thrill of being surrounded by beautiful fishes and the serene beauty of the underwater realm. Sea walking in Andaman is a safe and extraordinary way to explore the wonders of the deep sea and create lifelong memories with the loved ones.
Trekking: Conquer New Heights
Whether you're a seasoned trekker or a nature enthusiast, Andaman offers an unforgettable trekking experience that will leave you in awe of its untamed wilderness. Trekking is indeed one of the top adventure activities to do in the Andaman Islands. You'll be greeted by a wealth of natural beauty and diverse wildlife. The scenic trails will lead to breathtaking viewpoints, hidden waterfalls, and secluded beaches of Andaman. Immerse yourself in the serenity of nature as you navigate through dense forests and encounter rare bird species along the way.
Glass Bottom Boat Ride: Cruise with a View
Cruise over turquoise waters while peering through the clear glass floor to witness the vibrant marine life below. The comfortable and safe vantage point of the glass-bottom boat allows you to explore the captivating underwater world without getting wet. It's a must try adventure activity for the tourists in Andaman & Nicobar Islands.
Sunset Experience: Embrace the Celestial Canvas
Indulge in the enchanting beauty of Andaman's sunset and immerse yourself in a captivating sunset experience. Andaman has many amazing landscapes to enjoy wonderful sunset views. Indulge in the enchanting beauty of Andaman's sunset and immerse yourself in a captivating sunset experience.
Heritage Walk: Journey Through Time
Embark on a captivating heritage walk in Andaman and discover the island's rich history. Explore colonial buildings, ancient ruins, and historical landmarks that tell the story of the region's past. Heritage Walks are the major highlights of Andaman Tourism. You cannot enjoy Andaman holidays if you are not visiting Heritage places.
Mangrove Kayaking: Connect with Nature's Rhythm
Mangrove kayaking in Andaman offers an amazing experience that allows you to connect with nature and explore the hidden treasures of these coastal places. Paddle through calm and winding waterways, surrounded by dense mangrove trees and abundant wildlife. It is indeed one of the best adventure activities to enjoy during the Andaman Holidays.
Game Fishing & Angling: Hook, Line, and Adventure
Cast your line and challenge yourself to catch a variety of game fish species that thrive in these bountiful waters. Feel the thrill as you engage in a battle of strength and skill with the mighty creatures of the sea. Andaman offers the best fishing experience to the wanderers who love water adventures.
Jet Skiing: Surf, Speed and Splash
Jet skiing in Andaman is the perfect blend of excitement and natural beauty, offering an unforgettable experience for thrill-seekers and water sports enthusiasts. So don't miss it. Explore the scenic coastline, navigate thrilling twists and turns, and enjoy the freedom of riding on the open water.
An Overview of Other Important Tourism in the Andaman Islands
Best Places to Visit for Honeymoon Couples in Andaman
Radhanagar Beach
Neil Island
Elephant Beach
Laxmanpur Beach
Ross and Smith Islands
Long Island
North Bay Island
Wandoor Beach
Guitar Island
Kalapathar Beach
Best Heritage Places to Visit in Andaman
Cellular Jail National Memorial
Viper Island
Anthropological Museum, Port Blair
Samudrika Naval Marine Museum, Port Blair
Chatham Saw Mill, Port Blair
Japanese Bunkers, Port Blair
Marina Park and Aquarium, Port Blair
Netaji Subhash Chandra Bose Island (formerly known as Ross Island)
Mahatma Gandhi Marine National Park
Must Visit Waterfalls in Andaman
White Surf Waterfall, Diglipur
Panchavati Waterfall, Rangat
Saddle Peak Waterfall, Diglipur
Kala Pathar Waterfall, Havelock Island
Alfred Caves Waterfall, Diglipur
Popular Adventure Activities in Andaman
Snorkeling
Sea Walking
Jet Skiing
Parasailing
Banana Boat Rides
Kayaking
Game Fishing and Angling
Trekking
Popular Beaches in Andaman
Radhanagar Beach, Havelock Island
Kalapathar Beach, Havelock Island
Elephant Beach, Havelock Island
Corbyn's Cove Beach, Port Blair
Wandoor Beach, Port Blair
Laxmanpur Beach, Neil Island
Bharatpur Beach, Neil Island
Vijaynagar Beach, Havelock Island
Long Island Beach, Long Island
Guitar Island Beach, Long Island
From the turquoise waters of Havelock Island to the dense forests of Baratang, and the awe-inspiring Cellular Jail to the serene beaches of Neil Island, Andaman offers a diverse range of experiences that leave an indelible mark on every visitor. Hurry up! You must not wait for the next year to enjoy a great beach vacation at Andaman.
Top Recommended Tour Packages for Andaman
Frequently Asked Questions
What are the must visit Islands of Andaman?
Here is a list of the best Islands of Andaman-
Havelock Island
Neil Island
Ross Island
Baratang Island
Cinque Island
Jolly Buoy Island
Red Skin Island
Viper Island
North Bay Island
Long Island
How many days are enough for Andaman Holidays?
The ideal duration for an Andaman holiday depends on the specific interests and preferences of the traveler. However, to fully experience the beauty and diversity of the beautiful and soul seducing Andaman Islands, a recommended duration must be around 5 to 10 days.
What are the popular water adventure activities of Andaman Islands?
Popular water adventure activities of Andaman Islands are –
Scuba Diving: Dive into the Depths and Uncover Underwater Wonders!
Snorkeling: Immerse Yourself in the Colors of the Coral Kingdom!
Sea Walking: Walk on Water and Discover the Secrets of the Sea!
Jet Skiing: Feel the Rush, Ride the Waves, and Experience the Ultimate Thrill!
Kayaking: Paddle Through Paradise and Explore Nature's Hidden Waterways!
Game Fishing and Angling: Cast Your Line, Reel in Excitement, and Embark on a Fisherman's Quest!
Banana Boat Ride: Hold on Tight, Laugh with Delight, and Create Memories That Ignite!
Glass Bottom Boat Ride: Explore the Marine World from Above, Witness Colorful Coral Reefs and Marine Life!
Which are the best places for snorkeling and scuba diving in Andaman?
Some of the best places for snorkeling and Scuba Diving in Andaman are –
Havelock Island: Dive into the Pristine Depths of Havelock's Underwater Paradise!
Neil Island: Discover a Colorful World Beneath the Surface at Neil's Magnificent Reefs!
North Bay Island: Delve into the Vibrant Coral Gardens and Marine Life of North Bay!
Cinque Island: Plunge into the Crystal-Clear Waters and Encounter Marine Marvels!
Mahatma Gandhi Marine National Park: Explore the Underwater Wonderland of Wandoor!
Elephant Beach: Swim amidst Stunning Coral Reefs and Playful Marine Life!
Red Skin Island: Embark on an Underwater Adventure amidst Breathtaking Coral Gardens!
South Button Island: Dive into Pristine Waters Teeming with Vibrant Marine Life!
Twin Islands (Bharatpur and Sitapur): Encounter Exquisite Coral Reefs and Aquatic Wonders!
Rutland Island: Discover Hidden Gems of Marine Life in Rutland's Rich Waters!
Bharatpur Beach: Encounter Exquisite Coral Reefs and Tropical Fish!
What are the top attractions in Port Blair?
Some of the top tourist attractions in Port Blair are-
Cellular Jail National Memorial: Unleashing the Spirits of Freedom!
Ross Island: Stepping into the Ghosts of Colonial Majesty!
Samudrika Marine Museum: Dive into Marine Wonderland!
Corbyn's Cove Beach: Embracing the Sun, Sand, and Serenity!
Chatham Saw Mill: Where the Past Meets the Present, in Timber Tales!
Anthropological Museum: Unveiling the Enigmatic Cultures of the Andaman!
Marina Park and Aquarium: Where Nature Entertains and Educates!
Rajiv Gandhi Water Sports Complex: Adventure Awaits on Azure Waters!
Sagarika Emporium: Souvenirs and Handicrafts, Treasures to Cherish!
Aberdeen Bazaar: A Shopper's Paradise, Where Delights Await!
What is the best time to visit Andaman?
The best time to visit Andaman is during the months of November to April, which is the dry season. You can also visit in the months of December to February, which are particularly popular among tourists due to the pleasant weather and the opportunity to witness the annual Island Tourism Festival held in Port Blair.
What is the best way to travel to Andaman?
By Air -You will get direct flights to reach Port Blair. From there you will get ships to reach Andaman Islands.
By Sea– Ships and flights from Kolkata and Chennai would be the most convenient route to reach Andaman Islands. You can also check ship timings from Visakhapatnam.
What are the popular day trips from Andaman?
Yes, some popular places to explore on a day trip in Andaman are-
Barren Island: Ignite Your Senses with Nature's Inferno!
Guitar Island: A Melody of Tranquility and Bliss!
Saddle Peak National Park: Where Dreams Ascend to New Heights!
Lalaji Bay Beach: Where Time Stands Still and Waves Whisper Secrets!
Merk Bay Beach: Dive into Azure Waters and Surrender to Serenity!
Smith Island: Unveiling Nature's Masterpiece, One Secret at a Time!
Are there any restrictions on visiting the Indigenous tribes in Andaman?
To safeguard their culture, well-being, and maintain their way of life, the government of India restricted tourists from visiting the indigenous tribes in Andaman. You will only be allowed to visit the tribal area if you have Tribal Pass issued by Deputy Commissioners of South Andaman, North & Middle Andaman, and Nicobar.
How are the accommodation options for tourists in Andaman in terms of luxury & budget hotels resorts?
Andaman offers best accommodation options for both luxury and budget travelers. The islands feature several luxury resorts and hotels that provide premium amenities, world-class facilities, and stunning beachfront locations. The scenic view from your room will seduce your senses.
For budget travelers, there are also numerous budget hotels, guesthouses, and homestays available across the islands. These options provide comfortable and affordable accommodation without compromising on basic amenities and convenience. The ambiance will be good and the warm hospitality of the staff will make you comfortable.
Like & follow us on our following official social media channels
Facebook | Twitter | Linkedin | Instagram | Youtube
Also Check Out: Popular India Tours | Tour Packages | India Tour Packages | International Tour Packages
International Trending Holiday Destinations – Nepal Tours | Bhutan Tours | Singapore Tour | Thailand Tours | Sri Lanka Tours | Maldives Tours | Dubai Tours | Indonesia Tours
Other Popular Trending Holiday Destinations in India – Kashmir Tour | Himachal Tour | Uttarakhand Tour | Rajasthan Tour | Gujarat Tour | Sikkim Tour | Kerala Tour | Andaman Tour | Madhya Pradesh Tour | North East Tours
Tour Packages by Interest – Adventure Packages | Wildlife Packages | Pilgrimage Packages | Heritage Packages | Hill Station Packages | Weekend Packages | Honeymoon Packages | Beach Packages | Chardham Packages | Trekking Packages
Other Interesting Kerala Travel Guide Blogs to Read
Other Interesting India Travel Guide Blogs to Read
Other Interesting Destinations Travel Guide Blogs to Read
Other Interesting Rajasthan Travel Guide Blogs to Read
Other Interesting Uttarakhand Travel Guide Blogs to Read
Other Interesting Wildlife Travel Guide Blogs to Read
Other Interesting South Travel Guide Blogs to Read
Other Interesting International Travel Guide Blogs to Read
Other Interesting Adventure & Trekking Travel Guide Blogs to Read